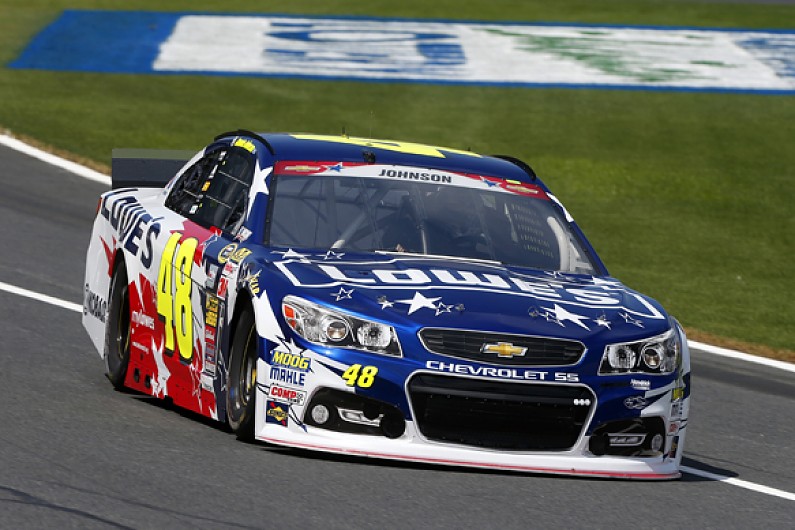 Jimmie Johnson took his first NASCAR Sprint Cup pole position of the year during qualifying for Sunday's Charlotte 600.
The Hendrick Chevrolet driver denied Brad Keselowski's Penske Ford at the end of the pole shootout.
Kasey Kahne had set an benchmark of 27.890s in the third and final part of qualifying, and it stood until Keselowski took the top spot with a 27.754s with just under two minutes of the session remaining.
Seconds later, Johnson crossed the line to record a 27.705s, which would remain unbeaten for the rest of the session - meaning the defending Cup champion will start from pole position at Charlotte for the fourth time in his career, ahead of Keselowski and Kahne.
Danica Patrick, who set the pace during the second part of qualifying, will start from fourth position - her best Cup qualifying effort since her 2013 Daytona 500 pole.
Clint Bowyer was the best of the Toyota drivers in fifth place.
Matt Kenseth and last May's winner Kevin Harvick both left it too late to take to the track in the final session to set a time and will therefore start from 11th and 12th places respectively, just behind practice pacesetter Dale Earnhardt Jr.
It was a disappointing session for Kansas winner and points leader Jeff Gordon, who was knocked out in the opening segment and will start Sunday's race down in 27th, one place behind last Saturday's All-Star race winner Jamie McMurray.
Also among the first qualifying casualties was Kurt Busch, who is becoming the first driver in a decade to compete in both the Indianapolis 500 and the Charlotte 600.
Pos  Driver              Team/Car                 Time     Gap
 1.  Jimmie Johnson      Hendrick Chevrolet       27.705s
 2.  Brad Keselowski     Penske Ford              27.754s  +0.049s
 3.  Kasey Kahne         Hendrick Chevrolet       27.890s  +0.185s
 4.  Danica Patrick      Stewart-Haas Chevrolet   27.931s  +0.226s
 5.  Clint Bowyer        Waltrip Toyota           27.944s  +0.239s
 6.  Denny Hamlin        Joe Gibbs Toyota         27.962s  +0.257s
 7.  Kyle Busch          Joe Gibbs Toyota         27.966s  +0.261s
 8.  Joey Logano         Penske Ford              28.056s  +0.351s
 9.  Marcos Ambrose      Petty Ford               28.173s  +0.468s
10.  Dale Earnhardt Jr   Hendrick Chevrolet       28.232s  +0.527s
11.  Matt Kenseth        Joe Gibbs Toyota
12.  Kevin Harvick       Stewart-Haas Chevrolet
13.  Aric Almirola       Petty Ford               28.024s  Q2
14.  Trevor Bayne        Wood Brothers Ford       28.054s  Q2
15.  Martin Truex Jr     Furniture Row Chevrolet  28.061s  Q2
16.  Brian Vickers       Waltrip Toyota           28.121s  Q2
17.  Justin Allgaier     HScott Chevrolet         28.133s  Q2
18.  Tony Stewart        Stewart-Haas Chevrolet   28.136s  Q2
19.  Brian Scott         Circle Sport Chevrolet   28.142s  Q2
20.  AJ Allmendinger     JTG Daugherty Chevrolet  28.150s  Q2
21.  Paul Menard         Childress Chevrolet      28.168s  Q2
22.  Carl Edwards        Roush Fenway Ford        28.424s  Q2
23.  Ricky Stenhouse Jr  Roush Fenway Ford        28.540s  Q2
24.  Greg Biffle         Roush Fenway Ford        29.293s  Q2
25.  Kyle Larson         Ganassi Chevrolet        28.296s  Q1
26.  Jamie McMurray      Ganassi Chevrolet        28.383s  Q1
27.  Jeff Gordon         Hendrick Chevrolet       28.470s  Q1
28.  Kurt Busch          Stewart-Haas Chevrolet   28.488s  Q1
29.  Alex Bowman         BK Toyota                28.494s  Q1
30.  Michael McDowell    Leavine Ford             28.549s  Q1
31.  Cole Whitt          BK Toyota                28.554s  Q1
32.  Austin Dillon       Childress Chevrolet      28.562s  Q1
33.  David Gilliland     Front Row Ford           28.612s  Q1
34.  Casey Mears         Germain Chevrolet        28.642s  Q1
35.  David Ragan         Front Row Ford           28.654s  Q1
36.  Ryan Truex          BK Toyota                28.659s  Q1
37.  Josh Wise           Parsons Chevrolet        28.684s  Q1
38.  Joe Nemechek        Robinson Toyota          28.729s  Q1
39.  Michael Annett      Baldwin Chevrolet        28.753s  Q1
40.  Landon Cassill      Hillman Chevrolet        28.791s  Q1
41.  Reed Sorenson       Baldwin Chevrolet        28.845s  Q1
42.  Ryan Newman         Childress Chevrolet      28.894s  Q1
43.  Blake Koch          FAS Lane Ford            29.043s  Q1

Did not qualify:

     JJ Yeley            Xxxtreme Toyota          28.714s
     Dave Blaney         Humprey Smith Ford       28.855s