Another year, another title for Jimmie Johnson. This time he rewrote the record book, as he broke free from his Cale Yarborough-tying three back-to-back titles to add a fourth consecutive success. This sets him apart from anyone in NASCAR's 61-year history.
In an environment as harsh as NASCAR - with its 36-race season, 43-car grids and 10-race play-off Chase for the Championship - the way Johnson, his crew chief Chad Knaus and Hendrick Motorsports team can make winning it look so routine is astounding. He is now level on number of titles with team-mate, mentor and car co-owner Jeff Gordon, and chasing hard after Richard Petty's and the late Dale Earnhardt's record tally of seven Cup crowns.
His main opposition going into the Chase was unexpected. Tony Stewart might be a two-time champion, but the fact he led the championship before its points were reset was well beyond even his wildest dreams for his new Stewart-Haas Racing team.
At the opposite end of the top 12 qualifiers, Brian Vickers raced his way in at the expense of former champion Matt Kenseth, whose Daytona 500 win seemed like a distant memory. Also failing to make it was Kyle Busch, despite winning four races, as well as Clint Bowyer, Jeff Burton and Dale Earnhardt Jr - all of whom would have started the year expecting to be in contention at the end.
With the points reset, Mark Martin - who had rebounded from a disastrous start to the year in his first full season at Hendrick's - held a slim advantage over Stewart and Johnson. And then the fun really began...
The story of the Chase
Round 1 Loudon, September 20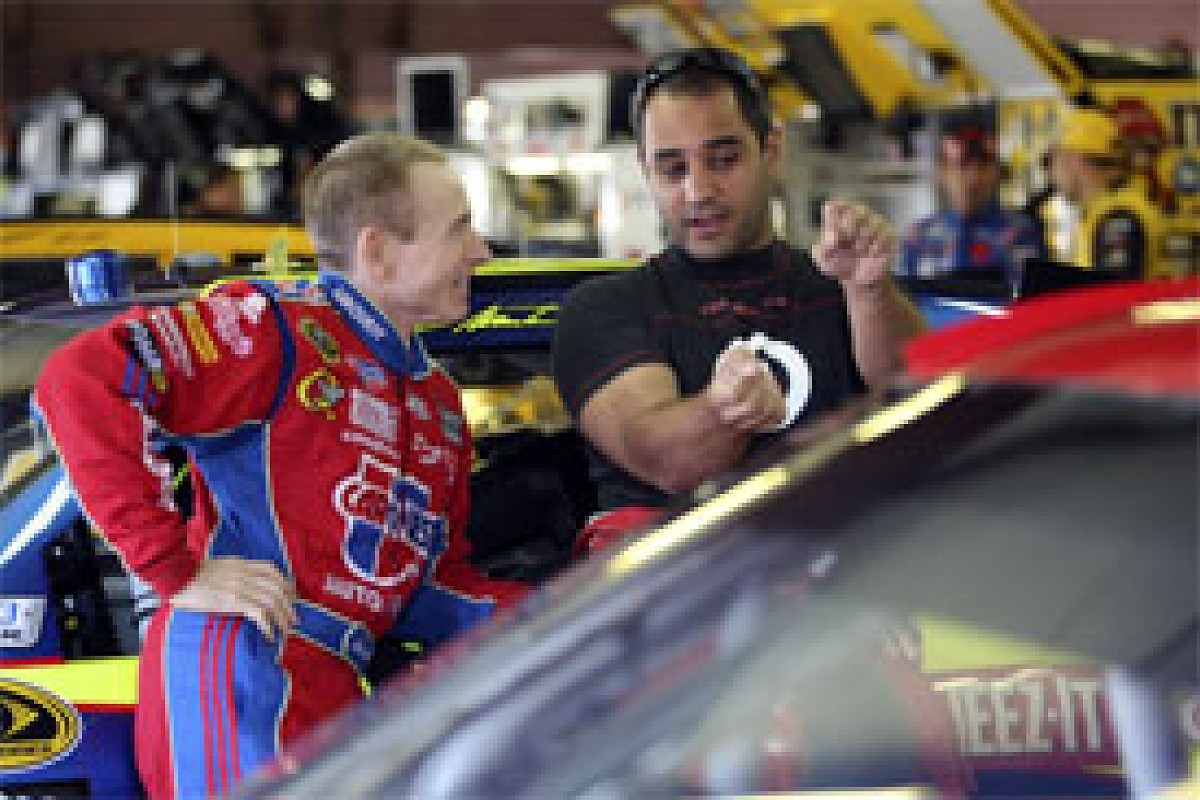 Mark Martin and Juan Pablo Montoya in the garage at Loudon © LAT
Martin gambled on not pitting for fuel or tyres during a spate of late cautions, giving him track position for the final restart with three laps remaining. Denny Hamlin just managed to squeeze his Gibbs-run Toyota past Juan Pablo Montoya's Earnhardt-Ganassi Chevy for second before a last-lap yellow, caused when AJ Allmendinger spun. Johnson finished fourth, ahead of Kyle Busch, Kurt Busch and Ryan Newman.
The first Chase casualties were Stewart (14th after a long pitstop to tighten a loose wheel hub), Gordon (15th) and Kasey Kahne (38th due to a blown engine).
Round 2 Dover, September 27
Johnson was ominously dominant, running up front for most of the day and beating Martin by almost 2secs. Martin just came out on top of a battle for second with Matt Kenseth, keeping him atop the standings. Montoya finished fourth, ahead of Kurt Busch and Jeff Gordon. In a tame race for the Chasers, Vickers was a lacklustre 18th and Hamlin even worse in 22nd.
Round 3 Kansas, October 4
Stewart reignited his Chase hopes with victory, gambling on a two-tyre stop that gave him just enough of an advantage to hold off a charging Gordon. Greg Biffle was third, ahead of Montoya, Hamlin, Kahne and Martin, as Chasers dominated the standings. Johnson was ninth, ahead of Carl Edwards. Vickers blew an engine, extinguishing his slim title hopes.
Round 4 California, October 11
Johnson was the class of the field once more, beating Gordon, Montoya, Martin, Stewart and Edwards to propel him to the top of the standings. Hamlin's hopes were dealt a massive blow when he spun his wheels at a restart and cut across Montoya - who sent Hamlin spinning into the wall. He was classified 37th. Kahne and Vickers also suffered in multi-car shunts in the closing stages.
Round 5 Charlotte, October 17
Johnson won again, but his big rivals had even more cause to rue their fortunes. Hamlin blew his engine, having looked strong in the early stages. Martin struggled to 17th after a restart concertina had damaged his and Montoya's cars. Montoya spun again on his way to 35th. Kahne and Gordon steered through the trouble to finish third and fourth respectively.

Round 6 Martinsville, October 25
Hamlin rebounded with a textbook victory, but was tracked all the way to the finish by Johnson. These two had collided in the March race here, Johnson punting Hamlin aside to win, but this time Johnson had more to lose and settled for second. Montoya was third, ahead of Kyle Busch and Gordon. Martin was eighth, but had slipped 118 points behind Johnson in the title battle.

Round 7 Talladega, November 1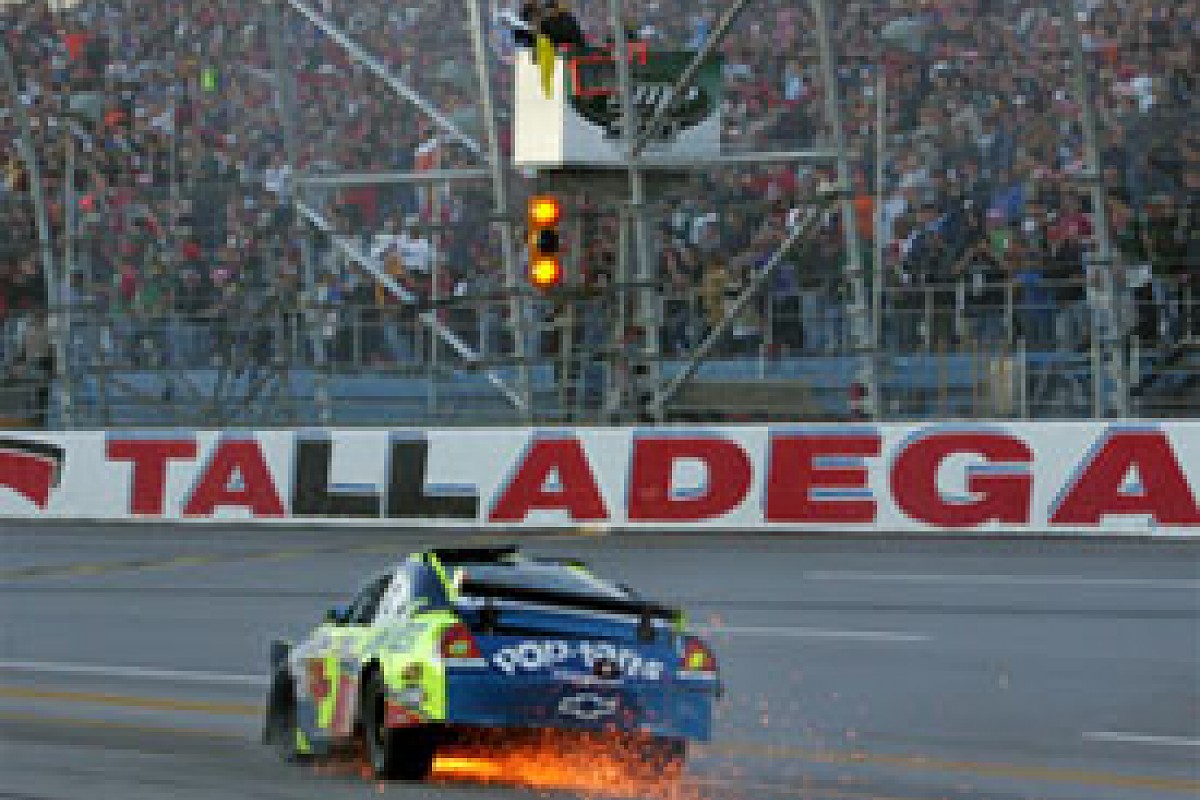 Mark Martin limps to the finish at Talladega
This behemoth of a superspeedway is always viewed as the potential banana skin of the Chase, given its scope for huge accidents. Johnson escaped with a sixth place finish, having run for most of the day at the rear of the pack. But Martin, who was running with the hounds, was clipped into a spectacular somersault and was classified 28th. Fellow Chaser Ryan Newman also flipped; Hamlin blew his second engine in three races. For the record, Jamie McMurray scored a rare win, ahead of Kahne. Montoya and Gordon were 19th and 20th.
Round 8 Texas, November 8
The race where Johnson's world was briefly (and only metaphorically) turned upside-down. Hapless tailender Sam Hornish brushed him into a spin and the resulting impact with the wall turned his Chevy into the garage. It reappeared in a points-salvaging exercise to finish 38th. Kurt Busch won a race dictated by fuel mileage, by almost half a minute, ahead of Hamlin. Martin finished fourth, to narrow Johnson's lead to 73 points.
Round 9 Phoenix, November 15
The Johnson backlash was devastating. He led the most laps - over 75 per cent - before rattling off a 1sec win over Jeff Burton, Hamlin and Martin. It meant he took a 108-point advantage into the season finale. Gordon's ninth place meant his title bid was over.
Round 10 Homestead, November 22
Fifth place was more than enough for Johnson to wrap up his fourth successive title, as Martin struggled with the handling of his car down in 12th. Despite a couple of close calls in traffic, that caused some rare four-letter outbursts over the radio, Johnson cruised home in a car he admitted was probably good enough to win.