P1 Motorsport has announced a rookie pairing of British Formula 3 championship runner-up Walter Grubmuller and 2009 Le Mans Series title-winner Jan Charouz for the 2010 Formula Renault 3.5 championship.
For the past three years, 22-year-old Charouz has focused his efforts on sportscar racing in the LMP1 class of the LMS. Prior to this, the Czech driver also found success in single-seater racing, winning the 2006 F3000 International Masters series.
Charouz acquainted himself with Formula Renault 3.5 machinery by sampling RC Motorsport's car during testing at Motorland Aragon and Barcelona at the conclusion of the 2009 season.
"We don't think the tests Jan did were representative of his ability," P1 Motorsport team boss Roly Vincini told AUTOSPORT. "He was about a second off, but he thinks, and we feel, there is much more to come."
Speaking about his upcoming season, Charouz said: "P1 Motorsport is an excellent team and very professional - I'm looking forward to the experience I will gain in the World Series by Renault. I hope to get accustomed to single-seater racing again, so that I can achieve some good results in 2010."
Austrian Grubmuller joins the team after a competitive third season in British F3, during which P1 Motorsport assisted with the development of the 20-year-old's Hitech Dallara.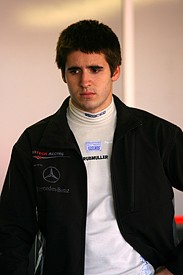 "This marks a new stage and challenge in my career, as I believe the World Series by Renault is the best feeder series to F1, having produced drivers such as [Sebastian] Vettel and [Robert] Kubica," said Grubmuller.
Vincini added: "With Walter, we considered pairing him with an experienced World Series winner to help him develop, but what's the point? At some time he has to stand on his own two feet.
"If he can drive the way he did in Formula 3 at Oulton Park last year, I'm sure he will do a good job.
"While we will be targeting podium finishes for both drivers, as the season progresses we can hopefully begin to compete for race wins."
P1 Motorsport lifted the 2008 Formula Renault 3.5 Series title with current GP2 racer Giedo van der Garde. A 2009 title assault with James Walker was disrupted by a fire that gutted the team's Snetterton premises. P1 has now settled at Hethel Engineering Centre in Norfolk, expanding its operation from one unit to three over the winter.