GP3 Series practice on the Belgian Grand Prix weekend was delayed by an ECU problem, which the series believes it has now solved ready for qualifying.
Sauber Formula 1 junior driver Tatiana Calderon managed to set a time at the start of the session but then returned to the pits as the red flag came out, and the cars sat for 20 minutes while being worked on by GP3 technical staff.
The problem did not reoccur for the rest of the session.
"We experienced an issue with the programming of the ECU," said GP3 technical boss Didier Perrin.
"Once we analysed the problem, we asked for the session to be red-flagged in order to reprogramme the ECU of all cars as quickly as possible and ensure that all drivers benefited from the same amount of track time."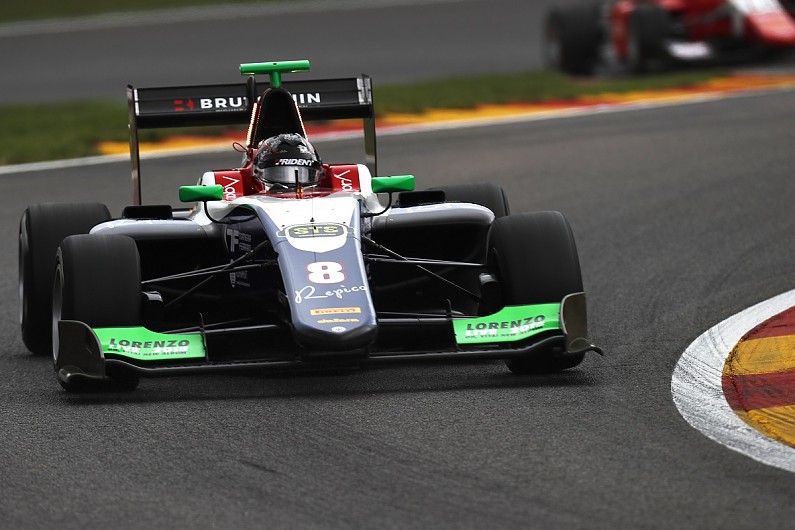 Once the session was back under way, Trident Racing's David Beckmann went fastest for a second GP3 practice in a row. He had switched to the team before the last round in Hungary and also topped practice there.
Beckmann headed an all-Trident top four, with Pedro Piquet, Giuliano Alesi and Ryan Tveter completing the formation.
The ART Grand Prix drivers struggled - almost a second off the pace with championship leader Anthoine Hubert the team's highest-placed driver in fifth. ART is unlikely to be that far off during Friday evening's qualifying session.
Making his GP3 Series debut with MP Motorsport in place of Dorian Boccolacci - who has moved up to Formula 2 - Richard Verschoor managed 16th, two spots behind the best MP car of Niko Kari and one place ahead of team-mate Devlin DeFrancesco.
Practice times

| Pos | Driver | Team | Time | Gap | Laps |
| --- | --- | --- | --- | --- | --- |
| 1 | David Beckmann | Trident | 2m06.111s | - | 10 |
| 2 | Pedro Piquet | Trident | 2m06.216s | 0.105s | 9 |
| 3 | Giuliano Alesi | Trident | 2m06.524s | 0.413s | 9 |
| 4 | Ryan Tveter | Trident | 2m06.680s | 0.569s | 9 |
| 5 | Anthoine Hubert | ART Grand Prix | 2m07.073s | 0.962s | 10 |
| 6 | Nikita Mazepin | ART Grand Prix | 2m07.091s | 0.980s | 10 |
| 7 | Juan Manuel Correa | Jenzer Motorsport | 2m07.169s | 1.058s | 10 |
| 8 | Jake Hughes | ART Grand Prix | 2m07.194s | 1.083s | 10 |
| 9 | Tatiana Calderon | Jenzer Motorsport | 2m07.266s | 1.155s | 12 |
| 10 | Callum Ilott | ART Grand Prix | 2m07.494s | 1.383s | 10 |
| 11 | Gabriel Aubry | Arden International | 2m07.544s | 1.433s | 10 |
| 12 | Leonardo Pulcini | Campos Racing | 2m07.606s | 1.495s | 11 |
| 13 | Simo Laaksonen | Campos Racing | 2m07.646s | 1.535s | 10 |
| 14 | Niko Kari | MP Motorsport | 2m07.684s | 1.573s | 9 |
| 15 | Joey Mawson | Arden International | 2m07.733s | 1.622s | 9 |
| 16 | Richard Verschoor | MP Motorsport | 2m08.141s | 2.030s | 11 |
| 17 | Devlin Defrancesco | MP Motorsport | 2m08.305s | 2.194s | 11 |
| 18 | Jannes Fittje | Jenzer Motorsport | 2m08.498s | 2.387s | 11 |
| 19 | Diego Menchaca | Campos Racing | 2m08.638s | 2.527s | 11 |
| 20 | Julien Falchero | Arden International | - | - | 2 |