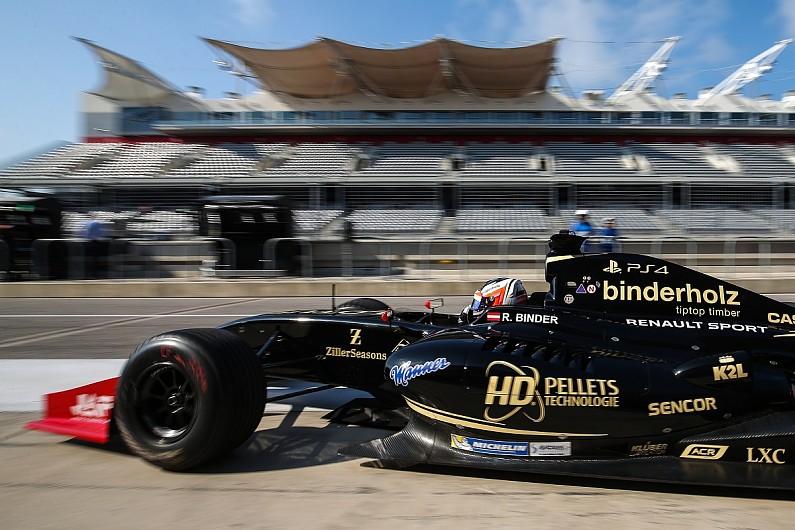 Egor Orudzhev and Rene Binder set the fastest times in the two Formula V8 3.5 practice sessions at Austin as track temperatures crept above 40 degrees.
On the series first appearance in North America, at the Circuit of the Americas, drivers spent the majority of the morning's first practice session finding their lines around a circuit new to the field.
Championship protagonists Orudzhev and Matevos Isaakyan adapted the quickest, trading fastest times throughout the 50-minute session.
The SMP Racing pair are both looking to bounce back from sub-par weekends in Mexico City and finished one-two in the first session, with Orudzhev ahead by 0.034 seconds with a fastest time of 1m50.455s.
They didn't have it their own way in second practice, though, as more drivers found set-ups suited to the high-speed Texas circuit.
Orudzhev finished FP2 second and three places ahead of Isaakyan, who was almost half a second down on pacesetter Binder's best effort.
Lotus driver Binder had a poor opening practice, finishing almost two seconds behind Orudzhev, but set-up tweaks in the gap between the two sessions appeared to work as he set a 1m50.501s on his final lap in FP2.
Team-mate and championship leader Pietro Fittipaldi finished fourth in both sessions as he looked to find the right balance in the car before first qualifying on Thursday evening.
In both sessions, Fittipaldi was beaten to third place by Alex Palou.
The Spaniard, who got the call to replace Nelson Mason at Teo Martin Motorsport on Monday, said he was surprised at his speed in first practice as he was not happy with the balance of the car, but felt more comfortable in the second session.
Palou was one of a number of drivers to complain about the heat, with track temperatures rising to 41 degrees and the air temperature reaching 34C on what is forecast to be the hottest weekend of the Formula V8 3.5 season.
Lying in the midfield in both practice sessions were the Mexican pairing of Diego Menchaca and Alfonso Celis.
Menchaca finished sixth in both sessions while Celis - who claimed a podium at the previous round in Mexico City - finished fifth and eighth in practice one and two respectively.
Both sessions were affected by one red flag stoppage.
Giuseppe Cipriani stalled his car in free practice one and was temporarily stranded on track, and Konstantin Tereschenko capped an off-pace practice two with a stoppage of his own half way through.
FP1 times
| Pos | Driver | Team | Time | Gap | Laps |
| --- | --- | --- | --- | --- | --- |
| 1 | Egor Orudzhev | SMP Racing by AVF | 1m50.455s | - | 21 |
| 2 | Matevos Isaakyan | SMP Racing by AVF | 1m50.489s | 0.034s | 20 |
| 3 | Alex Palou | Teo Martin Motorsport | 1m50.872s | 0.417s | 16 |
| 4 | Pietro Fittipaldi | Lotus | 1m51.151s | 0.696s | 17 |
| 5 | Alfonso Celis | Fortec Motorsports | 1m51.372s | 0.917s | 20 |
| 6 | Diego Menchaca | Fortec Motorsports | 1m51.527s | 1.072s | 21 |
| 7 | Konstantin Tereschenko | Teo Martin Motorsport | 1m51.836s | 1.381s | 18 |
| 8 | Roy Nissany | RP Motorsport | 1m51.977s | 1.522s | 19 |
| 9 | Yu Kanamaru | RP Motorsport | 1m52.271s | 1.816s | 18 |
| 10 | Rene Binder | Lotus | 1m52.333s | 1.878s | 15 |
| 11 | Giuseppe Cipriani | Il Barone Rampante | 1m55.957s | 5.502s | 15 |
FP2 times
| Pos | Driver | Team | Time | Gap | Laps |
| --- | --- | --- | --- | --- | --- |
| 1 | Rene Binder | Lotus | 1m50.501s | - | 16 |
| 2 | Egor Orudzhev | SMP Racing by AVF | 1m50.565s | 0.064s | 16 |
| 3 | Alex Palou | Teo Martin Motorsport | 1m50.631s | 0.130s | 17 |
| 4 | Pietro Fittipaldi | Lotus | 1m50.664s | 0.163s | 17 |
| 5 | Matevos Isaakyan | SMP Racing by AVF | 1m50.993s | 0.492s | 14 |
| 6 | Diego Menchaca | Fortec Motorsports | 1m51.509s | 1.008s | 19 |
| 7 | Yu Kanamaru | RP Motorsport | 1m51.643s | 1.142s | 18 |
| 8 | Alfonso Celis | Fortec Motorsports | 1m51.898s | 1.397s | 16 |
| 9 | Roy Nissany | RP Motorsport | 1m52.804s | 2.303s | 16 |
| 10 | Konstantin Tereschenko | Teo Martin Motorsport | 1m53.896s | 3.395s | 7 |
| 11 | Giuseppe Cipriani | Il Barone Rampante | 1m55.215s | 4.714s | 16 |