Charles Leclerc was crowned 2016 GP3 champion with one race to spare as he and title rival Alexander Albon both crashed out of the opening race in Abu Dhabi.
Leclerc was unable to complete the race - won by ART team-mate Nyck de Vries - after contact with Santino Ferrucci, but with Albon already out of the race, the Anglo-Thai having collided with Jack Aitken as the pair fought for the lead, Leclerc had enough of an advantage in the points to seal the title.
Monegasque Leclerc's start to the race was hardly one that indicated he was likely to seal the crown a race early, the ART driver dropping to sixth and struggling to find a rhythm.
By contrast, polesitter Albon had no such problems as he quickly established a lead over Aitken and de Vries, the pair having both jumped front row starter Jake Dennis.
A brief safety car interlude negated Albon's lead, though, and he came under pressure from Arden man Aitken on the restart, with Aitken taking the lead on lap nine before allowing Albon back through when the stewards announced the move was being investigated because he went off track.
But having retaken the lead, Albon then tried to hang onto the position as he and Aitken ran side-by-side through the Turn 11-12-13 complex, hitting a raised kerb in the process and launching himself over Aitken's car.
Albon landed heavily after the collision and retired on the spot.
That promoted Leclerc to fifth, but he too was to retire from the race - having made contact with Santino Ferrucci on the brakes for the same complex where Albon had come to grief.
That mattered not, though, with his points lead over Albon sufficient to crown him champion with a race to spare.
"It's really strange to win the title and finish in the wall at the same time," said Leclerc.
"What Ferrucci did was completely stupid - I have to go and talk to him - but it's a fantastic achievement."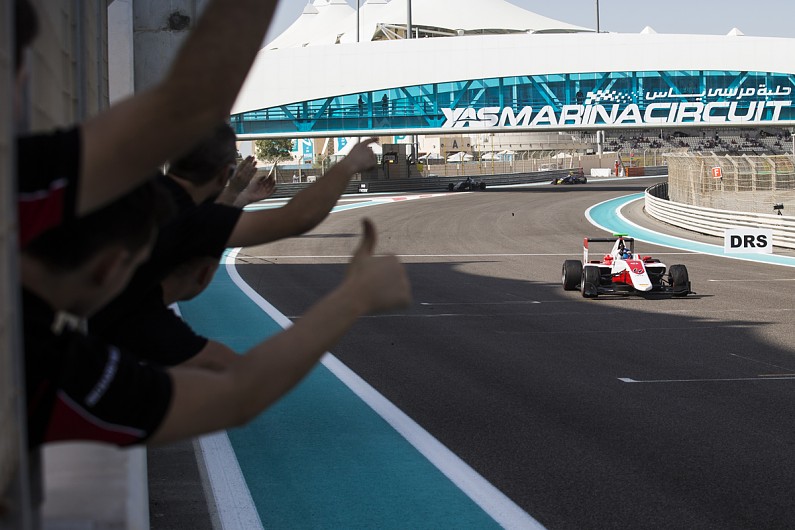 Aitken's clash with Albon delayed the Arden driver sufficiently to allow de Vries to take the lead of the race, one he would not relinquish.
Dutchman de Vries managed the gap back to Arden driver Dennis in the closing laps to claim his second GP3 victory by one second.
Aitken recovered to third, jumping ahead of DAMS driver Ferrucci in the closing laps, with Kevin Joerg inheriting fourth after Ferrucci was handed a 10-second penalty for his part in the clash with Leclerc.
Nirei Fukuzumi came home fifth ahead of Campos Racing's Steijn Schothorst, while Jake Hughes staged an impressive recovery, the Briton charging through the field to finish seventh despite a pitlane start.
RACE RESULT
| Pos | Driver | Team | Laps | Gap |
| --- | --- | --- | --- | --- |
| 1 | Nyck de Vries | ART Grand Prix | 18 | 38m06.651s |
| 2 | Jake Dennis | Arden International | 18 | 1.012s |
| 3 | Jack Aitken | Arden International | 18 | 3.881s |
| 4 | Kevin Jorg | DAMS | 18 | 9.601s |
| 5 | Nirei Fukuzumi | ART Grand Prix | 18 | 10.618s |
| 6 | Steijn Schothorst | Campos Racing | 18 | 14.369s |
| 7 | Jake Hughes | DAMS | 18 | 15.225s |
| 8 | Konstantin Tereschenko | Campos Racing | 18 | 17.292s |
| 9 | Santino Ferrucci | DAMS | 18 | 18.990s |
| 10 | Alex Palou | Campos Racing | 18 | 20.776s |
| 11 | Giuliano Alesi | Trident | 18 | 23.009s |
| 12 | Alessio Lorandi | Jenzer Motorsport | 18 | 26.262s |
| 13 | Akash Nandy | Jenzer Motorsport | 18 | 26.335s |
| 14 | Arjun Maini | Jenzer Motorsport | 18 | 27.325s |
| 15 | Sandy Stuvik | Trident | 18 | 32.912s |
| 16 | Antonio Fuoco | Trident | 18 | 54.535s |
| - | Charles Leclerc | ART Grand Prix | 13 | Retirement |
| - | Matevos Isaakyan | Koiranen GP | 12 | Retirement |
| - | Alexander Albon | ART Grand Prix | 10 | Retirement |
| - | Tatiana Calderon | Arden International | 6 | Retirement |
| - | Matt Parry | Koiranen GP | 3 | Retirement |
| - | Artur Janosz | Trident | 2 | Retirement |