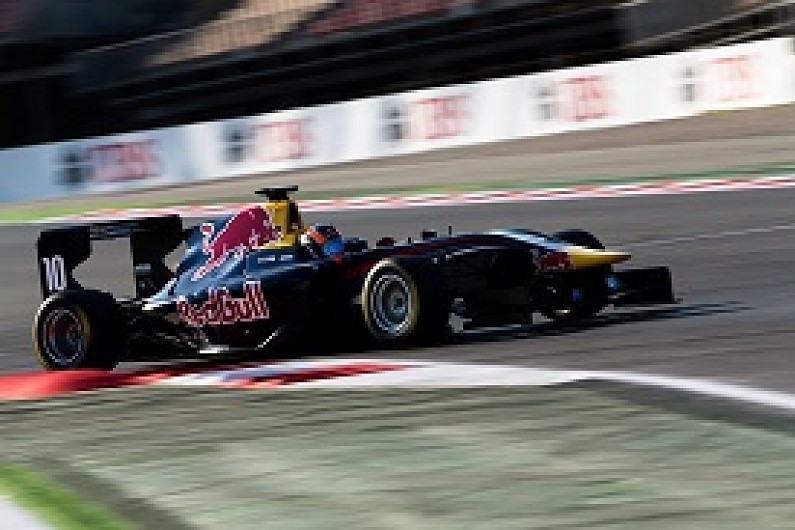 Alex Lynn will start the opening race of the 2014 GP3 season from pole position after a thrilling qualifying session in Spain.
The 2013 Macau Grand Prix winner remained under the radar for the majority of the 30-minute session, but vaulted to the top of the order in the final moments with a time of 1m35.614s.
Red Bull junior Lynn demoted fellow rookie Marvin Kirchoffer, who had been trading best lap times with practice pacesetter Richie Stanaway and Jimmy Eriksson up until the last five minutes of the session.
Patrick Kujala rounded off the top five ahead of Dino Zamparelli, while Emil Bernstorff and Alex Fontana occupy the fourth row of the grid.
GP3 returnee Pal Varhaug pipped ex-Formula 2 runner-up Matheo Tuscher to ninth.
Nelson Mason finished the session in 20th position, but drops three places after stewards discovered his car did not have its tyre valves correctly fitted during free practice on Friday.
Pos  Driver              Team      Time        Gap
 1.  Alex Lynn           Carlin    1m35.614s                  
 2.  Marvin Kirchhofer   ART       1m35.726s  +0.112s         
 3.  Richie Stanaway     Status    1m35.784s  +0.170s         
 4.  Jimmy Eriksson      Koiranen  1m35.904s  +0.290s         
 5.  Patrick Kujala      Manor     1m35.970s  +0.356s         
 6.  Dino Zamparelli     ART       1m36.015s  +0.401s         
 7.  Emil Bernstorff     Carlin    1m36.136s  +0.522s         
 8.  Alex Fontana        ART       1m36.151s  +0.537s         
 9.  Pal Varhaug         Jenzer    1m36.165s  +0.551s         
10.  Matheo Tuscher      Jenzer    1m36.210s  +0.596s         
11.  Nick Yelloly        Status    1m36.230s  +0.616s         
12.  Patric Niederhauser Arden     1m36.276s  +0.662s         
13.  Dean Stoneman       Manor     1m36.375s  +0.761s         
14.  Roman de Beer       Trident   1m36.579s  +0.965s         
15.  Robert Visoiu       Arden     1m36.711s  +1.097s         
16.  Ryan Cullen         Manor     1m36.759s  +1.145s         
17.  Adderly Fong        Jenzer    1m36.787s  +1.173s         
18.  Jann Mardenborough  Arden     1m36.871s  +1.257s         
19.  Victor Carbone      Trident   1m37.023s  +1.409s         
20.  Nelson Mason        Hilmer    1m37.084s  +1.470s         
21.  Luis Sa Silva       Carlin    1m37.163s  +1.549s         
22.  Santiago Urrutia    Koiranen  1m37.166s  +1.552s         
23.  Alfonso Celis Jr    Status    1m37.300s .+1.686s         
24.  Beitske Visser      Hilmer    1m37.406s  +1.792s         
25.  Ivan Taranov        Hilmer    1m38.071s  +2.457s         
26.  Denis Nagulin       Trident   1m38.203s  +2.589s         
27.  Carmen Jorda        Koiranen  1m38.694s  +3.080s