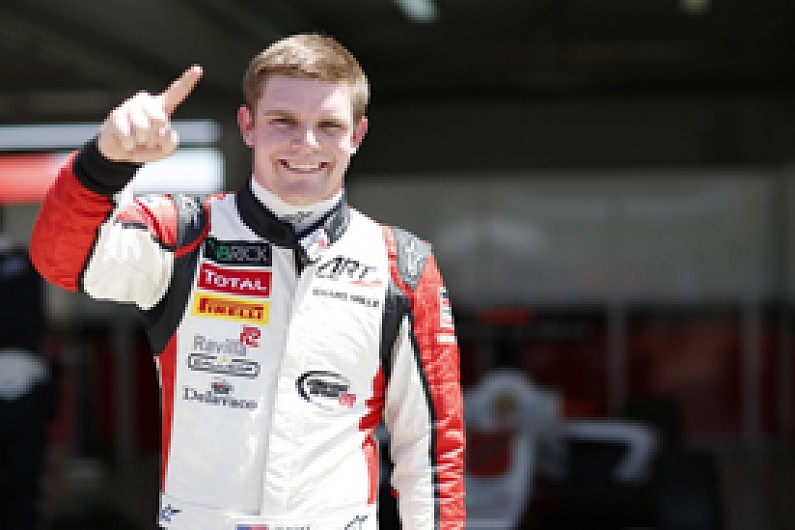 ART's Conor Daly will start round two of the GP3 Series from pole position at Valencia's Circuit Ricardo Tormo.
The 21-year-old American timed his pole lap to perfection, just before the second red flag of the session halted his rivals from trying to beat his 1m22.329s.
Daniil Kvyat will start alongside him in his MW Arden-run machine, but was two tenths in arrears.
Carlin's Nick Yelloly had pole with a few minutes to go, but slipped to third. He is joined on the second row by the second ART car of Facu Regalia.

All the motorsport action as it happens with Race Centre Live
Barcelona race two winner Aaro Vainio will start fifth, ahead of Koiranen team-mate Kevin Korjus.
Points leader Tio Ellinas, who set pole at Barcelona, was only seventh fastest. He had a scrappy session, and bounced across the gravel at the high-speed Turn 12 right-hander.
His Manor team-mate Ryan Cullen spun exiting Turn 1, which caused the first red flag early on. Then Adderly Fong spun to a halt at Turn 11 with two minutes remaining, causing a second red flag.
That led to a last-lap charge as the session was briefly restarted, but none of the frontrunners were able to better their times.
NEWS UPDATE: Yelloly, Williamson put to back of grid
Pos  Driver               Team      Time       Gap
 1.  Conor Daly           ART       1m22.329s
 2.  Daniil Kvyat         MW Arden  1m22.536s  + 0.207s
 3.  Nick Yelloly         Carlin    1m22.597s  + 0.268s
 4.  Facu Regalia         ART       1m22.603s  + 0.274s
 5.  Aaro Vainio          Koiranen  1m22.616s  + 0.287s
 6.  Kevin Korjus         Koiranen  1m22.621s  + 0.292s
 7.  Tio Ellinas          Manor     1m22.761s  + 0.432s
 8.  Dino Zamparelli      Manor     1m22.861s  + 0.532s
 9.  Carlos Sainz Jr      MW Arden  1m22.891s  + 0.562s
10.  Robert Visoiu        MW Arden  1m22.893s  + 0.564s
11.  Jack Harvey          ART       1m22.925s  + 0.596s
12.  David Fumanelli      Trident   1m22.936s  + 0.607s
13.  Lewis Williamson     Bamboo    1m22.948s  + 0.619s
14.  Melville McKee       Bamboo    1m22.954s  + 0.625s
15.  Giovanni Venturini   Trident   1m22.993s  + 0.664s
16.  Patric Niederhauser  Jenzer    1m23.000s  + 0.671s
17.  Alex Fontana         Jenzer    1m23.019s  + 0.690s
18.  Adderly Fong         Status    1m23.054s  + 0.725s
19.  Patrick Kujala       Koiranen  1m23.294s  + 0.965s
20.  Eric Lichtenstein    Carlin    1m23.364s  + 1.035s
21.  Emanuele Zonzini     Trident   1m23.524s  + 1.195s
22.  Josh Webster         Status    1m23.559s  + 1.230s
23.  Luis Sa Silva        Carlin    1m23.878s  + 1.549s
24.  Samin Gomez          Jenzer    1m24.322s  + 1.993s
25.  Jimmy Eriksson       Status    1m25.044s  + 2.715s
26.  Carmen Jorda         Bamboo    1m25.103s  + 2.774s
27.  Ryan Cullen          Manor     1m41.349s  + 19.020s