The Political Fallout

---
By Tony Dodgins, England
Autosport-Atlas Contributing Writer
You have read all the headlines and seen all the evidence presented both by BAR and the FIA in the legal case that ended with the Honda-powered team absent from the Spanish Grand Prix. But why has the affair not ended there and then, when BAR packed their bags and left Barcelona? And how did the affair affect the rest of the paddock? Tony Dodgins returns from the Circuit de Catalunya with some insight and some answers
BAR, of course, dominated paddock talk in Barcelona, never mind that McLaren were wiping the floor with everyone.
Things like this are always tough. First off, men like Nick Fry and Geoff Willis are good to deal with - articulate, amenable, straightforward. They seem like decent sorts and so you think twice about any accusations.
For the press, of course, it's a great story involving, as it does, Britain's number one driver. But the implications run much deeper. There's the damage to Honda's reputation, the impact on the rest of the team and their employers. That's life, of course, but if you're responsible you tend to lean towards giving people the benefit of the doubt. Beyond reasonable doubt and all that.
As a journalist, how do you know? You only know what people tell you. You then try to explore further and make up your mind based on the best available evidence. But even then, on a technical subject, you're wary of being judgemental.
To me, two principal questions needed answering. First, why did BAR tell the FIA that the tank was empty if it wasn't? Second, why did the BAR007 need such a big collector tank?
The first point is somewhat damning but on the second, Fry said, it was because the fuel system runs at 50-bar pressure. There are gains to be had from running at such high pressure although the people I spoke to seemed to think that 50-bar was high. By comparison, a road car fuel system will typically run at 2-bar and an F3 car at something like 5-bar.
You then get into analysing court proceedings and over 100 pages of documentation that BAR made public on their website. Then, up pops FIA president Max Mosley and says that the team have done a superb job of excusing themselves. Don't be so naive is the inference - it's an open and shut case. In Mosley's opinion they were fortunate to get away with a two-race ban. They escaped with charges of negligence rather than fraud, is effectively what he said. Fraud, and they'd have been out for the year, he added. He also said he thought they'd been stupid.
Neither Fry nor Willis could be called remotely stupid. You know that, and it makes you think. If you've been around a while you also know that Formula One is at its most politically destabilised era since the FISA/FOCA war of a quarter of a century ago. Colleagues tell you what a deeply nasty place the paddock was back then, with journalists being manipulated by both sides.
The manufacturers are of course threatening to deal outside the realm of Bernie Ecclestone and Max Mosley when the Concorde Agreement expires in 2007, and that is at the centre of everything going on in F1 right now. Ron Dennis has pointed out many times that Max and Bernie's modus operandi has forever been divide and rule. What better way to destabilise the manufacturer alliance than to point out that one of them is cheating?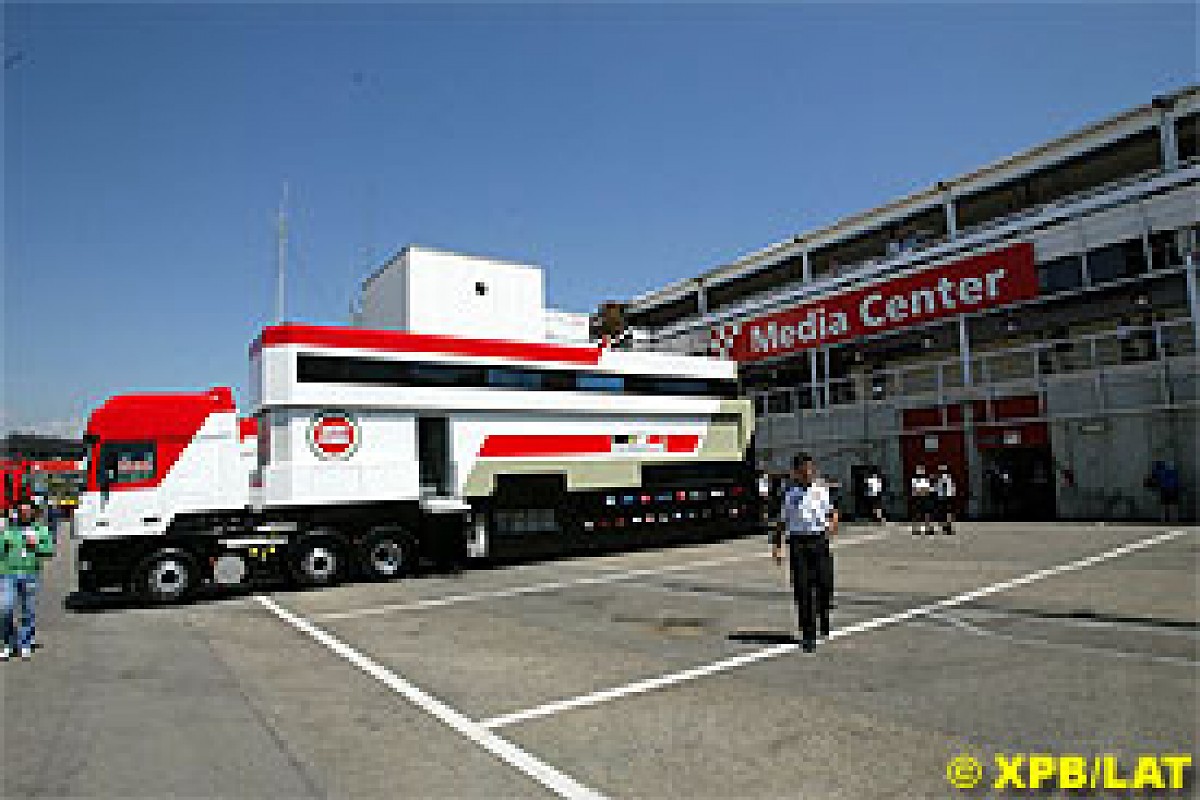 So, what did the others think?
There wasn't much joy on the record and precious little off it, either, from the big players. It seems like there is a real determination not to do or say anything that will jeopardise the solidarity among the manufacturer teams. Red Bull and Jordan, of course, recently joined Ferrari in a 2008 rules meeting with Max and Bernie but nobody else was playing.
But someone who was prepared to open his mouth said: "I understand the silence but I think a lot of people are pissed off about this. It's all very well saying that they've been caught, but this is about last year to my mind. We can't prove it now, of course, but the possibility is that they were doing it throughout last season. And if they were, well, there they are next to Ferrari in the pitlane and they've taken the extra TV and sponsorship money..."
It was a good point. As well as acknowledging that F1 is amid a maelstrom of politicking you also have to be reasonable and allow the FIA to do its job. If there's "a dodgy fuel tank or a dodgy amount of fuel", in Mosley's words, then you can't blame Charlie Whiting and his men for finding it. And the fact that Whiting is held in such high regard throughout the paddock tells you that generally - if sometimes grudgingly - everyone admits that Charlie and his chaps do a difficult job. Well, in fact, when it's five in the morning, you've got a mountain to do and deadlines are looming, I often tell myself that life could be worse - I could be Charlie Whiting.
One of Charlie's problems is that with a technical sport the rules can be interpreted in different ways, which of course BAR will argue. And more than once the FIA has been accused of writing deliberately vague regulations so that they can interpret them as they see fit.
When I called Paul Stoddart, who was ill with a virus in Melbourne, for a reaction to Mosley's comments about the Victorian court case, we got onto the subject of BAR and the rules.
"Admittedly BAR doesn't look good," Paul said, "but there's a political element too and the question is: who's next? There's not one legal car out there. I mean, just mentioning one example, there's a regulation that says the driver must drive the car alone and unaided. So how can you have traction control?"
This greyness of the regulations was something that BMW's Mario Theissen was prepared to talk about. Among the changes to the sport that he wanted to see was a properly written rule-book. The manufacturers, he said, still did not have a new name to replace GPWC, but there was a meeting on Sunday morning in Barcelona and, in due course, yes, the manufacturers would be prepared to sit down and talk to the FIA.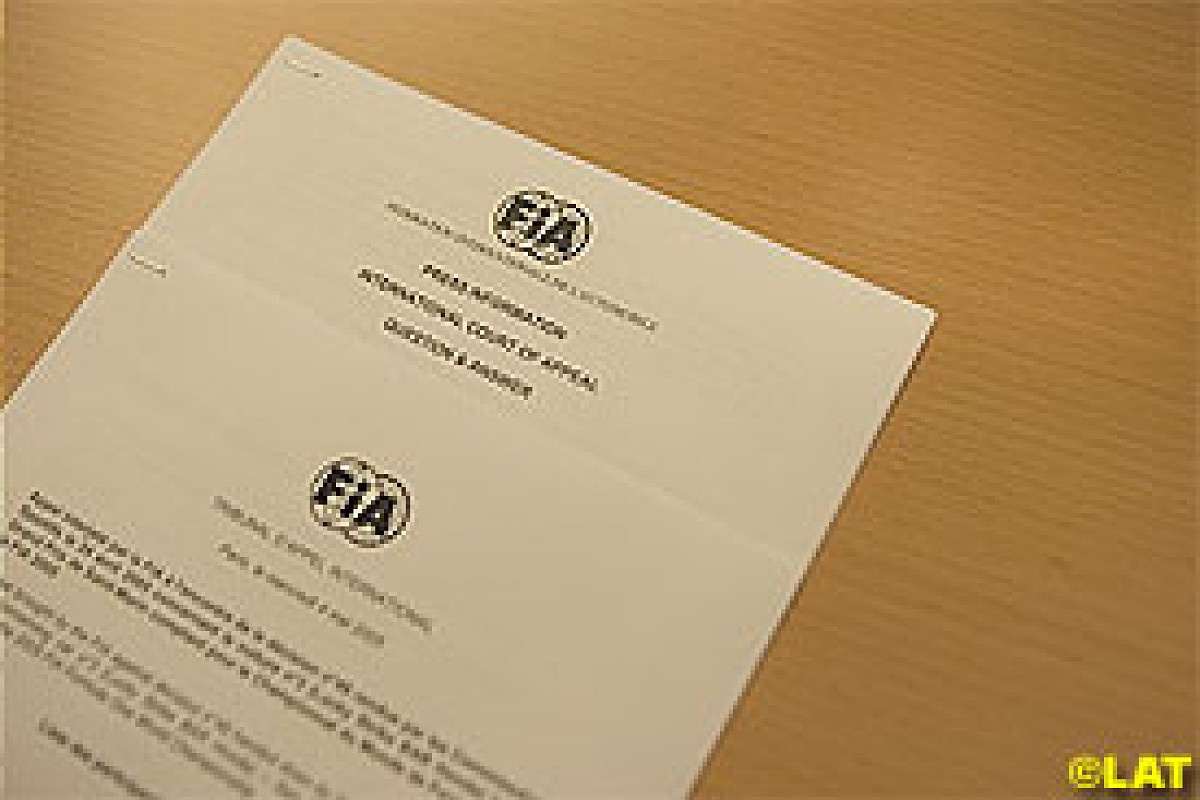 An independent Court of Appeal is another obvious one in my book, and something the manufacturers want, although Mosley cites the need for racing knowledge, technical knowledge and rapid response times as the reasons for keeping things as they are.
Just before the race started on Sunday, an interesting rumour reached my ears. It was that Mr Ekhard Cordes, the new big cheese of Mercedes-Benz, had gone to see Bernie Ecclestone with the intention of also signing up to Bernie's new deal.
If this was true, of course, it was a massive story. But it didn't make sense and the timing was deeply suspicious. If someone wrote it, it would surely put the cat among the pigeons. But not to investigate it would have been... negligent. I asked my source if he was sure and he admitted he wasn't but added that, for definite, Mr Cordes had gone to point out to Mr E that in future, if he wanted a Mercedes position, it was Cordes himself who Bernie should approach, not Ron Dennis, not Norbert Haug or Juergen Hubbert.
And so, post-race, into McLaren's hospitality area I went, tape-recorder in hand, and found Ron beaming from ear to ear for the first time in eons. He's a racer and after going through long-term pain his team had just won a motor race. Very convincingly. Champagne was flowing. Spirits were high. I just didn't have the heart. I wimped out and asked Martin Whitmarsh instead...
"Ekhard Cordes is head of Mercedes Benz car group and is here to attend a meeting of the manufacturers, which have a very different agenda from the idea of going to sign an agreement with Mr Ecclestone," Martin said.
I thought as much.
"It shows how ill-informed people who start these rumours are, in that the Concorde Agreement is signed by the teams. McLaren is the signatory and not Mercedes-Benz in any case."
For ill-informed he might have substituted devious or calculating.
Whitmarsh went on: "Mr Cordes is totally supportive of the manufacturers' plans to improve the governance and the transparency of Formula One as are the other manufacturers. I heard the rumour before the weekend and I didn't even ask him about it because it's not credible."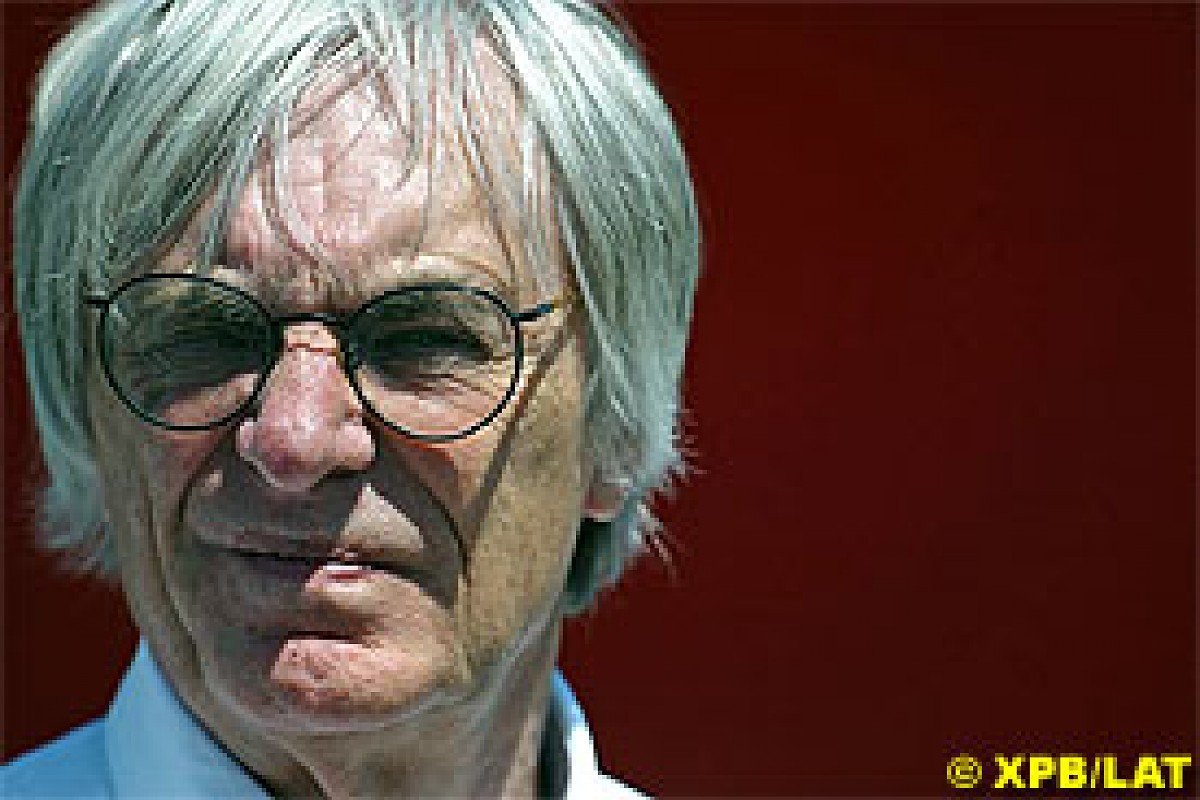 Did he go and see Mr E, I asked?
"Well, he may have bumped into him or whatever, but there was certainly no intention and indeed no ability on the part of Ekhard Cordes to go into an agreement on behalf of this team. And he's not going to. He recognises that this sport needs to be transformed in the way in which it is administered and governed. He is trying to support that initiative."
So had the manufacturers made any progress?
"There's progress on a daily basis but we're talking about 2008. Nobody's got to do something in the course of this weekend, next weekend, or whenever. We are trying to take a constructive, disciplined approach to the best way in which we develop the sport."
Max, I said, seemed to make an impromptu appeal to get people discussing around the table during his Friday press conference. Was there a willingness to do that?
"There's a willingness to go and talk with the FIA but what we need are some changes to the sport." I noted that he said 'the FIA' and not Max, didn't labour the point and left it at that.
Mosley is under pressure and he knows it. But he's also formidably intelligent, plausible, funny even. He's the consummate politician and isn't going to be tripped up by a room full of mere journalists. If, very rarely, it looks like he might, he is quite capable of going on the offensive. And seldom does he do anything without an agenda. You need to listen carefully to the throwaway lines.
On Friday, for example, while explaining the thinking behind the '06 engine rules, Max offered, completely unprompted: "I would guess that at the beginning of 2006, the most obvious commercial manufacturer, Cosworth, may even have a substantial advantage because they have an enormous pool of data about V8s and all the problems with V8s that other people don't have. But I don't know, I'm not qualified to say that will be the case."
He might have added: are you listening, Frank? If you're a bit jumpy about those Germans getting so stroppy at you tugging round in midfield with those awfully powerful Munich V10s and going off to talk to the cuckoo clock brigade, then why not come over and sign with us...
Is it a good time to be a motor racing journalist? Yes, if you harbour secret ambitions to be a political correspondent. But if you see politicians as tediously bickering salaried schoolchildren whose accomplishments lie in being the most polished and accomplished liars, then it's less appealing right now.
Was BAR's ban politically motivated? I don't think so.
Will the FIA make some political capital out of it? Well, if you're gifted the ball two yards out, do you stick it in the net?
How much further has all this to run? Well, two years and six months to be precise.
How mucky will it get? With the sport's governance ostensibly at the root of it but money the real issue, who knows.