---
By Dieter Rencken, Belgium
Autosport-Atlas Columnist
The Costs of Testing
May 4th marks a significant date in contemporary F1. One, though, totally unrelated to the rather intriguing matter of BAR at the FIA hearing, co-incidentally scheduled for the same date.
While BAR's fate will be decided in a Parisian chamber within the FIA's global headquarters situated at 8 place de la Concord, Paris, Formula One's season, and the future competitiveness of the sport's leading contender, Ferrari, will be influenced by progress made on a small test track on the outskirts of Maranello.
All things being equal, yesterday should have seen the last running this year of a Ferrari V10 Formula One car outside of a Grand Prix weekend, for, as from today, the Italian team exceed the 30 day-limit voluntarily adopted by the Group Of Nine (all teams bar Ferrari, unless Red Bull Racing and Jordan join the red team, in which case it drops to G8 or even G7). More significantly, Ferrari today breach the 15,000 kilometre annual test cap suggested by themselves way back in January.
Of course, things in Formula One are never equal, and Ferrari argue, rather logically, that when the G9 refused their offer of a distance-related cap, all previous agreements disappeared in a puff of tyre smoke, and the team were free to do their own thing. In other words, free to run unrestricted by time or distance, free to run any number of cars at any number of licensed circuits, separately or simultaneously, anywhere in Europe.
And, why did Ferrari refuse to join the G9 test agreement, then suggest a distance cap in its place? Simply because they realised that they and tyre partner Bridgestone - a self-engineered situation which sees Ferrari as the company's sole effective runner - could be seriously swamped by the greater test potential of Michelin, which has seven teams to draw upon.
Some history: in 2002 the FIA ceased policing test activities on the basis that the body had neither the interest in, or manpower to, check on time and distances run privately by the then 11 teams competing in its own World Championship. Whether the reasons given - logistics and cost - were or remain valid is open to conjecture: cars run on rubber, and all tests are, as a matter of course, carried out with tyre personnel present. It follows, therefore, that restrictions on quantities and specifications of tyres left with teams after Grands Prix would introduce self-policing elements.
And, with the FIA's policy of penalising crews veering even slightly off-route on world rally Championship events on the basis of data provided by approved GPS systems, could not similar technology be adapted for incorporation in Formula One cars? Finally, with the intense focus, media and otherwise, on all matters F1, how long would transgressions escape undetected, particularly if Draconian fines of the type so often threatened by the FIA, yet so seldom applied, were consistently levied upon conclusive proof of a breach of testing regulations?
All that, though, is food for the future, for what is presently of grave concern is the question of sustenance, not only Ferrari's ability to sustain such intensive developments at costs said to exceed €2000 per testing kilometre run, but also whether G9/8/7 members are able and willing to adhere to the Brazilian Grand Prix agreement in the face of such an onslaught.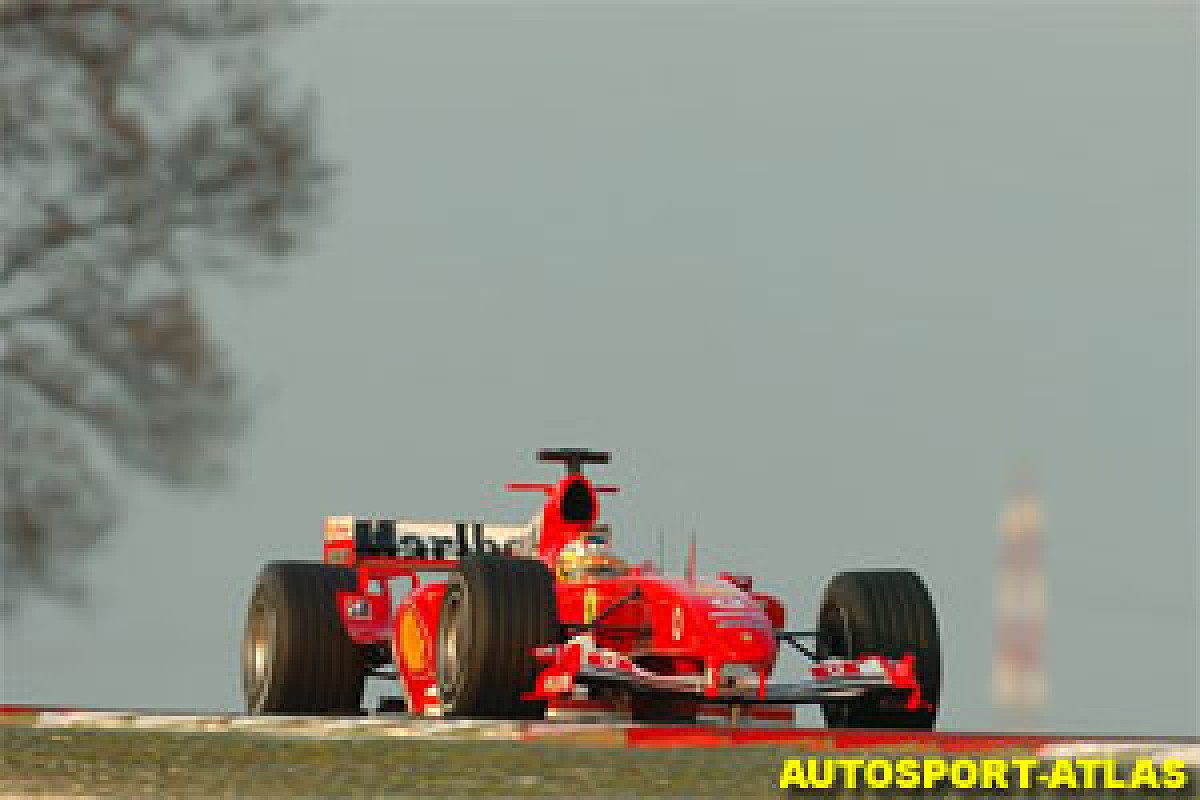 A cursory glance at Forix's excellent database shows that the Italian team have run no less than 30 days in testing since they left for Melbourne in late February, during which time they logged up well-nigh 17,000 kilometres using no less than five drivers and three cars per day, at up to three different circuits per test week.
Given the universally quoted cost per test kilometre (for a competitive team; Minardi's Paul Stoddart recently quoted a young hopeful no less than €1,000/km with a minimum of 200 kilometres), Ferrari's test costs, with the season barely 20% through, amount to €34m. Extrapolate that figure to season's end, and the cost to the team of pounding around vacant circuits hit €170m for the year. Utter madness, or what?
Next up in the test stakes are BAR-Honda with 12,000 kilometres run, and, with no reason to believe their costs are substantially lower (what they score on swings they lose on roundabouts through having increased travel costs), their test bills for the 12 days run to date pan out at €24m. But, assuming the team stick to word and spirit of the G9 deal, their extrapolated distance, at the average rate of 1,000 kilometres/day, equates to €60m for the year - one-third Ferrari's bill.
Of course, further down the test chain the variances increase: Renault's extrapolated figure amounts to €53m, McLaren are on €45m, Williams €37m, and Toyota, which, surprisingly, have tested for but nine days since Melbourne, running up €44m should they go full 30 yards this year. For practical reasons independents Red Bull, Sauber, Jordan and Minardi have been excluded from this analysis.
And, therein lies the rub. How much longer will the likes of Honda, Renault, Mercedes, BMW and Toyota stand by and watch Ferrari spend their way out of present trouble - even if it is thought likely, given the precarious situation the company's parent company Fiat finds itself at present - that they could ultimately spend their way into bigger trouble?
Surely, at some stage, instructions will cascade down from boardrooms in Tokyo, Paris, Munich and Stuttgart to racing operations in Brackley, Witney, Cologne, Grove and Woking to beat Ferrari at all costs, or close shop and depart the sport, certainly as presently administered by the FIA. What sense, after all, in spending €220m (Renault) only to lose leads in both Championships to a rival spending an unrestricted €300m? And, there lies the greatest danger for G9: that one team, initially, will be instructed to withdraw from the alliance, causing a domino effect down the grid as others go their own ways to haul in runaway Ferrari.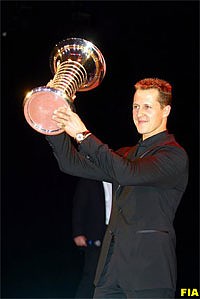 They, of course, claim they are entitled to spend their budgets in any way they see fit, and so they are, on the proviso, surely that the money spent is made up entirely from own resources. Is it, though? Or could a strong case be made that portions of Ferrari's budgets have been rather unfairly sourced to the detriment of the rest? In other words, is Ferrari's test effort, apart from being subsidised their tyre partner, being further funded by Formula One's global income?
Consider the wording of a press release put out by Ferrari on 24 January 2005 in the wake of the FIA/FOM/Ferrari Concorde Agreement ?extension': "As a result of what was established in the agreement announced on the 19th of this month, the new version of the Concorde Agreement will come into effect from 2005 on the revenues owed to the signatories thereof."
Subsequently it has been rumoured that Ferrari receive(s/d) an estimated $200m (€150m) for their signature - though suggestions from Italy have it the car company was required by fiscal authorities last November to prove they could trade their way out of technical bankruptcy, hence the rushed signing and 'sweetener' - and, if so, surely this income is contributing to the race team's rather lavish test programme. Have the 'revenues owed to the signatories thereof', with Ferrari, as the sole team known to have signed up, been paid to the company? Is the sweetener funding Ferrari's non-stop test programmes?
In other words, are SLEC, Bernie Ecclestone, the banks - who may or may not yet be aware of the effects of this drain on their revenues - and, by extension, the final signatory to the 'extended' Concorde, the FIA, indirectly responsible for funding Ferrari's test programmes? If so, it seems rather strange that a body seemingly committed to Draconian cost-cutting exercises should be party to programmes which up the ante by at least €170m.
Is the 30-day test cap ultimately doomed as a direct result thereof? Despite firm denials that this mainstay of the G9/8/7 is in any danger, strengthening rumours suggest that BAR will be the first to withdraw from the agreement - unless, of course, the FIA's Appeal Court hearing drastically alters the team's immediate plans - with Toyota and Renault next in line. Then, goodbye, test cap; Hello big budgets.
Out with Ferrari
But, what can the G9 do about Ferrari's activities in the interim. Last year, in Brazil, the group vowed to 'name and shame' the Italian team into accepting a 20-day (as it was then) test cap; subsequently all sorts of mutters have emanated from various camps, including Renault's via Fernando Alonso in the build up to Sunday's race, and Ralf Schumacher in the wake of his brother's masterly drive for Ferrari in Imola.
Now, though, come rumours that at least one team plan to detail a G9 championship, ie, one excluding Ferrari, on its press releases to drive home their points rather graphically. A G9 team principal said: "It's really is a simple but effective little calculation. All we'll do is remove Ferrari and their drivers from the Championship points structures, and adjust everything else accordingly. Then we stick it on the back of our post-race press releases."
Of course, the concept, which partially hi-jacks the FIA's championships by creating a secondary league based upon the governing body's point structure, is hardly likely to find universal acclaim, but, in essence, are there rules or regulations against it? Various associations, the BRDC and Lorenzo Bandini Organisation, for example, present awards based upon FIA Championship points earned without sanction, implying the suggested G9 championship structures to be perfectly legal, even if a touch dramatic and/or humorous.
Last year various media outlets published Championship standings which excluded Ferrari's achievements - mainly, though, for patriotic reasons - so, with those and other precedents such as the championship-within-a-championship Jim Clark and Colin Chapman Trophies awarded in 1987 by the FIA to drivers/teams running alternate specifications, why can G9 not do the same, asked the source.
It seems a fair point.
What, then, are the present G9 Championship standings?
Drivers

Fernando Alonso         38
Jarno Trulli            20
Giancarlo Fisichella    10
David Coulthard         10
Ralf Schumacher          9
Juan Montoya             9
Kimi Raikkonen           8
Nick Heidfeld            8
Mark Webber              8
Jenson Button            8
Alex Wurz                6
Takuma Sato              5
Pedro de la Rosa         4
Jacques Villeneuve       4
Christian Klien          4
Felipe Massa             3

Constructors

Renault                48
Toyota                 29
McLaren                27
Williams               16
Red Bull Racing        14
BAR                    13
Sauber                  7


Biggest beneficiary after the reshuffle are McLaren, who leapfrog Toyota in the Constructors', but, rest assured, the silver team are not, as far as this column is aware, the architect of the G9 points system. The question, though, is whether the 'revised' points structure will have any effect on Ferrari and their test activities. Who knows, but it sure is mathematical fun whilst it lasts.