The 2005 San Marino GP Review

---
By Will Gray, England
Autosport-Atlas GP Correspondent
In a heart-stopping race finale, Championship leader Fernando Alonso held off pressure from Michael Schumacher to clinch his third consecutive victory of the season at the San Marino Grand Prix. It was a thrilling battle that made the headlines around the world, and one that gave Formula One a much needed energy boost. Will Gray reviews the weekend's events and the results of the fourth race in 2005
It was a case of pressure versus performance as the challenge for victory in the San Marino Grand Prix came down to a 12-lap sprint between Championship leader Fernando Alonso and World Champion Michael Schumacher. But the real crux of the race weekend was far away from that finish line on Sunday.
The race was a thrilling display of just what Formula One can do as single lap qualifying and a closely competitive field combined to create a thriller. As one aged journalist said to a relative newcomer in the pitlane: "I think we just saw a motor race there. It has taken us years to see one of those."
The applause that greeted the three winners after the race almost raised the roof on the antiquated media centre. Formula One had just become exciting again, column inches had doubled for some newspapers, and the prospect of a battle for the world title left everyone salivating with anticipation.
But the real truth of what happened in the San Marino Grand Prix weekend rolls back to December, when team chiefs agreed to limit in-season testing to 30 days. Every one except Ferrari boss Jean Todt, that is, whose team had already done 20 days of running by the time they hit the track at Imola on Friday.
If that continues then everyone knows Ferrari will be steaming into the distance if not in Barcelona but certainly by the middle of the season. Strangely there were plenty of mutterings from people glad to see Schumacher back after such a short time but they are likely to stop once he is firmly back in front.
Which is why Formula One must make the most of this while it lasts.
There is no question, the San Marino Grand Prix was a nerve-jangler, physically exhausting to watch, let alone to drive, as the seven-time Champion and the young pretender to his crown traded inches of track in defence and attack.
Ferrari's comeback, fair or unfair, was somehow both astonishing yet unsurprising. The might of Maranello do not lie down for long and, after realising they made some incorrect strategy moves on the new regulations they were always going to be able to find a quick fix to their problems.
Sure, Alonso was handicapped by an engine that had been badly damaged in Bahrain and was almost replaced during the San Marino weekend. But the de-tuning Renault had to do did not cost them as much time as Ferrari had gained and, if it were not for Schumacher's slip-up in qualifying, it would have been all Ferrari.
That cushion Renault had talked about in the opening few races has been firmly squeezed to nothing and even they were left admitting that Ferrari's rapid turn-around in pace and their renewed consistency in long runs has now handed their rivals the speed advantage once again.
That said, temperatures in Imola were significantly different to the last two races with the 42-degree heat of tropical Malaysia and the desert island of Bahrain making way for 14-degree temperatures in the lush mountainous Emilia Romagna area of Italy as the European season got underway.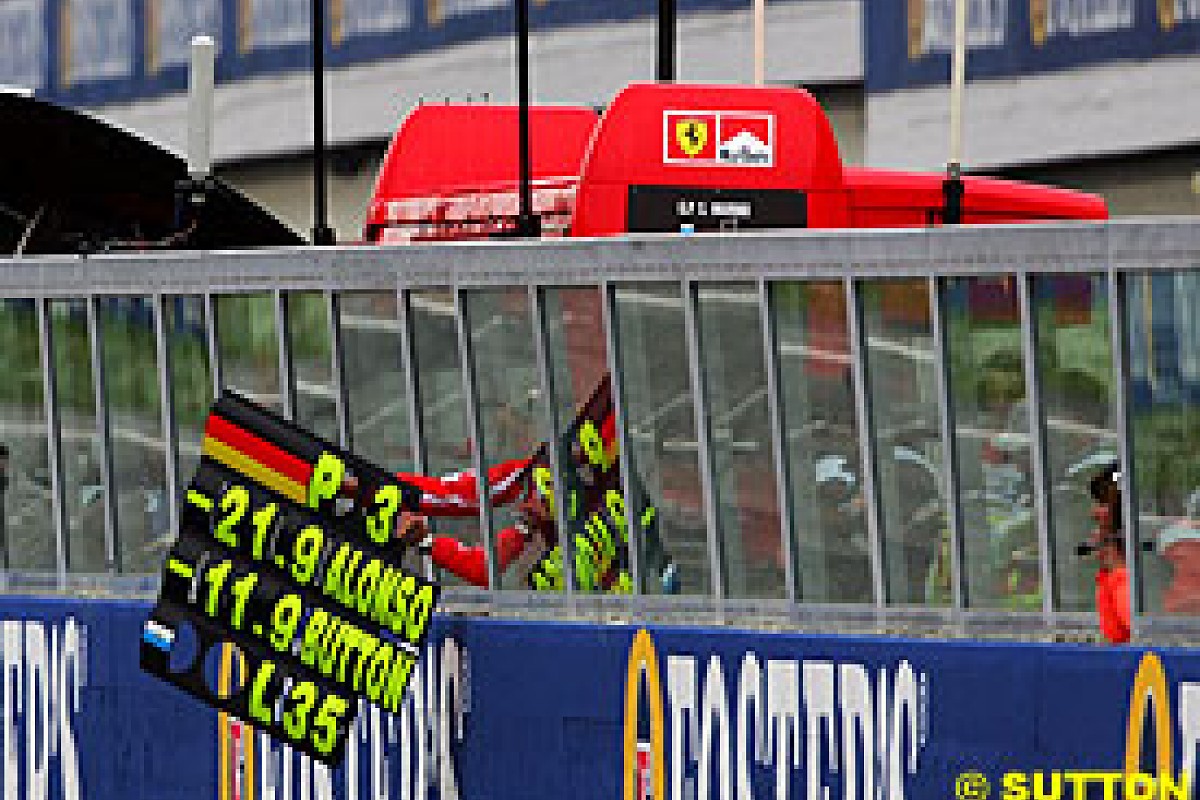 That will have played into the hands of Bridgestone as extremely as the high temperatures previously gave Michelin the advantage, so once the average is met, as should be the case with most of the mid-season races around Europe, then Renault, Ferrari and possibly others might just be performing on a par.
But while both may be on a level, neither are close to perfect. The supreme reliability enjoyed at the front in recent years, it seems, is no more, and while Alonso is romping ahead in the Drivers' Championship with twice as many points as his closest rival, the Constructors' Championship is much closer.
Ferrari got used to finishing with both cars in almost every race last year but this year they have yet to record a double finish. Renault have showed impressive pace but have only got both cars home on one occasion, as has Williams, while McLaren have been reliable but lacked pace.
BAR, on the other hand, went from consistent failures to a competitive double finish and certainly gave themselves hope with a comeback of similar proportions to Ferrari's as Jenson Button secured a podium and Takuma Sato doubled their delight by throwing a second points finish into the bargain.
And although it all went wrong after the race when their cars were deemed to be underweight, there is no denying their promise was greater than the advantage they would have achieved from running, most likely accidentally, below the 600kg minimum weight for the small amount of time that may have happened.
McLaren went home with at least five points, maybe more if Button is eventually disqualified, but while Alex Wurz's efforts showed once again that he is a man who deserves a chance to race, they were no match for what Kimi Raikkonen could have achieved if he had not suffered a disappointing car failure early on.
But the Woking team's rise was matched by Toyota's demise as the German-based outfit struggled and Jarno Trulli, who starred with two second places in the last two races, managed a disappointing seventh and Ralf Schumacher was pushed out of the points for the time being by a disputed penalty.
Red Bull, too, finally showed their focus on marketing as their impressive new 'Energy Station' arrived in the paddock, complete with flash massage shower and seven-foot bar, and the under-performing cars on the track seemed secondary.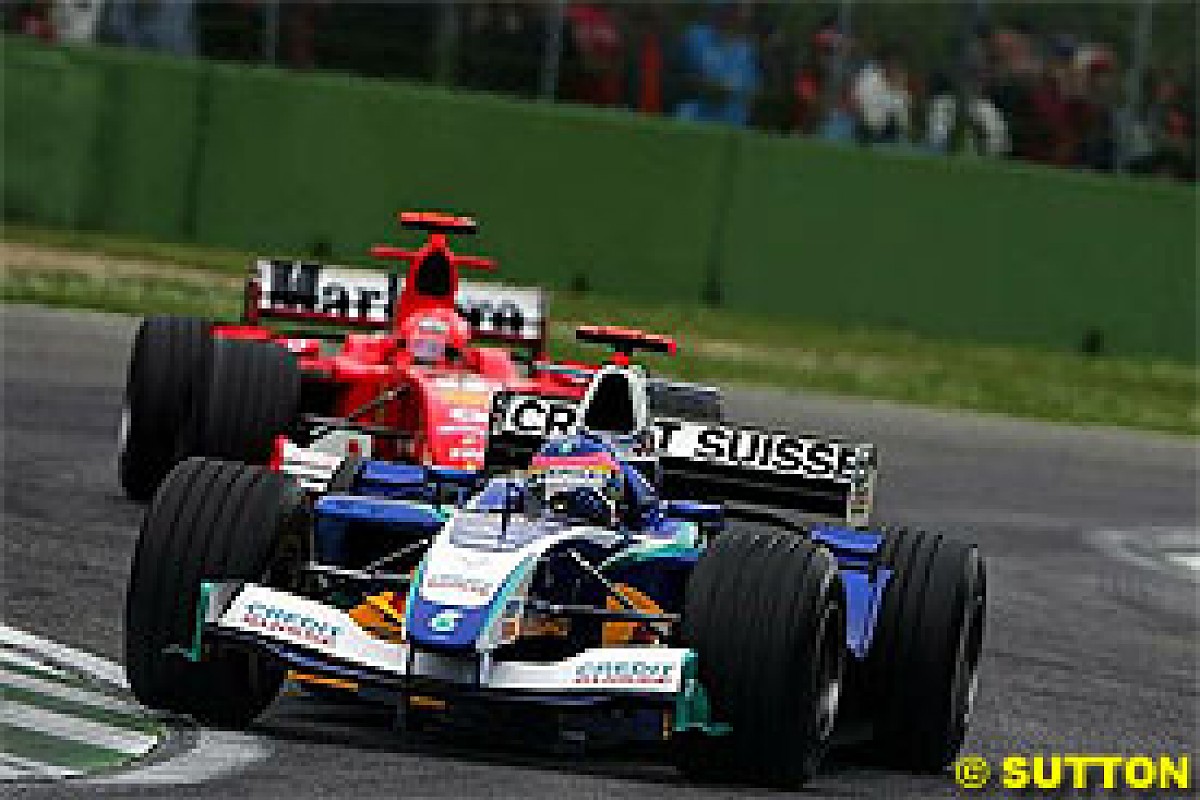 But there were finally smiles for struggling former World Champion Jacques Villeneuve, who was under pressure to perform for Sauber after being controversially pulled from a test following the Bahrain Grand Prix, as he secured a hugely satisfying sixth place.
So there certainly were some massive ups and some massive downs as the circus returned to Europe and while the discussions over BAR's latest problems rumbled into the night and Renault's engineers began to plot their reaction to the day's events, Ferrari could allow themselves a large sigh of satisfied relief.
The controversial new qualifying format was once again under scrutiny in Imola after commercial rights holder Bernie Ecclestone moved to change it back to a free-for-all hour of action.
But while the scheduling of the single lap sessions remains under scrutiny, the new aggregate qualifying is starting to become a popular way to decide the grid and there were plenty of movers and shakers from session to session.
None less than World Champion Michael Schumacher, who made a costly mistake on his run to prove that even the best can be caught out under the pressure while the young guns he has signalled out as his main rivals held their nerve.
The Grid
1. Kimi Raikkonen (McLaren)
2:42.880 First session 1:19.886; second session 1:22.994
McLaren showed their hand early in the weekend when test driver Pedro de la Rosa topped both Friday practice sessions and Raikkonen took over on Saturday to secure provisional pole by just three thousandths of a second thanks to strong times in the first two sectors. Under pressure to hold his place at the end of the second session he was down on Alonso after the first sector but topped the second two to secure pole by a significant margin.
2. Fernando Alonso (Renault)
2:43.441 First session 1: 19.889; second session 1:23.552
Suffering in silence with a badly damaged engine, Alonso didn't set a time in the first practice session and completed just 12 laps on Friday; then skipped the first practice on Saturday before completing just eight laps in the final session. It proved only a slight problem, as he strolled into second with one top sector time. With a decent cushion already on third-placed Button, Alonso could take it easy and play with his strategy and still secure a front row spot in the second session.
3. Jenson Button (BAR-Honda)
2:44.105 First session 1:20.464; second session 1:23.641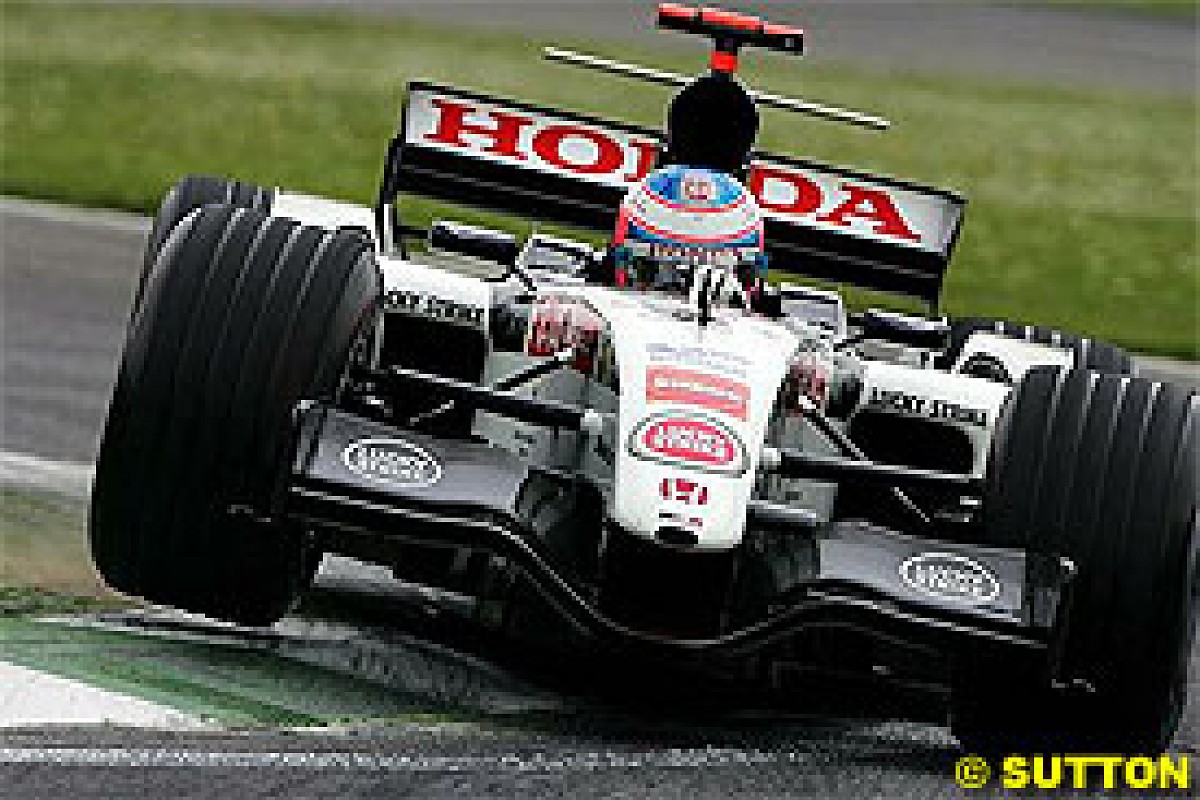 After topping final practice to signal his performance potential, Button could only manage fifth fastest time in his first qualifying session after being forced to go out early and suffering understeer on the latter part of his lap. Despite admitting his second session lap was "awful", he did enough to jump two places to third on the grid, albeit almost 1.3 seconds off the aggregate lead pace.
4. Mark Webber (Williams)
2:44.511 First session 1:20.442; second session 1:24.069
Webber set the fourth fastest lap of the session in his first qualifying, when his mistake in braking too early into turn one was balanced by a strong third sector in which he was second only to Alonso. His second session lap was not so good, with the eighth, seventh and sixth fastest sector times adding up to a time that was not good enough to keep Button at bay.
5. Jarno Trulli (Toyota)
2:44.518 First session 1:20.492; second session 1:24.026
Trulli has got used to qualifying right at the front of the grid, but after preparing for a poorer performance he was satisfied to secure sixth place in his first run, with the middle sector being mostly his problem area. His second run was good enough to enable him to hold station and benefit from Schumacher's demise to gain one grid spot.
6. Takuma Sato (BAR-Honda)
2:44.658 First session 1:20.851; second session 1:23.807
Sato was penalised for his retirement in the last race by being handed an early run in the first session, and while he struggled to find his pace he was happy that the middle runners were tightly bunched. He was right to be encouraged because a stunning lap in second qualifying, which saw him set the second fastest time in the third sector, jumped him four places to sixth on the grid, the biggest climb by any driver.
7. Alex Wurz (McLaren)
2:44.689 First session 1:20.632; second session 1:24.057
Despite a lack of experience in the high-pressure world of single-lap qualifying Wurz handled it well and, apart from a disappointing middle sector, put in a reasonable banker time in the first session. With his confidence built, he put in a lap with a top-ten time in every sector to jump Massa and climb to seventh on the grid.
8. Felipe Massa (Sauber)
2:44.930 First session 1:20.593; second session 1:24.337 * Dropped to 18th on the grid after engine change, all below him moved up one place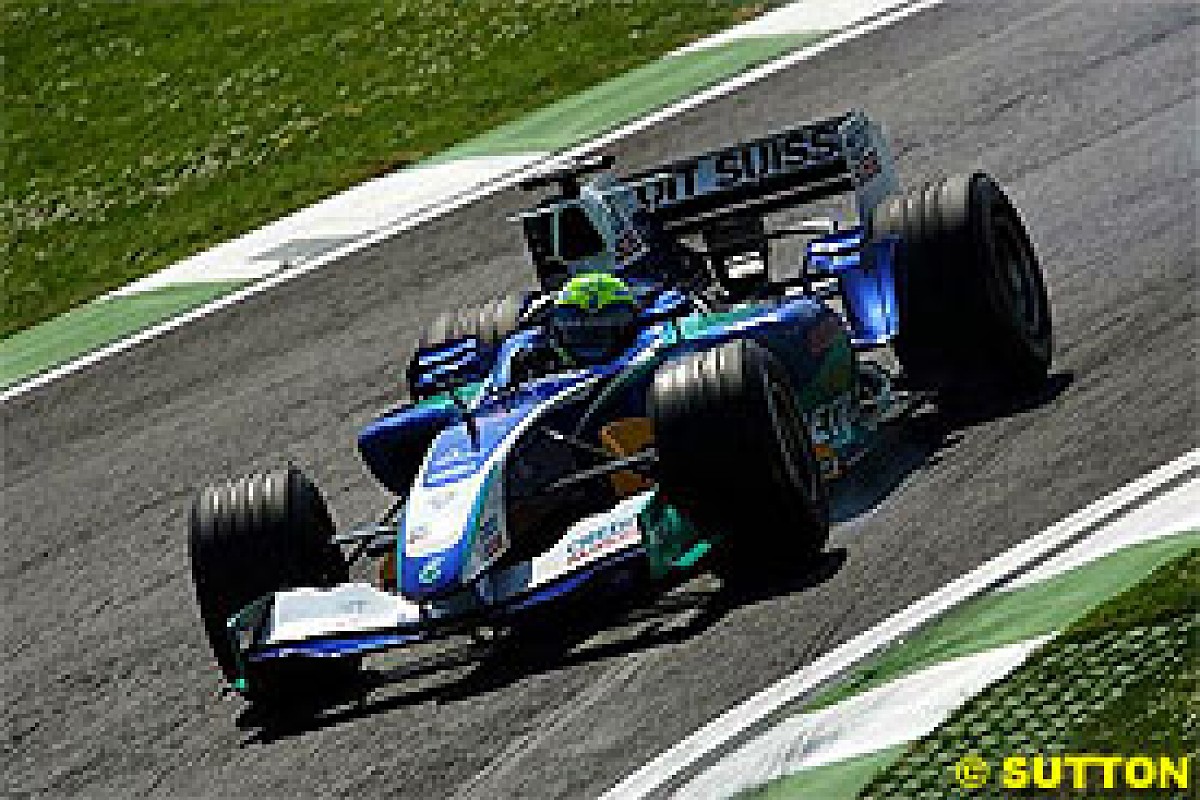 It was a mixed day for Massa on Saturday as he finally got things together to set a top-ten laptime, with the third fastest middle sector, but was then told he would drop ten grid spots because the team had to change his engine. He already knew he would be starting way back on the grid so it didn't really matter what time he set in the second session which, for the record, was again eighth fastest.
9. Nick Heidfeld (Williams)
2:45.196 First session 1:20.807; second session 1:24.389
Heidfeld admitted after the qualifying session that he had been concerned about a back injury he suffered in testing after the Bahrain Grand Prix, so he was happy to come through the pre-race sessions unscathed. He lost grip in the latter part of his first lap but suffered less in the second session and maintained position.
10. Rubens Barrichello (Ferrari)
2: 45.243 First session 1:20.892; second session 1:24.351
Barrichello struggled with the balance of his car on new tyres after reaching a good set-up on old rubber and consequently finished his first run down in 11th place, just more than a second off the pace with significant potential of improvement due to the midfield bunching. He was further off the pace in the second session but gained one place thanks to his teammate Schumacher's plunge down the field.
11. Ralf Schumacher (Toyota)
2: 45.416 First session 1:20.994; second session 1:24.422
Ralf Schumacher admitted he "took it easy" on the first part of his lap and the times showed. He lost more than four tenths of a second to teammate Trulli in the first two sectors of the lap, then set the fourth fastest final sector to finish half a second off Trulli. It was the opposite in the second qualifying, as he hooked up the fifth fastest first sector only to fall away in the second two.
12. Jacques Villeneuve (Sauber)
2:46.259 First session 1:20.999; second session 1:25.260
If rumours were to be believed, struggling former World Champion Villeneuve would not have been on the grid in San Marino. He was, and he finished just 1.1 seconds off the pace in the first session, four tenths slower than Massa after a mistake that cost him a couple of tenths. He was much slower in the second session but was satisfied to gain one position to move to 12th.
13. Giancarlo Fisichella (Renault)
2:46.710 First session 1:21.708; second session 1:25.002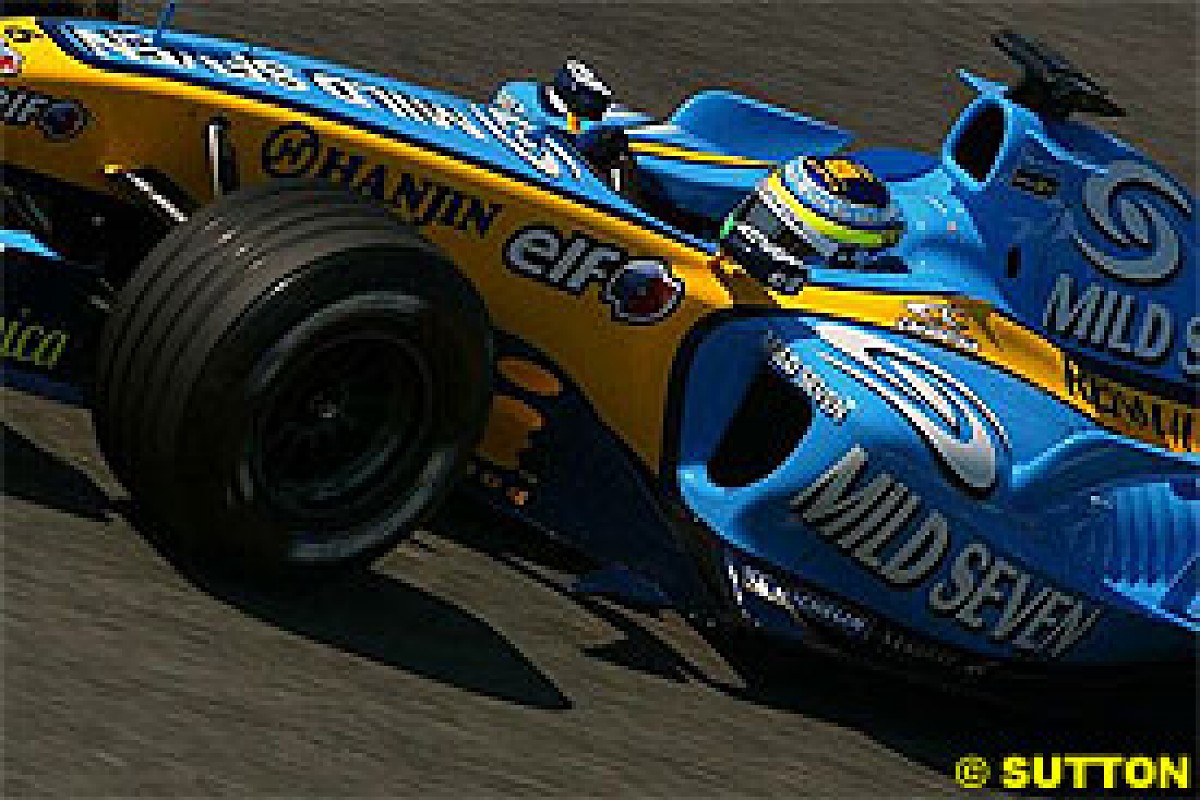 For some reason things have just not been going right for Fisichella since his Melbourne victory. He could only manage 16th fastest time, 1.8 seconds off teammate Alonso, after going out early in the session and having his rear brakes inexplicably lock up heading into turn 15. He was similarly slow in the second qualifying session, 1.5 seconds slower than Alonso, but moved up two places jumping Coulthard ahead and gaining from Schumacher's mistake later.
14. Michael Schumacher (Ferrari)
2:47.244 First session 1:20.260; second session 1:26.984
Schumacher set the third fastest lap in first qualifying, 0.374 seconds slower than the lead two but with two-tenths of a second advantage over fourth-placed Button. Consequently his team decided to fuel up his car for a long first stint in the race but it proved difficult to handle at the pace he needed to limit the loss of grid positions and he slid wide when he hit a bump heading into Rivazza and lost a massive 11 places.
15. David Coulthard (Red Bull Racing)
2:48.070 First session 1:21.632; second session 1:26.438
Red Bull never got their car hooked up for Imola and Coulthard was 1.7 seconds off the pace in the first qualifying session after advice from teammate Liuzzi caused him to take a cautious run into the first corner that immediately cost him six tenths. He struggled again in turn one on his second run but he managed to pick up time in the final sectors and only lost one place when Fisichella bettered his aggregate time.
16. Vitantonio Liuzzi (Red Bull Racing)
2:48.155 First session 1:21.804; second session 1:26.351
Liuzzi handled his first ever single-lap qualifying run reasonably well, especially as he was the first driver out on a dirty track. He took a cautious but comparatively fast approach to finish just off his teammate Coulthard's time, and then put in a solid lap to maintain position in the second run with a total time 4.547 seconds off the lead pace but less than a tenth behind Coulthard.
17. Narain Karthikeyan (Jordan)
2:52.099 First session 1:23.123; second session 1:28.976
Karthikeyan got all he could hope for with continued improvements on his set-up that put him a massive two seconds ahead of teammate Monteiro in the first session as he set the fastest time of the bottom four in every sector. He did enough to comfortably maintain position in the second run.
18. Tiago Monteiro (Jordan)
2:54.252 First session 1:25.100; second session 1: 29.152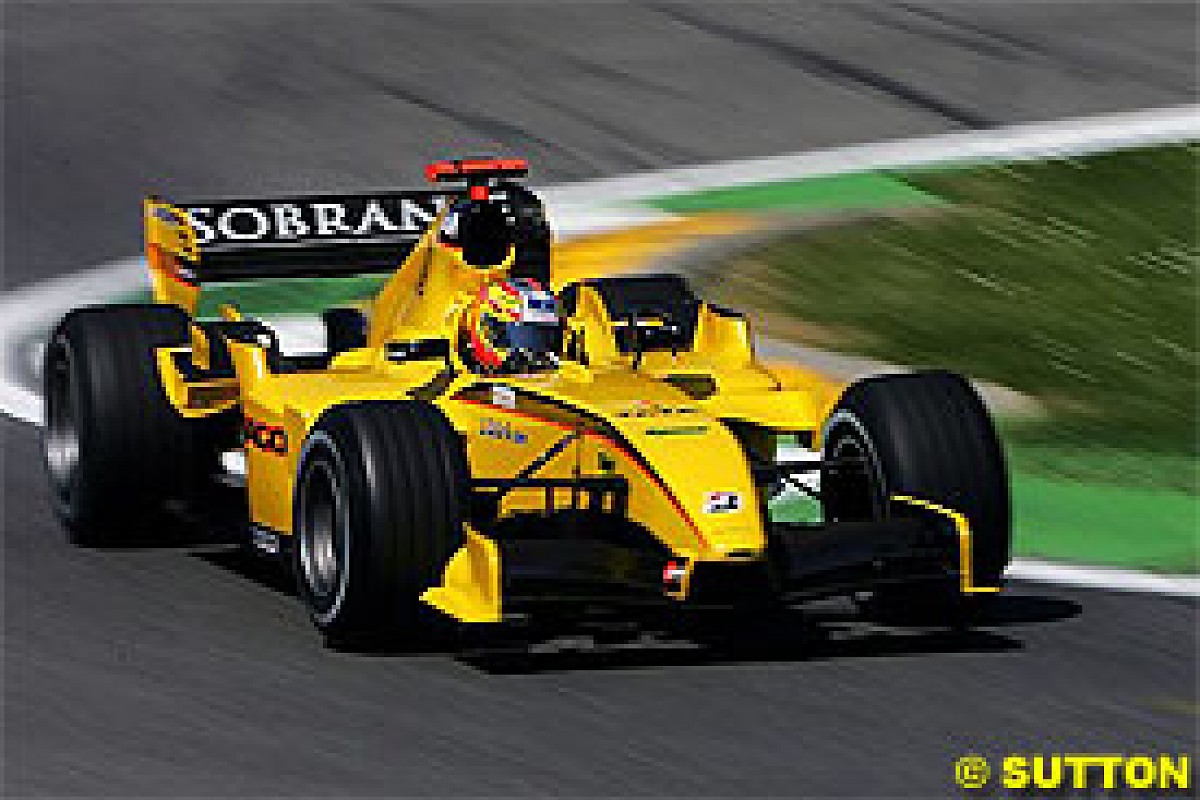 After losing 40 minutes of running in practice Monteiro blamed his poor performance on a lack of preparation time, which was fair enough as he had limited time with new tyres and low fuel. After his first run, his second was much improved, narrowly bettering Karthikeyan's time in the first two sectors and finishing two tenths down in the end.
19. Patrick Friesacher (Minardi)
2:57.048 First session 1:26.484: second session 1: 30.564
Friesacher slid wide at the final chicane after bettering his teammate Albers in the first two sectors so he dropped to last place in the first qualifying session. He struggled on a moist and drying track on Sunday morning after overnight rain but held it together to set a time and secure 19th spot on the grid.
20. Christijan Albers (Minardi)
no time First session 1:25.921; second session no time
After limited running in the new PS05 machine Albers finished 19th fastest after making "too many mistakes" in his first run then had an even worse run in the second session when he spun and crashed into the barriers leaving himself with no time and a back of the grid starting spot.
The Race
Against all odds pole man Raikkonen managed to beat Renault's system at the start of the race when he beat Alonso and kept his lead into the first corner, leaving the Spanish driver to slot in behind with Button comfortably holding onto his third spot.
Trulli made an impressive start from fifth on the grid and shot past the Williams of Mark Webber, who complained of a poor starting system on his car after he also briefly lost a place to Sato before recovering it by the end of the opening lap.
Heidfeld also suffered poor performance off the line in the second Williams and dropped a place to Barrichello, while Villeneuve made a rocket start moving up from 11th on the grid to eighth by the end of the opening lap passing Heidfeld, Barrichello and Ralf Schumacher, who also lost a place to Fisichella.
Liuzzi made a good start on his debut for Red Bull Racing as he shot past Coulthard thanks improved traction gained from starting on the pole position side of the grid, one place behind his teammate, but the rest of the field were just happy to make it around the tricky opening corner.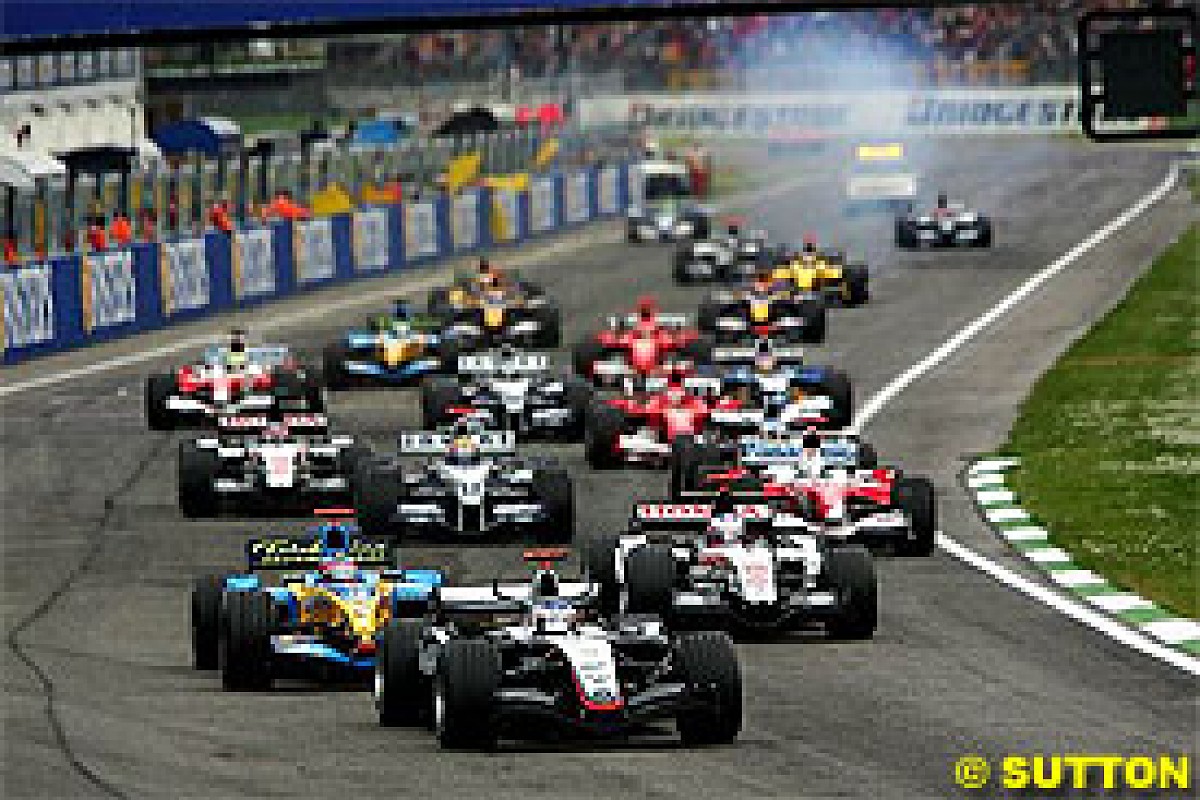 Alonso dropped to a static three-seconds behind Raikkonen in the opening laps as the McLaren driver took control of the race, but Renault's concerns were focussed on their other driver Fisichella, whose disastrous season continued in dramatic style when he went off at Tamburello on lap six.
Renault technical director Pat Symonds said: "Three wins for Fernando, three retirements for Giancarlo. Sad, isn't it? He was cruising behind one of the Williams cars and he was not having to make any steering corrections or anything. It was so easy and it just got away from him. It didn't look normal."
Raikkonen continued his steady pace up front but his Finnish fans expected a problem, considering an apparent curse has prevented any driver from his nation winning on Italian soil, and sure enough it came on lap nine, when Raikkonen slowed and Alonso shot past to take the lead.
A driveshaft failure was to blame for the disappointing end to a promising weekend and although the team were very apologetic, it did not make up for the fact Raikkonen had lost out on a serious chance of notching up his first victory since his surprise success in Belgium last year.
Mercedes engine boss Norbert Haug said: "It's a pity that Kimi retired in the lead because he did everything right, starting from pole position and pulling away from the field after a perfect start. We had the right strategy, which would have given Kimi even more of an advantage."
A more expected demise came at the same time at the opposite end of the field when Patrick Friesacher grounded to a halt on the last corner of the lap with a gearbox problem on his previously un-tested Minardi machine, which had only been completed at 5am on the morning of first practice.
Alonso was free to control the race from the front, in his usual style, and he kept a comfortable gap of close to ten seconds on second-placed Jenson Button as the leading duo held station and grew their advantage over Trulli in third, with Alonso opening up almost a quarter of a minute gap on fourth-placed Webber.
Massa, who worked his way up to 15th from 18th on the grid, collided with Coulthard on lap 16 and the fuming Brazilian was forced to pit. "I tried to overtake him many times," said Massa. "This time he just closed the door and I couldn't stop so I lost my front wing."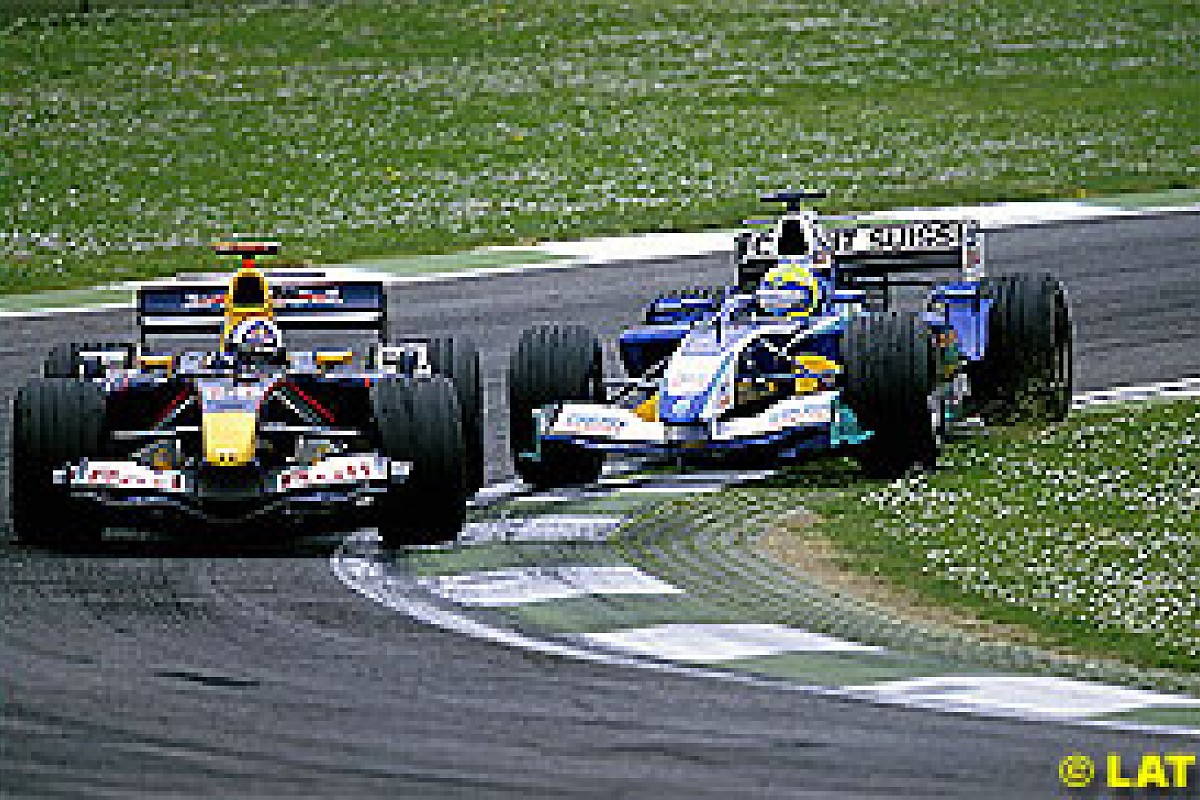 Barrichello pitted for what looked like an early first stop from eighth place on lap 17 but it was soon clear he had pitted with a problem that the team were not able to solve as he became the third high-profile retirement of the race when he drove into the garage on the following lap.
The failure, Barrichello's first of the season, was caused by electrical problems and, because of the fuel on board, he had been unable to show the kind of pace that his teammate Schumacher would soon begin to display as his rivals pitted for their first stops of the race.
Minardi's effective test day ended on lap 20 when Christijan Albers parked in the pits with a similar gearbox problem to Friesacher, but team chief Paul Stoddart remained positive and said: "It wasn't really a surprise that reliability stopped us as this was the first serious outing for the PS05."
Back on the track, Sato made one of his stunning trademark passes on Webber into the first corner of lap 22 and, typically, Webber refused to make it easy for the Japanese driver. Sato remained un-phased, won the battle and said: "I enjoyed racing side-by-side and making up position."
It may have been fun, but it didn't really matter as Webber and third-placed Trulli pitted at the end of the lap to leave Sato clear before he stopped on the next lap, at the same time as leader Alonso, with Button in on lap 24 to complete the initial top five drivers' first stops.
Meanwhile, both Wurz and Schumacher were continuing to run on without a stop and getting faster and faster as their cars decreased in weight. Wurz finally stopped on lap 25 and by the time Schumacher pitted two laps later he had stealthily climbed to second place.
The tactics worked better than Ferrari could ever have hoped and he came back out of the pits in third place, having started the pit stop sequence in tenth. It left him more than 30 seconds behind the leader but with a clear track to attack he was not planning to hang around.
Ferrari technical director Ross Brawn gave the German the orders to push and he did just that. Brawn said: "It was frustrating that Michael got held up for half the race but once we had the space in front of us you could see what the car could do and what Michael and the tyres can do."
Too right you could. Fans, media and rivals stared open mouthed as Schumacher scythed into the advantage held by his rivals by as much as two seconds per lap in an astonishing display of superior performance not unlike the days when he or Barrichello could fight from the back to the front in ten laps.
When Schumacher came out of the pits the deficit to Alonso was 31.634 seconds. One lap later it was down more than a second to 30.203, then 28.971, 27.466, 25.675, 23.745, 21.996, 20.169, 18.020, 16.190, 14.710, 13.828, 12.176, 11.112, and, on lap 42, when Alonso made his second stop, it was 10.249.
Schumacher had taken off 21.225 seconds in 14 laps, an average of 1.508 seconds per lap, closing right up to the back of Button, and Symonds said: "In that middle period Michael essentially had no tyre degradation. He was going as fast as the fuel was coming out and everyone else was suffering."
During that same period there was plenty of action going on down the pack as former Champion Villeneuve finally got back into his old racing ways in a battle with Webber. The Canadian pounced on an opportunity to pass on lap 30 and made it by to climb to seventh place.
Webber blamed the pass on his own efforts to get past Trulli and said: "I tried to pass Jarno on the track at the Variante Alta but while having a go I had a big moment and let Villeneuve through." Villeneuve added: "When he ran wide he tried to come back on but I was able to get by."
Further back in the field and Villeneuve's Sauber teammate Massa was at it again with Coulthard. The Brazilian made a nice dent in the left sidepod of the Scot's Red Bull Racing machine with an aggressive challenge as the pair battled for pride fighting over 12th place.
Massa was enraged by the second incident with Coulthard and said: "It was the second time I caught him and I was already on his side. He closed the door and we touched. For me it was too much, I was two or three seconds quicker than him, I didn't see the point in closing the door."
But Coulthard had been struggling with his performance since the first incident, in which part of his car's floor had broken, and in his new typically chilled out style the Scot simply termed the incidents "bumps" while team boss Christian Horner accused Massa of "giving David a couple of knocks."
It mattered little, as both were well out of the points, and the focus of the race was, for a refreshing change, right at the front as Schumacher latched onto the gearbox of Button's BAR-Honda, which was in the lead after Alonso's stop on lap 42.
Schumacher put plenty of pressure on the Briton, holding station at around half a second behind for four laps before finally pouncing on a mistake to complete his fight through the field and snatch the lead as the pair went through the Variante Alta on lap 47.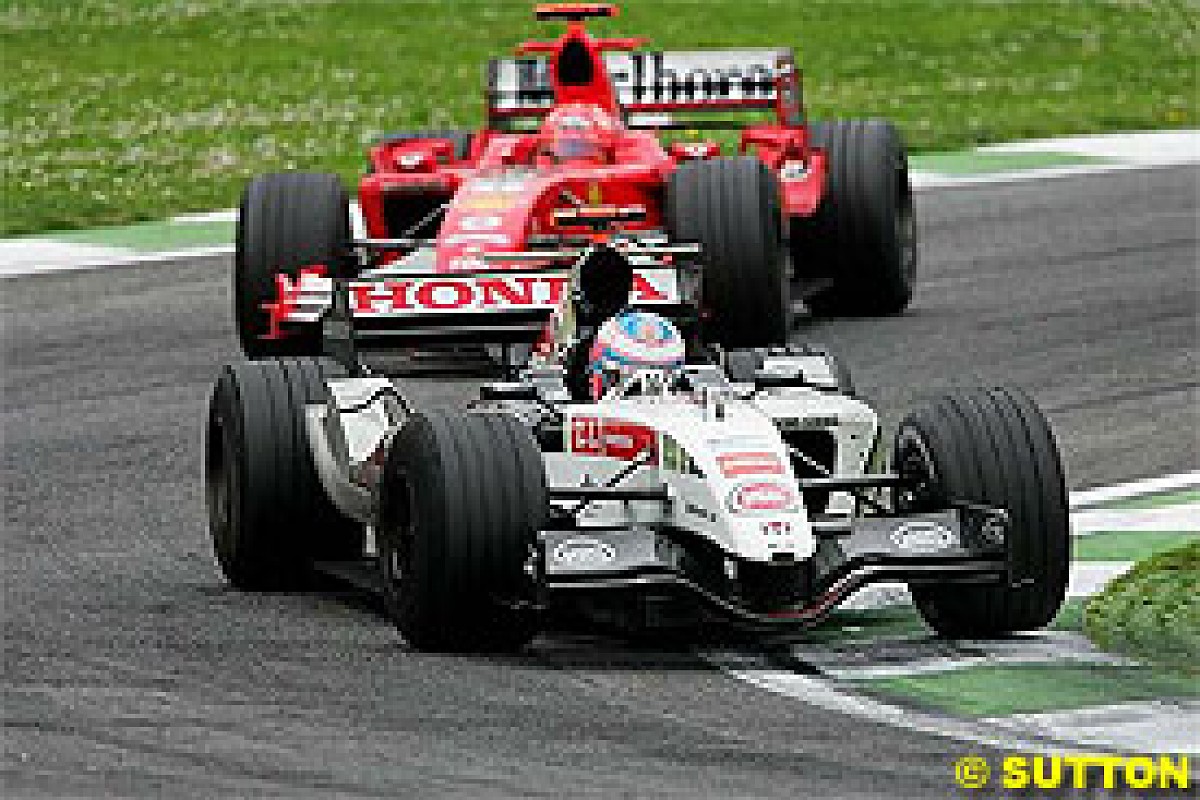 Schumacher explained: "I was helped a little bit by the two Williams guys in front. I don't know what they did to each other into Acqua Minerale but they put some dust on the circuit at some stage and Jenson just slipped on the dust. That gave me a run at him, otherwise I don't think it would have been possible."
Button added: "I got a bad run up the hill from Aqua Minerale. Michael got beside me and fighting him could have put me out of the race, so I decided to play safe and ensure we got a podium. Everyone else seemed to be doing around the same lap times except for Michael, I mean, it was just staggering."
Button pitted anyway at the end of that lap but with the Briton out the way a little earlier Schumacher was able to set himself up for the fastest lap of the race, setting a time of 1:21.858 on lap 48 that was 0.746 faster than the second best of the race set by Button at the end of his first stint on lap 22.
On lap 49 Schumacher made a very quick stop, in which he was stationary for little more than six seconds and set an in-out time of 22.170 seconds compared to Alonso's 24.165 seconds total. That advantage, coupled with faster times over the seven laps between the two stops, put Schumacher right up with his rival.
The Ferrari driver was just 1.327 seconds behind the Renault when the pair crossed the line to complete their 50th lap, leaving Schumacher 12 laps to find a way past Alonso, whose unenviable task was to absorb the pressure of his rival in what was clearly a faster car behind.
It set up one of the most thrilling closing stages of a Grand Prix since Nigel Mansell desperately tried to find a way around the slower car of then World Champion Ayrton Senna in Monaco back in 1992 and Alonso was determined to make the Imola track as narrow as the barrier lined streets of Monte Carlo.
Struggling with an engine that Symonds later admitted was virtually broken and massively downtuned, Alonso played it clever, slowing and taking unusual lines into the corners he deemed dangerous to his lead protection then accelerating early to keep Schumacher at bay.
It was frustrating for Schumacher, who said: "He was not that quick in the acceleration areas and I had a couple of areas where I thought I could have had a go." And Alonso admitted: "I knew that Michael was more than one second faster than me so I had to protect my lead.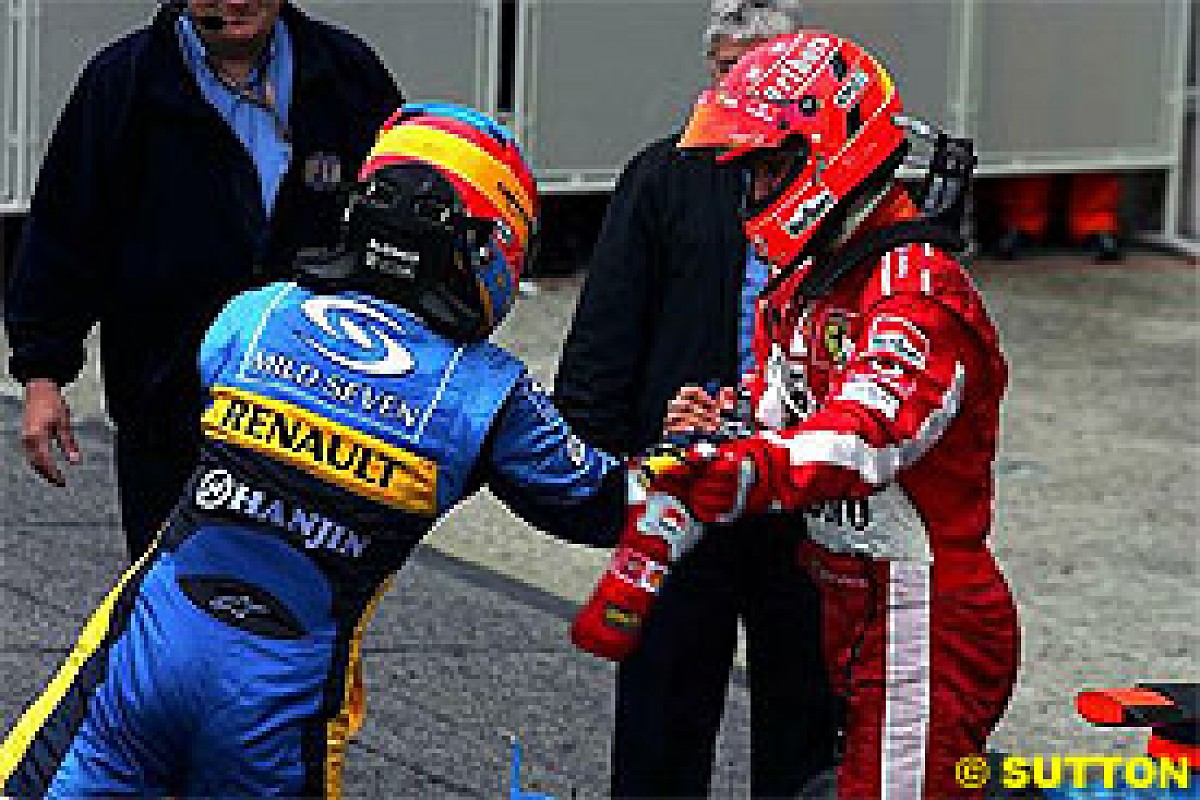 "We got very close in a couple of corners," added Schumacher. Indeed they did. That 1.327 seconds came down to 0.376 seconds on the very next lap and fell no further than to 0.465 seconds all the way to the end as Schumacher tried all he could to force the youngster into a mistake.
But Alonso was up to the challenge.
"My only chance was to hold him up a little bit in the middle of the corners and then to be on the throttle a little bit earlier than him," he explained with a beaming smile after completing his victory hat-trick. "I have to say, it worked well."
Race Results
Pos  Driver        Team-Engine                Time
 1.  Alonso        Renault          (M)  1h27:41.921
 2.  M.Schumacher  Ferrari          (B)  +     0.215
 3.  Button        BAR-Honda        (M)  +    10.481
 4.  Wurz          McLaren-Mercedes (M)  +    27.554
 5.  Sato          BAR-Honda        (M)  +    34.783
 6.  Villeneuve    Sauber-Petronas  (M)  +  1:04.442
 7.  Trulli        Toyota           (M)  +  1:10.258
 8.  Heidfeld      Williams-BMW     (M)  +  1:11.282
 9.  Webber        Williams-BMW     (M)  +  1:23.297
10.  Liuzzi        Red Bull-Cosworth(M)  +  1:23.764
11.  R.Schumacher  Toyota           (M)  +  1:35.841
12.  Massa         Sauber-Petronas  (M)  +     1 lap
13.  Coulthard     Red Bull-Cosworth(M)  +     1 lap
14.  Karthikeyan   Jordan-Toyota    (B)  +     1 lap
15.  Monteiro      Jordan-Toyota    (B)  +     1 lap

Fastest Lap: M.Schumacher, 1:21.858

Not Classified/Retirements:

Driver        Team                  On Lap
Albers        Minardi-Cosworth (B)    21
Barrichello   Ferrari          (B)    19
Raikkonen     McLaren-Mercedes (M)    10
Friesacher    Minardi-Cosworth (B)    9
Fisichella    Renault          (M)    6


World Championship Standing, Round 4:

Drivers:                    Constructors:             
 1.  Alonso        36        1.  Renault           46
 2.  Trulli        18        2.  Toyota            27
 3.  M.Schumacher  10        3.  McLaren-Mercedes  24
 4.  Fisichella    10        4.  Ferrari           18
 5.  R.Schumacher   9        5.  Williams-BMW      14
 6.  Coulthard      9        6.  Red Bull-Cosworth 12
 7.  Montoya        8        7.  BAR-Honda         10
 8.  Barrichello    8        8.  Sauber-Petronas    5
 9.  Raikkonen      7
10.  Webber         7
11.  Heidfeld       7
12.  Button         6
13.  Wurz           5
14.  de la Rosa     4
15.  Sato           4
16.  Klien          3
17.  Villeneuve     3
18.  Massa          2


Fastest race laps: Click here
Pitstop times: Click here
Lap by Lap
Lap 1: After qualifying on pole position for the first time this year - and the fourth in his Formula One career - Kimi Raikkonen makes a clean start to head World Championship leader Fernando Alonso into Tamburello and establish a clear lead. Jenson Button grabs third from Jarno Trulli. Takuma Sato is initially fifth, but Mark Webber passes him around the outside of Tosa and makes it stick. Alexander Wurz heads the rest, from Jacques Villeneuve, Rubens Barrichello, Nick Heidfeld, Giancarlo Fisichella, Ralf Schumacher, Michael Schumacher, Red Bull newcomer Vitantonio Liuzzi, David Coulthard, Narain Karthikeyan, Tiago Monteiro, Felipe Massa (who qualified eighth, was relegated to 18th after a pre-race engine change and was then slowest away initially), Patrick Friesacher and Christijan Albers.
Lap 2: Massa passes Monteiro for 17th.
Lap 3: Pulling away, Raikkonen laps in 1m 23.347s - his best yet.
Lap 4: A queue is beginning to form behind Trulli, with Webber at its head. Massa passes Karthikeyan for 16th.
Lap 5: Raikkonen leads by 3.1s.
Lap 6: Fisichella slides out of 11th place at Tamburello and crunches into the tyre wall.
Lap 8: Raikkonen ups the pace again - 1m 23.296s. Massa has a peep down Coulthard's inside at Rivazza, but decides against it.
Lap 9: Raikkonen slows suddenly and cruises back to the pits as Alonso sweeps into the lead.
Lap 11: Alonso sets the race's fastest lap so far - a 1m 23.223s - and is almost 10 seconds clear of Button. Trulli continues to be shadowed by Webber and Sato, with Wurz and Villeneuve edging closer.
Lap 14: Button laps in 1m 23.380s - his quickest yet - but remains 9.4s adrift.
Lap 16: Massa wipes off his nose wing against Coulthard's rear wheel at Rivazza. The Brazilian heads to the pits for repairs and rejoins 16th.
Lap 17: Barrichello pits from eighth.
Lap 18: Barrichello peels in again - this time to retire.
Lap 20: Monteiro makes his first stop. Albers retires. Button cuts the fastest lap to 1m 23.163s...
Lap 21:...and 1m 22.872s. Heidfeld, Ralf S and Karthikeyan pit.
Lap 22: Sato repasses Webber at Tamburello to claim fourth. Trulli and Webber pit.
Lap 23: Alonso, Sato and Villeneuve come in.
Lap 24: Button pits. In clear air for the first time, Michael S laps in 1m 22.287s, which rather puts everything else into context.
Lap 25: Wurz and Coulthard stop.
Lap 26: Michael S laps in 1m 22.070s.
Lap 27: Michael S and Liuzzi are the last drivers to refuel.
Lap 28: Alonso leads by 10 seconds from Button - and 31.6 from Michael S. After gaining ground at the stops, Wurz is fourth from Sato, Trulli, Webber, Villeneuve, Heidfeld, Ralf S, Liuzzi, Coulthard, Massa, Karthikeyan and Monteiro.
Lap 29: Michael S laps 1.7s faster than Alonso. The chase is on.
Lap 30: Villeneuve passes Webber after the latter runs wide. Michael S takes another 1.2s out of Alonso and establishes an enduring pattern.
Lap 32: Michael S helps himself to another 1.8s...
Lap 33: ...and 1.9s.
Lap 36: Coulthard and Massa clash again at Rivazza: the Scot runs wide and Massa moves up to 12th.
Lap 40: Monteiro pits.
Lap 41: Massa refuels.
Lap 42: Alonso, Webber and Karthikeyan come in.
Lap 43: Button leads Michael S by 0.4s.
Lap 44: Heidfeld and Ralf S pit.
Lap 45: Trulli stops.
Lap 46: Sato, Villeneuve and Coulthard come in.
Lap 47: Michael S passes Button as they approach slower traffic at the Variante Alta. Wurz and Liuzzi pit.
Lap 48: Michael S laps in 1m 21.858s. Button pits.
Lap 49: The leader refuels and rejoins with Alonso in his sights. Monteiro pits again. Post-stops, Button runs third from Wurz, Sato, Villeneuve, Trulli, Ralf S, Heidfeld, Webber, Liuzzi, Massa, Coulthard, Karthikeyan and Monteiro.
Lap 50: Alonso leads by 0.3s - which is about as much of a cushion as he will get between now and the end of the race.
Lap 52: Monteiro pits again, not that anyone's looking.
Laps 53-59: The top two continue to circulate absolutely as one.
Lap 60: Michael S gets very close at Tosa, but Alonso repels the challenge. There is just 0.2s between them at the end of the lap - the closest margin yet.
Lap 62: Michael S has another go at Tosa, is too far adrift to have a pop at Rivazza and finally crosses the line 0.2s behind the World Championship leader. They exchange a friendly wave. Button takes his first podium of the year from Wurz, Sato, Villeneuve, Trulli and Ralf S. Liuzzi finishes 11th on his F1 debut, two places ahead of teammate Coulthard.