---
By Dieter Rencken, Belgium
Autosport-Atlas Columnist
On Friday's Meeting
Just what are the implications of last Friday's FIA meeting in Paris?
Of course, as has become almost traditional in matters Formula One, even the most educated of guesses is bound to be wide of the mark, and, with a whole host of related, but not closely connected, issues floating about simultaneously, coupled with a whole raft of self-serving comments and suggestions, the situation has become well-nigh incomprehensible to all but the most analytical of minds.
First off, the meeting was not about the present or even future Concorde Agreement, or even the relationship between Bernie Ecclestone, the banks, the G9 teams, the five manufacturers or GPWC, but about the technical regulations the FIA's officers wish to impose on their Formula One Championship from 2008 onwards - when the present framework expires.
The mere fact that Concorde and the prevailing regulations both expire on 31 December 2007 is, of course, more than pure coincidence for Concorde binds team owners (the participants), the sport's administrative body (rule maker and enforcer) and Formula One Management, the commercial rights' holder (promoter, who owns such rights for 100 years, having bought same), together, and, as such, the agreement and technical aspects are intertwined. But, only until that date, after which a replacement agreement, if any, will govern Grand Prix racing.
Concorde is not, believe or not, essential to the running of the sport; in fact, for almost 60% of its life Formula One existed completely without such a document, with many present signatories - including, until very recently FIA President Max Mosley - suggesting the document to be nearing its helpful life. And, on recent evidence, that would appear to be the case.
How would Formula One (or whatever it would be termed in future) operate without Concorde? Simply put, individual teams would negotiate their appearance fees with the commercial rights' holder - 75% of which is now legally controlled by a trio of banks - who, in turn, would strike deals with circuit owners/promoters. In addition, the commercial rights' holder would own all electronic media rights, and be free to negotiate these. Patently, Grand Prix racing is not dependent upon a Concorde Agreement, and could survive without same.
However, Grand Prix racing could not survive without regulations, and these the FIA, as owner of the Formula One World Championship bearing its name, is fully entitled to frame to the best of its abilities. In the process, the sport's custodian must hope these regulations will prove sufficiently attractive to entrants, trade partners, sponsors and live and armchair spectators. If not, the FIA's officers will have failed absolutely in their duty towards the sport they administer and govern.
These processes, though, are totally unconnected (or certainly should be) to Concorde, and any negotiations surrounding its possible renewal. The regulatory and commercial processes are connected only by virtue of a common desire to grow top-echelon motor racing, but are not in any way intrinsically or inextricably linked. For this look no further than all recently imposed regulation changes: changes have been made, at times draconically so, yet Concorde has not been renegotiated.
All of which makes the recent attitudes of various team bosses towards regulatory discussions somewhat puzzling. Sure, they may have truck with Ecclestone over transparency and finances; sure they may have truck with the FIA and FOM over the Ferrari Concorde 'extension' and certain clauses contained in the heads of agreement; sure they may have truck with the manner in which previous regulation changes were forced through; sure they may truck with the banks, but, surely, if a single top formula is the objective of all - and the US scene illustrates all too vividly the dangers of two competing Championships - then participation by all stakeholders is absolutely vital to the process.
The G9 (or is it now G7 after Red Bull Racing and Jordan attended Friday's meeting?) believe they have reason for truculence: by unilaterally extending Concorde and allegedly giving Ferrari right of veto over all rules until 2012, the FIA would appear to have confused the boundaries of administration, rule making and matters commercial, which, some teams suggest, is in breach of EU rules and the mandate under which the FIA operates. Whatever, this 'right', if it indeed exists, should be removed post-haste from any agreement previously struck between the FIA and FOM, for it certainly does negate perceptions that the FIA favours Ferrari.
Then, and only then, will individual teams agree their own terms with FOM and the FIA, with their collective signatures contributing to a new Concorde Agreement.
Of course, Ferrari will fight tooth and nail to retain any advantage - what, after all, is Grand Prix racing other than eking out every advantage going? - but, in the process, the GPWC may shortly require, as is the body's right under EU law, that the FIA to rubber stamp a set of regulations for a Championship organised in opposition to its own. Worse, the Scuderia may find itself perennial Champion in a series contested by just three teams: Ferrari, Red Bull and Jordan.
In the interim, though, the G9/7 is severely jeopardising its case by boycotting the meetings. By failing to attend, by failing to contribute, they will have effectively removed all right to criticism should Formula One 2008-style fail to attract the entrants, technical partners, sponsors and spectators.
Third Drivers to the Fore
Is this the Year of Third (or even Fourth) Drivers?
First Anthony Davidson replaced Takuma Sato at Sepang after the BAR-Honda driver was booked off with a viral infection, then Pedro de la Rosa enlivened the Bahraini Grand Prix whilst subbing for the rather mysteriously injured Juan Pablo Montoya. Last week came news that Vitantonio Liuzzi will replace Red Bull's Christian Klien for three races (at the very least), whilst on Tuesday it was announced that Alex Wurz will be folded into the McLaren. Finally, Antonio Pizzonia has been placed on stand-by should either Mark Webber or Nick Heidfeld be unable to participate in this weekend's San Marino Grand Prix.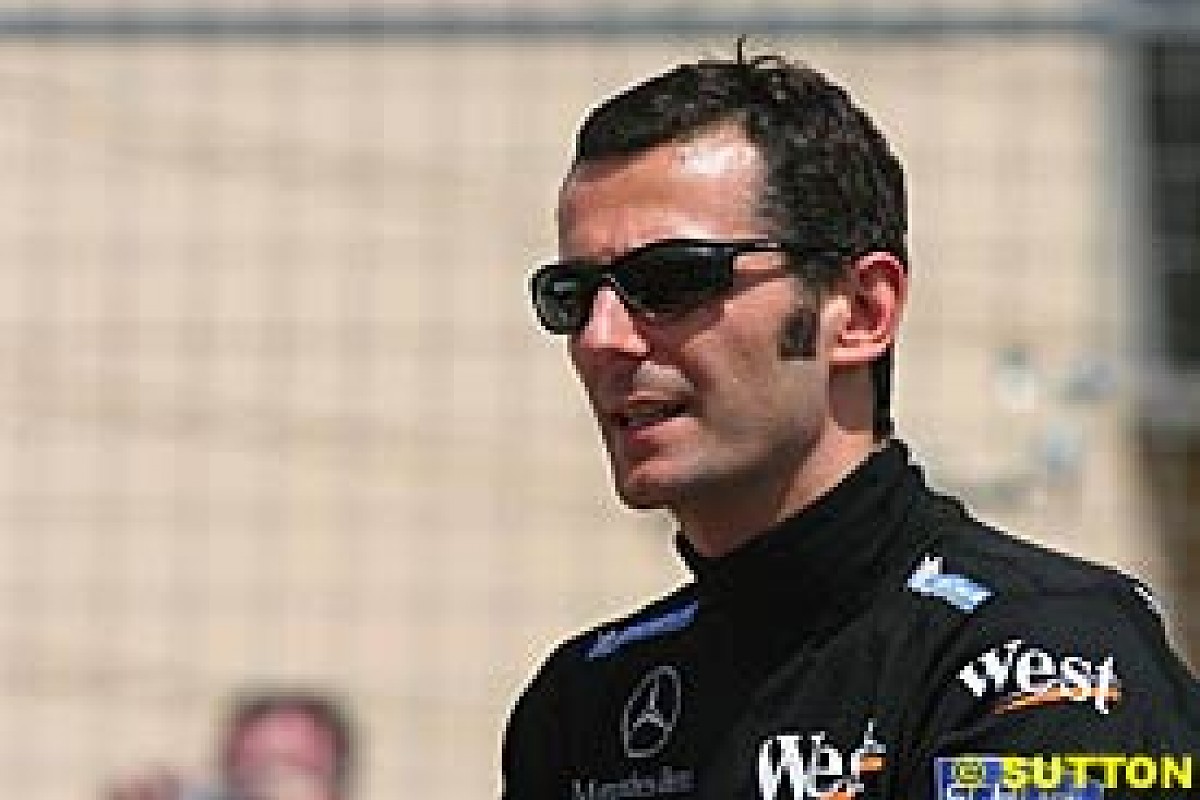 Davidson, it would appear, is gradually grabbing the 'Super-Sub' label off Mika Salo, who famously was ordered not to win the 1999 German Grand Prix whilst standing in for Michael Schumacher, for, apart from Davidson's brief race appearance in Malaysia, the Hemel Hemstead resident stood in for Alex Yoong at Minardi a couple of seasons ago, and, by all accounts, did a sufficiently fine job to justify a regular race seat. Then, last year, 'Ant' regularly starred on Fridays as BAR's Man Friday, but, of course, third cars benefit from generous power and rubber allocations, so his times were deemed suspect in certain circles.
When Williams wished to evaluate him contractual matters stood in the way, so his unexpected, last-minute nomination as replacement for Sato in Malaysia was welcomed by those eager to evaluate Davidson racing in a competitive car. As history records, it was a Grand Prix BAR-Honda, more specifically the latter, would rather was wiped from the record, so the jury is still out on Anthony Davidson, Racing Driver. But, at least he remains on the radar.
Next to sub was de la Rosa. His tenure in a racing McLaren-Mercedes MP4-20 always was going to be short: signed as tester rather than third driver, the Spaniard got the nod after the team discovered contracted shoe-in Alex Wurz could not, well, be shoed-in on account of the Austrian's 1,86m/6'1" frame. So, de la Rosa it was who raced, with Wurz continuing as Friday driver on the basis that the team would keep chiselling away at creating rather more accommodating cockpit space for the driver who raced in 2000.
As an aside: just why do McLaren and Technical Director Adrian Newey, independently and as a combined force, persist in producing cars unable to accommodate their contracted drivers? The trend was started by the design genius way back in 1989 whilst working for Leyton House, nee March, where he produced a car incapable of accommodating the feet of drivers Ivan Capelli and Mauricio Gugelmin - who resorted to wearing boots three sizes too small, ballerina style, to control throttle, clutch and brake.
Then, independently of Newey, McLaren constructed the MP4-6, only to discover Gerhard Berger's lofty frame failed to fit comfortably, whilst, more seriously for the team, causing his head to protrude before the airbox, resulting in considerable power loss. And, the less said of Nigel Mansell's attempts at sliding his posterior into MP4-10 the better, with MP4-10B not being much of an improvement, either. And, now, with MP4-20, Newey and the team would appear to have excelled themselves all over: designed a car for midgets, then retained Wurz.
Still, this week came confirmation in McLaren's San Marino Preview that the MP4-20 has been sufficiently modified to enable Wurz to replace the still recovering JPM, who sustained injuries before the Bahraini Grand Prix whilst either playing on a tennis court or Moto-X pitch for Sunday's 62-lap race.
As a racer Wurz has little to prove: Le Mans winner in 1996 aged just 19, plus a podium place in the following year's British Grand Prix (only his third Formula One start). Strangely, despite making the race driver short lists on numerous occasions, the Monaco resident has been consistently overlooked, and this weekend - and an enlarged MP4-20 - represents probably his final chance of staking a claim on a regular race seat next year. And, as de la Rosa proved too entertainingly in Sakhir, the 2005 McLaren, with which he posted the race's fastest lap, is one mean machine, thus rather easing Wurz's task.
Liuzzi's situation is, thankfully, slightly different, although, in essence Red Bull's third driver is replacing regular racer Klien: in January the team announced both drivers had been signed on identical contracts, giving rise to rumours that Red Bull's second seat would be swapped between the two. After three events - during which Klien acquitted himself superbly - it is time for Liuzzi to show his mettle.
So, four races into the season, four subs will have done duty. Could it, though, be five in four? Antonio Pizzonia, who subbed for Williams in place Ralf Schumacher on four occasions last year, this week admitted the team had requested he prepare himself for a possible racing opportunity at Imola. And, as luck would have it (for the Amazonian, certainly not the team's regular drivers), Pizzonia may have a double chance of gracing the grid, for both Webber and Heidfeld are possible, if no more than that, non-starters.
Webber banged his rib cage in pre-season testing, but the fact that the Australian ran three races before even publicly disclosing a cracked bone indicates a lack of serious damage. However, the injury seems to have flared during Barcelona testing a fortnight ago, causing Webber to withdraw from the test. Whilst the team are adamant he is well on the way to full recovery, Imola is amongst the most physically taxing of all circuits due to its bumpiness and trademark high kerbs, and, whilst Pizzonia's present job entails being on stand-by at all times, the fact that comments have been attributed to him indicate the possibility of smoke, if not flickers, somewhere. Don't, though, bank on the Brazilian taking over Williams-BMW Number 7 from the man with whom he historically enjoys an uneasy relationship...
Heidfeld's situation is a touch more difficult to analyse. The Swiss-domiciled German went out early on the second day of Paul Ricard testing last week, and somehow pulled a back muscle - possibly through unexpected strain in the cold temperatures. He was rested immediately, and the team are adamant 'Quick Nick' has recovered, but, again, injuries have been known to return and bite. Could Pizzonia's comments could be more than just wishful thinking?
So, more subs than the season has had races to date? Possibly, hopefully not - but, still, three in four Grands Prix indicates reserve jobs are not the dead ends many believe them to be.