Wounded Giant: Analysis of Ferrari's Crisis

---
By Adam Cooper, England
Autosport-Atlas Contributing Writer
Not even the most optimistic of their rivals could have imagined Ferrari struggling so much in the heat of the Malaysian Grand Prix. Yet the World Champions found themselves in a position uncommon to them, after half a decade of domination, and they now seem to have a huge battle in their hands. Adam Cooper analyses the Italian squad's situation, and hears from insiders in the team about their plans to bounce back
It's an understatement to say that Malaysia was not a happy weekend for Ferrari. Of course there were glum faces in the camp afterwards, but in a funny sort of way things were so bad that people could do little else but joke about it.
"As I reminded everyone," smiled Ross Brawn in Sepang on Sunday night, "You need a bit of sour to appreciate the sweet..."
Ferrari has enjoyed a lot of sweet times over the past years, but Sepang was undoubtedly one of the team's worst days since the World Championship streak began back in 2000. Having said that Schumacher actually ended up with one more point that he managed in Hungary in 2003. That was another day when Bridgestone didn't quite get its sums right, and the German ace was lapped by the winner - a certain Fernando Alonso, of course. But he nevertheless went away still in the lead of the World Championship, albeit by a slender margin.
This time there was a touch of desperation about the whole affair. When the cars slumped badly in first qualifying, there was nowhere to hide, no suggestions that other people were running light. There was a hint that the big problem was speed over the first lap. Just wait for the race, some folk suggested. Second qualifying indicated that the cars would go to the grid very heavy, ready for a long opening stint. Perhaps they would make some real progress after all?
But the pace failed to materialise. Michael wasn't quite lapped, although at the end he was 79 seconds behind the cruising Alonso, and that's only a little less than the margin was in Hungary. The biggest embarrassment was the sight of Barrichello pulling into the pits seven laps from home with a rear tyre in such a bad state that he could not continue. A slice of sheer bad luck contributed to the problem, but bad luck is something that has tended to avoid Ferrari in recent times.
"In 2003 when things were a lot closer we did suffer here," said Brawn after the race. "Because of the track surface and so on. I'm optimistic that this is as bad as it will get, and it's only upwards from now on.
"Rubens had a particular problem, because he had debris go on the rear wing. He came on the radio on lap 30 and said, 'I've got a puncture,' because the car was all over the place. We looked at the pressure data, and it was all OK. We'd also taken a wear measurement of the tyre at the pitstop on lap 25, so we knew that there was plenty of material left in the tyre. So we said' 'It's not that, carry on.'
"And then when we took another look we saw he'd lost a lot of rear downforce, so we thought the floor had broken. For a while we said to him just carry on because there's nothing we can do. After five laps he said, 'I can't even drive the car, I've got to come in and you've got to fix it.'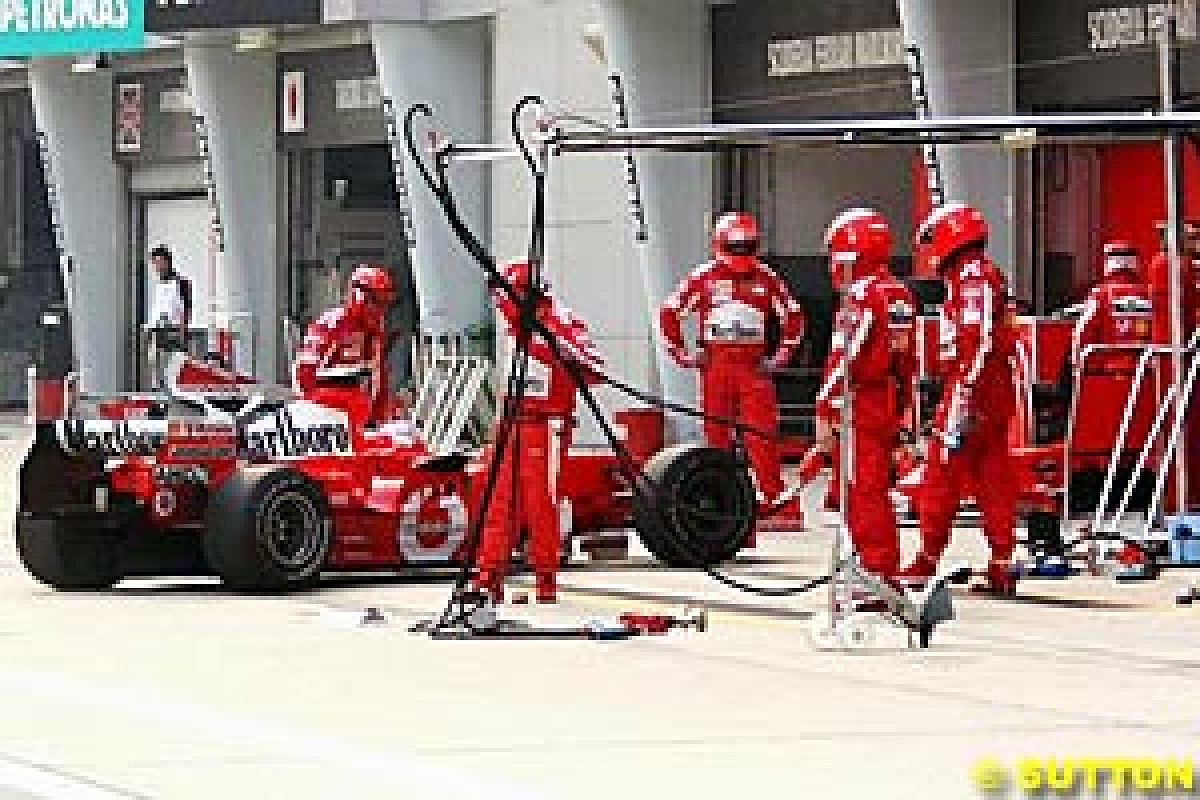 "When he came in we saw this lump of debris on the rear wing which was stopping the rear wing working. It was a piece of foam. We took it off, but unfortunately in the five or so laps that he'd stayed out, he'd wrecked the tyres, it was that bad.
"Michael's were OK. Bridgestone tyres have never looked the same as Michelins, so we don't expect them to look the same. He was just tip toeing around all day."
Michael Schumacher, tip-toeing around? It's an extraordinary thought, but that's what the tyre rules have brought us. Michael's great strength is, or should we say was, his unparalleled ability to turn each Grand Prix into three, four or even (as in France last year) five no compromise, flat-out sprints. Perhaps more than most he's suffered from the recent changes, notwithstanding his ability to drive round problems and generally cope with the changing conditions associated with the one-tyre deal.
But to what degree was he driving to save the tyres, and to what extent were the tyres slowing him down? Even Brawn admitted it's a tricky equation to balance.
"It's a difficult combination, really. The driver has got to have the confidence in the car and the tyres, and when he has that he uses the performance. When he feels that he doesn't have that grip, and he doesn't have that confidence, he's nervous about sliding too much and damaging the tyre, all that type of thing.
"Without using a pun it's a compound situation, where it gets worse and worse. You can very easily go from a good situation to a bad situation, and I think that's what happened. We weren't quite there with the car and weren't quite there with the tyres, and the drivers were a little bit anxious at having to look after everything. And you very quickly lose performance.
"The other thing we saw this weekend was that as the track rubbered in, we didn't improve. It was the same scenario as 2003. When the track was green and clean, which is what we had in Melbourne because of the rain, we were OK. It was because of the heat and the fact that the track rubbered in that our situation deteriorated. Friday and Saturday morning we were OK, we were fine. It really started on Saturday afternoon to get difficult, and by Sunday, it was extremely difficult."
There's no question that Bridgestone has done a great job with Ferrari over the years, although BAR and Sauber thought the grass was greener elsewhere. But this time they simply got it wrong. No one ever said it was easy.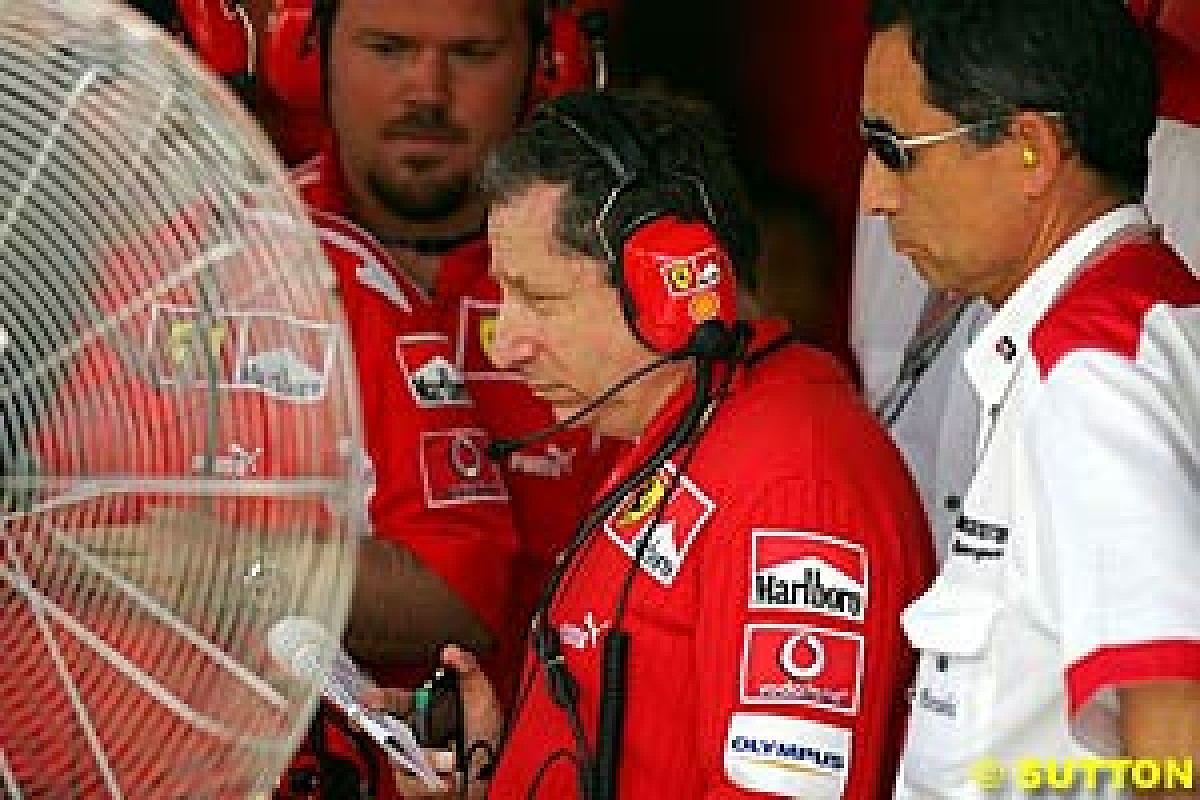 "You don't test in these conditions," rued Brawn. "Although everybody is testing you don't test in the way that things evolve over a race weekend. It's a double-edged war, the tyre war. When our competition is strong, then we've got lots of competition. On the other hand, when we're strong, we don't have to share the points with anyone. It's all good fun and it's part and parcel of the tyre war.
"Everyone is kind of starting again, because the wear rate is a factor. Last year I think our predicted wear rate was 25 laps or something similar. So you can imagine that the technology we had last year was not applicable this year. We had to start again."
The odd thing is that all looked well in Australia. As Brawn suggested, the rain helped to create a 'green' track, and lower than usual temperatures also helped. Would Ferrari have suffered more if it had been hot in Oz?
"I don't know, it's possible. The other thing is the nature of the circuit. I think I commented in Melbourne that it wouldn't be until we got to Malaysia that we would see how things really were. I don't think Melbourne was a particularly difficult circuit, and funnily enough I don't think Bahrain is as difficult as here. Certainly the general nature of the circuit is not as tricky as here. It seems to be in lower speed traction and low speed braking where we're losing most of the performance.
"Our objective now is like we did in 2003 to look at the situation and resolve the problem. Which won't be just the tyres - we've got to do a better job on the car, we've got to do a better job on the traction control. Clearly we've got to find percentages from all areas, as well finding gains with the tyres."
Brawn was never going to lay the blame solely at the feet of Bridgestone.
"I don't think they'll find a solution to our problem by themselves, and we won't find it by ourselves either. The two together, the partnership, is what will put us back into a competitive position.
"We've got to find a good solution for this sort of circuit with tyres that are going to last a good number of laps. Having said that it's obviously more difficult, at least in our case, because the car we have now is not as good as the car we had last year. With the reduction in downforce it won't have the grip of the car we had last year. So we're not helping the situation with the fact that we're running an old car..."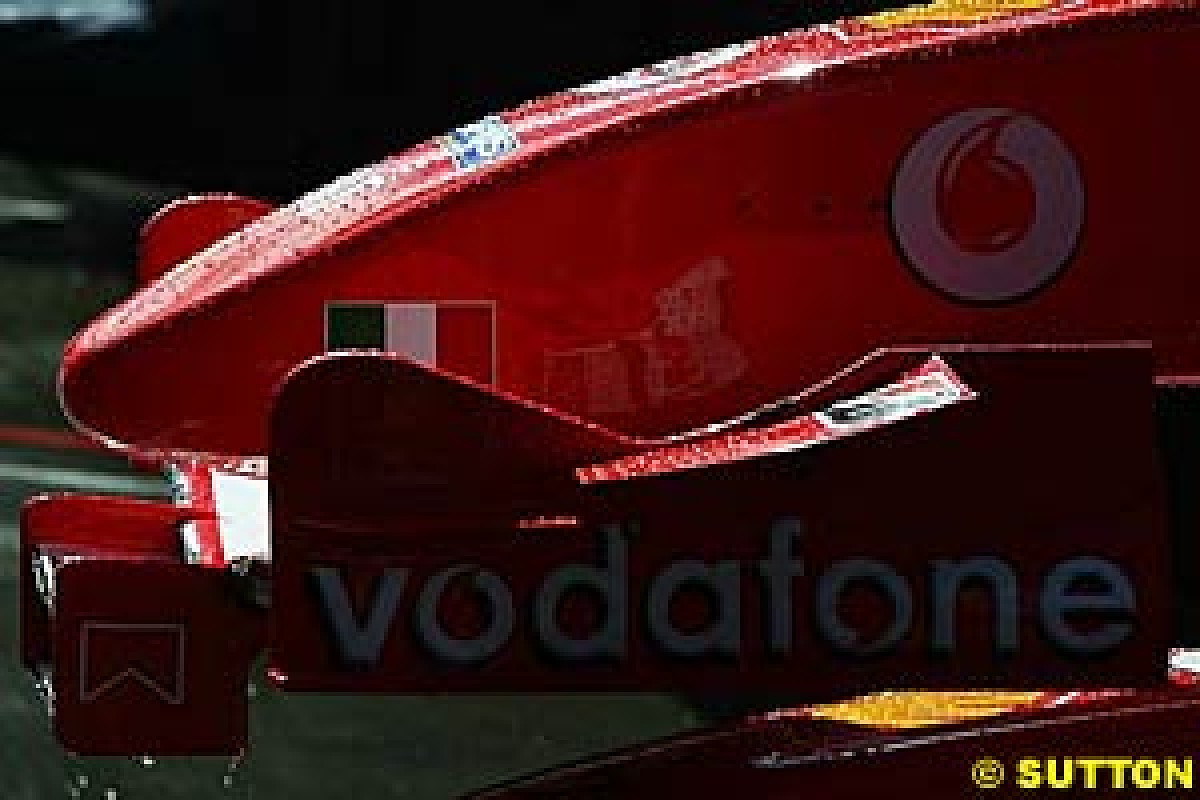 And that is the crux of the matter. Ferrari did not head to Melbourne and Malaysia with the F2004M because its staff fancied some time off during the winter, it was as part of a carefully laid out plan, one has worked well a couple of times before. The logic is simple - the later the car takes to the track, the longer you can spend on R&D.
As mentioned, the plan worked pretty well in the past, but it's not foolproof - just look at what happened to McLaren when they tried a similar trick. The F2005 is not expected to be as bad as certain recent MP4s, but equally Ferrari is in a different situation this time. In the recent past there were no major rules changes between seasons, so the old car was fully legal and therefore in theory as competitive at the start of the next season as it was at the end of the last.
This time the package of changes involved a lot of compromise. Indeed some rival teams decided it was hardly worth bothering with an interim test car, so major were the aero changes. Actually racing a 'cut and shut' adaptation of the 2004 model never even entered their thinking.
If anyone has the resources to make it work, it is of course Ferrari. And lest we forget, after Barrichello's impressive second place in Australia, it looked like a pretty solid plan. This winter there were very specific reasons for a late arrival.
"There were certain technical steps we wanted to make with the new car which we couldn't do unless we took the extra time," explained Brawn. "When the regulations became clear, and it may not apply to other people, our engine package and transmission package was not good for the new regulations, because once you constrain the diffuser on the outside, the central part of the diffuser becomes much more important. You put a constraint on the outside and now you have to expand the inside as much as you can. When you do that you now have to then start looking at your gearbox and your engine in a much more extreme way.
"It's the basic configuration of the transmission case... you're suddenly faced with trying to lift everything up and get it out of the way. With the cars we had last year, that wasn't so important.
"Once you start to redesign the transmission, and I think it was August or whenever that the regulations were fixed, it became clear that we couldn't do a good job in time for the start of the season. Whether that was the right decision, we'll know at the end of the year, and we can make a better judgement."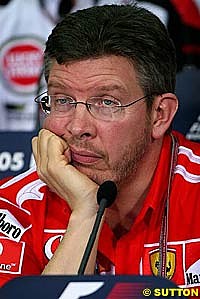 Brawn makes a very good point. Ferrari is in it for the long haul, and the bottom line is that the late arrival of the new car is not about what happened in Malaysia or even what will happen in the next two or three races. It's about where the team stands during that run of four races in July and on to the end of the 19-race season. Future performance may be worth some short-term embarrassment.
What the team doesn't want to do is have one new car and one old car, which is why Michael did not have his 'free' engine change before Malaysia. The team has done it before, and at a flyaway (Brazil), but there was much less pressure involved than there is now.
"It's awkward, because over the weekend the two drivers have got a complimentary programme of tyres and so on. Whichever driver doesn't have it is going to be sulking a bit! It's not something that we'd like to do," said Brawn.
So how good is the new car? Certainly initial reports say that the F2005 is quick, and an impressed Anthony Davidson noted that Luca Badoer's race runs at Jerez a couple of weeks ago looked awesomely competitive. But as Brawn himself noted, "Jerez was cool."
Rubens Barrichello sampled it at Mugello yesterday, and pronounced it better than the old car in all respects. Michael tried it today. The opinions of the two drivers are crucial to the decision as to whether it will go to Bahrain, which will be made within the next 24 hours.
The next chance is Barcelona, the date mooted at the launch. However, if one driver retires in Bahrain, the new car/old car scenario could come into play on home ground at Imola, where the team will have the resources to cope. If both cars retire in Bahrain, then an Imola start is a no brainer.
"The race drivers have not driven it yet," noted Brawn in Malaysia. "They may get in the car and tell us we've got some problems to fix. I don't think so, because Luca Badoer is a very good test driver.
"The indications are that it's a bit easier on the tyres and the temperatures are a bit lower and it should be another good step. Which is the other reason we're keen to take it, because it looks like it's easier on the tyres."
What really matters is reliability. The poor showing in Malaysia might point to an early debut, but at least Schumacher brought home two points with the F2004M. It may still be the better short-term bet, even if the heart says let's go racing with the new car.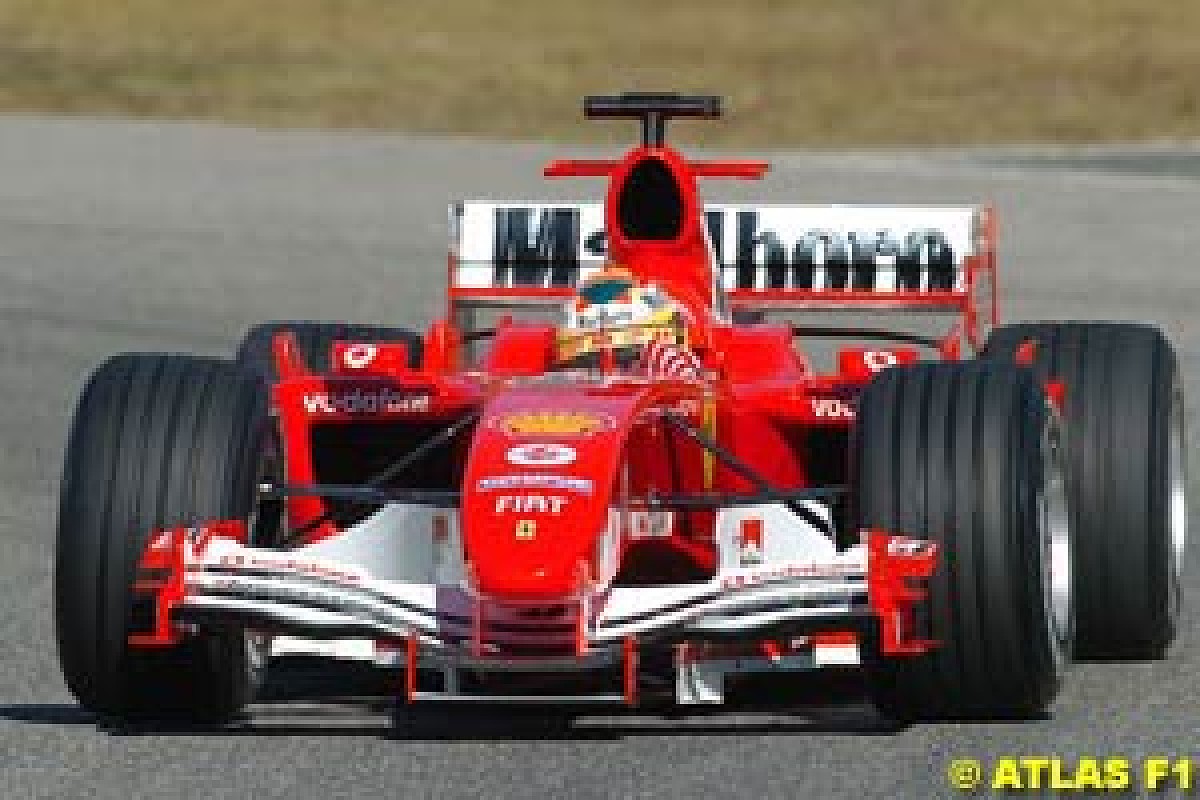 "Every few hundred kilometres we've got something that we have to fix, which is the normal thing with a new car," notes Brawn. "You finish each day and you have a list of things that are not looking so nice on the car. You fix them. There's some cooling on the car which is not adequate - not radiator cooling but some cooling of other components on the car.
"The electronic control box is overheating at the moment, and we've got a cooling duct going on the car for next [ie this] week. Normally you have a month or two to sort those things out. We've got to hope that all the solutions we've put in place work, then at least we have the option. If there are some things which don't work, then it will be pointless to take it, because we'll have reliability problems.
"There are quite a lot of things up in the air as to whether we can take the car to Bahrain or not. On chassis we're OK, on transmissions we're a bit tight, we've got to tell Paolo [Martinelli] what engines we want built, because the engines are not interchangeable between the two cars, which is one of the difficulties. If we don't make Bahrain, then the next opportunity is Barcelona. We need to make a decision Wednesday evening, or Thursday. And then we still have time to prepare the cars and fly them to Bahrain."
It's going to be fraught. The freight leaves Maranello for Bahrain on Saturday, so the team will have at best a couple of days to get do their packing. And there will still be a compromise, because sources told Autosport-Atlas that the spare will be an F2004M. Of course the chances are that it won't be needed, but if it is called into action, perhaps because of a practice shunt, there will be a lot of stress involved. By definition it will also involve an engine change penalty.
New car or not, Ferrari has a lot of work to do in the coming weeks. Of course the team will bounce back, thanks to the new car, hard graft by Bridgestone, and more favourable European tracks. Equally it is likely the team will not find itself in the sort of competitive position it enjoyed at this stage last year. The opposition is so much stronger than it was, and there seems to be more of it, even if the pale blue and yellow cars are the biggest threat at the moment.
"There is a mountain to climb," admits Brawn. "I don't think that just going back to a cooler environment is going to solve the problem, so there's a pretty stiff challenge ahead. They [Renault] have clearly got a very good car. It uses its tyres well, which is critical this year. They seem to have lost the handicap of a poor engine and they've continued with a good car.
"In a way this situation is a stimulus to us, and I don't think that it will do the team and the partnership any harm to have our arses kicked for a while. I'm not saying it's boring winning every race, but it's nice to have these challenges..."