The arrival of the Intercontinental Le Mans Cup - which kicked off with a pilot series this autumn - gave new hope to the sportscar world and raised the promise of a World Sportscar Championship revival. It brought Audi and Peugeot back into full-time competition, tempted Aston Martin to enhance its programme to try and overcome the diesels, and may yet attract further manufacturers.
But it also leaves its forerunners, the American Le Mans Series and Europe-based Le Mans Series, at a crossroads, as their 2010 seasons proved.
Both the ALMS and LMS saw packed grids and some superb racing - particularly in America. But Highcroft and ORECA's coronations as the two series champions happened in races dominated by the visiting ILMC grandees from Peugeot and Audi.
In theory, the ILMC shouldn't significantly wound either the ALMS or LMS. ILMC rules compel anyone chasing its title to attend a number of rounds of the two companion series too, and there are plenty of competitors on both sides of the Atlantic who can't afford the globe-trotting of the ILMC and for whom the ALMS and LMS calendars are absolutely perfect. Plus if the ILMC raises endurance racing's profile and attractiveness, the pools of entrants across all the Le Mans-affiliated championships ought to grow.
The issue is that it might be harder to persuade backers to stump up to support LMS or ALMS seasons if they see their teams clinch titles by finishing many laps down in races dominated by ILMC giants - with the inevitable effect on media coverage levels. Peugeot's triumphs, not ORECA and Highcroft's championship wins, were clearly the biggest stories of the AUTOSPORT 1000kms and Petit Le Mans.
At least as ORECA had access to a 908, its title was earned with a strong second place at Silverstone. All bar two of the LMS rounds had a Audi and/or Peugeot presence, with Audi dominating as it tested the new R15 Plus at Paul Ricard, and then Peugeot coming out on top amid the now annual pre-Le Mans mayhem at Spa. The first 'big gun free' LMS event gave a hint of how non-ILMC races might end up if things don't balance out well: the ORECA Peugeot won at Portimao by a massive five-lap margin. The following Hungaroring race saw problems for all the LMP1s present and an all-LMP2 top six, with the Strakka HPD taking overall victory.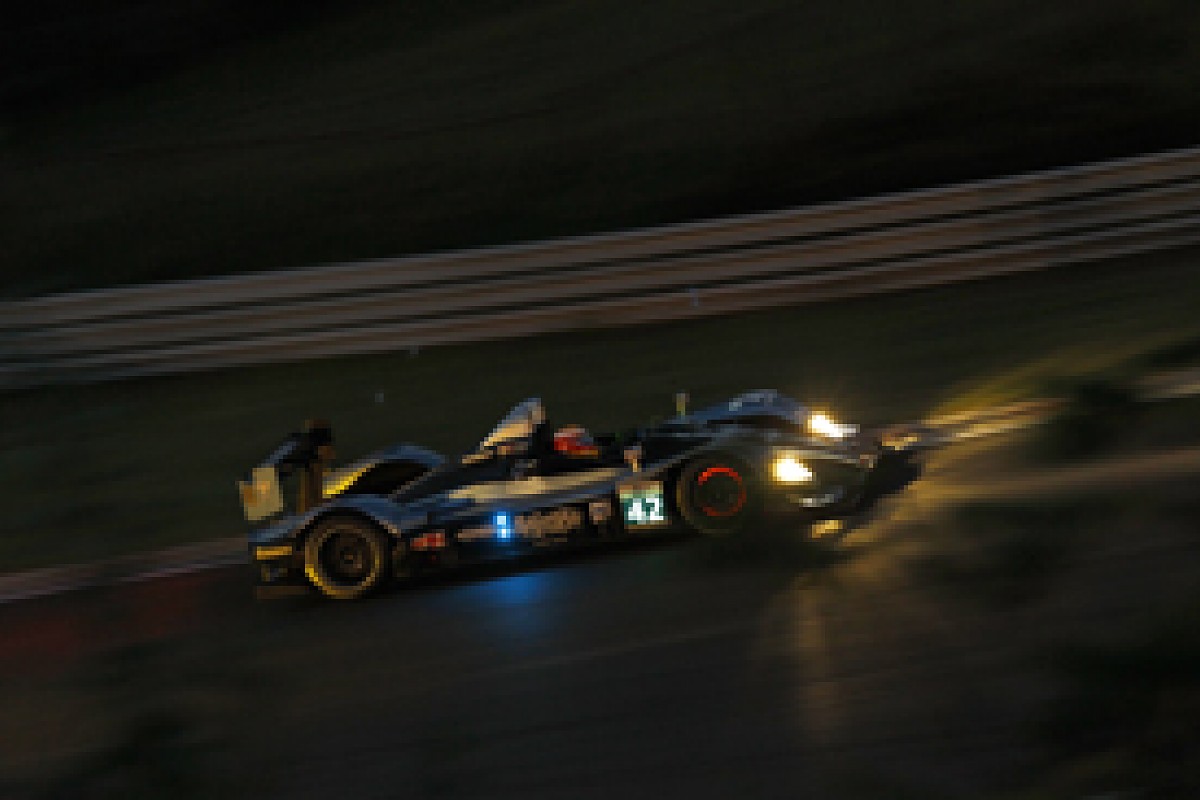 Strakka took its LMP2 HPD to a shock overall win in Hungary
The LMP1s' collapse made this possible, but it was no fluke. That morning Strakka's Danny Watts - a man surely destined for a works LMP1 seat before long - had beaten a fully-healthy field to put his LMP2 car on overall pole. Despite such heroics all season, Strakka would miss out on the LMP2 title to RML, as some retirements cost it dear in the short championship.
The ALMS chose to amalgamate LMP1 and LMP2 into a single performance-balanced LMP category for this year, in what turned out to be a single-season experiment. It was a bold move, and succeeded in opening up the competition. After last year's two-horse race between Highcroft and De Ferran, this year Highcroft, Dyson, Drayson and CytoSport all won races between Peugeot's visits, with all bar Drayson using LMP2-derived machinery. Intersport also led on many occasions with its LMP1 Lola.
But inevitably with any performance-balancing formula there were occasions when there was debate over whether it was teams' actual performance or the rules breaks/restrictions applied to them were having the bigger factor on their speed, or lack of it. In the circumstances, though, IMSA was right to experiment, and there was no doubt that the races were more entertaining as a result.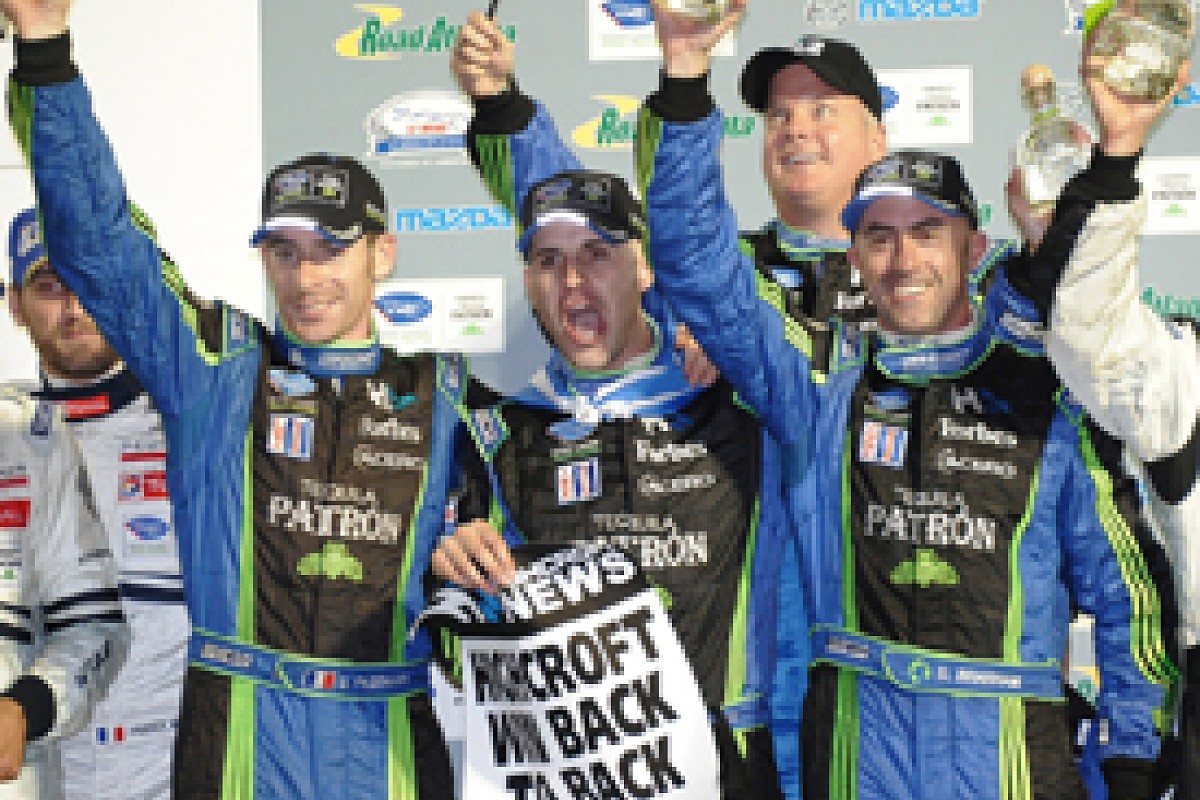 The Highcroft crew celebrate another title © LAT
Despite the rules change and the switch back to the LMP2 HPD, Highcroft successful defended its title - with drivers David Brabham and Simon Pagenaud clearly the series' leading pairing. Three early-season wins were the foundation of its championship bid, and though Highcroft did not win again after the Miller Motorsports Park round in early July, it was always in the thick of the fight at the front thereafter and stayed far enough ahead of the chasing CytoSport.
The year's best racing in both series came in GT2 (or GT, as it was rebranded in America), where Ferrari, Porsche, BMW and in the ALMS, Corvette as well, slugged it out door-to-door in contests that sometimes resembled 20-lap touring car thrashes in prettier machinery rather than endurance events.
Ferrari desperately wanted to get back on top, sending its crack Jaime Melo/Gianmaria Bruni pairing to both the LMS with AF Corse and the ALMS with Risi, but it couldn't take either title. Flying Lizard Porsche's Patrick Long and Jorg Bergmeister walked off with another ALMS GT/2 title, BMW took a breakthrough manufacturers' crown, and Felbermayer Proton Porsche's Marc Lieb and Richard Leitz triumphed in the LMS.
GT1 stumbled on in Europe, largely to take account of a handful of aged Saleens that continued turning up, but the ALMS suggested the future shape of the class divisions by bringing the one-make Porsche GTC division fully into its championship. This category has the potential to ultimately become a spectacular GT3 battle with potentially other manufacturers joining in.
Both the ALMS and LMS also invited Formula Le Mans onto their grids. A disappointment as a single-make series, as a class within the main event (it ran under the LMPC title in America), it helped bring the ALMS some of its biggest-ever fields, and could become a useful stepping stone for teams keen to explore the prototype waters. It also attracted star names like Christophe Bouchut (who helped co-driver and Level 5 team boss Scott Tucker to the inaugural title), Andy Wallace and JR Hildebrand.
Sportscar racing has held its head up through the economic crisis, despite the high expense involved in its machinery, and could be on the cusp of its greatest seasons since the Group C era. There is definitely a place for the ALMS and LMS within the ILMC masterplan, but it may take some adjustment and resettling before the two 'regional feeders' find their niche in the new Le Mans world.