For the Pride of My Nation

---
By Daniel McCalla, England
The debut of Sheikh Maktoum Hasher Maktoum Al Maktoum's A1 Grand Prix series was received with mixed reactions, some rejecting the concept of a 'World Cup of Motorsport' while others see it as a breath of fresh air in the corportate-driven world of racing. Subsequently, though, it will be the fans who will determine whether the concept is a success or a failure. 17-year-old Daniel McCalla made the trip to Germany last weekend to support Great Britain in the second round of the 2005 championship. He came back with lifetime memories and some shattered illusions
There have been a number of issues raised in recent weeks over the potential of A1 Grand Prix, Sheikh Maktoum Hasher Maktoum Al Maktoum's new 'World Cup Of Motorsport'. Over the last eighteen months, the Championship promised 25 identical cars, each representing a different nation, charging for the first bend at Brands Hatch in a blaze of glory, and despite the cynicism of those who saw ideas like Premier1 Grand Prix crash and burn, that is exactly what they got.
However, not everyone was happy with what they saw. The processional, defensive nature of the first race, the problems with TV timing, the lethargic batteries that denied Great Britain's Robbie Kerr a home win in front of 46,000 people at Brands Hatch were among them. This, allied to the wheel-changing problems that put him into the lead in the first place, left a bitter taste in many mouths.
But the important question, above all others, must surely be: Did the fans enjoy it, and are they getting behind their nations? Well, I went to the Eurospeedway Lausitz in Germany last weekend to find out.
Let me put you in my shoes for a moment.
Saturday, October 8th, 5:00am, and a young 17-year-old sixth-former is about to travel abroad on his lonesome for the first time. He's spent more than a month of his own wages made from working in a DIY store, he's planned it meticulously with buses to Heathrow, flights to Berlin (via Amsterdam), youth hostel and race tickets all booked via the internet. But why? Why go to Germany to watch the second A1 Grand Prix, when you could have gone to Brands Hatch for the first race two weeks earlier?
Apart from the fact I was participating in a London fun run in a gorilla suit that day, I did it to make a point.
If I had gone to Brands Hatch, I would have been just another A1 Team Great Britain supporter, among tens of thousands of others. The only significant representation of a country at Brands - other than that for the home team - was the orange sea of Dutch men and women, the hard core of those that worship Former Formula One driver Jos 'The Boss' Verstappen, and they were relatively few in number.
Imagine going to see England against Holland in a soccer World Cup match, two of the most passionate sets of fans on the planet, and only the home team is supported. Team sports, especially between nations, thrive on the rivalry between two tribes. By going to Germany, I wanted to give Robbie Kerr and the British team the best support they could ever hope to get, where they don't expect to get it.
When making the two-hour train journey from the German capital to the small town of Senftenberg, around five miles from the circuit, in the darkness of Sunday morning, I wondered what to expect. I initially assumed the train would be filled with excited fans from across Europe and beyond building up a sense of camaraderie on the way. Nothing. Not a sausage. I was the only one in my carriage, in fact. And when I got to the station, there were no shuttle buses, no signs, no posters - just a couple of taxi drivers, one of whom kindly gave me his business card on arrival at the circuit for the ride home.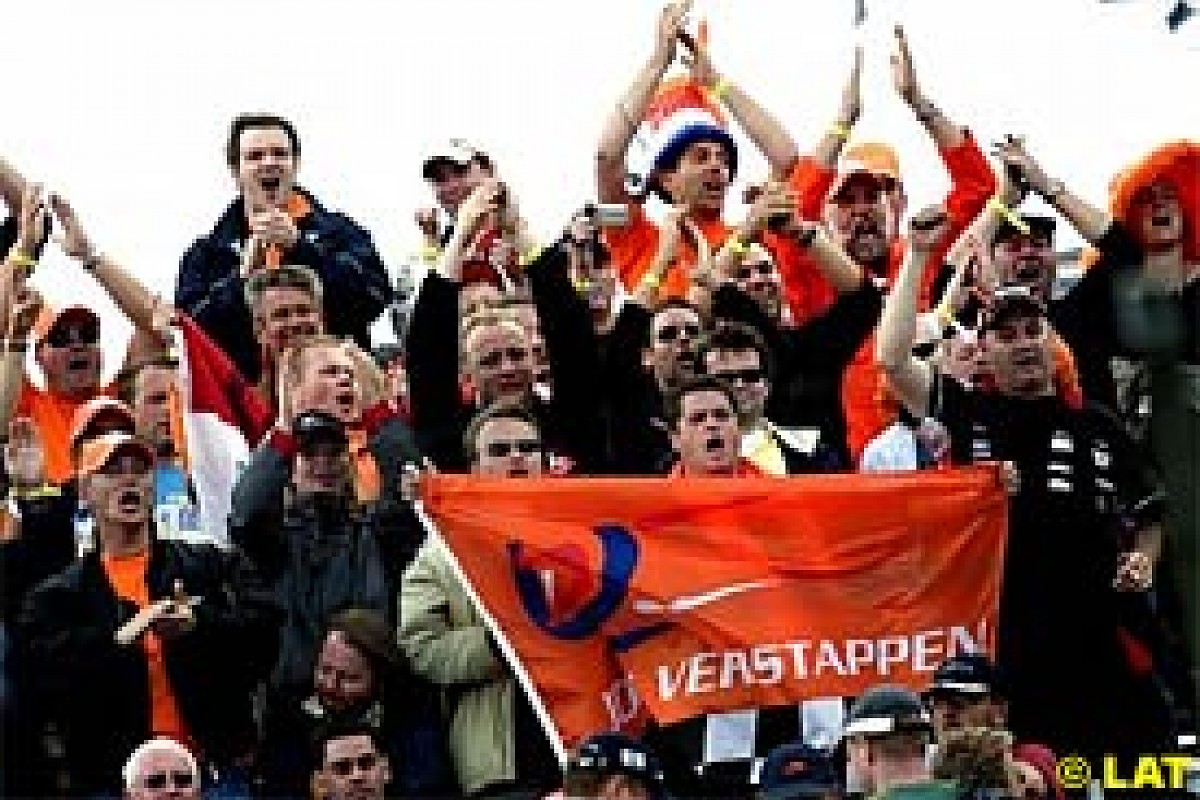 'This is a world event, millions will be watching around the globe. What's going on?' I thought. If I knew then that one of the best Grands Prix of the modern era was taking place at the time on the other side of the globe, it would have made a bit more sense. Still, the lack of any sort of racing enthusiast concerned me greatly.
I collected my tickets without difficulty. And when I say without difficulty, I mean that there wasn't even a queue. I took a large Union Jack with me and tied it around my neck, so that it hung down my back like a cape. I expected to see others with similar attire, both from my country and others. But I didn't, and my heart sank.
I was hoping for some 'brothers in arms' to form a small troupe of British support. Not so. I only saw one other Union Jack during the whole day, and every announcement of 'Robbie Kerr' on the PA (which worked in both German and English) got a small smattering of air horns. I estimate less than a hundred Britons made the voyage to Deutschland.
With 25 countries taking part, and only 12 races, more than half of the nations don't get a home fanbase to cheer them on. And last weekend, neither did Germany. The absence of crowd support and the abject lack of German flags appalled me. I later found out that A1 reported a race-day attendance of 34,000. It barely looked like half that. And if it weren't for the Dutch, there wouldn't have been anyone there at all...
When I first climbed to the heady heights of Grandstand A (from where you can see the entire track), I felt a bright glow from the right, which I assumed was the sun rising. It wasn't. Four hours before the sprint race even began, and the Dutch were here in their droves.
Thousands of them, all in orange without exception, set up camp in the middle of the grandstand. A Dutch flag had been unveiled and tied to the seats, covering an entire block of more than 100 seats. With no vocal German supports, and chants of 'Hup Holland' ringing up and down the pit straight, you would have been confused which country you were actually in.
However, being the only easily identifiable Briton had its advantages. The cheapness of the top grandstand ticket (40 euro) allowed me to shell out another ten on a paddock pass. I made the venture during a Mickey-Mouse support race for a dozen or so Trabants and Ladas. And boy was it worth it.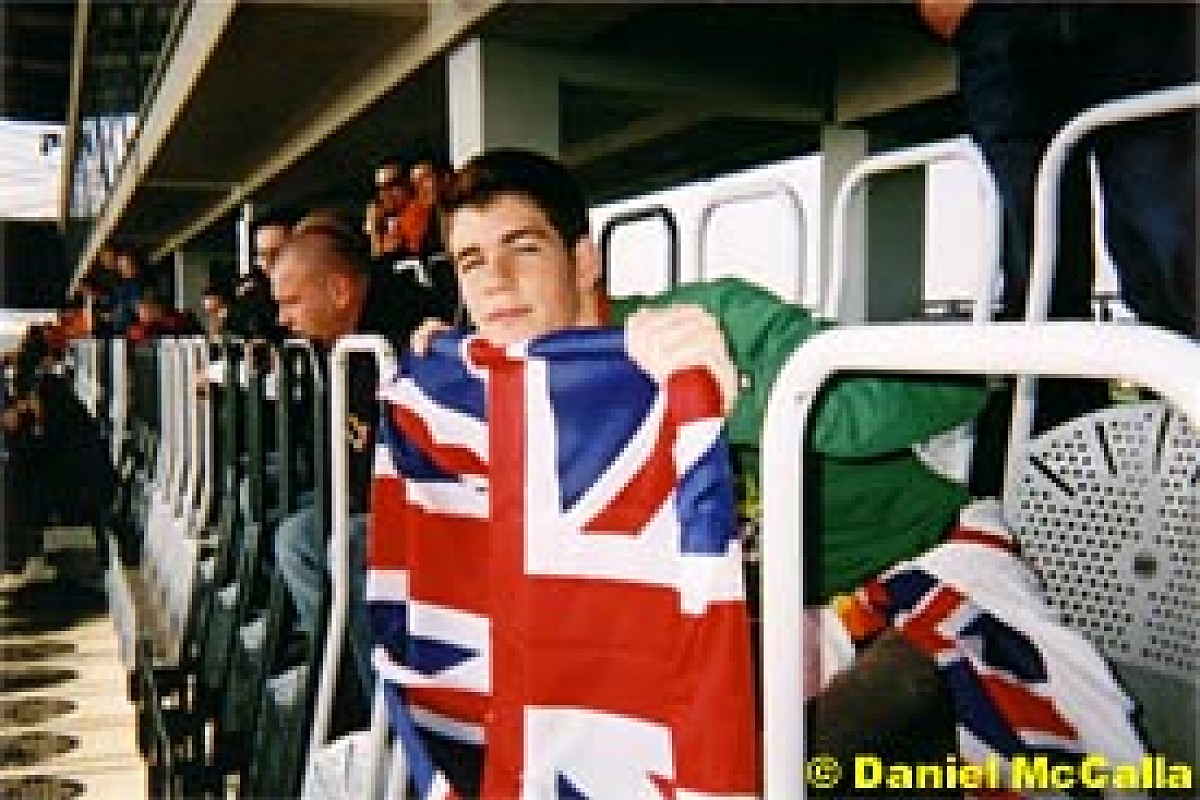 I wasn't in the paddock long before a German journalist reporting for Auto-Bild approached me and asked me some questions. She was trying to get a real international flavour of the event but couldn't find that many people who weren't German or Dutch. I quipped that to the untrained eye, you could have sworn you were at Zandvoort.
But that was the extent of it. I noticed one Czech couple (the border is only 40 miles away) and someone purporting to be from Portugal, but that was it. The situation was summed up by the Sheikh's pre-race speech, where he said: "Hello, Germany, Hello, Holland fans." Even the Sheikh acknowledged the lack of home support. After that, and a quick word with the Sky Sports commentator Ben Edwards, I made my way up to the grandstand.
With Robbie fourth on the grid, I was hopeful of a British victory. That lasted all of six seconds after the rolling start, when he collided with American Scott Speed at the first corner. Not only did that no-score him for race one, it meant he'd start dead last for race two.
I heard that the first race was a procession, but I was so depressed I didn't notice. I have never been so angry in my life. All this time, all this effort and all that money, for one corner. I felt like going home, but I decided to stay for the feature race because I had nowhere else to go.
That proved to be the best decision of my life. I met a British couple, in the row in front, and we shared the exuberance of Robbie's stunning drive from 24th to a close second. There was a time in the second half, when the safety car came out and Robbie was right behind Nicolas Lapierre, when we honestly believed he could win. When we honestly believed that we could win.
The Dutch had had their own problems but were still in high spirits, as Jos had hauled himself from the back row up to eighth. Only then was the atmosphere truly electric, and it was then that I truly appreciated the 'pride of your nations' Sheikh Maktoum had so ardently publicised.
As soon as the race finished, I used my priceless pass to sprint to the paddock. At the EuroSpeedway, the paddock connection is the bridge over the start-finish line, and the podium is directly below the bridge. As I came down the stairs towards the paddock, below me on the tarmac was a tired, sweaty, happy podium-bound Robbie Kerr. I yelled out his name, and threw him my Union Jack. He started cheering for me, yelling 'Come on!', the likes of which I hadn't seen since Stuart Pearce let it all out after scoring a penalty in Euro 96 against Spain.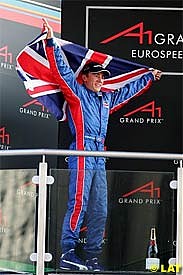 When I reached the bottom of the stairs, he was on the podium. I couldn't see the presentation, but I didn't care. I had allowed Robbie to demonstrate the pride of his nation in front of millions. And then, someone who saw what I did tapped me on the back. 'Would you like to go up there?' he said, referring to the area next to the podium while holding out his press pass towards me.
In retrospect, he probably just wanted a good story and a decent photo-op. But that didn't stop me. I took it, climbed the stairs and waited for Robbie, seething in anticipation. When he returned from the ceremony, I hugged him, (cheekily) took back my flag, and said "The emotions you've put me through today!"
"Thank you very much," he said, happily signed my ticket, and quickly posed for a photo, taken on my camera by an impatient man trying to harry him to the press conference. After that, I thanked the journos, who not only bought me a beer, but gave me a lift back to the train station. What saints they were, even though they technically broke the rules.
But the day's saga wasn't over. Over the beer (and yes, I know I'm underage), they told me a few home truths about A1. They mentioned, for example, how there were no Great Britain shirts at the merchandise stall because they all sold at Brands; but, above all, they gave me a possible reason for the poor attendance.
It turned out that the publicity and advance ticket sales for round one at Brands were run by Jonathan Palmer and the good people at MotorsportVision, the track owners. Their slick work was the reason the Brands Hatch crowd was so huge. At the EuroSpeedway, and from now on, A1 is on its own, and according to the hacks, they "don't really know what they're doing that well."
So that amazing day, the best of my young life so far by some margin, left me with a lot to think about on the empty train home on Sunday night, and the flight home on Monday night (on which I saw Alan and Christian Jones and all of Team Australia). Is A1 getting it wrong, are they doomed to oblivion, or are they destined for success?
I believe and hope that A1 will succeed. Robbie really cared that he got some support out in a foreign land, where the pressure of an expectant home crowd wasn't there to get to him. Once the A1 organisers start to appreciate that they need a diverse culture of fans at every race, and not just a bunch of locals cheering for the home side, they will unlock A1's potential.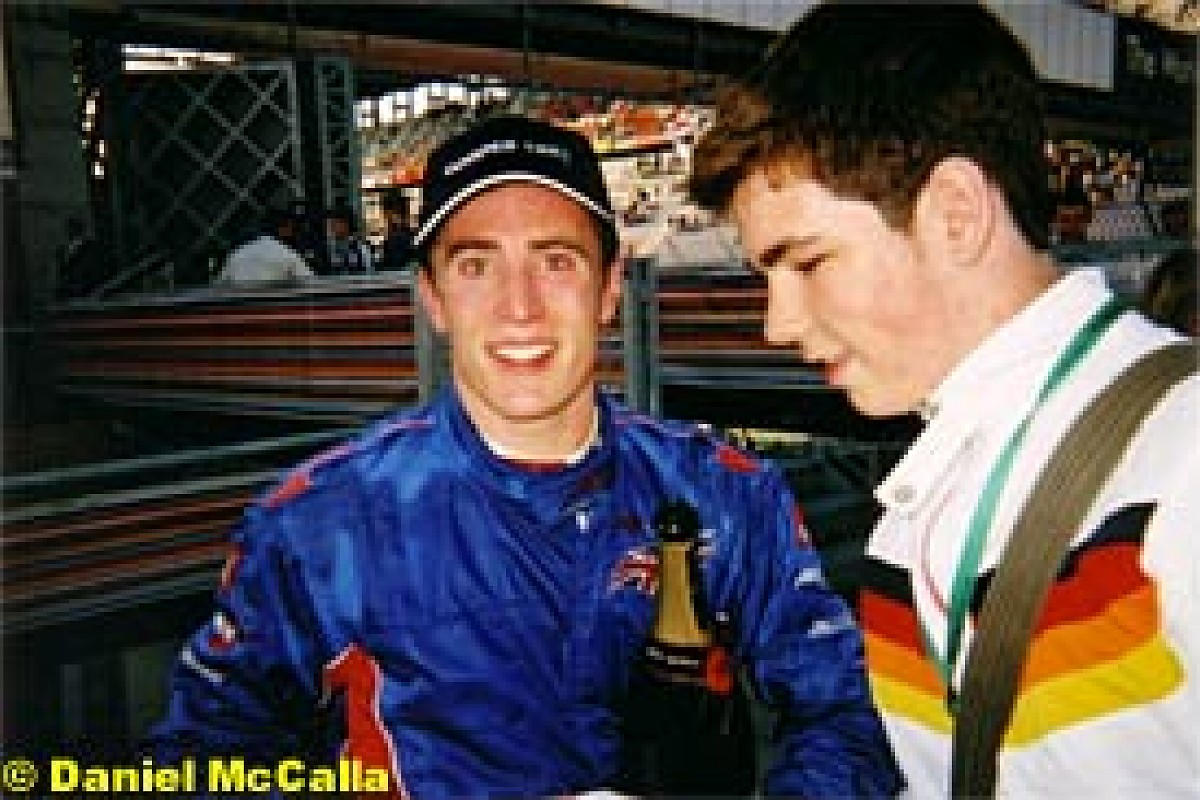 If A1 is selling tickets itself, then why not offer low-price holiday packages to bring in the foreign fans, particularly those with a team but without an A1 Grand Prix in their territory?
While all series suffer teething problems technically (see Carbone Lorraine and GP2 back in April), crowds of a few thousands of spectators (I really don't think it was 34,000) are unacceptable, and only the fanaticism of the Dutch saved Sheikh Maktoum's blushes. I am sure he has the brainpower, manpower and financial power to bring people to A1, and I think he needs a solution for next season at the latest beyond just sensibly-priced tickets.
I still have the flag I took with me. The stench of champagne is almost unbearable, but that's the smell of achievement, success, and national honour. I wouldn't have it any other way. I'll be going back to A1 next season. I just hope the world will join me.