Arc de Triomphe: Revenge of the Yellow Teapot

---
By Thomas O'Keefe, USA
Autosport-Atlas Senior Writer
Renault began its Formula One adventure back in 1976, but only this year the French carmaker has enjoyed the success of finally clinching a World Championship title as a constructor. Thomas O'Keefe pays tribute to the French manufacturer
And so the 2005 Formula One season ends the way the entire sport of Grand Prix Racing began over 99 years ago when the Automobile Club de L'Ouest held the French Grand Prix near Le Mans on June 26, 1906, and a Renault won the race riding on Michelin tyres.
As in 2005 Formula One racing, in 1906 it was all about quicker pitstops, with the 4-cylinder, 105 horsepower Renault AK 90V benefiting from a Michelin innovation - detachable spare rims already fitted with fully inflated Michelin tyres - which gave Renault a decisive advantage over its competitors, who were still replacing tyres the old-fashioned way by cutting off the worn and hot tyres with knives, muscling on some new rubber and pumping them up with air. Meanwhile, the Michelin-shod Renault was long gone.
Renault Freres, then and now of Billancourt, France, goes a long way back. Although by the 1906 ACF Grand Prix the Renault AK was being driven for the factory by Hungarian Ferenc Szicz, the Renault brothers - Louis and Marcel - had previously participated as owner-drivers in earlier races such as the Paris-Bordeaux race in 1901; indeed, Marcel Renault gave his life to the sport, being killed, along with his mechanic, in the Paris-Madrid race of 1903, which was marred with so many severe accidents that the race was stopped at Bordeaux.
Louis was also competing in the Paris-Madrid race and backtracked from Bordeaux to be at his brother Marcel's side as he passed away. In honor of his sacrifice, they named a street in Paris after Marcel Renault in the quarter where the original French automobile manufacturers had their factories.
In short, the success modern Renault is now enjoying came at a high human cost that can be traced back to the very origins of our sport. In modern Grand Prix racing, Renault F1 Team has also suffered and made sacrifices in order to win for the first time a World Championship as a constructor as it has now done with Fernando Alonso and his V10 RS25, lubricants by Elf, tyres by Michelin.
Renault has been trying to win as a Formula One constructor since 1976, when, in an all-French alliance, French Oil giant Elf funded the development by Renault Sport of a 1.5 litre version of the Renault-Gordini V6 turbo already running successfully in sports car racing. Michelin supplied the sticky radial slicks and so the two French companies took the plunge together in entering Formula One.
During this mid-1970's period, the Formula One grid was made up largely of 3.0 litre Cosworth DFV's and Renault's turbocharged creation - dubbed the Yellow Teapot by its critics - distinguished itself in its early years mostly with its spectacular turbo fires. Renault even developed a special bung designed to snuff out the recurring turbo fires.
But by 1979, those mocking the Yellow Teapot were beginning to be proved wrong as Renault won its first race - the French Grand Prix at Dijon-Prenois - with Jean-Pierre Jabouille at the wheel, which was appropriate since he had endured all the catcalls and frustration heaped upon the Renault turbo from the outset of the project. They say that imitation is the sincerest form of flattery; by 1981, Ferrari had abandoned the non-turbo group and had developed its own V6 turbo, and Alain Prost, now Renault's No. 1 driver, had scored three wins for Renault.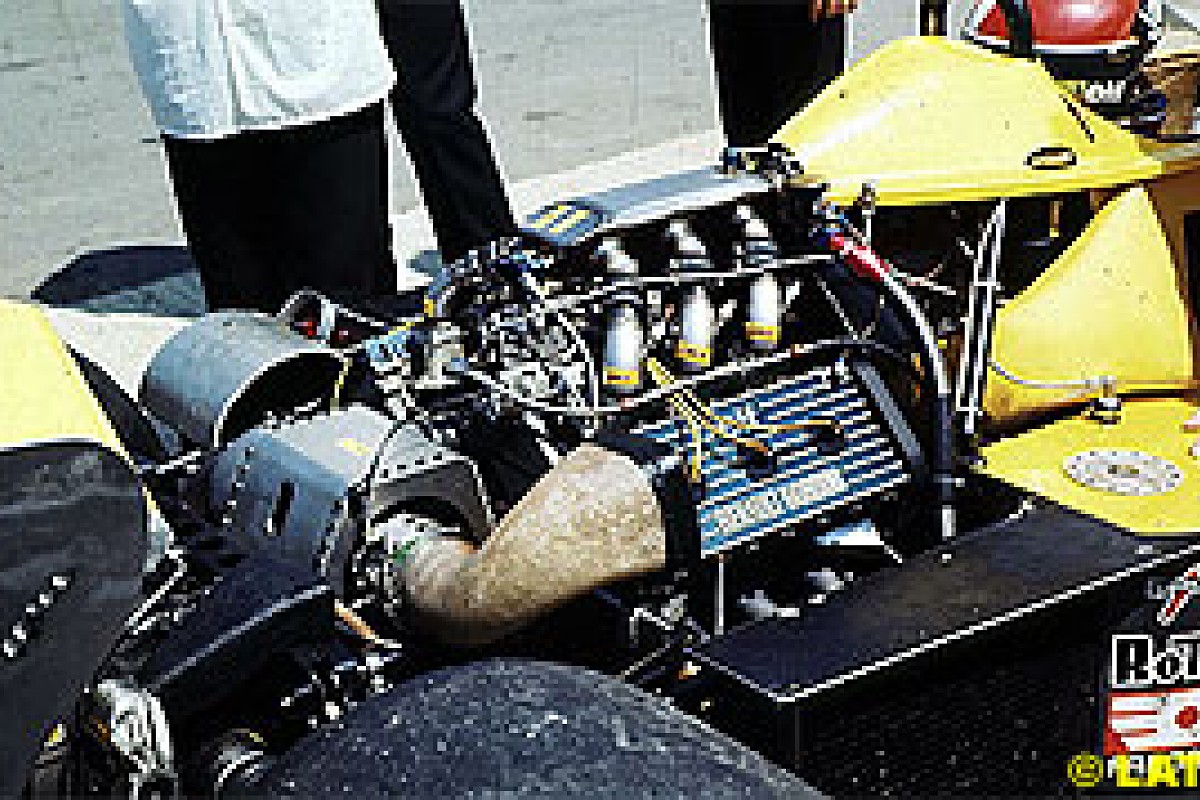 Two seasons later, in 1983, Renault had won the technological war hands down since not only Ferrari but also Honda and Porsche had gotten into the game with their own turbos, as had BMW, whose 4-cylinder turbo was running in the back of the Bernie Ecclestone-owned Brabham-BMW BT52.
But by this time, Renault had lost its competitive advantage and the turbo technology had become sufficiently accessible and understood that six constructors had won at least one race during the 1983 season, with the showdown in the last race at Kyalami coming down to Renault's Alain Prost and Brabham-BMW's Nelson Piquet.
Sadly for Renault, Prost went out, typically, with turbo failure in the 1983 South Africa Grand Prix and it was Piquet's BMW turbo that took away an honor that rightfully belonged to Renault: the honor of having their name on the first turbo to win the World Championship would go to BMW and not to Renault, which had started it all.
Renault the company seemed to lose its fire to be a Formula One constructor after the disappointment of the 1983 season. In 1985, after nearly a decade of trying, Renault withdrew as a constructor. Renault engines would power constructors Benetton and Williams to World Championships in the 1990s but it was not until the 2002 season that Renault came back as a constructor to finish the job begun by the Yellow Teapot back in 1977.
Despite the fact that Renault had been trying to win as a constructor since 1977, in truth, the modern Renault F1 Team has done an admirable job in achieving the World Drivers' Championship so comparatively quickly since Benetton morphed into Renault at the end of 2001; BAR began in 1999 from the ashes of Tyrrell and has not yet won a race while Toyota commenced its first season in 2002 and is only now beginning to show its strength. Both companies have racing experience at least as deep, and stronger financial backing, than Renault.
Part Benetton, part Renault, part Oxfordshire, part Viry-Chatillon, with its "Spanish Moss" Alonso and Italian boss Briatore mixed in, but in the end: French car, French fuel, French tyres, the pride of a Nation. Plus ca change plus c'est la meme chose (the more things change the more they stay the same).