For the Pride of Racing

---
By Ann Bradshaw, England
Autosport-Atlas Special Columnist
Ann Bradshaw has been involved in the marketing of the new A1 Grand Prix series from the very beginning, when all it amounted to was a madman's dream. Last Sunday, that dream became a reality and Annie couldn't be any prouder
You wait for ages for a bus to come along and then, just when you are about to give up, two arrive at the same time. Last weekend, motor racing was a bit like that. We have waited a long time for something different to happen and now the equivalent of a queue of buses has arrived.
Fernando Alonso has given Formula One its first ever Spanish World Champion and its youngest. Dan Wheldon has become the first Briton since Nigel Mansell to take the United States by storm and has lifted the IRL crown. Valentino Rossi has become MotoGP Champion for the fourth year in a row. But as far as I am concerned, though granted I am biased, the most momentous occasion was the first ever A1 Grand Prix of Nations race at Brands Hatch.
It was about 20 months ago that I got the call from a financial PR agency to see if they could employ me for a couple of days, as their client was involved in a new racing series and wanted to invite motorsport media to a grand launch in Dubai. Their client was a very profitable South African company involved in oil, gas and diamonds and the successful businessmen running it were involved in a 'motorsport meets business' series.
Like lots of people, when hearing such a claim, I remembered the often-used saying: How do you make a small fortune in motor racing? Start with a big one! However, after meeting the man who had came up with the formula and the two men backing it, I had a feeling that this could just work.
I was introduced to His Highness Sheikh Maktoum Hasher Maktoum Al Maktoum who had had the dream. He is a member of the ruling family of Dubai and so was royalty. I soon realised that he was not your usual royal. He was young, lively, informal and a lot of fun. He explained his idea with a passion that lit up his amazing big brown eyes.
Then I met the businessmen who had also believed in what he was proposing. They were Brian Menell and Tony Teixeira. I had already done a Google search on them and knew they were major players, so if they had seen a reason to back this young Sheikh - at that time he was just 28 - then he was not a bad bet.
Since then, a lot has happened. Other successful businessmen have bought into the dream. Teams have been launched with young, up and coming drivers as well as the odd well-established name ready to fly their national flags. TV deals have been done. A group of people have been 'thrown' together to make sure the show gets on the road with everything being sorted 'under one roof' - from the tickets that get you through the gates to the food that the VIPs eat.
At times we wondered if that day would ever come when Sheikh Maktoum would announce to a grid of cars, 'Gentlemen for the pride of your nation, start your engines'. There are well established names from motorsport who had been brought on board as well, as new names and faces who have admitted knowing very little about the sport, but in their area are experts and so have brought in new and fresh ideas.
However, what has got the attention of many observers is the number of former World Champions who have become involved in teams.
The first on the scene was John Surtees, with A1 Team GBR. Then you got Alan Jones with A1 Team Australia. Next was Emerson Fittipaldi with A1 Team Brazil, and then just before the start of the season Keke Rosberg and Niki Lauda joined, with A1 Team Austria. Add to that Nelson Piquet, who was watching his son win both races at Brands Hatch on Sunday, and that is an impressive line-up.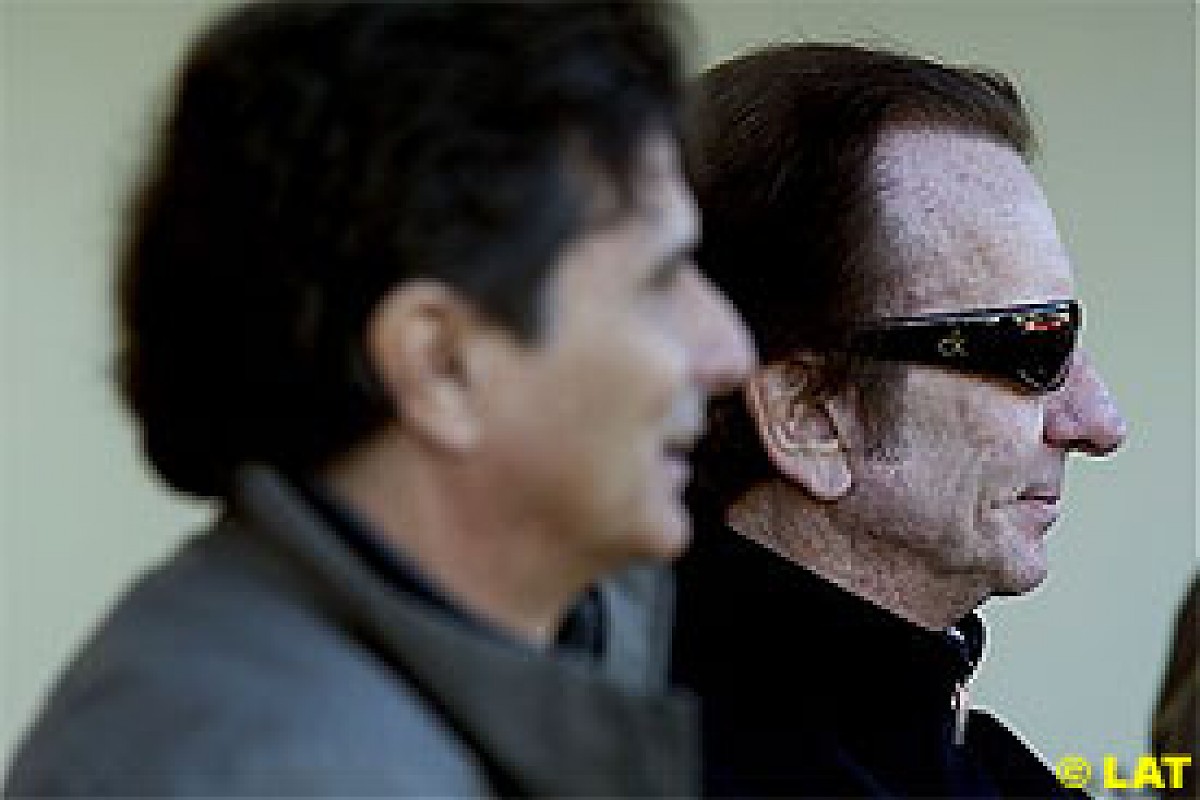 The pitlane is a veritable who's who in terms of racing teams. The guys there running the cars are usually seen in Formula One, GP2 or F3 paddocks. Age and experience was there on display with Dave Price, whose team is running A1 Team USA, remarking that he expected there was an age limit of 45 in the paddock - he was talking about this being the lower rather than the upper limit! Whatever their ages, having the likes of Dave, Jo Ramirez, Bob McMurray, Tim Schenken and John Wickham involved can only give the whole scene credibility.
When it came to the drivers and their ages, it was a very different story. Youth was on their sides with the likes of Nelson Piquet Jr, Scott Speed and Karun Chandhok just out of nappies in motor racing terms. Okay, you do have Jos Verstappen there, but for the majority it is an important stepping stone on their motor racing careers.
I know the comparisons are impossible to avoid, but from day one Sheikh Maktoum has been adamant that the series is in no way trying to compete with Formula One. Both series are run in different parts of the world for single seater racing cars, but that is where the similarity ends despite one comment in the media that said 'Sheikh Maktoum has parked his gold plated SUV in Bernie's driveway'.
However, I must admit that I had to agree with people who, after walking through the paddock, observed it was a bit like a Formula One paddock twenty years ago.
I was there at Brands Hatch in 1985, when Nigel Mansell won his first Formula One race at the European Grand Prix on October 6th, and it was not a bad comparison. Keke Rosberg was also there. In those days he was Nigel's teammate in the Canon Williams Honda Team. On that occasion, he came third in the race, having spun off on lap one and had to play catch up.
I always remember Keke on the podium with a cigarette hanging out of his mouth. I also remember that was before the days of digital photography so no one was able to touch up the picture and remove the offending fag - while cigarette companies were encouraged to use the sport as advertising in those days, there were some limits and because of this Goodyear could not use the podium shots for advertising purposes.
Here we were twenty years on, talking about that day, and Keke this time was smoking a cigar, but still being as irreverent about most things.
Anyway, I digress. While there were no drivers on the podium with a lit cigarette in their mouths, there were lots of relaxed people who seemed to be enjoying themselves. I am not suggesting that people in Formula One are not enjoying themselves, but their pressures are greater as the rewards are greater.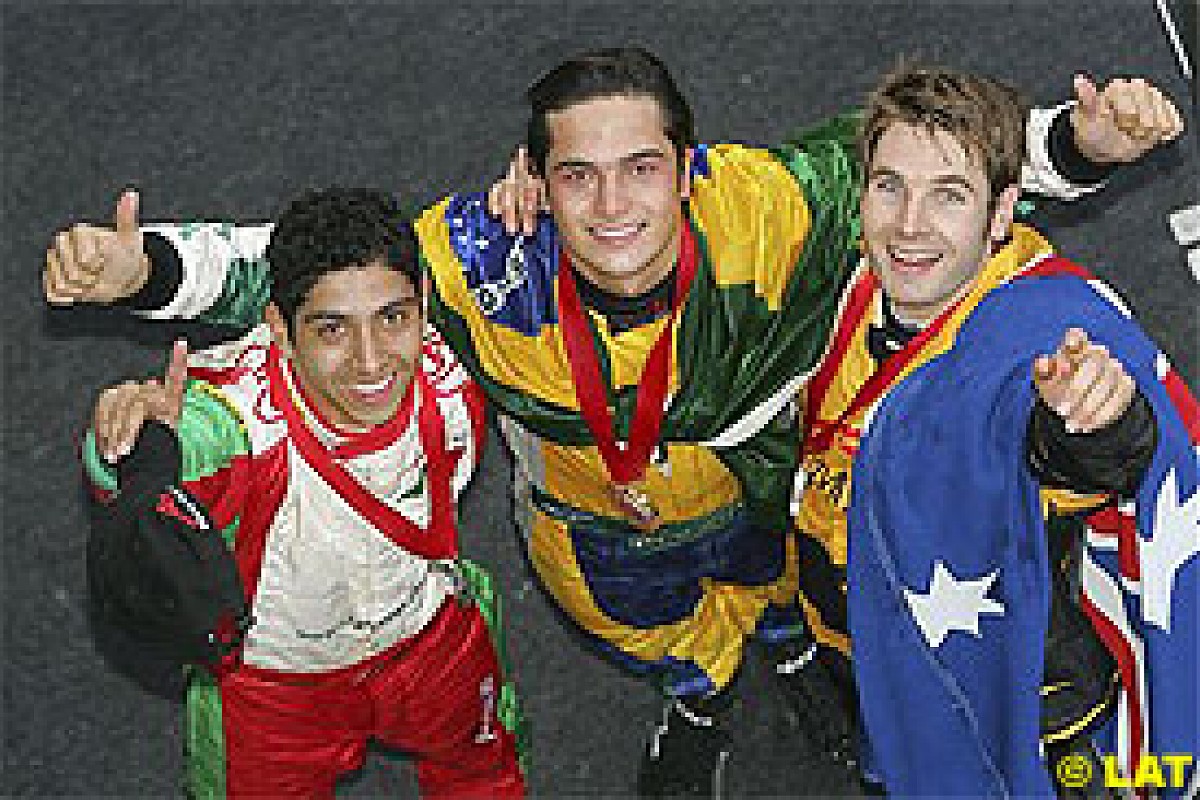 The title for Fernando Alonso on Sunday would have been a great personal triumph for him as well as a great boost for Renault. This is a major manufacturer who is using Formula One as a serious marketing tool. They are in competition with other major players in their world, such as BMW, Mercedes, Toyota, etc, and this is all about car sales and not sport for the pride of a nation with a US$ 300,000 cheque for first place.
Mind you, I should also mention here that I am sure there were several Renault men wringing their hands in anguish on Monday morning when BBC televisions' very experienced sports presenter, Rob Bonnet, announced that the Benetton driver, Fernando Alonso, had won the title, as the last time the team ran under that name was 2001!
At the end of the day, the success of the new A1 GP series will be judged on whether it delivers what it has promised. The promises are exciting close racing, worldwide television coverage, teams to be proud of carrying national flags with drivers from that nation in the cockpit, inexpensive tickets allowing affordable racing for all the family, an open and friendly environment where the public can get to see the drivers up close, and a business model that will mean drivers are in the cars on merit and not because they bring a large cheque.
In my view, Sunday was a brilliant start, meeting all the above criteria. I am sure many fans will now watch with interest to see what happens between now and the end of the season in April, but I am confident we will just get lots more of the same.