Helmut Marko: the Player

---
By Thomas O'Keefe, USA
Autosport-Atlas Senior Writer
In a paddock full of ex-Grand Prix drivers holding different key positions, all the way to the top of the sport, Dr. Helmut Marko is an intriguing member who shies away from the limelight and whose importance is therefore easily underestimated. But the Austrian Red Bull director is one of the most powerful members of the Formula One circus. Thomas O'Keefe talked to Marko and researched his rise in the sport, offering a fascinating three-part portrait of the Player
Part I: the Austrian Connection
In the paddock today we are knee-deep in Grand Prix drivers, retired, voluntarily or otherwise, who wander about the pits fulfilling various roles. The indefatigable and peripatetic Sir Jackie Stewart is everywhere and the most visible of the ex-drivers. Even more omnipresent is Bernie Ecclestone, who tried to qualify his aging Connaught B-Type at the 1958 Monaco Grand Prix, so he counts as an ex-driver, and so should FIA President Max Mosley, who was in the F2 race at Hockenheim in April 1968, when Jim Clark was killed.
In this year's French Grand Prix, Alain Prost was coaxed up from the pits to hand out the trophies on the podium, and Nigel Mansell, Jean Alesi, Stefan Johansson, Eddie Cheever, Jody Scheckter and most recently Mika Hakkinen and Eddie Irvine put in appearances in the paddock from time to time.
The effervescent Jacques Lafitte keeps French TV viewers informed on TF1. Martin Brundle and Mark Blundell guide ITV's coverage for British viewers. Keke Rosberg is on hand and holds court at the McLaren Communications Centre during the European races, while supervising his son Nico's rise up through the GP2 ranks. And German-speaking TV fans have the benefit of the expert commentary of Austrians Niki Lauda and Hans Stuck, who do their stand-ups right from the paddock, mixing in Stuck's wit and infectious enthusiasm for Formula One with Lauda's blunt assessments and insider knowledge of the sport, most of it gleaned from the breakfast table at Austrian caterer Karl-Heinz Zimmermann's silver tent for Special People, where the power elite eat on Grand Prix weekends.
Moving almost invisibly through the crowded paddock is another ex-Grand Prix driver, also an Austrian, who arguably has the most significant job of all the former drivers percolating through the paddock (other than Bernie, of course), in terms of shaping the future of the sport.
He does not wield a microphone for one of the networks covering Formula One; indeed, he seems to shy away from publicity altogether. Although he is known to be highly intelligent and possessed of a dry wit, he does not appear as a guest for the media at any of the Thursday pre-race press conferences. He is not seen on the pit wall of any team, wearing headphones and watching a bank of TV monitors and directing strategy, and he is not officially on the payroll of any race team; nor is he with the FIA or with Formula One Management.
And yet he has everyone's ear and is sought out for his views throughout a race weekend. He goes about his business in a quiet but no-nonsense fashion - the Austrian Way, as Niki Lauda used to call it when he was the Team Principal at Jaguar Racing - and he does so without fear or favor and with a sense of confidence in himself and his surroundings that makes his position an enviable and unique one amongst all the paddock insiders.
Dr. Helmut Marko, a member of the Board of Directors of Red Bull Racing and consultant to RBR, now 62 years old, former BRM Grand Prix driver and former Le Mans winner and sports car driver par excellence, has the confidence of Red Bull's billionaire owner Dietrich Mateschitz (who is from the Styrian region of Austria, as is Marko), and is among the key decision-makers at RBR and in the sport of Formula One.
It has always been thus with Helmut Marko, who has been thoroughly embroiled in the upper echelons of motorsports all of his life and admired and trusted by all those, big and small, who have encountered him in racing circles, possible exceptions being Tony Parnell and David Pitchforth, who were reportedly summarily dismissed from Jaguar by Marko as it morphed from Jaguar Racing to Red Bull Racing. Although the Austrian Connection tries very hard not to interfere with daily business at RBR's factory, Marko's quote at the time was pure Austrian: "All major decisions will be taken in Salzburg and not in England."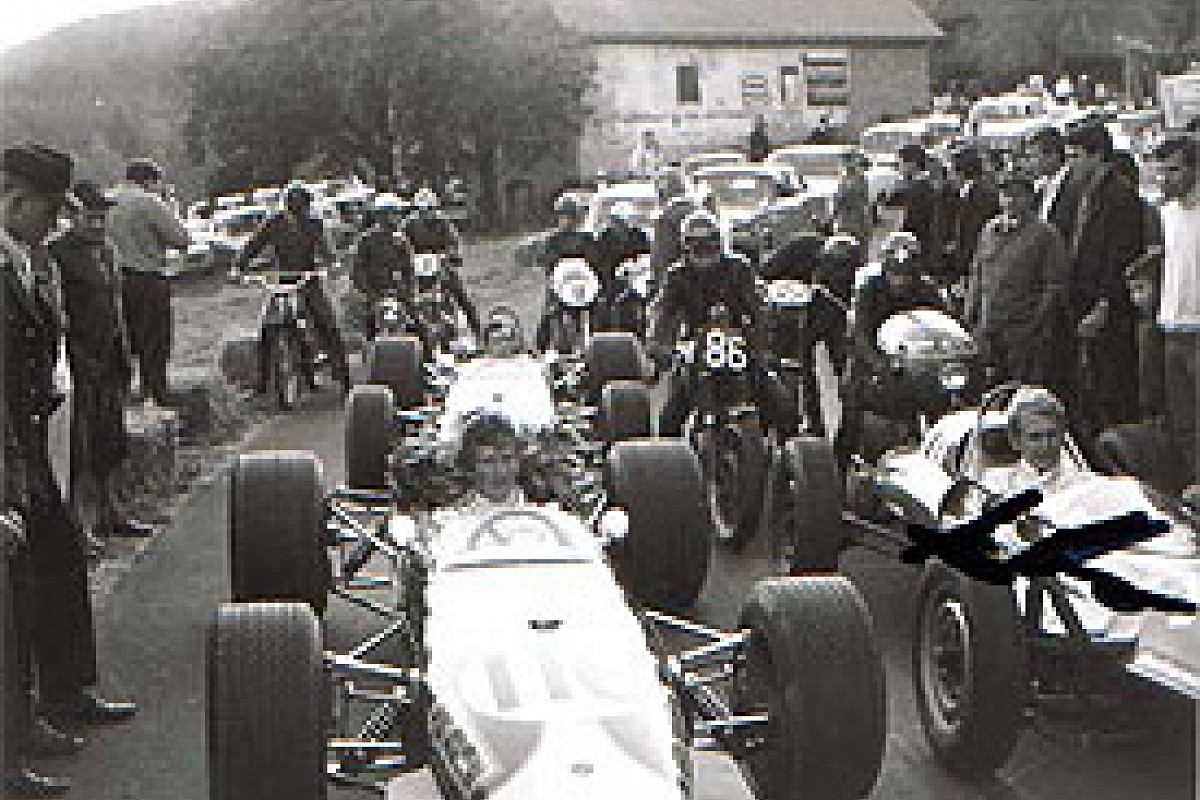 It all began with Jochen Rindt, 1970 World Drivers Champion, who was a boyhood friend of Marko's, when they were just two car crazy teenagers growing up in and around Graz, Austria. Born on April 27th 1943, Marko was a year younger than Rindt. But they ended up in school together, as Marko explained to Autosport-Atlas one day in the paddock, recalling the circumstances of this chance encounter with Rindt that would come to mean so much to him:
"We had been living in the same city, Graz, and it happened that we joined the last two years together at high school. In Austria, it takes you until 18 and then you can go to university.
"You know, he lost his parents" - Jochen Rindt's wealthy parents, spice importers with a factory in Mainz, Germany it is said, were killed in the Allied bombing of Hamburg, Germany in 1943 after which Jochen, still an infant, was taken to Graz to be brought up by his grandparents - "so when he became 18, he got the money [of his inheritance] and he decided to go racing, and that is why I got into racing, to join him.
"I was just being around with Rindt, helping out and things like that, but I started racing really only after I finished my studies, because I did not get any support from home. My parents said: 'first you finish your studies and then you can do whatever you want.'"
Rindt and Marko became as thick as thieves and were apparently hellions on wheels around Graz. Marko chuckles as he describes himself and Rindt as such a double disciplinary problem that ultimately "we were kicked out of high school at the same time and went to a boarding school together," a school in Bad Ausee, where yet another future Austrian Grand Prix driver, Harold Ertl, would also be a student. Bad Boys at Bad Ausee; imagine what lunchtime was like in that school cafeteria!
In addition to being problem teenagers for Marko's parents and Rindt's grandparents, the two boys were already smitten by cars and motorbikes of all kinds and were honing their skills in the streets around Graz, the public road between Bruck and Graz becoming their own private test track. Again, here is Marko's recollection of how the obsession with cars first manifested itself:
"Now, I remember how it started. We always had an interest in cars and motorbikes that [at 16 years old] we were allowed to ride. Jochen broke his leg skiing and the school was about a 45-minute walk away. [Rindt's family owned a factory and from the factory] they got a VW, a really old one, with a roller for an accelerator pedal [pre-1959] with a chauffeur, and for costs savings, we told the chauffeur we have a guy here with a driving license and sent the chauffeur home again and we were driving around without a drivers license of course, and everything was a competition on the road from the school to Graz.
"We had a very good system: once someone made a mistake he had to [leave the driver's seat] and the next one would come to prove himself."
Question for Christian Klien and Tonio Liuzzi: does this alternating driver system sound familiar? At least it has a good provenance; it seems you owe it all to Jochen Rindt.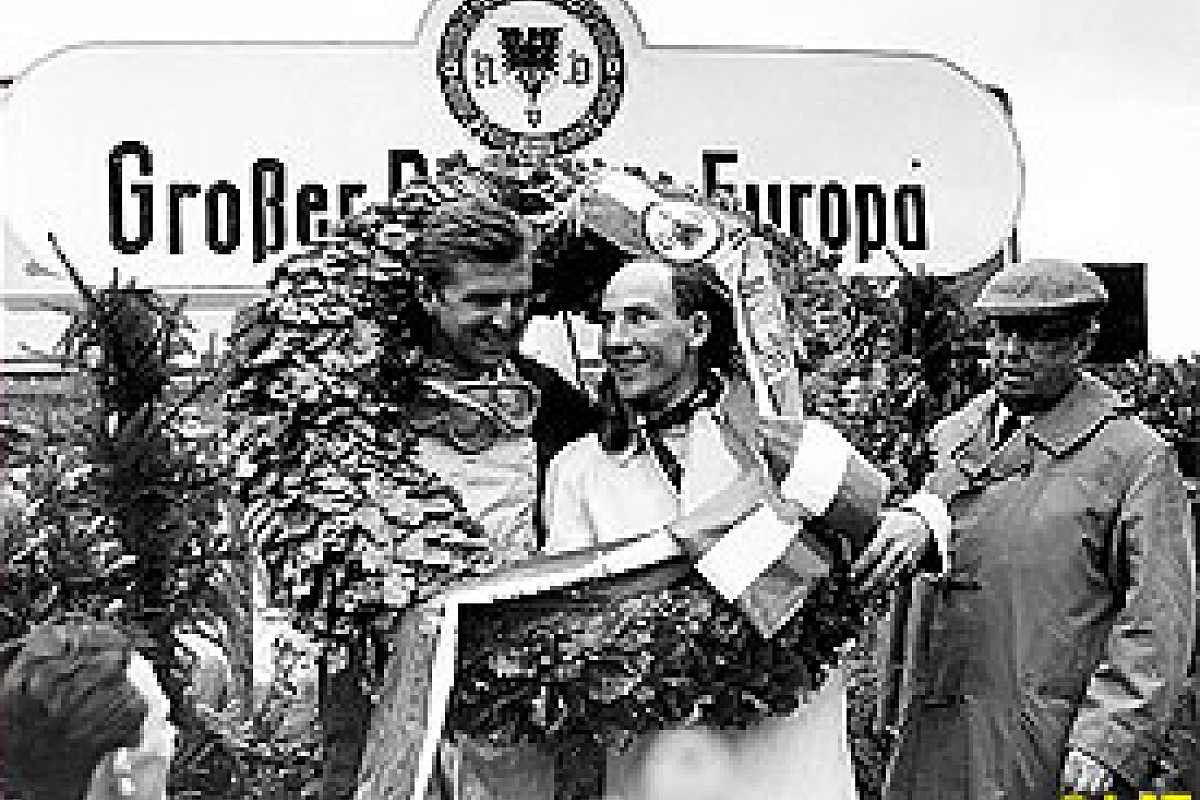 Marko remembers a particularly significant career-shaping weekend for the two boys in 1961, when as 18 and 19 year-olds, Rindt and Marko drove from Graz to Nurburg, Germany, to attend the 1961 German Grand Prix, which was then run over the old 14.1 mile Nurburgring circuit.
Unfortunately, pre-European Union, en route to the German border it was discovered that Rindt had left his passport home, leading to hours of driving back to Graz by these two future endurance racers and Rindt pounding on the doors of his family's spice factory, waking the Night Porter and everyone else up, so he could retrieve his passport, pleading "but I own the factory" when people told him to go away so they could get some sleep.
Once there, it must have been a vintage Nurburgring weekend for both the teenage racing enthusiasts, since that particular race summed up a classic era, pitting the Sharknose Ferrari 156's of German hero Wolfgang von Trips and American Phil Hill against Jim Clark's Lotus 21-V8 Climax, the Cooper-Climax factory team of Jack Brabham and Bruce McLaren, the Rob Walker Lotus 18/21 Climax driven by Stirling Moss and the Porsche 718 driven by Dan Gurney, with rain also figuring into the race, which meant that tire choice turned out to be critical.
In the end, Moss opted for rain tires and the Ferraris opted for dry tires and though von Trips and Hill were bearing down on the Englishman in the closing laps, Moss and the Lotus-Climax held the lead and finished as yet another downpour bailed out Moss, taking what would be Moss's last win and the last race for von Trips before his fatal accident at Monza. It is no wonder that after witnessing this spectacular race, Rindt told Marko, as they trudged home through the mud and rain: this is what I want to do.
Having survived boarding school (although he later attended school in England as well), Rindt worked a bit for the family business but rather soon pulled up stakes and began to go racing, while Marko, having finished his matura, went on to the University of Graz and ultimately took a law degree and a doctorate in jurisprudence in Graz, which is why we know him as Doctor Helmut Marko. But the two friends stayed close even as their lives diverged.
"In 1961," Marko recalls, "I went to study at the University of Graz and Rindt started racing, first locally and then he went to England which, at the time, was like going to the moon.
"I was nearing the end of my studies but he was already in Europe. We had always stayed close and I was informed about everything. I made some trips to the races . . . .I remember the ferry boat trip . . . cold.
"I actually started racing in 1967. At that time, Austria had a really good supporting system, and from my first season I went out and I did not lose money, I earned money.
"[Rindt and I] had some plans [to go racing together] but unfortunately, in 1970 he was killed."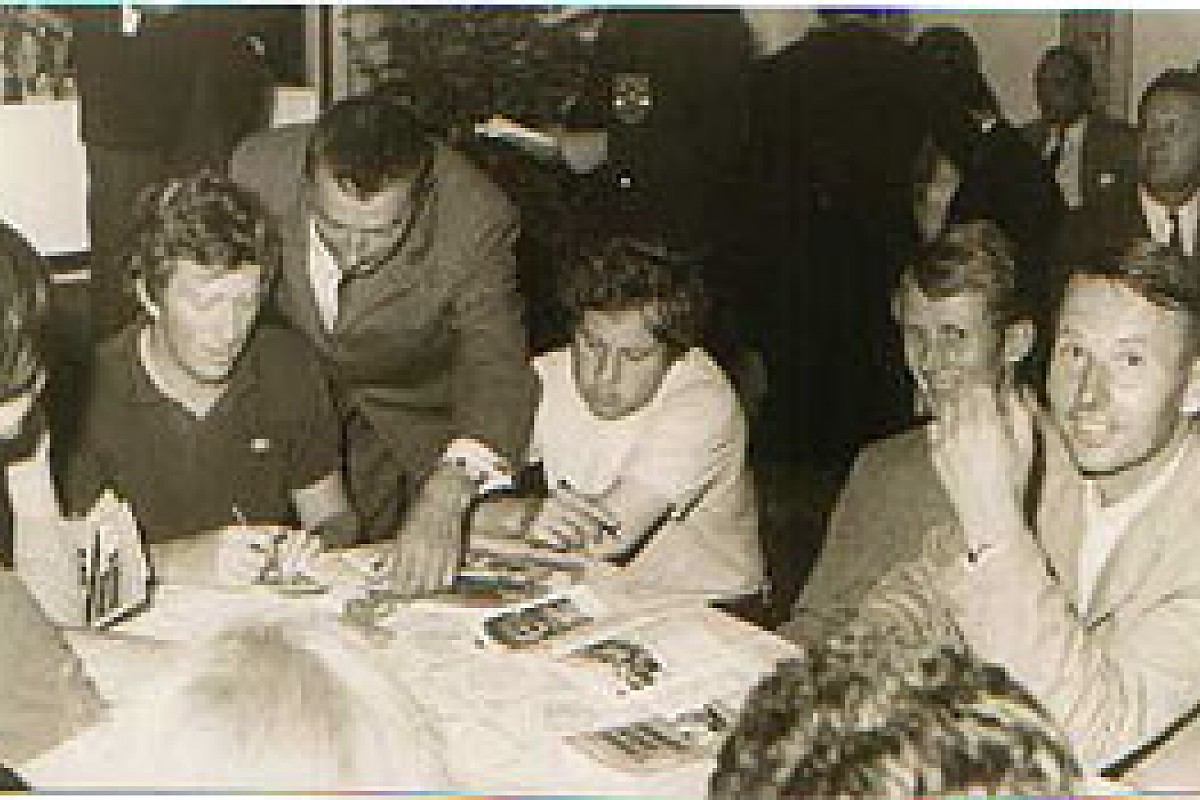 Before Rindt's fatal accident, Rindt and his then-manager Bernie Ecclestone were developing a Formula Two team with Emerson Fittipaldi. That never came to pass, but apparently Marko would have been involved in that team had it been organized. Marko met Ecclestone during this period and today, although everyone knows everyone for 25 years in the F1 paddock, Marko is one of very few real "contemporaries" of Bernie circulating around the paddock.
Where was Marko when Rindt was killed, braking for Parabolica while driving in Saturday Practice for the 1970 Italian Grand Prix at Monza? He was in Austria, where it was late afternoon when the news came over the radio; according to the memory of some Austrians, because Jochen Rindt was such a national hero in Austria (Rindt was actually born in Germany, but grew up an Austrian), that particular generation of Austrians knows where they were when they first heard the news of Rindt's horrible accident.
Marko was by this time racing himself, climbing the well-worn ladder of motorsports, from Formula Vee in that era to Formula One. He was not receiving financial support from his parents because he earned enough from his racing after the first year to support himself. But Marko does admit somewhat sheepishly to having at least one key supporter who facilitated his motorsports career.
"In 1967 [now 24 years old], I finished at University of Graz, and I was already racing while also doing my legal work. I had a very understanding judge - he died already so it is not a problem to mention it! - who was supporting me, which is the way I managed to do it."
So, in effect, the sympathetic-to-motorsports judge who supervised Marko as a circuit judge in Graz, was a race fan and apparently covered for Marko on those occasions when Marko would be heading for a racetrack rather than to the law library.
And race Helmut Marko did, in all kinds of interesting cars, starting off with a lowly Triumph Spitfire and moving up to a BMW 1800ti and on from there. At the time, Formula Vee, an open-wheel formula based upon Volkswagen parts that originated in the States, was spreading throughout Europe, and Marko became a factory driver for one manufacturer, McNamara; he drove a Formula Vee called the McNamara Sebring, powered by a 1200 cc Volkswagen engine.
In 1968, Marko was Formula Vee Champion for Austria and he finished third overall in Europe. In 1969, Marko was the European F3 Champion in the McNamara MKIII. On August 3rd 1969, Marko set a record at the Old Nordschleife in his 65 bhp McNamara Formula Vee, lapping the famous 14.1-mile Grand Prix circuit in the course of the Formula Vee GP of Deutscheland, at 9 minutes, 51 seconds at 138.932 km/h, which still stands for a Formula Vee.
By way of contrast, 32 years earlier, Bernd Rosemeyer, in another Dr. Ferdinand Porsche design, the 1937 Auto-Union Type A, lapped the Nordschleife at 9 minutes and 46 seconds, while Niki Lauda's 1975 Ferrari 312B3 Grand Prix car took only 7:00.80 to get around at 195.356 km/h.
During this same period, Marko had also driven some famous Detroit iron, a Chevrolet Camaro Z28, in some unfamiliar places for such a car, like the blindingly fast Osterreichring and the earlier version of Hockenheim with its long straights into the Hockenheim Woods. Even today, Helmut Marko remembers the Camaro fondly:
"I drove [the Camaro] at the Osterreichring and some other races. It was a helluva car, you know, a lot of power [the Chevrolet Camaro Z28 of the time was likely a big block Chevy ex-Penske/Mark Donahue import that were beginning to make their way to Europe], a huge car, standard shift and I remember [the straights] of Hockenheim where it was going really fast, but the preparation was not too good, it was maintained by a [German] mechanic. I just remember that [on the long straights at Hockenheim] that it was like a boat, because of the suspension."
On one particularly successful race weekend at the Osterreichring, Marko won in both the McNamara in the Formula Vee class and the Camaro in the touring car class, racing against cars like the Alfa Romeo 1600 GTA and the BMW-Alpina 2002ti. Niki Lauda, another up and coming young Austrian, drove a Kalman Formula Vee in many of the same races, but it was Marko who took the 1969 Formula Vee Championship.
By mid-1970, when Rindt was just beginning what would be his successful charge for the 1970 World Championship by winning the Monaco Grand Prix over Jack Brabham, his friend Helmut Marko was beginning to catch up to Rindt in motor racing circles and also doing the town of Graz proud, winning the Index of Performance and scoring a third place at LeMans in a Porsche 908; Marko's rookie year at Le Mans - and the very first year a Porsche won - the Porsche 917K known as the Salzburg Porsche.
Rindt, of course, had already won Le Mans in 1965, in a Ferrari 275 LM privately entered by North American Racing Team, co-driving with American Masten Gregory, so again Marko seemed to be following well in his friend Rindt's footsteps.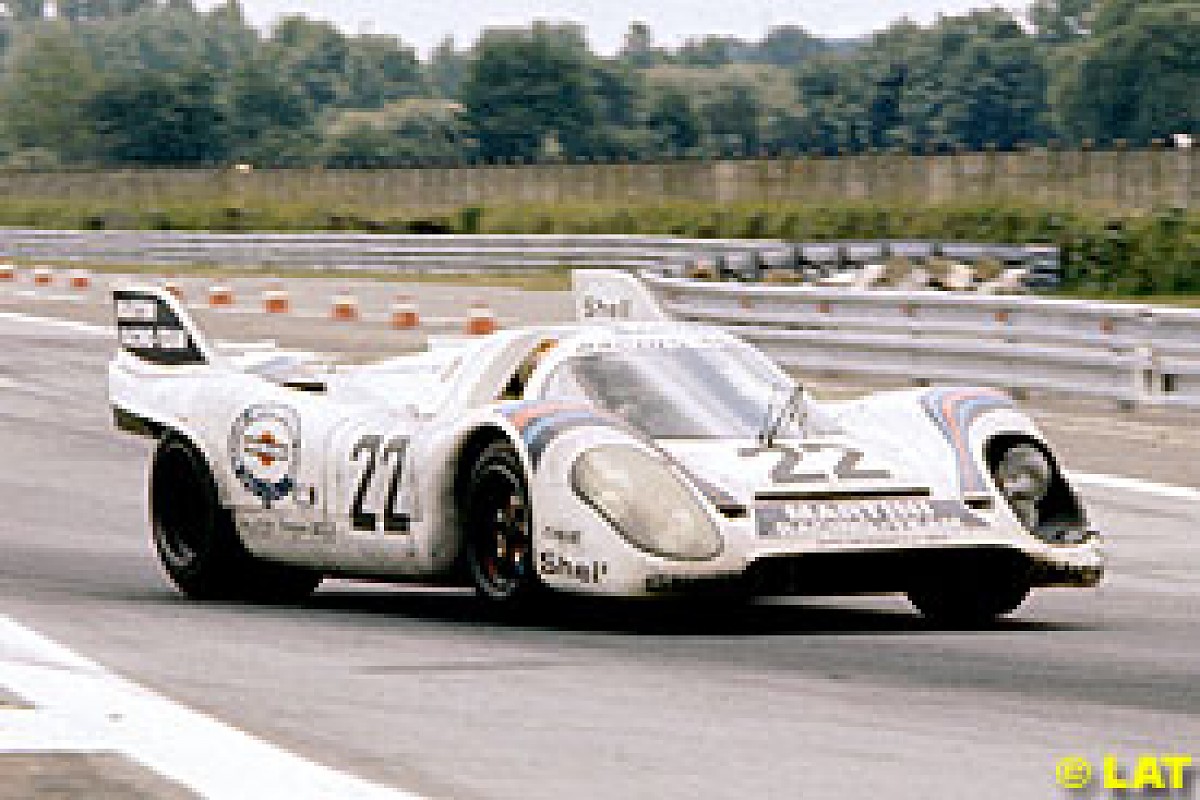 In 1971, Marko would pull even with Rindt - at least as to performance at Le Mans - by winning the second Le Mans he participated in, driving the white 5.0 litre No. 22 Porsche 917K, sponsored by Martini Racing, a distinctive shorttail, twin-finned 917K that was the only one with a magnesium chassis. (Marko says Porsche did not tell him the chassis was magnesium - known to be highly flammable once ignited - until after the race.)
Despite the fact that the Porsche factory team was in the lead, the pace set by the Porsche team manager, Austrian Ferdinand Piech, grandson of Dr. Ferdinand Porsche and a future Chairman of the Board of Management of Volkswagen, was brutal, to the point where Marko approached Piech in the latter stages of the race and suggested that they back off a bit:
"You know, we were racing against the other Porsches till the very last lap. I remember that I went to the team manager at Porsche and said 'we are miles and miles ahead of the Ferraris and we are going qualifying times.' I am always reminded on [Le Mans weekend] that we set the distance record at that race."
And indeed, the result of all this flat-out driving (and Marko did a lot of it at Le Mans in 1972, alternating two-hour stints with Gijs van Lennep, and then double-stinting when van Lennep took sick) was that the 917K Marko drove set a 24-hour distance record at Le Mans in 1972 - 397 laps and 5,335.31 kilometers (or 3,313.2 miles), the equivalent of getting lost for a few hundred miles and then going from Boston to San Francisco in one day - and that record still stands.
Steve McQueen's fabulous movie LeMans was released in 1971 to coincide with race that year. In effect, Helmut Marko and Gijs van Lennep did in real life what McQueen and his Gulf Porsche team pretended to do that summer of 1971.
Other sports car successes Marko had in 1971 included winning the Auvergne Trophy, the Cape Town Three Hour and three rounds of the European 2-litre Championship in a Lola T212 entered by Grand Prix driver Jo Bonnier's team, Ecurie Bonnier.
Next week: the Grand Prix Years