LMP1 - The contenders
Signature Plus - Lola-Aston Martin
Signature moves up from an old Courage-ORECA to one of Aston Martin Racing's coupes for its second season in sportscars. That's a smart move. Switching away from the Michelins around which the AMR car was developed is probably not.
#008 Franck Mailleux (F)/Pierre Ragues (F)/Vanina Ickx (B)*
Mailleux, who didn't make the expected impression in '09, leads a line-up that is unlikely to set the world on fire.
ORECA Team Matmut - Peugeot 908 HDi
ORECA's quest to repeat its often overlooked Le Mans victory of 1991 with Mazda has taken it to Peugeot's door. It runs a full LMS schedule with a works-assisted 908 for Lapierre and Panis, race winners last year with the ORECA 01.
#4 Nicolas Lapierre (F)/Olivier Panis (F)/Stephane Sarrazin (F)*/Loic Duval (F)*
This is probably the best driver line-up in the LMS, so with the best car and the best team behind them, they should walk it.
Beechdean Mansell Motorsport - Ginetta-Zytek GZ09S
Beechdean arrives in the LMS with a bang courtesy of the Mansell name. The recruitment of Hans Muhlbauer as engineer and other personnel from Team Modena looks like a canny move for this start-up team, which bought the ex-Strakka Zytek.
#5 Greg Mansell (GB)/Leo Mansell (GB)/Nigel Mansell (GB)
Greg, the younger son, has looked good in testing, but Leo will need to improve on his '09 performances with Modena.
Rebellion Racing - Lola-Judd B10/60
Speedy Sebah has been renamed Rebellion after owner Alexandre Pesci's watch company, which also provides the badges for the team's Judd V10s (thanks to a switch to Motec ecus). The recruitment of Jani and Boullion is a signal of the team's intent.
#12 Neel Jani (CH)/Nicolas Prost (F)
Jani was quick straight away in a sportscar at Le Mans last year, but Prost must continue improving if they are challenge.
#13 Andrea Belicchi (I)/Jean-Christophe Boullion (F)/Guy Smith (GB)*
The combination of Belicchi and Boullion is among the best LMS line-ups. Expect them to lead the chase of the diesels.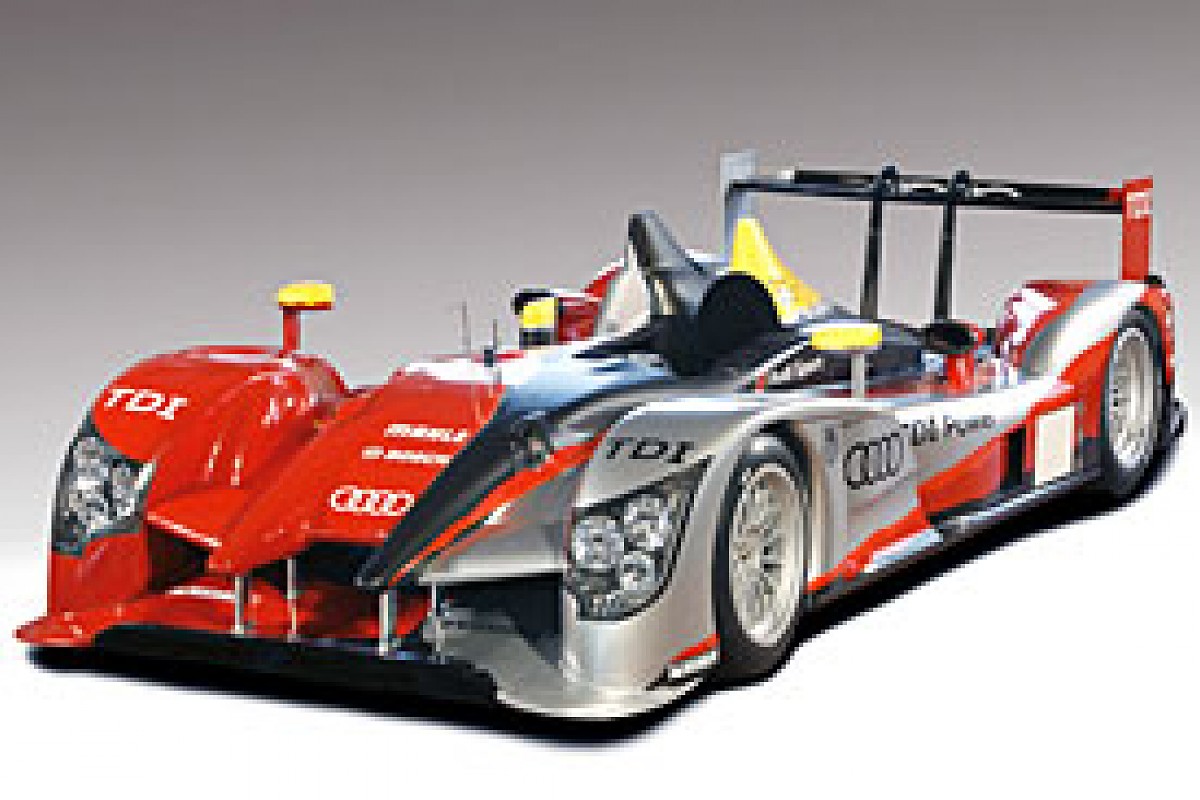 Audi R15 TDI plus © Free
LMP1 - The manufacturers
Le Mans Series boss Patrick Peter has raged against a two-tier championship this year. He's not happy that the manufacturers - Audi, Peugeot and Aston Martin - have decided to pick and choose their races this year. And you can't argue with his contention that it has created a confusing picture.
Audi has entered one R15 plus at Paul Ricard for its number one line-up of Allan McNish, Tom Kristensen and Rinaldo Capello, while Aston Martin Racing fields one of its Gulf-liviered coupes. The manufacturer presence in France is merely an hors d'ouerve for the Spa 1000km next month. Peugeot and Audi will each run three cars in what both manufacturers are billing as a dress rehearsal for the Le Mans 24 Hours in June. AMR, however, are not due at Spa.
Don't expect Audi or Peugeot to be present at either of the summer night rounds at the Algarve circuit or the Hungaroring, though Peter has suggested that the German manufacturer might turn out at the latter. However, the good news is that all three manufacturers, Peugeot, Audi and Aston Martin, are scheduled to take part in the Autosport 1000km at Silverstone in September.
LMP2
OAK Racing - Pescarolo-Judd 01
OAK has pulled off a coup: it has retained backing from Mazda France, but managed to ditch the unreliable AER/Mazda engine for the Judd V8. The recruitment of Moreau and a new aero package should propel OAK towards the front.
#24 Matthieu Lahaye (F)/Jacques Nicolet (F)
Lahaye has impressed sporadically over the past two years. New pro-am rules in P2 means he drives with team boss Nicolet.
#35 Guillaume Moreau (F)/Richard Hein (F)
Moreau has so far looked quick in both GT and prototype machinery, but his 2010 chances will depend on Hein's pace.
RML - Lola-HPD B08/80
RML has ditched the AER/Mazda turbo engine that blighted its 2009 season in favour of a supply of the HPD V8s that powered Acura to championship successes in the American Le Mans Series. Also new for 2010 are Dunlop tyres.
#25 Tommy Erdos (BR)/Mike Newton (GB)/Andy Wallace (GB)
New RML package combined with the pro-am driver rule should give the team a shot at reclaiming the P2 crown it won in '07
Strakka Racing - HPD ARX-01C
Strakka's step down from LMP1 could be a canny move. It allows the British team to exploit the new pro-am driver rule in P2 and has facilitated the purchase of an ex-Fernandez Racing HPD (nee Acura) chassis.
#42 Danny Watts (GB)/Jonny Kane (GB)/Nick Leventis (GB)
This could end up as the best driver line-up in class, though only if amateur Leventis continues his improvement curve.
Racing Box - Lola-Judd B09/80
This successful Italian sportscar team bounced back from a disastrous move into the prototype ranks by winning races last year. It returns with two cars again and a tyre deal with Pirelli, which is returning to the LMP ranks after four years away.
#29 Marco Cioci (I)/Piergiuseppe Perazzini (I)/Luca Pirri (I)
Second-string Racing Box entry is unlikely to challenge the frontrunners
#30 Andrea Piccini (I)/Giacomo Piccini (I)/Ferdinando Geri (I)
The combination of the Piccini brothers and team boss Geri, a decent amateur, make this car a potential frontrunner.
Quifel ASM Team - Ginetta-Zytek GZ09S
Why change a winning formula? Sometime British Formula 3 driver Antonio Simoes' squad returns for its title defence with Pla and Amaral, the Zytek 09S, Dunlop tyres and the engineering skills of Alan Mugglestone. Hughes returns after a two-year absence.
#40 Olivier Pla (F)/Miguel Amaral (P)/Warren Hughes (GB)*
Amaral is one of the best amateurs around, so the new pro-am rules can only play into the team's hands.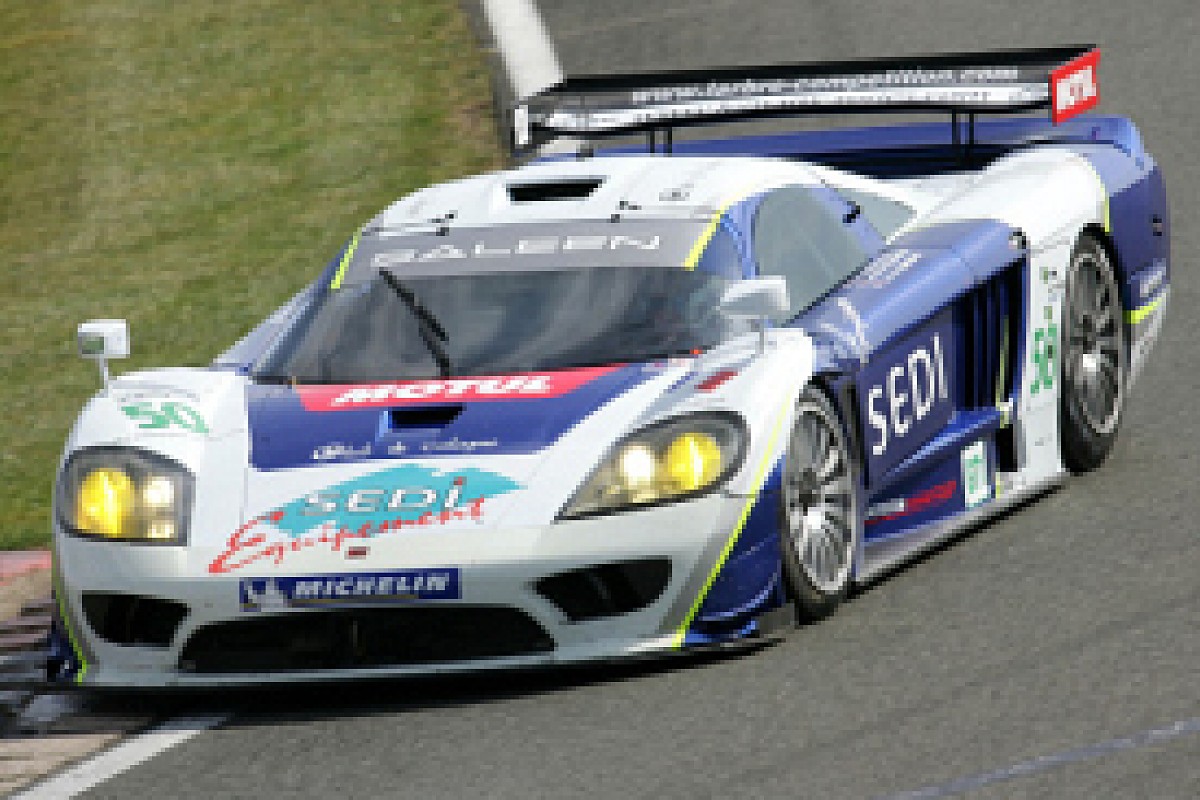 Larbre Saleen © LAT
GT1
Perhaps we shouldn't be surprised at the sorry state of the GT1 class at Paul Ricard. There's a new breed of car for the inaugural FIA GT1 World Championship and the Automobile Club de l'Ouest procrastinated over whether even to have a GT1 class for 2010.
Yet a one-car entry makes the class seem pointless, or at least a waste of petrol. The only battle for GT stalwart Larbre Competition, which has entered one of its Saleen S7Rs for Patrice Goueslard, Gabriel Gardel and Julien Canal, will be getting the reworked car to the finish. The new rules means the car runs with an underfloor plank and a new rear wing and its V8 Ford powerplant has to run on an off-the-shelf Magneti Marelli engine management system.
The only other entrant for Ricard, the grandly-titled Atlas FX-FullSpeed squad, has withdrawn. That's no surprise given boss Norbert Walchofer's attendance record as a team owner.
A decent grid of GT1 machinery is expected at the Spa 1000km in May, a race that has now come to be regarded as the warm-up for the Le Mans 24 Hours. That means the Matech and Mard VDS Ford teams, the Young Driver AMR Aston squad and Luc Alphand's Chevrolet Corvette operations should all be present.
After that, the level of the GT1 entry is anyone's guess.
GT2
Porsche
Porsche defends the title won by Lieb and Lietz with a stronger line-up, courtesy of the arrival of ProSpeed and a decent second car at Felbermayr. The Porsche will be on the pace, but an improved Ferrari means life with be tougher.
ProSpeed Competiton - Porsche 911 GT3-RSR
#75 Richard Westbrook (GB)/Marco Holzer (D)
The combination of reigning FIA GT champ Westbrook and Porsche junior Holzer could usurp Lieb and Lietz as top dogs at Porsche.
IMSA Performance Matmut - Porsche 911 GT3-RSR
#76 Patrick Pilet (F)/Raymond Narac (F)
IMSA was unlucky not to win races last year and may well have missed its chance now the competition has moved up a gear
Team Felbermayr Proton - Porsche 911 GT3-RSR
#77 Marc Lieb (D)/Richard Lietz (A)
Even Lieb admits that it's going to be tougher this year, but the Porsche drivers are relishing the challenge ahead.
#88 Martin Ragginger (A)/Christian Reid (D)/Patrick Long (US)
This second Felbermayr entry should be in the mix courtesy the presence of Porsche junior Ragginger and, for some races, Long.
Ferrari
The switch from FIA GTs by AF Corse and CRS gives the Italian marque a strength in depth that its rivals can only dream of. The 2010-spec 430, with bigger tyres and more power, gives Ferrari the consistency it lacked in 2009.
Modena Group Racing - Ferrari 430 GT
#85 Stephane Daoudi (F)/Roman Rusinov (RU)
This spin-off of Team Modena, now without supermarket scion Rik Bryan's backing, returns with rent-a-drivers and little chance of success.
Hankook Team Farnbacher - Ferrari 430 GT
#89 Dominik Farnbacher (D)/Allan Simonsen (DK)
This is a strong line-up on the improving Hankook tyre, but the increase in competition could thwart its podium aspirations.
CRS Racing - Ferrari 430 GT
#90 Pierre Ehret (D)/Phil Quaife (GB)/Pierre Kaffer (D)
This trio should be top six runners, but podiums are likely to be beyond them in the new-improved LMS GT2 class.
#91 Andrew Kirkaldy (GB)/Tim Mullen (GB)
Kirkaldy is promising that the CRS A-team will be in the mix, but to win races they'll have to beat old nememis AF Corse.
AF Corse - Ferrari 430 GT
#94 Matias Russo (RA)/Luis Perez Campanc (RA)
This is a decent line-up but it was sometimes flattered in FIA GTs because it ran 50kg lighter than the top cars.
#95 Giancarolo Fisichella (I)/Toni Vilander (SF)/Jean Alesi (F)
Much will depend on how quickly Fisichella and Alesi get to grips with GT2 and whether Vilander can lead the team initially.
#96 Jaime Melo (BR)/Gianmaria Bruni (I)
The Bruni/Melo partnership has already yielded success in the American Le Mans Series at Sebring and must start as favourites for LMS honours.
Aston Martin
Aston finally has a top team with a top driver line-up to show what its V8 Vantage can do at this level. It's a big gamble for JMW, but it has given the squad the factory status craved by any successful sportscar operation.
JMW Motorsport - Aston Martin V8 Vantage
#92 Rob Bell (GB)/Darren Turner (GB)/Tim Sugden (GB)*
Pre-season testing suggests the Dunlop-shod JMW Aston is already close to the pace, and the team is promising there's more to come.
BMW
The 'other' German sportscar manufacturer makes a return to the European scene with the controversial V8-powered M3 developed for the ALMS, only with significant rear-end modifications demanded by the rulemakers. The Schnitzer-run programme is late and very much focused on Le Mans.
BMW Team Schnitzer - BMW M3
#78 Jorg Muller (D)/Dirk Werner (D)
BMW stalwart Muller and marque newcomer Werner have the potential to run at the front if the Bimmer is on the pace in Europe.
Spyker
Spyker - Spyker C8 Laviolette GT2-R
The Dutch manufacturer is now part of the sportscar furniture in Europe. There has always been constant development of its Audi-engined GT2 contender, but it always seems to leave it one step away from being a genuine podium challenge.
#85 Peter Dumbreck (GB)/Tom Coronel (NL)/Jeroen Bleekemolen (NL)
Spyker is not skimping in the driver department: Dumbreck is joined by either Bleekemolen and Coronel (or sometimes both), when their other commitments allow.