In seven months' time we'll know if the American Le Mans Series' class system shake-up was a stroke of genius that brought big grids and great racing back to a faded championship, or a piece of knee-jerk tinkering that confused fans and alienated teams.
This time last year, a spectacular Sebring 12 Hours preceded a low-key season that turned into a rather flat two-horse race between two Acuras, thanks to Audi and Porsche pulling out and the adoption of full ACO rules preventing the LMP2 cars from threatening the LMP1s.
Highcroft and de Ferran's battle for honours was still extremely intense and often very entertaining, but as soon as something went slightly awry for one of the cars, the other was guaranteed an easy win if it kept going - not a recipe for great drama. The field dwindled too - to an all-time low of 17 entries at one stage.
So championship organiser IMSA, which has never been shy about putting entertainment at the forefront, took drastic action. For 2010, LMP1 and LMP2 will merge into a single LMP class, with performance equalisation measures taken to ensure both flavours of prototype can fight for outright victories. With GT1 down to zero participants, it is officially binned, and the epic Porsche versus Ferrari versus Corvette versus BMW versus underdogs Jaguar GT2 battle is rechristened simply GT.
That should sort the level of competition, but to attract new teams, the ALMS has also brought in two new classes. GT Challenge - reserved for GT3 Porsches - was introduced to bolster the field at many rounds in 2009 and now becomes a fully-fledged part of the championship. The LMP Challenge class is totally new: a single-make category for the ORECA-built prototypes used in Formula Le Mans in Europe. Both the new classes run to a pro-am format, although oddly the rules allow Indy Lights champion and recent Force India Formula 1 tester JR Hildebrand to run as an amateur.
With those changes in place, 34 cars are expected on the Sebring grid - up by six on last year - and unlike 2009, the vast majority are set to stick around for the rest of the season, with more intending to join them.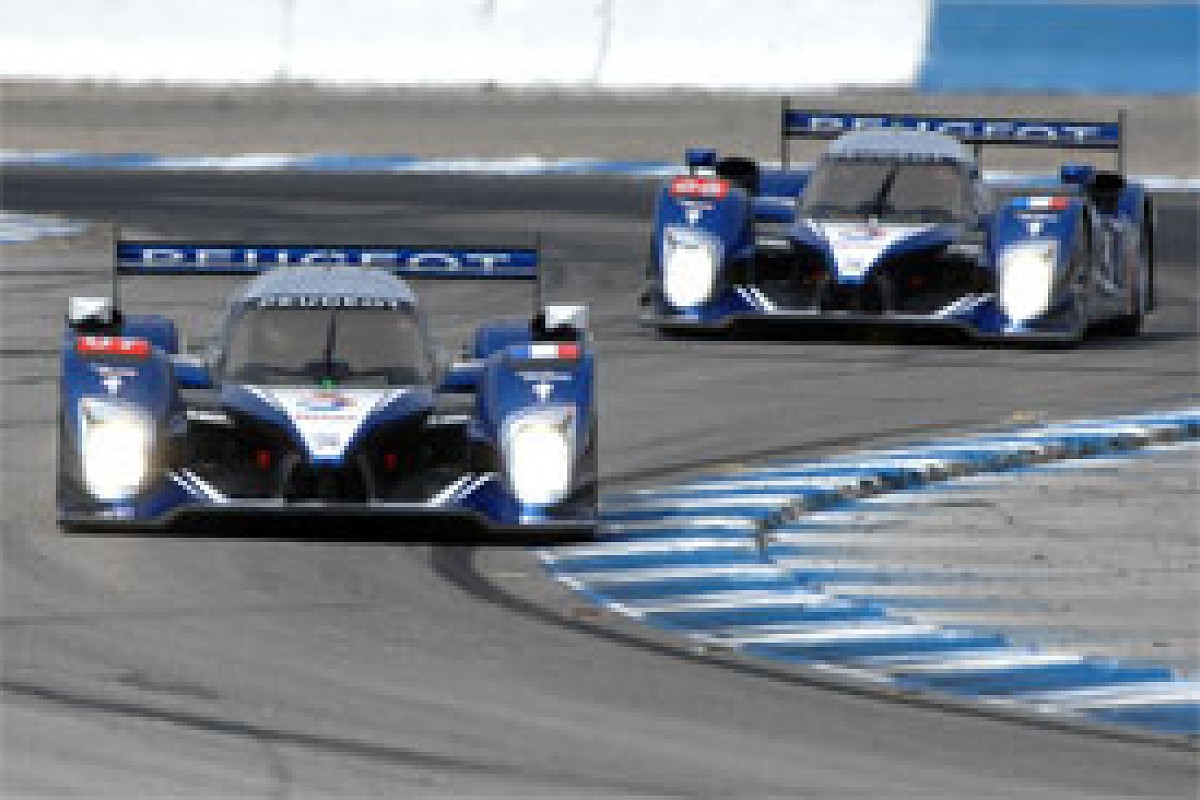 Peugeot 908s testing at Sebring © LAT
So far, so good - now for the complication. Knowing that the likes of Peugeot and Audi might not be over-keen on being pegged back so LMP2 cars can snap at them, the ALMS is retaining full Le Mans-style rules for its showpiece Sebring 12 Hours and Petit Le Mans events and adopting its single LMP class for the other seven rounds in between.
There's no doubting the logic. IMSA just wants to get as many teams on the grid as possible - it wants the big squads to turn up for its main events (and for Petit to be part of the ACO's new Intercontinental Cup), so makes it as attractive as it can for them - but knows that if it wants decent competition up front all season, it has to let LMP2 cars shoot at the LMP1s.
But is turning each event into four or five races within a race, and switching regs twice during the year, going to be just too perplexing? Will the equalising measures work as well as the ALMS hopes? And can it avoid antagonising the teams, as so often happens when organisers trying to achieve parity? We're about to find out.
If the new structure works, then the fight at the front should definitely be better than 2009, with the Highcroft HPD, Drayson Lola, Cytosport Porsche and Dyson Lola-Mazda all aiming for the title. Intersport's Lola was destroyed in Monday's horrific testing crash, but it will return for Long Beach - and while unlikely to be a championship threat, you wouldn't rule out hard-charger Jon Field leading a lot of races. Creation intends to join with a new CA10 too, although a sponsor issue has delayed the car's debut by two months, and Aston Martin Racing will be present for Long Beach as well as Sebring and Petit.
Highcroft starts the year as favourite, but it shouldn't dominate. Sadly though, if the rules do result in an epic ALMS title fight, its denouement is likely to take place somewhere in the background being some warring diesel LMP1s, for with Laguna Seca moved to May (and stretched to a six hour race), the ACO rules Petit event becomes the season finale.
There are no fears about the racing between the four rival manufacturers in GT, and LMPC has attracted a number of stars already, at least for Sebring. Never thought you'd see Andy Wallace, Christophe Bouchut, JR Hildebrand and Ryan Hunter-Reay in Formula Le Mans cars? You will this weekend. GTC has enticed former series star Alex Job Racing back into the fold, although its arrival with three cars has raised the bar in what had been a class for small operations.
So while this weekend at Sebring will be as entertaining as the classic 12-hour race always is, the real intrigue commences at Long Beach next month when the rejigged equal LMP rules should pitch Aston, Drayson, Highcroft, Cytosport and Dyson head-to-head for victory. It's going to be a voyage of discovery - but hopefully an entertaining one.