The Intermediate Stage:
the Hits and Misses of the Belgian GP

---
By Adam Cooper, England
Autosport-Atlas Contributing Writer
The Belgian Grand Prix was a fascinating affair for those who take interest in the art of strategy, and more than ever before, many experienced F1 teams got it wrong. Adam Cooper analyses the decisions taken throughout the race, and how it affected the outcome
At a soggy Nurburgring on October 1st 1995, McLaren had perhaps their worst race of the Mercedes era as Mika Hakkinen and Mark Blundell tussled for last place with Giovanni Lavaggi's Pacific. Nearly a full decade later at Spa, the team did rather better, and along with Renault and Jordan, made the right calls at the right time.
We've been waiting for a wet Grand Prix this year, if only to see if it gave Ferrari a hand and made things difficult for the 2005 title contenders. In the 2005 Belgian Grand Prix, it didn't quite work out for the outgoing World Champions, as the tricky intermediate conditions were no help at all for Bridgestone.
But nevertheless this was a fascinating race, during which there was no rain at all and yet the track surface remained suitable for intermediate tyres throughout, a phenomenon that surprised just about everybody. So who got it wrong and, more importantly, how?
All 18 cars on the grid started on intermediates - although that word doesn't officially exist; the two tyres available are 'wets' and 'extreme wets', but the former are still called intermediates by most in the paddock, so that's what we'll do here.
Two cars - the Minardis - started from the pitlane on extreme wets, full tanks, and in the case of Robert Doornbos, a T-car with a wet set-up. This was a typical roll of the dice by Paul Stoddart, but in this case he would have done far better to put his cars on the grid and just go for it with two extremely able drivers. Instead, a genuine chance of getting points was blown, and after running miles off the pace of even the Jordans, both men were soon back in the pits for intermediates. The story goes that Bridgestone insisted that intermediates were not suitable for the heavy fuel loads the cars had on board and told the team to use wets, which, if true, seems more than a little odd...
Anyway, Giancarlo Fisichella's lap 10 accident came at the perfect time for just about everybody else, as they were either coming up to their first stop or were entering a window when a stop made sense. So when the safety car came out, almost the entire field came barrelling into the pitlane. This, of course, meant that nearly every team faced the problem of stacking their cars and doing two changes one after the other.
And that's why we saw a classic piece of gamesmanship from McLaren. As Juan Pablo Montoya shot into the pits, second-placed Kimi Raikkonen slowed to a crawl and backed everybody else up, ensuring both that he would not have to wait with his engine running, and that those around him couldn't get in and out of the pits faster. Of course it's been done before, but never quite as blatantly as Raikkonen managed it. He wasn't the only one, either, as immediately behind him Jenson Button did the same, since Takuma Sato was right in front of him in the queue.
Some gained and some lost from this strategy. Not surprisingly, the fastest man in and out of the pitlane was Montoya, in 36.6 seconds, while Raikkonen managed it in 38.1 and Fernando Alonso in 37.2. Among those at the other end of the scale were David Coulthard (47.9), Mark Webber (49.9), Button (52.5), Antonio Pizzonia (55.5) and Christlian Klien (56.9). Clearly it was a right old mess in both the Williams and Red Bull pits, as those teams contrived to lose masses of time with not one but both cars.
Of course this was all academic, because lost time, if not positions, could be regained as the cars re-caught the safety car queue. What really counted was what tyres the teams put on the cars. It was only natural that some felt that, since it wasn't raining, this was a perfect time to put on dry tyres. Allowing for a couple of laps under the safety car, the assumption was that by the restart the track would be pretty much ready for dry tyres.
A remarkable number of teams took that option, including Ferrari (Michael Schumacher), Toyota (Jarno Trulli), BAR (both cars), Williams (both cars) and Red Bull (both cars). Those who opted to stick with intermediates were McLaren (both cars), Renault (Alonso), Ferrari (Barrichello), Sauber (Felipe Massa) and Jordan (both cars).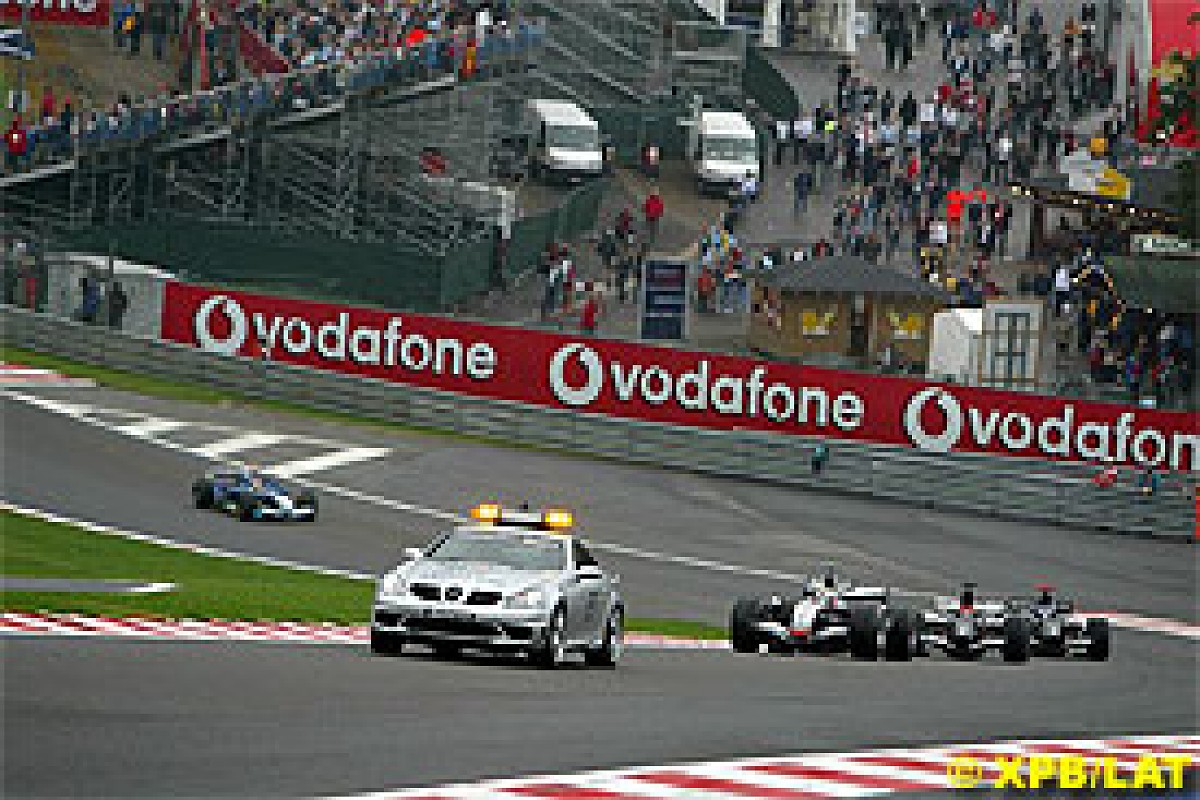 We then saw one of the most extraordinary sights in recent Grand Prix history, as all of the cars that had gone to dry tyres came back in for intermediates. Running behind the safety car, or trying to catch it up, the drivers had immediately discovered that dries were not yet an option, and they struggled even more as tyre temperatures took a dive.
"It was just incredible," said Webber afterwards. "I could not believe it. When we came in on the first stop I said to the guys 'we're going to lose a lot of time, but [it will be worth it] if we can hang in there for the first two or three laps'. I was coming out of the pits to Eau Rouge up the hill, trying to get on the safety car. I rang the guys back and said, 'we've got to come back in. There's just no way I can stay behind the safety car, let alone go back to racing'..."
All but two of the drivers returned to the pits at the first opportunity, but because so many others had made the same mistake, in reality few really lost many positions. Indeed, in terms of times, most ended up much closer to the leader behind the queue than they had been originally. It was a classic case of accepting a mistake and employing damage limitation.
In contrast, two drivers stayed out for one more lap behind the safety car. Jarno Trulli did not want dries in the first place and was even more furious when the team made him stay out for that extra lap. Red Bull did the same for Christian Klien, and when they came in next time round, the race was restarting, so naturally both lost a lot of time to the pack.
How could so many top teams get it so badly wrong? Renault, for example, had committed to a lap time of 1:55 as being the 'crossover' signal from inters to dries. While both Raikkonen and Montoya had dipped towards 1:56 early on, once things settled down the leaders were stuck in the mid-1:57 region. So for Pat Symonds and co, dry tyres literally did not compute.
At McLaren, dries were never an option, and in any case when you're in the lead you can't take risks and rely on what might happen rather than what you can see in front of you. Ron Dennis expressed clear views on the matter after the race:
"For it not to rain for a whole Grand Prix, and for there to be no dry line, demonstrates the nature of this high drain surface. While the water disperses quickly off this Spa surface, the reason it does [is] because it drains. Because it drains, it holds the water and as the cars go over it they pull the water to the surface. So this is a circuit that you come to and you know not to change too soon. Too soon, and you're going to be history, because it looks like it's going to dry, and it doesn't. An experienced team knows this..."
Four drivers chose not to pit at all during this sequence. With what turned out to be nine laps of fuel still on board, Jacques Villeneuve chose to stay out and gain track position. Ralf Schumacher has made the race's first scheduled stop just before Fisichella's crash, and he thus didn't need to pit. The Minardis had only recently switched from extreme wets to intermediates and had lost so much time, that another stop was not going to help.
So who were the winners and losers in all this? The following table shows the cars in the order they were on lap 9, just before Ralf Schumacher's pitstop and Fisichella's accident. The figures in brackets show the change in position from lap 9 to lap 14, the first flying lap after the safety car, when the order had sorted itself out, while the initial tyre choice is also included:
Montoya       Intermediates  (1/1)        =
Raikkonen     Intermediates  (2/3)        - 1
Trulli        Dries          (3/15)       -12
Alonso        Intermediates  (4/5)        - 1
M.Schumacher  Dries          (5/Retired)
Sato          Dries          (6/Retired)
R.Schumacher  No Stop        (7/2)        + 5
Fisichella                   (8/Retired)
Button        Dries          (9/11)       - 2
Massa         Intermediates  (10/7)       + 3
Coulthard     Dries          (11/12)      - 1
Webber        Dries          (12/10)      + 2
Klien         Dries          (13/16)      - 3
Pizzonia      Dries          (14/14)      =
Barrichello   Intermediates  (15/8)       + 7
Villeneuve    No Stop        (16/4)       +12
Monteiro      Intermediates  (17/9)       + 8
Karthikeyan   Intermediates  (18/13)      + 5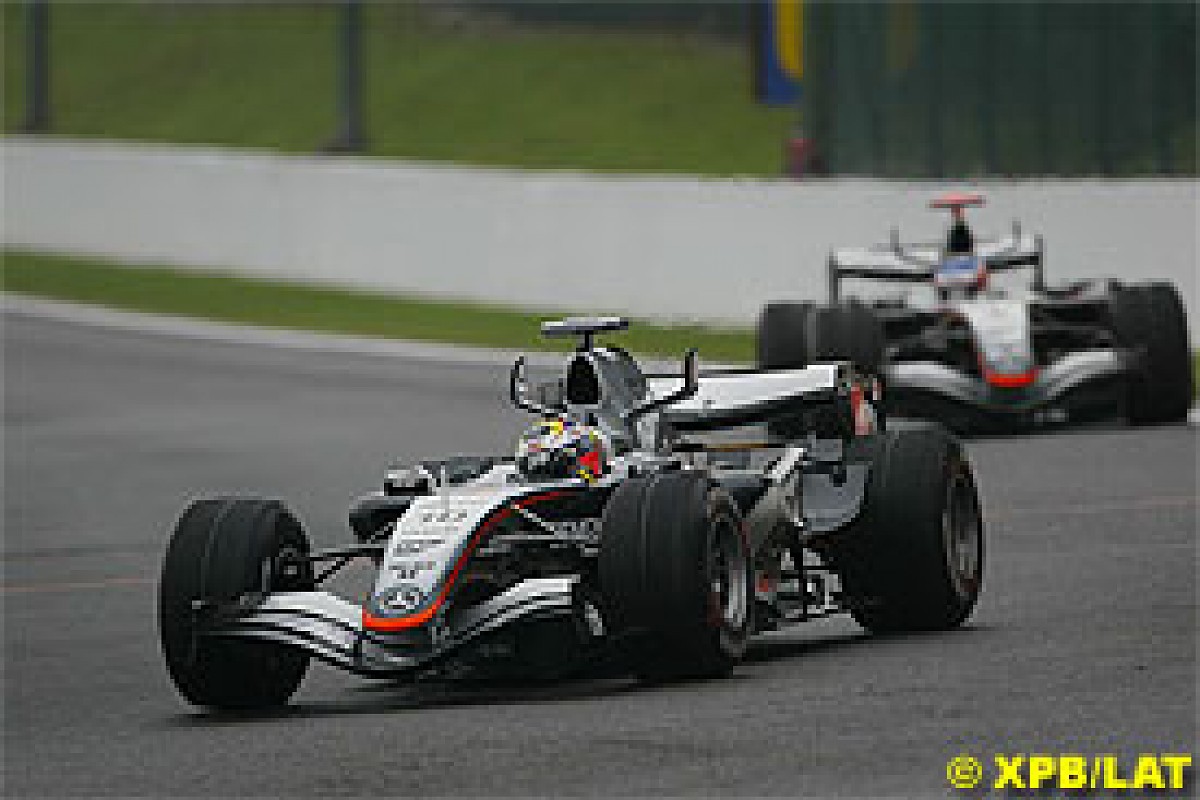 It's pretty obvious that the stop sequence was catastrophic for Trulli, and in fact it was even worse than his drop of 12 places suggests. At the end of lap 14, he was still 49 seconds off the leader, thanks to that late second stop, while Klien was just behind him with also a lot of ground to make up.
The biggest winners were of course Ralf Schumacher and Jacques Villeneuve, since they hadn't stopped. At the restart both lost time to leader Montoya because the Minardis were in the way, and Villeneuve then out-fumbled himself at the first corner, allowing Ralf and Raikkonen by. Nevertheless, helped by a lighter fuel load, he did a great job to hang on to fourth place. It looked like he might hold up fifth-placed Alonso, who'd nearly had his nose chopped by Villeneuve at the restart, but in fact the Championship leader dropped back, opting for an understandably cautious approach. Quickest on the straights in qualifying, Renault had trimmed downforce, and Fisichella's huge shunt had set alarm bells ringing in Alonso's mind.
Villeneuve finally came in on lap 20. Sauber gave him a new set of intermediates (they toyed with the idea of keeping the old ones on), filled the car up, and sent him in his way. The slower pace in the wet conditions meant that he was able to get to the flag without refuelling again.
Perhaps the single most amazing sight of the whole race was that of Ralf Schumacher not only catching Montoya but hustling him for the lead as well. The speed trap figures from qualifying gave a clear indication that Toyota had gone for a lot of downforce, and that arrangement proved perfect for the conditions. It later emerged that the German had some 11 laps less fuel on board than Montoya, and a similar amount less than those behind him, and that flattered him to a degree. But this also appeared to be classic Ralf - as the sniff of victory saw him wake up and drive like the man who could destroy the field in a Williams when the mood took him.
Alas, it all went wrong at the second pitstop. At his first stop, the team had only given him enough fuel for 14 laps (it was actually less but the safety car allowed him to stretch it out), presumably because that got him into the window where the team expected the track to be dry. When his stop became due on lap 24, Ralf had 20 laps left to run, and the team remained convinced that dries were the quickest way to get him to the flag. Once again, Toyota made a bad call.
On his out lap, Ralf Schumacher slithered off the road at the end of the main straight and came straight back in for intermediates. Since neither of these stops was made under safety car conditions, he lost a ton of time. What would ultimately have been a secure second place went out of the window.
Ralf's experience was a warning to the others, not that those who had already tried dries needed any extra information about the perils of changing prematurely. One man who hadn't tried them earlier was Felipe Massa, who came in on lap 29. The great work by both driver and team was completely undone as Massa personally instigated the decision to go to dries. Subsequently he was miles off the pace and went off at the Bus Stop chicane. Trying to make the best of a bad job, he stayed out for three laps rather than come straight in to change back. A priceless helping of points was blown.
Thanks to Ralf and Massa, when everyone else made what was supposed to be their final stops the message was clear: don't even think about dries.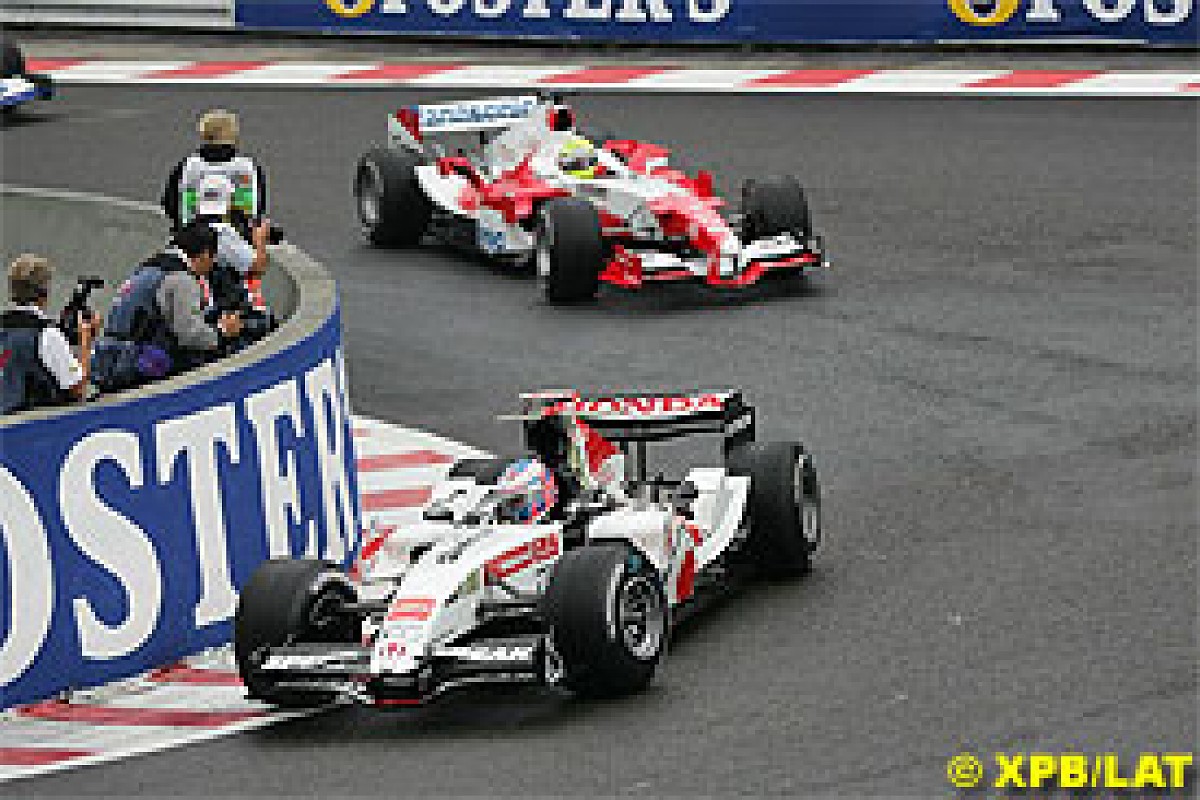 In fact, some strange things happened after those stops, as the race entered quarter, and the track was finally not far from being suitable for grooves. Some of those who had gone for a new set of intermediates at the last stops - especially if they had not been scrubbed in practice - now really began to struggle for grip, as they had also dumped fuel in the tank. Pressures and temperatures are a critical factor, and drivers often get into a vicious circle. If they lose a bit of confidence and their laptimes drop, so those key parameters fall below the ideal, and never recover.
But others had chosen to keep the same intermediates on their last stop, and that proved to be a wise decision. Rubens Barrichello did it, but the most successful exponent was Jenson Button. The set that he'd fitted on lap 12 under the safety car remained on the car when he refuelled on lap 33 and all the way to the flag. Button had really got into a groove - no pun intended - and as that set of intermediates wore itself down almost to slick condition, and was at perfect operating temperature, it proved just the ticket. He was really flying in the closing laps.
In contrast, others were struggling to make their fresh intermediates work, and for them dry tyres now became the only alternative, even if it meant an extra stop.
The first man to try it was Mark Webber, who came in on lap 38. There were just six laps to go, and it appeared that the stop had spoiled his chances of catching Rubens Barrichello for what was then fifth place.
"Sam [Michael] asked and I said let's got for it," said Webber. "On the first lap we said why didn't we do it earlier, but it's easier to look like a complete wanker if you put them on too early and end up in the wall."
His times improved so much that Ferrari had to respond by bringing Barrichello in for dry tyres on lap 40. That lap also saw Ralf Schumacher and Webber's teammate Antonio Pizzonia come in for dries. For all these guys, Barrichello excepted, it was the fourth stop made during the race.
It might seem strange to change tyres with four laps to go, or even six in the case of Webber, and that's exactly how Ron Dennis saw it. And the reason he had an interest in this strategy was because on the lap he came out of the pits, Pizzonia came across Montoya, still on intermediates. And in trying to unlap himself, the Brazilian managed to collide with the second place McLaren driver.
After the race, Dennis was not about to join the Pizzonia fan club. It's an endearing trait of Ron's that his immediate post-race analysis often focuses less on a great performance by his team, and more on someone else who has in some way interfered with it. This time he attacked the Williams/Ferrari/Toyota strategy:
"What's frustrating is that with all the data on the television screen, it's crazy to make a pitstop and put a car on grooves with four laps to go. There wasn't enough laptime in it.
"I'm just disappointed that four laps from the end they take a decision which costs us second place, and that's frustrating."
But was Dennis being fair? The point was it didn't make sense for the McLaren drivers to stop, or even Button on his ersatz slicks, because they were still doing competitive times with what they had. But those who pitted did so because, as noted earlier, they were having a particularly hard time on their final sets of intermediates. Have a look at this:
Mark Webber Laptimes
Lap 30: 1:56.864
Lap 31: 1:56.315
Lap 32: 2:05.250 (into pits)
Lap 33: 2:12.866 (out with new intermediates and fuel to the flag)
Lap 34: 2:01.192
Lap 35: 2:03.293
Lap 36: 2:04.125
Lap 37: 2:02.066
Lap 38: 2:10.918 (into pits)
Lap 39: 2:10.757 (out with dry tyres)
Lap 40: 1:52.370
Lap 41: 1:55.489 (yellow flags for Montoya/Pizzonia)
Lap 42: 1:53.958
Lap 43: 1:53.091
Lap 44: 1:52.287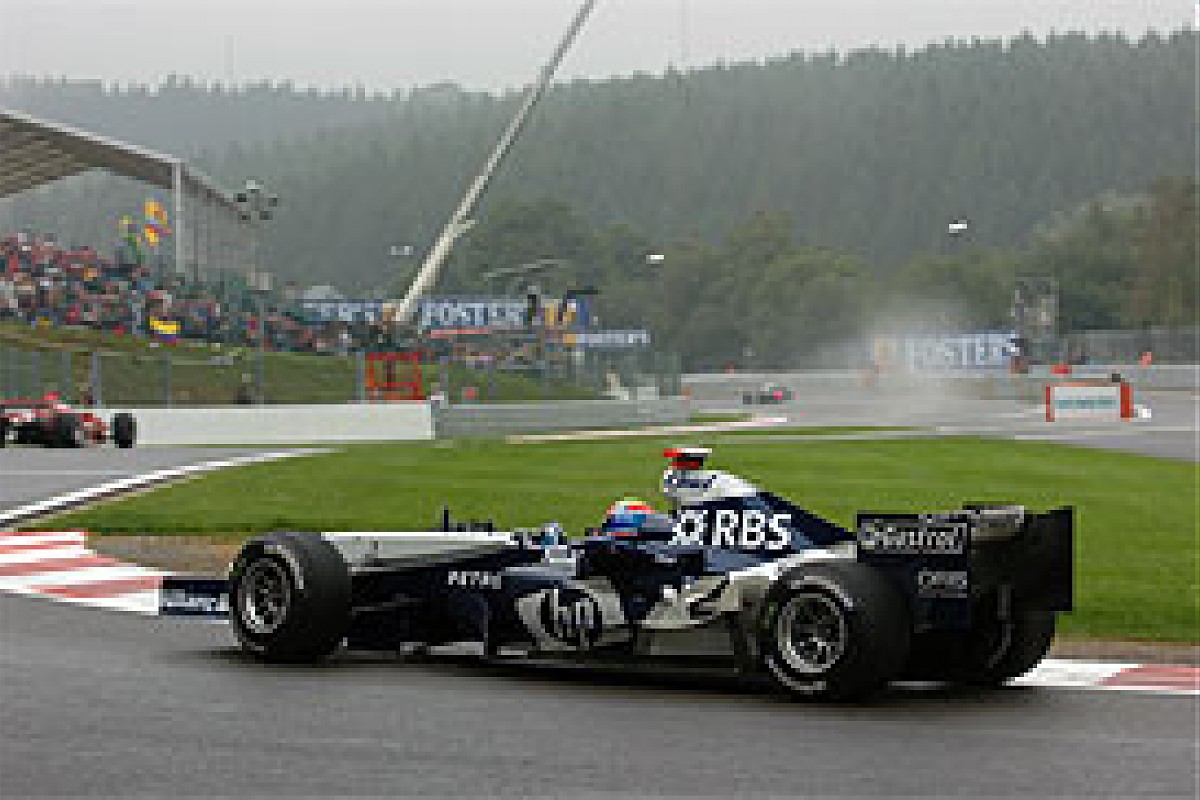 That's an astonishing gain of 10 seconds a lap, and it's obvious that despite the extra time at rest, Webber gained a lot by going to dry tyres - roughly 30 seconds overall. The benefit was obviously less for those who waited until there were just four laps to run, but it was still worth doing.
Webber's charge got him ahead of Barrichello for what, after Montoya's demise, had become fourth place. We know that Bridgestone struggles in intermediate conditions, and when dries are run on a still damp track, and Barrichello had a really miserable afternoon. Ferrari's attempt to fend off Webber didn't work.
"I think my car was working for three or four laps of the race," said Barrichello. "There was a time when the intermediates were becoming slicks, and that time was good, I was opening up on Webber. But then they lost too quickly the grip and they were gone in three laps. I had to come in, and the warming up of my tyres was quite slow, and Webber overtook me. There was no way to hold him."
The Brazilian admitted that going to dries earlier would not have helped: "I don't think so. We would have struggled even more. In our condition, we still have to improve the tyres for that warming up condition."
Webber has a clear idea of why grooved tyres did not work earlier in he race:
"The reason why I think it is like that, is now we have these tyres that have to do the whole race, the grooves take a bit longer to warm up. I think Michelin have an advantage in that area over Bridgestone, and that's why I managed to get Rubens at the end.
"It's a shame we didn't have just a bit more fuel to go to put the slicks on at the same stop as the inters were on at the end, but the team did a bloody good job. It's so easy to take a wrong decision in those conditions, but in the end I think we made most of the right decisions."
Button's astonishing progress on his ancient intermediates over the last stint was a highlight of the race, and he was almost as fast as those on dries. He gave Alonso a fright, forcing the Renault star to run much faster than he wanted to in order to hang on to his second place. But he made it, having kept out of trouble and just run his own race - the perfect strategy for winning World Championships, of course.
The fact that Webber could make four stops and finish fourth, while Villeneuve pitted just once on his way to sixth, indicates just what a fascinating race this was. Let's pray for more rain in Brazil or Japan...