Italian GP Facts, Stats & Memoirs

---
By Marcel Schot, the Netherlands
Autosport-Atlas Writer
Which team scored the most points since the Indianapolis debacle? Who scored his first podium finish ten years ago? And what happened 19 years ago this week? Marcel Schot brings the answers and more anecdotes on the fifteenth round of the season
With Kimi Raikkonen having won his second consecutive race, the gap between Fernando Alonso and him has been reduced to 24 points. With a maximum of 50 to be scored in the remaining races, it's obviously still a matter of consolidating for the Spaniard.
In the Constructors' Championship it's a completely different matter, however. McLaren are now only nine behind, having outscored the Championship leaders in three of the last four races. In post Indianapolis 2005, there clearly are four classes in Formula One. McLaren and Renault have each scored over fifty points. Toyota, BAR and Ferrari are all three nearly halfway that amount, while Williams, Red Bull and Sauber comprise the incidental points category. Jordan and Minardi are back to their hope to finish role after their Michelin handed points in America.
Points since Indianapolis:
McLaren        58
Renault        54
Toyota         24
BAR            24
Ferrari        23
Williams        5
Red Bull        5
Sauber          2


After a disappointing race in Turkey, the most vital race of the year arrives for Ferrari. No matter how the rest of the season has developed, the tifosi simply demand victory at Monza. Fact is, the Scuderia always perform a little bit better on home soil. With 16 wins at Monza, there is no team who have won more races at a single track than Ferrari at Monza.
Milestones
Ten years ago, the Italian Grand Prix was the scene of Heinz-Harald Frentzen's first podium finish. The German had made his debut with the young Sauber team in the previous year and had booked steady progress throughout 1995. After several point finishes, his career best fourth place at Spa brought him to seventh in the Championship with ten points.
Friday qualifying saw a very hopeful outcome for Frentzen with an eight place. With a season best of ninth on the grid in Argentina and usually a spot between eleventh and 14th, this provisional eight at Monza was excellent for Frentzen. Other than the usual suspects of Williams, Benetton and Ferrari, Frentzen only had Jordan driver Rubens Barrichello ahead of him.
Unfortunately this didn't remain the same the next day, when the track was faster and Frentzen only managed the tenth quickest time, seeing both McLarens ahead of him this time.
On Sunday the start of the race was chaotic. After a spin from Williams driver David Coulthard in the warm-up lap, the first lap saw a number of spins on the same spot where Coulthard had gone off, in which Forti driver Roberto Moreno, Pacific's Andrea Montermini, Footwork driver Max Papis and Frentzen's teammate Jean Christophe Bouillion blocked the track and caused the race to be red flagged.
On the restart, both Frentzen and McLaren's Mark Blundell ahead of him made a bad start, signalling the beginning of a long fight between the two of them. While the Sauber and McLaren were fighting wheel to wheel, they slowly made their way up the field as cars retired. The first step up was when Martin Brundle in the Ligier suffered a puncture after only ten laps. Three laps later Blundell and Frentzen moved into ninth and tenth respectively as Coulthard spun off once again, courtesy of a broken wheel bearing.
Just before the pitstops started, the duo moved up two spots in one go, courtesy of Footwork driver Taki Inoue. As Championship rivals Michael Schumacher and Damon Hill came up to lap the Japanese driver, Hill's misjudgement of the braking zone - according to him because of Inoue - caused the Williams driver to plough straight into Schumacher's Benetton, eliminating both from the race.
After 25 laps Frentzen pitted, a lap later followed by Blundell. The German's stop was eight tenths quicker, but not quite enough to get by the McLaren. However, the very next lap, Frentzen's tyres were up to temperature and in a bold move the Sauber driver made his way past Blundell. With the fight finally decided in his favour, Frentzen immediately moved away from the McLaren and two laps later claimed sixth at the cost of Jordan's Eddie Irvine.
On the 34th lap, Frentzen was handed fifth place when Gerhard Berger's suspension collapsed and sent the Ferrari driver into retirement from second place. For Frentzen there was nothing left to fight at this point, with Barrichello 15 seconds ahead of him and gaining. However, it was Frentzen's lucky day as the Jordan suddenly slowed down with twelve laps to go. In the space of two laps Frentzen moved past the clutchless Barrichello, who retired a lap later.
Two laps later, the atmosphere at Monza turned dark as race leader and tifosi favourite Jean Alesi suffered the same fate as his teammate and retired, handing the lead to Johnny Herbert. After a tumultuous race, nothing happened in the final phase and the unlikely podium read Johnny Herbert, Mika Hakkinen and Heinz-Harald Frentzen.
This Week in History
In 1987 the Italian Grand Prix saw a massive crowd hoping to celebrate Ferrari driver Michele Alboreto's 100th race with a victory. This in itself was wishful thinking, as the team were suffering one of their longest winless streaks ever. Ferrari's and Alboreto's last win had been the 1985 German Grand Prix, after which the Maranello team had missed out on victory for no less than 33 races. Big favourites for the weekend were Williams, who were on a high after having won the last five races, despite a bitter rivalry between teammates Nigel Mansell and Nelson Piquet.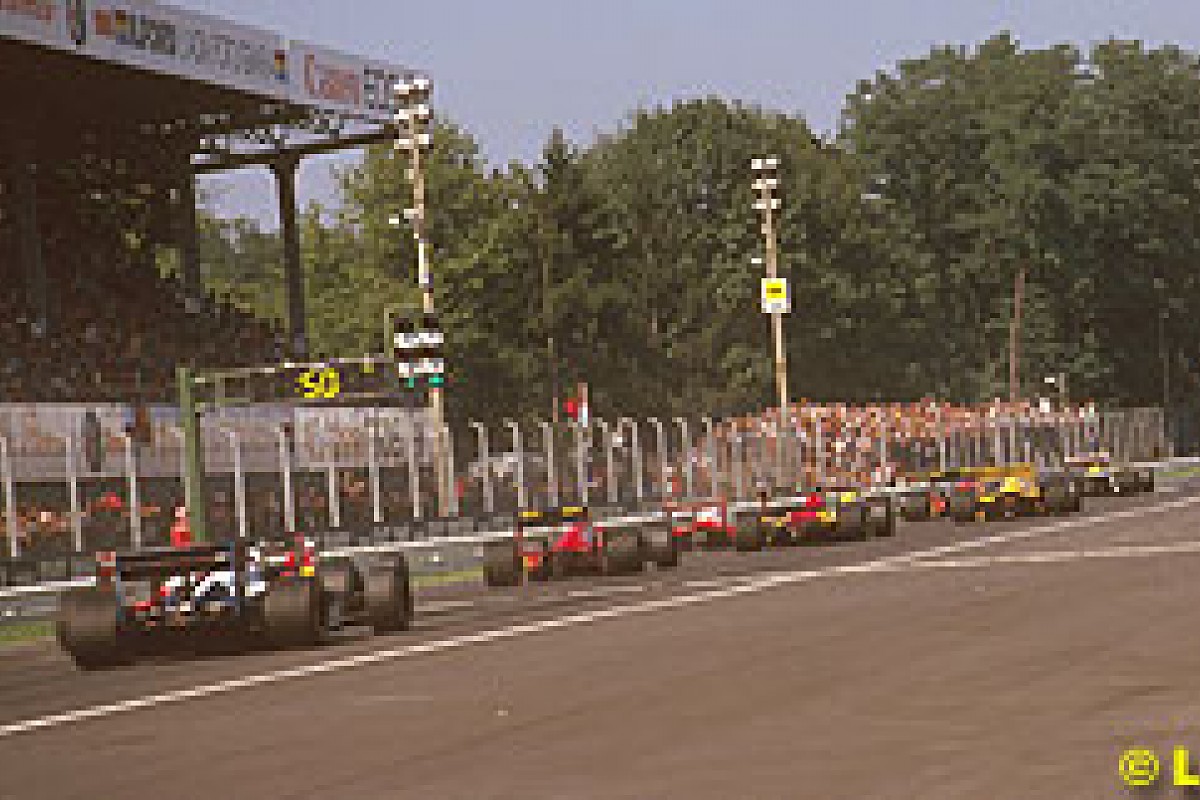 In the Championship Piquet was leading, eleven points clear of his countryman Ayrton Senna in the Lotus. Mansell was in third, four behind Senna and eight ahead of McLaren's Alain Prost. The Ferraris meanwhile had to make do with sixth and seventh, with only nine points for Gerhard Berger and eight for Alboreto.
In the shadow of the big teams, two drivers made their debut at Monza: Nicola Larini and Coloni finally made their debut, while Swiss driver Franco Forini drove the second Osella. A whole collection of problems made Larini a non-qualifier, but for Forini his first race start was a fact when he outqualified AGS driver Pascal Fabre.
In Friday qualifying it was once again Williams all the way. With Piquet debuting the active suspension, the team had increased the gap towards the competition as they were over eight tenths quicker than anyone else. As usual, Ferrari were a little further ahead in Monza than in the rest of the season, with Berger claiming provisional third, ahead of Benetton's Thierry Boutsen and the second Ferrari of Michele Alboreto. Prost and Senna were the only ones remotely close, but behind them the gaps were big. 28th and last was Andrea de Cesaris, who clocked a time nearly 16 seconds slower than Mansell after a problematic session.
On Saturday Piquet was marginally quicker than his teammate, claiming pole position by 0.099 seconds. Berger was again third, giving his best shot, but ending up half a second slower. The Austrian shared the second row with Ayrton Senna, while Alain Prost and Thierry Boutsen occupied row three. Alboreto was a disappointing eight, behind the second Benetton of Teo Fabi and only just ahead of the Brabhams of Riccardo Patrese and Andrea de Cesaris.
The start of the race was delayed for a few minutes as flames erupted from the back of Patrese's Brabham when the cars were lined up on the grid. The problem was rapidly solved, but the incident shortened the race by a lap because of the extra warm-up lap needed.
The top three from the grid made it into the first corner in order, but behind them Senna lost two places to Boutsen, whose start moved him from fifth to third, and Prost. Behind them, Alboreto and McLaren's Stefan Johansson made up places, while Teo Fabi dropped from seventh to ninth. In lap two Boutsen moved even further up as the fight between Berger and Mansell saw both of them sliding wide and allowed the Belgian past into second place.
The first of the frontrunners to run into trouble was Alain Prost, whose engine was getting worse and worse, leading to a pitstop after eight laps from which the Frenchman never recovered. Meanwhile the gaps were more or less steady at about two seconds between drivers and the race progressed in a status quo. After thirteen laps the hopes of celebrating 100 races with a victory were completely gone for Alboreto as his turbo failed. The Italian retired, leaving all hopes for a home win for Ferrari with Gerhard Berger.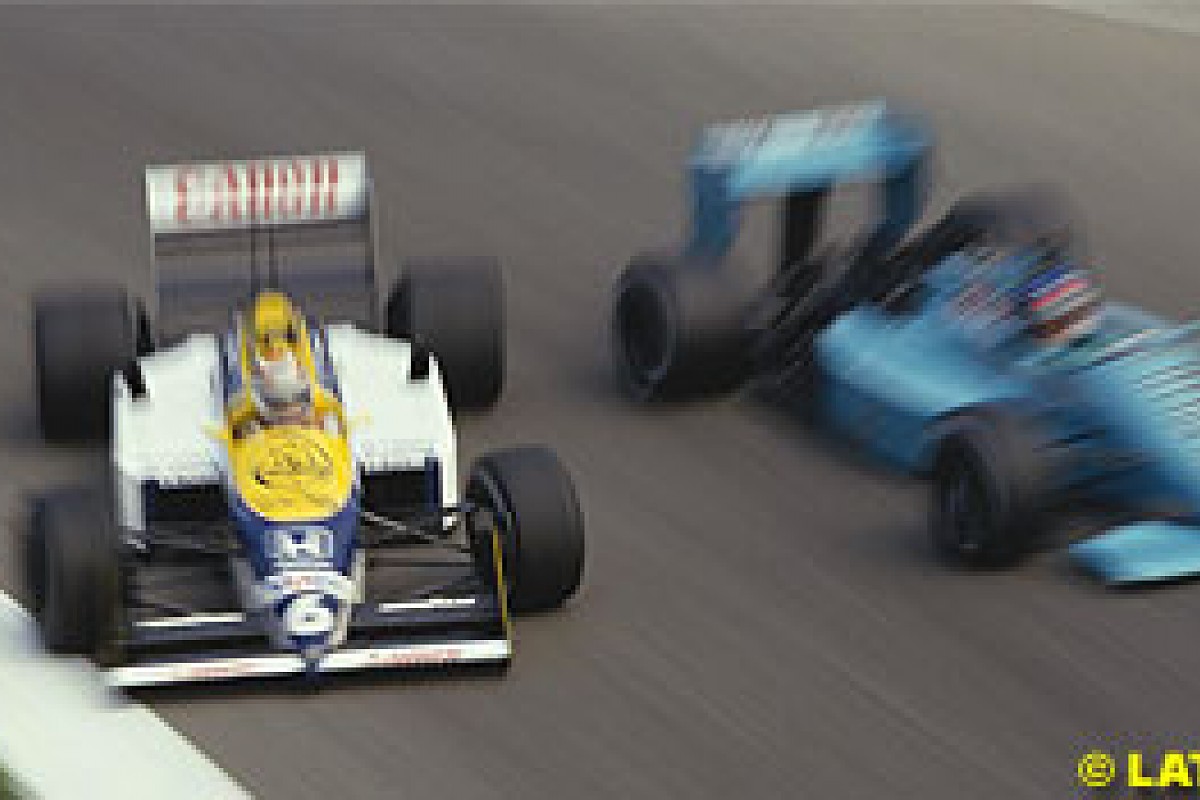 After 19 laps the leaders started to pit for fresh tyres, first Johansson, a lap later followed by Fabi. Mansell, Boutsen, Berger and Piquet were next, but one man just kept going and going. Ayrton Senna had decided to go and try for a non-stop race, like he had done in Detroit as well, where the Brazilian had won comfortably. So when all the others had pitted after 25 laps, Senna was leading by 14 seconds ahead of Piquet, Mansell, Boutsen and Berger, with the rest of the field a long way behind.
The Lotus driver's tactic almost worked. While Piquet closed in bit by bit, the gap stabilised around five seconds after 37 laps. However, Senna's worn tyres and nature of taking more risk than others eventually made his tactic fail in lap 43. When overtaking backmarker Pierluigi Ghinzani, Senna nearly lost it in the fast Parabolica corner, sliding onto the gravel, but managing to return to the track. However, the whole thing cost him twelve seconds and allowed Piquet into a comfortable lead the Williams driver would not let go.
Senna closed the gap, but couldn't manage to get by his rival in the remaining seven laps. Behind the two Brazilians Mansell was a distant third, ahead of Berger who gave the day a very pale silver lining for the tifosi by scoring Ferrari's first points in six races.