The Case for Anthony Davidson

---
By Tony Dodgins, England
Autosport-Atlas Contributing Writer
How good is Anthony Davidson? No one could say with certainty if, after four year of test driving at BAR, the Briton is a lost talent or a lost cause. But Tony Dodgins has had a hunch that 'Little Ant' is really good - and he should know: a decade ago, the two were teammates in a 24-hours karting race...
Last year's Friday hero was Anthony Davidson. This year, we have Pedro de la Rosa and Ricardo Zonta, highly experienced both, invariably at the top of the Friday times. They pound around securing an advantage for two of the best-funded outfits in the paddock.
Friday drivers were never meant to be thus. They were intended to help the lesser-funded teams, the Jordans and Minardis. First, they gave a mild gain to those teams whose budgets did not extend to a regular test team. And second, they provided an additional source of revenue via drivers who paid for the privilege of a Friday seat.
The third car option has been available only to those teams finishing outside the top four in the previous season's World Championship, and it was never envisaged that such an opportunity would prevail upon McLaren Mercedes, for example.
Davidson now spends his weekend out of the limelight. He keeps company to Jenson Button's father John in the BAR motorhome, on hand in case Jenson or Takuma Sato suffers a virus, tweaks an ankle or whatever.
Soon, Davidson is out of contract. And he has no guarantee of a drive. There are possibilities at BAR if the team doesn't hang onto Button; at Williams; at Sauber/BMW; or at Jordan. The problem for Davidson is timing. A race seat at BAR would probably be the Holy Grail but that could drag on. A proposition has allegedly been put to Frank Williams whereby Sir Frank gets a chunk of money plus Davidson, cheap, and BAR hang onto Button. But Frank, apparently, stopped returning the phone calls some while ago. The Sauber situation, with Nick Heidfeld under contract to Williams, could also take time. Davidson, If he's unlucky, could miss the boat entirely. He deserves better.
How good is he? I can't honestly tell you. But my gut instinct is that he's good. Possibly very good. I reckon that, lap-for-lap, he might be a tenth or two shy of Button. And maybe I'm doing him a disservice there. Button is very good. Don't let anyone persuade you otherwise.
With Davidson there's no superstar nonsense. You don't get drinking, you don't get womanising. Just commitment. He's engaged to Carrie Bond, formerly Jaguar Racing's press officer, and the pair of them are as pleasant and down to earth as you could meet.
I first met Davidson in 1995, when he was 16. In fact, he was my teammate. Sounds good, that!
A bunch of mates and I were competing - well, going round and round - in something called the EKI European Endurance Karting Championship. Which all sounds very grand but, in fact, was four-stroke Pro Karts powered by a pair of Honda genny motors pumping out something like 13bhp between them. Most fans have probably had a go.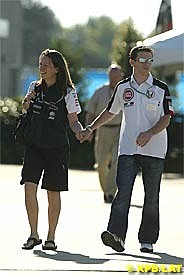 Anyway, we'd done a good deal on something called a Nemesis, which was a nicely screwed together chassis produced in limited numbers - two - and we were up against another 35 or so from the likes of Martin Hines' Zip company and Bowman. Neil, the guy building the Nemesis, had figured he might get a bit of extra publicity supplying a journalist, but he wasn't going to have the world clamouring to buy one based on its devastating pace...
The Championship comprised a number of six-hour races and two 24 hour events, one at Le Mans and one at Spa (the kart track is off to the right as the long straight after Eau Rouge reaches up to Les Combes). Just before Spa, Neil phoned up.
"Would you like someone quick in the kart at Spa?" he said.
What he meant was, you bunch of gut-buckets are never going to be competitive and I'd like to find out how quick my kart will go. He offered us Davidson.
First off, I was surprised that Anthony, one of Britain's quickest young karters in the real (two-stroke) world, would want to drive with a bunch of geriatrics on a four-stroke, but I wasn't about to turn him down. Kids, which is what Anthony was then, will drive anything with wheels. And funnily enough, Dan Wheldon was driving for someone else in the same race. Little did we know that we'd be assisted by a future GP driver against a future Indy 500 winner.
The first problem was that the kart and driver had to weigh 180 kilos. 'Little Ant' measured around two foot six (pots and kettles, I know...) and weighed about six stone two. Slight exaggeration, but you get the picture.
For the gut-buckets, 180 kilos was no problem. One of us actually tipped the scales at a majestic 192kgs (with the kart, that is!). Anthony and the kart came in at something under 160kgs. Unfixed ballast was banned, which meant that we had to make a special seat for Anthony, with 20 kilos of lead taped to the bottom. We could barely lift it. Every time it was Anthony's stint, as one of us got out, we'd plonk this extra seat in, quickly drill a couple of holes through both and attach a couple of tie wraps. In the end we got the process down to about eight seconds, which wasn't too shabby.
I was intrigued to see how he would go. As with any form of racing, people were throwing money at it and the drivers in the top five teams were useful. There are little nuances and tricks to everything and these teams knew them. Some, for instance, had a stiff chassis for the dry and a separate one if it was wet. They even had helmet radios so that pitstops could be timed to perfection, cutting down on wasted time spent queued in the fuel bay (refuelling had to be done on a 'first come, first served' basis by race officials).
We were pretty green. On a good day, with a following wind and, say, a 60-second lap, we'd qualify about 0.7-0.8 from the top guys. Normally we'd be 15th-20th on the grid and, every so often, pushing the top 10. The quickest two of us were usually split by just a tenth of a second, or two. And, as you basically drive a Pro Kart flat-out everywhere, while it makes a noise like a flatulent VW Beetle, we had no idea where to find the missing extra second that separated us from the front. It had to be the kart.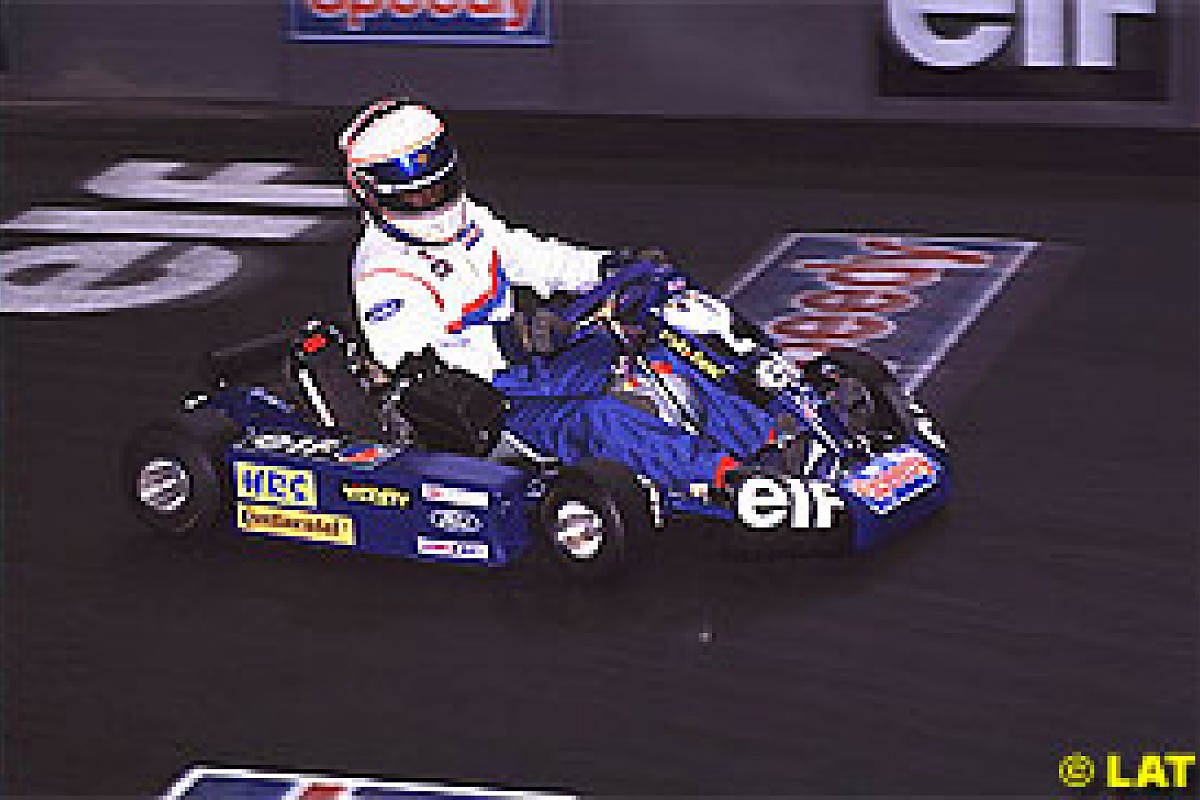 The amusing thing was that you all drove the same kart on the same day at the same weight (apart from Mr 192 kilos) and so, if you're anally competitive but not ultimately competitive, it rapidly became an exercise in trying to go faster than your mates. Cue huge post-race poring over laptimes, levels of consistency, etcetera.
The excuses were still there, of course. The track surface was hotter/colder (delete as applicable) when I was out, the tyres were newer when you were out, the engine's better during the night. And so on. But with Davidson about to climb in, we would get the bottom line.
He arrived, even then, with a manager, was unfailingly polite and did what he was told. He'd forgotten more about karting than we'd ever know, but there wasn't the faintest trace of the big 'I am.'
There was definitely more noise about Wheldon, who was more deeply into looks and fashion, seemed very sure of himself and 'was going places,' we were told.
"Don't take too much notice," a karting sage whispered in my ear, "you've got the real deal in your kart."
Davidson qualified us third, I think, it's a long time ago now - he might even have been second. But I seem to remember that he missed the pole by a couple of hundredths. He was dissatisfied. We were ecstatic.
The fuel lasted for almost two hours and, if it was wet, slightly longer. So you would get through a 24-hour race with 12 stints, 11 stops, or 13 stints, 12 stops, depending on the weather. With four of you, it would be two hours on, six hours off. After the two hours you'd be starting to feel a bit stiff and sore.
Anthony did the opening stint, which witnessed a fantastic four-kart battle with the lead changing constantly. After about 90 minutes he worked his way to the front and, once on his own, made a break. By the time the first fuel stop was due, he'd left the Championship leaders around 15 second behind.
Who was going to follow that?
"I know," someone said, "let's leave him in it, then at least we won't lose the lead cutting the tie wraps and lifting his bloody seat out. And we'll prolong our glory a bit longer!"
Four hours at one go? I ran it by his manager, who just shrugged.
As Anthony came to a stop at the refuelling bay, I yelled at him: "Well done. How do you fancy staying in?"
Enthusiastic nodding. And off he went again.
When four hours were up we led by the best part of a lap as he jumped out. And in climbed gut-bucket number one, who promptly spun away most of the advantage on his second lap.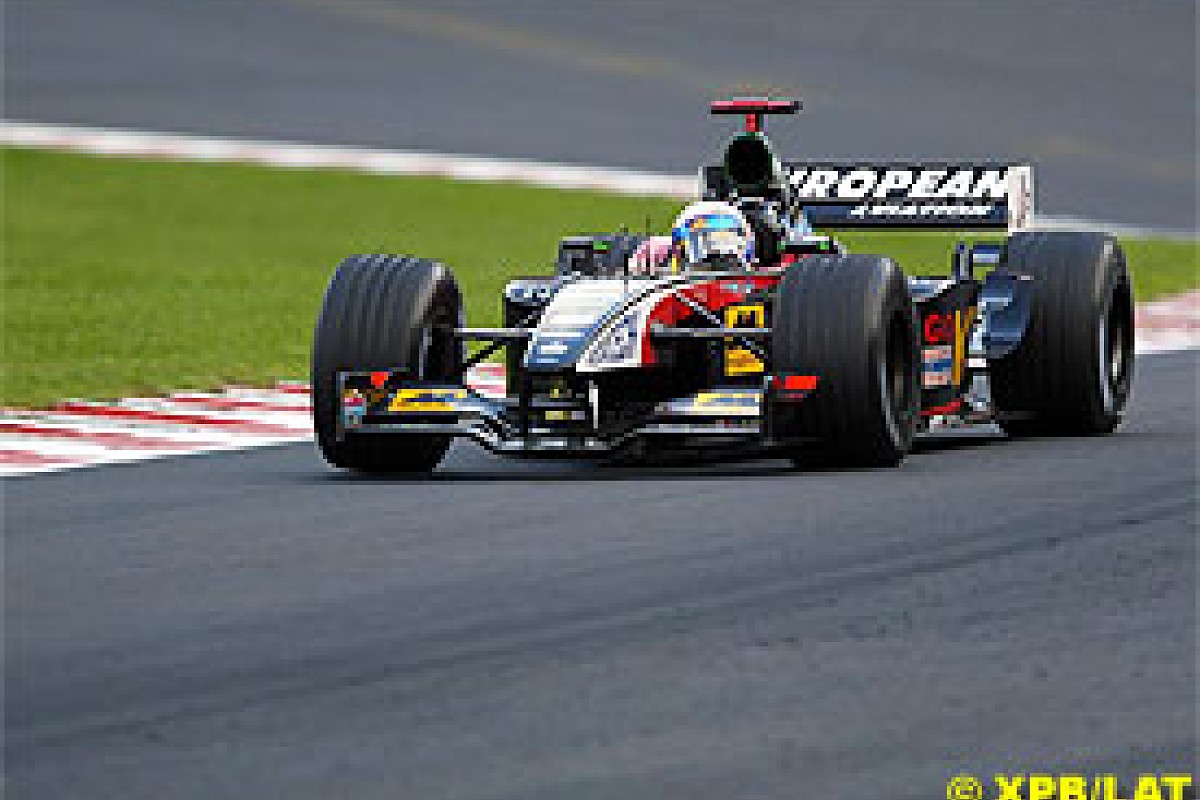 It was now 6pm and Anthony would be due back in at around midnight. But then his manager said that in view of the four-hour stint, he wanted him to have a proper sleep and not to drive again until it got light. I was never sure about that. Davidson went along with it but he'd have done the whole 24 hours if we'd let him.
The manager was probably just being smart. The floodlights allowed you to see about five metres in front of your nose and the night stints were 'interesting', to say the least. Some teams had sponsors driving second karts who redefined the terms 'unpredictable' and 'mobile chicane'.
So we were down to three of us for the eight hours of darkness, which meant one of us would have to run two stints, although not consecutively. I ruled myself out of that by inadvertently sticking my hand on the black exhaust box as I gave the kart a shove...
Blisters quickly filled up and I found the lone ambulance, complete with a snoring Flem, just after midnight. I had the blisters lanced and some Iodine rubbed in just before my stint. After what seemed like five minutes I could feel them filling up again. It was a long two hours. I remember going on the radio and asking, hopefully, how long I had left.
"Ninety minutes. And bloody well get on with it you great Jessy, you're a second off the pace," came the unsympathetic response from Mr 192 kilos.
When he came back, Davidson wandered over to the timing screens and, by now, we were running solidly midfield, as he'd suspected. What he wasn't anticipating was that someone would have beaten his fastest lap by a couple of hundredths.
It got his attention and off he went to find out the details. Normally you did the whole 24 hours on one set of tyres, so the quickest laps tended to come early on. Only if you had a problem and were stopped anyway, was it worth whacking on a new set. One of the front-runners had lost an engine and had taken the opportunity to put new rubber on, specifically to have a pop at Anthony's fastest lap.
"Sorry son, you'll have to wear it," I said. "We can't afford new tyres!"
I can't remember where we finished, 15th I think, but I was hugely impressed by Davidson. Our fastest lap was the best part of a second from his. But worse, he was in our kart. Neil was chuffed of course, but we had no more excuses. There it was in black-and-white. We were rubbish. We couldn't have been contenders....
Davidson could see the disappointment. And he tried to make us feel a bit better. We might have been weighing the same, he pointed out with a smile, but all his weight, the lead, had been underneath the seat. Our was, er, higher up. Roll centres and all that...
Okay son, we get your drift, and it's nice of you, but you're digging yourself a hole... Roly-Polys is what you mean.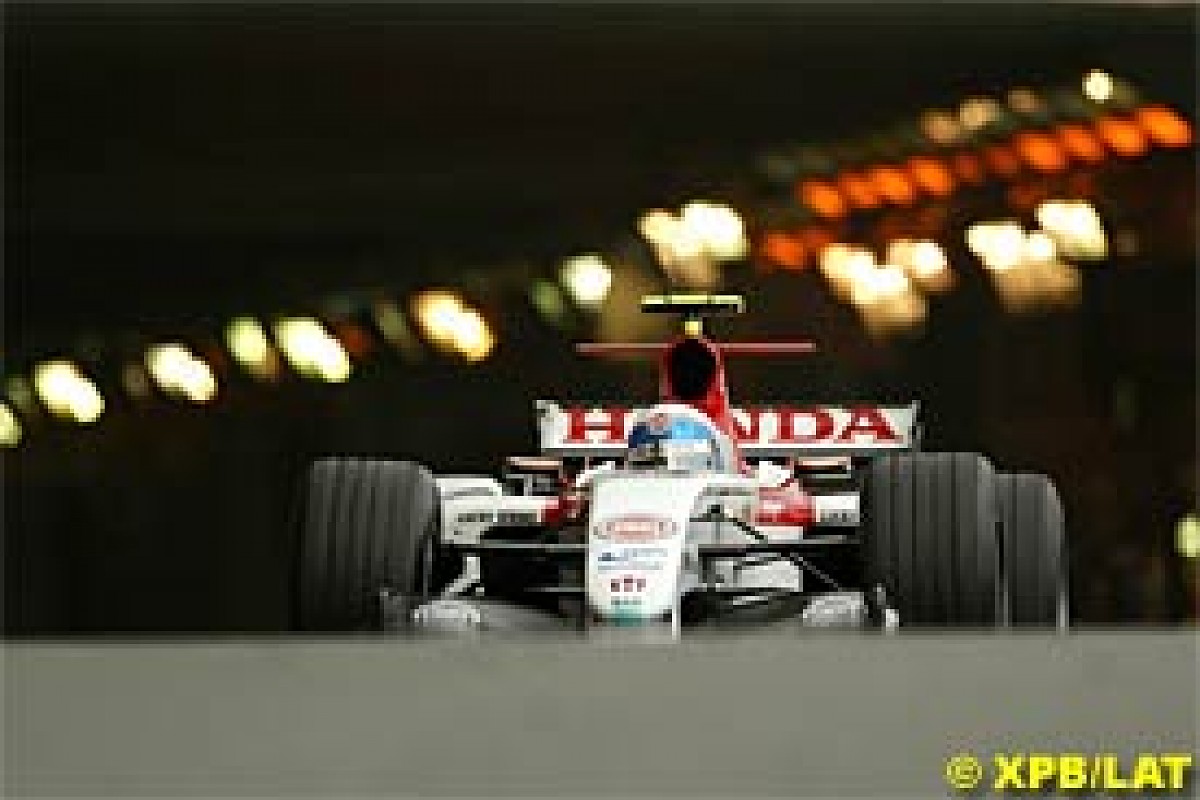 The next thing, of course, was that we wanted to know where we were losing all the time. And so, a few weeks later, there I was at Buckmore Park in Kent with the kart all rigged up with Pi telemetry kit. Ever-obliging, Davidson would drive 10 laps, I would drive 10 laps, we'd take our quickest laps and do an overlay.
It was fascinating. And it was worse than Spa. This time the deficit was 0.75s on a 39-second lap, which is an eternity. It was a bit everywhere and almost half a second under braking for Buckmore's tight hairpin. Anthony was actually on the brakes sooner, but lighter and for less time. I was way too late and way too hard, costing a lot of momentum. It was all about smoothness and finesse, something Davidson's driving has always had.
It's natural, of course, for Friday test drivers to be faster than the race drivers. They have a higher rev limit because they don't have to look after the engines and they have more tyres. They get to bolt on a new set when the track has rubbered in later in the second session. But I was still mightily impressed when Davidson was fastest on the opening day at Monte Carlo last year.
In previous years, a group of us used to make a point of looking down the Thursday times and noting how close to the pace the Monaco virgins were. The track is not easy to learn. There are crowns in the road that you need to keep the plank off, the surface is very slippery and the kerbs, walls and barriers offer little in the way of forgiveness. Usually, you got A Senna or M Schumacher, then a one second gap, then a gaggle of the usual suspects, then a two second gap to the first Monaco virgin. By Saturday afternoon they'd be prepared to hang it out a bit more and if they kept it out of the wall, they'd done well.
Yes, Anthony had his usual revs/tyre advantage but a few extra rpm don't count for a great deal at Monaco and his ability to actually use the tyres on first acquaintance with the place was impressive. On the circuit, the car's body language was aggressive and confident. He was more like a man who'd collected trophies from Prince Rainier than a Monte Carlo rookie.
In Istanbul last weekend, we laughed about that Spa race and Davidson told me it was 1999 since he last did a kart meeting.
"I really miss it," he said. "Truth told, I probably enjoyed it more than this. It's the racing I miss. Recently I've just been going round and round in circles."
In karting, Davidson was on a par with Button and many really rated his racing ability as opposed to his mere driving ability. In Formula One, he's never had a chance to prove it. I've a feeling that if that doesn't change, a talent will go begging.
There were a couple of starts in a Minardi a few seasons ago but he was a couple of tenths away from Mark Webber at Spa and put it in the gravel in the race.
Formula One people are quick to be judgmental and, back then, a few were disappointed with that. But perceptions are funny. This year, for instance, people are saying that Nick Heidfeld has outperformed Webber. They point to the brace of second places at Monaco and Nurburgring and the pole position in Germany.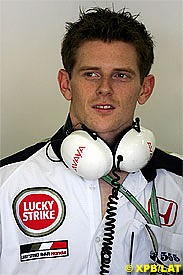 But look deeper and Heidfeld beat Webber at Monaco by dint of going a lap longer to the final stop after both had been delayed, his Nurburgring pole was achieved with a light fuel load and when you consider fuel-adjusted qualifying times, Webber has been quicker. Fair enough, he's dropped a couple of bricks in the races, largely through frustration. But there is no doubting that he is very fast.
Webber is also a fitness freak and privately, among a few of us, is known simply as 'Superman.' No sarcasm. No nastiness. The Minardi that he drove alongside Davidson at Spa had no power steering and even Webber admitted that the car was physical. For Anthony to get within a couple of tenths of Mark, who always made a point of trying to obliterate anyone in the same car, was actually a damned fine effort. He spun off, simply, because he was knackered. Such things are no longer an issue.
You get the impression that Sato's days at BAR are numbered, unless he has a stratospheric final part of the year. Team boss Nick Fry makes no secret of the fact that Button and Barrichello, with Davidson in a third car - if third cars are opened up across the board, which has been mooted - would be the dream team.
But Davidson, really, needs to race. And if he hangs out in the hope of a BAR race seat, his chance might be gone forever.
A Jordan seat does not seem much of an option. But sporting director Adrian Burgess, who worked with Davidson in Trevor Carlin's F3 team, rates him highly. As, it seems, does Johnny Herbert.
Part of Johnny's brief at Jordan/Midland is to liaise with the drivers and to have an input into various decisions.
"Narain, for example, hasn't got much experience," he said last weekend, "So it's good for the guys that I can talk to them and express what I think. And even have a say in some of the decisions that the team makes, like drivers for next year. For the team it's a discussion with someone who has a bit of an idea. There's only so much the team can do, but you've also got to have someone spearheading the driving."
But Jordan is currently a team where spending is at shoestring level and drivers bring money. Karthikeyan's backers are said to be paying $10 million for his drive and I've heard similar sums mentioned for next year, along with $5 million for the test seat.
So how could Davidson be part of the picture? One theory is that a decent British driver might persuade Benson & Hedges to put some cash in. How realistic is it that someone can drive for Midland without bringing money? I asked Herbert that last weekend.
"I think it's possible," he said. "It's a question of who's worth that opportunity. There's a few about. Not many, but a few. But the sums have got to add up as well. When this yellow thing goes and it turns into Midland it will be easier. Because, as it is, you can't market it. It's very hard to actually do a damned thing. You can't market Jordan because it's going to be no more. Unfortunately the whole thing is going to take time. Alex (Shnaider) is behind it and they do want to go forward with it.
"The morale is better now but there's still a way to go. Tiago (Monteiro), I have to say, is very confident, he thinks about it a hell of a lot and he drives very consistently in races. It's very hard to get the pace side of it sorted out when you're in a car that's so God-damn old. The guys are pretty evenly matched. Narain can possibly do a faster lap if he keeps it together, and that's been his problem lately. Tiago is just very reliable - he thinks about the tyres and the car and he's good from that point of view, but he has a bit more experience. Narain, because he's Indian and the first one, has a massive amount of pressure. He does feel it and he's got to try and push that side away."
Somewhat naively perhaps, I asked if the team would sign Davidson with a release clause if a top team then came in with a concrete offer?
"To be honest I don't know, but I would have thought that if you sign someone, you want to keep them, whoever that is. It's always a timing issue and it's very, very hard. It's one of those horrible things for him because he's been where he is for so long now and he still hasn't got anything concrete.
"I think he's a good guy and he's an option. There's also the up-and-coming guys from GP2, for example. But it's timing, as you say, and a lot of these GP2s are Flavioed up. It can be a tough call, but driving a Minardi worked for Alonso. Likewise, if you're in GP2 you can't hang around for long because there's always someone else fashionable coming along."
Frank Williams, I reckon, will dig his heels in over Button. And Heidfeld for that matter. BMW are not Frank's favourite people right now and Mario Theissen would like Nick in his car. In fact, he'd probably like Nick and Mark Webber in Munich's Saubers. But for Frank, Davidson and a fistful of dollars, I reckon, could be a good call. Okay, Tom Cruise might look better in a set of shades than the ginger lad but, really, who the hell cares. Anthony and Carrie, you sense, wouldn't be coveting too many jets/yachts/mansions. Driving, not posing, is what Anthony's all about.