"If you'd have told me that I was going to win the super final after practice and qualifying, I'd have probably laughed at you!" Sebastien Bourdais was not renowned in the Formula 1 paddock for his sense of humour - in fact, quite the reverse. But he had plenty of reasons to be miserable over his plight after 27 grands prix with Scuderia Toro Rosso. Six points, and a best finish of seventh, was hardly the return he was looking for after winning the Champ Car title four times in America.
His exit from the German Grand Prix at the Nurburgring in July proved to be his last - for now, at least - from F1. Less than two months later he was back on a starting grid, this time in the football club-based Superleague Formula single-seater category, driving for Spanish La Liga side Sevilla.
It started with a whimper, Bourdais was only able to qualify 15th, but through some guile and cunning with tyre strategy, the reversed-grid for race two and a belated arrival on the grid that caused pain for his rivals, he somehow conjured up victory in the €100,000 super final.
His weekend started badly at the random draw to select qualifying groups, as Group B harboured some of the strongest drivers/clubs in the series. This offered little chance to progress to the head-to-head knock-out rounds, but even worse was his general lack of pace since practice.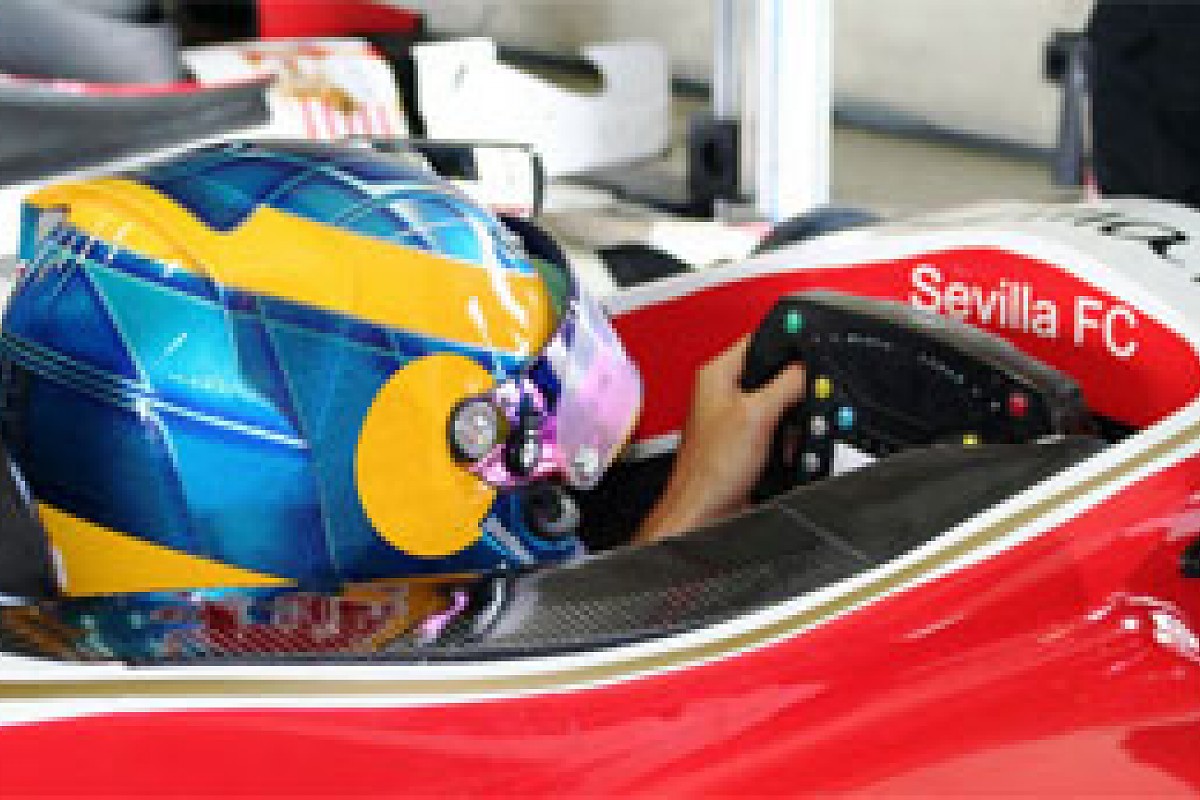 Sebastien Bourdais preparing to test at Magny-Cours
"We did a few laps at Magny-Cours the week before for me to discover the car," said Bourdais. "Generally, it made sense to me there. It wasn't perfectly balanced, a bit of understeer here, oversteer there, but it was fine. So I said, 'let's give it a try with what we've got'.
"We unloaded the car at Estoril and there was nothing under me. From the start of practice through to qualifying, there was no front grip, no rear grip. The small problems I had at Magny-Cours were 10 times bigger here. It's a lot more bumpy and there's a strong wind and the support series cars drag a lot of dust onto the track, so the conditions are very inconsistent."
Delve a little deeper, and you discovered just how much woe he was staring at.
"I couldn't brake late or it locked up. I couldn't carry speed into a corner because I'd lose the rear on entry. I'd lose the front when I released the brakes. I'd lose the rear again on throttle. You don't know how to approach the problem: there's too many things wrong at the same time. It's frustrating, you just can't enjoy yourself with such low levels of grip. Annoying really.
"All I can say to the team is 'this is what it is doing' and 'this is what I'd like it to do'. What do we need to do in the middle? I don't know! It's not happening yet, and it is what it is. Race one will be a practice session for us. I have nothing to gain from where I start, so all we can do is understand the car better for the second reversed-grid race. You only have a few sets of tyres each race weekend, so it's hard to test things in practice. It makes it difficult to compare handling issues with similarly-worn tyres. It's a limiting factor."
It all sounded familiar - like his groans and gripes about battling with Toro Rossos - but there was still hope here, and he was putting a positive spin on it: "It's all new and it could have turned out a lot better, but we'll keep on trying until we get it right," he added.
"I like the series - everyone is having a good time, including myself. There's not much pressure to do your job, so it's much more like the atmosphere I found in Champ Car. But the atmosphere is only really nice when you're at the front! It's very difficult to say I had fun in F1 because of the way things are run, the way the people react to everything and anything. The more money is involved, the more pressure I suppose. And there's a lot of money in F1, and a lot of pressure - the nature of the beast."
His Superleague deal was a case of fortunate timing. Close friend Henri Suzeau of Auto Hebdo had the ear of the series chiefs, who wanted to raise the profile of its drivers, and his inclusion to its line-up made perfect sense for all concerned.
"Yeah, yeah," smiles Bourdais of how it happened, "I was in touch with Henri, and we talked about what the series wanted to do and they were willing to pay me, and I was available, so for me that's good because at least I'm driving something and staying sharp. It's a win-win situation."
It also reunited him with a Panoz-designed 'big banger' of a single-seater, so just how like his old Champ Car is it?
"On paper it's very, very similar," he said. "Yet, in reality, it's very different actually. I think the weight distribution is a fair bit different. The V12 is much heavier than the V8 turbo we used in Champ Car. For me, the Champ Car was very well balanced, and with this car I am a long way from finding that good balance."
Race one was indeed treated as a test session, and he cruised to 11th place on used rubber. He started race two from seventh, and this is when he came alive. Bourdais darted his way through to third by the first corner, following fellow ex-F1 racer Enrique Bernoldi, who hit the front, but Spa GP2 winner Alvaro Parente turned in to Turn 1 between them.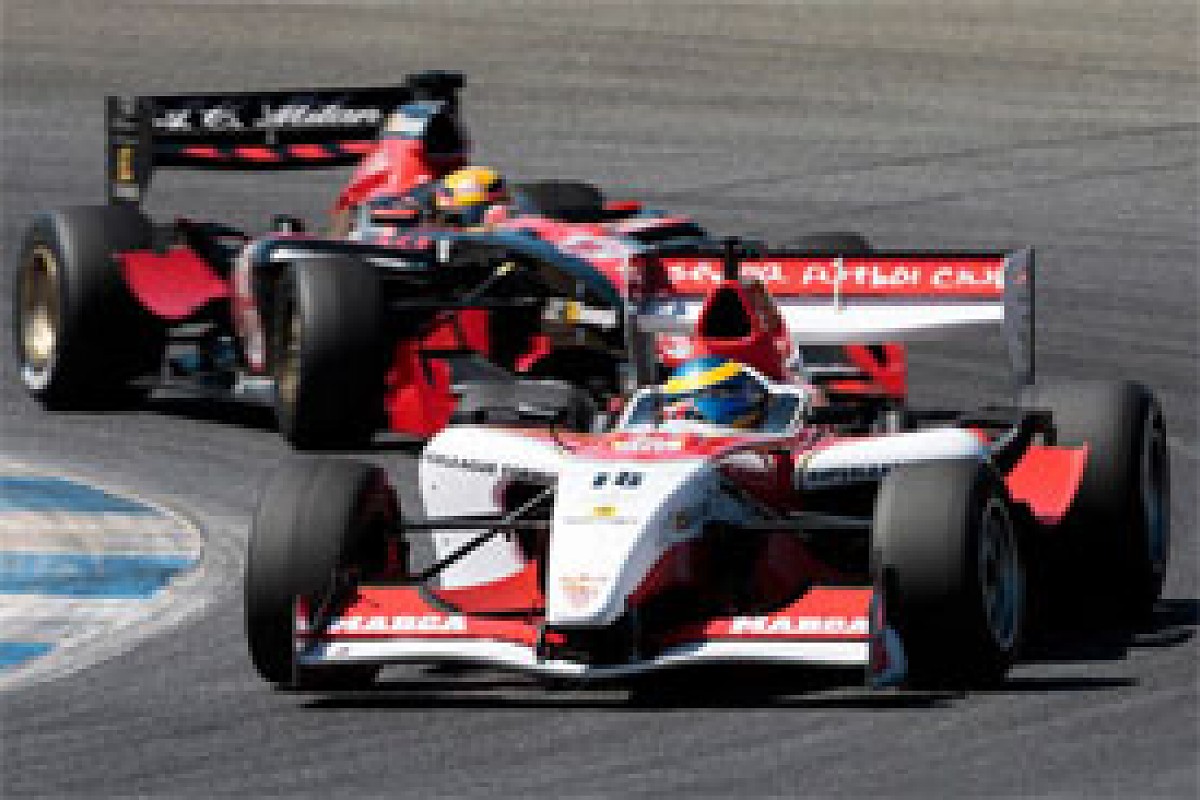 Sebastien Bourdais (Sevilla FC) leads Giorgio Pantano (AC Milan) at Estoril
Bourdais pitted as soon as the window opened, and used his second set of new tyres at this point. In clean air, he banged in quick lap times, and was right behind Bernoldi when the Brazilian rejoined from his stop three laps later. After a couple of laps sizing him up, Bourdais used his push-to-pass to grab second, and spent the remaining laps of the race chasing down Parente, who would win by just over a second.
"I had to use the tyres quite hard to catch him, so after that I didn't have enough life to really make a move," he said. "I got close to him once, and could have tried something, but it was good race and shows we've improved quite a bit. The race went really good for us, which qualified us for the super final, which was a big surprise."
The third set of new tyres, which he was going to carry over for Monza next month, was now bolted onto his car. But the quick turnaround required was lost on Bourdais, who was besieged by media interviews, and he left the pitlane late. While the other cars waited for him on the super final grid, they overheated. He tried his best, charging around the warm-up lap, and screeching to a halt on his fourth-place starting spot.
Bourdais made a great start, and a move on Turn 1 on Esteban Guerrieri would prove crucial. Leader Antonio Pizzonia slithered into the gravel at Turn 4, his overheated gearbox refusing to downchange. Fellow front row starter Yelmer Buurman had already dropped back, his engine lapsing into safe mode, while new leader Adrian Valles was also down-on-power due to overheating, so Bourdais blasted into the lead by Turn 6.
"It was my first standing start with the car, which was actually half decent! Once I'd got into the lead it was quite straightforward. I can't take too much glory as the other cars went [to the grid] much earlier than me, because I was still walking back to the car - there were interviews and stuff I had to do. As I arrived on the grid, they were overheating and lost power. When I passed Valles, even though I used push-to-pass, I could see his engine was down on power."
But Bourdais was immediately left to rue that push-to-pass move: "You can't use the push-to-pass for another 120 seconds once you've used it, and Guerrieri was right behind me, so I thought, 's***, why did you do that? Okay, you got the lead, but now he's gonna get me!' It was a Champ Car reflex, really, where you could use your 75 seconds or 60 seconds how you wanted, and I was kicking myself. I was a sitting duck, but he didn't get me because my new tyres made the difference."
He rattled off the five-lap race for a big-money payday, but more importantly it was a crucial victory for his state of mind. Besides his F1 nightmare, two podiums in Peugeot sportscars, at Sebring and Le Mans, were all he had this year to celebrate. Now he finally had a top-level race win, his first since his Champ Car days.
"Including today, I'd had three second place finishes this year, so it was nice to be back on the top step of a podium," he admitted. "It feels oh-so-good! It was only a five-lap race and you can't kill new tyres in that time, so we went for it and pulled it off. At the end, we had a tyre advantage not a pace advantage. It was a real rollercoaster ride this weekend, but we finished it on a high."