The Kahne Mutiny

---
By Thomas O'Keefe, USA
Autosport-Atlas Senior Writer
What can Jenson Button and Frank Williams learn from the case of NASCAR driver Kasey Kahne and his former employer, Ford Motor Company? And in contrast, what could they learn from Titanic survivor Lucy Lady Duff-Gordan? Attorney at law Thomas O'Keefe talks law, as he looks at the latest Button tug-of-love
It is said that Formula One could learn a lesson to two from NASCAR as to fan-friendliness and making cars and drivers more accessible to the fans. But who would have thought that NASCAR might also be showing the way to Formula One when it comes to common law jurisprudence and contract law as it applies to enforceability of driver's contracts.
Jenson Button and Sir Frank Williams: meet Kasey Kahne, NASCAR driver.
It seems that Formula One drivers are not the only ones who chafe under the thumb of team principals who sign up a driver and then develop amnesia when it comes to their commitments to the driver to provide a competitive car that will keep his or her career going forward at a pace the driver believes is consistent with his abilities.
Like Jenson Button, Kasey Kahne had proved himself in lower "formulas" such as, in his case, United States Auto Club midget and sprint car racing, and Kahne signed up with Ford Motor Company to advance from those open-wheelers into his chosen series: NASCAR, first the stepping-stone Busch series (like GP2 in Formula One) and then Nextel Cup (like F1).
In 2000, Kahne signed various personal service contracts with Ford and later on, with one of the Ford-affiliated NASCAR teams, famed engine builder Robert Yates, but after running a successful partial schedule in the 2002 NASCAR Busch Series for Robert Yates Racing and in 2003 for Akins Motorsports, another Ford team, Kahne was advised in 2003 that Yates would not be able to continue to fund a Busch Series team for the 2004 season, which led to Kahne beginning to review his options.
In a genius stroke of North Carolina folk wisdom, the 25 year-old Kahne sent a charming handwritten letter (Jenson Button take note), to his Ford Motor Company handlers dated August 29, 2003, stating that he wanted to go Nextel Cup racing:
"As I discussed with Greg Specht [of Ford] this afternoon and pursuant to my personal service contract with Ford[,] we are to mutually agree on the appropriate series for me to race in. I have decided that I am ready to go to Nextel Cup in 2004. It is my understanding that we must mutually agree on a competitive cup team within the next thirty days. I look forward to discussing this with you shortly during our meeting in Michigan."
By letter September 24, 2003, Ford paternalistically replied to Kahne, basically saying, simmer down, boy, we know what is best for you, let us bring you along slowly and we will all be better off. Said Ford Motor Company's representative:
"We understand your desire to move to Nextel Cup [in 2004]. There is a danger, however, in advancing too soon . . . We strongly believe that a premature, full-time entry into the [Nextel] Cup Series could have [a] negative impact on performance and future marketability of your skills."
Deliciously for Kasey Kahne, it would turn out that his Ford overseers were totally wrong about the readiness of their young driver and Kahne would have the last laugh when he not only went to Nextel Cup in 2004 but took Rookie of the Year honors, scoring a number of second places. Who's Sorry Now?
So to get the full-time 2004 Nextel Cup ride that Kasey Kahne knew in his bones that he was ready for, he had to jump ship from a Ford-affiliated team to Ray Everham Motorsports and the Dodge Boys, after giving Ford what Kahne regarded as a fair opportunity to provide its assurances that Ford could provide him a race team in either the NASCAR Nextel Cup or Busch Series, which Ford could not do, to Kahne's satisfaction anyway.
But, like Sir Frank Williams in the Jenson Button case, Ford insisted on holding Kahne to his contract even when Ford could not offer what the driver wanted, even going to the lengths of literally making a Federal Case out of it, bringing a breach of contract claim against Kasey Kahne in Federal Court for the Eastern District of Michigan, the preferred venue for Ford Motor Company of Dearborn.
In addition to a breach of contract claim, in order to protect its "investment" in Kasey Kahne, Ford also tried to add a further claim to the lawsuit for "unjust enrichment," the theory of which was that if Kahne did manage to extract himself from his Ford contract, then Ford should recover as damages the amount Kahne was paid by Dodge less the amount Ford would have had to pay under the remaining years of the Ford-Kahne personal services contract, thus turning over to Ford whatever "profits" Kahne had earned for himself by switching from Ford to Dodge.
In a 39-page opinion dated July 28th 2005, written by United States District Judge Robert H. Cleland, Ford's attempt to lock-in Kahne's personal services contract as a Ford Man was summarily dismissed on the grounds that the Ford-Kahne contract was void ab inito as an unenforceable agreement since certain of the material terms of the contract - the selection of a series that Kasey Kahne would race in and the Ford-related team he would do it with - were left open and were to be determined jointly and subject to mutual agreement between the driver and Ford. The Ford/Kahne contract provided that Ford would provide Kahne "with opportunities to participate in one or more mutually acceptable racing series with a reasonably competitive team. The specific series and team will be determined jointly."
If Kahne and Ford disagreed on what kind of racing events Kahne would take part in, Ford was to "make every effort to accommodate driver participation in mutually beneficial racing events."
According to Judge Cleland's opinion, "This unambiguous statement requiring joint selection of the team, coupled with the testimony of [the Ford representatives], permits but one conclusion: the selection of the team was subject to mutual agreement" (even if limited by the objection component of being a "reasonably competitive team").
The failure of Ford to act in response to Kahne's hand-written plea permitted Kahne to look elsewhere and accept an offer with Dodge. Lesson for team owners: you cannot hold these young stallions back, at least if you have provided for shared or mutual decision-making in the contract.
It should be noted that in American jurisprudence, it is normally the case that a Court will find a way not to force an employee to go to work or to continue to work for a party even when he is under contract to do so, and the Michigan Federal Court worked hard in the Kasey Kahne case to marshal the equities on Kasey's side, to support the conclusion that the Ford-Kahne contract was not enforceable because its material terms were subject to subsequent, joint decision of Ford and Kahne, so that the arrangement lacked the essential ingredient of a binding contract: a meeting of the minds on the core terms of the contract.
Result: Ford was handed a triple defeat, first because the driver's contract form its legal department uses for doubtless all of its young drivers has now been found by a Federal Court to be unenforceable in some significant ways; and, second, Ford's lawyers have been found to be a bit sloppy in their litigation tactics, the Judge having denied Ford's request to amend its Complaint to add an unjust enrichment claim against Kahne since the Court ruled that it was too late to do that given the advanced stage of the litigation. And in the end, Ford lost something even more important in trying to overreach: Kasey Kahne.
The attorneys for Kasey Kahne, Sonnenschein Nath and Rosenthal, LLP, a big 700 lawyer Chicago law firm, relished the moment. "As we said at the onset, this case was nothing more than an expression of Ford's frustration with its own failure to recognize Kasey's ability to race at the highest level of the sport . . . For the last year and a half, Ford and its team of lawyers have tried to bully Kasey in court and demonized him in the press as someone who did not live up to his obligation. The court's decision is a complete rebuke of Ford's tactics." And, of course, Kasey himself chimed in with the last word: "Ford tried to hold me back. I think my performance proved them wrong."
In short, Kasey Kahne played the role of David in the battle with Goliath magnificently and is now free as a bird from the shackles Ford Motor Company had on him: has Jenson Button got it in him to do as well?
There is one other famous American case from Judge Cardozo of the New York Court of Appeals called Wood v. Lucy Lady Duff-Gordan 222 N.Y. 88 (1917), which bears upon the issue of enforceability of personal services contracts, the principles of which will also figure in the Williams/Button dispute. Lady Duff-Gordon was a storied figure even before her lawsuit, having been a passenger on the Titanic, and one of the lucky survivors when her lifeboat no. 1 (with only her husband and 10 others on board but built with a capacity for 40 people) was picked up by the Carpathian, disembarking in New York on April 18, 1912. Her testimony of what happened that night when the Titanic hit an iceberg in the North Atlantic is still chilling:
"The first days of the crossing were uneventful. Like everyone else, I was entranced by the beauty of the liner. I had never dreamed of sailing in such luxury . . . my pretty little cabin, with its electric heat and pink curtains, delighted me, so that it was a pleasure to go to bed. Everything about this lovely ship reassured me.

"I remember that last meal on Titanic very well. We had a big vase of beautiful daffodils on the table, which were as fresh as if they had just been picked. Everyone was very gay, and at a neighboring table people were making bets on the probable time of this record breaking run. Various opinions were put forward, but none dreamed that Titanic would make her harbour that night. . .

"I had been in bed for about an hour and the lights were all out, when I was awakened by a funny, rumbling noise. It was like nothing I had ever heard before. It seemed as if some giant hand had been playing bowls, rolling the great balls along. Then the boat stopped."
Lucy Lady Duff-Gordon was an English titled aristocratic by marriage but often in need of funds. Back in New York City, post-Titanic, Lucy took up her prior occupation as a dressmaker and couturiere to the rich and famous and became well regarded for fashion taste and her unique designs. Judge Cardozo sums up Lucy in New York with his customary eloquence. "The defendant styles herself a creator of fashions. Her favor helps a sale. Manufacturers of dresses, millinery, and like articles are glad to pay for a certificate of her approval. The things which she designs, fabrics, parasols, and what not, have a new value in the public mind when issued in her name. She employed the plaintiff [Otis F. Wood] to help her to turn this vogue into money."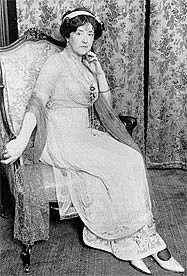 In order to increase her business Lucy granted Wood the exclusive right to place her indorsements on the designs of others. Wood was also to have the exclusive right to place her own designs on sale, or to license others to market them. In return for granting these exclusive rights to exploit Lucy's designs and indorsements, Lucy was to receive one-half of all profits derived from contracts that Woods might make. The contract was to last for one year, renewable from year to year unless terminated by 90-day notice.
Apparently Lucy was not thrilled with the efforts of Otis F. Wood (or else she thought it was simply a bad financial deal), because, as Judge Cardozo found, "[L]ucy placed her indorsement on fabrics, dresses, and millinery without [Wood's] knowledge and withheld the profits." Wood brought an action to sue for damages he suffered, lost profits on the indorsements that did not go through Wood.
I suppose someone who has survived the Titanic develops a certain sense of being invulnerable. In any event, Lucy Lady Duff-Gordon resisted Wood's claim for damages using the same argument Kasey Kahne used: she said that the contract was unenforceable because Wood did not bind himself to do anything, since, for example, nowhere does Wood "promise in so many words that he will use reasonable effort to place [Lady Duff-Gordon's] indorsements and market her designs."
But Judge Cardozo did not accept Lady Duff-Gordon's blandishments that Wood's contract should be unenforceable because it was too vague as to its essential terms, the same argument Kahne proffered. Judge Cardozo wrote: "We think, however, that such a promise [to use reasonable efforts to market designs] is fairly to be implied. The law has outgrown its primitive stage of formalism when the precise word was a sovereign talisman, and every slip was fatal. It takes a broader view today. A promise may be lacking, and yet the whole writing may be 'instinct with an obligation.' imperfectly expressed. If that is so, there is a contract."
Judge Cardozo later went on to become Justice Cardozo in the highest court in the States, the United States Supreme Court, and the principles articulated in his erudite opinions are quoted and followed even today.
If Button and Sir Frank Williams are pitted against each other in court, the same thought process and legal principles used by Judge Cardozo in 1917 and Judge Cleland in 2005 will be trotted out across the Pond. Does Sir Frank Williams, like some latter day Shylock, have the right to ask Jenson Button for his pound of flesh, as Shylock asked of Antonio in The Merchant of Venice, however absurd it now seems to hold Button in bondage since the Williams team cannot in its present uncertain state offer a real opportunity to Jenson to become the first British Formula One Champion in a decade, which is what Button signed up for? The Lady Duff-Gordon case would argue in favor of a Williams win with Jenson stuck honoring the contract.
Or, given all the twists and turns already in the Williams/Button/BAR-Honda story, will the Kasey Kahne approach take hold, in recognition of the change in circumstances and the inability of Williams to demonstrate that the contract is clear and unambiguous as to its material terms, thus undermining the capacity of Williams (as happened to Ford Motor Company in the Kasey Kahne case) to hold Button to his contract because the underpinnings of the arrangement have shifted beyond recognition?
And if there is ambiguity, will it be that legal nuance which is ultimately seized upon, notwithstanding what Sir Frank sternly and bravely says now, to turn this legal quandary into enough money from Jenson and BAR-Honda for the impecunious Williams team to pay $18 million or so to Cosworth as its 2006 engine bill?
One other Formula One-related legal precedent comes to mind that shows how Formula One folk fold their tents and go private when things are a bit iffy, or ambiguous as the courts say. Who can forget the episode in mid-June 2001, when the perpetually brooding Adrian Newey consorted with his old friend from the Indycars, Bobby Rahal, to leave McLaren and come over to Rahal's Jaguar Racing with his aerodynamicist skills, a major coup for Jaguar had it held up.
On June 4th 2001, a press release was issued by Jaguar that stated as follows: "Adrian Newey has a legally binding contract with Jaguar Racing and this has been confirmed by Queen's Counsel. As things currently stand, Adrian Newey has indicated that he will not honour that contract. We are, therefore, considering legal action against Adrian Newley and McLaren International."
We all know how that threatened litigation ended since Adrian Newey recently appeared on the podium to accept a Constructor's Trophy for McLaren-Mercedes, Jaguar Racing is now Red Bull Racing and Bobby Rahal is back in Ohio managing Danica Patrick, but because the court records were sealed in the Jaguar/McLaren dispute we do not have the benefit of a written court opinion as we do in the Kasey Kahne case.
What will be important in the Button case is if there are ambiguities as to the responsibilities of the parties in the Button/Williams contract that make the contract unenforceable, particularly in how the various prior option years were handled with Button and whether Button's sign-off or concurrence was required in those prior years and thus now again in the BAR-Honda/Williams setting (as in the Kasey Kahne case) or whether the Button contract is sufficiently even-handed, precise, and perhaps unilateral in Sir Frank's favor to be enforced strictly (as in the Lady Duff-Gordon case).
Knowing Sir Frank, he may well have not made the mistake that Ford Motor Company made in Kahne's case in permitting key decisions to be "jointly determined" between the team and the driver. And plainly, if the team owners in the pitlane and Bernie Ecclestone could vote as judges, it would be to hold Button to his contract as Lucy Lady Duff-Gordon was held to hers, because any other result creates chaos and uncertainty in the always fluid drivers market. A Kasey Kahne outcome would strengthen the hand of drivers in ways that Formula One has not had to deal with until now.
Button. Williams. The Titanic. NASCAR. The Wonderful Worlds Formula One takes us to.