---
By Dieter Rencken, Belgium
Autosport-Atlas Columnist
Silly Season Update
Doing the rounds since Hungary, and gathering pace at an enormous rate since, were speculations that Mark Webber and Giancarlo Fisichella could swap teams, with the Australian going to Renault and the Italian to Williams.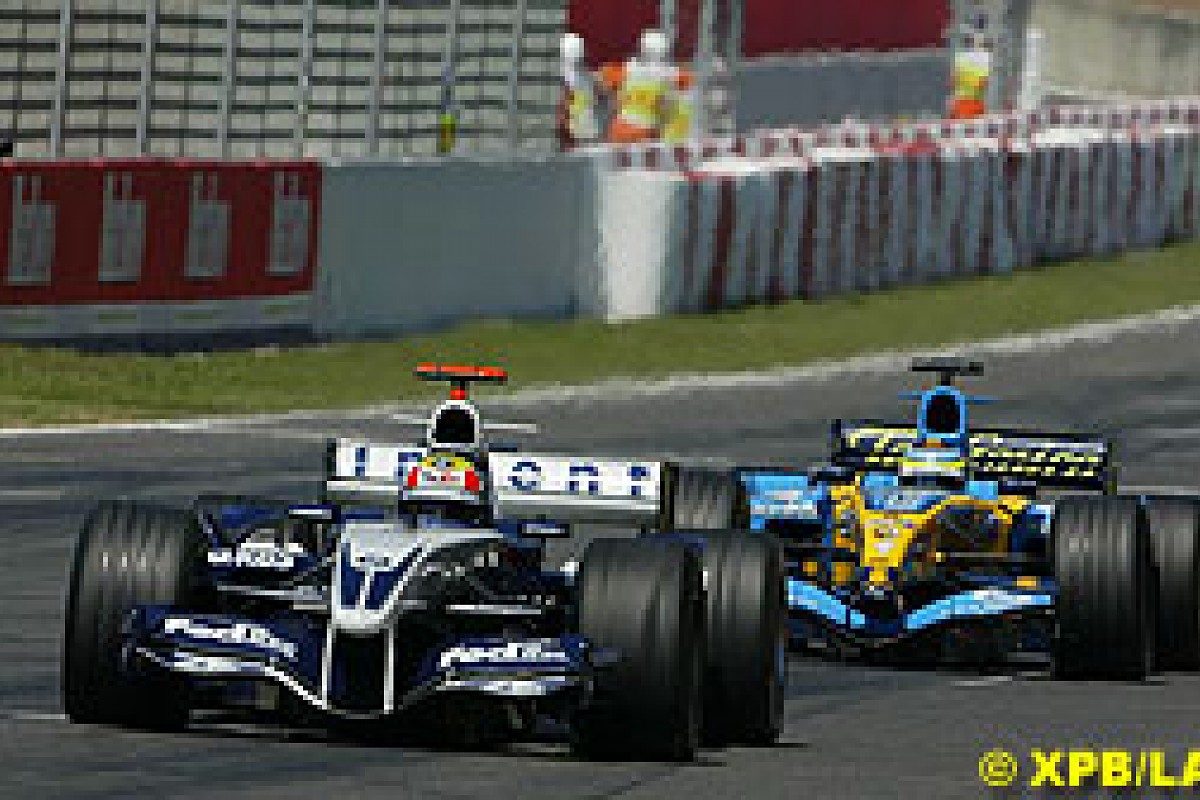 There are, indeed, speculation that Mark Webber wants out of his Williams contract, wants a closer working relationship with his manager, Flavio Briatore. The Italian, in the throes of launching his Billionaire fashion label - named after his Sardinian club of the same name, and featuring gold buttons on jeans and shirts, diamond-encrusted accessories and cedar-lined humidor-inspired packaging - has recently negotiated an extension to his Renault team principality until the end of 2006.
So, with Renault comfortably leading the winners' stakes this year, the blue-yellows, particularly through the performance of fellow FBM-managed driver Fernando Alonso, certainly hold strong attractions for Webber, who, having spoken out rather strongly about Williams' engine situation recently, knows full well that his present outfit has, at the very least, lost the full co-operation of partner BMW.
That said, the Australian, at one stage Sir Frank Williams' blue-eyed boy, has not exactly blown off the hitherto underrated Nick Heidfeld, and, in fact, has but one third place to his name versus the double dose of seconds scored by the German for the BMW-Williams partnership, so he knows his star no longer illuminates Williams' (man and team) skyline as strongly as was the case pre-season.
Having begun his Formula One career with real privateers (Paul Stoddart's Minardi) before progressing to Jaguar, from whence he went to his present team, Webber is unlikely to relish a season in what could be a non-works engine environment, particularly as Williams seem destined to run customer Cosworths in the first year of new-generation V8s.
Finally, though no less saliently, 'Webbo' relishes physical exercise, and Renault's Witney, Oxfordshire-based UK operation has, in its Human Performance Centre - devised by the motorsport training guru, former marine Bernie Shrosbree - amongst the best, if not the best, F1 fitness centres about. Sinewy Mark, and partner Ann Neal, live close by.
For Briatore, drawing Webber closer to the epicentre of FBM management has its attractions, and not merely from a financial perspective - although such angle cannot be excluded when considering the motives of one planning to attach 'Billionaire' labels to everything from night clubs to golf clubs and was once said to be floating an airline under the 'Billion Air' moniker.
Obviously 'The Flav', as team principal, has greater control over his charges' earnings, whether paid to Championship leader Alonso, Webber or (Renault's) GP2 Championship leader Heikki Kovalainen, when said funds emanate from Renault's coffers than from, say, Williams or BMW. And, when, as manager, Briatore is said to be in on the deal - at 20% minimum - the higher the wages, the better for FBM. And, by extension, FB...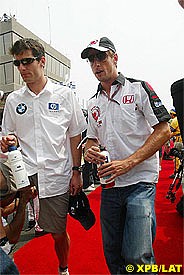 Putting money matters aside, though, Briatore's chosen modus operandi - since he realised the real power behind Michael Schumacher, directed by Briatore to world titles via Benetton in 19954/5, was not the team principal, but the German's manager Willi Weber - has long been to exercise full professional and personal control over his drivers. For proof, look no further than Jarno Trulli's fate: no sooner had the Italian announced early last year that he had chosen not to extend his management deal with FB, than, despite winning Monaco, he was dropped from Renault entirely.
So, whilst Briatore has exercised personal control over Webber for the past six years, the likes of Stoddart, Jaguar's Tony Purnell and Sir Frank have controlled Mark's professional future. Conversely, whilst Briatore has this year professionally influenced the career of Giancarlo Fisichella - of which more later - he has had little or no control over the Italian's personal moves, and, with 'Fisico' having long committed himself to Enrico Zanarini, Briatore realises his chances of handling Giancarlo's entire career are fundamentally zero. From that perspective, if no other, a swap makes perfect sense.
So, the rumour has Fisichella, presently Alonso's teammate at Renault, heading the other way, to almost certainly (re) connect with the seemingly Williams-bound Jenson Button, whom he, rather ironically, partnered at Renault-owned Benetton in 2001 - where, as both well know, he out-qualified the Brit (at a point in time when gung-ho laps reigned) 13:4 and out-pointed him 8:2 (when the scoring system paid to sixth place only). Then, of course, the team was rebuilding itself under the returning Briatore, so was languishing uncharacteristically low in the stakes, but comprehensive out-qualification is just that, regardless of overall speed of steed.
Should 'Fisico' be open to such change - although the choice may not be entirely his - these statistics could heavily influence his evaluation process, for, not only has he of late been unceremoniously thrashed by his Spanish teammate, but he has been squarely on the receiving end of Renault's 2005 bad-luck ladle.
Sure, he refutes media accusations that he is being sabotaged for failing to be a Briatore Boy, and, whilst suggestions that Renault, more intent upon winning that elusive Constructors' Championship than ever before, would jeopardise their season in an act of revenge against his (pre-appointed) manager are ridiculous in the extreme, the fact that smoke exists at all indicates all is not well in the Renault camp despite a healthy lead in the Constructors'. This means Giancarlo could be edgy about staying with Renault (and Briatore) for another year.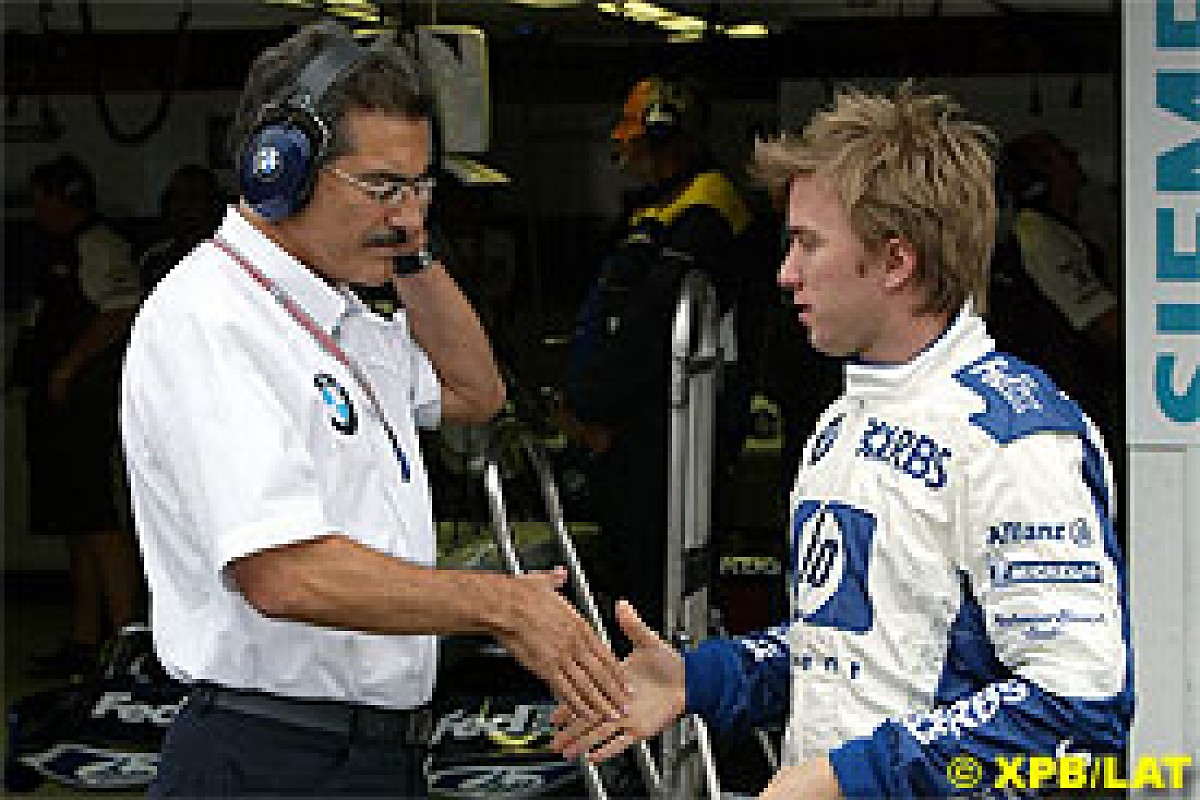 Talk, though, of Button in this analysis assumes that the Briton - who, not purely incidentally a year ago, well before news of his controversial deal with Williams was breathed, mentioned Webber as 'his biggest career threat' - will depart BAR-Honda for Williams come season's end, but, frankly, what choice does he have given that an allegedly watertight contract was drawn up on his behalf by his (now) departed manager?
Much has been made in various quarters about Jenson's dispute with Williams being little more than a replay of his quarrel with BAR a year ago (save, of course, that the boots are now reversed), but there exists one major difference: this time around no dispute exists between the teams.
Last year, due to the dispute, power to judge the validity of both Jenson Button contracts (BAR's and Williams') was vested in Formula One's Contract Recognition Board, and the members wielded it wisely. Jenson would remain with BAR in 2005 and move to Williams for 2006, they adjudicated. For next year, though, only one contract exists, effectively scuppering the driver's options. So, it is put-up-and-shut-up time.
Bluntly, Jenson is stuck between a rock and a hard place - with those places seldom coming harder than partners Williams and Patrick Head who, collectively, have seen off Nigel Mansell, Damon Hill and Alex Zanardi in their time. Jens would do well to realise that last-named was moved out to make way for ... well, Jenson Button!
In his decision-making process Giancarlo is sure to reflect upon the ease with which he blew off a then unhappy Benetton-edition Button, and next year's Jenson, in whatever colour overalls Sir Frank hands him next year, is sure to be equally unhappy about his lot. So, for Giancarlo, Williams could be a pretty attractive proposition, particularly given that Sir Frank speaks rather highly of him.
All of which leaves one driver unaccounted for - and, if rumours regarding his contract are on the money, he holds more aces than the rest combined. That driver is none other than Nick Heidfeld.
The German is bound to Williams for this season, with the team said to have first call on his services for next year. But his manager Werner Heinz is said to have, rather shrewdly, insisted the option be valid only as long as Williams have BMW engines - note, not works units, as these clauses tend to specify, but BMW engines (rumours suggest that BMW insisted upon such clause...).
Given that Toyota have renewed their contract with Jordan (for reasons linked to commendable, old fashioned loyalty, rather than hard-nosed commercial logic), Williams' only real power alternative disappeared in a cloud of (FOM-donated?) dollars, leaving them with either BMW units (which the company now state they have zero interest in supplying) or the Cosworths.
BMW would, of course, love to return Heidfeld to the Sauber they now own, where he previously vacated a seat for one Giancarlo Fisichella, who left a vacancy at Jordan which Heidfeld filled in desperation. All very complicated, yes, and indicative of the multifarious deals floating about at any one time, for 'Fisico' thereafter joined Renault - only for his continued employment with the team to be the catalyst for this analysis!
So, the loop looks thus: Webber and Fisichella swap overalls at Williams and Renault respectively; Button heads for Williams as teammate to 'Fisico'; Heidfeld moves to Sauber-BMW (BMW.Sauber?) in place of Ferrari-bound Felipe Massa, as teammate to Jacques Villeneuve (whose manager, Craig Pollock, is believed to be threatening BMW with a lawsuit totalling $22 million US should they break the Canadian's contract), with former Ferrari pilot Rubens Barrichello taking up the Number One slot at BAR, as partner to Takuma Sato - whose Honda ties could prove too strong to break for a year or three.
After all these musical chairs, who has really won? Nobody. Won? The lawyers...