Stoddart's Equilibrium

---
By Adam Cooper, England
Autosport-Atlas Contributing Writer
After a couple of years of bitter political battles and constant survival threats for his Minardi team, Paul Stoddart seems to have calmed down in the past few weeks and, more importantly, seems to have found stability for his team. For the first time in years, he talks about the next season with confidence of not only being on the grid, but also challenging for a higher-than-normal place in the Championship. And for the first time this year, he sees a bright future for F1. Adam Cooper sat down for a chat with the optimistic Australian
Paul Stoddart has been so heavily involved in Formula One politics in the last couple of years that it's easy to forget the fact that he does actually run a team when he has the time. And having celebrated their twentieth anniversary earlier in the season, Minardi are in a pretty healthy situation right now.
With many of their rivals closing their doors over the last decade, Minardi have consistently been stranded at the back of the grid, something that has inevitably been exacerbated by the necessity to use old and outdated equipment. That's changed since the new package was unveiled at Imola, including a Cosworth engine that puts the team pretty much on a par with Red Bull.
For the first time in quite a while, the Minardi drivers start the weekend knowing that they won't necessarily be last on the grid, as they have the opportunity to fight with Jordan - and at some races they've even got ahead of other cars in qualifying. Race form has been less consistent, and the low attrition rate we've seen at most races this year has meant that getting anywhere near the points is nigh on impossible, with the notable exception of Indianapolis of course.
Nevertheless, it's an encouraging state of affairs, and with Dutch rivals Christijan Albers and Robert Doornbos spurring each other on, Minardi will be worth watching for the rest of the season - and possibly next year as well, as the team tackles the V8 era with a restricted version of the current engine that could be extremely reliable relative to the newer designs.
Stoddart is convinced not only that he has a good package for 2006, but also that the goalposts will not be moved to frustrate him. In fact, he's very bullish about the future after recent attempts by the movers and shakers to sort things out and end the uncertainty that has clouded the sport. We haven't heard much from him recently, and that's because there has been no controversy to talk about - only gentle nudging in a positive direction.
Usually he's quizzed only about the politics, in which he is so deeply immersed. But before tackling the bigger picture, Stoddart talks about the current state of his team, and the ongoing rumours of a possible sale.
Q: What it's like going to races and knowing that you can actually race with someone?
Stoddart: "It's a good feeling, and I think it's long overdue. We started the year with that dog of a car that we were forced to use for three races, and that actually set us back a little bit. Otherwise we felt that once this car came out in April, we would really have been on the pace because we would have been doing more testing. That didn't happen because we had to run the other car, or rather put work into the other car, for three races.
"Although we got it out on time, it didn't delay the introduction of the car, it certainly delayed a lot of development on the car. And because of that we're running late. It's only now, in the last couple of races, that we're reaping the rewards of an ongoing development programme which sees this car just get better and better. Bearing in mind it's the car and engine we're going to use next year we're incredibly encouraged by the fact that we're going to have a stable, quick car going into next year."
Q: And you've done it with very little testing in the wind tunnel or on the track...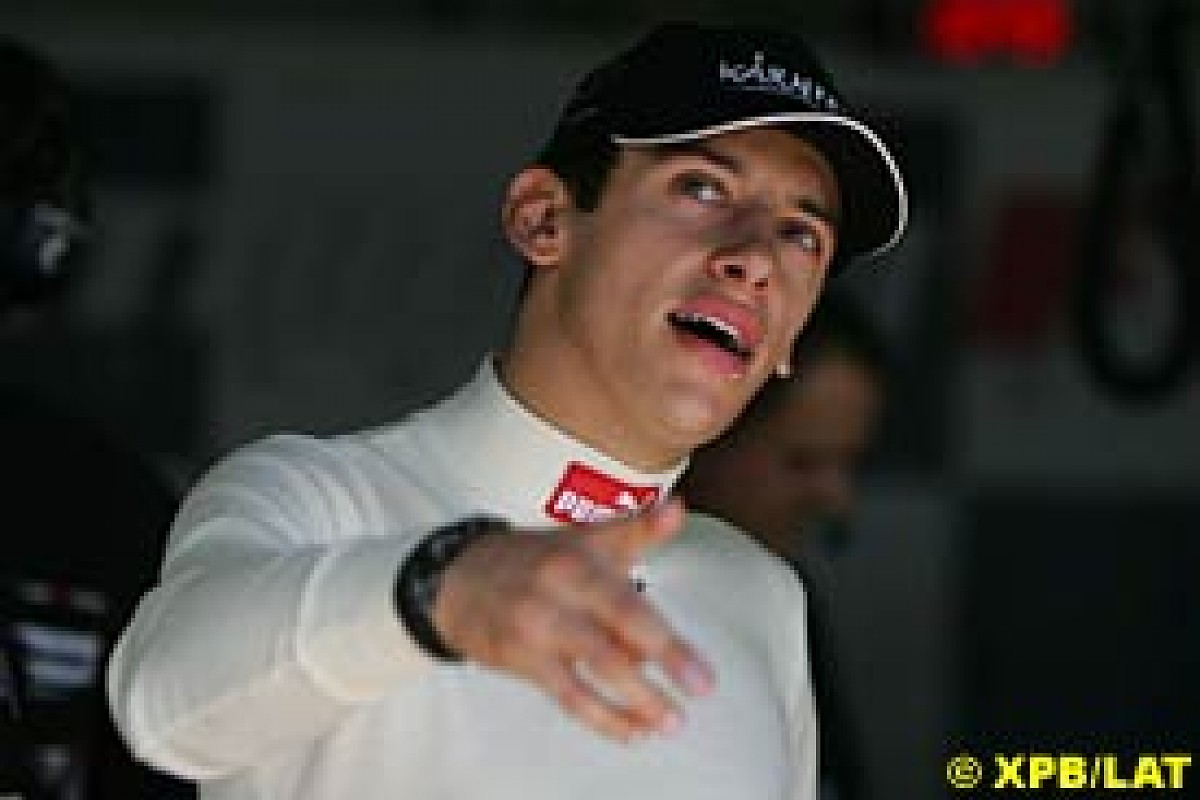 Stoddart: "Almost nil. By comparison [to other teams] it is nil. We've done our testing on the Friday mornings, which is why the development on the car is slow. We know that it's got potentially another three seconds in it yet, and we've just got to find it. We spend 40 hours a month in the wind tunnel, four 10 hour days. Most people have one or two wind tunnel programmes running 24/7, 365 days a year. So it's less than 500 hours a year in the wind tunnel."
Q: What does it say about your team that they were able to produce something good in those circumstances?
Stoddart: "It's a testimony to their skills and the incredible dedication. Minardi is all about a passion for racing, and it's all about the fact hat you never say die, you never give in. We know we've got a good car here, and when that happens you're incredibly encouraged by the fact that it's a reward as much for the guys that built it and designed and put in those long hours to make it happen, because they take as much if not more pride out of seeing us have a good result than even I do. So I'm happy for them."
Q: How relieved are you to have a competitive engine?
Stoddart: "The difference between us and Red Bull is only one upgrade. We run less revs, yes, but we know where we're going to be next year. We are the only team in the pitlane that know exactly the characteristics and performance of their engine for next year. And that puts us in an incredibly strong position."
Q: Aren't you worried about the V10s getting a bigger handicap if they are competitive?
Stoddart: "If a Minardi pops up on pole in Bahrain, which will be pretty spectacularly impossible, but if it happens I would expect to hear a bit of whingeing about the equivalency rule. But that isn't going to happen. What we will have is a strong car with a strong engine in a little team that's fighting for points. It's a moment in time where Minardi could really do quite well."
Q: Were you sorry to lose Patrick Friesacher?
Stoddart: "Patrick in my mind did nothing wrong. As an F1 driver he earned his stripes and was definitely good enough to be in this paddock at this level. I also am well aware of some of the pressures that were on Patrick towards the end, and would excuse a few lacklustre performances, on the basis that the poor kid was well aware of what was going on. Not from me, I might add - we have a policy of never talking to the drivers about money. But I was aware that there were pressures from other areas, and I would have Patrick back tomorrow."
Q: Is this now the strongest pairing you've had for a while?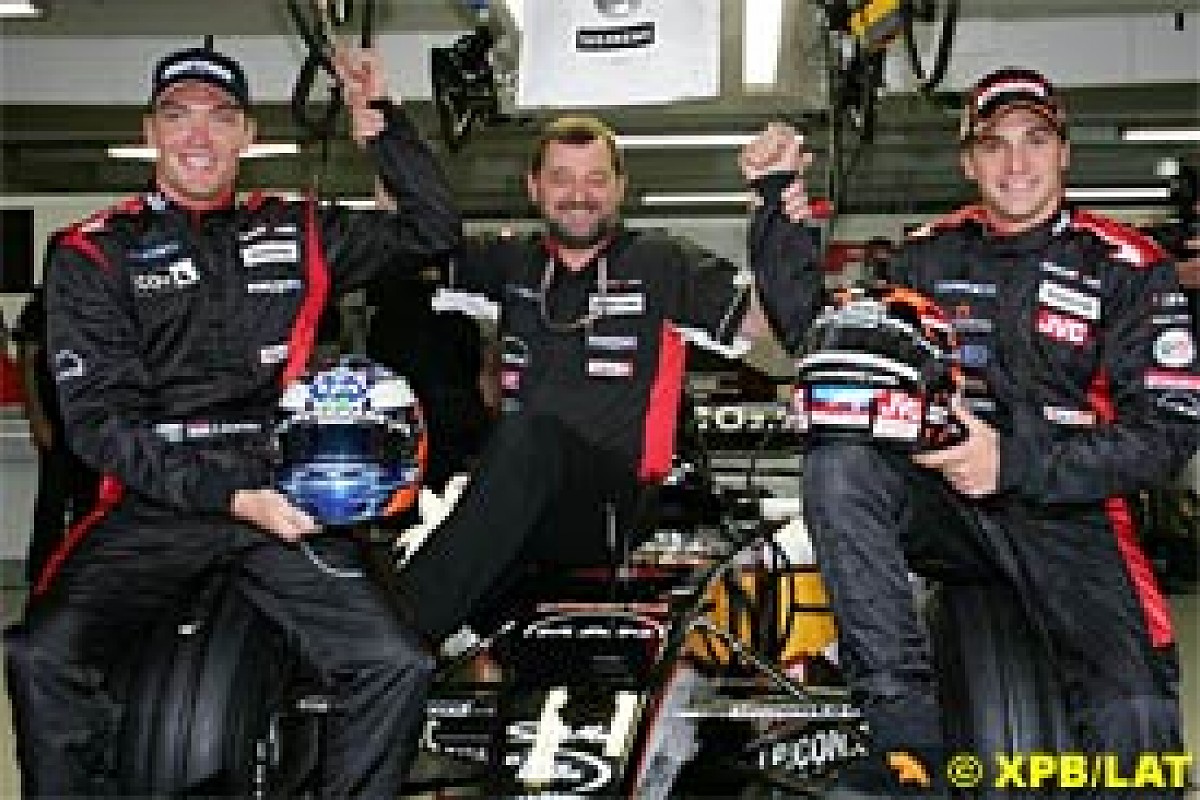 Stoddart: "In Robert I'm very lucky because we've got somebody who's known to the team because we tested him last year, and his sponsors are known to the team. He can step straight in and if anything, having two countrymen actually eggs them on a little bit, and they probably find performance that they didn't realise was there. So I would say that we've got a unique situation where you've got two good quality drivers in a team that's progressing and going forward. Slowly, I admit, but nevertheless progressing week in, week out, with a fantastic package, and two very, very credible drivers.
"It's too early to say, but were we to keep those two drivers for next year, with the stability of the car and the chassis, we'd be positively dangerous. We'd be looking realistically at seventh or eighth position in the Constructors' Championship.''
Q: Are you going to work hard at finding money in Holland?
Stoddart: "I won't, because the various managements will do that for me. I think the Dutch are without doubt one of the most enthusiastic nations that support motor racing, and they do really get behind it. When you consider their population against how prominent they've been over the years, both as sponsors and drivers, it's quite impressive. I think there are enough Dutch companies out there who can see the benefit of giving new meaning to the words Double Dutch. They all know where we are, hopefully we'll find them or they'll find us."
Q: Would you paint the car orange?
Stoddart: "We reserve the colour of the car for the title sponsor, so if one of them wanted it orange, absolutely."
Q: There's always talk about the team being sold and we know that even McLaren is for sale at the right price...
Stoddart: "Everything's for sale, but I've had more than my share of people coming knocking on the door. What I've had to do, because I haven't got the time to spend with them, is to say quite openly 'now put $5 million in our bank account and we'll let you due diligence'. Frankly, otherwise you just lose so much time. Thus far 36 of them over five years have not come to anything, so I really have just got better things to do with my time."
Q: But you're not in a situation where you have to sell?
Stoddart: "Not at all. There have been a couple of times where we needed to sell, and there's been no time where we got close to selling. Contrary to popular belief, Bernie [Ecclestone] didn't take a shareholding in the team back in Canada 2003, but the mere fact that he said he would, was enough for us to dig ourselves out of a short-term position left by a defaulting sponsor. Minardi does live from year to year, it always has, it's part of its underdog tradition I suppose. If ever there was a World Championship for best value per dollar spent, we would have a string of them by now, because we run on a very modest budget, and we deliver performance at levels far greater than that budget.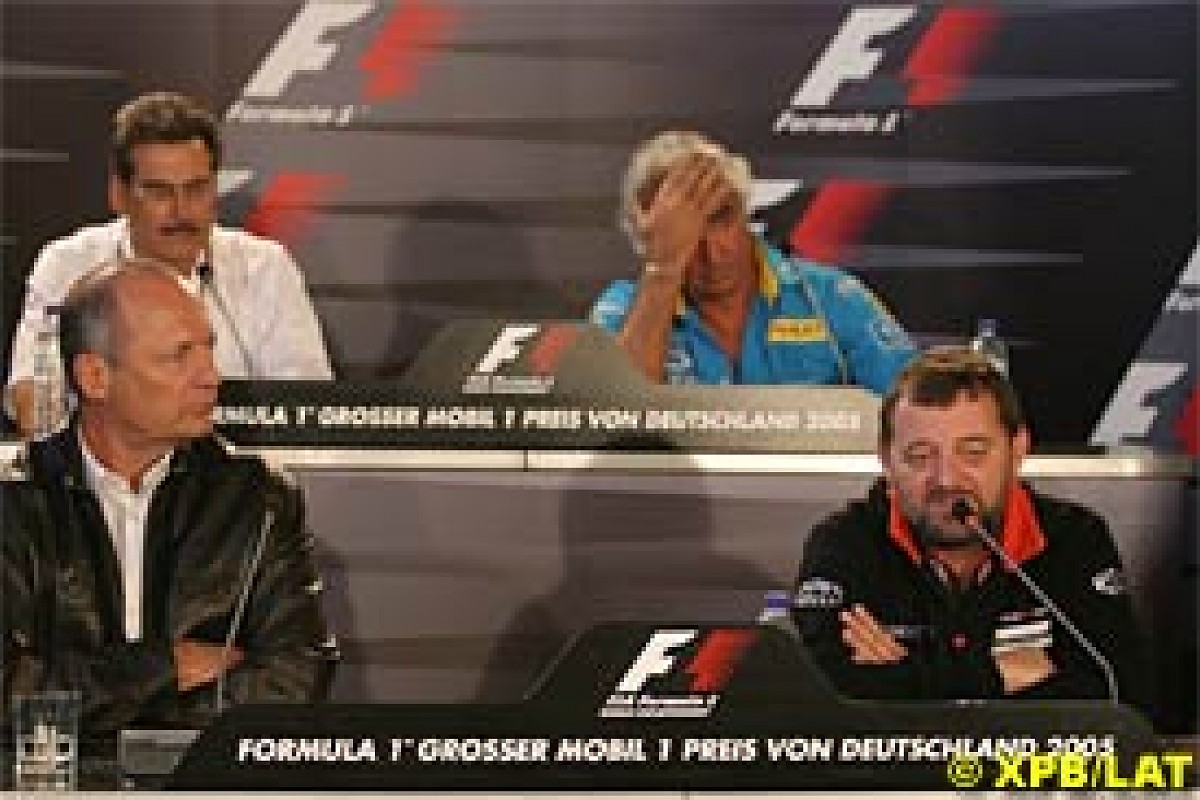 "Having said that, I have maintained from 2001, for five years now, that if somebody came along - especially a manufacturer - who wanted to invest in Minardi, and I could see clearly that there was going to be a bigger future for the team under that ownership than mine, that I would stand back and sell the team. I've been crystal clear about that. It's just that there are moments in time where people felt that we needed to sell, and I know that was only ever twice. It didn't happen, and these days we're on a much more level keel. But if the right offer comes along it doesn't change the philosophy that I would sell the team if I felt the team would be better for me having done that. And that's a statement of fact."
Q: How distracting is the politics when you're trying to run a team?
Stoddart: "It's been enormous this year, and I'm glad that we're in a period of dialogue at the moment, because it's giving me a bit of a rest. We're hopefully giving diplomacy a bit of a chance at the moment, and that's the reason why you haven't heard anything come out of anybody lately, including [FIA president] Max [Mosley], for that matter. There's a good valid reason for that.
We have this meeting on August 31st, we've already made presentations, as indeed has Max - his ones have been made publicly. We feel that there is a good chance of a compromise deal being done that would see the most important thing [achieved], which is that F1 thrives in the future. So it would be quite foolish really and wholly wrong if we didn't take the opportunity to go through what will have been effectively a six or eight week diplomatic period to try and find a solution, because nobody wants two series. Nobody. But, we have to find a solution."
Q: It seemed to be around the Silverstone weekend that things started to calm down. Was that because Max Mosley spoke to people in person and things began to develop?
Stoddart: "He never came to my door, but that's kind of right. Because of the bombings [in London] on 07/07 we had all more or less agreed that whatever happens, we wouldn't get involved in politics that weekend. It would not have been right. I don't think anyone but Max will know the answer to this, but for some reason it all started to... There were a few cheap shots fired Thursday and Friday, and then by the Saturday, it had actually calmed down. Positive dialogue had started. There were a few one-to-one meetings between [McLaren principal] Ron [Dennis] and [Renault chief] Flavio [Briatore] and various others with Max. It kind of started a trend of, look, what's the point of fighting all the time? Let's try and find a solution.
"While that position is maintained by the FIA, it's hard to see that we would break it. If you go back to where all this started, about May last year, the battles - for want of a better word - had largely come because of the FIA's changing of the regulations, and not always done in a way that everybody agrees is the correct way. If we've got a dialogue going on for a future structure that has defined and precise rules - that are not really so subject to interpretation, and are pretty black and white, are fair and equitable to all competitors - that's kind of what we want. It would be a bit stupid if we didn't give it a chance to get through. It may not work, but we've got to try."
Q: Was it important that the United States Grand Prix situation was resolved first?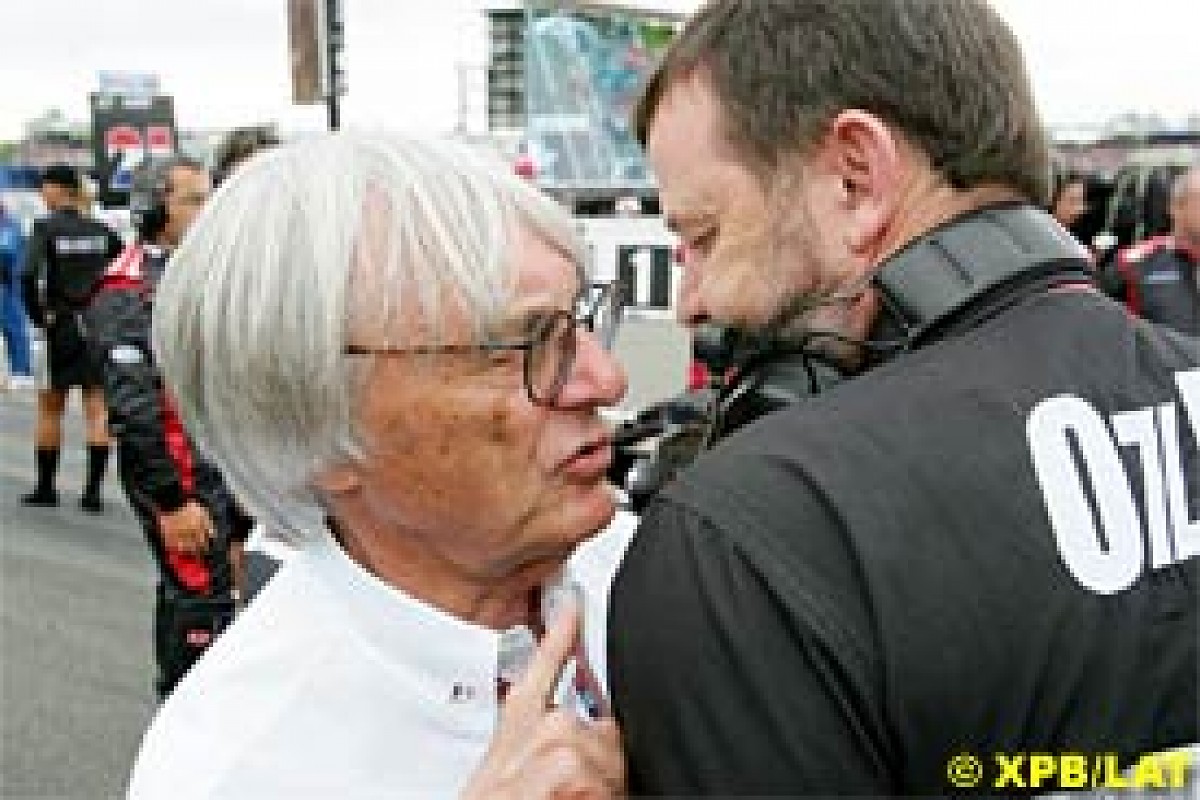 Stoddart: "Yes. I've always believed that Indy was the reason that we've got to sort things out. Sad as it is, sometimes you need something like that to wake everyone up."
Q: Has there been much going on behind the scenes that hasn't really been out in the public domain?
Stoddart: "Nothing. It's been great, I've been able to get on with OzJet business and stuff like that down in Australia. I've really been able to catch up on things that I've not had time for. Buttongate Part Two is the story - there aren't really things going on behind the scenes. There's been very, very quiet and positive dialogue. I'm sure come August 31st we'll have something to say, but not until then."
Q: Is the 'knockout' qualifying going to happen next season?
Stoddart: "It's not voted through yet, but that's looking likely. It's very much to the detriment of the small teams, because we'll lose a lot of our TV time. But having said that, sometimes you've got to do something that's right for the sport. What I've said, and I'll maintain, is that I'm open to discuss qualifying, but I think we've messed the punters around so much now that I'm only open to it if whatever we decide and vote on is absolutely set in stone until 2008. I for one, as a team principal, will not be interested in revisiting qualifying again in the life of this Concorde [Agreement tenure] after the next change. If we've got it wrong, we're stuck with it, because we're unprofessional in the extreme in changing the rules every five minutes."
Q: Bearing in mind that teams have to know what fuel tank they need to design into their 2006 cars, what's the deadline on a decision on qualifying?
Stoddart: "I think every team has their own view on that. Ours is already designed, so as far as we're concerned the deadline passed in April, and probably six months before that!
"Everything in F1 is a compromise in the end, and I'm sure that if we decide to go no fuel, there'll be one or two teams totally pissed off, and if we decide to go with fuel, there'll be other one or two teams totally pissed off. The other four or five in the middle probably don't really care, as long as they know. I think what people don't like is not knowing, and that was my very argument with Max last year with those stupid regulations - that there was no time to react to them. And everything we did was a compromise.
"Realistically, it has to be decided by the end of October, but probably the end of September. The date they cannot go beyond is the entry date, which is November 15th. It's impossible to go beyond that date, but you would never leave it that late."