He's done the hard yards, won the requisite sub-grand-prix-level title in A1GP's World Cup of Motorsport, and earned adulation with some standout race performances. He's given sensible return on his backers' investment. As well as all that, Adam Carroll has risen to something approaching national-hero status. And that's before his new pal The Fonz comes into the equation.
Since wrapping up the A1GP title at Brands Hatch last month, Carroll has been a fixture in the Irish mainstream media circuit. All that was missing, apart from his signature on a Formula 1 team's contract of course, was a celebrity endorsement that sets him apart from the Giorgio Pantanos, Romain Grosjeans and Neel Janis of this world. And who else can say they've got the backing of the coolest character of the immensely popular '50s-inspired US sitcom Happy Days?
Actor Henry Winkler was Arthur 'The Fonz' Fonzarelli, just like John Nettles was Jim Bergerac, and Ronnie Barker was Norman Stanley Fletcher. It was a chance meeting, as Winkler and Carroll were scheduled next to each other on Irish TV channel RTE's Tubridy Tonight chat show (think Wogan for the new generation). As The Fonz would quantify with his trademark catchphrase and double thumbs-up: "Heeeeeeeeeeey!"
"He was on first," says Carroll of Winkler. "I was on after him and as he came off I said, 'How am I supposed to follow that?' He said, 'Don't worry about it.' Afterwards we sat down and had a good talk; he was really cool. I told him it was my first time on a chat show and he said I did a good job. You can't get better than The Fonz telling you that you're mega, can you?"
It transpires that Winkler knows his Formula 1 and IndyCar, but a 30-second video of Carroll's success was the first he'd seen of A1GP. He's just as impressed with that as he is with Adam's on-screen performance. Carroll rolls out the anecdotes of his youth: riding a Honda 50R across the fields when he was three and a half years old; his sister teaching him to drive a Volvo 740 when he was eight (she was 12): "The seats go quite far forward in a Volvo - you'd be surprised. And no one ever caught me... I was too quick!"
The crowd are loving this, and host Ryan Tubridy (think Henry Kelly, but 20 years younger) is struggling to remain the focus of their attention, like all TV chat show hosts feel they have to be these days.
Adam Carroll and Nelsinho Piquet battle for the lead of the 2004 British F3 race at Snetterton © LAT
"It's taken me six years and £4m-plus to get into this position," Carroll goes on. "A1 Team Ireland gave me the chance to win it; I can tell you, there were tears streaming down my face on the last half a lap there."
Now you can see why he gets The Fonz seal of approval. Not only is Carroll bloody quick - he's a proper racer who has little fear when it comes to overtaking - but he also packs the charm that his country is renowned for. Imagine that in the F1 paddock...
That's where he wants to be next year, and the 'winter' calendar of A1GP gives him the chance to take his time now as the new teams posture for a slot in F1 2010. Meanwhile, just as in previous years, his phone has been ringing from GP2 teams, desperate for a gun for hire to reverse their waning fortunes.
This time he's not going to do it. He's not dropping everything to jump on a Ryanair flight to the next GP2 round, helmet in hand, to jump into another ill-fitting racesuit. He knows he's got something to lose now.
"I have great backers in this team," he says of the Status Grand Prix-run A1 Team Ireland. "Winning this title, I believe, will be the opportunity I've been waiting for. This has been a long time coming.
"To get into this position, to get the level of backing and work with the right people, it's taken a lot of work to get the package together. It's also been the first time ever I've come back to a second season with the same team; that's made a huge difference. To have continuity gives you so much confidence; to be in such a stable situation was a first for me.
"I've gone into race weekends before not knowing whether I'm driving or who I might be driving for. It's okay to dip in and out like that once or twice, but it can't go on like that because it puts a lot of pressure on you to perform. It's character-building, but that's all it's really good for."
Carroll wants to leave behind that piecemeal background, like the F3 career that brought him the 2002 British F3 Scholarship title, and included the runner-up spot in the top class "on a shoestring budget" in 2004 with P1 Motorsport.
He made his name on an international level in GP2, a series he regards as "special". His first season, with Super Nova in 2005, was highlighted by virtuoso victories at Imola (passing Alex Premat around the outside at the last corner) and Monaco (where he triumphed despite bending his steering against the barriers), and another win at Spa. A move to Racing Engineering the following year didn't work out as planned, and is perhaps best remembered for a barrel-rolling exit at Valencia.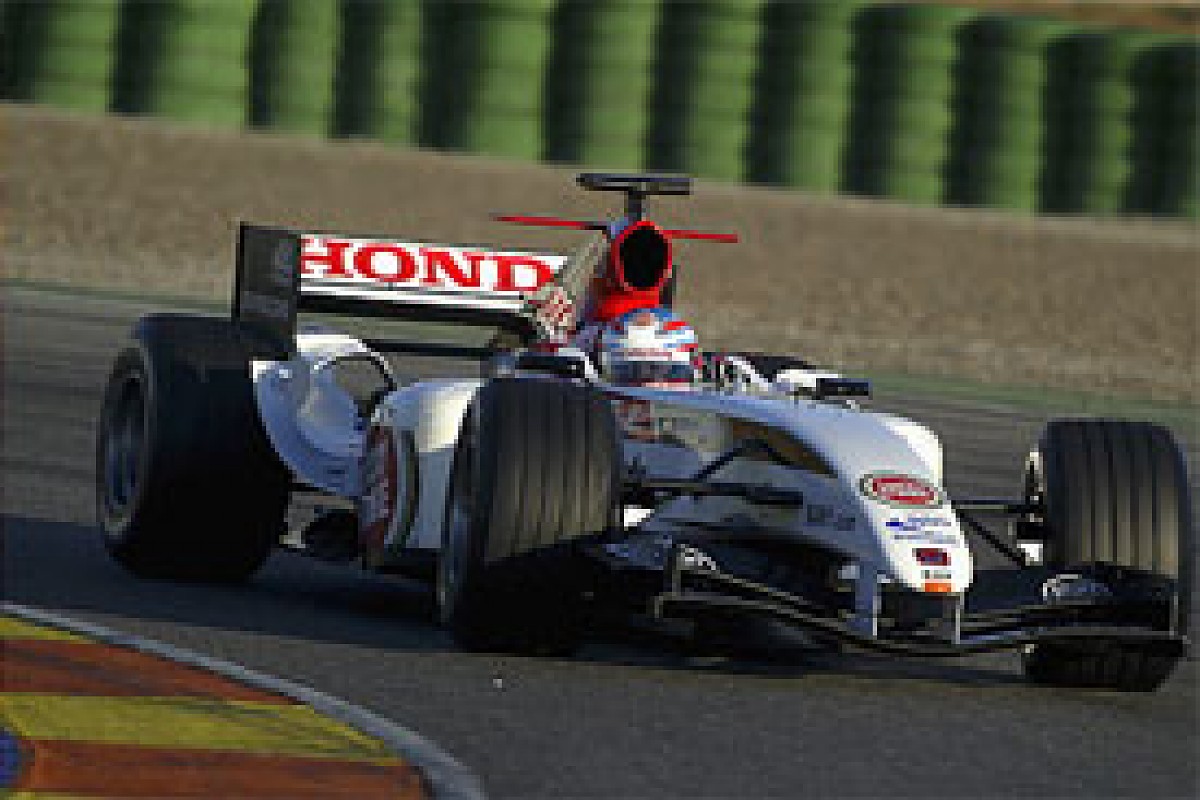 Adam Carroll testing for BAR-Honda at Valencia in 2005 © LAT
Around this time he got his first F1 break, testing extensively for BAR-Honda as part of its young-driver programme: "That was a great experience. I ran for 4000km with them. One test in particular at Jerez went really well [he was quicker than Williams's Nico Rosberg, and two thousandths off Juan Pablo Montoya's McLaren on the day]."
With that link broken, Carroll's return to GP2 in 2007 came with FMS, replacing ex-F1 racer Antonio Pizzonia mid-season, and was highlighted with two fabulous wins at Silverstone and the Hungaroring. He'd return to FMS temporarily a year later, after an abortive switch to the DTM, but his long-term future stretched out in A1GP with Team Ireland.
Victory in Mexico last season was the precursor to this year's title bid: five wins, six poles and eight podiums were enough to defeat defending champions Neel Jani and Team Switzerland, despite coming into the series finale at Brands behind his rival after a difficult Portuguese round.
"It was great to finish the season on a high with two victories like that," says Carroll. "We knew we had to attack but be conservative at the same time. We played it perfectly."
He's quick to pay tribute to technical director Gerry Hughes, who joined the Irish squad from the disbanded Super Aguri F1 team. Ironically, the former Jordan, Jaguar and Red Bull man used to work with A1 car designer John Travis at Lola. He hit it off with both Carroll and the car straight away.
"Working with Gerry this year was great, because he's a guy with huge experience, coming straight to us from years in F1, and we really got stuck into the new car," says Carroll. "It was much better than the old one, very nice and stable, especially in the high-speed corners because of its downforce. We did a great job with it."
With the hard work out of the way in terms of the driving, now Carroll and his team of advisors are buried in the process of finding him that elusive F1 race seat.
"I feel quite good about the future, but I'm not about to run into anything," he says. "We're working on a couple of things for next year, and I can afford to wait weeks, months even, before committing to anything. I've got good people behind me now. I'm a champion and I've shown I can adapt to new challenges quickly. F1 is where I want to be."
Has he done enough to earn his chance? Is it a Happy Days-esque 'goodbye grey skies, hello blue'? The Fonz would have a one-word answer: "Correctamundo!"