---
By Dieter Rencken, Belgium
Autosport-Atlas Columnist
Jordan's Finances
With a week having elapsed since Jordan, via owners Midland, signed "to compete in the 2008 to 2012 Formula One World Championship regulated by a revised Concorde Agreement" numerous burning questions remain.
Why sign a five-year agreement, the regulatory clauses of which are far from agreed, and are likely to remain thus for the foreseeable future? Why commit a company to a five-year deal when it is said to be up for sale at $66m; why commit a race team operating to the highest technical levels existent in motor sport to a contractual agreement - enforceable under English law - when a meeting of the majority of Formula One's major players is known to be scheduled for just two days after the signing?
As in most matters Formula One, the answer lies deeply buried under piles of financial statements, and, if Red Bull Racing's acceptance of Formula One's holiest document-to-be can be considered a political statement, for the marketing-driven team are far from cash-strapped, the same simply cannot be said of Jordan.
In fact, if, as seems a 'racing' certainty, Ferrari signed the document in order to procure a much needed advance from Formula One Management in order to keep the Italian financial authorities at bay, a case could well be made that Jordan bound themselves to FOM for five years, though two-and-a-bit early, merely to keep operating for the duration of the existing covenant.
If so, Jordan, or Midland F1, as team principal Colin Kolles insists the team will be known as in 2006, would appear to have hocked the five-year period from 2008-2012 for the sake of the 45 races or so remaining under the present agreement. Will short term expediency affect long-term viability, as had been the case with Prost and Arrows and, yes, Jordan under the ownership of Eddie Jordan? Certainly, if rumours circulating in Germany are the measure.
First off was a rumour, semi-confirmed through comments made by Toyota Racing President John Howett, who admitted that the Japanese company was looking at a continuation of their existing engine supply arrangement, in which Jordan are the recipients, but that "we are still finalising contractual details and to some extent the ball is in Jordan's court". Having thrived in a harsh corporate environment for over 25 years, Howett no doubt weighs his words rather carefully, and his statement implies that Toyota require acceptable financial guarantees before parting with Luca Marmorini's latest 2.4 litre V8.
The word in Germany was that Toyota's directors are insistent upon seeing the guarantees, via advance deposits, said some in Hockenheim, before as much as lifting a pen, and hence Jordan's rather rapid acceptance of a five-year commercial and technical contract, the details of which are far from confirmed.
The deadline for completing the Toyota engine deal was said to be 31 July, where after, rumours went, Sir Frank Williams picks up the options - despite Howett's comment that Williams had gone directly to Japan, and thus over PTR's head, in a quest to secure supplies to replace the BMWs used since 2000.
Whether any truth exists in that rumour remains to be seen, for, despite speculation to the contrary, BMW and Williams last year sealed a deal for an engine partnership lasting through to 2008. Why the British team should be reduced to engine customer upon the German motor manufacturer's purchase of an 80% stake in Sauber remains unexplained. Surely, therefore, Williams has a right to insist upon a supply of engines for the duration of the contract and on the terms contained therein; indeed, Mario Theissen, Director of Motorsport for BMW, admitted as much in France when he stated that they were awaiting a response, by 31 July, from Williams as to the team's intended direction as from 2006.
In the same breath he made clear that BMW would be willing/was capable of supplying Williams in addition to Sauber, that a detuned V10 for Williams was not an option, and that both teams would receive similar specifications of engines should Williams decide to remain with BMW. And, sitting right beside Theissen at the time was Sir Frank. That surely shows a willingness by BMW to continue with Williams, should the latter so require.
Subsequently, of course, much has been made about a Williams/Cosworth partnership, first speculated about in these pages the very week that Red Bull Racing announced a Ferrari deal, with a story suggesting that Williams' workforce had been told privately that the announcement of a switch to Cosworth power for 2006 was more than a mere formality.
Back, though, to Jordan and Toyota and Concorde and finances.
What did emerge in Hockenheim is that Jordan had downscaled an order to a German truck body builder after being required to place 'substantial' deposits to secure the build programme. Where, according to sources, the initial deal entailed seven rigs, of which five were scheduled to be 'pump-ups' to the latest Formula One specification, plus a hospitality base 'larger than Red Bull's' (according to Kolles), the latest order is for three units, which, says our source, are to a lower specification than originally planned.
A senior Jordan source first denied the order had been downsized, then confirmed same, stressing, though, that the reason was solely due to production constraints faced by the body fabricator - who merely happens to be one of Germany's largest, if not the largest, in the sector.
Whilst all this was playing out it may have escaped Jordan's management that Jordan Grand Prix Limited recently received a total $2,25m, made up of cash and shares, from Tiger Telematics Inc, after an out-of-court settlement over disputed sponsorship for the period 2003-4. Of course, this time frame lies outside Midland's ownership of the team - finalised in January 2005 - but, given the haste with which due 'diligence' was completed, a factor cited by Kolles in an interview for the misunderstanding experienced with Eddie Jordan over the wind tunnel retained by the Dubliner when the team was sold to Midland, this outstanding litigation may have lain conveniently hidden.
Eddie Jordan allegedly laid claim to 30,000 Telematics shares, trading at $24, held in escrow pending court proceedings initiated prior to the sale of the team. So, who is entitled to the settlement, was it an 'excluded asset'? If, as was the word after the sale, Midland agreed to settle liabilities as part of the purchase, deducting same from Eddie's dues, it follows the latest settlement should accrue to the team, not the previous owner, unless the matter was specifically excluded.
That said, given Jordan's rumoured present plight, $2,25m will hardly guarantee Toyota's finest V8s for 2006, but for the Telematic's settlement could well secure another pump-up or two for the team. As for Williams, the feeling in these quarters remains that they will run BMW in 2006 - after all, Williams tested the V8 on behalf of the Bavarians in June - and switch for 2007. Whether to Toyota, Honda or Cosworth (badged by a commercial entity) remains the question.
The Tobacco Ban is Here
As Formula One gears up to the Europe-wide tobacco ban due on 31 July - meaning that, as previously reported, McLaren will run West livery on Friday and Johnnie Walker colours on race day - British-based teams are anxiously awaiting a letter from their government advising whether extra-territorial broadcasting of tobacco images into the UK will result in criminal charges being brought against senior team personnel in both their official and personal capacities - as provided for by the anti-tobacco legislation as it presently stands.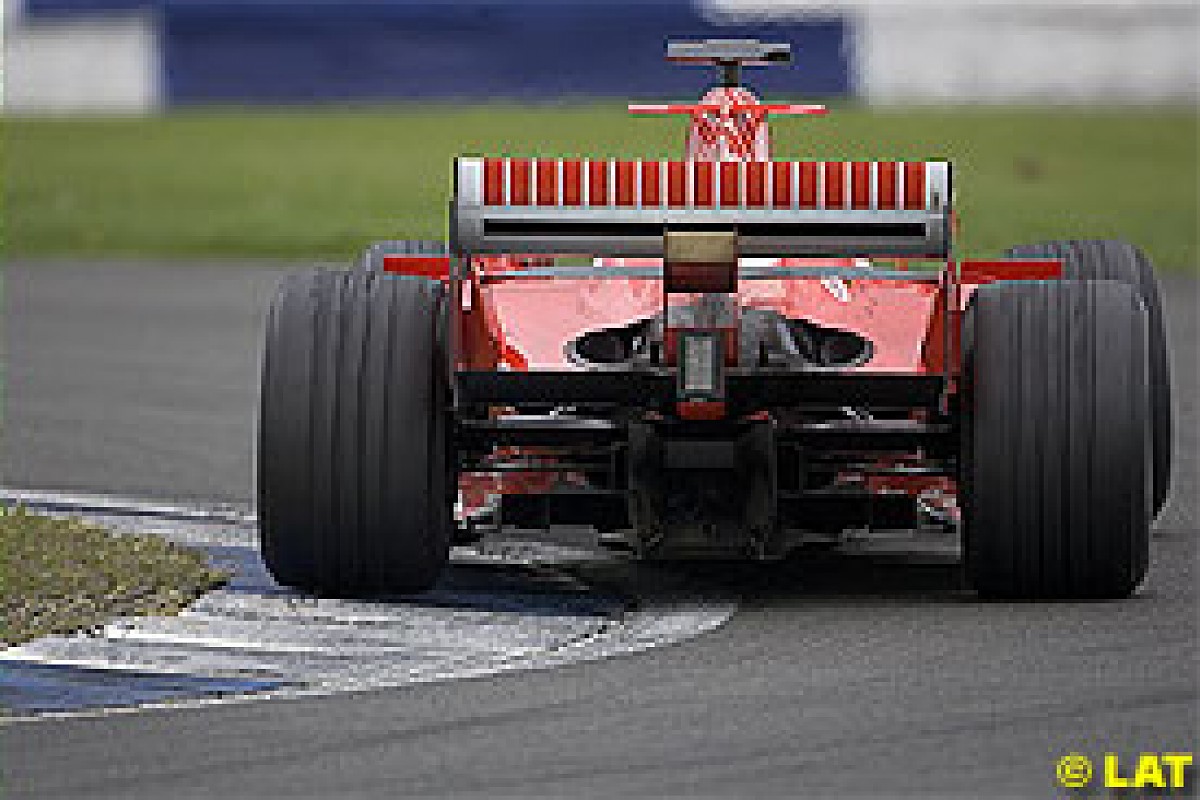 Overlooked in all this anxiety, though, is a simple fact: as Hungary joined the EU last year, its tobacco laws are governed by Brussels, so no tobacco images may be run on Grand Prix Sunday, and thereafter. Therefore, letter or no letter, parliamentary directive or no parliamentary directive, British teams will not be breaking home laws whilst conforming with prevailing EU law - simply as tobacco images are banned by the EU directive come Saturday midnight.
As from Turkey, though, the matter is less clear. As Turkey is not (yet) a member of the EU, and presently allows tobacco images to be broadcast, British teams (and broadcaster ITV and Bernie Ecclestone's FOM) will, as British law is presently interpreted, be technically guilty of offences under the directive should they facilitate the broadcasting of tobacco images into the United Kingdom. The situation applies equally in all instances where Grands Prix are hosted by non-EU countries permitting tobacco advertising on racing cars.
On 9 June, following months of lobbying by various parties, including the FIA, the following debate was recorded in the British Houses of Parliament:
Mr. Mark Hendrick (Preston) (Lab/Co-op): "Will my right hon. Friend consider holding a debate on the future of motor racing, especially in relation to the issue of extra-territoriality, which could affect the future of the industry, given the provisions of the Tobacco Advertising and Promotion Act 2002?"
Mr. Geoff Hoon (Leader of the House of Commons): "I am well aware of the importance of motor racing to the economy of the United Kingdom, of how many jobs are created here, and of the great success of the industry around the world. I can assure my hon. Friend that any legislation that has been passed was not intended to have extra-territorial implications, and was not intended to go beyond the terms of, in this case, a directive. That directive needs to be interpreted consistently with its terms; it should not be gold-plated or interpreted in any more extravagant a way."
The problem for British-based teams, though, is that the assurances alone of a politician in a privileged environment do not constitute an exemption from the law, and all it needs is for the anti-smoking lobby to lay a charge should there exist a real or perceived breach of the directive, and a judge will be required to judge the matter strictly with the wording of the law - which, clearly bans extra-territorial broadcasting of tobacco images.
Ferrari, though, is in little, if no, danger of prosecution. The Italian authorities have decided on a more generous interpretation of the directive, and extra-territorial broadcasting into the team's domicile is not an offence. Whilst Ferrari could conceivably, as an EU-based company, be prosecuted by authorities in a member state for extra-territorial images broadcast into that country (of, say, a tobacco-bedecked Ferrari racing in Turkey being seen in London), the chances say experts are minimal, for the British authorities would be better 'advised' to go after their kin.
So, presently no team may run tobacco on Sunday in Hungary without prosecution, whilst as from the Turkish Grand Prix, if no official changes are made to British interpretations, BAR-Honda may not run Lucky Strike colours in Istanbul, if carried into the UK, without team members laying themselves open to prosecution, whilst Ferrari, despite being EU-based, may run Marlboro secure in the knowledge that their images, broadcast by ITV and produced through FOM, may be seen in London.