The 2005 German Grand Prix Review

---
By Will Gray, England.
Autosport-Atlas GP Correspondent
In yet another cruel blow for Kimi Raikkonen, the Finn lost what look like a sure win at the German Grand Prix after more problems with his McLaren. Raikkonen's retirement served victory to Fernando Alonso on a silver platter and the Renault driver took it to continue his march towards the title. Will Gray reviews the events and results from the thirteenth race of the 2005 season
He came, he soared, he conked out.
It was the same old story for the unfortunate Kimi Raikkonen at Hockenheim when, once again, an almost certain victory was ruined by a mechanical failure on his McLaren machine and Fernando Alonso was there to pick up the pieces.
Raikkonen was the fastest race driver in both Friday practice sessions, fastest overall in both Saturday practice sessions and secured pole position with a strong lap in a strategically heavy-fuelled car.
The Finn set 11 of the 14 fastest laps in the race but ground to a halt after completing only 35 of the 67-lap total. And, as Alonso said so well: "You don't get any prizes for being fastest until half-distance."
McLaren bosses could not believe it when hydraulic pressure halted their Championship challenger out on track and virtually gifted the Drivers' Championship to Alonso.
With seven races left, starting with this weekend's Hungarian Grand Prix, Raikkonen needs to overcome a 36-point gap to Alonso. It's now win or bust for the Finn, but it has been that for a long time. And all too often it's bust.
A puncture in Malaysia, drive-shaft failure in San Marino, a spectacular flat-spot-induced suspension failure on the final lap of the European Grand Prix, and now hydraulic problems in Germany, have all cost Raikkonen wins.
In each case, victory for Raikkonen was almost guaranteed, and in each case it was Alonso who went on to win, making it a total of 40 points that Raikkonen has effectively gifted to Alonso.
It is no wonder Raikkonen is cursing his luck and Alonso thanking it, but neither of their respective chiefs at McLaren and Renault, Ron Dennis and Pat Symonds, believe in luck. So what is to blame?
Without ill-fortune to fall back on, Dennis would have to admit that it is not bad luck but bad preparation that has been McLaren's downfall over the season and it is that which should ultimately cost them the title.
They freely admit they have been pushing hard ever since the start of last year, when a diabolical start to the season left them facing management upheaval and a major structural re-think.
That has taken time to bed in and although Dennis believes McLaren now have a winning set-up the fall-out from the requirement for such rapid improvement appears to be regular failure.
Their fifth-placed Championship position last year was so low that they have been allowed to run a third car in Friday practice all season, something that has also helped their rapid progress.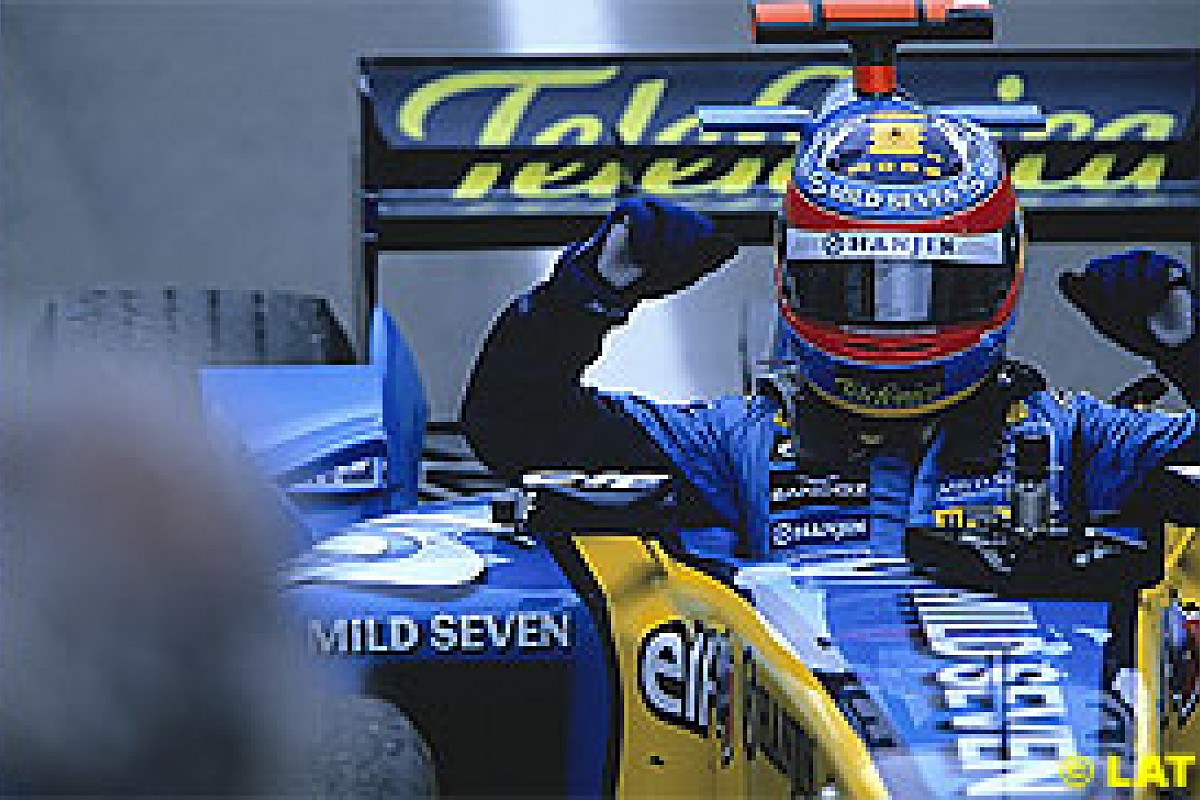 Yet McLaren have failed to make all the extra preparation time count while Renault, who started from the higher plane having finished third last year, have seen their more conservative approach pay race after race.
The lap times set in Germany prove the McLaren is the fastest car, with Raikkonen's best lap, set just before his first stop on lap 24, a 1:14.873 and Alonso's best, set before he stopped on lap 21, a 1:15.235.
But the pair are in a class of their own. Jenson Button, third fastest in the race, set a 1:15.843 while Juan Pablo Montoya's best was a second slower than Raikkonen's and Giancarlo Fisichella was six tenths off Alonso.
Button's race was encouraging for the BAR-Honda team, however, as his pace proved they are back on track and his overtaking move on Michel Schumacher clearly displayed they are now firmly ahead of Ferrari.
The team's early season failure to score points will cost them Championship position in the end, but it seems now that BAR-Honda now have the third best car on the grid and Button is making the most of it.
Williams failed to find a solution to their problems, with Mark Webber classified as a retirement having failed to complete the required distance and Nick Heidfeld, who was second the last time he raced in Germany, finishing a disastrous 11th.
Toyota managed to scrape a few points through Ralf Schumacher and strengthened their position over Williams in the Championship battle while Red Bull and David Coulthard continued their satisfying season with another points finish.
And right at the back, Minardi managed to achieve one of their goals of the season when Christijan Albers stayed out of trouble to finish 13th, ahead of both the struggling Jordan cars.
Endurance was exceptional once again, with just two cars retiring from the race, but it was one of those retirements which made the headlines and while Montoya's second place was a boost for McLaren, Raikkonen's failure was a massive blow.
So, July continues to be the month of Renault and, with the venue of Alonso's maiden win coming up this weekend, there is a strong chance that he will be there to pick up the pieces if McLaren suffer once again.
Qualifying
It was almost perfect qualifying for McLaren to follow their practice dominance, but Montoya threw away the chance of a front-row lock-out with a crucial last-minute mistake when he had at least second place in the bag.
It was down to Button to help out Raikkonen by keeping Alonso off the front row but with Montoya at the back and the two Renaults right behind him on the second row, Raikkonen was left with plenty to watch out for.
In fact, with his determination to fight for victory, Montoya's mistake could have been the best thing that happened for Raikkonen. In the race, however, it didn't turn out that way.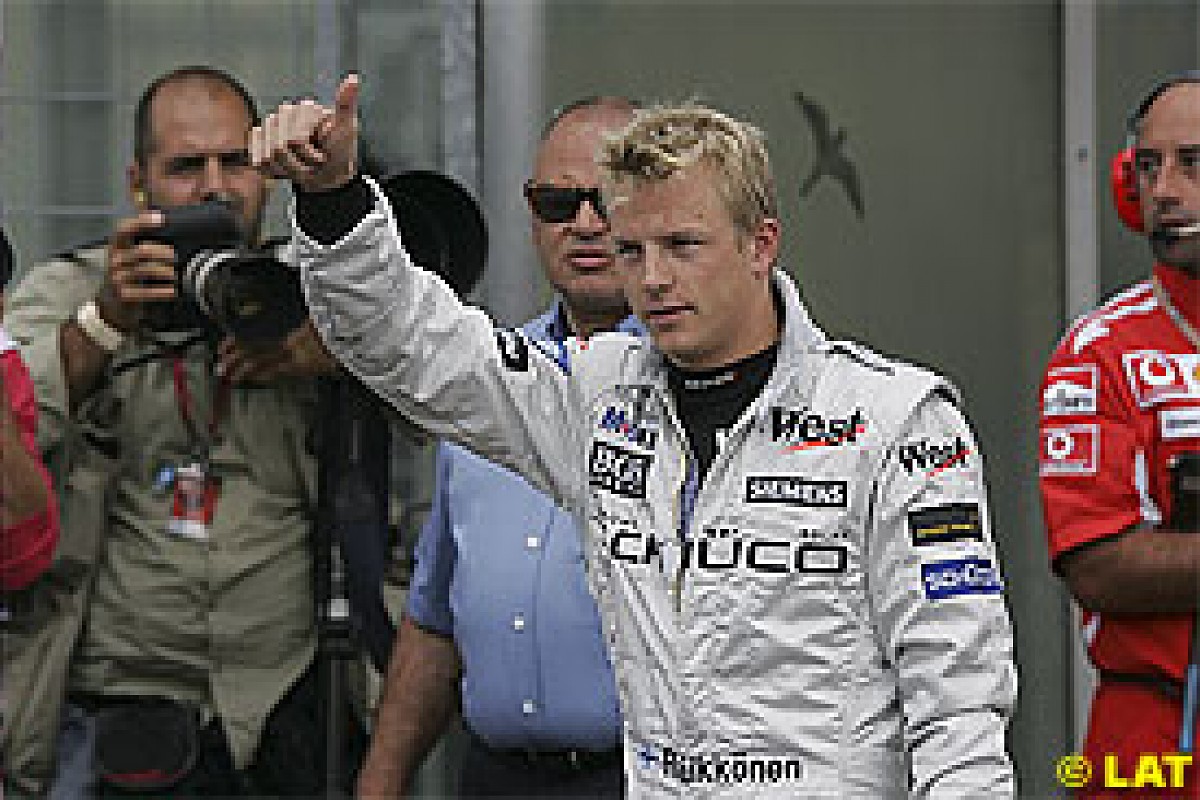 1. Kimi Raikkonen (McLaren) 1:14.320
Having been the fastest race driver in both sessions on Friday and topping both the morning sessions there was little chance Raikkonen was going to end up anywhere other than pole position in the qualifying session. The pressure was on but the Finn coped with it admirably. He set the second best time in the first sector, finished fastest in the final two and set the second fastest speed trap time. But he still wasn't happy, because his lap wasn't perfect.
2. Jenson Button (BAR-Honda) 1:14.759 + 0.439
Button knew he was lucky to secure a front row grid spot because of Montoya's mistake in spinning out of qualifying. He was only 12th fastest through the speed trap and despite managing only the fifth best time in the first sector and the fourth fastest in the other two he still somehow finished second, 0.145 seconds ahead of Alonso.
3. Fernando Alonso (Renault) 1:14.904 + 0.584
A terrible first sector cost Alonso a front row spot alongside his closest Championship challenger Raikkonen. He was a dismal 15th fastest over the first 16-or-so seconds of the lap, losing around a quarter of a second to Button and almost four tenths to the eventual polesitter. He blamed wind and grass on the track for his problems in turns one and two and, after seeing his first sector time on the steering wheel display inside his car he pushed even harder to make up for it. He was second fastest in the second sector and that was enough to put him ahead of teammate Giancarlo Fisichella despite setting the sixth fastest time, one place behind Fisichella, in the third sector.
4. Giancarlo Fisichella (Renault) 1:14.927 + 0.607
There was just 0.023 seconds between Fisichella and teammate Alonso after the Italian made the most of his late qualifying start to put himself on the second row of the grid. He was around 4kmh slower than Alonso through the speed trap and his slow second sector, in which he lost almost three tenths to Alonso, cost him third and a place on the clean side of the grid.
5. Michael Schumacher (Ferrari) 1:15.006 + 0.686
Schumacher admitted he could get no more out of his Ferrari after a gamble on tyre strategy for qualifying. He was ninth fastest in the first sector and sixth in the second but pulled himself up the grid into fifth spot with the third best time in the final sector of the lap and was happy to secure a place on the clean side of the grid.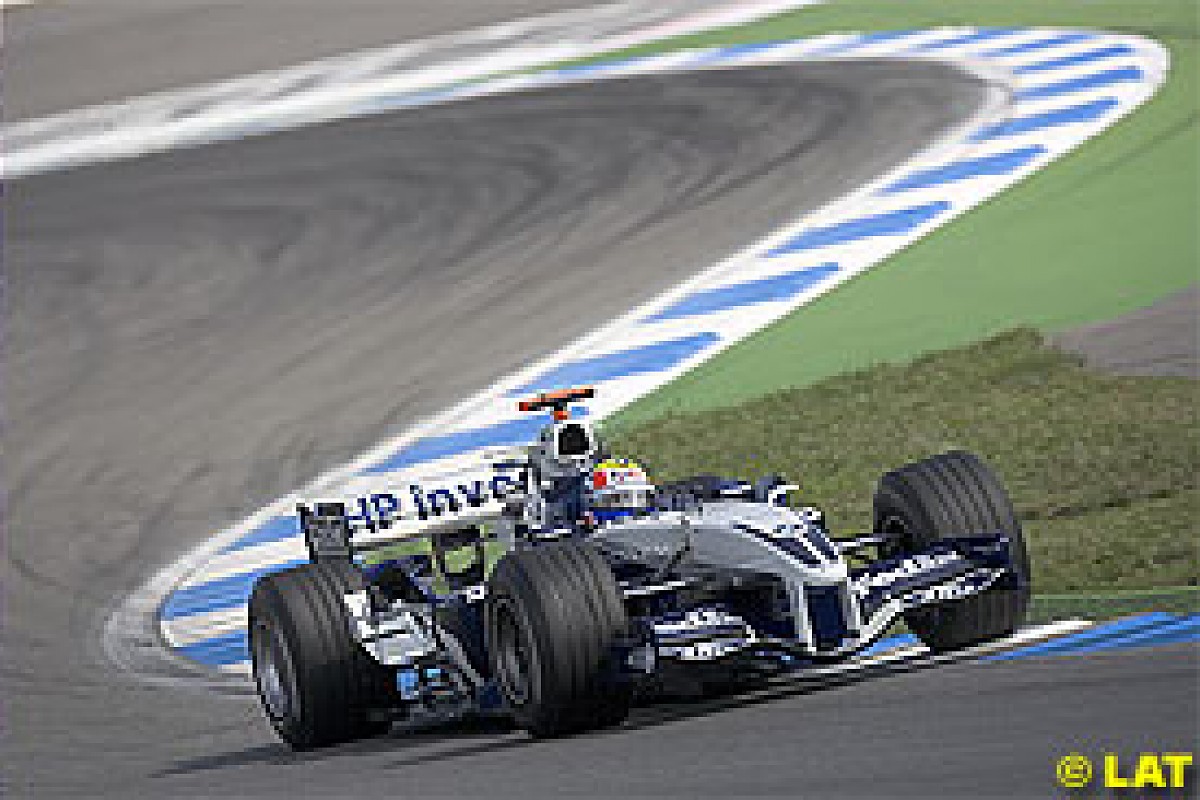 6. Mark Webber (Williams) 1:15.070 + 0.750
After two desperate races for Williams, sixth place was a boost for Webber. He was well off the pace on Friday but climbed into the top ten during Saturday practice and held his position with a strong qualifying performance. A second fastest time in the final sector was what pulled him up the order but he still ended just 0.064 seconds behind Schumacher.
7. Nick Heidfeld (Williams) 1:15.403 + 1.083
Heidfeld had to take second best to his teammate, slower than Webber by one third of a second. There was just two thousandths of a second between the pair in the second sector but Webber's storming effort in the final third coupled with understeer for the German in the first was what separated the pair.
8. Takuma Sato (BAR-Honda) 1:15.501 + 1.181
Sato was hampered by his starting position for qualifying as he was out fifth in the session after the two Jordans and two Minardis. He put in a good effort to secure the fourth fastest time in the first sector but could not follow that up and a 14th fastest time in the second sector is what cost him a significant amount of time on those ahead.
9. Jarno Trulli (Toyota) 1:15.532 + 1.212
After strong qualifying runs in recent races Trulli was a little off the pace and admitted afterwards that he was lacking confidence due to a problem with his brakes. He was settled around the lower part of the top ten in all the practice sessions and it proved to be his rightful position.
10. Christian Klien (Red Bull) 1:15.635 + 1.315
Good balance on his Red Bull gave Klien more confidence than he has had in the car since Montreal and he made use of it to outpace his teammate Coulthard by just 0.044 seconds. He set no extra-special sector times but a combination of reasonable times in all three secured him a top-ten grid spot.
11. David Coulthard (Red Bull) 1:15.679 + 1.359
Coulthard was always playing catch-up after losing virtually an entire session on Friday due to a spin but he only narrowly lost out to Klien in a close contest. Slightly faster in the first section, slightly slower in the second and slightly slower in the third combined to put him just behind but, fortunately for him, on the clean side of the grid. A mistake at the hairpin, which cost him around two tenths, is what he put it down to, but it was still a better qualifying performance than he has had for several races.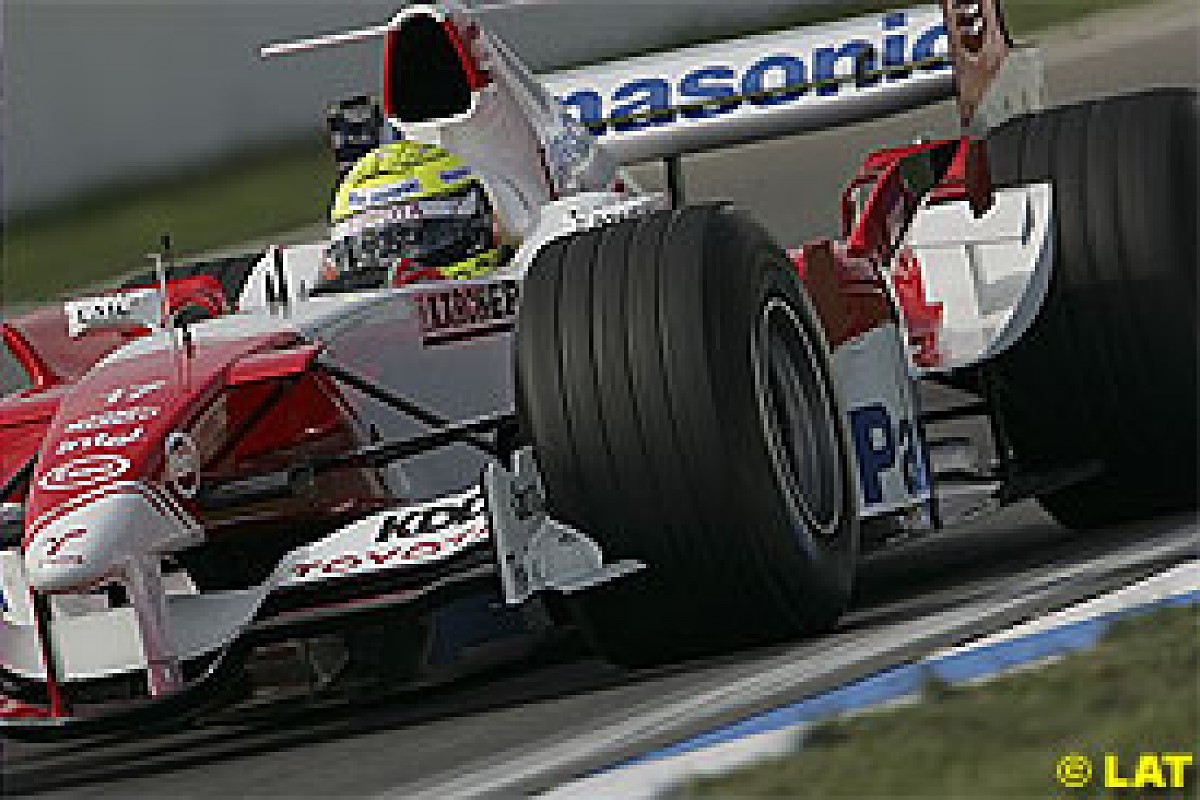 12. Ralf Schumacher (Toyota) 1:15.689 + 1.369
Schumacher finished just 0.157 seconds slower than Trulli and could not fault his lap, apart from losing perhaps one tenth of a second in the first sector. He was fractionally slower than teammate Trulli in all but the final sector.
13. Felipe Massa (Sauber) 1:16.009 + 1.689
After struggling with understeer in the morning practice sessions he was baffled when his car oversteered on his qualifying lap and, consequently, admitted he had a very bad run. He still outqualified teammate Villeneuve, albeit by just one place and by three thousandths of a second, but the pair had very different laps. Massa was around three tenths slower in the first sector then almost a quarter of a second faster in the second and topped his teammate with a time around six hundredths faster in the final part of the lap.
14. Jacques Villeneuve (Sauber) 1:16.012 + 1.692
Villeneuve set the seventh fastest time in the first sector but lost confidence in his car when he tried to brake heavily and the wheels locked. He struggled in the final two sectors and subsequently slotted into 14th.
15. Rubens Barrichello (Ferrari) 1:16.230 + 1.910
It really was a shocking lap for Barrichello, who went a different route on tyre choice to his teammate Schumacher. He clearly chose the harder, more durable set, along with a heavier-fuelled car, to maximise his race potential but even then a 15th grid spot, beating only the Minardis and Jordans on time, cannot have been what he expected.
16. Christijan Albers (Minardi) 1:17.519 + 3.199
Albers got the better of his backmarker rivals in every sector of the lap to get the upper hand in the Dutch battle at Minardi, outqualifying his new teammate Doornbos by almost nine tenths of a second.
17. Robert Doornbos (Minardi) 1:18.313 + 3.993
After stepping up from Jordan's test team to Minardi's race team, Doornbos admitted to being a little nervous ahead of his first ever single-lap qualifying run. But he did a good job, put in a clean lap, and ensured both Minardis outqualified the Jordans.
18. Tiago Monteiro (Jordan) 1:18.599 + 4.279
Problems finding a balance on his car meant Monteiro failed to even match the Minardis and set the slowest time of the day in his Jordan. He was more than a second slower than the lead Minardi and even three tenths off rookie, and former teammate Doornbos.
19. Narain Karthikeyan (Jordan) No Time
Karthikeyan ruined his lap when he made a mistake in the first corner then pushed too hard to recover the time and messed up again later in the lap. He was so slow his team decided to call him into the pits and give him the best chance of modifying his car if rain arrived at the circuit for the race.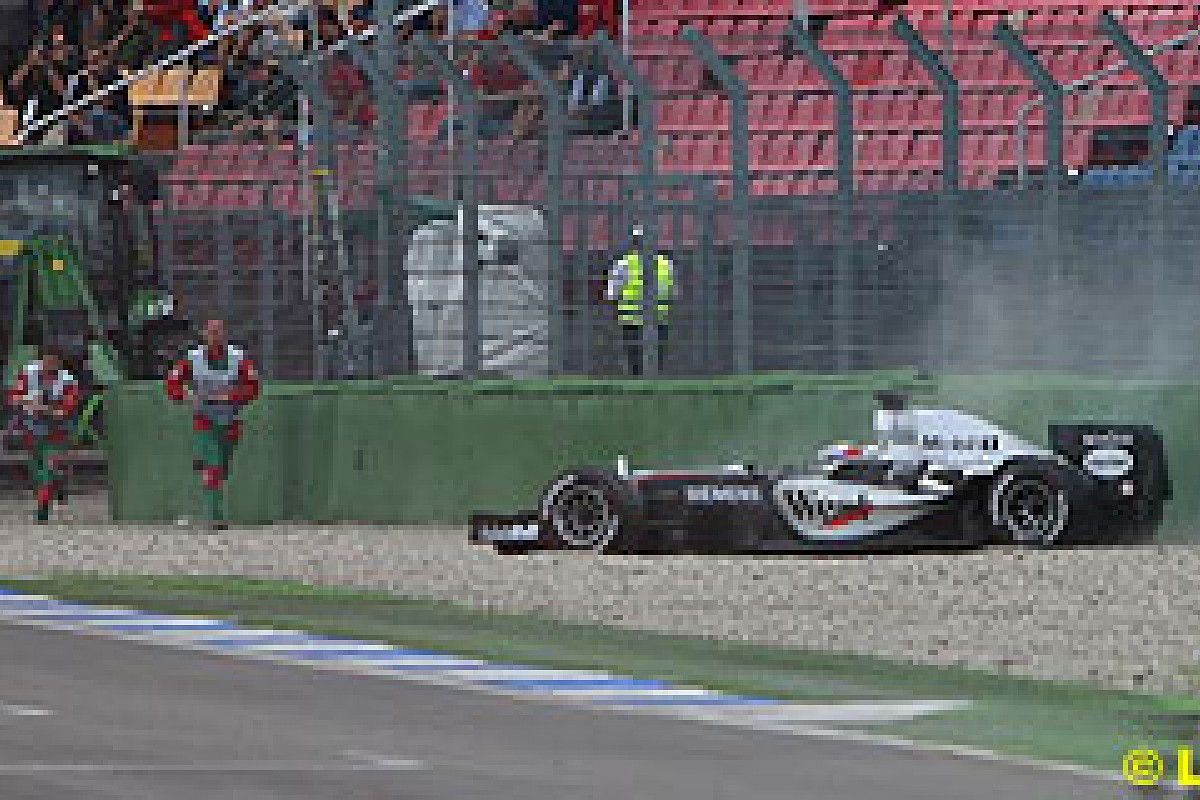 20. Juan Pablo Montoya (McLaren) No Time
Montoya was always a little slower than Raikkonen but he was on a flier in qualifying when he made a crucial mistake that put him on the back of the grid. He set the fastest time in the first sector, albeit just nine thousandths of a second faster than teammate Raikkonen, but lost almost a tenth in the second sector and was determined to push for pole. He gained confidence when his car took the penultimate corner well but pushed too hard as he came onto the pit straight, spun around into the barrier and failed to complete a time.
The Race
Raikkonen made a clean start from pole to head the field into the first corner but front row starter Button's fears of a poor get-away from the dirty side of the grid were realised when he dropped two places to fourth.
The fast-starting Renault of Alonso, as Button had predicted, shot past off the line and into second then he had to deal with Schumacher, who lined up on the third row of the grid but benefited from a quick getaway on a clean line.
Schumacher shot past fourth-placed Fisichella, who also struggled on the dirty side of the grid, then attacked Button around the outside of turn one, going wide onto the run-off area but making it stick to claim third.
Further back in the pack cars were jinking left and right trying to avoid collisions while making the most of the space to secure a vital place or two off the line. Sato, starting eighth, appeared to be causing all the chaos.
Mark Webber, who started sixth, was the first casualty and said: "At the first corner after the start I got hit at the right rear of my car by Sato and had suspension damage."
Sato described it as a "minor incident" but it forced a bunch of cars in the middle of the pack to take to the fringes of the run-off area, including the slow-starting Toyota of Trulli, who was ninth on the grid.
Trulli said: "I had a problem with Webber, who just pushed me wide onto the very outside of the circuit. I picked up a puncture and found the car difficult to stop into the second and third corners and down the straight."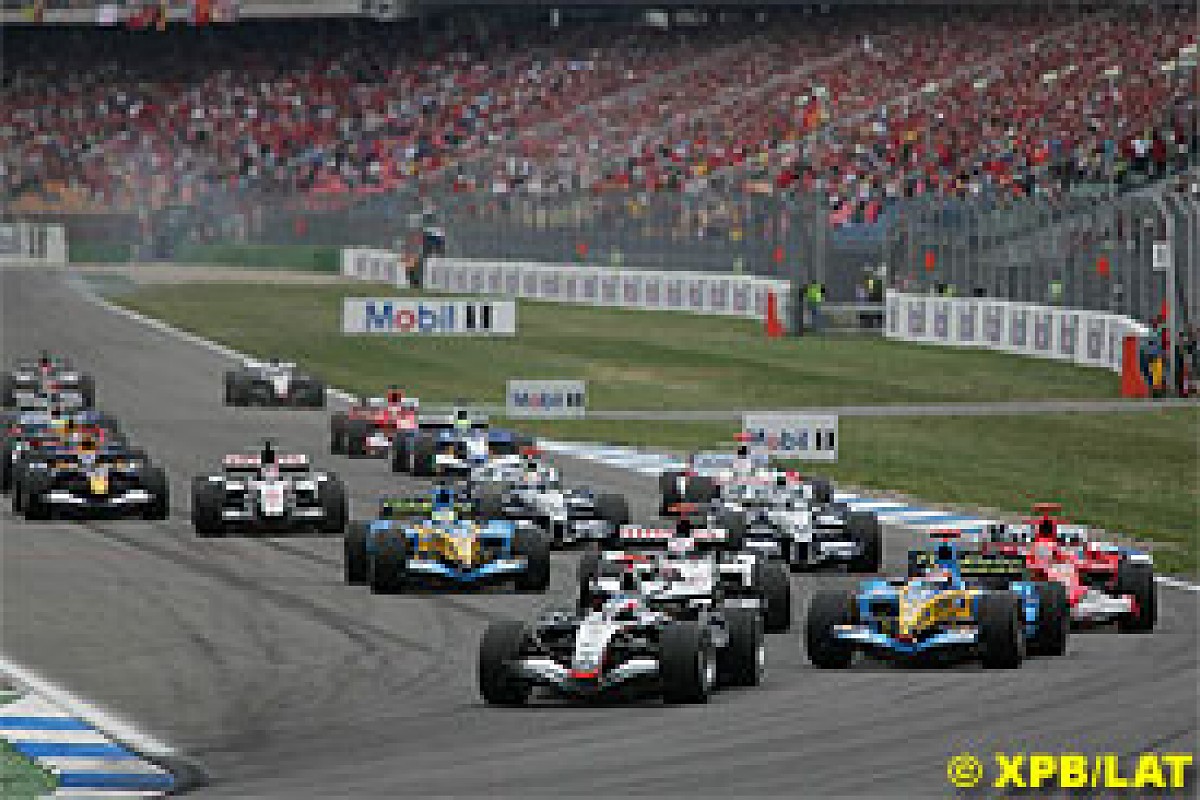 When the cars bunched at turn three Sato had a "major" incident when, this time, he hit a Renault. "I was following Fisichella when for some reason he lifted," he explained. "There was no way to avoid hitting him and I lost my nose."
All that allowed the clean side starters to benefit hugely. Heidfeld started seventh but made up two places to fifth, Coulthard started 11th and climbed to sixth and Massa started 13th and climbed to seventh.
Fisichella survived the rear-ender from Sato and limited his losses as he slotted into eighth, but all was not right for the Renault driver. "The handling felt strange," he explained. "The crash knocked off part of the rear wing."
Klien made up one place to move into ninth with Ralf Schumacher up two into tenth and Montoya, who made a stunning start to climb up from the back of the grid, was in 11th after just one lap.
"The first lap was crazy," said Montoya. "I couldn't see the lights at the start because the Jordan was in an awkward position, it was right in front of the lights so I was looking 'where are the lights?'
"When the cars moved, I moved, so the start wasn't good, but I made three places there and then through turns one, two and three I just went poom, poom, poom, and that was it."
Albers climbed from 16th to 12th and Barrichello survived an incident to move from 15th to 13th but took out Villeneuve in the process. "Rubens came into my side at the hairpin," he said. "I think somebody pushed him."
That pushed Villeneuve right down the order as Doornbos made a strong start from 17th to move ahead of the former World Champion and into 14th place. But it was not easy for the Grand Prix debutant.
"My race started when the team told me we had a problem with the launch control so I had to make a manual start," he said. "I thought 'great, why not? Debut race!'
"The smoking wheels must have looked great on television but it is not the way to get off the grid. Tiago passed me on the inside but I had a very good first lap, gained a position back from Tiago and gained a position back from Narain."
Karthikeyan and Monteiro brought up the rear when the frantic first lap came to an end with Sato, Trulli and Webber all peeling into the pits for repairs following their mid-pack incidents.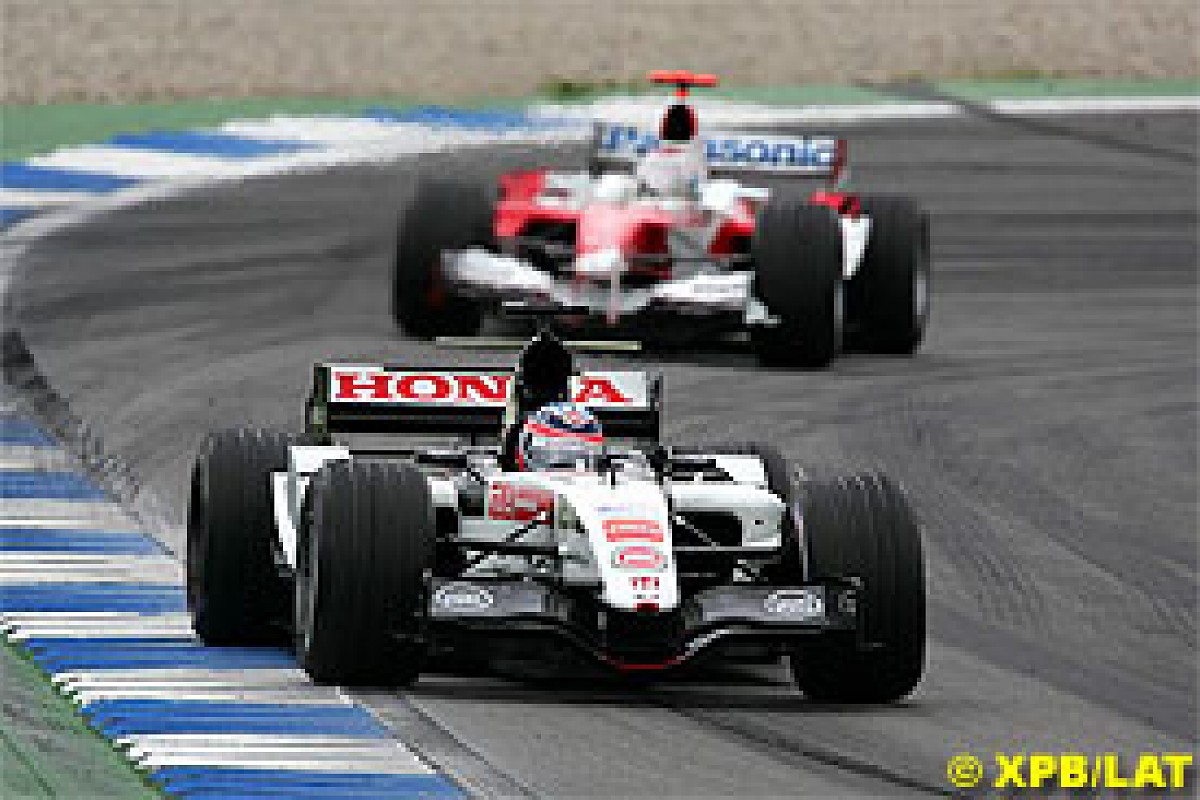 Sato and Trulli were out quickly but Webber was not so fortunate. "The mechanics replaced the part quickly but by the time I went back on track I was 11 laps behind the leader," he said. "This compromised my race."
Montoya passed Ralf Schumacher on the second lap, then took Klien for ninth on the third, but on the fourth lap there was another incident when Villeneuve inexplicably collided with Doornbos.
"We arrived at the Mercedes arena at the braking point, I looked in my mirrors and had a reasonable gap to Jacques and then out of nowhere there was a huge bang," said Doornbos.
"I was the other way around, I had a puncture, lost a diffuser and Jacques lost his nose." Villeneuve was critical. "He was being very over-aggressive," he said. "He moved over on me while he was braking, it was Formula Ford stuff."
Both drivers had to pit, but Minardi failed to hear Doornbos' call telling them he needed a tyre change and immediately put the fuel filler in to begin pumping fuel when he arrived in the pit bay. It proved a costly mistake.
"Unfortunately you are not allowed to do both at the same time so that cost me a stop-go a lap later," said Doornbos. "It was a real shame, but that is a human mistake and I can make mistakes too."
The race then settled with Raikkonen maintaining a four-second lead over Alonso while Schumacher steadily dropped back by around one second per lap and Button, Heidfeld and Coulthard in fourth, fifth and sixth, each split by three seconds.
Heidfeld was the first of the leaders to stop, at the end of lap 15, Massa and Klien stopped on lap 19, then Button, in fourth, and Coulthard, in fifth, came in the following lap.
Alonso was ten seconds back when he and Schumacher made their first stops on lap 22, with Fisichella coming in one lap later while, out on track, Klien made a mistake and had a trip across the gravel.
Raikkonen set what would end up as the fastest lap of the race on lap 24, then pitted at the end of the 25th lap to make his stop and came out with the entire length of the pit straight between him and second-placed Alonso.
Ralf Schumacher and Barrichello stopped on laps 25 and 26 but Montoya, fuelled up before the race, extended the length of his first stint by saving "quite a bit of fuel" running behind traffic and finally stopped on lap 27.
That completed the front-runners' stops and the race settled down again with Raikkonen 11 seconds ahead of Alonso, who was 18 seconds ahead of Schumacher with fourth-placed Button two seconds back and seven ahead of Montoya.
Villeneuve, running in 16th after his earlier problems, then suffered another crash on lap 28 when he was pushed onto the grass trying to pass Tiago Monteiro, lost control and hit the rear end of the Jordan.
Villeneuve returned to the pits for yet another nosecone and Monteiro also pitted, with both at odds as to who should take the blame. "It was a racing incident," said Monteiro. "I really don't think he saw me," said Villeneuve.
Trulli passed Sato on lap 30 then the race was turned on its head on lap 36 with the sight of Raikkonen's McLaren slowing then suddenly coming to a shuddering halt at turn five, its hydraulics gone and its internals all locked up.
Raikkonen climbed out of his stricken machine, kept his helmet on and took to a marshal's scooter. He spoke to nobody as, helmet still on, he returned to the paddock, went into the McLaren communications centre and quickly left the track.
And so the race fell into Alonso's hands once again. With Raikkonen out, he had a 25-second lead over second-placed Schumacher, with the German clearly not having the pace to chase the Spaniard down.
Both Ferraris were struggling and Barrichello was passed by Klien on lap 39 while Schumacher had been staring at Button in his rear view mirrors ever since his pitstop.
"Immediately after the first stop he was a long way off the pace," said Button. "I found it really difficult to get by him. I'd get a reasonable exit out of turn two and three but couldn't get closer. I was just stuck behind him."
Button bided his time for 22 laps then pounced on lap 45 when the pair headed up to the hairpin and he made a clean move on the World Champion to put himself up into second position.
"It was a reasonably good move," admitted Button. "Michael is never the easiest person to overtake. I knew at the corner apexes he was very slow and he really had to slow the car down so I knew that was the best place to do it.
But Button only had one lap of free air before he had to pit for fuel and begin the second round of stops. "I had to push very hard to try and pull a bit of a gap out," he said. "I knew Michael was going to be stopping later."
Alonso came in on lap 47, the same as Coulthard, then Schumacher and Barrichello pitted on lap 49, with Schumacher coming out behind Button. Fisichella and Ralf Schumacher pitted on lap 50.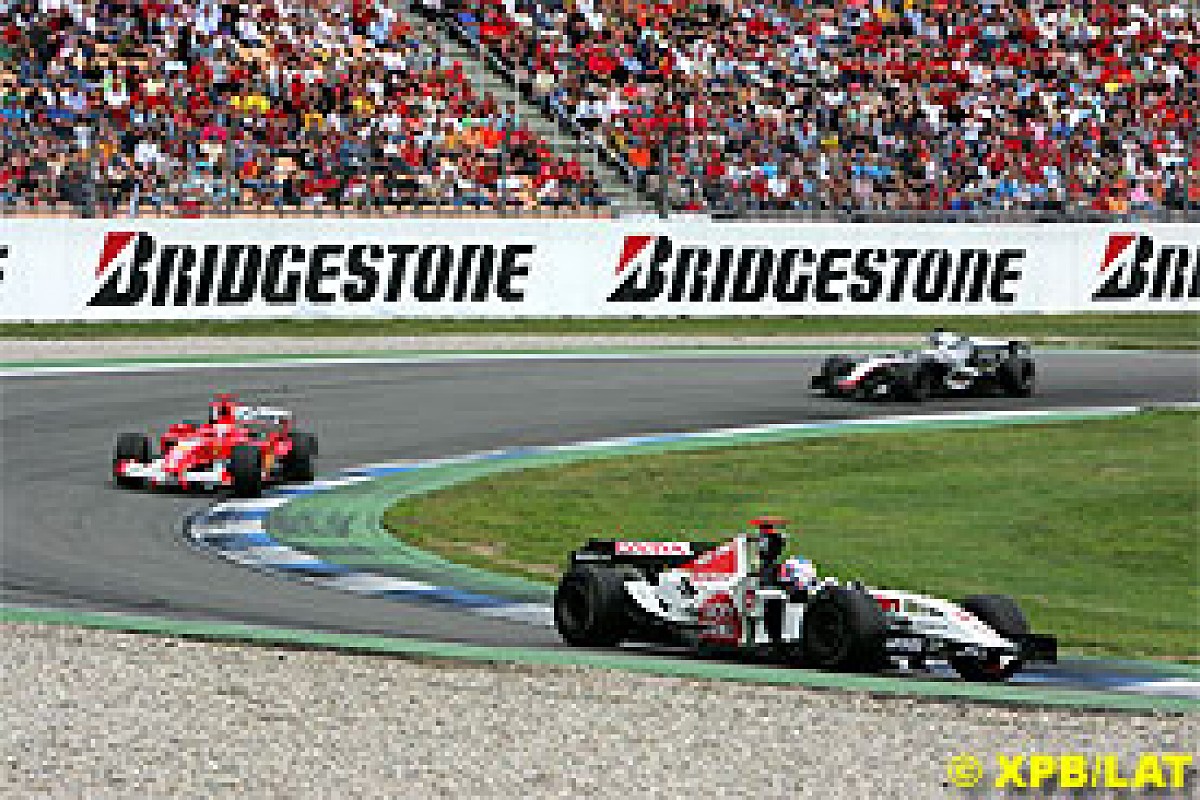 After taking things easy behind the Schumacher/Button battle, Montoya was able to save more fuel and then set three of his five fastest laps in the race with a clear track ahead as he pushed to take another leap through the field.
Traffic was a problem for Montoya, however, and he said: "I lost quite a bit of time. I think it was Nick and Ralf were racing each other and for about half a lap I lost over a second just behind them.
"It was just really bad. You can understand that they were doing their own race but I was fighting for second pace and they still didn't move out of the way. But I pushed hard enough to have a good gap before the stop."
His final stop came on lap 56 and came out in second place, two seconds ahead of Button, with 11 laps to run. Button said: "I had been stuck behind Michael for so long and Juan Pablo had had more fuel than we did, so it was inevitable."
Trulli, already well down, received a stop-go penalty for ignoring blue flags while Michael Schumacher had dropped well down on Button and was now under pressure from Fisichella with Ralf Schumacher right behind.
Fisichella was suffering from braking problems, however, and could do nothing about the Ferrari in front until his engineers had looked into the problem and found a solution.
"I had to take things easily, brake earlier than normal and control my pace," said Fisichella. "But two laps from the end, my engineers said on the radio that I could try and overtake Michael."
But Schumacher had his own problems, struggling with poor grip and a fuel feed problem, and Fisichella took him on the penultimate lap. "It was quite easy," he said. "He had tyre problems and I was much faster than him."
Trulli's troubled race finally came to an end on the last lap when he suffered a pneumatic problem in his Toyota engine, but there were no such problems for Alonso, who cruised home a comfortable winner.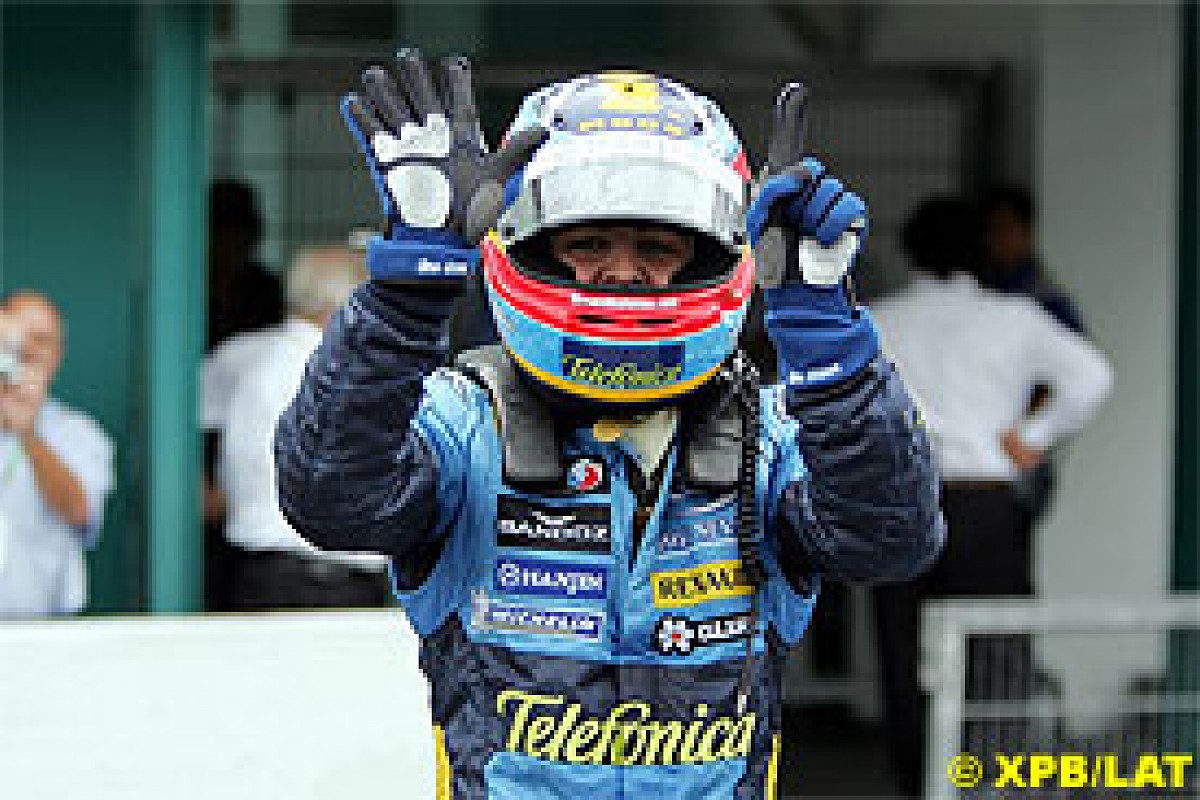 "After Kimi's retirement the race was a little bit boring, being in first place with such a gap," said Alonso. "But I still think he has the best car on the grid at the moment so he can win the races in normal circumstances."
Raikkonen should have won, but by the time Alonso was tasting the champagne the Finn was long gone and his comments had to be passed around the media by McLaren's press officer.
"This is the worst thing that could have happened," his statement read. "It looked like the race was in the bag. It seems I have had my fair share of bad luck." Or bad preparation...
Race Results
Pos  Driver        Team                  Time   
 1.  Alonso        Renault           (M)  1h26:28.599
 2.  Montoya       McLaren-Mercedes  (M)  +    22.569
 3.  Button        BAR-Honda         (M)  +    24.422
 4.  Fisichella    Renault           (M)  +    50.587
 5.  M.Schumacher  Ferrari           (B)  +    51.690
 6.  R.Schumacher  Toyota            (M)  +    52.242
 7.  Coulthard     Red Bull-Cosworth (M)  +    52.700
 8.  Massa         Sauber-Petronas   (M)  +    56.570
 9.  Klien         Red Bull-Cosworth (M)  +  1:09.818
10.  Barrichello   Ferrari           (B)  +     1 lap
11.  Heidfeld      Williams-BMW      (M)  +     1 lap
12.  Sato          BAR-Honda         (M)  +     1 lap
13.  Albers        Minardi-Cosworth  (B)  +    2 laps
14.  Trulli        Toyota            (M)  +    3 laps
15.  Villeneuve    Sauber-Petronas   (M)  +    3 laps
16.  Karthikeyan   Jordan-Toyota     (B)  +    3 laps
17.  Monteiro      Jordan-Toyota     (B)  +    3 laps
18.  Doornbos      Minardi-Cosworth  (B)  +    4 laps

Fastest Lap: Raikkonen, 1:14.873

Not Classified/Retirements:

Driver        Team                  On Lap   
Webber        Williams-BMW     (M)    57
Raikkonen     McLaren-Mercedes (M)    36

World Championship Standing, Round 12:

Drivers:                    Constructors:       
 1.  Alonso        87        1.  Renault          117
 2.  Raikkonen     51        2.  McLaren-Mercedes  95
 3.  M.Schumacher  47        3.  Ferrari           78
 4.  Montoya       34        4.  Toyota            57
 5.  Barrichello   31        5.  Williams-BMW      47
 6.  Trulli        31        6.  Red Bull-Cosworth 24
 7.  Fisichella    30        7.  BAR-Honda         15
 8.  R.Schumacher  26        8.  Sauber-Petronas   14
 9.  Heidfeld      25        9.  Jordan-Toyota     11
10.  Webber        22       10.  Minardi-Cosworth   7
11.  Coulthard     19
12.  Button        15
13.  Massa          8
14.  Wurz           6
15.  Monteiro       6
16.  Villeneuve     6
17.  Karthikeyan    5
18.  Albers         4
19.  Klien          4
20.  de la Rosa     4
21.  Friesacher     3
22.  Liuzzi         1


Fastest race laps: Click here
Pitstop times: Click here
Lap by Lap
Pre-race: Expected all weekend, a rain shower finally materialises 45 minutes before the start. It passes quickly, although there is still moisture in the air as the countdown to the race continues.
Lap 1: Pole position qualifier Kimi Raikkonen makes a flying start. From third on the grid, World Championship leader Fernando Alonso grabs second from front-row starter Jenson Button - and Michael Schumacher muscles past the Englishman, too. Nick Heidfeld vaults from seventh to fifth to lead David Coulthard (up from 11th), Felipe Massa (up from 13th), Giancarlo Fisichella, Christian Klien, Ralf Schumacher, Juan Pablo Montoya (who started last after yesterday's qualifying accident), Christijan Albers, Rubens Barrichello, newcomer Robert Doornbos, Jacques Villeneuve (who loses time after a biff from Barrichello), Narain Karthikeyan and Tiago Monteiro. Takuma Sato and Jarno Trulli pit for repairs after first-lap contact. Mark Webber pits and stays there for about 15 minutes. Raikkonen ends the lap 1.5s to the good.
Lap 2: Raikkonen extends his advantage to 1.7s. Montoya passes Ralf Schumacher. Barrichello moves ahead of Albers.
Lap 3: Montoya passes Klien for ninth.
Lap 4: Villeneuve tries to pass Doornbos at Turn 8 but punts the Dutchman. Both drivers spin before pitting at the end of the lap and rejoining at the tail of the field. Doornbos replaces a damaged rear tyre.
Lap 7: Raikkonen laps in 1m15.639s and leads by 4.1s.
Lap 9: Alonso cuts his deficit to 3.7s.
Lap 11: Raikkonen laps in 1m15.639s and starts to edge away from Alonso again. The rest are nowhere.
Lap 14: Raikkonen leads by 6.3s. Monteiro makes the race's first scheduled stop.
Lap 15: Heidfeld comes in for fuel.
Lap 16: Karthikeyan pits.
Lap 19: Raikkonen laps in 1m14.995s and leads by 9.6s. Massa, Klien and Albers refuel.
Lap 20: Button and Coulthard peel in.
Lap 21: Doornbos serves a stop-go penalty for having refuelled at the same time as replacing a tyre damaged earlier by Villeneuve.
Lap 22: Alonso and Michael Schumacher stop.
Lap 23: Fisichella refuels.
Lap 24: The leader posts a 1m14.373s.
Lap 25: Raikkonen and Ralf Schumacher come in. The Finn rejoins 11.0s clear of Alonso.
Lap 26: Barrichello and Trulli pit.
Lap 27: Montoya is the final front-runner to stop. Villeneuve and Monteiro join him in the pits, however, after colliding on the approach to Turn 8. Both resume following remedial work. Stewards announce that a post-race enquiry will be held.
Lap 28: Sato refuels.
Lap 29: With the first round of stops over, Raikkonen leads Alonso, Michael Schumacher, Button, Montoya, Fisichella, Coulthard, Ralf Schumacher, Heidfeld, Massa, Barrichello and Klien. Trulli, Sato, Karthikeyan, Albers, Monteiro, Villeneuve and Doornbos are all at least a lap in arrears.
Lap 35: Heidfeld makes his second stop.
Lap 36: Raikkonen slows and stops on the track. Alonso takes command, 25.7s clear of Michael Schumacher.
Lap 39: Klien passes Barrichello for ninth.
Lap 41: Alonso remains well clear. Michael Schumacher is being made to work hard by Button - and Montoya, too, is close to the battle for second.
Lap 45: Button passes Michael Schumacher at the hairpin...
Lap 46: ...but only stays ahead briefly because he pulls in to refuel. Massa and Klien do likewise.
Lap 47: Alonso, Coulthard and Trulli pit.
Lap 49: Both Ferraris pit. Michael Schumacher rejoins behind Button.
Lap 50: Fisichella and Ralf Schumacher refuel.
Lap 51: Having dropped behind Barrichello during the fuel stops, Klien passes him for the second time during the afternoon.
Lap 53: Montoya loses time behind the duelling Heidfeld and Trulli, a lap down. Trulli gets a drive-through penalty for failing to heed blue flags.
Lap 56: Montoya makes the final significant scheduled stop of the race. He rejoins half a minute behind Alonso - but comfortably clear of Button. Michael Schumacher is fourth, but facing fierce pressure from Fisichella - who has Ralf Schumacher not far behind. Coulthard is seventh, ahead of Massa and Klien. Barrichello is a lapped 10th, with Heidfeld, Sato, Trulli, Albers, Villeneuve, Karthikeyan, Monteiro, Doornbos and the unclassified Webber all still running.
Lap 63: Fisichella has a look down Michael Schumacher's inside but is sharply rebuffed.
Lap 65: Fisichella gets even closer to Michael Schumacher. Again, no joy. Coulthard is now on the end of this chain, too.
Lap 66: Fisichella passes Michael Schumacher at the hairpin.
Lap 67: Alonso wins by 22.5s - his sixth success of the year - from Montoya, Button, Fisichella, Michael Schumacher, Ralf Schumacher, Coulthard, Massa and Klien. Barrichello, Heidfeld, Sato and Albers are next, from Trulli - who stops right at the end - Villeneuve, Karthikeyan, Monteiro and Doornbos.