Reflections on Edmonton

---
By Alex Sabine, England
Autosport-Atlas Contributing Writer
After a financial and competitive slump that threatened to kill Champ Car racing in the United States, the series seems to enjoy a revival this year, with more close racing and wheel to wheel battles. And last weekend, the series visited Edmonton, Canada, for the first time. Alex Sabine looks at last weekend's event and analyses just why it has been branded a major success
Impressive. Challenging. Fun. A bit daunting. An unbelievable event.
It's hard to convey the vibe at last weekend's inaugural Edmonton Champ Car race without resorting to a torrent of superlatives, simply because that was what you heard when you asked anyone connected with the series what they thought of the event. The promotion, the organisation, the circuit layout, the spectator experience, the atmosphere - all were showered with accolades, and rightly so.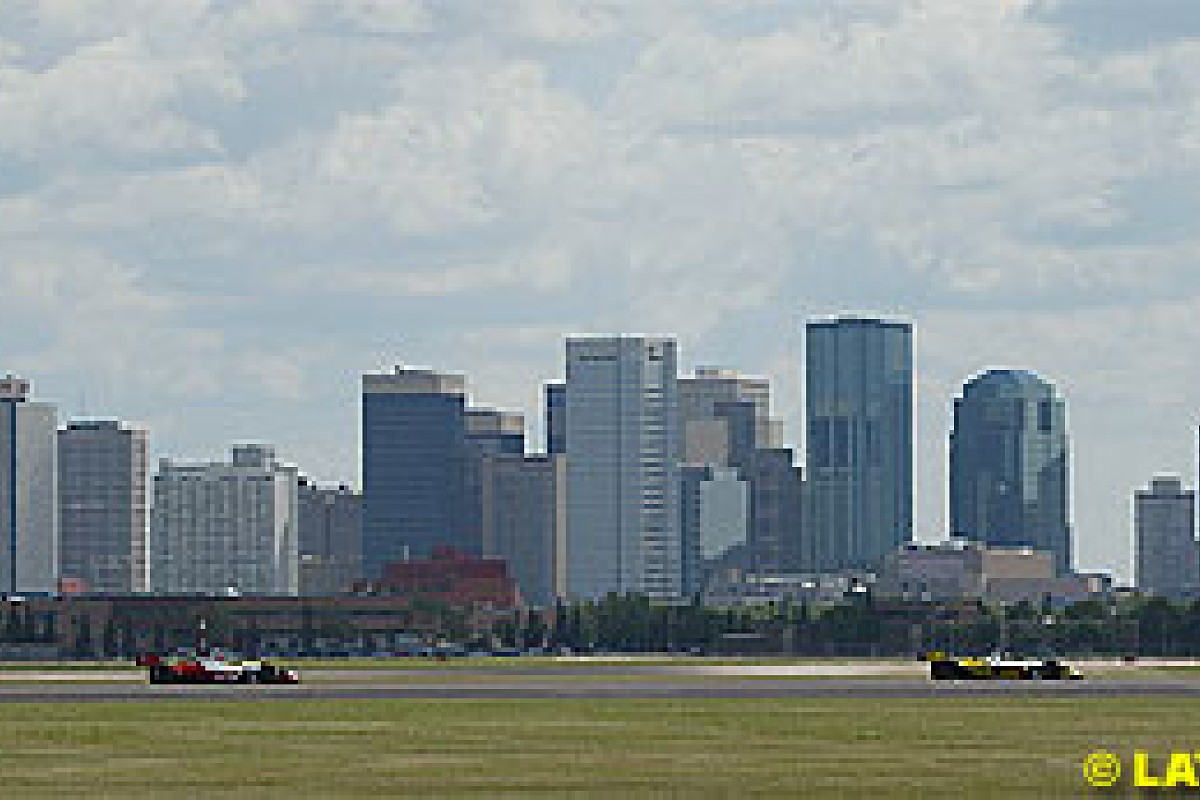 Indeed, so many aspects of this first-time event were exemplary that it seemed almost churlish to draw attention to a few well-founded concerns about safety - the only minor blemishes on an otherwise flawless canvas. Even these were partially allayed by refinements to the tyre barriers and pit exit over the course of the weekend, and there's every sign that the organisers will iron out the few remaining wrinkles before next year's race.
The praise was so unanimous that I recalled a question put to Keke Rosberg at the first Australian Grand Prix in 1985 by local reporters, who were slightly awed by the rave reviews of sleepy Adelaide's first attempt at a big international event: Wasn't he just being polite in front of his hosts?
"Take it from me," the irreverent Rosberg replied, "the F1 fraternity is one of the rudest in the world. If we thought it was bad, don't worry - we would have said so. But we think it's the best..."
Granted, it may not be an exact parallel - for one thing, the Champ Car contingent tends to extend more (some would say too much) latitude to its underperforming venues than does F1, and to eschew any kind of negative publicity - but the essential point stands. Whereas at some new events - Denver and Miami 2002 spring to mind - drivers, teams and series officials have to scrape the barrel to furnish some positive PR, and do their best to play down their misgivings, their plaudits for Edmonton were genuine and they said the same things off the record as on it.
How, then, did the unheralded and rather downbeat capital city of Canada's vast rural province of Alberta, with a barren municipal airport as the unpromising site for its racetrack, stage a three-day extravaganza that, frankly, put many of the established races on the Champ Car calendar to shame?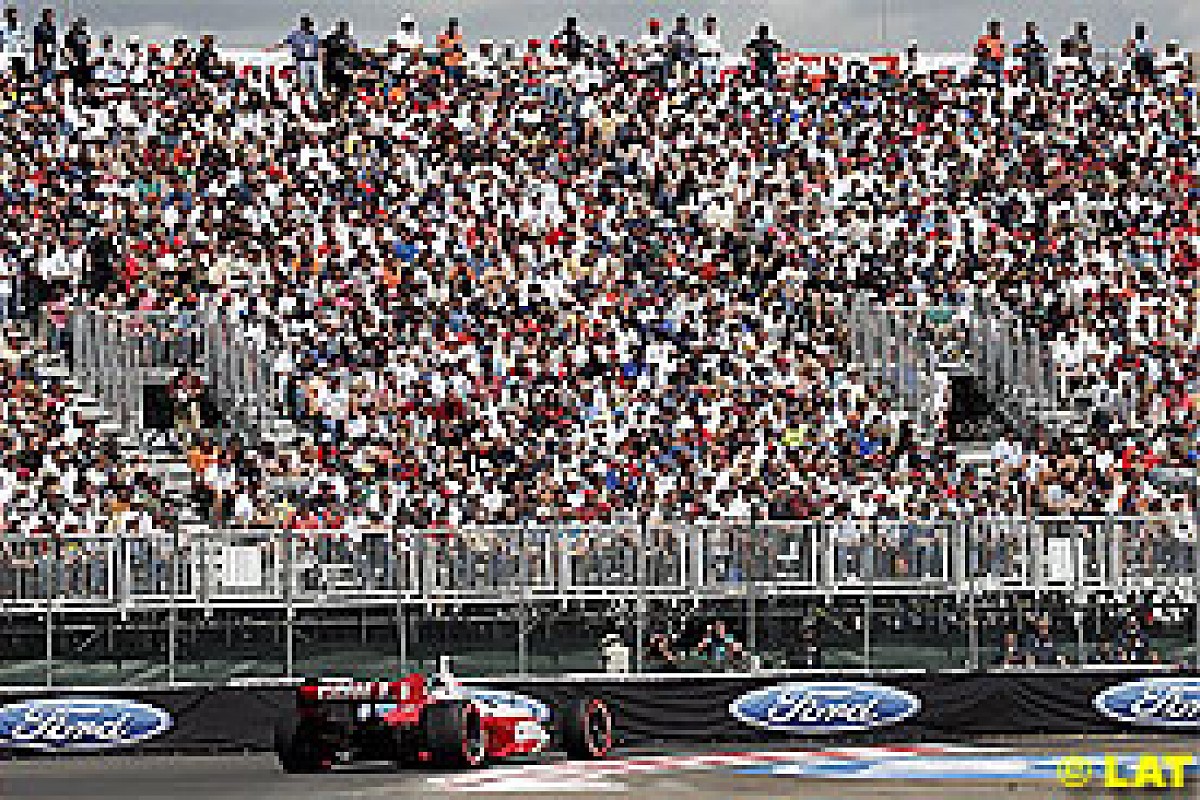 Well, for a start, securing title sponsorship from West Edmonton Mall, reputedly the largest shopping precinct in North America and Edmonton's premier tourist attraction (!), was a masterstroke, providing a perfect platform for the promotional machine to kick into gear. Under the capable and refreshingly pro-active leadership of the race's president and general manager Greg MacDonald, it did just that.
While getting lost in the gargantuan mall on Wednesday before the event, I stumbled across a shop devoted entirely to selling Champ Car and event merchandise - not, it has to be said, a common sight at other cities on the CCWS whistle-stop tour - as well as a Bridgestone stand displaying an ex-Paul Tracy Forsythe Lola alongside Michael Schumacher's Ferrari. Needless to say, both attracted a large throng of curious passers-by, and WEM as a whole was festooned with banners and billboards advertising the race. Equally, you couldn't walk around the downtown area or turn on the TV without knowing that (a) there was a race going on that weekend, (b) it was called the 'Grand Prix' and (c) it was a big-time event.
Admittedly, this kind of savvy promotion is hardly rocket science - especially given the captive audience for a city-centre event - but it remains depressingly absent at too many other Champ Car venues, particularly in the United States, where you are as likely to come across the proverbial flying pigs as a hotel attendant or waiter who can point you in the direction of the racetrack.
The fact that the approximately one million inhabitants of Edmonton don't exactly have a cornucopia of year-round attractions or other major events to choose from - notwithstanding numerous festivals and urban renewal projects - paradoxically made it an astute choice of venue, for it guaranteed that the city would put its full weight behind the event (whereas a Champ Car race in, say, New York City would be unlikely to raise even a flicker on the radar screen). Indeed, it could be argued that CCWS should target similar mid-sized urban centres for prospective new races for precisely that reason. And by all accounts, Edmonton's intense rivalry with the more southerly and urbane Albertan city of Calgary served as an extra catalyst for its whole-hearted embrace of the race.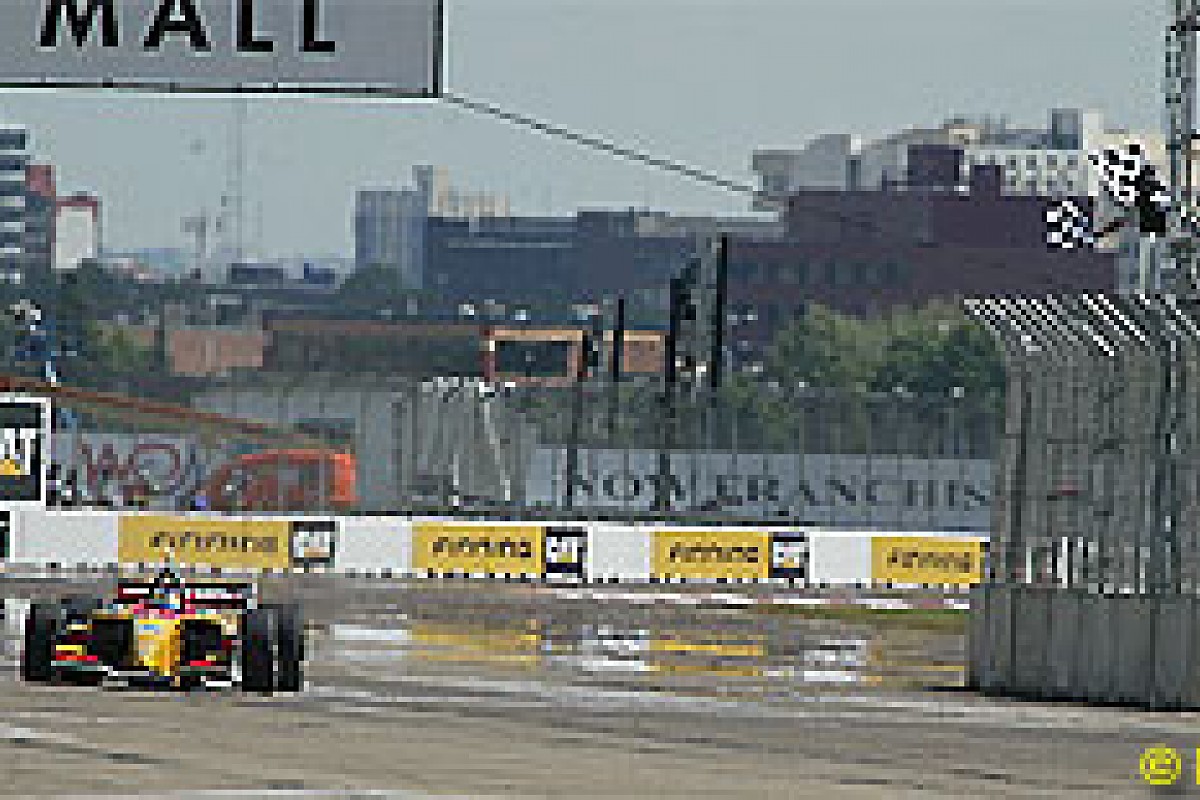 The net result was that the West Edmonton Mall Grand Prix of Edmonton broke the all-time attendance record for a Champ Car race in Canada, drawing 200,052 people over the three days of the meeting. The previous high-water mark was the inaugural Molson Indy Montreal in 2002, with a three-day turnout of 172,000.
Perhaps the most impressive statistic was that 66,250 souls braved cold, blustery and wet conditions on Saturday - and, far from attempting to find shelter around the grounds or in the paddock, most of them patiently sat in the grandstands waiting for the delayed Champ Car practice session to be given the go-ahead. It was a heart-warming sight, and (as Toronto, Ontario native Tracy jokingly pointed out) proof positive that Albertans are made of sterner stuff than other mortals!
One note of caution should probably be added at this point, namely that experience suggests the first year of a city-centre race tends to be the easiest in terms of attracting a decent crowd, simply because of the novelty value. The real litmus test will be whether next year's race is a similar success. However, judging by the fact that the organisers exceeded their wildest expectations and had to make extra general admission seating available for this year's race, and the overwhelmingly favourable reaction among both fans and the local media, it's a fair bet Edmonton will rise to that challenge too.
Undoubtedly the most pleasant surprise on arriving at Finning International Speedway (nee Edmonton City Centre Airport) was to discover what a gem of a racetrack had been forged out of the runways and perimeter roads. In contrast to the rash of claustrophobic street circuits that are now the bread and butter of the Champ Car World Series, with their succession of second-gear, 90-degree corners formed by the city grid system, Edmonton offered the drivers the chance to stretch the legs of their 750bhp machines.
But unlike the wide-open expanses of Cleveland's Burke Lakefront Airport, Finning International Speedway was an intriguing blend of a standard airfield layout, a traditional road course and a street circuit. Wide runways supplied the two main straights on the track, while the section from Turns Two to Nine was an acrobatic but high-speed ribbon of tarmac akin to a faster version of Portland's infield. For good measure, unyielding concrete walls bordering the outside of many of the corners, particularly the Turn Seven-Eight-Nine sequence of right-handers, gave the track a street circuit feel - and ensured a high price for mistakes, as Sebastien Bourdais, Tracy and AJ Allmendinger could all attest to at various points in the weekend.
Throw in a surface that was about as unwrinkled as an electrocardiogram and it added up to a mighty demanding racetrack, described by Oriol Servia as "I think the most challenging place I've ever been to". Some went so far as to call it daunting (which for all its attributes is not a word you would use to describe Cleveland).
The best thing about Edmonton's hybrid layout is that it offers unrivalled viewing opportunities for spectators. Most of the grandstand seats afford not only expansive views of as much as 80 percent of the circuit, but also a close-up perspective that alone allows a proper appreciation of the skills of the drivers and the noise and performance of the cars.
Want to see who has cojones or finesse; who operates the controls with their fingertips, or their elbows? If you ventured to the narrow 120mph right-left switchback of Turns Two and Three, the differences in approach were discernible even to the relatively untrained eye, while the alacrity with which the cars changed direction was breathtaking.
In other words, spectators at Edmonton got the best of both worlds - panoramic views of the racetrack as a whole (with plentiful large-screen TVs to catch any action that was out of visual range), and the kind of intoxicating sensory experience that converts casual fans into addicts.
This weekend it's on to San Jose and another brand new event, a street race in the potentially lucrative San Francisco Bay area/Silicon Valley market. The word is that race officials have had to scramble to add extra grandstands and corporate suites to meet demand, presenting Champ Car with a golden opportunity to build some real momentum behind its hitherto tentative renaissance.
With Edmonton having raised the bar for new temporary circuit events, San Jose certainly has a lot to live up to...