Last season's Le Mans Series was one of the finest sportscar contests of the modern era, as Peugeot and Audi went head to head in epic style. Despite having the slower car, Audi came through to win the title as Peugeot self-destructed in a typically spectacular climax at the Silverstone decider.
But like so many other championships, the LMS has had a string of blows over the winter as major teams decided to call time on their involvement amid the financial crisis.
So this year's series commences without the two teams that made the 2008 contest so unforgettable.
Audi Sport has gone, the factory effort focusing solely on the Le Mans 24 Hours with its new R15 TDI. Peugeot will bring three cars to the Spa round, almost certainly dominate it, then leave to prioritise Le Mans.
There is no doubt that the departure of the 'big two' has taken the shine off the LMS. But it has coped better than its American counterpart, and has still mustered a very respectable 43 car entry for this weekend's Barcelona opener.
Better still, it is welcoming a brand new manufacturer as Aston Martin Racing steps up to LMP1.
Having sometimes threatened the diesels in the Aston-engined Charouz Lola last year, AMR's lead drivers Tomas Enge, Jan Charouz and Stefan Mucke must start as title favourites in the new works car, although Enge's massive crash in the new Aston's sole fully-fledged pre-season test will not have helped what were already hurried preparations.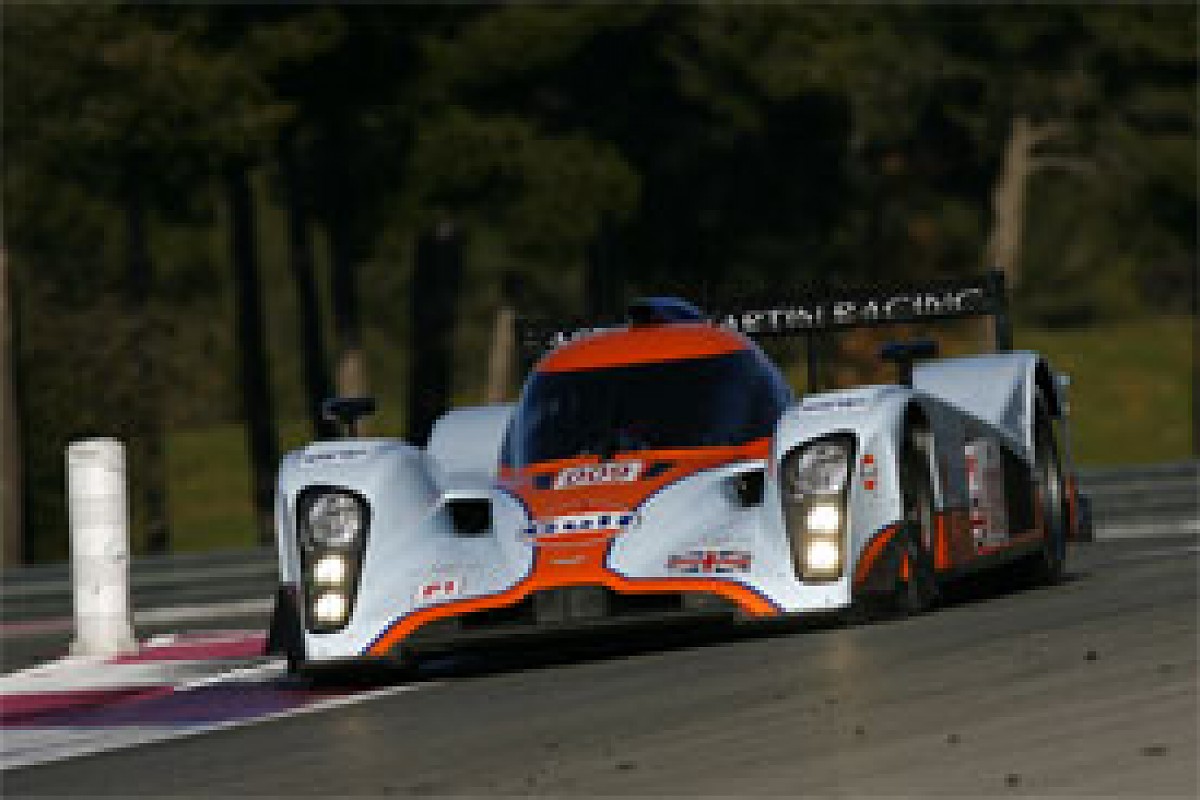 Lola Aston Martin
Darren Turner, Harold Primat and Miguel Ramos fill the second AMR car. Aware of their lack of prototype experience, they plan to steadily build up mileage and pace.
But that strategy worked rather well for Audi's second crew last year, and saw Alexandre Premat and Mike Rockenfeller sneak off with the championship as the higher-profile crews hit trouble.
Audi will still be a title threat though, thanks to Colin Kolles getting his hands on a pair of R10 TDIs. The first customer Audi diesel programme, this project features an intriguing driver line-up.
Sometime works Audi man Michael Krumm brings prototype experience to a squad that features ex-Formula 1 racers (Narain Karthikeyan and Christijan Albers), an ex-Champ Car driver (Charles Zwolsman), a former GP2 regular (Christian Bakkerud) and a man fresh from the British Formula 3 National Class (Andy Meyrick). Few would have predicted that line-up and it will be fascinating to see how they get on with the transition to prototype power and 1,000-kilometre races.
Peugeot and Audi's exit gives some of the old European prototype racing stalwarts a chance to fight at the front again, and that's an opportunity ORECA is determined not to waste.
Having tested the likes of World Touring Car champion Yvan Muller and World Rally star Petter Solberg, the team has signed Bruno Senna to join Stephane Ortelli, Olivier Panis and Nicolas Lapierre.
Those are potentially race-winning driver pairings, unless Kolles picks up where Joest left off, or Aston Martin totally shifts the goalposts. Either way, in a short series with a consistency-based scoring system, a string of podiums behind faster but more flaky opposition could pay off in a big way.
Pescarolo Sport will be in contention too, although the highlight of this team's season will surely be getting its hands on a Peugeot 908 HDi FAP for Le Mans itself.
The Speedy Sebah team is a dark horse with the same Lola-Aston package that Charouz starred with in 2008. Having Marcel Fassler on its driving strength certainly won't hurt.
The Strakka squad enters the only LMP1 Zytek in the field. Great Britain's A1GP driver Danny Watts could star with this car but team-mates Peter Hardman and Nick Leventis are highly unlikely to match his pace.
LMP2 remains strong numerically, although the quality has declined with the loss of the Porsches. That means the title fight should come down to the Lola Coupe squads.
Former class champion RML has upgraded to a Mazda-engined example for Tommy Erdos and Mike Newton, and will be pitted against the Racing Box and Speedy Sebah teams' leading Judd-powered Lolas.
GT1 clings to life in the LMS, and might finally see a Lamborghini title as the IPB Spartak driver line-up of Peter Kox and Roman Rusinov is a step ahead of the rival Larbre Saleen, ARC Bratislava Saleen and Alphand Corvette crews.
The perennial Ferrari versus Porsche battle resumes in GT2, as the IMSA Performance and Felbermayr Porsche teams take aim at JMW Ferrari's Robert Bell and Gianmaria Bruni, who were the class of the field last year. Former Aston GT1 team Modena has now joined the Ferrari GT2 ranks too, bringing star driver Antonio Garcia. He will be partnered by Leo Mansell, as the British legend's elder son tries to forge a sportscar career.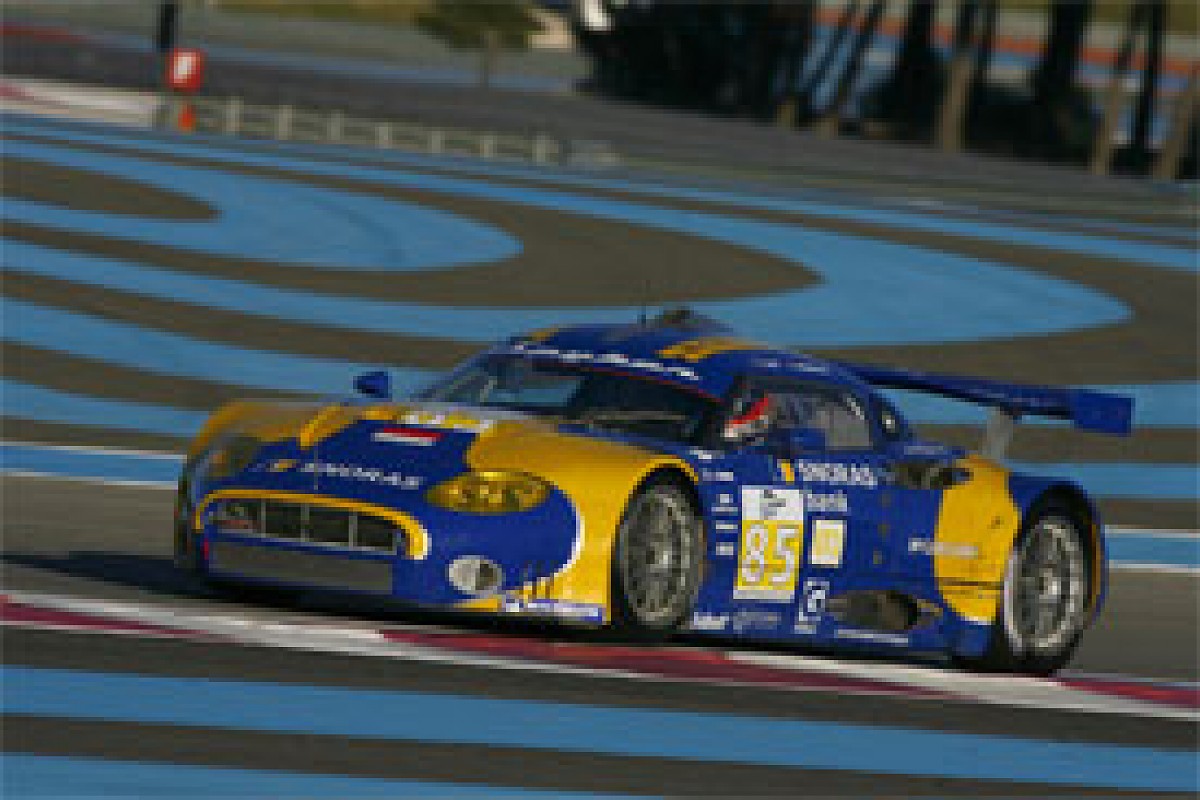 Spyker C8 Laviolette GT2
Variety is provided by the Drayson Aston Martin, which switches allegiance from the ALMS, and the Spkyer team. The latter will benefit from having Tom Coronel and Jarek Janis in the cockpit, and could cause some upsets.
So while the loss of Audi and Peugeot inevitably makes this a lower-profile season for the LMS, it must not be forgotten that 2008 was something of a positive blip for European sportscar racing, which had taken its time to recover from the late-1990s GT1 implosion.
Two years ago, for instance, a Peugeot whitewash was a foregone conclusion in the LMS, whereas right now no one really knows if Aston or Kolles will take control of this championship, or whether the likes of ORECA and Pescarolo will return to the forefront.
Plus on a weekend when just two LMP1 cars will take to the grid for the second round of the ALMS, many envious glances will be cast across the Atlantic towards the ample Barcelona entry list.
Even without the factory diesel teams and the LMP2 Porsches, the LMS can be satisfied that it is holding its own in very challenging times.