BMW's Blitzmobile

---
By Karl Ludvigsen, England
Autosport-Atlas Senior Writer
FIA president Max Mosley revealed last week his plan to introduce a high-tech energy storage system to Formula One, in a bid to improve overtaking. The system is already experimented in parts of the motor industry, and Karl Ludvigsen was among the first to test-drive BMW's own experimental X5 vehicle some two years ago. With an extraordinary marriage of quick-response electrical storage and gasoline power, the prototype has shown just why the automakers are enthusiastic about Mosley's idea
Let's suppose that someone came along and said, "I have a device for your car that will, at one fell swoop, improve both its performance and its fuel economy."
You'd say, "What's the catch? Surely you can't do both at the same time?" And you'd be right. When added performance is used to the full, fuel economy will suffer. Nevertheless, a system that can offer improvements in both, according to the way the car is driven, has to be attractive. And that's just what BMW's engineers have achieved experimentally two years ago in an X5 with a system they call "Efficient Dynamics". We call it BMW's "Blitzmobile" for reasons which will become evident.
This system works by realizing a long-held dream of auto engineers: it is able to collect and re-use a substantial amount of the kinetic energy that is converted into waste heat whenever a car is braked. Normally, all the energy that's represented by the mass of a moving car, energy that we've built up by burning fuel, is lost forever when the car is slowed or stopped. To accelerate again, we have to burn more fuel. No aspect of car operation seems less efficient to the thinking engineer.
Various methods to recuperate this lost energy have been proposed and tried. It's standard procedure in electric cars to use "regenerative braking", with the motor acting as a generator, when the brakes are applied. This feeds some current back into the batteries. Not much energy can be recouped in this way because batteries like to be recharged over hours, not in the scant seconds that a braking maneuver represents. Still, regenerative braking is a useful range extender for electric vehicles, but it's far too inefficient to be used as an energy reservoir for ordinary cars.
Another idea has been to use a high-tech flywheel. An advanced flywheel running in a vacuum is a remarkable device, able to store as much energy for its weight as a lead-acid battery yet also able to collect and deliver that energy very quickly. So what's the hitch? It's making a workable connection between a driveline running at a few thousand revs per minute with a flywheel that's spinning at 100,000 or so. Methods tried have been mechanical, electrical and hydrostatic, but none has been fully satisfactory.
Some other notions of energy recuperation have been pretty bizarre. Do you fancy a big rubber band underneath the floorboards, like the ones that power your airplane models? It works, but has most of the same drive problems as the flywheel. Then there's compressed air. You can compress it into a pressurized reservoir when braking, and then release it quickly when you accelerate again. This works too, albeit with only moderate efficiency - and you may not want to think about the noise!
So what's needed is an energy-storage medium that's compact, efficient and able to absorb and deliver its energy in seconds. There is such a medium, and it's called a capacitor. A capacitor holds energy in the form of a difference in potential, or voltage, between two metallic plates. You could think of it as the static electricity generated in clouds that causes lightning when it's released. (Lightning=Blitz and therefore "Blitzmobile".) The bigger the area of its plates and the closer they are - separated by an insulator - the more energy a capacitor can store.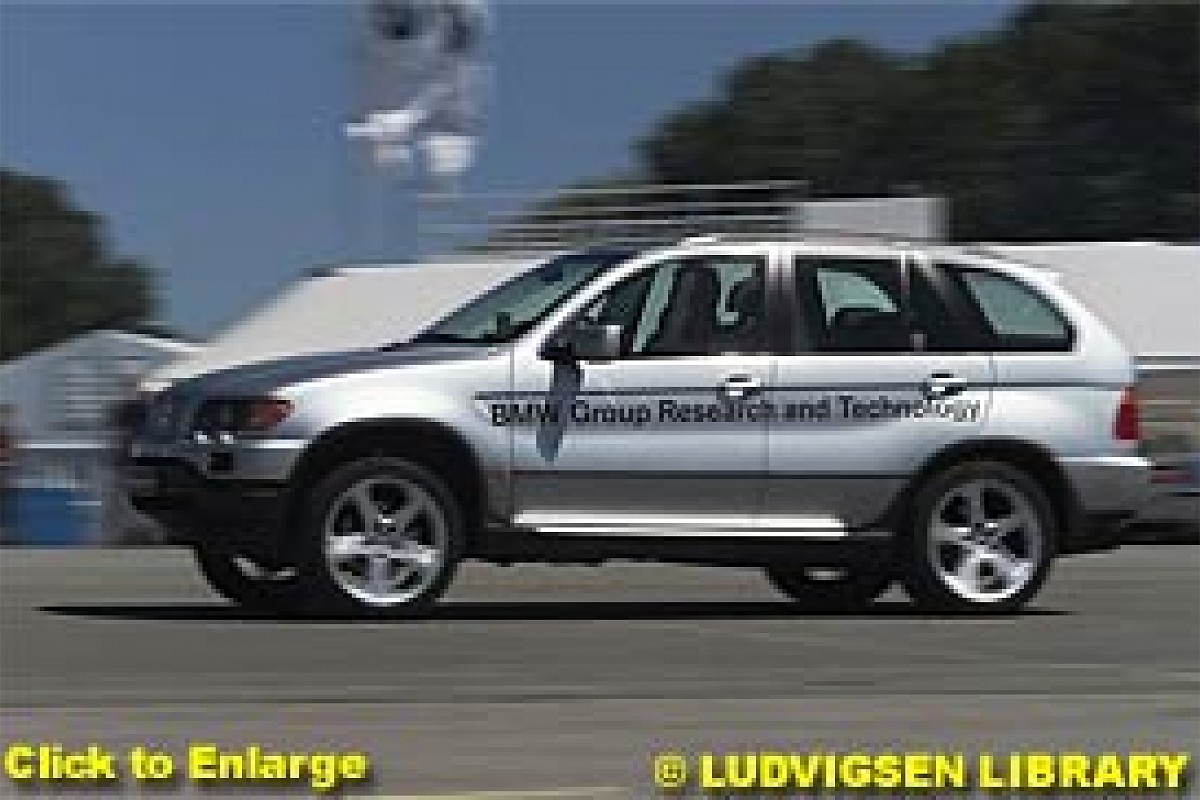 Tiny capacitors are routinely used in electrical circuits and for energy storage in devices like camera flashes. We've also had them in ordinary breaker-type ignitions, where they were known as "condensers", and as the source of higher energy in capacitive-discharge ignition systems. But capacitors have never been seen as devices that could be big and powerful enough to act as motive power for an automobile. Never, that is, until now.
In 1989, two leaders in electronics - Germany's Siemens and Japan's Matsushita - set up a joint-venture company to explore opportunities in electrical and electronic components. A decade later they launched the company on the stock market as EPCOS, each founder retaining a one-eighth share. Among the more than 40,000 products it makes on most of the globe's continents, EPCOS has specialized in capacitors of all shapes and sizes. It has not neglected the opportunity represented by bigger storage devices, for which it has developed its range of UltraCaps.
Several design features contribute to the breakthrough that EPCOS has achieved with its UltraCaps. One is its use of activated carbon instead of metals (usually aluminium) for the two plates. In either cloth or powder form, carbon has a vastly greater surface area than any metallic plates. Another is the minimal separation achieved between the opposite charges - mind-bendingly minute 2 to 5 billionths of a metre. Immersed in an electrolyte that facilitates the charge's transfer in and out of the device, the UltraCap's plates are capable of storing much more energy than ordinary capacitors.
EPCOS wasn't slow to identify automotive applications for its UltraCaps. In cooperation with truck-maker MAN it developed a diesel-electric city bus whose two drive motors are capacitor-powered when it moves away from rest. With gentle brake-pedal pressure its drive motors act as generators to feed energy back into the 288 UltraCaps mounted on the bus's roof. The bus, whose energy storage reduced its fuel consumption by 20 per cent, went into several months of scheduled service in Nuremberg, Germany, early in 2002.
As early as 1999, work began on the adaptation of UltraCaps to an all-electric Mercedes-Benz Sprinter van in a program funded by the German Economics Ministry. Sealed in an under-floor module, its capacitors complement the van's main batteries by providing extra 45 horses of drive power over a period of 15 seconds to improve acceleration. Thanks to its efficient regenerative braking, the capacitor pack extends the van's range by 20 per cent. For its UltraCaps, EPCOS claims an ability to deliver energy as a share of 80-90 per cent of that put in, depending on the application. It's unlikely that any better recuperative efficiency will be achieved.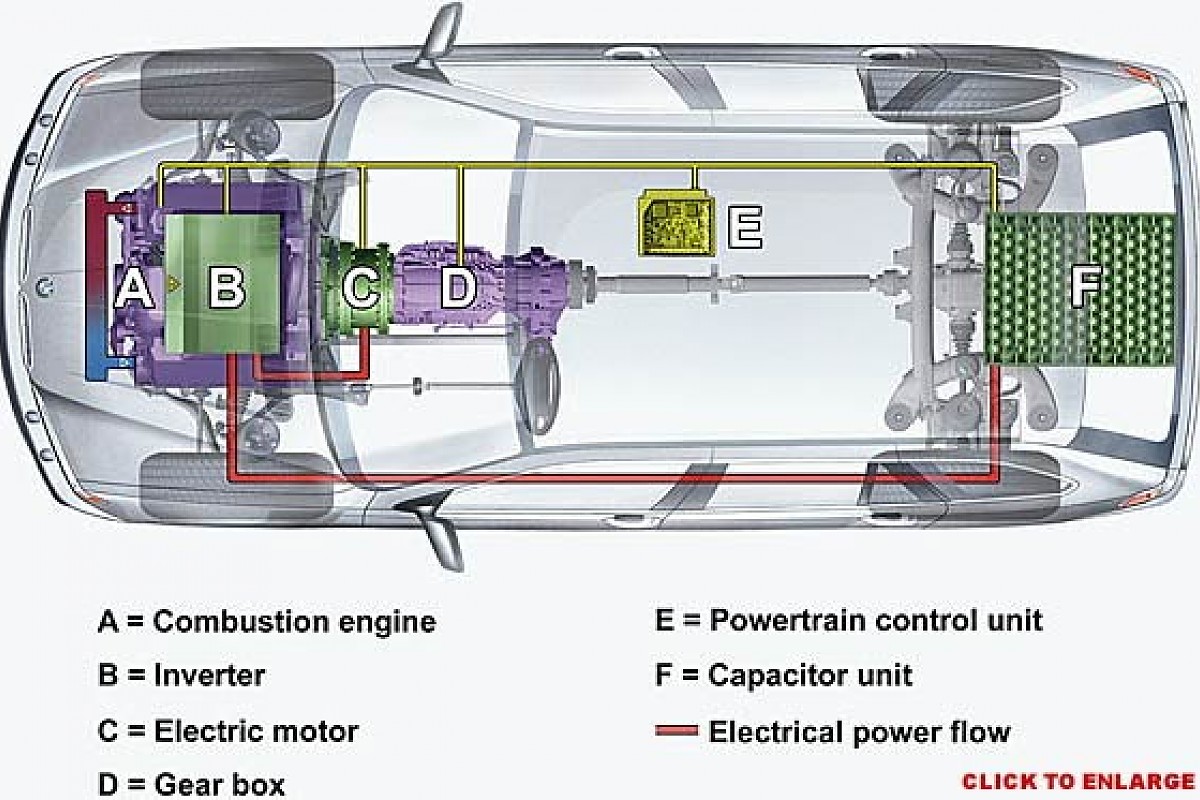 At the end of 2002, EPCOS launched an improved generation of its UltraCaps, packaged better so that they could be combined in modules and offering higher storage capacity thanks to a new case design. With the company's UltraCap-marketing unit based in Munich, it was inevitable that talks would begin with the local automaker - about three years ago - on the potential of capacitor energy storage to add performance to otherwise conventional automobiles. Among possible applications are as a booster for the battery, for example to start diesel engines at low temperatures; and as a braking-energy recuperator to work with the new flywheel-mounted starter-generators that a number of carmakers are trying.
With their Blitzmobile, however, BMW's engineers took a bolder step, as engineers Hans Glonner and Georg Gotz explained. Their goal was dramatic power augmentation combined with the ability to extend mileage by recouping otherwise-lost braking energy. They worked with EPCOS and a local engineering consultancy to build a large electric motor/generator that became an integral part of the driveline of an X5 sport-utility. The motor, which fits in place of the torque converter of a five-speed automatic transmission, is water-cooled and rated at just over 100 horsepower. Its starting torque is an awesome 670 Nm, 494 lb-ft in old money.
The Blitzmobile X5 is powered by BMW's 4,398 cc V8, rated at 286 bhp at 5,400 rpm. This is not the biggest engine available in the X5, a choice that was deliberate in order to gain balanced performance from the gasoline-electric alliance. While the eight's maximum torque is 440 Nm, at 1,000 rpm that figure falls to 330 Nm - or 243 lb-ft. At 1,000 rpm, the electric motor's torque is still 670 Nm, so the two prime movers together add up to a stunning 1,000 Nm or 737 lb-ft of starting torque, which the charged UltraCaps can sustain for 5-6 seconds - time enough to launch the X5 so impressively that breaking traction at all four wheels is surprisingly easy.
BMW's Munich-area electrical consultancy also provided the controls for the system and the inverter needed to make AC/DC conversions. Some of this equipment hums away in the trunk compartment of the X5, under which its array of UltraCaps is hidden. Each unit supplied by EPCOS is slightly smaller than a soda can and has a capacity of 1,800 farads - one farad being a flow of one ampere of current at a potential of one volt for one second. Each UltraCap is rated at 2.5 volts, so with its 140 capacitors connected in series, the potential of the whole pack is 350 volts. The X5 system's operating voltage is stepped down to a less heady 30 volts.
Driving the Blitzmobile is straightforward enough, with its electric motor providing the start from rest in place of its missing torque converter. Its lunge off the line is truly awesome for such a massive vehicle, vigorously neck-snapping. By the time the driveline is up to 2,000 rpm, however, the V8's torque exceeds that of the electric motor, but the latter can still add torque as long as the UltraCaps have it to deliver. The motor/generator has been tested to 7,000 rpm so that's not a constraint on traditional high-revving BMW performance.
It's early days for the complex control system that the Blitzmobile needs. For example, there's a conventional dry clutch between the engine and the motor-transmission assembly, operated automatically according to the driving mode. At the moment a big green lamp on the dash shows whether the clutch is engaged or not, helping the driver gauge his starting mode. This could and would be better automated in later iterations of this driveline.
Less spectacular but more valuable - especially in a gas-guzzling SUV - is the system's ability to stretch operating range. With the motor acting as a generator during deceleration, the system is programmed to recover otherwise-lost braking energy and deliver it to the hyper-receptive UltraCaps. BMW's tests show a 15 per cent improvement in fuel economy over standard test cycles with the system in operation. This is achieved in spite of the added weight of the motor, UltraCaps and controllers. Contrary to reports, it looks like you can indeed both have your cake and eat it.
Of course the little issue of cost remains. With EPCOS making its UltraCaps in sample quantities, each unit used in the Blitzmobile costs $110 (USD). That's $15,400 for the full set of 140, not to mention the added cost of the motor and controls. Volume production will bring down the cost, as will EPCOS's planned increase in module voltage to 3.0 during the next three years. The higher the voltage, the lower the cost of an application, because fewer UltraCaps are needed. With a declared life of half a million cycles, the advanced capacitors shouldn't need replacement often.
By revealing their prototype and letting us drive it, BMW's engineers have given us an unusual glimpse into the future. We can't yet guess what future iterations will be like, but the potential of capacitive energy storage to enhance car performance and efficiency is plain to see from this extraordinary X5. We can see why BMW likes to refer to it as Efficient Dynamics, but to us it will always be the Blitzmobile.
Related Links:
First Look: Mosley's Energy Storage System