This should have been the season when A1GP came of age - thanks to the massive credibility boost provided by its new 'Powered by Ferrari' car - but so far it's been a very bumpy ride.
The season-opener at Mugello had to be cancelled after a testing accident delayed the build of the new car. Only 17 of the anticipated 23 teams were ready in time for the eventual first round at Zandvoort, and even now, several squads have yet to make their first appearance of the year.
The calendar has been a source of uncertainty too. It is never ideal when you get three months into a championship before finding out when it will end - as happened to A1GP when a mid-season 'TBA' date became a new season finale at Interlagos.
The planned street race in Indonesia was scrapped with three weeks' notice when it became clear that the track wouldn't be ready, and just hours after that announcement came news that the Mexico City race was being postponed a week due to a clash with a concert.
In a year when the world's economy is hurling itself off a cliff, fluctuating schedules and missing entries are not good for confidence, yet A1GP CEO Pete da Silva remains bullish.
Far from being concerned about races falling off the calendar, he says A1GP was finding it hard to accommodate all the venues vying to host it.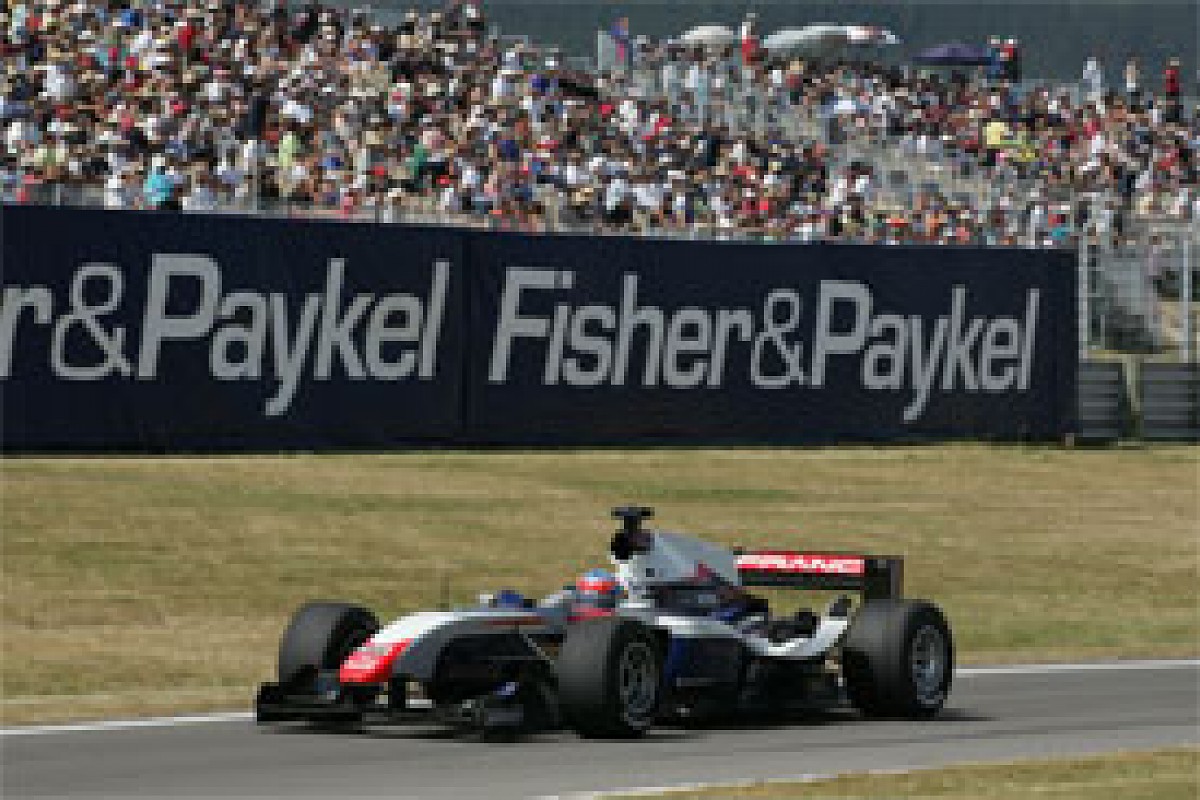 Loic Duval, Team France at speed in Taupo, New Zealand © XPB
"We don't like going below 10 events, and without sounding arrogant, I don't want to go above 14 events at this point in time. Taking the industry and where it is now, be it the banking sector or the automotive sector, it leaves a lot to be desired," he said at Taupo last weekend.
"And as a young series, cash flow is a big issue for me. We have had 16 countries knocking on our doors to take A1GP to their shores, and we haven't done that. We could have done 16 events this season. We're doing 10.
"We want to make sure that the sanction fees are right, we want to make sure the logistical path is correct, and how we have to develop the A1GP brand before we go to those shores."
But while confident about future races, da Silva confesses to some misjudgements in the past - particularly with the abortive Mugello date.
"Look, Mugello was an emotional issue, and I say that right from the beginning. Because we had Ferrari engines and Ferrari consulted on the chassis with Rory Byrne, Ferrari said 'let's make the first race in Mugello'. And we said yes.
"It was, I think, not coming from the head, it came from the heart. Everyone decided and we went for it. Until we had the first negative feedback on the car - we had that small accident and that took five weeks out of our development.
"Right then we saw that we were not going to put the traditional Zandvoort (season opener) at risk, but if we had to have a scapegoat, it would be Mugello. We went straight down to Maranello, to Ferrari, we spoke to them and they were very understanding. We put safety first, and therefore that went off the calendar."
He also has regrets about the trip to Chinese track Chengdu last autumn.
"Being nation versus nation has its blessings and it has its curses," said da Silva. "You get put on the red carpet in terms of political willingness, and wants and needs.
"You will recall that before we went to Chengdu there was quite a big disaster in terms of the earthquakes in the region, and the government asked us to show some sympathy for the people in the region and take A1GP to Chengdu. When the Chinese leadership asks you to do that, it is very difficult to say no.
"But clearly we were not happy with the state of the circuit. We said that if you want us to come back then we need some investments in the circuit, and we need some investments around the series to make it sustainable because if we were prepared to invest, then we expect them to. They are willing to do that now."
Da Silva sees these as blips and is highly optimistic about the future. He is particularly looking forward to A1GP's Kyalami debut next month ("it is going to be a total sell-out"), which he hopes will become the series' flagship event in Africa. His aim is to have one premiere meeting in each region that the rest of the calendar can be built around.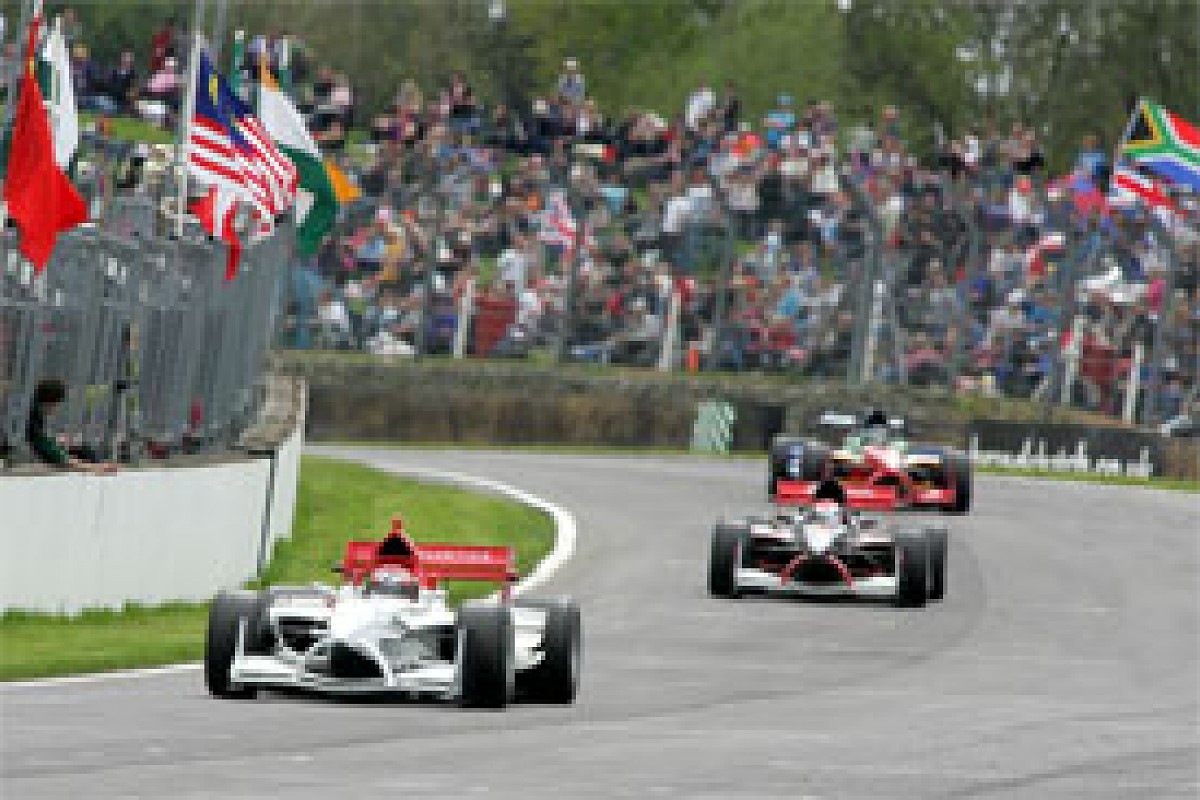 The 2008 A1GP race at Brands Hatch © XPB
"I am going to make sure that every region - Asia, Africa, Middle East, Europe and the Americas - all have one iconic event, and the rest will be satellites around those," he said.
"So clearly Africa/Middle East will be Kyalami, Australasia will be Surfers (Paradise), Europe... is still a tug of war. Brands Hatch has been very, very good to us, and the UK has been very, very good to us, but Germany is knocking on the door, and Portugal, with its new circuit in Algarve, is going to put on a fantastic show."
Capturing Surfers from IndyCar was a massive coup for A1GP. The Australian street race is a hugely successful event with a large fanbase. However da Silva doesn't just want to benefit from the following Surfers already has, but to create an A1GP heritage at the track.
"We have a lot to do in terms of PR and brand management around A1GP," he admits. "And I think we can do that. We're not going to do that in year one. It's going to be a magic event, but we want to be the dog and not the tail of the dog.
"So we are going to work together with the other parties and make sure that we make Surfers the massive event that it has always been, and it should continue to be, but that we cut our own niche as A1GP in that weekend. That's important."
One prominent gap on the A1GP calendar is a North American date, for the championship hasn't returned to the USA since the Laguna Seca event of its inaugural season. Da Silva wants A1GP to go back, but not at any cost.
"We have watched other series go there and lose their shirt," he said. "Do we want a race in the US? Yes. Do we have to do that immediately? No.
"I want to have a good South American event, and a good central American event, or Latino event - and that could even be Florida for all I care; sometimes Florida is more Spanish than Mexico!
"But yes, I see us going into North America. But again, we are going to go there with our eyes open and know what to expect. It will be a medium to long-term effort in terms of taking A1GP into North America. We will be very particular (about) where we race."
Da Silva's confidence about A1GP's calendar extends to its team line-up. Rather than being concerned about a shortage of cars, he said the dilemma is trying to fit all the applicants onto the grid.
"We can't have more than 25, maybe at an absolute maximum, 28 teams," he said. "We have got six countries that are in negotiations with us for a team in A1GP. We do not have six slots."
He said the championship reserved the right to remove under-performing teams to allow newcomers into the field.
"We have been very tough on them in terms of their ability to do things and come to the party - financially, to pay, to be able to run a competent team, and to compete," said da Silva.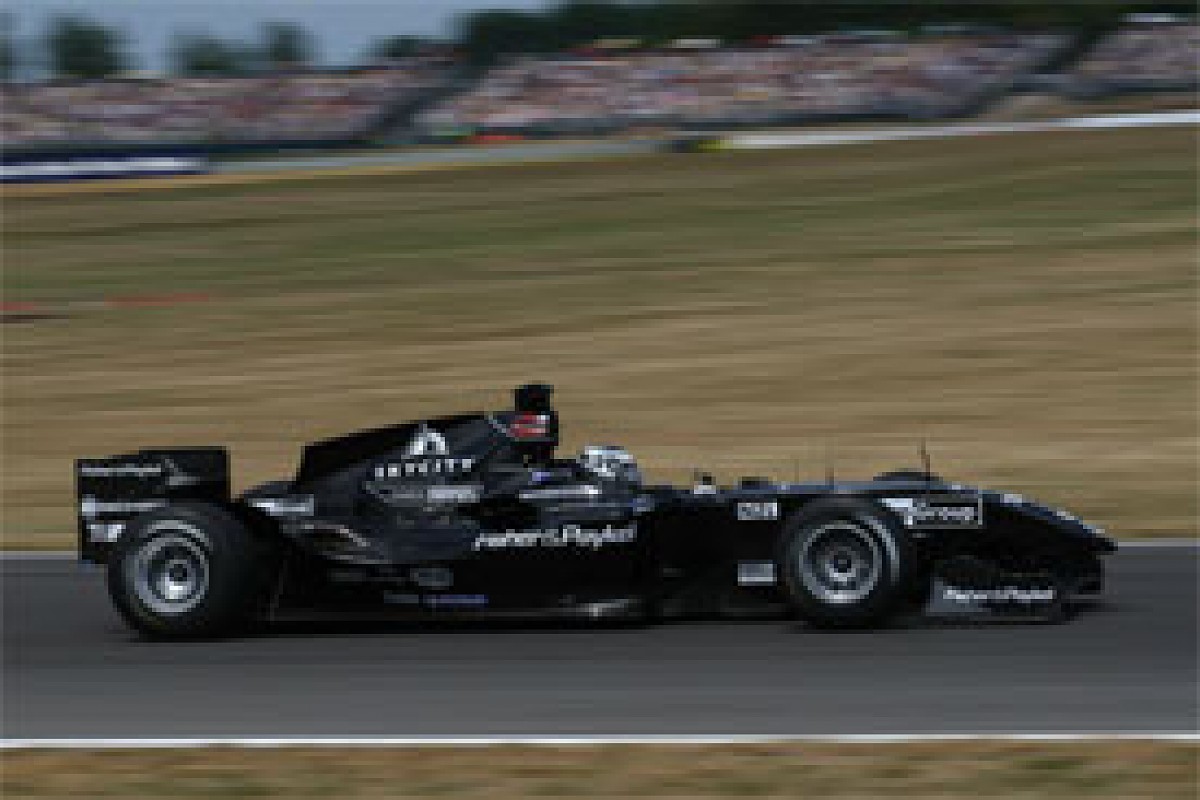 Chris van der Drift, Team New Zealand © XPB
"Let's pick a country... we are in New Zealand, so let's pick Team New Zealand, which is not the case, but if Team New Zealand was not performing on track, and not performing in the corporate world over and over and over again, our franchise agreement allows us to call them up to the red carpet and eventually say, 'Hey guys, cut it. Either you have got to sell it to another New Zealander who can take that asset and drive value, or we change the flag.'"
But he admitted that it had been a tough season for all the teams, and that A1GP had to accept some responsibility for the absence of those yet to start a 2008/9 race.
"We didn't do them any favours in the beginning of the year because we were late. We took a five-week delay, at least, and then obviously because you delay on the cars you delay on the production, you delay on the spare parts availability... but it is there; it has normalised. There are lots of spare parts and everything is up there. It has been tough, but we ran a season plus we built 25 new cars at the same time."
Few sit on the fence when it comes to A1GP. To its detractors, it remains financially unviable, and its nation versus nation concept can never succeed until each country's finest drivers are in the field, or until its emerging nations can stop relying on teams based in motorsport heart-lands.
Its supporters would refute all those charges - and point out that despite incessant naysaying, A1GP is now halfway through its third season and, da Silva insists, not going away anytime soon.
"That doesn't cross my mind," he says when asked if A1GP will get through the financial crisis, "not in terms of arrogance, but in terms of planning.
"It's clear what I have got to do - I have got to make the events pay for themselves. In year one, that wasn't the case. 'A-what? What do you guys do?' I had to ring circuits in season one; I had to promote all my events in season one.
"In season four I think I am self-promoting or co-promoting 30 per cent of my events. So we've turned that around big time, in terms of where a promoter would run a mile when he saw A1GP, right now they are knocking on our doors, and we are getting good returns.
"This is why I am not in a big hurry to go to 16 events. I'll go to 12, I'll go to 14, but I want 12 or 14 paying events with a good return so that it doesn't cost us, it doesn't cost my teams, and it doesn't cost my franchisees money to go racing. That's the magic.
"And then we would work together obviously in terms of sponsorship, series sponsorship, which in this climate is tough. We've seen people pulling out in other series, but so be it. We've got a model that is affordable, so it's not that hard. I run the whole series for less than one Formula One team. I run 22 cars for less than that, which is great. But I must still be cost-conscious, and I must keep those costs down."
He said A1GP was still on target financially.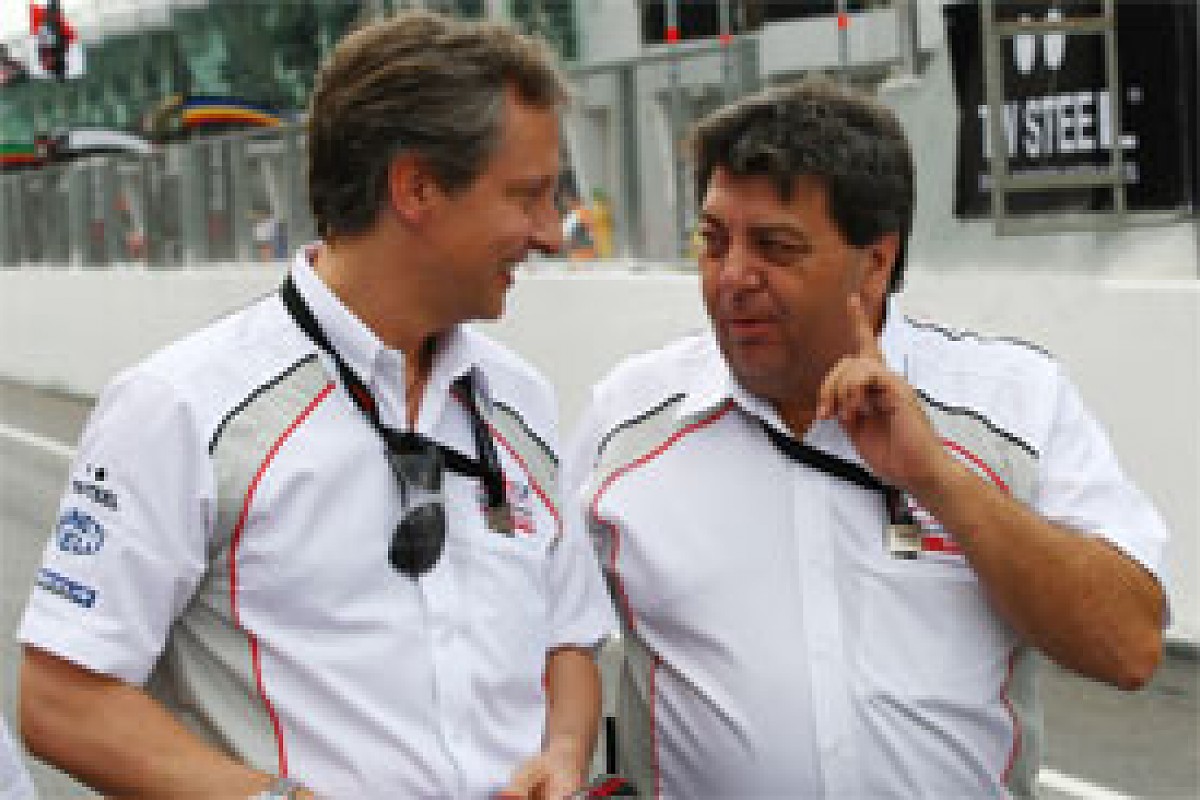 Mario Almondo and Tony Teixeira © XPB
"I came from the corporate world - I ran some multinational companies before - and when I told my board that I needed four to five years to show a return, I got acceptance of that business plan. And I am asking the same thing from my board here.
"Just because it is motorsport and it is a bit more fun, it doesn't mean that it is going to have faster returns. I am still looking at four to five years in terms of a good return in black figures, and developing the series. We are not going to deviate from that. We are not going to sell away our strategy for a quick profit.
"And believe me, we can do it - we have had approaches to buy out our TV wholesale, we have had approaches to buy chunks of the business, or take it there, or do this with gaming, or do that with gambling, and we have been very, very cautious in terms of what we do now so that we don't shoot ourselves in the foot a few years down the line.
"So we are doing it step-by-step, following the business plan, and it is coming to fruition. Yes, no business plan - not mine, no-one else's - took into account the financial disasters that we have seen in the last 12 months, and I believe we will see for the next 24 months at least. And therefore we need to be very, very cautious of where we go, because we are not immune to this. Formula One is not, World Rally is not, MotoGP is not and definitely A1GP is not. The plus side for A1 is that we are affordable."
Da Silva admits that he would rather have had the full 23-car field following the originally announced calendar this year, but he is adamant that the level of interest from new nations outweighs any negatives generated by this season's uncertainties. And in any case, he says there is no shame in any new championship hitting a couple of teething troubles in its formative years.
"We are a young series, and that is the issue," he said. "A lot of people compare us to the more established, be it two-wheel and MotoGP or even Formula One. We're not 60 years old. We are not even a teenager. We are only in our fourth year of existence.
"We've seen some maturity coming to our events, and in season five I see a lot more maturity. But we still are going to have some mistakes, and we are going to learn from them. If we make mistakes, we're going to make them once. We're not going to make them twice.