Missed Opportunities

---
By Tony Dodgins, England
Autosport-Atlas Contributing Writer
At one point during the British Grand Prix, it looked possible that Renault's Giancarlo Fisichella could take a surprise win, given the right strategy. So when Renault brought the Italian in for his second pitstop seemingly earlier than expected, some felt the team was deliberately compromising his chances for the sake of teammate Fernando Alonso's Championship battle. Fisichella, of course, stalled in his pitstop, which eliminated him altogether from the Silverstone podium. But could he have otherwise won? Tony Dodgins analyses Renault's strategy and its outcome
It was quite a surprise to see Giancarlo Fisichella's Renault come down the pitlane for his second stop on lap 46 of the British Grand Prix. He was expected to run a couple of laps further than Fernando Alonso, as he had in the first stint and, had that been the case, Fisichella had every chance of overhauling Juan Pablo Montoya and winning the race.
Alonso had done the better job in qualifying, no question. His 1:19.905 pole position lap compared with Fisichella's 1:21.010. The Italian had a couple of laps more fuel, but that does not account for anything like a full second. There had been a couple of mistakes, Fisichella admitted, and the result was that he qualified seventh fastest, just behind Rubens Barrichello's Ferrari which, on a three-stop strategy, had eight laps less fuel.
Effectively, Fisichella was sixth because one of those ahead was Kimi Raikkonen, who was relegated ten places back down the grid due to a second successive engine failure during free practice.
Both Barrichello and Fisichella got past Jarno Trulli on the first lap, which was just as well, as the Toyota would struggle early on with lack of grip. Across the line at the end of lap 1, the order was: Montoya, Alonso, Jenson Button, Barrichello, Fisichella.
As the first stint developed, Button's BAR could not run at the same pace as the leading pair but the lighter Barrichello did a good job of hanging onto it. Fisichella, knowing that overtaking an evenly matched car at Silverstone is not on, sat three seconds back, running in clean air and looking after his tyres. When Button pitted on lap 20, the Renault driver picked up his pace significantly and was the fastest car on the track.
When Montoya pitted on lap 22, Alonso led across the line and Fisichella, now second, was 10.2 seconds behind. The Spaniard made his first fuel stop next time around, on lap 23, and, according to the TV timing information, was stationary for 9.2 seconds. These timings, however, are not 100% accurate and reflect, at best, the time that the car is stationary, not the length of time that the fuel rig is attached.
Fisichella, meanwhile, continued for another two laps, still the fastest car on the track. At his first stop, on lap 25, he was stationary for nine seconds - just two tenths of a second less than Alonso.
If, instead, we look at their pitstop times taken from the point at which they crossed the line to enter the pitlane, to the point at which they crossed the line leaving it (the speed-limited section), Alonso took 24.62 seconds while Fisichella took 24.09. Assuming that the half-second difference was all fuel rig time, and we know that the fuel flow rate is 12 litres/second, then around 6 litres more might have gone into Alonso's car at that first stop.
Given that a lap of Silverstone requires around 3.7 litres of fuel, Alonso could perhaps have taken on two extra laps of fuel compared to Fisichella.
This squares with what Renault's director of engineering Pat Symonds said after the race: "What we did with Fernando was extend him a long way beyond what we had planned. We had planned to go quite long and we added three laps to that. We decided it during the first stint."
Alonso had been able to stay with Montoya throughout that first stint with what turned out to be one lap's extra fuel. That, possibly, made the Renault men decide that they could perhaps win Silverstone after all, having originally suspected that McLaren would have the edge.
In 2005, strategy is all about qualifying as fuel-heavy as you can without messing up your grid position and getting stuck. Previously, the effect of the extra fuel at a stop was partially offset by gains from a new set of tyres, but this year the drivers have to go all the way through on the same set of rubber. Stopping later, therefore, is always a big advantage provided that the driver doesn't hit catastrophically slow or unco-operative back-markers.
The other important point is that as far as the Championship was concerned, Renault was racing Raikkonen, not Montoya.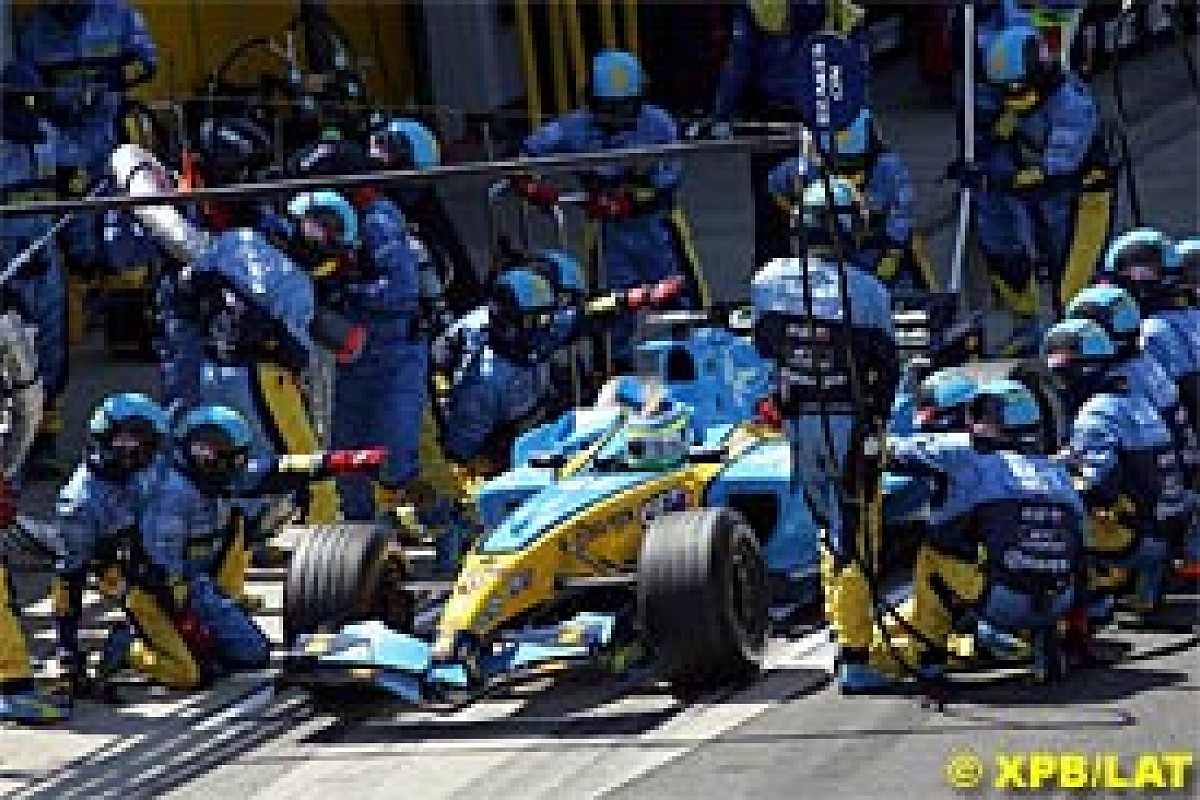 "We thought that Raikkonen would go long on his second stop, and indeed on his first, which you didn't need to be a genius to figure out," Symonds said. "But equally we could see that if McLaren went shorter with Montoya they'd give us trouble. So we made a decision that we would try to cover it every way we could. But at the end of the day we were going to race Raikkonen."
In fact, when the Finn failed to clear the traffic before his first stop, Renault were in the pound seats. Raikkonen's first lap was dynamite. He went inside Mark Webber into Copse, then took advantage of a dicing Ralf Schumacher/Jacques Villeneuve to nail both of them on the entry to Maggotts, much as Montoya had done to Alonso. But that was as far as it went. Raikkonen was then stuck behind Michael Schumacher's Ferrari which, in turn, was being held up by Trulli. The McLaren driver was already half a minute behind by the time Alonso made his first stop, but Renault still had no indication of his true pace.
In fact, by staying in front of Raikkonen all the way to his first pit stop on lap 24, Schumacher had done Renault a big favour. Raikkonen had, as Symonds suspected, run the longest first stint of all - 26 laps - but his second stint was just 19. And the reason for that was Schumacher.
In the normal course of events, Raikkonen's extra two laps would have given him some breathing space but lap 25 - the one immediately after Michael Schumacher's stop - was spent behind Alonso's refuelled Renault. Kimi's lap time was 1:22.54, fully two seconds slower than he proved capable of going on empty tanks, when he banged in a 1:20.502 on the very last lap of the race - just to make a point. Also, Schumacher's own stop had been relatively short and so to fuel Kimi very long would have risked not clearing the Ferrari driver at that first stop, which would ultimately have meant sixth place instead of third. McLaren didn't gamble.
Back to Montoya, Alonso and Fisichella. Once they were back up to speed after their respective first stops, Fisichella's 10.2s deficit to his teammate had become 2.7s thanks to those two extra laps. Montoya was a similar distance ahead of the Spaniard, now with his lighter fuel load.
The Colombian started to edge away, but the gap ebbed and flowed in traffic. Montoya was just under five seconds clear with five laps to go to his second stop. He got the message that it wasn't enough and produced a couple of 1:20.7 laps, when Alonso was running laps in the mid 1:21. Better navigation of Minardi's Patrick Friesacher while overlapping gave Montoya a little over seven seconds in hand as he dived in for his second stop on lap 44.
Alonso had another five laps before his own stop. It was touch and go, although you would have bet on the Championship leader at this point. But, just as he encountered traffic (David Coulthard and Villeneuve) when Montoya made his first stop, he did so again now. This time it was Trulli, who stayed ahead for the best part of a lap before yielding.
This was odd. At Renault last year, Trulli and Alonso were as friendly as ever it gets between serious teammates and, you'd think, the flat wide open expanses of the former wartime airfield make Silverstone one of the easier places at which to spot someone looming in your mirrors. And neither does Trulli have a reputation for being especially obstructive.
The likeliest explanation is that the Italian was a little miffed - although not with Alonso. Drivers like to beat their teammates. Trulli had been just over four seconds clear of Ralf Schumacher after the Toyota drivers had made their first stops. The younger Schumacher was heavier, as events would prove, but Trulli possibly had no reason to suspect as much at the time, although Toyota had likely fuelled him short in an unsuccessful attempt to retain track position over Schumacher/Raikkonen. Trulli's second stint, like Michael Schumacher's, was 22 laps.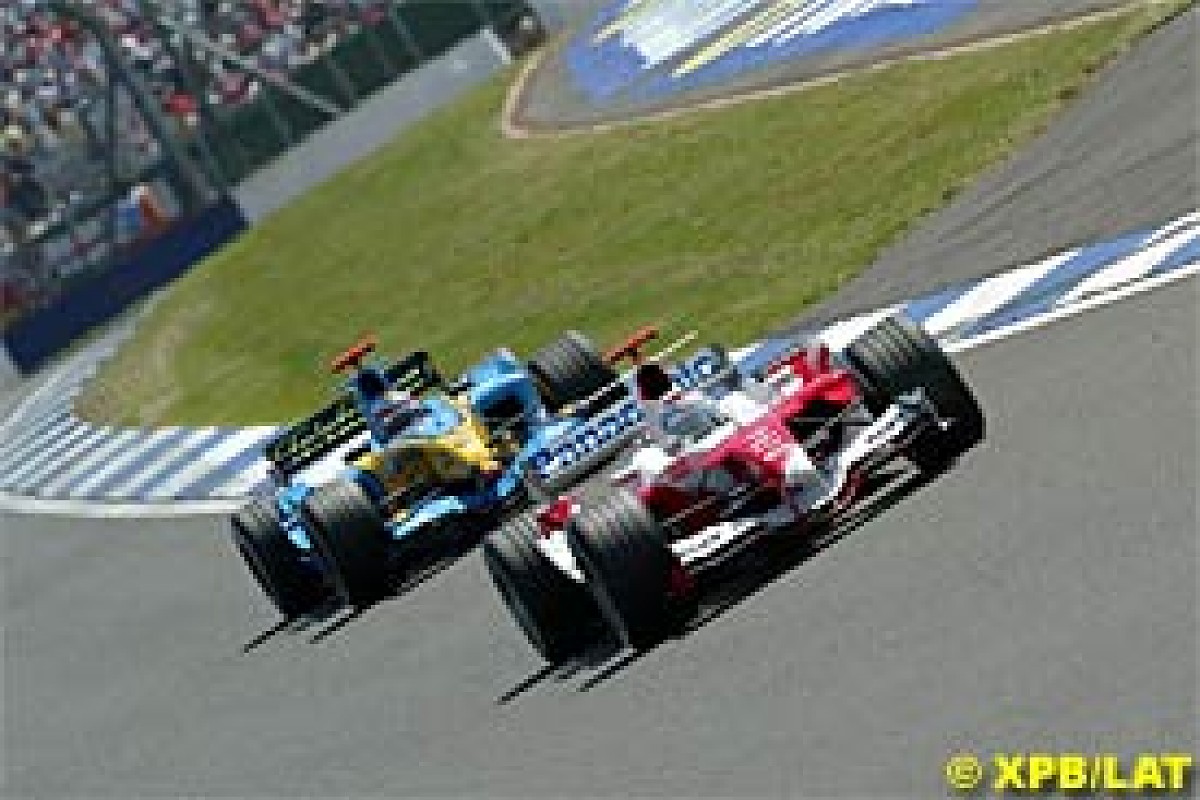 Trulli had his margin over Ralf up to seven seconds by the time he pitted on lap 42. Ralf, though, ran another five laps and overcame the deficit easily, much to Trulli's chagrin. Alonso, graciously, laid no blame at his former teammate' door, commenting instead on the absence of blue flags. But Trulli, knowing that Ralf was charging round eating into his seven seconds advantage, was probably reluctant to give ground anywhere that was going to cost him time.
Alonso caught Trulli on lap 45 and his lap time was 1:23.24. On lap 46, with the Toyota out of the way, he did 1:21.28. Three laps later, he failed to clear Montoya after his all-important second stop by 1.87s. It was that close.
But what about Fisichella?
On that frustrating 45th lap for Alonso, the Italian crossed the line just 1.41s behind his teammate. At the time, it seemed plausible that he could run a couple of laps longer than Alonso, which would have meant that Fisichella was going to win. It was therefore surprising to see him come burbling down the pitlane on the very next lap.
Was he out of fuel? Unlikely, based on the Renault drivers' earlier stop times. Fisichella arrived fully three laps before Alonso, after a 21-lap stint, whereas the latter ran 26 laps.
But whether Fisichella pitted on lap 46, 47 or 48 was largely irrelevant, provided that he pitted anytime before Alonso, thereby being unlikely to beat him.
The question is, could he have run to lap 50, one lap further than Fernando?
"No," Symonds says. "Fisi had moved up better than I hoped at the end of the first stint so we did extend a little bit, but there was no real gain or loss to be made there, so I didn't want to risk a really long stint with him on a heavy fuel load."
Fisichella himself said: "The second pit stop was supposed to be later. I don't know why, maybe they called me in to protect Fernando's position against Kimi. Logically I should have stopped later, but he's fighting for the Championship, so..."
At the time he said that - Sunday after the race - Fisichella would have been aware of the pre-race plan, but possibly not that the team had extended Alonso's second stint by three laps.
Even if Fisichella could have run to lap 50, you had to weigh up the gains. It was highly possible that he would have beaten Montoya, but not definite. He would almost certainly, however, have beaten Alonso. If Renault had finished 2-3 (the team obviously did not know that Fisichella was going to stall again in the pits) with Alonso ahead, he would make a net gain of three points over a fourth-placed Raikkonen in the Drivers' Championship and the team would score 14 points to McLaren's 15 in the Constructors'.
If Fisichella finished ahead of Alonso, however, the effect on the Constructors' Championship would have been just the same but Alonso's net gain over Raikkonen would have been just one point. Now, if Fisichella had won, with Montoya second, the team would have netted a four-point gain in the Constructors' - 16 to 13 - but Alonso, again, would have made just one point on Raikkonen.
You can't help thinking, though, that without Trulli on lap 45 Renault might even have sniffed a 1-2. As sharp and combative as any team in the pitlane, they would truly have loved that at Silverstone. As Symonds said on Sunday night: "I'm reasonably happy, because McLaren led us to believe they were going to pound us into the ground here and we raced them all the way."
Flavio Briatore claimed on Sunday that anyone who thinks he's screwing Fisichella in favour of Alonso must have a 'distorted mind.' He followed up by stating: "It's perfectly clear we cannot sacrifice one driver to help the other." Well, why not? Ferrari manages it.
Did Renault 'screw' Fisichella at Silverstone?
The evidence would point to it being a distinct possibility, but to return a guilty verdict the case must be proven 'beyond all reasonable doubt'. In the light of the evidence outlined by Mr Symonds, a doubt has to remain.
Apart from which, if that particular racing team knew of any chance to humiliate McLaren last weekend, they would have taken it...