It's perhaps not surprising that we've all put so much emphasis on Lewis Hamilton's last lap pass of Timo Glock in Brazil, but of course that extra point represented just one of the 98 he required to win the title - in effect it was just one per cent of the total. The truth is that every point won and lost by both Hamilton and Felipe Massa over the course of 18 races played a part in determining the outcome of their battle.
"This is where it was decided," noted Ron Dennis in Brazil. "But the world championship is over the whole season. We had some bad luck, like the Canada pitlane exit when we were in command of the race, [Massa] had his refuelling problems. All these things, this is the ebb and flow of Grand Prix racing. But in the end there can only be one winner, and I'm so happy it's Lewis."
In fact both drivers and teams threw away an extraordinary amount of points during the season, and in the end it was arguably won by the combination that screwed up the least.
Consider the fact from 2000 to 2007 the championship winning points totals were 108, 123, 144, 93, 148, 133, 134 and 110 compared to this year's 98. The only figure less than that was in 2003, when Michael Schumacher was pushed hard by both McLaren and Williams, and points were shared out more evenly than they usually are. And there were only 16 rather than 18 races.
Fernando Alonso didn't have it easy in either of his title seasons, and yet he exceeded Hamilton's 2008 total by 35 and 36 points.
The numbers reflect just how tough the competition was this year and, as mentioned earlier, how often the two top guys hit trouble. Hamilton retired only once in 2008, but three times he finished outside the points after nightmare races. Massa failed to see the chequered flag on three occasions, and twice finished outside the top eight. In other words, Lewis scored 14 times in 18 starts, and Felipe 13. Both men had several races where they recovered from earlier problems and picked up a fifth, sixth or seventh which was to prove just as valuable as a straightforward victory.
So let's take a closer look at how fortune favoured each driver over the course of those 18 races.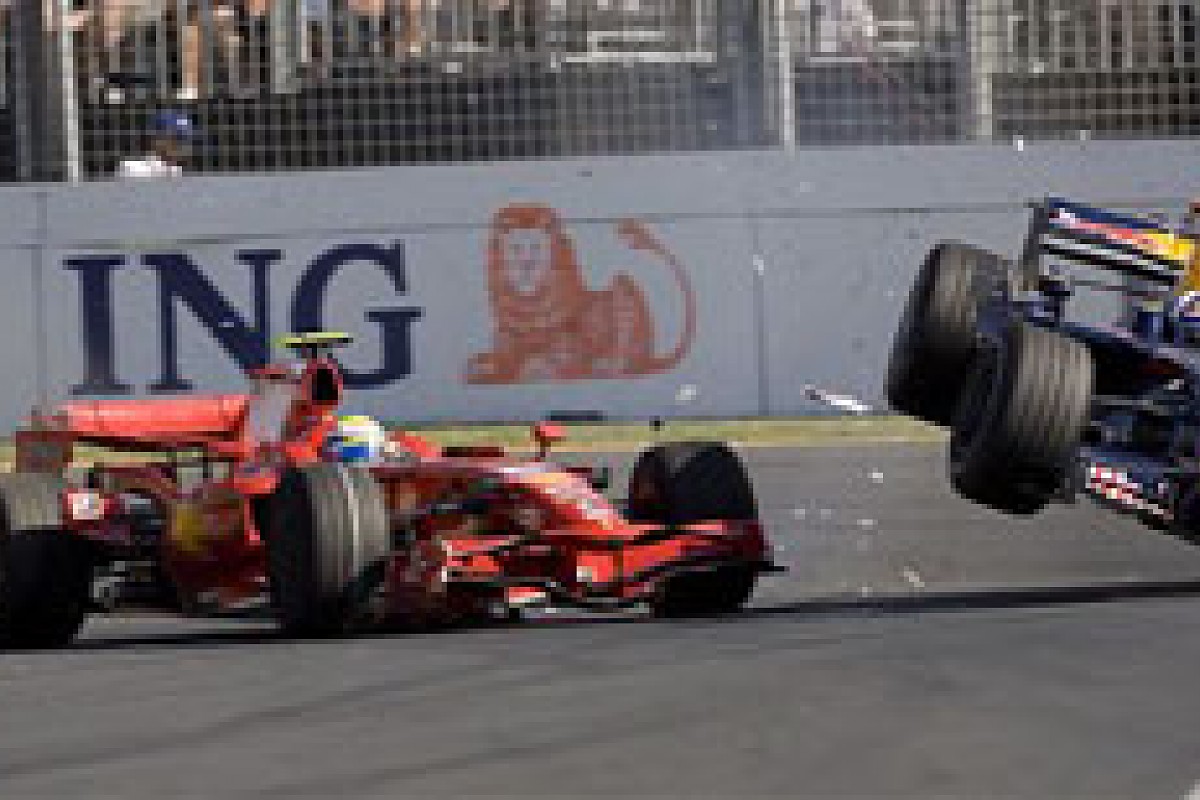 Felipe Massa collides with David Coulthard in the first turn in Melbourne © LAT
Hamilton got off to the perfect start in Australia when he took pole and survived a complicated race that was interrupted by several safety cars.
His life was made easier by the self-destruction of the opposition. Massa had a crash all on his own at the first corner, possibly because the traction control he was used to wasn't there. Later he recovered some ground only to get involved in an unnecessary collision with David Coulthard.
Ultimately an engine failure, also seen on Kimi Raikkonen's car, made his own mistakes academic.
In Malaysia Hamilton suffered the first of what turned out to be a series of brushes with the FIA stewards, and he was pushed back from fourth to ninth on the grid for allegedly holding up Nick Heidfeld. It was borderline, although it certainly didn't look very good on TV.
He took some risks at the start but it paid off as he got up to fifth, but made no further progress. A problem in his first pitstop cost him time - a rare example of a McLaren team error this year clearly costing points - and a potential third place was lost. During the race the likes of Jarno Trulli and Mark Webber were able to keep him behind, and he showed admirable restraint as he collected four priceless points.
Meanwhile it was a disastrous day for Massa, who spun off after running over the kerb at the previous corner. Damage in the first incident contributed to the second, but it had to go down as driver error.
There's no question that in Bahrain Lewis screwed up in a major way.
Having qualified third he made a mistake with the pre-start procedure on the grid, and got away badly. He was still in with a chance of recovering points but blew it by hitting Alonso not once but twice, the second impact requiring a nose change that dropped him to the back. There was no sign of the patience he'd demonstrated in the previous race. Was the sight of Alonso in front a little too much to take?
Massa started second behind Robert Kubica, but immediately claimed the lead, and never looked back. It was an impressive recovery in the light of considerable criticism in Italy after his point-less first two races.
As the championship moved back to Europe it appeared in Spain that Ferrari had seized the advantage and made a bigger step with their update package. Lewis qualified a disappointed fifth but did the best he could on race day and earned a solid third. Meanwhile Massa followed teammate Raikkonen home, his earlier pitstop spoiling any hopes he had of getting past. At this stage Kimi was clearly still Ferrari's main title hope.
However, Massa staked his claim in Turkey with his third win from pole there in as many races, leaving the critics scratching their heads.
Hamilton did not have a good qualifying session, and was suffering from tyre wear problems that pushed the team into running a three-stop schedule. It paid off more handsomely than expected as he nipped ahead of Raikkonen and took second place. He even had the psychological boost of overtaking Massa on the track at one point.
In Monaco Hamilton did a brilliant job to score his first win in the principality in the most appalling conditions. However, it should not be overlooked that he had a heavy impact with the barrier, one that led to a stop which by total fluke put him onto the ideal strategy. It would have been so easy for that contact to have put him out of the race.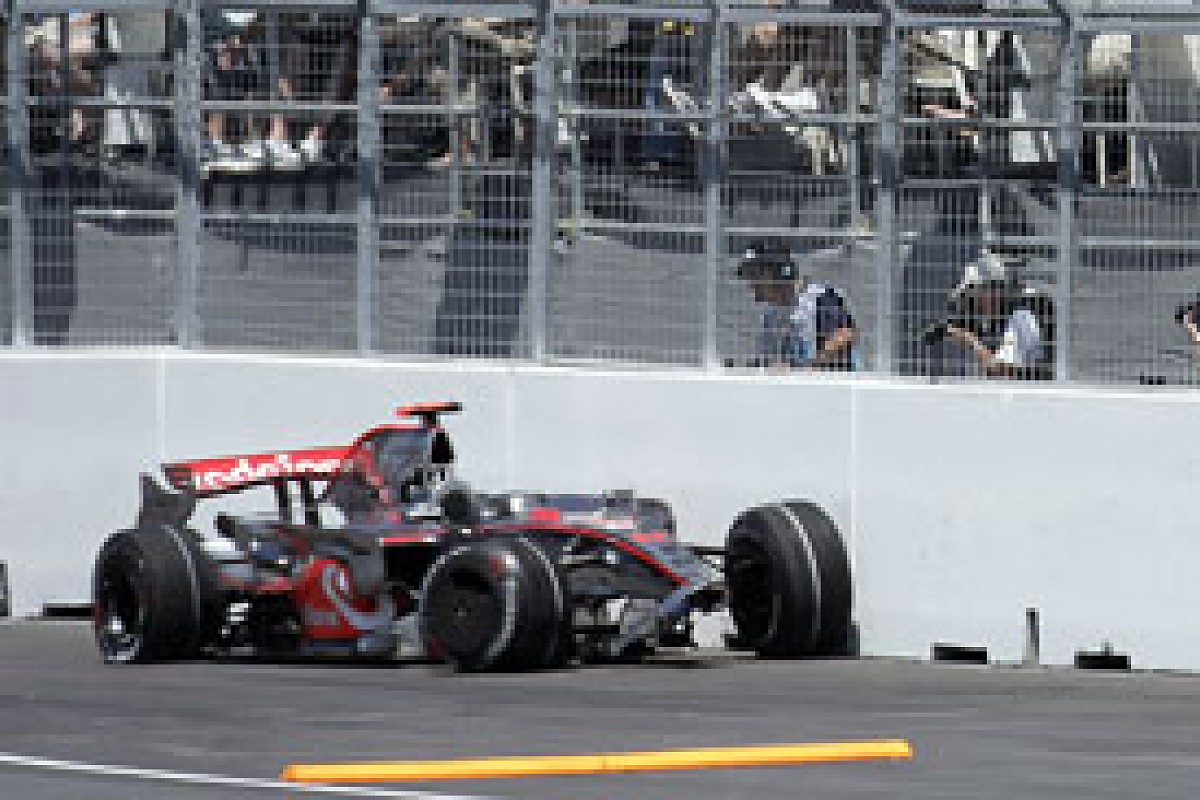 The damaged McLaren of Lewis Hamilton after his Montreal pit incident © LAT
Massa again confounded the critics with a quite brilliant pole lap at a track where he had rarely shone in the past. But he had a generally low-key race, beaten not just by Hamilton but also Robert Kubica. However, he brought it home third for six valuable points.
Hamilton's mistake in Canada was without doubt the most costly of his season. He took a superb pole on a disintegrating track, and the race appeared to be working out well for him when he failed to heed the red light at the end of the pitlane - distracted by the fact that Raikkonen and Kubica had beaten him out. Obeying red lights is a golden rule of motor racing at any level, and he could have no excuse.
Meanwhile when recalling Massa's misfortunes this year it's easy to overlook the fact there was a cock-up at his pitstop in Montreal, and he had to come in for fuel a second time, losing a lot of ground. He subsequently did well to fight back to fifth.
Hamilton went to France knowing that he would have a 10-place grid penalty as a punishment for Canada. Harsh, perhaps, considering that he'd lost a potential win there, but he had also ruined Raikkonen's race. He qualified third so dropped to 13th at a track where passing isn't easy, and thus had to have a great first lap.
He simply tried too hard, taking to the run-off after passing Sebastian Vettel. While his drivethrough penalty for cutting a corner was contentious, he should have known that he couldn't afford to give the officials any opportunity to trip him up.
He eventually finished a lowly 10th. Massa meanwhile was outpaced by Raikkonen, but was gifted a win and two points when the Finn suffered an exhaust failure. Arguably it was a turning point that saw Felipe emerge as Ferrari's title chaser as he took the championship lead.
Hamilton bounced back from his double disappointment in the best possible way with a brilliant wet win in Britain, despite starting only fourth. The TV cameras caught one grassy moment, but he could be forgiven for that on a day when many others made more costly mistakes.
Massa had a nightmare of a race, enduring a series of spins. Engineer Rob Smedley accepted the blame for making some bad tyre calls, but it was not a great performance by the Brazilian.
Hamilton dominated from pole in Germany but his life was made difficult by a questionable strategic call. His recovery charge in the closing laps was spectacular and he passed Massa on-track for the second time this year on the way to victory. However, it could have all come unstuck.
After what was Ferrari's least compeitive performance of the season to date, Massa still salvaged third, although he was unable to challenge Nelson Piquet's Renault for second in the closing stages.
In Hungary Massa did a perfect job, and scored some psychological points by passing pole man Lewis at the first corner. He was set to win when his engine failed three laps from home. It was tragic for him, but the fact is that maintaining reliability has always been an essential theme in F1, and many a driver has lost a title through failures because his team didn't get it right.
Hamilton meanwhile was not in a position to take full advantage because he'd been a victim of pure bad luck, picking up a puncture that forced him to run almost a complete lap on three wheels. He managed to get back to fifth - four more priceless points.
The Valencia track was new to everybody, and Massa was again on form as he took pole and scored what looked like an effortless win, although Ferrari's day was spoiled by a silly pit mistake by Raikkonen, followed by an identical engine failure to that suffered by Massa in Hungary. Hamilton took a welcome second on a weekend when McLaren was off form and Lewis himself had suffered a scare with a neck problem.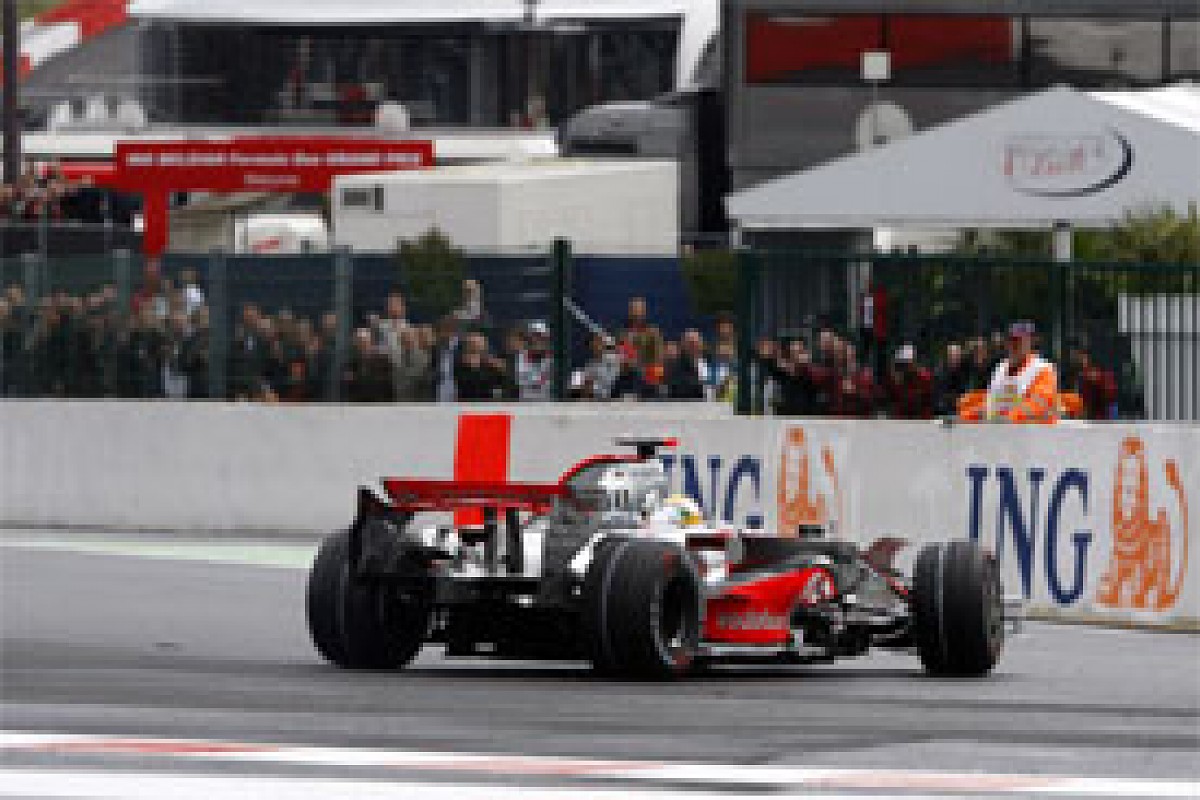 Lewis Hamilton spins in the La Source hairpin © LAT
The Belgian race is a whole story on its own - click here for our views at the time.
Hamilton was delighted to take pole on one of the great tracks, but he blew it with a spin at the start of the second lap. Thereafter he had to chase Raikkonen, finally getting past when the rain came in the closing laps. Some people saw it as a fair pass in the midst of a great battle, others - including the FIA - thought Lewis had gained an advantage.
The bottom line was that in the stewards' room he was pushed back to third and lost his spectacular win, and Massa - outpaced by Kimi throughout - was handed victory. That represented a six-point swing in the Brazilian's favour, a huge advantage with just five races to go, and one that he could well have used as a springboard to the title.
In Italy Hamilton made another expensive mistake, although this one
was in qualifying. On a drying track he made a very ambitious tyre choice - a case of over-confidence or perhaps a little showboating - which ultimately stranded him in 15th on the grid. Unusually the team management was quick to distance itself from a decision made jointly by Lewis and his engineer, and there was none of the usual 'win as a team, lose as a team' stuff.
Wet weather on Sunday gave Lewis a chance to make amends, but he made hard work of his charge through to seventh - hampered partly by an inconveniently timed change of weather just when he looked set for a podium.
He also received criticism - but no penalties - for some of his aggressive moves. However, he did at least survive on a day when it would have been easy to come unstuck in traffic. The good news for Lewis was that Massa was just a place ahead in sixth after another lacklustre wet race, and thus he gained only a point.
Having taken pole in Monaco and Valencia, Massa showed his street circuit skills again in Singapore by qualifying on top. He led away and looked well set when the safety car turned the race upside down - which is when a single Ferrari crew member blew it by waving him out prematurely.
Later Massa received a drive-through for an unsafe release, and he also had a spin and a puncture. He finished 13th, but in fact he should have been disqualified - when the crew removed the errant fuel hose it amounted to working on the car outside the pit box, which is illegal.
We'll never know whether Massa would have taken the third place that ultimately went to Lewis, or whether he would have been competitive enough to at least get ahead of Nico Rosberg to take second. However, he would never have beaten winner Alonso.
Despite his failure to score Massa was only seven points behind going to Japan, so there was still everything to play for. Lewis won the first battle by taking pole, but at the first corner he ran wide, as did just about everybody else. A combination of cold tyres and everyone's first proper Fuji start (it was a wet safety car start in 2007) contributed to the problem.
Lewis nevertheless emerged from the mess in third place, but it was then that he really messed up, running wide a couple of corners later as he tried o get on terms with none other than Alonso. As in Bahrain, the sight of his old teammate ahead seemed to unsettle him.
It was this second incident that cost him dear as four cars, including both Ferraris, went past. He then hustled past Massa on the second lap - the third time he'd passed him in 2008 - only for Felipe to drive clumsily into the back of him. It was a rare moment of madness from the Brazilian. A subsequent early stop and then a controversial drive-through put Lewis out of the frame for points, and he could only recover to 12th. Massa meanwhile overcame his own drive-through for the Lewis shove.
The Brazilian fought hard and recovered well to eighth, having survived a brush with Sebastien Bourdais when, as with Coulthard in Australia, he seemed oblivious to the presence of another car. To the surprise of many the Frenchman was penalised and Massa bumped from eighth to seventh. He thus gained an extra point on Lewis to add to the six that the officials had effectively handed him in Belgium.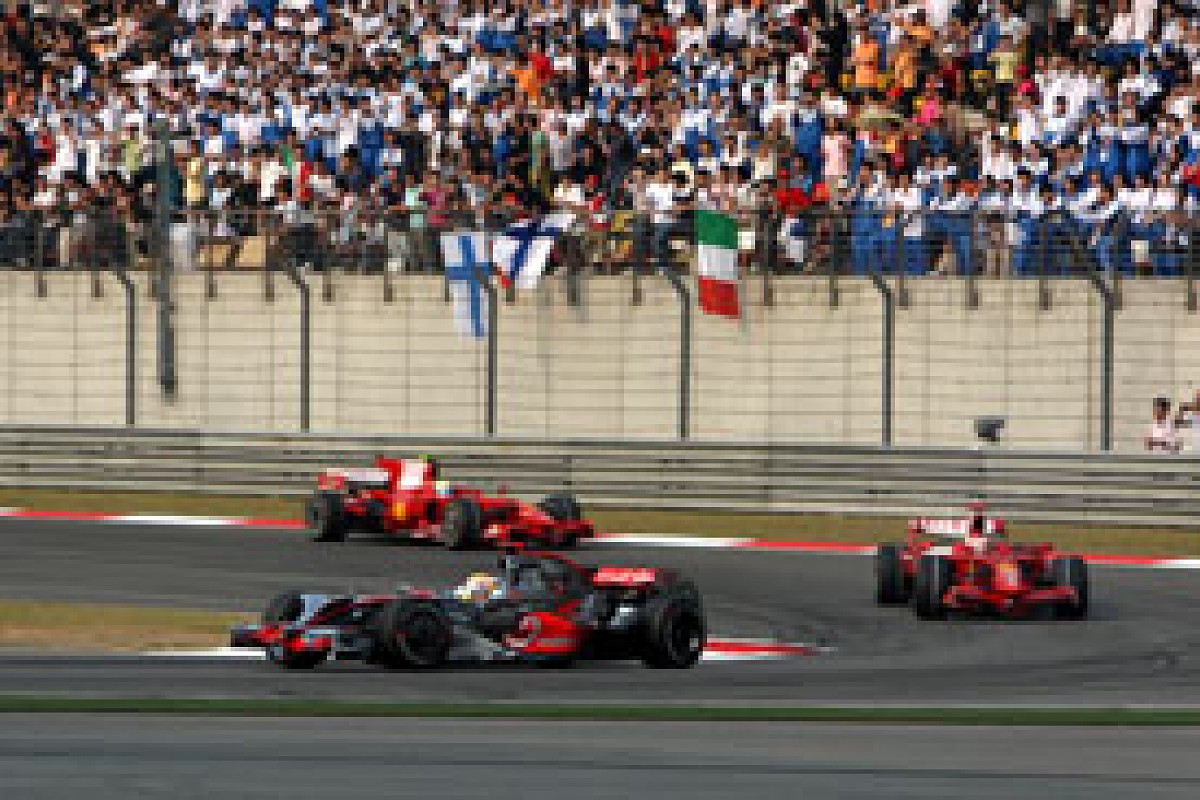 Lewis Hamilton pulls away from Kimi Raikkonen and Felipe Massa in Shanghai © XPB
Lewis was under serious pressure going to China, where his championship challenge had come undone in 2007. This time he could not be faulted as he secured pole and won in brilliant style. An off-form Massa was outperformed by Raikkonen but again he got a two-point gift as the Finn did his duty and waved him through to take second. That left him seven points behind heading into the finale.
Massa did everything that was asked of him in Brazil, taking pole and winning in fabulous style, and showing (for once) that he and the F2008 could cope with a wet track in the closing laps.
But it was always going to be out of his hands. McLaren aimed squarely at fifth place all weekend, and so nearly came unstuck. But Lewis plugged away, kept his head and his car on the road, and in the end he did just enough.
In the end one could argue that Ferrari lost the championship for Massa. He had the two engine failures in Australia and Hungary, the two pit problems in Canada and Singapore, and unfortunate tyre calls in Monaco and Britain.
If you attribute the Monza qualifying tyre choice to Lewis, then arguably the only time a McLaren error cost him points was in Malaysia, where there was a delay in the pits. The strategy call in Hockenheim was perhaps not ideal, but since he won, it didn't cost him. In terms of pure bad luck, you cannot discount the Budapest tyre problem.
So what of the drivers themselves? Massa went off in Malaysia, and he unnecessarily earned himself a penalty with what looked like a petulant shove of Lewis in Japan. Aside from the many spins in his nightmare race at Silverstone, he didn't do too much else wrong (his wild race in Australia was in any case spoiled by the engine failure).
Hamilton created his own dramas in Malaysia (the qualifying block), Bahrain (the grid and Alonso collisions), Canada, France, Belgium (the second lap spin rather than the overtaking move) and Japan, plus he made that qualifying tyre choice in Italy.
Of course Hamilton is a deserving world champion. But add up the points lost to team mistakes, and cross reference that with opportunities wasted by driver errors, and perhaps you may come to the conclusion that Massa deserved to win it just a little bit more...