From the Pulpit

---
By Matt Bishop, England
F1 Racing Editor in Chief
Giancarlo Fisichella started the 2005 season with a commanding win under difficult personal circumstances, but has since faded away while his teammate dominates the Championship battle. Matt Bishop finds similarities in Fisico's situation with another famous Grand Prix winner. And if the Italian pays attention, there's a lesson to be learned from that comparison
Giancarlo Fisichella reminds me of... Carlos Reutemann. Gifted beyond the imagination of most of his peers in the art - yes, art - of superintending the nervy high-speed interface between hot rubber and hot asphalt, he nonetheless seems to amount to a tad less than the sum of his parts.
If Reutemann was "enigmatic" and "all moody introspection", as the reporters of the time famously used to phrase it, Giancarlo is... what? Less intellectual by far than the man christened "Lole" by his Argentine adorers, Fisico (a less convoluted nickname for a less convoluted character) is also difficult to know.
Until he heard on race morning in Melbourne that his baby son, Christopher, had been rushed to hospital with an as yet undiagnosed but clearly acute illness, 2005 had been going perfectly for Giancarlo. As a result, over the past three days, he had been all smiles in the Albert Park paddock - chatting to mechanics and photographers and marketing men about his beloved AS Roma, remembering which teams each interlocutor supported, the better to enjoy the vicious yet somehow good-natured banter that all keen football fans relish; joshing with his manager Enrico Zanarini, perhaps allowing his eyes to settle on the taut, tanned flesh of a pretty girl as she wandered through the paddock. You get the picture.
And even after he had heard that Christopher was ill, and had decided that he would return to Rome immediately after the Australian race rather than chill with Enrico in Langkawi (or somewhere similar) in the two-week gap before the Malaysian event, he was still okay. He was on pole, after all. He would win the race, then attend to things in life that really matter later.
Which he duly did. The victory came as easily as any victory has ever come to any driver in the history of Grand Prix racing. And Christopher was okay, out of danger, very soon. Giancarlo spent a few days in Rome with his wife Luna, went to the gym, chilled as best he could despite the jet lag, browsed a few websites and enjoyed reading how perfect had been his performance Down Under, and started thinking about the Championship. Well, why not?
But, since then, nothing has gone right. As Sepang rolled into Sakhir, and Imola rolled into Barcelona, and Monaco into Nurburgring, and so on... Giancarlo has stopped telling Williams's well-liked marketing director Jim Wright, with a cheery smile, as the two men passed each other in Grand Prix paddocks, that Watford "are shit". And although he spends as much time in conference with Zanarini as ever, they rarely seem to be joshing these days. Pretty girls? Oh yes; some things never change, but there is a rueful dullness in his eye even as he checks out a passing babe.
He even looks different, for Chrissakes.
Personally, I doubt whether Giancarlo knows what is wrong. He is, of course, as fast as ever - which means that he is more or less as fast as it is possible for a racing driver to be. But, while he has failed even to post a podium finish, let alone another win, since Australia, the beaming face of his irrepressible teammate Fernando Alonso, who was third in Melbourne, has now featured on six subsequent podiums, five times from the central plinth. And, as a result of the discrepancy in their positions in the points' standings, inevitably Fernando has become de facto Renault's, and Flavio Briatore's, favoured son.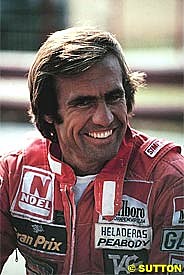 Perhaps Fisichella should ask Reutemann for advice. In 1977 Carlos joined Ferrari, alongside Niki Lauda, who had been the Scuderia's favoured son for a long time. Lole won just one Grand Prix - at Interlagos, also early in the season - and then watched his teammate notch up podium finish after podium finish on his way to an easy Championship win. In 1980 Carlos joined Williams, alongside Alan Jones, who had been Frank's and Patrick's favoured son for a long time. He won just one Grand Prix - at Monaco, also early in the season - and then watched his teammate notch up podium finish after podium finish on his way to an easy Championship win. Indeed, by season's end, the win tally was: Jones 5; Reutemann 1. Just as it is now, between Alonso and Fisichella.
You may or may not be charmed by the symmetry of my Reutemann-Fisichella comparison, but I will proceed on the basis that you are. What, then, could Giancarlo learn from Carlos? A lot, I reckon. Because the seasons immediately after Reutemann's two anni horribiles were the best of his career. In 1978, with Lauda out of the way at Brabham, Reutemann drove superbly, winning four Grands Prix. He would have won the Championship, too, had not Mario Andretti's ground-effect Lotus 79 been so often so uncatchably rapid. And in 1981, alongside a Jones whose already robust confidence had been boosted further by the kudos of being Champion, Reutemann nonetheless dug very deep and shaded the increasingly liverish Australian in almost every race, finally losing the Championship to Nelson Piquet by just a single point at the very last round.
How did Carlos do it? Well, he focused. He remembered that he was a truly brilliant racing driver, his talent God-given. He worked. He tested. He kept fit. And, if he had always played his own game in 1981, rather than sometimes allowing himself to fret about whether Jones's Cosworth DFV was a couple of bhp gruntier than his own, then he would probably have been well clear of Piquet, rather than just a single point ahead, when the Formula One circus rolled into Vegas for the final act.
Reutemann's is a cautionary tale which Zanarini would do well to relate to his uneasy charge. For Fisico is only a win away from a totally new outlook on his F1 life. That win could come just as easily at Silverstone as anywhere else - or, as with Reutemann in 1977 and 1980, it could never come at all.
But, whatever happens this year, Fisi should already be planning to make next year his year. He is good enough, but is he strong enough? When we overhear him telling a Renault mechanic that Marseilles are "merde", we will know he is.