Next year's aero changes explained
Over the past two weeks, this column has brought the views of technical directors about the revised 2009 Formula One technical regulations, which officially see the light of day during scrutineering for next season's first race, provisionally the Australian Grand Prix in Melbourne on March 29.
Given the swingeing nature of the changes - some, like those rather hideous rear wings tested last week by Williams, and slick tyres are utterly conspicuous; others, such as KERS and adjustable front wings are expected to be less so - it was inevitable that differing opinions, interpretations, and points of view would be aired.
Rory Byrne, who headed up the FIA's Overtaking Working Group - which recommended many of the regulatory changes - designed every one of Michael Schumacher's Formula One world championship-winning cars, in addition to many other ground-breaking (and winning) designs, so is well-placed to discuss the forthcoming technical changes.
Rory Byrne © XPB
Q: Various technical directors and aerodynamicists suggest that, by the first race of next year, the downforce reduction will be a lot less than the 50 per cent targeted by the Overtaking Working Group. What is your reaction to this?
Rory Byrne: "I don't want to quote any numbers, but when we originally targeted 50 per cent (reduction), we did so knowing the teams would develop their cars and that the reduction would be less than 50 per cent. Having said that, I am sure that the downforce people will be running next year will be substantially less than the downforce they are running now.
"Of course, you have a few key elements to this. One is that you have more mechanical grip due to the tyres having more grip. The grip due to downforce will be reduced and there will be substantially less downforce, that's for sure. The other big thing is that the configuration of the cars is such that the cars will behave better in a tow, so when they are following a car they will have inherently better aerodynamics than they have now.
"They will also have adjustable front flaps, so if their balance is adversely affected as it is now, our work shows that the aero balance will be less affected. Nevertheless, they have the opportunity of getting the balance right by adjusting the front wing. All that is going to mean is that overtaking will be definitely, substantially improved. I don't think there is any doubt to that."
Q: How often can they adjust the front wing?
Byrne: "Twice per lap. The premise is that you need to adjust it twice per lap because you need to balance your car when you're following, and then adjust it back when you've passed him. So, you have to allow two adjustments per lap."
Q: So when a driver is following somebody down the straight, he can adjust it down, then take it back to standard when he has passed, but if he needs any more on that lap, it's tough luck?
Byrne: "It doesn't have to be back to standard, he has two adjustments per lap, that's it. So he may find that he has adjusted it, but not enough, so he adjusts it more - that is his two adjustments gone and he has to wait until the end of the lap before he has another two adjustments. He can choose any adjustments within the six degree range allowed, but only two per lap."
Nico Rosberg tests an interim 2009 Williams © LAT
Q: And how will they control the number of adjustments, will the data be downloaded at the end of the race?
Byrne: "Obviously the position of the flap and the number of adjustments will be controlled by the FIA's standard ECU (electronic control unit), but exactly how, I am not so sure about because that was outside our brief. But all these teams are professional and I am sure some mechanism will be put in place."
Chris Dyer, Kimi Raikkonen's race engineer, clarifies the situation: "It will be on a request basis. The first two times the driver pushes the button, something happens, the third time (on the same lap) he pushes the button, nothing happens. When he crosses the line, the system resets and starts the count all over again."
Q: Some people are indicating that the lower height for the front wing means it is too low, that it will be vulnerable. What's your reaction to that?
Byrne: "Well, it's no lower than it used to be; in fact, it's higher than it used to be in the late 80s/early 90s, so I don't think it's much of an issue. Drivers knew what they could do and what they couldn't.
"The other thing is that it's a lot wider (1800mm) so it's as wide as the outside of the front tyres and it's another 100mm further forward, so it's definitely more vulnerable against damage from other cars in a scrum. I think, initially, you'll find there are more damaged front wings than there used to be, but then drivers will get used to them.
"It's a bit like going from a small car to a big car and parking it. Yes, there could be some damage initially, but you get used to it. I don't see that as an issue.
"The important thing, the fundamental for the wing was to have a lifting section inboard, because that's the area that's (aerodynamically) damaged in a tow. So you wanted a lifting section, not a downforcing section, inboard. In order to have the capability of getting the right aero balance you had to increase the span."
Q: When we last spoke you estimated that at the moment a car had to be about two seconds a lap quicker than the one in front in order to overtake it reasonably safely, cleanly...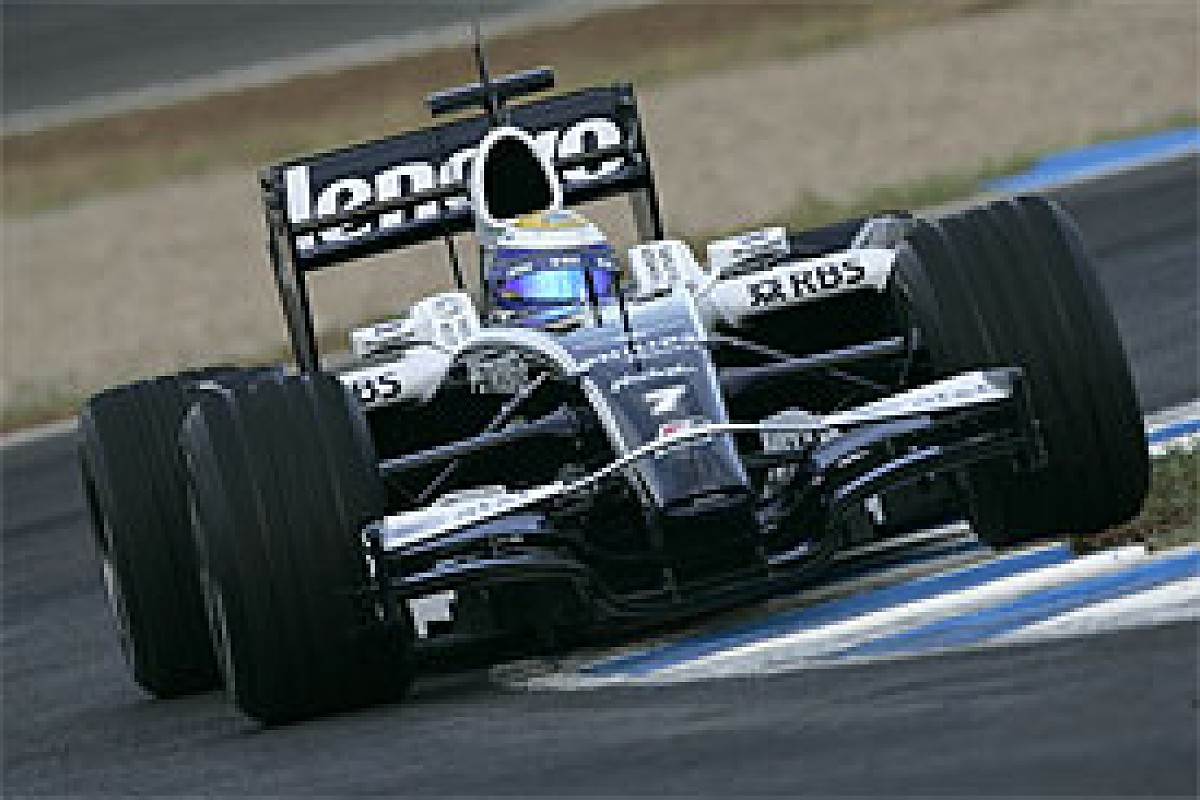 Honda testing KERS © XPB
Byrne: "That's what the McLaren simulator work showed and that's broadly what you see at present, to be honest."
Q: So you targeted to reduce that to about a second by a 50 per cent downforce reduction. But obviously that gap will increase if the teams get the downforce reduction to only 25 per cent. Does that mean the overtaking differential rises from a targeted 1s to, say, 1.5s?
Byrne: "No. Don't forget the other issue is the balance, so it's probably not going to be half the delta (difference), but it won't be far off."
Q: Looking at the clawed back downforce, slick tyres, etc, what do you think the approximate effect on lap times will be?
Byrne: "Our original brief was that the lap times shouldn't be more than five seconds per lap slower. Now they won't be that, the simulations we did with 50 per cent reduction and the grip information given to us by Bridgestone to do the modelling, we were talking about three seconds per lap slower.
"So I would say they will be somewhere around two seconds per lap slower and the same as present, depending upon circuit."
Q: Some are saying straight-line speeds will be quicker, meaning lap times could be quicker than at present, again depending upon circuit.
Byrne: "I'm not convinced the straight-line speed will be quicker because you've got a couple things, namely the fact that the downforce level is lower, so you can't back the rear wing right off in order to go for speed because you'll need the downforce.
"I doubt whether the top speeds will be higher. The cars won't be slower and they won't be a lot faster. In fact, I think the (top speeds) will be about similar to the present. But we'll see."
Proposed 2009 front wing
Q: There is a school of thought which suggests the cars in Melbourne will look distinctly different from each other, simply because nobody will have had the opportunity to copy solutions. Then at the first race, the technical directors will be rushing around the pits to see what solutions the opposition has found. Could that be the case, particularly given the problems posed by packaging of KERS?
Byrne: "I'm not sure it is a problem, but it's an engineering challenge, no doubt. I'm sure it's a challenge for all the teams. You've got a lot more components; complexity goes up, so does weight. By how much depends upon the system you choose, but it's certainly an engineering challenge.
"I think it's fair to say that the 2009 cars are a much bigger engineering challenge than the cars in the last decade or so. You've got a big aerodynamic change, a tyre change, and the KERS. I can't remember when last we had such a fundamental change, probably when they scrapped ground effects."
Q: Which is also roughly when they banned turbos...
Byrne: "That's right, when they changed from turbos to naturally aspirated engines. In 2009, you're talking about a fundamental change, it's a major engineering challenge. When you get such a huge regulation change, no one is going to start with cars that are fully optimised. It's inevitable that the performance gains you make in the early development are going to be greater than later.
"We've had stable regulations - give or take a few details - for quite a while now. But everybody has sophisticated simulation tools, so I'm not convinced the cars will be massively different, but it will be very interesting.
"There is no doubt that the engineers are facing the biggest technical change in 25 years or something like that."
Next week, Dieter Rencken will conclude a quartet of columns focused on next season's regulations with a KERS-oriented interview with Roberto Dalla, Motorsport Director of Magneti Marelli.