More and more races, but who's watching them?
Discussions about saturation points in Formula One are becoming increasingly frequent, and all the more so in the wake of a German Grand Prix remarkable for its lack of spectators - to the degree that FIA president Max Mosley commented upon it in his recent interview with Jonathan Noble:
"All the grandstands going down to the Sachskurve were empty," remarked Mosley. "I am sure there were people who would have liked to have sat there, but they cannot afford it."
Then added Mosley: "[But] it is a Bernie [Ecclestone] problem", which commercially it is, of course - or more accurately, that of the septuagenarian's financial masters and his own wife, for he owns but one share in the sport's rights' holding company and CVC Partners, and his family trust most of the rest. But it is, too, a problem for circuit promoters, sponsors, advertisers and F1's massive worldwide fanbase.
Lewis Hamilton passes sparsely populated grandstands in Hockenheim © LAT
With many fans simply no longer in a position to watch their beloved sport live, it becomes an FIA problem, for the body is charged with ensuring the overall health of motorsport, and empty grandstands seen by millions across the world on television certainly do not point to a vibrant Formula One.
Unless checked, this effect is likely to cascade down to the sport's lower categories, in turn causing a vicious circle with an ever-diminishing circumference and the power to eventually throttle the living daylights out of motorsport as a whole.
But back to Mosley's main point: with average ticket prices of around €400, the typical family of four has, as Renault F1's Flavio Briatore so succinctly put it, a choice of going grand prix spectating, or sinking the same amount of hard-earned wedge into a week's holiday on the Spanish coast and watching the race live on television.
Sadly, Sachskurve proved the flamboyant Italian's point: Hockenheimring, which just two years ago played to an almost capacity crowd, and despite Germany having hosted two grands prix a year since 1995, is said to be facing bankruptcy and unlikely to fulfil its next commitment (in 2010) as a result.
Of course, the departure from F1 of one Michael Schumacher has played a part - although the host country did have five flag bearers (25 per cent) on the grid, not one has won a grand prix at the time of writing - but not too long ago many German F1 fans attended two or more races a year, so overall affordability is hardly the only factor.
Cost/benefit considerations have obviously entered the equation of what should be an emotional purchase decision and, while it is convenient to blame the Schumacher effect, Spain provides yet another example of rising ticket prices causing decreasing attendances - and in that country Fernando Alonso is every bit as huge as Michael is at home.
Looking back at the season to date, every grand prix bar one this year is estimated to have had, at best, no real increase in bums on seats and, at worst, a 40 per cent drop in ticket sales.
(Race promoters reading this column are welcome to dispute statements made above, but are requested to submit audited ticket-sales statements going back at least three years with their comments.)
Spectators watch Nelsinho Piquet during the Canadian Grand Prix © XPB
The exception to the trend? Canada, but forget not that the removal of a US race means that country's neighbour offers a cost-effective substitute which is, for many Americans, more conveniently sited than is Indianapolis and offers a different culture to boot. But what if the USGP should return (of which more anon)?
So, rational folk could hardly be blamed for believing future calendars will shrink rather than continue to grow. Or, in a best-case scenario, remain pegged at this year's 18 races.
However, in the same week that Mosley made his observation, stories surfaced that Mexico is (once again) investigating a grand prix, while rounds in India and Korea from 2010 onwards seem done deals, even if nothing major has been heard about the latter project for about 18 months now.
Then there are rumours that the United States will be back on the calendar, if not next year then immediately thereafter. These refuse to die and have to be taken seriously, for the world championship can hardly be deemed thus if the planet's largest consumer and car market is conspicuous by its absence on the schedule.
Russia, too, is said to be rushing ahead with plans for a grand prix - whether to be held in Moscow or St Petersburg seems to be the only open question - and so the list goes on. In fact, it has been said that at any one time Ecclestone has six more applications on his desk than he has slots on the calendar.
If only half the number of known wannabes come to fruition, the fixture list will quickly spiral from the present 18 races to 19 next year (with the inclusion of Abu Dhabi on the provisional 2009 calendar) to 20 or even more by 2010 - and that is before the likes of South Africa (remember, Africa is the only inhabited continent without FIA world championship rounds in any shape or form), Portugal and a plethora of hopefuls have chucked their (hard) hats into the ring.
Why, just this week the normally reticent Nick Heidfeld - whose home grand prix three weeks ago was remarked upon by Mosley, sparking this subject - says he would like to see the calendar expand to hold even more races.
"I'm looking forward to going to India, and the other interesting new places currently being discussed," he was quoted as saying. "It's a pity [that Indianapolis isn't on the calendar] because, for me, the Formula One World Championship should race everywhere in the world."
Lest this be interpreted as a call for a substitution of venues rather an increase in the number of races, his next comment leaves no doubts. "I'm looking forward to having more races, as is planned for the future," said the BMW driver, who is in the minority if sentiments in the Hungary paddock are any indication.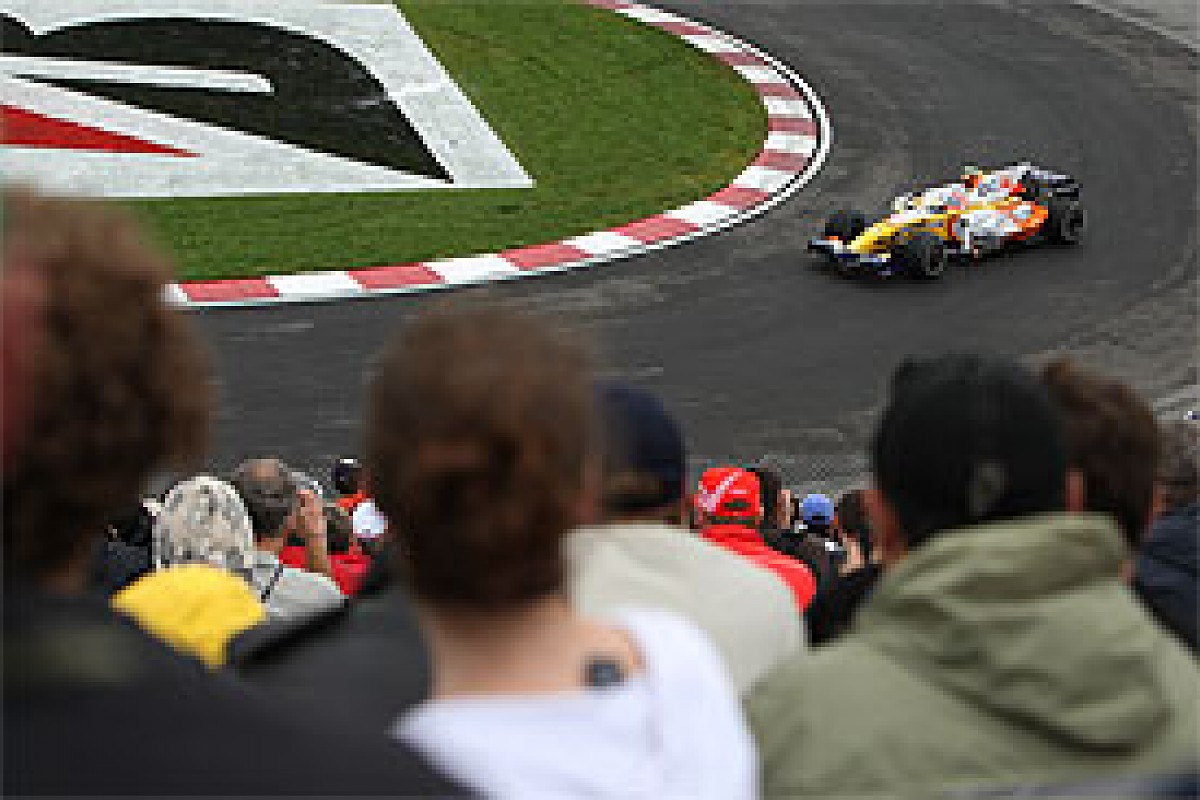 The Singapore skyline © LAT
Where once Bernie Ecclestone seemed unenthusiastic about going to 18 races per season, basically on account of the Concorde Agreement restricting the number to 17 events unless sizeable inducements were paid to teams, this year's calendar has hit that figure, increasing by at least one next year - and the trend seems set to continue.
All of which would be perfectly in order were television audiences to increase accordingly, but apparently this is not the case.
According to RTL, last month's German Grand Prix was watched by 25 per cent fewer viewers than the corresponding event a year ago - when there was no M Schumacher, either, and one less local hero in the race - and per-race audiences are said to be dropping in most regions, with the same broadcaster reporting a 20 per cent drop for the French Grand Prix.
(Yes, the particular broadcaster may be experiencing a glitch. Yes, season numbers may be up - the jury is out on that - but dwindling per-event ratings, even if the total is up, hold dire consequences for teams, for their costs increase with each additional race, whereas sponsorship income is generally linked to audience ratings, which allegedly are not.)
Given, though, that most television audiences receive their spectacle for free (although, in the absence of a Concorde Agreement, which guaranteed free-to-air transmissions in major territories, Formula One Management has increasingly moved to pay-per-view contracts), cost is hardly the cause for this drop-off.
Given that the sport is experiencing its tightest season for, according to Mercedes-Benz motorsport director Norbert Haug, 50 years, a lack of excitement cannot be blamed either. Nor can the reason be a flurry of back-to-back events as happened two years back, for since Australia/Malaysia the calendar has had at least a fortnight between events.
What, then, can be the cause of dwindling TV audiences?
Nelsinho Piquet is filmed during a press conference at the German Grand Prix © LAT
In Hungary a straw poll was taken of the overall sentiment among drivers, team bosses and the media. The overwhelming feeling was that F1 is currently hovering on the limit of saturation, that 18 events could be a bridge too far, for family folk do need more than a free Sunday once a fortnight, and are voting with their remote controls.
Yes, video-recording technology makes view shifting the work of a moment, even for technophobes but, if the result of an unremarkable race is already known, only diehards are likely to spend 90 valuable minutes glued to a screen - and diehards hardly make up sponsors' target markets.
However, Ecclestone's paymasters, who borrowed billions of dollars to fund their purchase of the sport's commercial rights and face an annual interest commitment of $250m, need to increase the number of races and the hosting fees if they are not to renege on servicing the debt.
Thus promoters are faced with spiralling costs - with predictable impact on ticket prices - while the calendar becomes increasingly packed, with resultant audience saturation. How long before this bubble bursts? And, when it does, it will no longer be a "Bernie problem".