Since the long sweeps through the woodland were taken out of the picture, the Hockenheimring circuit that hosts the German Grand Prix this year looks much like most of the other 'standard' European circuit, so it rewards medium-high downforce, good balance and smooth acceleration.
The rough track surface is similarly to that at Barcelona, which punishes tyres. Given that the few high speed corners are relatively short, the bulk of that wear tends to take place at the rear as the car is accelerating out of low speed sections; this is one of the tracks where a lack of traction control is really likely to differentiate the throttle sensitivity of the drivers, as they manage that wear.
For Hockenheim, the dirty side of the track is a particular problem off the grid, so locking out the front row is not necessarily an advantage! Still, a good qualifying is important, so lighter fuel loads can be expected from those fighting for pole, whilst race day should reward drivers who load up with fuel and opt for a long first stint.
Flashback
The circus was last in Hockenheim in 2006, when Michael Schumacher was making his final bid for a World Championship. Qualifying saw the Ferrari driver pipped to pole by the Raikkonen (the Flying Finn was still at McLaren), with Massa and Button on the second row, Fisichella in his at Renault led Barrichello on the third. Alonso, with Renault, led Ralf Schumacher's Toyota on the fourth row. Pedro de la Rosa in the second McLaren, and Coulthard rounded out the top ten.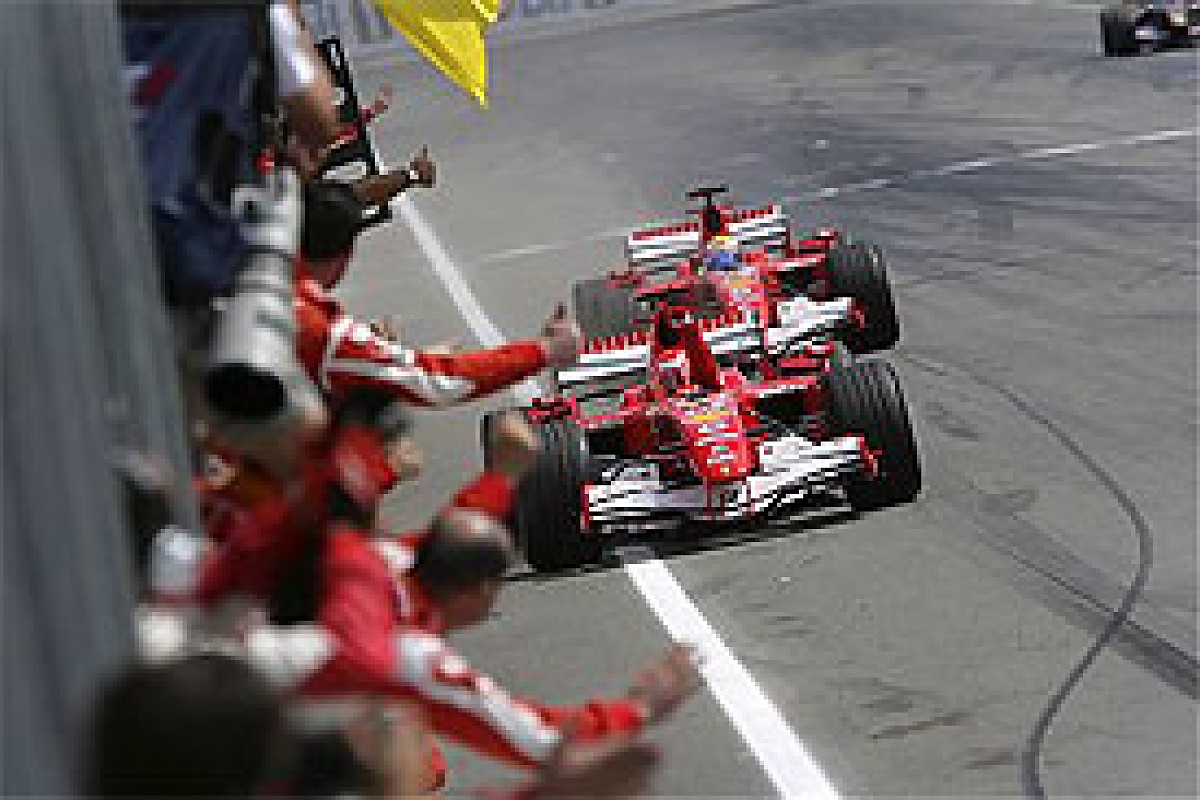 Michael Schumacher leads Ferrari teammate Felipe Massa to victory in the 2006 German Grand Prix at Hockenheim © LAT
The start of the race proved complicated: the leading trio pulled away in order, but Button made a slow start, seeing both Renaults pass in to the first corner. Button then made is way back past Alonso in to the third corner, giving de le Rosa a shot at the same move, though he was unable to pull it off. Barrichello took a look too, but was pushed wide and fell back after a trip through the run-off.
Further back, it was positively chaotic: Heidfeld ran wide, but was looking set to make up ground before being collected by team-mate Villeneuve, sending both BMW-Saubers to the pits. Ralf Schumacher made a move on Coulthard, who was battling Webber, but it went awry, seeing him take his Toyota back to the pits for a new front wing.
Nico Rosberg lost places at the start, and then span in to the barrier attempting to take Albers at the start of the stadium section, becoming the first retiree.
At the front, Raikkonen was pulling out a lead, building up three seconds before stopping rather early on lap 10: a cross threaded wheel nut combined with the extra six laps the Ferrari pair stayed out put Raikkonen out of contention for the win and he had an eventful race to come. The Ferrari duo comfortably lapped at the front - Massa every so slightly pushing his team-mate, but deferring at the last - to eventually take a comfortable one-two.
Behind the podium finishers, Button pushed on and passed Fisichella's Renault for fourth. Some aggressive driving and differing tyre wear rates saw plenty of passes on track; Raikkonen had an exciting race as bits of his car were shut down and restarted, leading to lost positions that he had to regain on the track - and the car catching fire on the in-lap after the race; Barrichello had a fire on an out-lap and span out.
Fisichella struggled with blistering, losing out to Webber, whose Williams in turn stopped on lap 58 with a water leak; Alonso pushed very hard, resulting in a trip through the gravel as he attempted to close down Button: he then spent the remainder of the race fending off Fisichella and Trulli.

Pos  Driver       Team                       Time
 1.  M.Schumacher  Ferrari              (B)  1h27:51.693
 2.  Massa         Ferrari              (B)  +     0.720
 3.  Raikkonen     McLaren-Mercedes     (M)  +    13.206
 4.  Button        Honda                (M)  +    18.898
 5.  Alonso        Renault              (M)  +    23.707
 6.  Fisichella    Renault              (M)  +    24.814
 7.  Trulli        Toyota               (B)  +    26.544
 8.  Klien         Red Bull-Ferrari     (M)  +    48.131

Fastest race lap: M.Schumacher, 1:16.357

Qualifying best: M.Schumacher, Q2, 1:13.778

Weather
Although this is often a hot race, moderate temperatures are expected this year, along with a reasonable chance of rain throughout the weekend.
Strategy
As a rule, this is a two stop race: a longer first stint will bring rewards, if the driver can look after his tyres effectively, but the wear issue makes a single stop problematic, whilst tough overtaking and the time it takes to pit puts three stops out of the reach of any but the most aggressive of drivers.
Conclusions
With Germany alternating their event between the Nurburgring and Hockenheim, this circuit has not appeared on the calendar for a couple of years - so the newer drivers have less experience. This might play against the McLaren duo, so expect Ferrari to arrive with a slight advantage at the outset.
In the dry, though is likely to be a plain fight between Ferrari and McLaren, with BMW-Sauber following up, whilst Red Bull, Renault and Toyota fight each other for the final two points paying places.
That said, with a reasonable chance of showers in the forecast, it would not be a surprise to see far more variation, particularly BMW-Sauber making the podium, Honda and Williams vying for points and mistakes from drivers who work their tyres too hard in the traction zones.
A lap of Hockenheim with Alex Wurz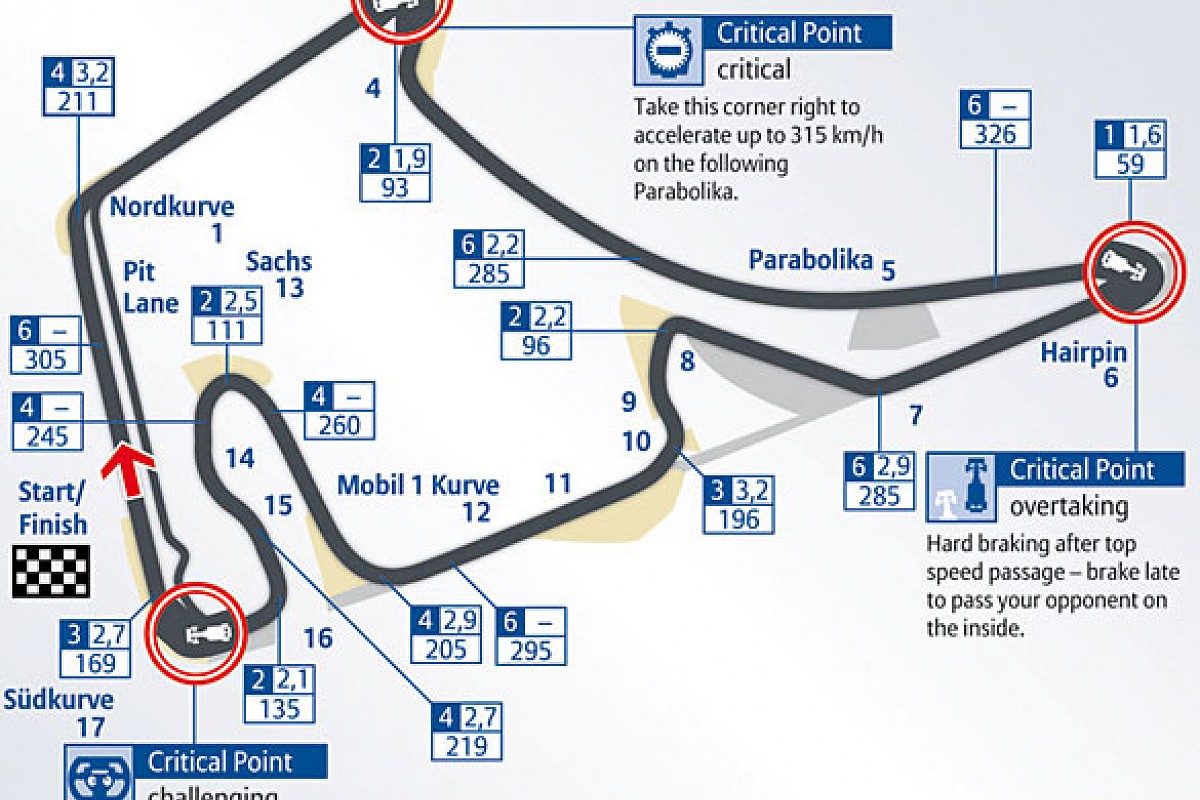 "The most memorable thing about Hockenheim is the stadium section because the huge grandstands create an amazing atmosphere. There are thousands of people, all making a lot of noise and that sounds pretty cool when you're on the drivers' parade. As for the circuit, in my view it has become just another racetrack since it was re-designed in 2002, but it's still quite challenging.
"You arrive at Turn 1 in sixth gear, at just over 270km/h (168mph). You brake only for a very short period, downshift one gear and flick the car towards the apex. You need to have very good turn-in here, otherwise you'll understeer wide at the exit and lose time down the following straight.
"Turn 2 is a strange corner because it's slippery and bumpy under braking. You have to force yourself to brake early so that you can get on the power early at the exit, which is important because the longest straight on the lap comes next. As you're getting on the power, the car is loaded up with lateral Gs and you have to feed in the power progressively to avoid too much wheelspin.
"We reach a top speed of 310km/h (193mph) on the next straight, before braking for the hairpin. It's a very slow corner, first gear at 60km/h (37mph), and is the best overtaking spot on the lap. There's lots of run-off so you can try some really creative moves if you need to. It's important to get good traction at the exit because you accelerate up to sixth gear before to Turn 7, which is easy flat, and you arrive at the next left-hander at 280km/h (174mph).
"The car slides through these two lefts and it's easy to miss your apex. You accelerate all the way through the next corner, a right-hander, although you might lift a tiny bit at the entry to get the front end turned in. By the exit you're in fifth gear and heading back towards the stadium.
"Turn 12 is the most challenging corner on the lap. It's fast, 270km/h (168mph) at the entry, and bumpy, and the track narrows at the exit, so you have to be very precise with your line. You need to use the exit kerb to be fast, but you mustn't go wider than that because the Astroturf on the outside is slippery and you can lose a lot of time.
"A banked second gear left-hander comes next and the gradient helps you to carry a lot of speed at the apex. However, the gradient flattens out while the car is still loaded up at the exit, so you have to be prepared for some oversteer.
"A left-right flick follows, after which there's a compression that helps you get the car turned into the last couple of right-handers. You have to open up the steering slightly between these corners, but they are more like one double-apex corner than two separate ones. Then it's important to get a good exit in order to carry as much speed over the start-finish line."
Team by Team
Ferrari
Germany 2006: with a commanding one-two victory, Schumacher had a home victory and the team looked convincingly dominated.
Silverstone 2008: the British weekend did not really work out for Ferrari; Massa qualifies ninth after a wheelnut problem, then spends the race spinning regularly, finishing last. Raikkonen qualified third and looked useful for a while, but struggled on worn intermediates after a shower, spinning, but recovering to fourth.
All told, Ferrari should have a slight edge in Germany, but they really need to get their act together and eliminate mistakes if they are to make the most of the opportunity.
1. Kimi Raikkonen: always quick, but never lucky in Hockenheim, Raikkonen only finished one of his six races here. Should his luck have finally changed, he will be a force to reckon with.
2. Felipe Massa: usually puts on a decent show at Hockenheim, but played second fiddle to Schumacher the last time he was here - he will relish a chance to show how it is done this time out and certainly has the ability to win.
Objectives: Win the race.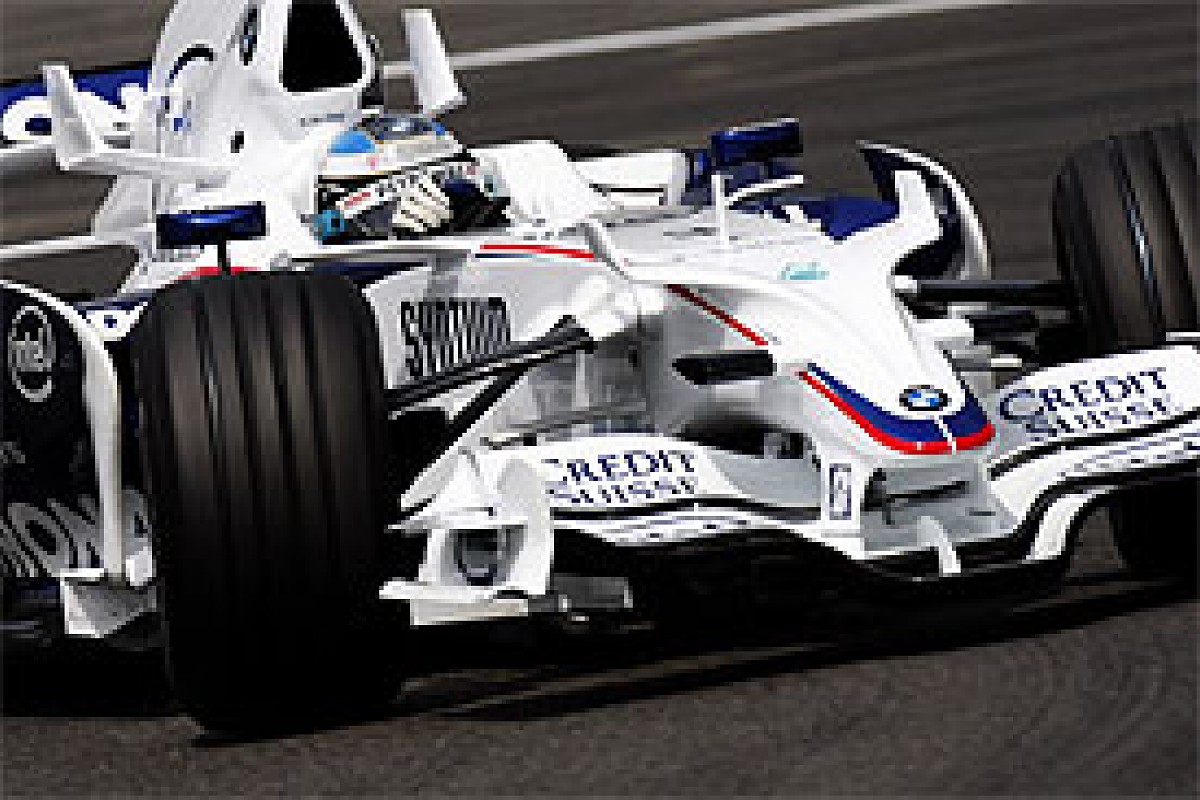 Nick Heidfeld testing at Hockenheim © LAT
BMW Sauber
Germany 2006: it was a pretty miserable weekend for the team; Heidfeld and Villeneuve qualified 14th and 16th, touched at the start of the race, and neither finished.
Silverstone 2008: it was a mixed weekend in Britain, where Heidfeld had a remarkable drive in the wet to score a well earned second place. Kubica, by contrast, had a miserable time, qualifying tenth then spinning out after his final stop.
Heading to their home event, the team is naturally excited at the possibility of a decent performance in front of their home fans. On the basis of the performances so far this year, the team has to be looking for a podium finish, though that will be a tough call against the leading duo.
3. Nick Heidfeld: funnily enough, Heidfeld has never really gone well at Hockenheim, despite support from a home crowd. Considering he is being shadowed by his team-mate this year, it seems unlikely that he will shine this weekend. Of course, he is driving a strong car and racing in front of a home crowd, besides coming off the back of a phenomenal wet drive in Silverstone, so this might be his weekend.
4. Robert Kubica: having an off weekend in Silverstone is unlikely to faze this Pole, who has been putting on something of an exhibition this year - and the opportunity to put one over his team-mate at his home event will be a spur to excel.
Objectives: At least one car on the podium.
Renault
Germany 2006: on the back of the banning of mass dampers, the team was struggling for pace all weekend, suffering excessive tyre wear. Both drivers suffered during the race, though Alonso made a better job of it and led his team-mate home.
Silverstone 2008: the recently improved form of Renault is confirmed, as the drivers qualify sixth and seventh; on race day, both drivers looked very good at times, until Alonso lost places, finishing sixth after a poor tyre choice put him out of contention, and Piquet spun out from fourth.
Even though the team have noticeably stepped up their form, they are potentially at their peak this year, as effort is slowly being diverted on to the 2009 car - their Championship standings are interesting, though. A point behind Williams for sixth and ten away from fourth, they could make up a lot of ground over remainder of the season.
5. Fernando Alonso: with the car showing better each week, there is no doubt that Alonso is in a position to score points - though taking them away from Sauber remains tricky.
6. Nelson Piquet Jr: with improving qualifying results and strong race performances, Piquet is finally looking like he is playing in the same league as his team-mate - though he has a long way to go to illustrate the consistency needed for this level.
Objectives: Both cars in the points.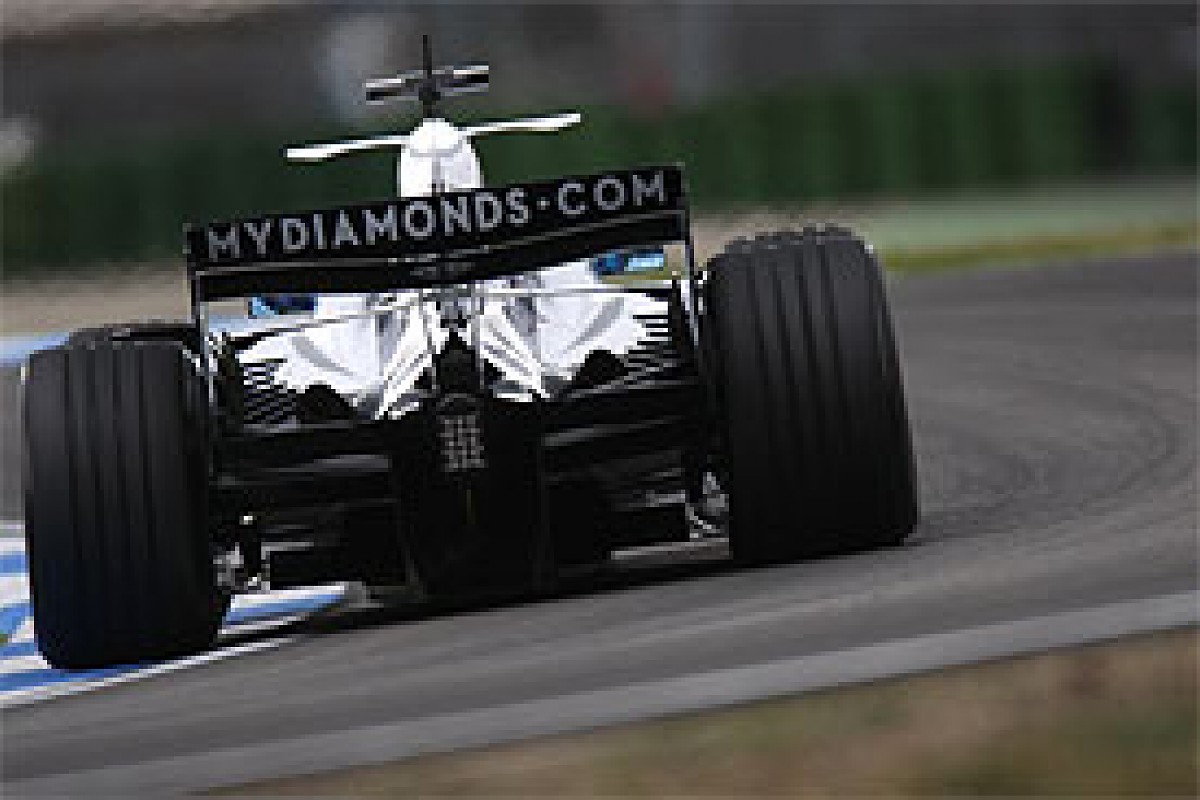 Nico Rosberg testing at Hockenheim © LAT
Williams
Germany 2006: although test drive Wurz was fastest in practice, Rosberg only qualifies fifteenth before crashing out on the opening lap; Webber qualifies eleventh but then has a strong race, looking set for a potential podium until a late water leak puts him out of contention.
Silverstone 2008: it was a pretty poor weekend by Williams standards, as they finished qualifying with the cars at the tail of the pack. The race was only marginally better, though at least Nakajima was able to salvage a point.
Only a single point ahead of Renault in the Championship, the team has a clear goal: score more points and remain ahead. Considering that the French outfit has been improving fast and arguably have an edge now, this is a tough objective and they will have to make no mistakes if they are to prevail. Having struggled to get their cars dialled in properly over the last couple of races, it is clearly not going to be an easy outing.
7. Nico Rosberg: having spun out during his only appearance at Hockenheim, it will be interesting to see what Rosberg makes of his return - he is quick and capable, but the car is proving difficult to dial in.
8. Kazuki Nakajima: looking better as the season progresses, Nakajima finally seems to have found a similar level of performance to his team-mate, though he doesn't seem to get the same accolades at this point. He is as likely to score points.
Objectives: Beat Renault!
Red Bull Racing
Germany 2006: Coulthard qualifies tenth but gets boosted in to the air at the start by Ralf Schumacher, costing places and pace, so he finished eleventh. Klien qualifies twelfth then has a quiet race to eighth.
Silverstone 2008: second on the grid for Webber was a great result from qualifying, but he spins in the race and then struggles on the wrong tyres, finishing a disappointing tenth. Coulthard announces his retirement, misses out on Q3 in qualifying, then crashes out on the opening lap.
The Red Bull car has continued to improve as the season progresses, without showing the frailty of last year: they are meeting the challenge of the improving form of Renault and taking the fight for the midfield right back to them - not to mention closing the gap on BMW-Sauber. Of course, right now, they are also a point behind Toyota in the Championship, so beating them is the immediate objective.
9. David Coulthard: always with a decent turn of speed at Hockenheim, Coulthard has four podiums from his thirteen appearances, and usually finishes in the points - provided he stays out of trouble, it should be interesting to see how he progresses this year.
10. Mark Webber: having finished once in his five appearances, it is clear that even though Webber has a good turn of speed here, the Australian is far from lucky; should he finish, he will be expecting points...
Objectives: Score points - beat Toyota.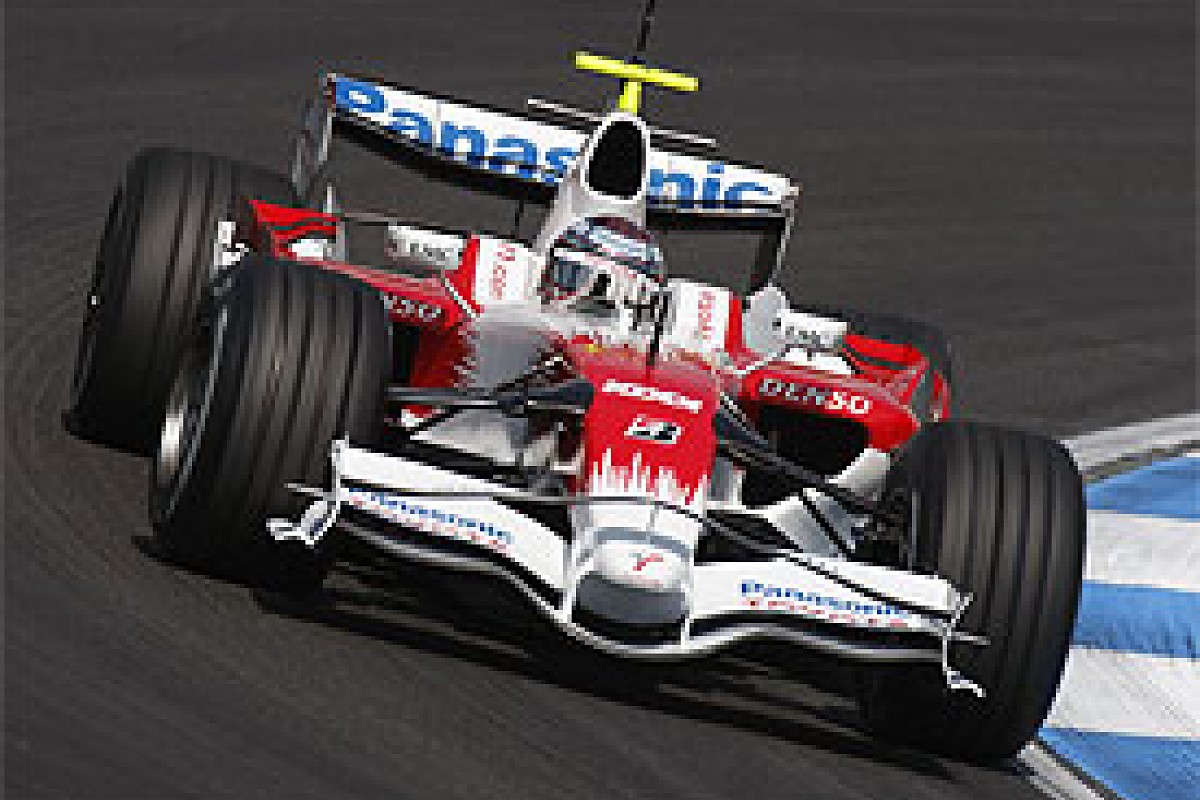 Jarno Trulli testing at Hockenheim © LAT
Toyota
Germany 2006: despite showing convincing pace at Hockenheim, the team struggled; Trulli was relegated to 20th after an engine change, but fights his way up to seventh; Ralf Schumacher had a coming together in qualifying, but loses a wing on Coulthard's car and earns a pit lane speeding penalty, pushing him back to ninth.
Silverstone 2008: clutch failure for Glock and a rear wing breakage for Trulli indicate this is not going to be a trivial weekend for the team - they only made Q2 on Saturday. Trulli salvages seventh from the race, whilst Glock struggles in the rain and finishes twelfth.
With mounting pressure from Red Bull, the team is going to have to be right on their game if they are not going to give up a championship place this weekend. Clearly, points finishes are important, but finishing ahead of this rival in particular is important. Coming off a relatively poor weekend, they are looking for a resurgence in form.
11. Jarno Trulli: looking to extend his three race run of points finishes, Trulli will be a force to reckon with if he can qualify well - though failing to get will in to the top ten will leave him struggling to score a point.
12. Timo Glock: as a home race for Glock, who grew up locally, this is a big weekend for the rookie; his recent performances have been inconsistent - something he will need to resist with the extra pressure of his fans - but he has the ability to finish in the points.
Objectives: Score points. Beat Red Bull!
Toro Rosso
Germany 2006: Speed crashes at the start of qualifying, setting no time, then fends off Albers for most of the afternoon to finish twelfth. Liuzzi manages seventeenth, races strongly against the Toyotas then overtakes Coulthard to finish tenth.
Silverstone 2008: Vettel has a great qualifying session, landing eighth, but is taken out by Coulthard in the opening lap; Bourdais had another anonymous weekend, finishing eleventh after struggling for visibility.
The new car clearly helped the team to raise their game, but the last two events have not let them show it - the chassis was too new in France, and they were too inexperienced with setting it up for wet weather in Silverstone. But Vettel posted notice in qualifying and this team should be very interesting to watch as the season progresses.
Of course, they are still on that learning curve, so a points finish from the weekend ahead would be an impressive result.
14. Sebastian Bourdais: appearing to struggle as the season wears on, it is hard to see much change for Bourdais - though it is not certain whether the problem lies. It is possible that he is struggling to perform whilst his team-mate is reaping the subject of so much positive press, but the bottom line remains that he has to get more out of the weekends.
15. Sebastian Vettel: continuing to impress as the season wears on, rumours concerning Vettel's rosy future are spreading and offering potential distractions; nevertheless, the young driver has been putting on an outstanding show and should be watched carefully, particularly in qualifying.
Objectives: Score a point.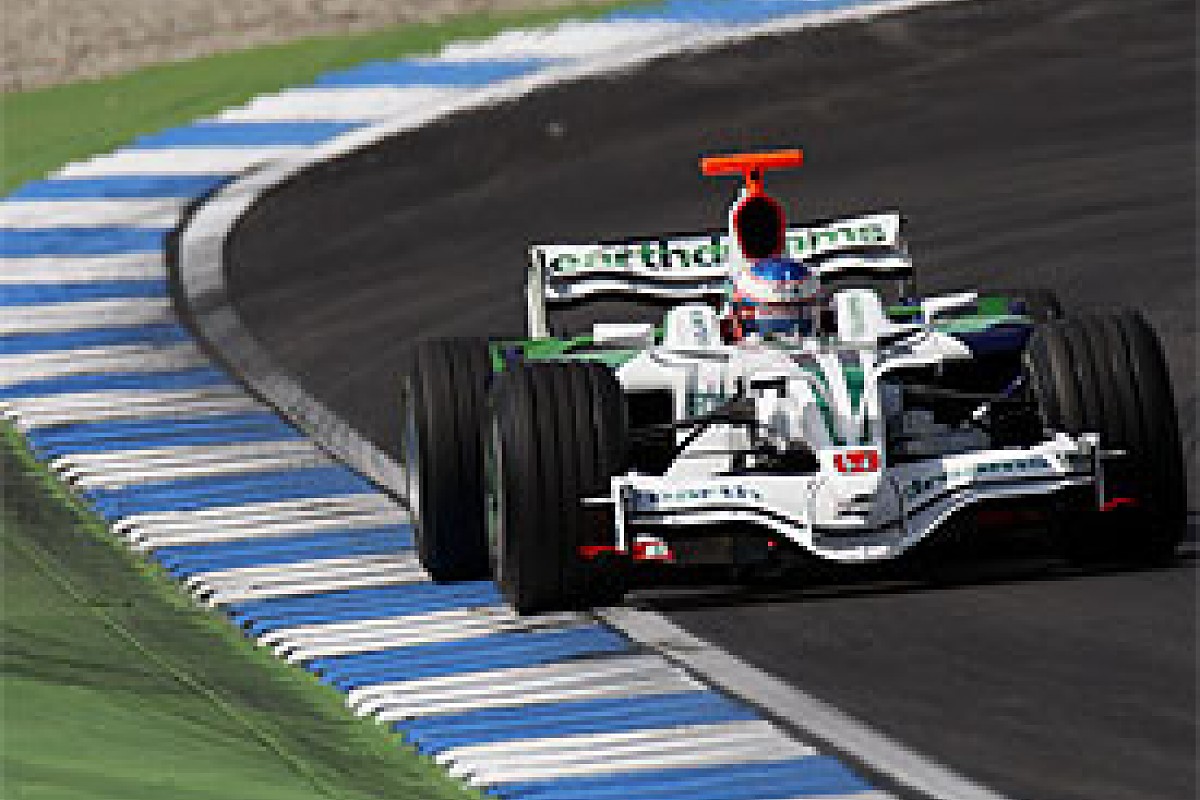 Jenson Button testing at Hockenheim © LAT
Honda
Germany 2006: having qualified fourth and sixth, the team looked forward to a strong race. Tyre problems took Button out of contention for a podium finish, and Barrichello retires with an engine failure.
Silverstone 2008: a phenomenal wet drive from Barrichello to take third made the team's weekend, following on from a tough race in France. It was a decent result after a struggle in qualifying. Button span out, from pushing too hard in the wet.
With a collection of revisions coming through to all parts of the package, and the prospect for mixed conditions again, the team has to be very optimistic that they will be able to show well in Germany, even if they are not likely to be in contention for another podium.
16. Jenson Button: with six points finishes from his seven appearances at Hockenheim (and an engine failure in 2002) this has historically been a strong circuit for the Briton, who will be looking to bring back some of that old form again.
17. Rubens Barrichello: Hockenheim has rarely been good to Barrichello, though he did win the race in 2000 - it would be no surprise to see him struggle again this year, though he should be particularly quick in qualifying.
Objectives: Fight in the midfield.
Force India
Germany 2006: under the guise of Midland Formula One, Albers started the weekend with an engine failure, qualified relatively poorly, and raced Speed until a late loss of power dropped him back. Monteiro qualifies less well, gets stuck behind Sato, then finishes behind his team-mate in 14th. Both are then disqualified for running illegally flexible wings.
Silverstone 2008: neither driver makes an impression in qualifying and both spin out of the race before half way - another dismal weekend for the outfit.
The team is officially concentrating on their 2009 challenger going forwards, so there will be very little coming through for this car over the remainder of the year. Considering they never quite got in tough with the midfield, it leaves them adrift at the back and expecting a widening performance gap.
20. Adrian Sutil: a home race for Sutil, the youngster will be looking to make an impression - though there it could prove to be a long weekend unless it rains, and the team can make the most of the conditions.
21. Giancarlo Fisichella: historically, Fisichella has had some strong performances in Hockenheim - when he has made it to the finish. A strong race in wet conditions would be very welcome.
Objectives: Fight in the midfield.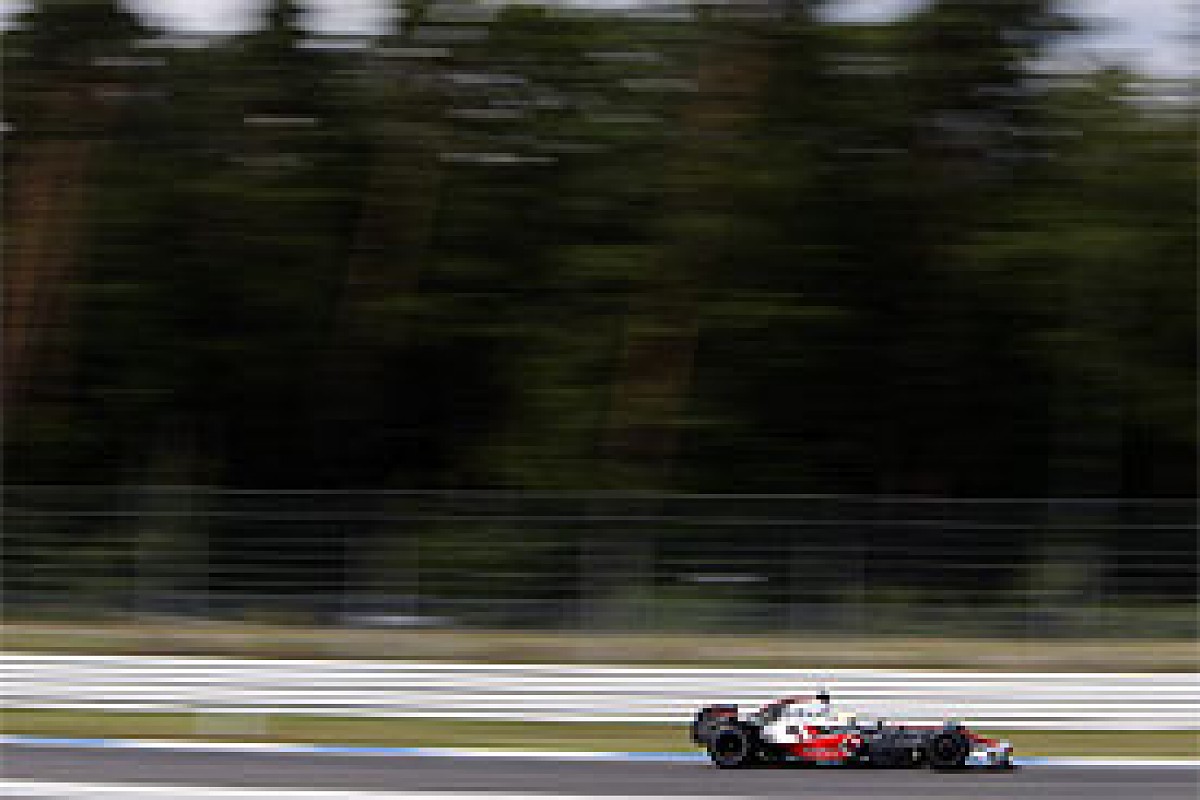 Lewis Hamilton testing at Hockenheim © LAT
McLaren Mercedes
Germany 2006: a fuel sensor glitch in Q3 leads to Raikkonen being sent out low on fuel -he converts it to pole, but is compromised in the race. He is further delayed by a cross-threaded wheel nut, hydraulic issues, blistered tyres and an additional pitstop ... but he salvages third. Pedro de la Rosa retired with a fuel pump failure.
Silverstone 2008: Hamilton dominates the wet race at Silverstone, though Kovalainen struggles with his tyres and finishes fifth after being fastest through practice and qualifying.
This should be another tight race against Ferrari, who are expected to have a slight edge this weekend, partly because the McLaren drivers have less experience of this track and might lose time dialling the car in, and partly because the characteristics of the circuit are likely to play towards the Maranello outfit if it remains dry. That said, McLaren are clearly stepping up their game and will be well placed to capitalise on the slightest mistake.
22. Lewis Hamilton: coming off the high of Silverstone, tied with Raikkonen and Massa for the Championship, the Briton is has his work cut out this weekend; another wet race would play towards his strength, but he has the capability to mix it with the Ferrari duo in the dry too.
23. Heikki Kovalainen: having put on a strong performance in the dry at Silverstone, it is apparent that Kovalainen is dialled in to the car and very quick - he will be looking to beat his team-mate (and perhaps win the race) if it is dry, though concentrating on looking after his tyres better will be key if this is another wet race.
Objectives: Win the race.