The Silverstone circuit is technical, which puts an emphasis on getting the car set up well. Good aerodynamic efficiency and plenty of power is helpful for the opening high-speed section, as reducing downforce through the opening sequence of high speed corners can compromise lap times.
The end of the lap is a tight complex that requires good mechanical grip, balance and traction - so the car has to be sympathetic to both requirements in order to produce a good lap time, without compromising top speed and becoming vulnerable to being overtaken.
Qualifying well here is important as overtaking is a tough proposition; accordingly, expect to see some of the front runners doing interesting things with their fuel loads.
All things being equal - particularly as the teams have all just tested here - the performance on Saturday is likely to see the drivers lining up alongside their team-mates in approximately performance order.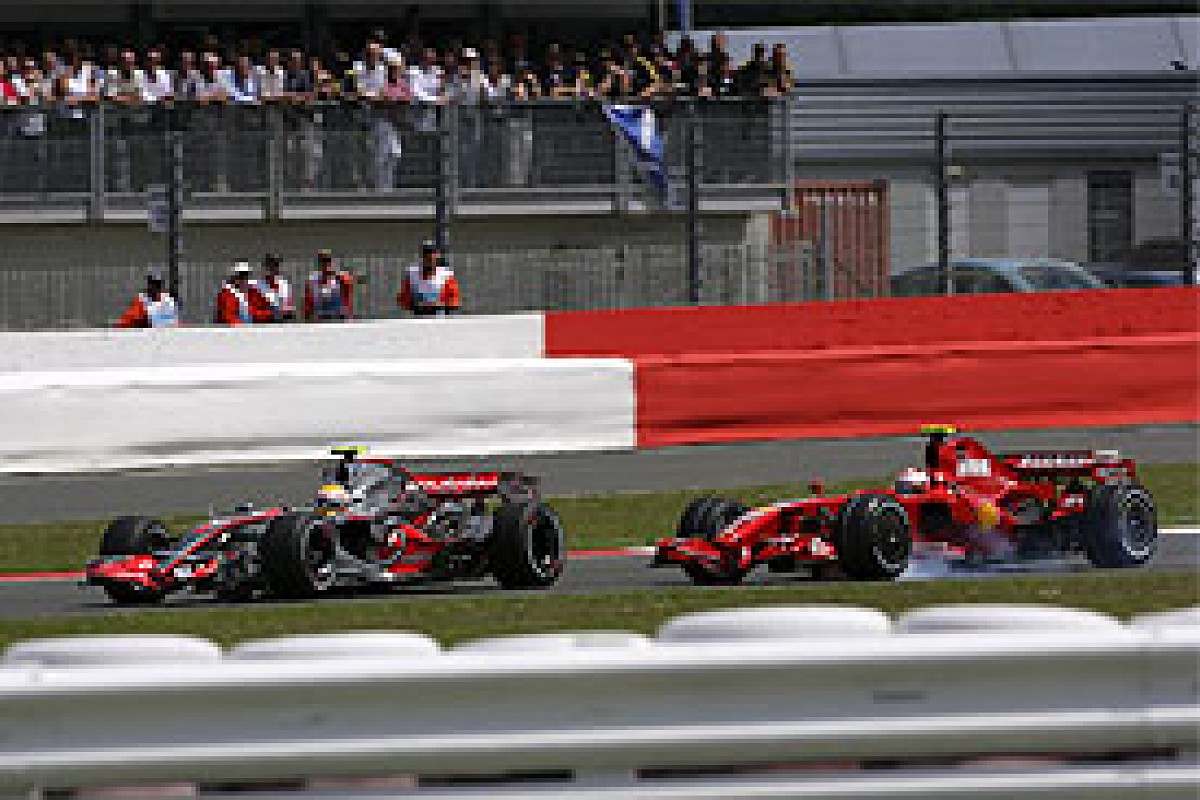 Kimi Raikkonen pressures Lewis Hamilton for the lead of the 2007 British Grand Prix © LAT
Flashback
In 2007, Lewis Hamilton took pole in front of his home crowd as Kimi Raikkonen missed a beat on his final lap. Fernando Alonso led Felipe Massa on the second row, demonstrating the even performance of the two outfits.
Robert Kubica was a solid fifth, annoying team-mate Heidfeld who had only managed ninth. Ralf Schumacher was sixth for Toyota, out-performing his team-mate Jarno Trulli, who was tenth. The Renaults filled the fourth row.
On race day, Massa's Ferrari stalled on the grid, aborting the start; he then had to start from the pitlane. At the restart, Raikkonen made the most of his soft tyres to attack Hamilton, though he was unable to pass.
The Toyotas both struggled to get away, allowing the Renault duo to move up to fifth and sixth. Nick Heidfeld made his way around Giancarlo Fisichella for a spell, but then lost ground again after a tight battle.
Mark Webber, separating the Toyota pair, pushed hard before exiting after eight laps with a differential failure, followed six laps later by Schumacher who had a suspension problem. Trulli struggled with balance, and went backwards all afternoon before retiring on lap 43.
Massa stormed through the field from the back, making it to ninth place in 11 laps; he came out of the first round of stops in seventh, splitting the Renaults.
At the front, Hamilton controlled Raikkonen and Alonso before he started to struggle with his tyres; Raikkonen fought for the lead, but didn't quite make it past before the Briton peeled off for an early stop on lap 16.
His out laps were far from ideal, ceding places not only to Raikkonen, but also to Alonso who moved comfortably into the lead, running a lighter fuel load and soft tyres.
Alonso pushed hard, but was unable to open much of a gap. His next stop was relatively early and proved enough to remain ahead of Hamilton, who was struggling with balance and falling back - but after a few more laps of running Raikkonen rejoined ahead.
Massa was continuing to make progress. Having made a late second stop, he rejoined in fifth and set about taking on Kubica. Despite attacking strongly, he was unable to make the pass.

Pos  Driver      Team                 Time
 1.  Raikkonen   Ferrari          (B) 1h21:43.074
 2.  Alonso      McLaren-Mercedes (B) +     2.459
 3.  Hamilton    McLaren-Mercedes (B) +    39.373
 4.  Kubica      BMW Sauber       (B) +    53.319
 5.  Massa       Ferrari          (B) +    54.063
 6.  Heidfeld    BMW Sauber       (B) +    56.336
 7.  Kovalainen  Renault          (B) +     1 lap
 8.  Fisichella  Renault          (B) +     1 lap

Fastest race lap: Raikkonen, 1:20.638
Qualifying best: Alonso, Q2, 1:19.152

Weather
With early forecasts predicting rain, it is expected to be a wet weekend at Silverstone. Accurately predicting quite when it will fall, and how hard, is going to play a part with every team's strategy. Temperatures should be relatively low and the winds moderate, but prone to gusts.
Strategy
Usually a straightforward two-stop circuit, there is some merit in running a long opening stint - Honda made good progress with a single stop approach last year. Anticipating rain, being fuelled for longer stints offers more flexibility for reacting to changes in the weather.
Conclusions
With McLaren anticipating progress from testing and heading to its home circuit, this should be a tight-fought race, though Ferrari is slightly favoured.
Despite its dismal showing in France, BMW Sauber is still looking likely to chase the leading two outfits and take advantage of any mistakes they make - wet weather typically produces a few of those, so this could be another podium opportunity.
Behind the leading three teams, Toyota is finally starting to look like it is making progress, though as always the midfield is tight, with Renault and Red Bull also right in the mix. Williams seems to have been a little off the pace recently, though its long experience may pay off in adverse weather.
A lap of Silverstone with Alex Wurz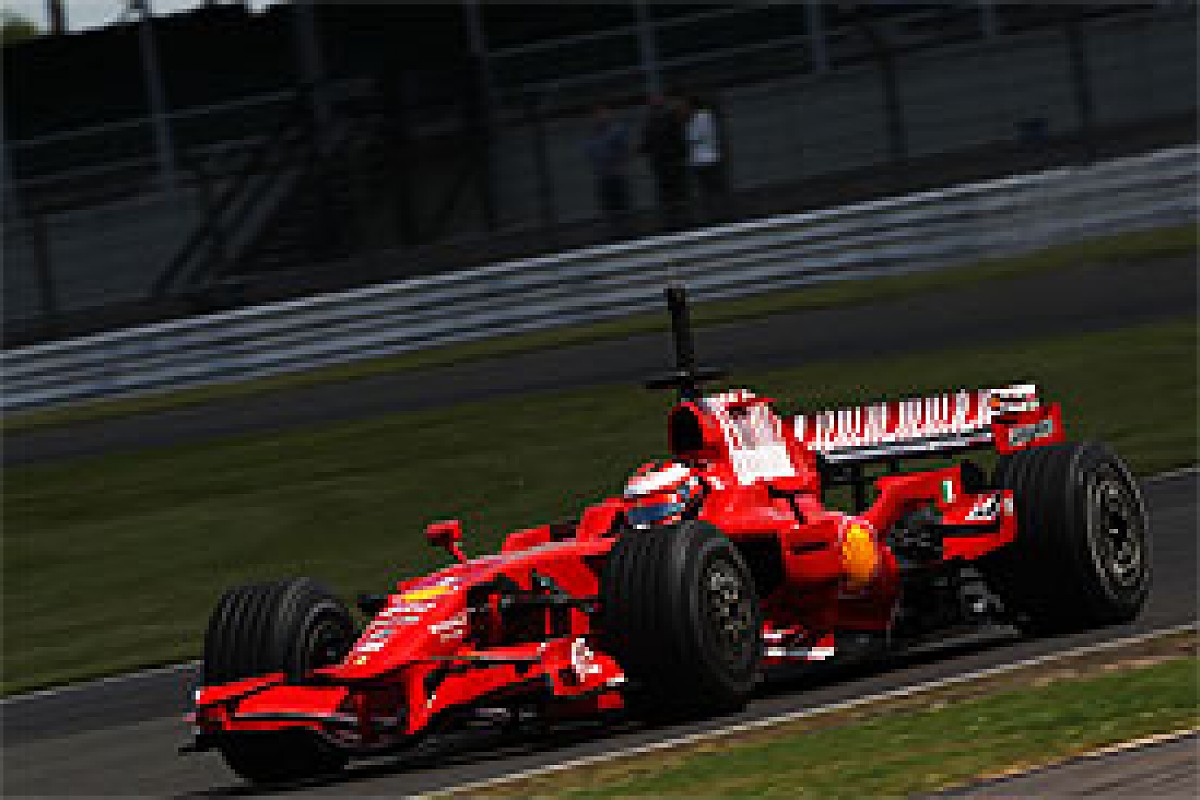 "Having married an English girl, there's a percentage of me that is now British. I'm not saying that Silverstone is like a home race for me, but it's almost one and whatever other countries claim, Britain is still the home of motor racing."
"Silverstone is a very exciting racetrack, especially the first half which is really quick. You arrive at Turn 1 in seventh gear and on a good day it's flat: we're talking 100 percent foot down and no braking. It's a ballsy corner and much tougher than Eau Rouge at Spa, for example.
"Then you come into Becketts, which is an awesome part of the circuit. The entry is very bumpy and you have to position the car correctly for the right-hander, which you can always do flat. Then there is a very fast change of direction for a left-hander, but you still don't touch the brakes. You shift down a gear and slow the car using a four-wheel drift, which is fun. There's then another downshift for the next right - again no braking - and you get a bit of understeer through here, which you kill by flooring the throttle for the exit onto the Hangar Straight.
"At the end of Hangar Straight is Stowe, which is the first time on the lap that you actually touch the brakes. You have to remember that they will be cold, so they will have slightly different characteristics to normal. When you brake, you are already turning into the corner, so it's difficult to outbrake someone and you expect to have some oversteer on entry.
"A short straight follows before you come to Club, which is the first hard braking point of the lap. You want to hit the kerbs very hard on entry to the left-hander, before turning into the right-hander which you enter in second gear and accelerate through to fifth gear by the exit. You need very good traction, which will be particularly tough this year.
"The braking area for Abbey is next and it's always very slippery. The key is to accept that and not overdrive the car. It's bumpy at the exit and whereas you could rely on traction control to do it flat last year, it might be quite interesting this year. Then you come down to Bridge, which is easy flat in sixth gear, before turning left into Priory, which can be tricky. One day there is fantastic grip and it's really nice to drive; the next it can be horrible with no grip at all!
"Then it's Brooklands. You're down to second gear and as more grip goes down over the weekend, the more you can cut the kerbs on the inside. Luffield, a long, second gear right-hander, is the final corner. The entry to the corner is always quite neutral because you brake aggressively and then there's a change in asphalt and whatever you do to the set-up you will have mid-corner understeer. You eventually kill it with the throttle and accelerate onto the pit straight."
Team by team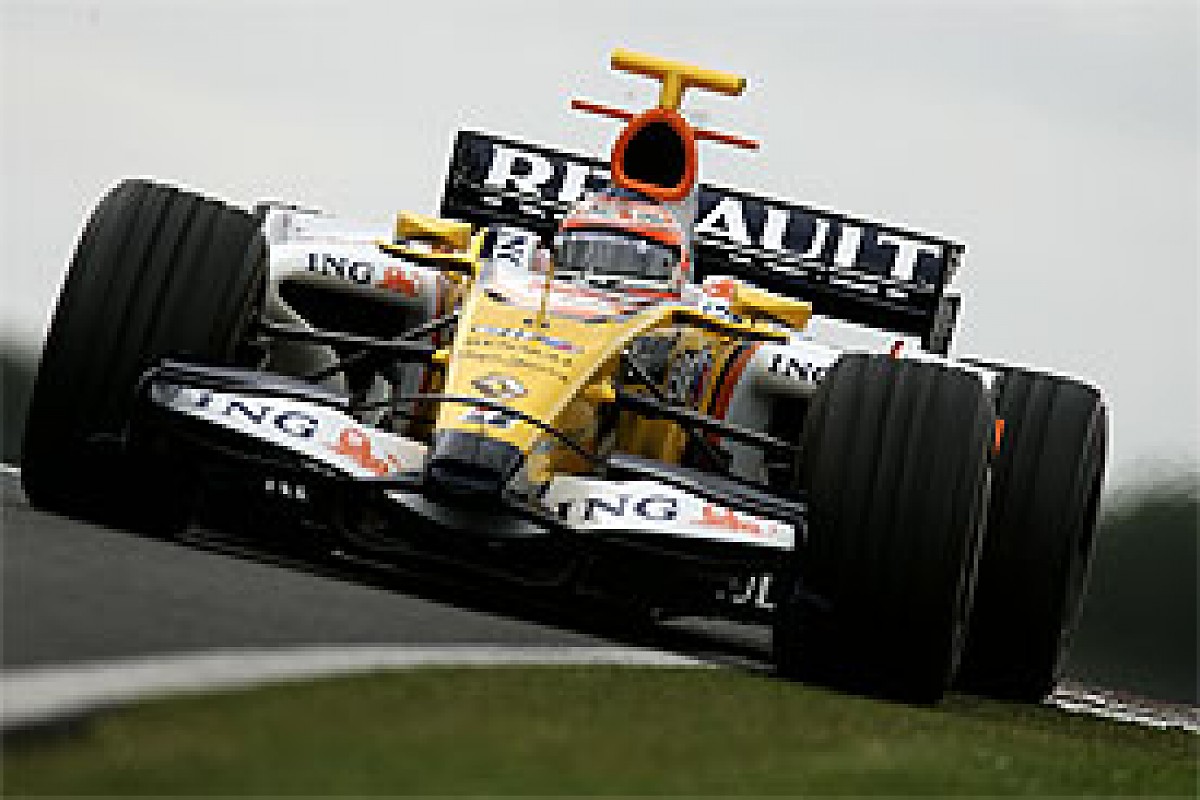 Kimi Raikkonen testing the Ferrari at Silverstone © XPB
Ferrari
Britain 2007: Raikkonen dominated practice, but missed out on pole after putting a couple of wheels on the grass. On race day, Massa stalled and had to work his way forward from the back - finishing fifth - but Raikkonen continued his run of form to win the race.
France 2008: Practice implied that Ferrari would dominate the race, and so it turned out with the front row of the grid and the top two steps of the podium. But there was concern, as race leader Raikkonen had to give up pace and a place when a piece of exhaust worked loose, leading to bodywork damage.
Following the Silverstone test last week, it may seem that Ferrari has fallen behind its Woking rivals on performance, but that would be an interesting call to make, as the teams were working on different programs. The competition should be closer than in France, but Ferrari will turn up this weekend expecting to have two cars on the podium again, and fighting to win the race.
1. Kimi Raikkonen: Dominant in Silverstone a year ago, and having only lost to Massa in France from equipment failure, expect plenty from Raikkonen this weekend. The Finn is arguably favourite for the win. With five podium finishes from seven visits, his consistency is impressive.
2. Felipe Massa: Leading the championship, consistently quick and capable of a very quick lap at Silverstone, you would not expect Massa to play second fiddle this weekend. However, the Brazilian has never been lucky at Silverstone and is less likely to win than his team-mate, even though he cannot be discounted.
Objectives: Win the race.
BMW Sauber
Britain 2007: Although BMW filled the third row in qualifying, Kubica was noticeably happier with his setup than Heidfeld, which told on race day - he was able to contain the charging Massa, taking fourth, whilst Heidfeld was unable to detain the Ferrari through the stops and had to settle for sixth.
France 2008: The BMW Sauber team was brought rapidly back to earth after winning in Canada by its performance in France. The team only brought one car home in the points, as Heidfeld had an off weekend. Kubica's fifth place was hard earned, but frustrating as he lost out to the Toyota of Trulli overall.
Currently holding second place in the constructors' championship, it is difficult to see BMW dropping past third, though it is likely to struggle to defend the place against McLaren, which continues to improve at each race.
Silverstone should suit BMW more than France did. The team made a good impression last year and ought to be able to at least put together a performance as the best team behind the leading duo, and bring both cars home in the points.
3. Nick Heidfeld: Despite being a fairly regular points finisher at Silverstone, Heidfeld often struggles to get the car set up to get the best out of it - and if that is the case again, then he is likely to once again see the weekend slip into the grasp of his team-mate.
4. Robert Kubica: After fending off Massa a year ago to finish fourth, Massa has to be looking for another decent performance this weekend, though the performance in France will have reduced hope of matching the frontrunners for pace.
Objectives: Both cars well into the points.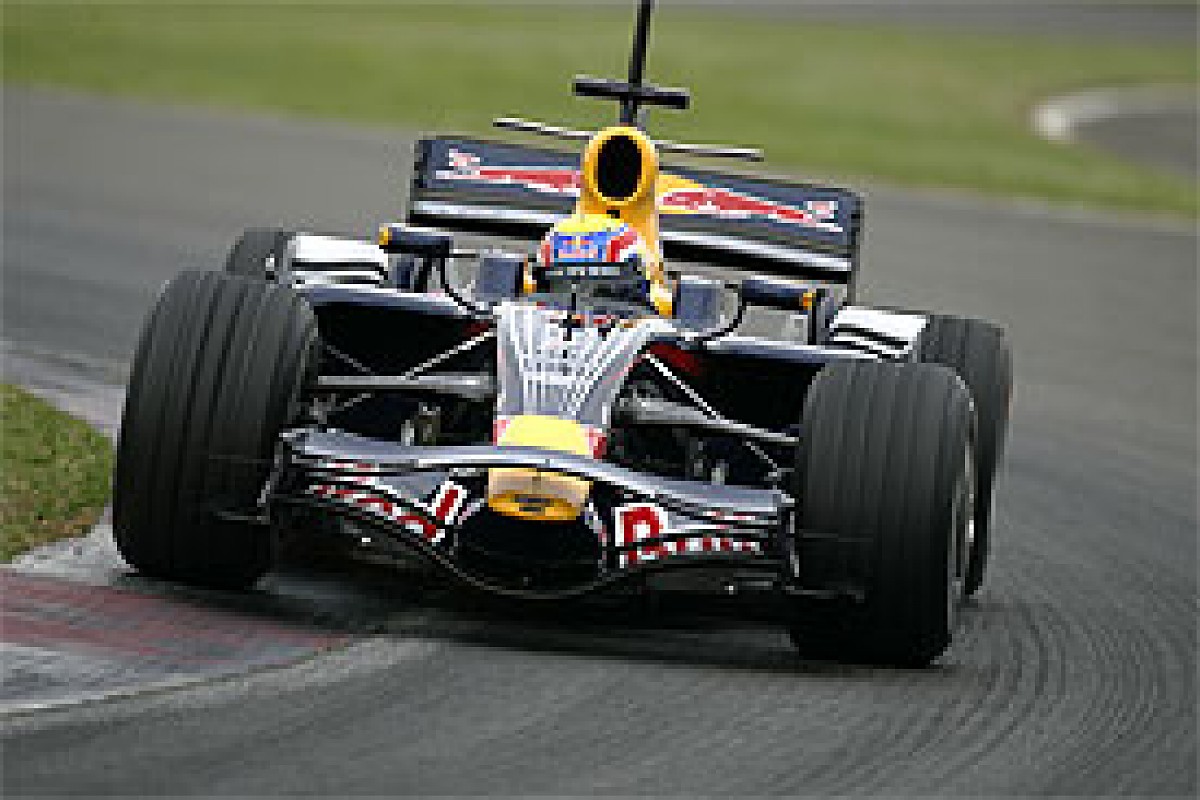 Nelsinho Piquet testing the Renault at Silverstone © LAT
Renault
Britain 2007: Renault lined up on the fourth row, then finished the race there too - lack of progress during the race was put down to tyre problems.
France 2008: Alonso blew up an engine on Friday, but was very fast during practice otherwise. He then benefited from the Hamilton penalty to start third and looked to take home a podium finish from his team's home Grand Prix. But after a sloppy race he finished eighth, one place behind his team-mate.
The demonstration from France implies that Renault is improving, so points could well be on the cards, but the team is not yet in a position to challenge the front three effectively over the race distance. With Williams only three points ahead in the constructors' championship however, every point is important and Reanult will be fighting to take that sixth overall, at least.
5. Fernando Alonso: With a podium from each of his last three visits to Silverstone, it is clear that Alonso is very capable of a strong performance when he has the car under him to put one together. He will be looking for a decent qualifying showing and points, but expectations are going to be limited.
6. Nelson Piquet Jr: Having finally scored a couple of points, Piquet is finally in a position to show the critics that he deserves a spot in the team alongside a double world champion. Another point or two with weekend would do the job nicely ...
Objectives: Both cars in the points.
Williams
Britain 2007: A misfire in qualifying pushed Nico Rosberg down to 17th, but Alex Wurz was quick and finished the session 13th. They tried different strategies on race day (Rosberg long fuelled, Wurz short), but to no avail - race pace was insufficient and they finished 12th and 13th.
France 2008: Rosberg Arrived with a ten-place grid penalty for his transgression in Canada, but the team proceeded to be off form all weekend, qualifying poorly and then racing towards the back of the field. This was not a good outing.
Running sixth in the constructors' championship and fending off Renault by only three points, it is clear that Williams needs an improvement in form if it is to maintain that position, let alone close down the gap Toyota and Red Bull ahead.
7. Nico Rosberg: Having never scored a point at Silverstone, and with the team apparently on the back foot this weekend, it is easy to see Rosberg struggling to make an impression.
8. Kazuki Nakajima: The Japanese has quietly been getting on with the job of integrating with the team and getting up to speed. He is rarely seen doing anything extraordinary, but he continues to pull out some decent results and is only a point behind his team-mate - this might be a weekend when he gets to show him the way.
Objectives: Get a car into the points.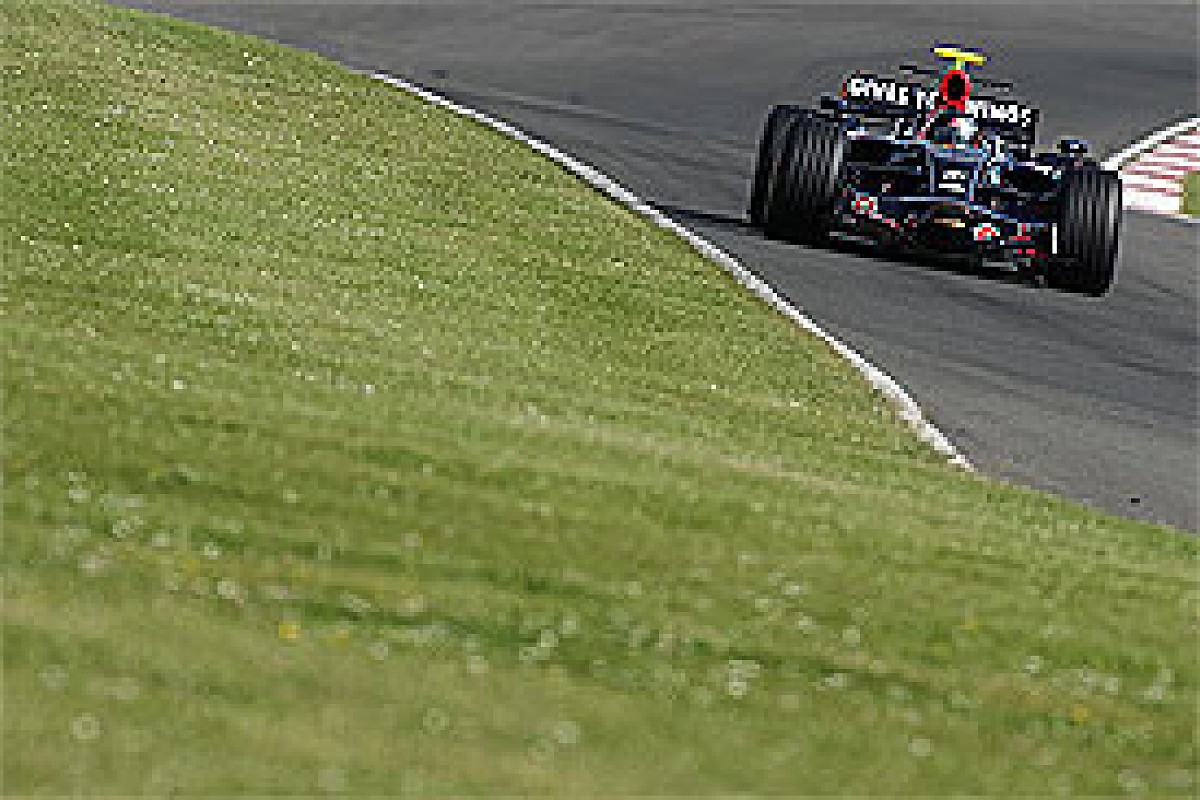 Mark Webber testing the Red Bull at Silverstone © LAT
Red Bull Racing
Britain 2007: Although the team showed nothing in practice, the Red Bull duo filled the sixth row after qualifying and looked capable of scoring points. In the event, Webber retired with differential failure and David Coulthard was unable to make his strategy stick against the single-stopping Hondas, eventually finishing 11th.
France 2008: The penalties for the McLaren duo moved the Red Bull drivers up to sixth and seventh on the grid. They worked hard during the race with Webber finishing sixth, though Coulthard dropped back to ninth after struggling to recover places lost on the line.
The team has been showing decent pace of late; not only did Coulthard make the podium in Canada, but they look capable of getting both drivers in to Q3 each weekend, which is a great platform for race day. A couple more developments for the Silverstone weekend will do no harm, and the prediction of rain does some good for their prospects ...
9. David Coulthard: Despite the podium in Canada, there is no doubt that Coulthard is having a difficult season. His record at Silverstone is decent and includes two wins, but not in the three recent (Red Bull) years, where he has failed to finish close to the points - a turnaround would be welcome this year, but unexpected, if it turns out to be a dry race.
But given the prediction for rain, as a wily racer, he would be a good candidate for points.
10. Mark Webber: Having finished only half of his Silverstone appearances, and only once in the points, it is easy to see Webber having a tough weekend. However, the Australian is capable of qualifying well up the grid and would benefit from any mayhem in the event of rain - if he makes it to the finish, he will be looking for points this time out.
Objectives: Score points.
Toyota
Britain 2007: An apparently revitalised Schumacher led the team through practice and qualifying, taking sixth ahead of Trulli's ninth. On race day, both retired - it was not a weekend to remember.
France 2008: A superb drive by Trulli, who fended off Alonso, Kubica and Kovalainen, put the team on the podium for the first time in over two years. It was a strong testament to the progress the team has made.
For the weekend ahead, it is difficult to see the team repeating that performance, even if it does have some developments for the car. Rain may cause mayhem that Trulli and Timo Glock can capitalise on, but the outfit simply isn't on the pace of the front three; fighting for the final two points paying places against Renault and Red Bull seems more likely.
Of course now that Toyota is just a single point behind Red Bull, even those two final places are hugely significant.
11. Jarno Trulli: With a history of struggling to get the car set up at Silverstone, there is a very real chance that Trulli will have a hard time gtting the most out of his weekend. But given the recent test, he ought to be able to dial it in, and should pose a very strong challenge in qualifying. Holding on to that result on race day will prove more difficult.
12. Timo Glock: Undoubtedly quick, Glock has not really been bringing home the points so far. Silverstone is a circuit he knows better than most, and perhaps offers a chance to get on top of the situation - he should perform closer to his team-mate here than usual.
Objectives: At least one car in the points.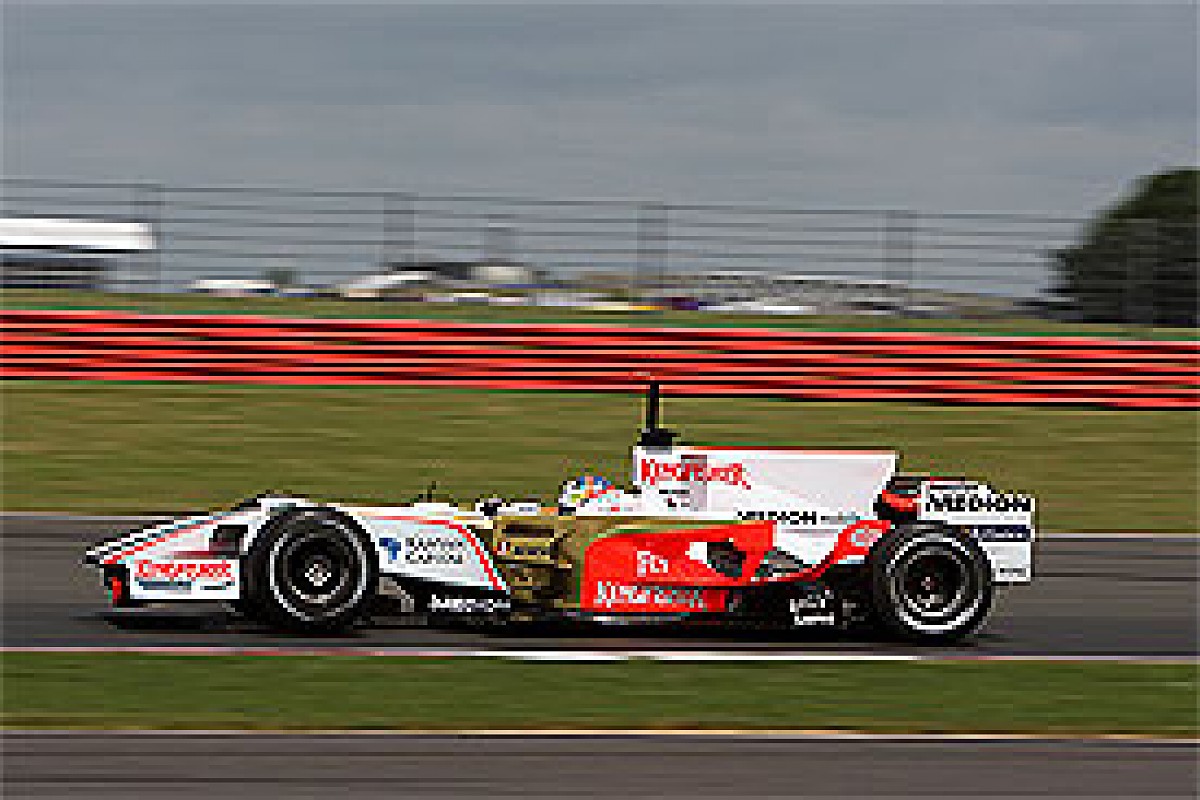 Sebastian Vettel testing the Toro Rosso at Silverstone © XPB
Toro Rosso
Britain 2007: Despite some good times being set during practice, qualifying went badly - Tonio Liuzzi was 16th after gearbox problems and Scott Speed was 15th. They raced anonymously on Sunday until Speed exited after colliding with Wurz, and Liuzzi failed to finish when his gearbox broke.
France 2008: A decent showing in practice proved fruitless in qualifying when the team filled the seventh row of the grid. In the race, Sebastian Vettel had a difficult afternoon on a long/short/long stop strategy, eventually finishing 12th. Sebastien Bourdais was collected by Button on the first corner, then struggled home 17th.
The team has little hope of making a mark this weekend - although it is racing the newer chassis, it is still learning how to get the most out of it. If the weekend is dry, then the team ought to offer a noticeable improvement over its France showing, but if it rains then its relatively limited experience of setting up this car is likely to cause problems.
14. Sebastien Bourdais: Not as happy as his team-mate in the new car, Bourdais should at least be more settled this weekend and have an opportunity to start moving forwards. Unlikely to challenge for points, but at this stage it will be important to make the most of this weekend for extending understanding of the car.
15. Sebastian Vettel: With some impressive showings this year, Vettel is going to be interesting to watch this weekend - if he can get the car to perform in the wet, then perhaps he will have a chance to make some progress. A points finish remains unlikely, however.
Objectives: Continue learning the new car.
Honda
Britain 2007: Button missed a practice with back pains, then failed to make it out of Q1. Rubens Barrichello did a little better with 14th, and both drivers made progress on race day as they were heavily fuelled for single stops and made the most of it. Ninth and tenth were good results under the circumstances.
France 2008: The team never looked like making an impression in France. The cars qualified on the ninth row, then Button hit Bourdais on the opening corner, ultimately leading to his retirement. Barrichello worked his way through the backmarkers to finish 14th, which was more promising.
The whole French weekend was something the team will be looking to forget - there were few positives to take away from that event, anyway.
On the other hand, the Silverstone circuit rewards similar characteristics, so it is difficult to see its fortunes changing enough to challenge for points, despite the new developments that the team is are expected to run.
That said, a good dose of rain might make things interesting. Both drivers thrive in a wet environment and ought to be able to make up some of the deficiencies of the chassis.
16. Jenson Button: At his home Grand Prix, even with the crowd getting more behind Hamilton, there is no doubt that the Briton benefits from the lift they bring and ought to raise his game. Having scored points from half his appearances here, a wet race would offer an opportunity to improve that record.
17. Rubens Barrichello: With a decent history at Silverstone, including a win in 2003, Barrichello is always a threat here, though he will struggle to score points unless the car is improved. Rain would help.
Objectives: Fight in the midfield.
Adrian Sutil testing the Force India at Silverstone © XPB
Force India
Britain 2007: In the guise of Spyker, the team struggled for pace all weekend, qualifying at the back and then racing there, too. Adrian Sutil's race came to an early end when his engine failed, though Chritijan Albers held on to the end to finish last.
France 2008: It was a miserable weekend in France for the Force India team, which qualified comfortably last and raced there, too. There was nothing it could do to make an impression on any other team.
The characteristics at Silverstone are very similar to France; furthermore, even though the team has a raft of significant updates coming for its car, only a few are available for the weekend ahead. Clearly, showing enough progress to fight any other team is going to require some form of equaliser, so the predicted rain is probably the only chance the team has to mix it up on Sunday.
20. Adrian Sutil: The prospects of a wet race will have Sutil licking his lips in anticipation - finally, a chance to show that Monaco was not a fluke.
The difference this time is that without the tight twisty confines and the walls to penalise mistakes from others, he will find it substantially harder to make that impression. If it doesn't rain, he'll have little chance to do anything other than race his team-mate.
21. Giancarlo Fisichella: With nine points finishes from 12 races at Silverstone, Fisichella is clearly expecting to have a decent outing this weekend, though the performance of the Force India chassis is unlikely to offer a real chance to make a difference. Either way, keeping his young team-mate in check is going to be the order of the day.
Objectives: Fight in the midfield.
McLaren Mercedes
Britain 2007: A strong showing from McLaren, which took pole position and finished the weekend with both cars on the podium, but the team just couldn't quite match the pace of Ferrari on race day.
France 2008: It proved to be another difficult weekend for McLaren, which arrived with a ten place grid penalty for Hamilton, and picked up another five place penalty for Kovalainen in qualifying.
In the end, Hamilton earned a drive-through for short-cutting a chicane, then ran in traffic and failed to work his way back into the points. Kovalainen started heavy, ran strongly and took home a credible fourth place.
Clearly, with McLaren facing penalties in France, it was unable to take the fight to Ferrari, but it was apparent that it was not quite in the form to do so anyway. Silverstone is a slightly different proposition - not only has it had another test to bring on further developments, but it usually makes a better showing at its home event.
The performance between the two leading outfits should be very similar this weekend, though Ferrari is widely expected to continue showing an edge.
It might be hard to see in qualifying, which is partly a guessing game on fuel loads for the opening laps, but race day will be telling - unless the rain prediction proves true, in which case it will all be down to who reacts better to the changing conditions.
22. Lewis Hamilton: After a couple of tough weeks, Hamilton not only finds himself ten points off the championship lead, but heading to his home Grand Prix in need of a good weekend. A podium finish would go some way to restoring confidence, though winning has to be the aim.
23. Heikki Kovalainen: It was a decent race in France, considering the handicap of the blocking penalty from qualifying, though Kovalainen is probably disappointed that he was unable to pass Trulli at the end. But Silverstone is marginally easier for passing, and he will be looking for another podium finish this weekend.
Objectives: Win the race.