Chronicle of a Debacle Foretold

---
By Adam Cooper, England
Autosport-Atlas Contributing Writer
From the moment Toyota's Ralf Schumacher hit the wall during Friday practice for the US Grand Prix, and until 14 Michelin-shod cars pulled into the pits at the end of the formation lap for the race, you just had to believe that somehow everything will work out in the end. It usually does, after all. In hindsight, the Indianapolis weekend was a powder keg ignited, and Adam Cooper was at the scene, watching it inevitably explode. He brings a detailed account of how it all went wrong
When Ralf Schumacher hit the wall on Friday at the Indianapolis Motor Speedway, none of the journalists there realised quite what the implications would be, even when it emerged that his teammate Ricardo Zonta had also suffered a left rear failure. I can remember us all getting excited after the first session in Bahrain last year, when there was a series of spectacular punctures on Michelin cars - all traced back to a dodgy kerb, which was subsequently sorted.
Last weekend, the problem seemed slow to gather momentum. Only gradually did we learn that teams other than Toyota had suffered signs of imminent problems with the heavily loaded left rear. What was worrying was that they seemed to involve third cars that had run a lot of laps.
Saturday June 18th
Early on Saturday morning it become apparent that a crisis was looming. The technical directors of the Michelin teams held a summit meeting with the company, and it was decided that in practice teams should run no more than 10 laps on their new sets. I concluded that this was done in part to ensure that, in addition to the new set for qualifying and the race, there was a low mileage back up set on hand should it be required on Sunday.
There was also a mandate from Michelin that pressures be run above a certain limit. It was revealed early on that Toyota had been running pressures very low. Indeed, Zonta had been the first man to run a flying lap on Friday, and when he did so it was very apparent that the car was virtually dragging along the ground as it kicked up the dust round the banking. Higher pressures have always been inherently safer, but there's a price to pay in terms of handling.
The other story that began to gather momentum after the meeting concerned the 'Barcelona' tyres. Michelin had only brought two types of tyre to Indy, something that had happened at only one other race this year. At most events there might be up to four or five options chosen by its teams in the weeks before the race. But this time there were only two, and worryingly both types had been implicated. They shared a common construction, and there was clearly no fallback position.
That's when Michelin decided that it was worth calling Clermont-Ferrand and asking for a third type of tyre to be shipped over, pronto, as an emergency measure. The company described these as Barcelona tyres, different in compound (and date of manufacture) to the tyres already in the States, but identical in construction.
These were scheduled to arrive on Sunday, but there was a small problem. There was absolutely nothing in the rules that allowed them to be introduced so late in the weekend. Regulations being challenged included a change to the type of tyres declared and marked up at the start of the weekend, a change on the type chosen for Saturday/Sunday, a change from qualifying to the race, and the use of tyres outside the main allocation of four sets. It was decided to get the tyres on a plane at all costs, and then sort out the detail later.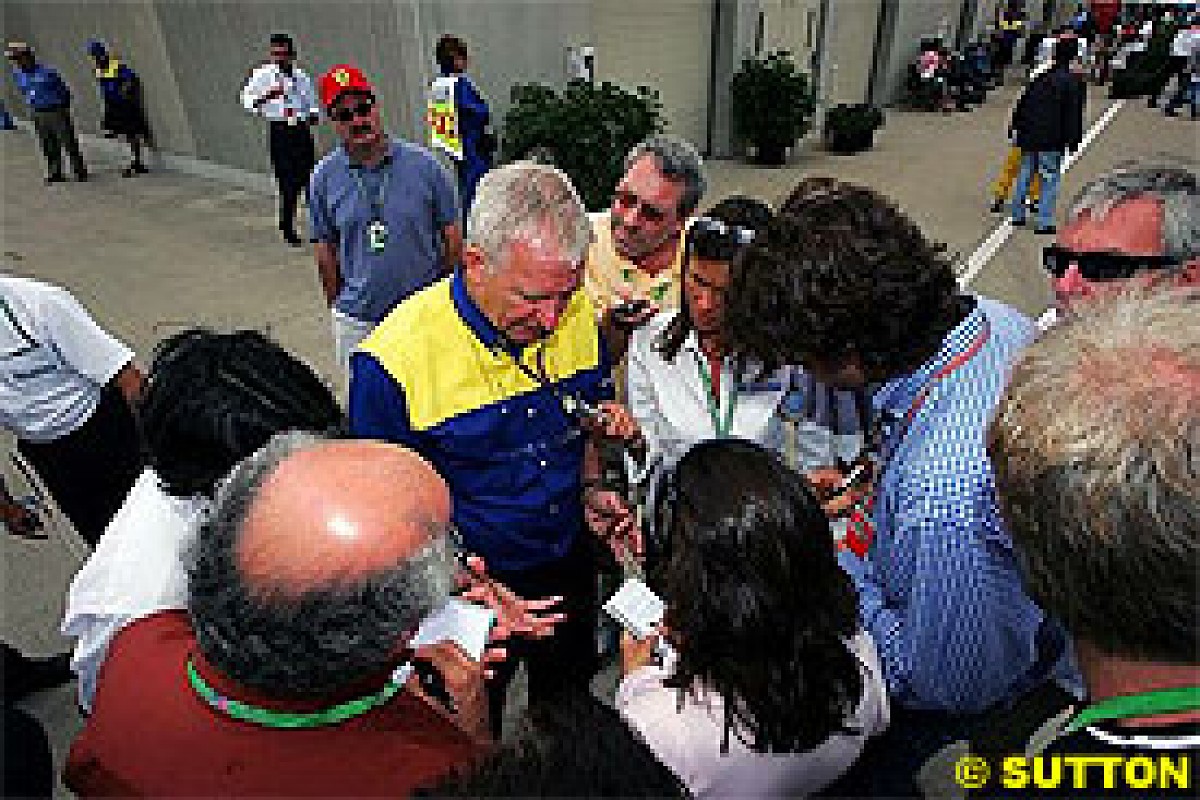 So on Saturday morning, the paying punters got short shrift as the Michelin runners did very few laps in practice, and that included lots of ins and outs and careful checking. It was also obvious that some cars, notably the Williams and Red Bull, really didn't like running the high pressures. Some wondered aloud whether all teams really did stick to the mandated pressures, at least for one-lap qualifying.
A further side issue emerged as a result of this focus. It's been very noticeable this year how pressures drop under a safety car period. Usually that manifests itself in dodgy handling for a couple of laps, but here there were serious concerns that in there could be a failure in the immediate aftermath of a safety car. The Michelin group concluded that a good solution would be to have three laps of 'virtual' safety car, at much higher speeds than those attainable behind a Mercedes, to allow drivers to get their tyres up to pressure. Again, there was nothing in the rules to enable this to happen.
So already on Saturday morning two major stories were emerging that involved changing or waiving regulations. I wondered how that might work out, so I asked the oracle on these matters.
"The procedure is that ten teams are going to have to agree something," said Minardi's Paul Stoddart. "In the interests of safety I will agree, and let's just say that Jordan and [Ferrari's Jean] Todt agree, the other two Bridgestone runners, you're going to then have [FIA president] Max [Mosley]'s agreement, you're going to have to then have Bernie [Ecclestone]'s agreement, so the 12 Concorde signatories are going to have to agree. Then Max has to request, I believe is the right word, the stewards to go along with it.
"The last time such a request was made people will remember was in Melbourne, when I had 10 signatures, and the stewards turned down such a request. They were sympathetic to it, but it was outside the regulations. This is clearly outside the regulations, so it will be interesting to see what happens.
"I have the greatest sympathy for Michelin, it's a great company, and I have great empathy with the teams that are affected by it. But there's no clear-cut way out of this. Whatever happens, the events that take place in the next few hours here, or perhaps even as much as the next 24 hours, are going to have far reaching ramifications. If something is rushed through because of circumstances, I can't see that not having wider ramifications down the track."
Love him or loath him, the bloke is pretty switched on. And he set me thinking. I could already see that this could all come down to the opinion of one man, someone who is not known to like being backed into a corner. And it wasn't Max Mosley.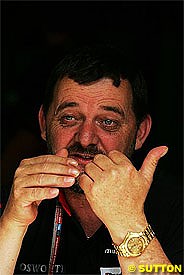 By chance I bumped into Jean Todt as he went into the Ferrari garage. What did he think of the safety car idea, I wondered?
"I don't talk to Michelin, I only talk to Bridgestone," he grinned. It was pretty clear that there would be no room for manoeuvre.
There were no obvious Michelin failures during Saturday, and only later did it emerge that, on closer inspection, problems were again developing with some low mileage tyres. Investigations continued at the track, and also elsewhere.
Some of the Friday tyres, damaged and otherwise, had gone to a Michelin facility in South Carolina, for detailed examination. It was vital that Michelin could replicate the failure. The US facility had two test rigs, but neither combined high speed running with the loadings experienced at Indy, so tests were inconclusive.
Things moved quickly on Saturday afternoon. At a routine meeting of the team principals, the question of the 'virtual' safety car was brought up, and Todt made it clear that he would not allow any changes to normal procedures. Jordan's Colin Kolles later told me that he was amazed that there was no wider discussion of the tyre issue, and Stoddart repeated that sentiment in a press statement released on Wednesday.
Through the day, the main focus was on the substitution of the Barcelona tyre. At his regular afternoon press gathering, Ron Dennis said that it would be a sensible solution, and that he'd be prepared to allow the six Bridgestone cars start at the front. Somehow that didn't seem like the sort of compromise that would interest Mr. Todt.
In public there still seemed to be some optimism in the Michelin camp that its investigations would pinpoint a problem - perhaps with a specific batch of the Indy tyres - and that there would be some answers. Pierre Dupasquier said he expected news by 2:00am.
It wasn't reported at the time, but in addition to the work going on in South Carolina, Michelin sent some of the Saturday tyres to a much closer facility in Akron, Ohio. They travelled in style in McLaren's private jet, with the FIA technical delegate, Jo Bauer, chaperoning them in a second plane loaned by Ron Dennis. After all, those used in qualifying were in effect subject to parc ferme rules.
But even while all this work was going on, the goalposts had moved. Late afternoon discussions, and a meeting in the Michelin office, led to a dramatic conclusion. At around 7:00pm I wandered down to the paddock to see if there was any news. These days the place empties quickly on Saturday. Because of parc ferme, the mechanics have nothing to do, and at tracks with a bustling city nearby, there's little reason to stay - usually the only folk left behind are technical directors and race engineers, who are plotting strategy.
So the Indy paddock was indeed eerily quiet, just a few folk sitting at tables here and there, and all of them top management. An approach to a technical director of a Michelin team left me speechless.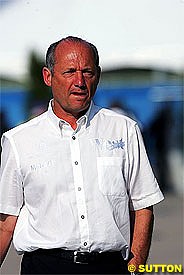 "They're now saying we're only going to race with a chicane," he said. So what about the much-vaunted Barcelona tyres, which were supposed to resolve the situation?
"We can't use those. We don't know anything about them and they have the same construction anyway."
I couldn't believe my ears. A few brief strictly off-the-record chats with team bosses, made easier because I was the only member of the press around, confirmed the story. It really was true, and what worried me most was the air of resignation that everyone shared. They knew that this was serious stuff.
The team bosses were preparing a letter to be delivered to the FIA. When I saw a solemn Ron Dennis marching across the paddock from the Michelin office, speaking on his GSM and clutching a piece of paper, I knew what it was. I also knew it wouldn't be a good time to ask any questions.
The only note of optimism was that most seemed convinced that the chicane would eventually happen. Firstly Bernie Ecclestone wanted it, and secondly it simply had to be there if we were going to have a race. Things always work out in the end, don't they?
I wasn't so sure. For all his influence, and contrary to what many cynics think, Ecclestone cannot impose such big decisions on the officials of the FIA, upon whose shoulders ultimate responsibility for all sporting and regulatory matters lie. My instinct that they had little time for the chicane plan was confirmed when I saw the key people as they left the circuit. It just couldn't be done, was the gist.
However, those guys report to Max Mosley, who was back in Europe. If he agreed with the idea, he had the power to make things happen. It was around 2:00am in Monaco when the Michelin meeting took place, and even Bernie wouldn't call Max that late to sound him out. Nothing could happen until the morning.
The other side of the question was what Ferrari thought. By this time Todt had gone to his hotel, but the rest of his management team were still present. They made it absolutely clear that the idea of a chicane was a complete nonsense, and that rules were black and white.
Anyway, I'd drawn a sample Bus Stop on a handy Indy map in a notebook. A senior member of the Ferrari team took it from me, drew a spectacular Hot Wheels style loop in the middle of Turn 12, and wrote 'Michelin Only' on it.
It was easy to mock, but perhaps the Ferrari folk hadn't realised quite what could unfold on Sunday. The attitude was that Michelin had screwed up, end of story. And what would happen if Bridgestone had been in similar trouble? They had a good point, as six versus 14 would have been a very different equation. Indeed FIA people shared that concern - what if we build a chicane to please Ferrari? How would that look?
The Michelin teams had put some serious thought into the chicane proposals. Team bosses and technical directors are no mugs, and they knew it had to be done properly. As an ex-driver, BAR sporting director Gil de Ferran offered advice, while McLaren helped to provide some provisional drawings. But when everyone eventually packed up and left, we were still in limbo.
Sunday June 19th
Fast forward to Sunday. The only news from all the Michelin research was bad - it was confirmed that there was no way that the Indy tyres could be raced under normal circumstances. And the Barcelona tyres were still off the menu.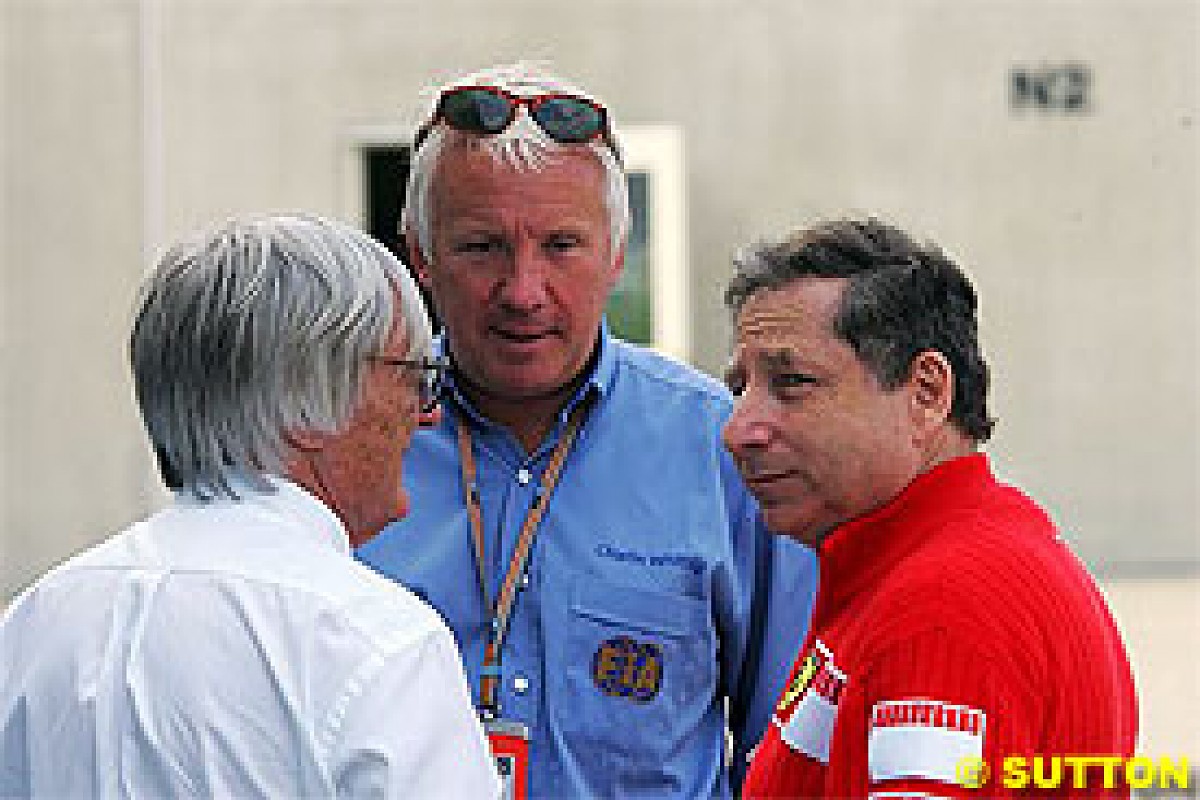 Meanwhile an early morning phone call between Mosley and race director Charlie Whiting reaffirmed the FIA's position. Clearly any conversations between Max and Bernie had not produced the result the teams wanted.
Whiting composed a reply to the letter from Michelin requesting a chicane was composed. It basically said a chicane won't happen - why don't you just drive slowly round Turn 13?
This idea wasn't quite as silly as it sounded. Later the FIA told the teams that it would be willing to operate a speed trap, similar to that used in the pitlane. This could be done by asking the FOM technicians responsible for the cabling around the track to create an extra loop at Turn 13. Any driver breaking the speed limit, whatever that might be, would be penalised.
The key advantage of this, according to the FIA, was that it did not involve the Bridgestone runners in any way, unlike a chicane. However, the prospect of having two lanes of traffic running round the banking, with a huge speed differential, did have its drawbacks. Not least the fact that four of the guys in the high-speed lane would be the Minardi/Jordan rookies. How safe would that be?
FIA folk were also somewhat bemused to find that neither Michelin nor the teams had a specific figure for a safe speed limit. That lack of a suitable number was confirmed to me after the race by a leading team technical guy, who said that it was just taken for granted that the chicane would have taken off sufficient speed to make Turn 13 safe.
There was also a feeling in the FIA camp that Michelin didn't know for sure that speed through Turn 13 was the real cause of the problem, although that's not the impression I got from the Michelin camp. Anyway, it seemed to me one of the key aims was to specifically avoid a crash at high speed on the banking. Neutralising that corner would have been a major step in the right direction, even if other areas of the track were still vulnerable.
Gradually folk arriving in the paddock began to realise that something serious was up. The key event was a meeting held in Ecclestone's office in the paddock, which kicked off sometime after 9:00am.
Those in attendance, although not all from the very start, were Tony George (IMS); Pierre Dupasquier and Neil Shorrock (Michelin); Flavio Briatore and Pat Symonds (Renault); Nick Fry and Gil de Ferran (BAR); Sam Michael (Williams); Ron Dennis and Martin Whitmarsh (McLaren); John Howett and Tsutomu Tomita (Toyota); Peter Sauber; Christian Horner and Guenther Steiner (Red Bull); Colin Kolles (Jordan); and Paul Stoddart (Minardi).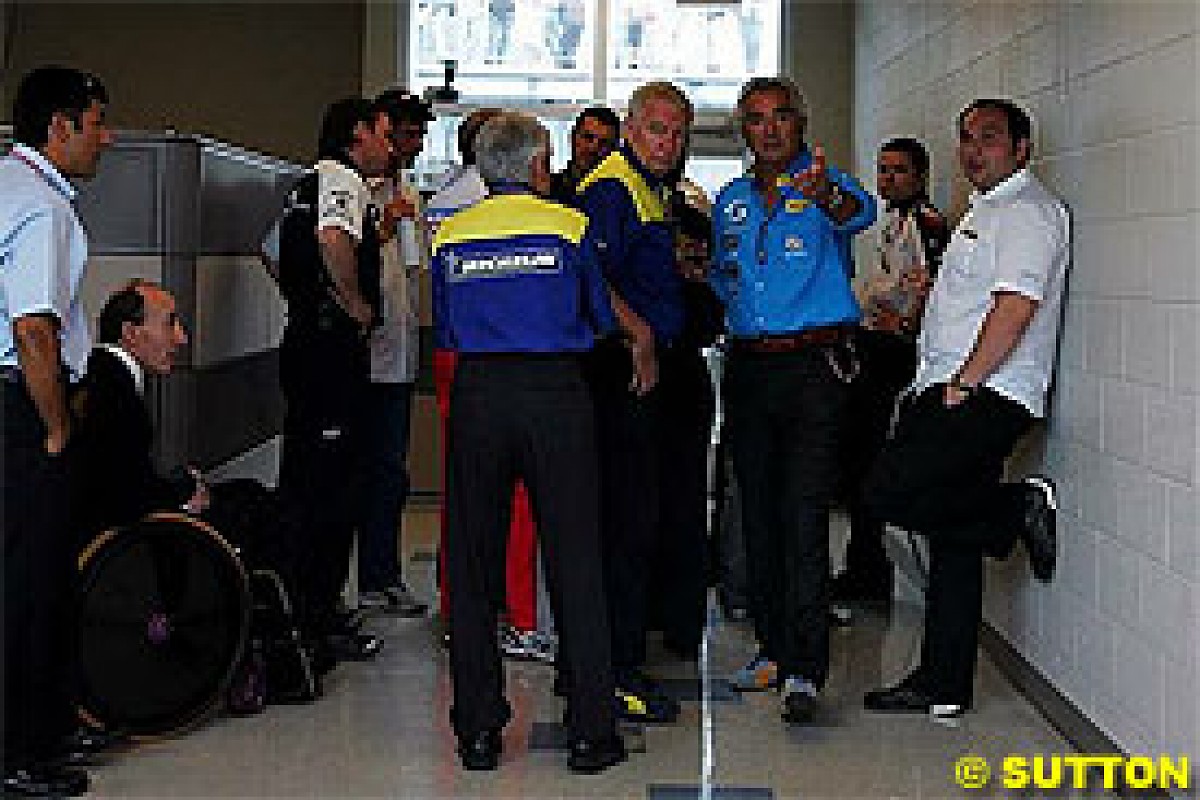 Ferrari was not represented, despite the fact that the team's own office was right next door. Charlie Whiting was summoned, made a brief appearance to state the FIA's case, and left. Apart from that, the FIA was not present. But Max Mosley made regular contributions from the other end of a phone line, speaking to Bernie, George and Briatore.
I went along to doorstep at around 9:45am, to be ready to gather reactions when everyone emerged. A crowd of photographers and TV crews had gathered, with the same idea. Little did we know that it would be a wait of nearly two hours.
Fortunately, there was some interesting comings and goings, and the fact that some of the inside action was visible through the tinted glass helped the time pass. The main meeting area was mostly masked by partitions, but whenever anyone came out to make a phone call or a have a quick side discussion, they had nowhere to hide.
Here's how some of the action unfolded in front of my eyes as time marched on:
| | |
| --- | --- |
| 10:30am: | Bernie leaves the main meeting and gets in a huddle with Stoddart and Kolles. He appears to be doing all the talking. |
| 10:37am: | Ecclestone emerges from the office. He briefly teases the waiting media before heading straight next door to Ferrari. He meets Todt. |
| 10:43am: | Ecclestone returns to the meeting. |
| 10:50am: | Tony George leaves, a look of exasperation on his face. He says nothing to the media. He doesn't come back. |
| 10:58am: | Frank Williams is escorted into the meeting by his personal assistant. He's usually a late arrival at the circuit, but it's a surprise to realise that he wasn't already there. |
| 11:03am: | Ecclestone and Briatore step out of the main meeting area for a private chat. Flavio is animated. |
| 11:07am: | Against expectations, the drivers suddenly appear. They've been in the drivers' briefing and have been called to the meeting by Ecclestone. Fernando Alonso leads the queue, but he wrong slots and heads up the paddock stairs. David Coulthard sees me and says, 'Is this Bernie's office?' One by one, the others follow him in. All except the Ferrari drivers. |
| 11:09am: | After a quick trip to the Ferrari office - presumably to seek the approval of Todt - Rubens Barrichello enters the meeting. He shakes hands with Juan Pablo Montoya. Michael follows a minute later and is welcomed by BAR's Nick Fry. Almost immediately Michael heads out again and returns to the Ferrari office. Has he had second thoughts? |
| 11:12am: | Michael is back, looking very nonchalant with hands in pockets. Ferrari team manager and sporting director Stefano Domenicali follows him in. Briatore appears to be doing most of the talking to the group of drivers. The Ferrari guys reportedly say that they personally have no problem with a chicane. Nick Heidfeld stands on a chair so he can see what's going on. |
| 11:17am: | Kimi Raikkonen leaves the meeting, to be followed by most of the other drivers. A handful stays behind to continue the discussions. |
| 11.27am: | It appears to be all over, as the team bosses leave. Only the two Michelin men stay behind, for a brief private chat, before they too bail out. Most of the participants say nothing and head straight back to their own offices. |
Not that anyone knew exactly what to say, except Paul Stoddart, who as usual acted as a de facto spokesman for the group. He claimed that the race would go ahead with nine teams with a chicane - possibly with non-Championship status - or with two cars without a chicane.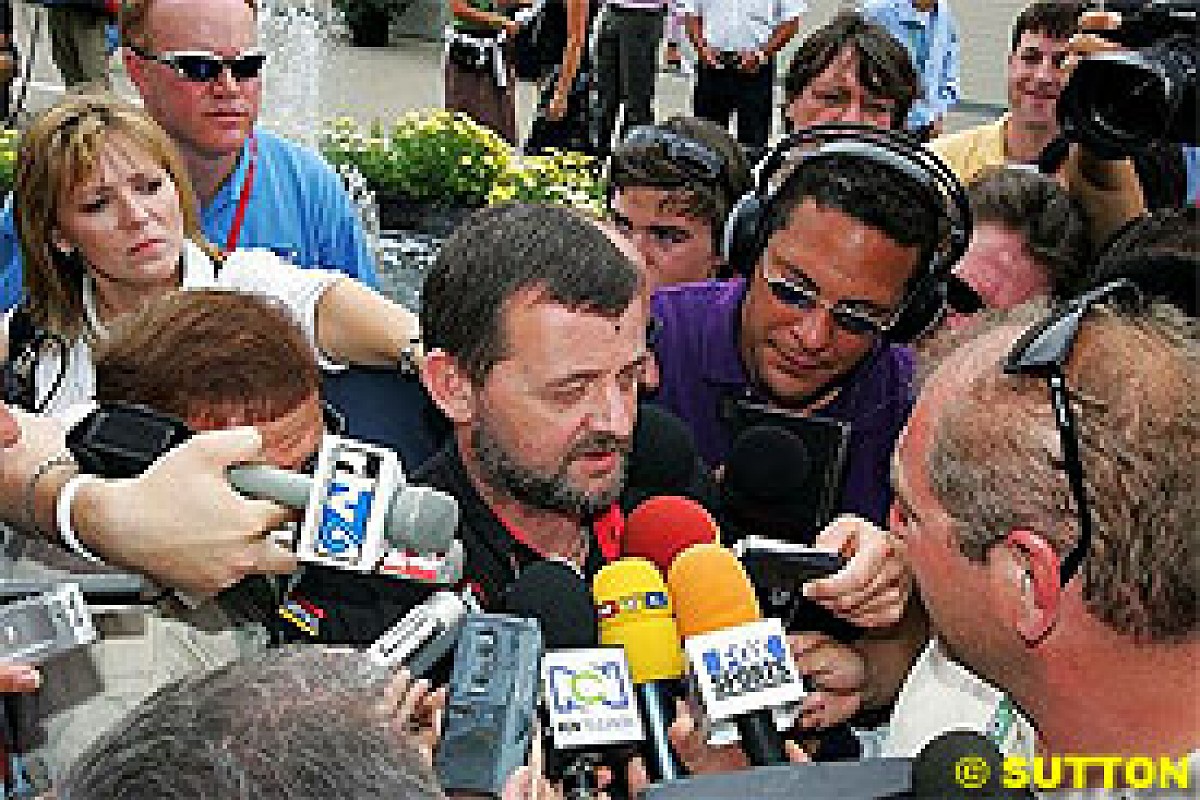 His Wednesday statement detailed how desperate things were getting in that meeting: "Most present felt the only option was to install the chicane and race, if necessary, without Ferrari, but with 18 cars, in what would undoubtedly be a non-Championship race. We discussed with Bernie the effects of the FIA withdrawing its staff, and agreed among ourselves a race director, a safety car driver, and other essential positions, and all agreed that, under the circumstances, what was of paramount importance was that the race must go ahead. All further agreed that since we would most likely be denied FIA facilities, such as scales and post-race scrutineering, every competitor would instruct his team and drivers to conduct themselves in the spirit of providing an entertaining race for the good of F1."
We now had exactly an hour before the pitlane opened and the cars were scheduled to head out on to the grid. This was utter madness. It was obvious that there was now no time to do anything, and yet some key people seemed convinced that the chicane would have to happen, and that work was about to start.
Bumping into ITV's Jim Rosenthal, I suggested he ought to send a crew out to Turn 13 to see what was happening. "They're already there," he said. "And nothing is going on."
Up and down the paddock there were little huddles. Briatore was again in animated conversation, this time with Norbert Haug and FIA's Alan Donnelly, Max Mosley's key advisor and his eyes and ears at races. Flavio then took Donnelly to one side. The Brit seemed to be doing little else but using those ears.
At 12:03pm Bernie appeared at the 'poor' end of the paddock and talked briefly to Kolles, and then to Stoddart. Fry, Tomita and Horner joined in the latter gathering. Such discussions were now going on in public. Bernie looked pretty hassled. "It's nobody's fault," he muttered as he headed off.
Another meeting was convened in Bernie's office as the minutes ticked away, and it was clear that there was going to be no easy resolution. When 12:30pm came around, there came the sound of an engine firing up. It was Jordan's Tiago Monteiro, heading to the grid. Over the next couple of minutes, he was joined by Schumacher, Barrichello and Narain Karthikeyan. Clearly, Jordan wasn't party to any boycott agreement with the other eight teams represented in the earlier meeting. All the other drivers sat strapped in their cars in the garages.
Back at Bernie's office, things were really getting desperate. Red Bull team manager David Stubbs arrived and put his head round the door. What am I supposed to with my cars, he seemed to be asking? Finally, at 12:38pm, the bosses emerged once more.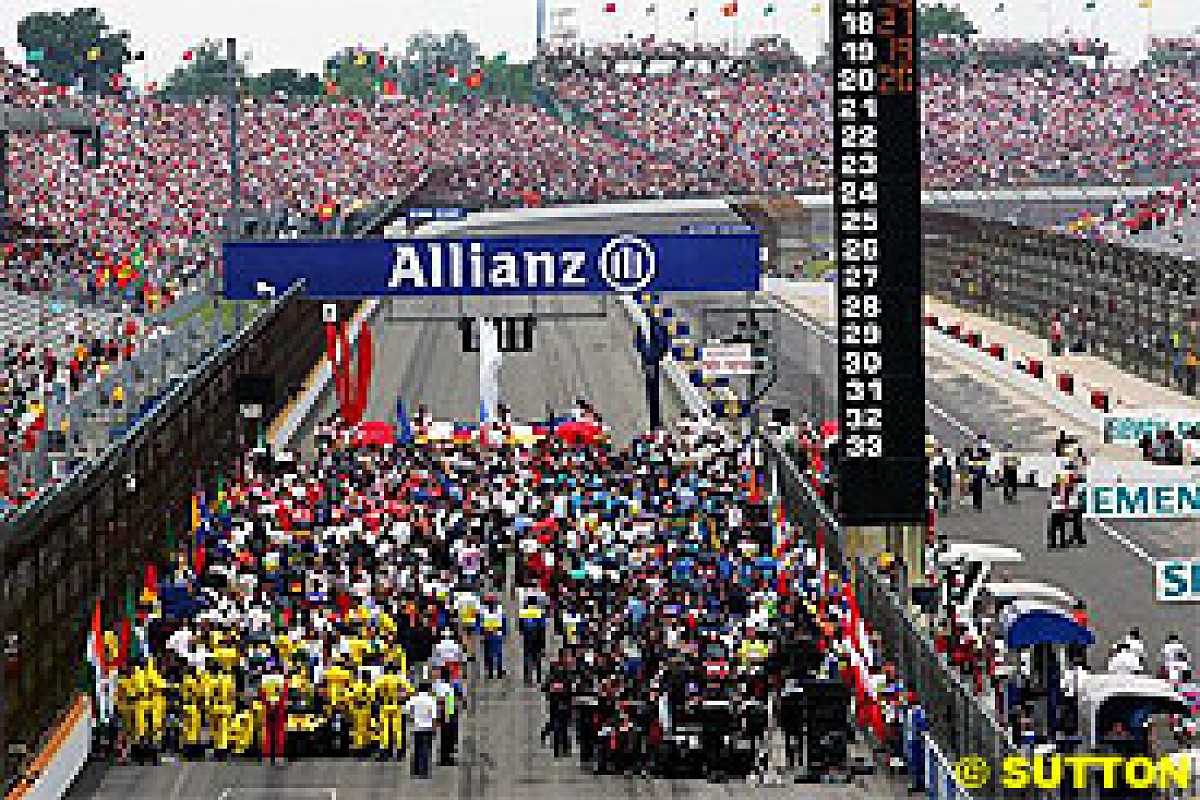 "We are all going to the grid, anyway," said Toyota's John Howett. He didn't elaborate. Briatore looked more upset than ever, while Stoddart was seething. His thoughts about Kolles were certainly not for printing. After the race the Jordan boss said that he'd agreed merely that he would race, with or without the chicane.
It was a strange atmosphere on the grid, with more urgent conversations going on. The drivers already knew that they were only going to trundle round. Some of them were sorely tempted to do more than that. Ron Dennis had both his hands on Kimi Raikkonen's shoulders, and was giving him a serious eyeball-to-eyeball pep talk. These guys have it in their blood to go racing on Sunday afternoons, and what they were faced with just didn't compute. They were as much victims as anyone else.
Interviewed live by ITV's Martin Brundle on the grid, Bernie had a chance to set the record straight, apologise on behalf of F1 for the unfortunate situation that had arisen, even if it is out of his control. But his evasive replies shed little light - he really didn't seem to know what to say.
The rest, you know.
Conclusion
Max Mosley has given his reasons for not allowing a chicane to be built, and some of them are very valid. In normal circumstances, a sport has to stick to its rules. However, the balance of opinion, to use the sort of phrase that Max often employs himself, is that the reasons in favour of a chicane were far more pressing.
Chief among his objections is that he didn't want to do anything to inconvenience the Bridgestone teams. But he says the whole business was nothing to do with Ferrari, and in turn Jean Todt says that it's the FIA's job to sort these things out, and nothing to do with him. Which of course is quite true, in theory.
After the race I asked Todt if he had spoken to Max over the weekend.
"I spoke with him, yes. But I wasn't the only one, I think everybody spoke with him."
So did Max want to know what he thought of the chicane?
"You know, I mean, Max has a very strong personality, and he has his people with whom he discusses, he has the director of the race, he has the clerk of the course, he has the stewards. I mean, to the question did I speak to him, I spoke with, yes."
But, I insisted, did Max ask if Ferrari would be happy with the chicane?
"No... He never asked me if we would be happy because he never thought that it was a possibility."
Fair enough, and you can't blame the guy for throwing up his hands and saying, it's not my problem.
But let's suspend reality and suppose that, early on Sunday morning, Todt had said something like the following to Max: 'I really don't want to do this, but the USA is our biggest market, Philip Morris is American, Shell are huge here. And Bridgestone/Firestone has had a lot of grief in the States over the past few years. The tifosi are not going to like this either. Remember Austria? I can see all this landing on my head, and Luca di Montezemolo is going to go ballistic if we get the blame. We just can't be seen to screw F1 up. So let's give them the chicane. I think we can beat them anyway."
If such generosity sounds far-fetched, what if he was able to add the following rider: "They've said they're going to give us all the points. How can we sort that out?"
If Todt had made such a suggestion, would Max Mosley really have found it so necessary to stick to his guns?
I suspect that Sunday was clouded by confusion over what was really on offer, and by whom. As noted, in his 3:30pm press briefing on Saturday, Ron Dennis was talking about putting the six Bridgestone cars at the front in return for use of the Barcelona tyres. Not much of a deal, really.
But by the next morning, with the clock ticking, the stakes had been raised so much that there was talk of the Michelin teams racing for no points. But did the message get through? Absolutely not, I can confirm. I asked Todt after the race, and he confirmed that he had never heard that particular version.
"Bernie came this morning to see me with different proposals, including a chicane, but again it's a matter of the FIA, it's not a matter of the commercial rights holder. And I said for me, it's up to the FIA to decide.
"I heard that the teams were prepared to offer the Bridgestone teams to start in front, but I mean it's completely nonsense. We did qualifying yesterday for the starting order."
Crucially, Todt confirmed that no other team principals had approached him or made any offers. Everything was thus channelled through Bernie.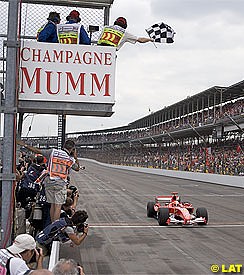 This then begs the question, what did Bernie Ecclestone really say to Jean Todt in their six minute chat that began at 10:37am? Did he fully convey what the teams were offering? If not then, how much (if any) contact did the pair have about other potential compromises as the day went on?
On Sunday afternoon I was convinced that Bernie Ecclestone was as helpless as the rest of us in all this, that he had to a degree been publicly humiliated, and as someone said, made to look like an Emperor with no clothes. This time, it was the rest of the teams and Bernie, versus Max and Ferrari. Surely, I thought, the relationship between Mosley and Ecclestone was now irretrievably out of balance.
I'm still inclined to that view, but was it really the case? Let's take a conspiracy theorist's view and just suppose that Bernie was, as so often in the past, playing the long game. The Indy situation just happened to break in the middle of a heated political battle, and while he appeared to be pushing one cause, perhaps in the background he was pursuing quite different ends. Just a theory, but it makes you think, doesn't it?