---
By Dieter Rencken, Belgium
Autosport-Atlas Columnist
Shifting Focus
Last year, around German Grand Prix time, a decision was taken within Renault F1's boardroom to confine development of their R24 to a 'need-to-do' level rather than eking out every last 1000th of a second. There was no chance, went the logic, of winning 2004 titles, so better to take a flyer on the still-to-be-introduced engine, tyre and aero regulations on the basis that FIA President Max Mosley invariably forces through his visions, and get on with building towards 2005.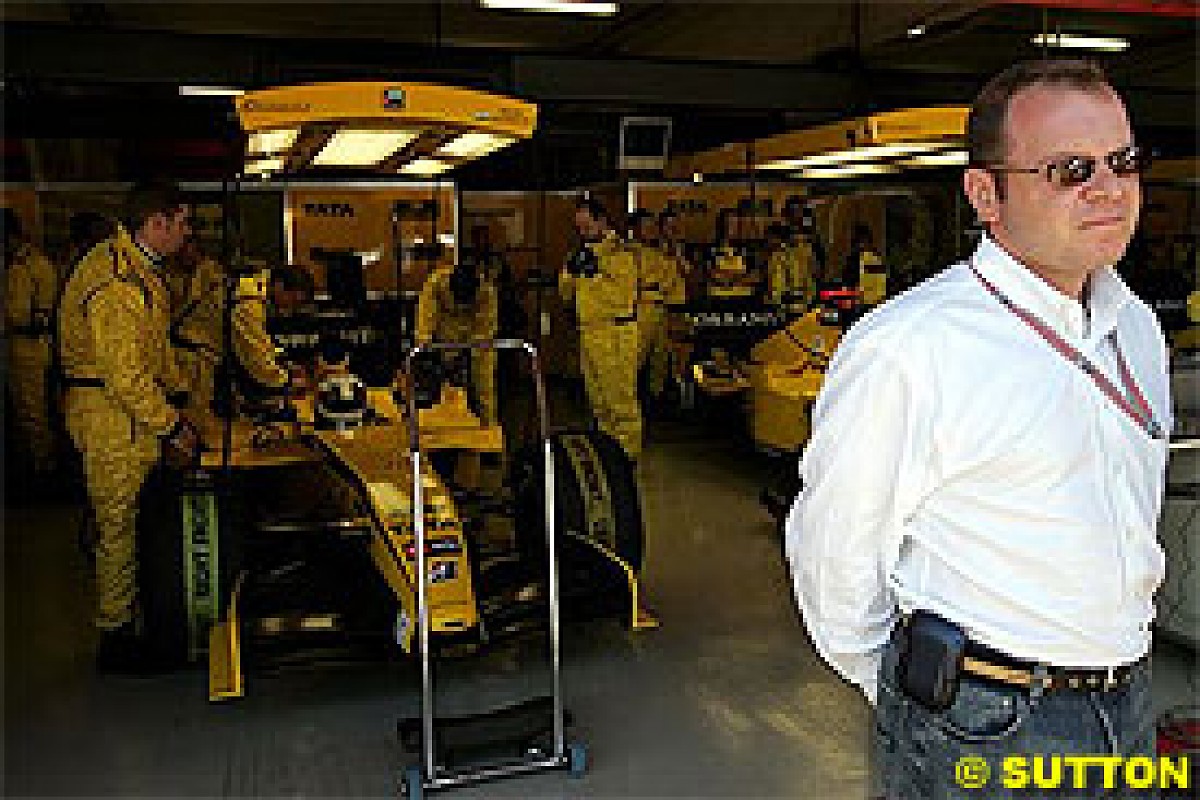 That the decision required enormous management courage is undeniable, for the team knew well that its execution could well see them lose their then-second place in the makes' Championship; worse, the points thus lost would translate into lost revenues for points equal standings and Championship standings equal dollars. The team did, of course, eventually lose their second place, to BAR, and that alone was a bitter pill to swallow, particularly given the subsequent coverage given Jenson Button by the British media.
The flip side was, of course, increased chances of a flying start in 2005, with resultant points (and bucks), and a very real chance of winning either or both the new season's Championships as competitor engine companies worked dual streams maintaining their 2004 impetus whilst developing long-life engines, and teams and rubber companies battled to get to grips with draconian regulations enforced in the closing stages of the year.
One look at the latest tables shows the team's bravery is being rewarded somewhat handsomely: of the eight races to date, the R25 has won five and finished in the top three at every circuit bar Montreal, which saw one entry retire with hydraulic failure and the other through unforced driver error whilst on course for victory. The team lead both Championships, and, should Fernando Alonso finish second to Kimi Raikkonen all the way to China, he would still end tied with the Finn on points.
So, with Renault having blazed the trail, others could be expected to follow, for, if doubt exists over the lateral thinking abilities of Formula One teams, none whatsoever exists over their copy-cat qualities, for they are quick to pounce upon any advantage created by others.
It is thus no surprise that Ferrari seem to have taken a conscious decision to 'shift focus' off the F2005 and on to their new 2400cc V8-engined challenger, for, the way things have and are going with the Aldo Costa-designed car, Michael Schumacher and Rubens Barrichello have every reason to write off their Championship chances.
Bridgestone, having won every Championship going since 1998, too, is facing its first title-less season since its debut year (1997).
With the team and their tyre supplier seemingly unable to produce synergies between car and rubber despite great effort by parties - and greater testing distances this year to date than put in by Championship leaders Renault and McLaren combined - Ferrari and Bridgestone may well be best served by writing off this season as a bad job to concentrate on next year. After all, why deploy the world's most successful car designer to investigate suspension/tyre interfaces, as Ross Brawn indicated this week was Rory Byrne's present preoccupation, when the Championship is practically out of reach.
Despite the concept of next year's engines being fundamentally V10s with a pair of cylinders chopped off to provide the required configuration and capacity, regulations insist upon standardised materials and laid-down centres of gravity, resulting in units with totally different power characteristics - some are predicting over 20,000 rpm before the season even starts - fuel efficiencies and consumptions, and mass distributions.
Chassis will, of necessity, be different, and tank capacities may increase to permit the running of, say, Monaco, on zero-stop strategies if required. Then, lower torque figures permit smaller transmissions and lighter driveshafts, whilst tyre sidewalls will be subjected to lower forces - all of which dictates redesigns of most components.
All in, changes to hardware and ancillaries over this year will be substantial, and certainly greater than those of 2005 cars over their 2004 brethren, mandating greater test and development programmes, plus, of course, tyre development. Crucially, tyre construction will need to change to cater for different demands, and here Bridgestone could again be at a disadvantage given that, until the last race of this season at the very least, only Ferrari's input will be available to them.
That may change come the new season, but, with Minardi sticking to their PS05 with emasculated Cosworth V10 power, and a vacillating Jordan still laying down their 2006 concept without finality on the engine front, Bridgestone, in particular, has an urgent need to get into their 2006 development programme - by way of a Ferrari prototype.
Whilst most engine testing is nowadays undertaken 'statically', there is no real substitute for track work, particularly with the raft of design changes expected to accompany the 2006 regulations, and, with Ferrari having suffered enormously this year through the delayed introduction of F2005, they at least had the luxury of the F2004M. This year's car will, of course, not be eligible next year (unless the team accept an imposed rev-limit), so Ferrari have a double need for early introduction of their new challenger: Championship performance and the fact that many of their personnel and commercial contracts expire at that point.
Ferrari, having refused to sign up to the 30 days test deal, have a major advantage. Not only are they able to test what and where they choose, but they can do so at no less than two wholly owned circuits and another named after their founder's family - all within two hours drive from Maranello. So, expect the high-pitched scream of V8s to be heard all over northern Italy within a few weeks.
And, as Ferrari followed Renault's lead, so others will no doubt follow the Italian team as this season progresses. Honda's V8 ran at Mugello in a mule chassis shortly before the San Marino Grand Prix, and, given the lamentable state the BAR team have found themselves in this year, will surely press BAR to run intensively sooner rather than later. And, with the team running closest to the voluntary test cap, development of the 007 could soon be terminated.
Ditto Sauber, who, it is known, will no longer be Ferrari-powered next year, so are no doubt keen to air their C25 powered-by-whatever V8, particularly if they are be BMW supported in some form as seems highly likely. Given the sentiments prevailing between the Munich motor company and Williams, would BMW be prudent to embark on engine development with a team said to be on the look out for alternate power? Sauber are, after all, way off their test limit, so could conceivably prove of greater benefit to BMW's development plans than could Williams.
As the season progresses, those with performance deficits will no doubt surrender to forward testing in indirect proportion to their Championship standings. The difference, though, is that Renault had the courage to do so whilst second in the Championship.
The Future of Jordan
So, where to Jordan now?
In January, shortly after Midland Group announced the purchase of Eddie Jordan's struggling team, said to have been 'bankrupt with only four old monocoques' by MD Colin Kolles, we pondered the seriousness of the operation. Here was, after all, a multi-billion company owned by a Russian-born Canadian buying into Formula One, then planning to commission Dallara - a company with an excellent junior pedigree, but seriously lacking success at the top level - to build their first chassis.
The rationale behind the purchase was difficult to follow: if the reason was the $48m bond, why would a billion-strong company with presumably that amount in its petty cash, purchase a bankrupt to evade depositing what is no more than returnable deposit?
But, whatever, the deal went ahead, not without some slippage on due diligence, and, no sooner done than technical director Mark Smith departed for Red Bull, allegedly having told his wife that a brief discussion with Kolles had been sufficient to persuade him, Smith, that a career adjustment was called for.
In Melbourne, Kolles suggested that action would be taken against the designer, with whom Jordan had, he asserted, a contract. Further details would be made known in due course. When questioned three months later, in Montreal, no further details were given.
In the interim, of course, much has been said about the once-winning team, who see themselves regularly outperformed by Minardi despite having what are reckoned to be, via Toyota, amongst the most powerful engines in the pitlane.
Spain saw the team introduce a bevy of ladies as they sought to spice up their image, but, rather than bringing real glamour to the paddock, mischief makers pointed out their enormous handbags. "To carry their credit card machines about," said one.
At the time Autosport-Atlas interviewed Kolles, questioning in particular the Midland/Jordan/Dallara arrangement.
"Having bought Jordan makes it easier and quicker to build our 2006 car, that is all. We have a certain number of contracted hours with Dallara, we have a factory in Silverstone, they have a wind tunnel, we have a wind tunnel and these two will work together to build the car. But there are no questions that Dallara is a contractor, that next year's car will be built with Dallara and Jordan in Jordan at Silverstone," he said at the time. Kolles also confirmed that there had been disagreements over the purchase of Jordan's wind tunnel from Eddie J, but that the previous owner "had not acted correctly".
Then, though, suggestions surfaced in Monaco that the team were 'For Sale', with former Jordan jockey Eddie Irvine said to be fronting a syndicate bankrolled by yet another Russian billionaire.
Worse, at the same time reports circulated that bills were unpaid and that suppliers were refusing to co-operate on that basis beyond the middle of June, i.e. this week. The team's budget, put in place by Shnaider whilst the operation sought sponsorship beyond a few Portuguese tourism stickers and backing courtesy of Narain Karthikeyan's Indian sponsors, was said to run out simultaneously. Certainly, no new money is visible, and, with tobacco livery in the EU banned as from Hungary, Sobranie support - alternating with sister brand Benson & Hedges - is poised to disappear, for the sponsor's directors are hardly likely to risk personal criminal convictions for the sake of a few back-of-the-grid cars.
Absent in Canada was Trevor Carlin, a successful junior team owner who met Kolles whilst they were campaigning Dallaras in various F3 Championship and since appointed as Sporting Director. Kolles suggested that Carlin had no taste for the 180-minute daily return journey from his Surrey home to Jordan's Silverstone-based factory, and had decided on a return to his previous activities.
Other sources, though, linked Carlin's departure to the collapse of the original Dallara deal - he is said to enjoy a close relationship with Gian Paulo Dallara after winning numerous Championships with the Italian's chassis designs - although why the Brit would choose to depart shortly before Canada when amendments to the contract had been made known by Kolles four races ago went unexplained.
Either way, Carlin appears to have departed for good, and the team appointed Adrian Burgess, initially in an acting capacity. However, just as the storm about Carlin subsided, a new one broke out: Kolles openly criticised Karthikeyan's recent performances, which have not been on a par with his opening races, leading to anger on the part of the driver, who commented that "he (Kolles) is management, I don't have to talk to him".
Midland/Jordan are said to be on the brink of signing an engine supply contract for 2006, possibly a continuation of their Toyota deal; possibly a Cosworth lease agreement. The burning question, though, is not with whom, but rather whether the team will be around to honour the contract's conditions.