Chronology of a Scandal

---
By Dieter Rencken, Belgium
Autosport-Atlas Writer
The controversy that involved Minardi's Paul Stoddart and the FIA may have exploded during the Australian Grand Prix weekend, but the roots of the problem have already been festering since the end of last season. Dieter Rencken brings the chronology of Formula One's latest controversy

The route to Victoria's High Court for the matter between MINARDI S.p.A and FEDERATION INTERNATIONALE de L'AUTOMOBILES ASSOCIATION (sic) AND NINE OTHERS (the teams, including one referred to as PANASONIC TOYOTA) started not in Melbourne this Wednesday past, nor even Europe last month. It started, believe it or not, in Shanghai way back in September last year - and, if that is an indictment on the slow processes in the world's fastest sport, it is, too, a point to ponder when analysing the court-case-that-should-not-have-been-in-a-matter-that-certainly-should-never-have-existed.
It was during the inaugural Chinese Grand Prix weekend that Minardi boss Paul Stoddart first let slip that his team would apply for permission to run their cars to 2004-specifications for the opening first races. He had, he said, calculated that a standard PS04 would still be trounced by an F2005 or MP4-20 running reduced downforce as required by the fast-tracked 2005 regulations. As the Concorde Agreement, which controls the administrative aspects of the sport, permits rules and regulations to be amended subject to unanimous agreement amongst teams, the wiry Australian figured that, with nine signatures acquiescing to his request, he could run a standard PS04 in 2005.
Right there is where the first error was committed: Stoddart applied commercial clauses to technical regulations. And, right there the FIA compounded the situation: rather than point out the error of his interpretation, the governing body did not, until 17 February this year, pass official comment on his intentions. And, when it did, it appeared to agree, for, in a confidential fax to Stoddart - portions of which have been seen by Autosport-Atlas - FIA President Max Mosley implied that Minardi could run to 2004-specifications subject to all (nine) competing team bosses agreeing to same in writing, and on the proviso that their cars complied with all prevailing safety requirements.
As late as Friday last week, in Melbourne, an FIA spokesman confirmed this to be the controlling body's opinion and position.
Between Shanghai and the Australian Grand Prix weekend much had changed in Formula One circles. Ford had announced its withdrawal from the sport, leaving Stoddart, who renewed his Cosworth engine deal in August, unsure about supplies for this season.
What really, though, changed the standing of chain-smoking 'Stoddie' amongst his peers was his shop-stewardship of the Cost Saving Initiative in Brazil, which brought him into direct conflict with the FIA and, equally crucially, Ferrari through its united aims. So, whilst he forged rather unexpected liaisons in Brazil with David Richards, Flavio Briatore, Ron Dennis, Frank Williams, Peter Sauber, Tony Purnell, Tsutomu Tomita and Eddie Jordan, plus, to a degree, Bernie, he certainly rubbed Max Mosley and Jean Todt up entirely the wrong way. Still, he had eight signatures.
Then, unexpectedly, BAR was placed into liquidation and, via financial jugglery, 'sold' to former owners British American Tobacco and Honda, who cancelled the David Richards/Prodrive management contract, which turned the operation around. Next, Red Bull acquired Jaguar Racing, excised its management, and replaced them with its own disciples. Finally, Jordan sold out to Midland, who appointed a duo of F3 managers to run the yellow team. So, in three months Stoddart lost three allies; more importantly, he lost three of his eight signatories. Still he believed unanimity could overrule World Championship regulations.
In late January matters between the G9 and Ferrari, FIA and FOM deteriorated further, particularly after the unilateral 'extension' of Concorde - ironically brought about by Fiat/Ferrari's dire financial straits - causing Stoddart to write Mosley a lengthy letter tabling his take on the state of Formula One. In it he all but accused Mosley of acting illegally, ending with a plea that Mosley not 'shoot the messenger'.
A week on, he featured on a Melbourne radio station as Hometown Hero to continue his war of words. He suggested the FIA's 2005 sporting and technical regulations had been rammed through unconstitutionally, and, dramatically, that blame for any accident in Albert Park would be laid at the feet of the governing body. Through it all the FIA claimed he had voted for the regulations by way of a fax vote (he later contested the legality of such a mechanism).
During the broadcast a belligerent Stoddart threatened legal action if his 2004-specification cars were declared illegal for the 2005 FIA Formula One World Championship and prevented from taking the start. "A writ is prepared and waiting, mate, and I would like to see anybody preventing our cars from competing," he reportedly told the station.
And so to Melbourne. On the Wednesday prior to the event, Stoddart was returning to Albert Park from the host city's Downtown area where a 'Through The Streets' promotion, featuring the team owner in one of his cars, Antonio Pizzonia in a Williams and Mark Webber in a ragtop BMW, was staged, when he 'let slip' to this column that eight teams had agreed to his request; Ferrari had not.
Right there Stoddart committed his second mistake, made the statement which eventually sealed his fate in Melbourne: "I will not," he vowed, "do anything that damages the Grand Prix I love above all others."
On Thursday Minardi (re)launched their PS04s in the pitlane, and, in all, it was a sad occasion. There were Patrick Friesacher and Christijan Albers bedecked in Minardi gear, not knowing whether their combined sponsors, who had coughed upwards of $12m to be on the back of the grid, would even get there. Amongst them were some pretty international names - JVC, Puma, Trust, the Austrian province of Karnten and Lease Plan - and, when asked how his commercial partners felt about the matter, Stoddart replied that "I obviously have not spoken to all of them, but those I have, are aware of the background and are totally supportive."
Then began the long wait. Ferrari's Jean Todt, who had called Stoddart at 03.00 Melbourne time (17.00 CET) on Wednesday, was not due in Victoria's capital until 21.00 on Thursday. According to Stoddart, Todt refused to agree to his request. This was, in itself, no surprise, for Stoddart's CSI, as framed in Brazil, attempts to restrict testing, and Ferrari have access to three licensed circuits within 150 kilometres of Maranello, plus their own Fiorano facility. So, Todt is sure to have sought concessions of sorts. The matter had to be, the Frenchman is alleged to have told Stoddart, referred to Ferrari's legal counsel, which sits in New York - in a time zone 15 hours removed from Melbourne...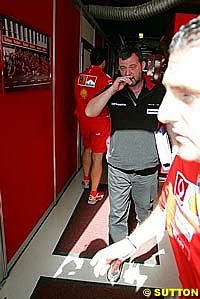 So, at earliest, Stoddart could have his cars finally accepted on Friday morning. They had been passed as 'safe' by the scrutineers, but outside the prevailing technical regulations due to their 2004-style aero packages. Then Stoddart let slip he had 2005-compliant bodywork amongst his gear, but that, as the parts had not been tested due to snow storms in Italy during the period scheduled for pre-season testing, running his cars in unproven form would, in his opinion present unacceptable risk. Mistakes Numbers Three and Four...
Come Friday morning, still no signature from Todt: Stoddart had not been able to meet with the Frenchman on Friday after, the Australian claimed, hotel reception refused to transfer his telephone calls, but had spoken to him by calling room-to-room via a sponsor staying in the same hotel.
But, said Stoddart, Todt maintained he had not heard from his lawyers, so no deal. Then came mutters that Red Bull Racing, fronted by Christian Horner, and Jordan, managed by Colin Kolles, wished to withdraw the signatures binding their teams to Stoddart's document. Tony Purnell, team boss of Jaguar, and Eddie Jordan had left their respective teams after selling out, and the newcomers were not sympathetically inclined towards Minardi.
"We would hate to lose out on a point in our debut race, by finishing ninth behind a Minardi not complying with the regulations," explained Horner, whilst Kolles was equally unsympathetic. "Over the winter Jordan was in a worse state than Minardi, yet we are here with two compliant cars," said the German-born former dentist.
Practice one came and went, and all was eerily quiet in Minardi's garages. Albers and Friesacher paced up and down as Stoddart scurried back and forth in the paddock; then, suddenly, Stoddart headed for his garages, a noticeable spring in his step. Somehow he had persuaded Todt to sign, and convinced RBR and Jordan that the signatures of Purnell and Jordan were binding. Stoddart seemed to have got his way. A dossier was presented to the stewards, one of whom (Tony Scott Andrews) is a barrister, the second, Jacques Regis, President of the FFSA for a third term and a man who has enjoyed a rather tetchy relationship with Mosley (and, thus, was expected to go against anything Mosley may have been in favour of), and local stewarding stalwart Garth Wigston.
They requested leave to consider. Meanwhile Minardi's cars remained in their garages, and Stoddart waltzed across to the podium area, champagne bottle in hand. He shook the bottle in anticipation of victory and waved at the predominantly local crowd below. That he was launching a 'rebel' airline, Ozjet, the week after the Grand Prix did not go unnoticed, and, his showmanship led many to question whether Stoddart's entire campaign was designed to attract attention to his Australian business interests. Clearly he had learned a lot from that other self-publicising aviation tycoon, Richard Branson, said some.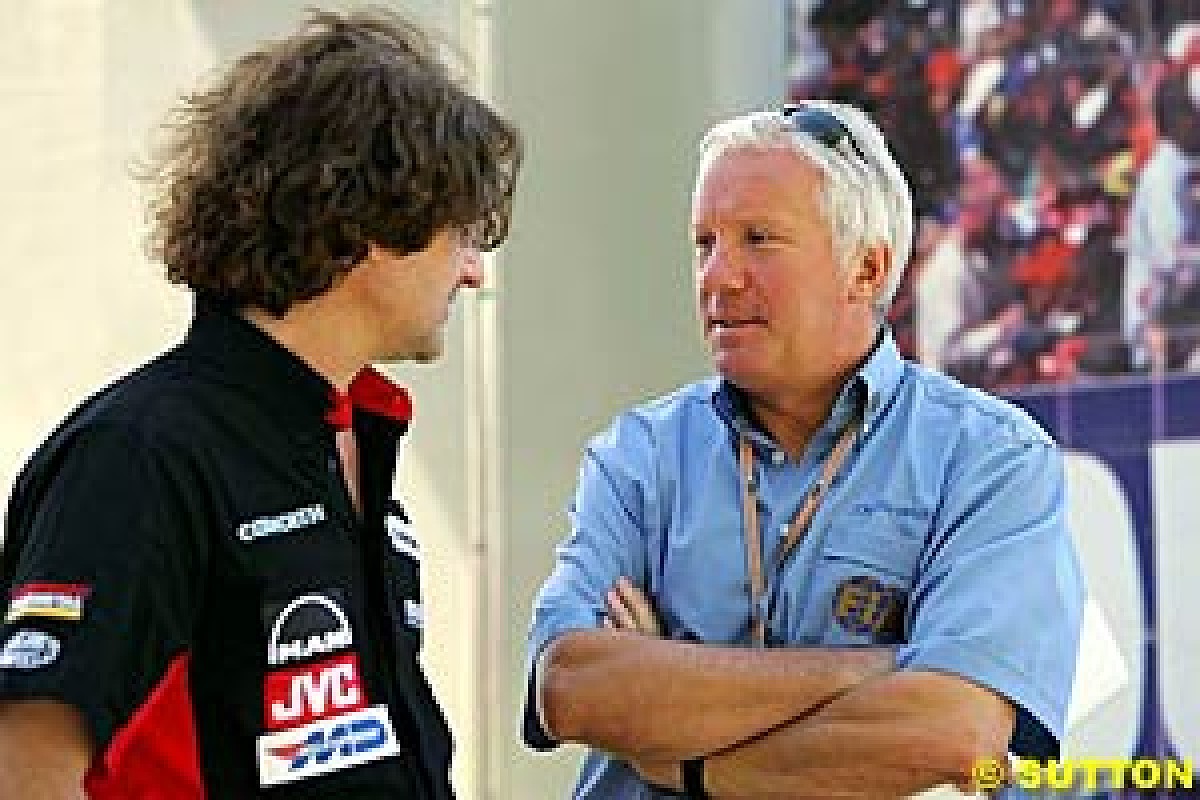 The champagne bottle remained sealed. The stewards decreed that despite clear representations made in writing by and on behalf of the Competitor Minardi F1 (sic), "'the competitor is nonetheless participating in a World Championship which has a given set of Technical and sporting Regulations.
"It is the view of the Stewards that it is inappropriate and unacceptable to alter the Technical Regulations with which all other Competitors comply in order to suit the individual needs and requirements of one Competitor such that that individual Competitor would participate in a Grand Prix event in circumstances where his cars run to a technical specification which differs from all other participants.
"It is the decision of the Stewards that for the Minardi team to participate further in the 2005 Australian Grand Prix, their cars must comply with all the requirements of the 2005 FIA Formula One Sporting and Technical Regulations.
"The Competitor is reminded of his leave to appeal."
Exactly there is where the confusion multiplied, and led directly to The Honourable Justice Habersberger's courtroom in the Commercial and Equity Division of the Supreme Court of Victoria. Note 'The Competitor is reminded of his leave to appeal' and 'Commercial and Equity Division'...
Stoddart did not appeal, but, instead, sought an injunction over a technical matter with sporting overtones in the Commercial and Equity Division of the Supreme Court of Victoria. The FIA was not advised of the action until the injunction had been granted - although that is normal in the case of injunctions which seek to speedily find interim solutions whilst the court awaits full details from both sides in order to pass definitive judgement - which ordered that the stewards of the FIA, in the words of Justice Habersberger, "be restrained from preventing the plaintiff from participating in the motor race known as the Melbourne Grand Prix (sic) on Saturday 5 March 2005".
Justice Habersberger further ordered a hearing at 14.15 on 5 March, in other words, 15 minutes after the end of qualifying one on Saturday. Summoned were the FIA and the nine remaining teams. Just why Stoddart's counsel saw fit to summon the nine teams as co-defendants - who, by their signatures, were on Minardi's side - is a measure of the confusion surrounding the matter.
That evening the FIA's legal counsel instructed local counsel, and Stoddart was advised that, unless the case was withdrawn, the governing body would, in the words of a FIA spokesman, "withdraw the race's World Championship status and recall all its personnel from Melbourne". Clearly the Australian Grand Prix would have been disrupted, and Stoddart, who had vowed "not do anything that damages the Grand Prix I love above all others" was obliged to withdraw the action. Just after midnight his technicians were called to the track and to burn midnight oil, literally, to ensure that both cars complied with the 2005 specifications.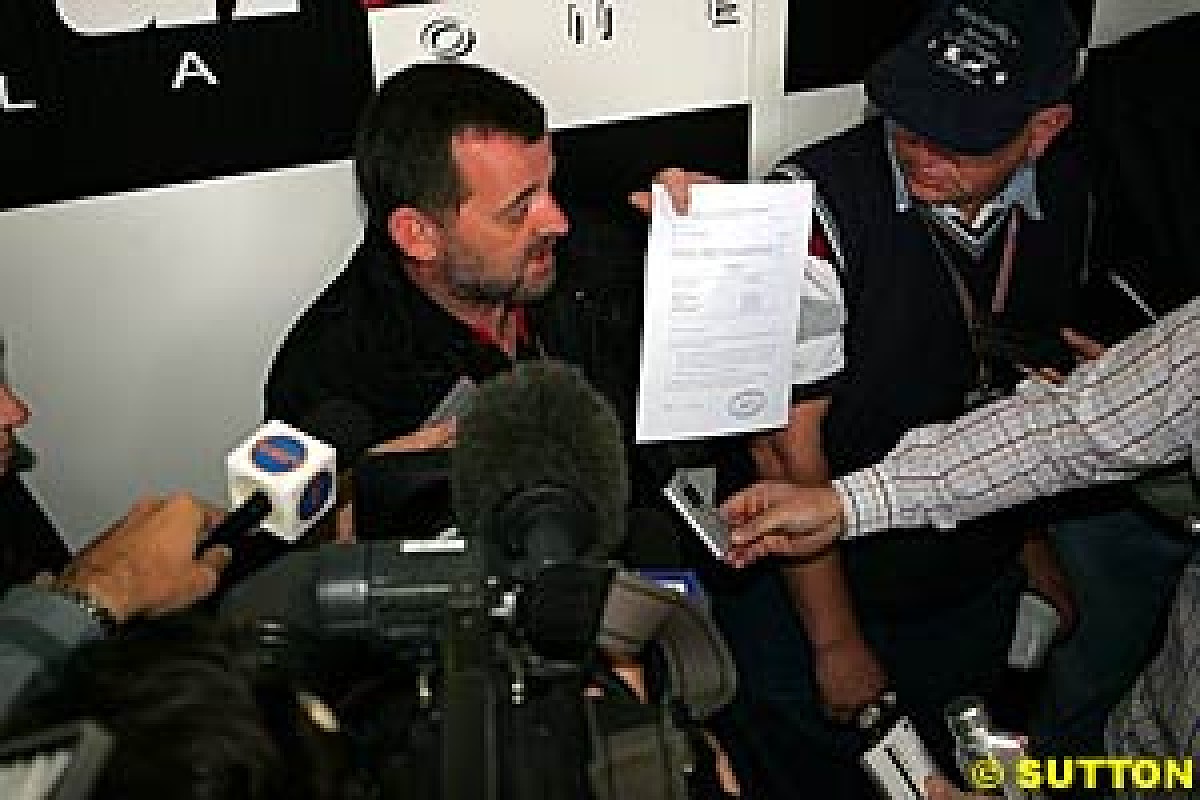 Game, set and match to the FIA was the feeling in the paddock. Stoddart called a media meeting, explained that he was not about-turning, but that he held a 'powerful document' which proved he was right - which it did not, as all it allowed was practice and qualifying one, and not to race, which, after all, had been the objective of the entire exercise.
Instead of both parties laying the matter to rest there - the court case had been withdrawn; the cars were to 2005-specification, after all - the FIA put out a release, the audacity of which astounded. Not only did it severely criticise the Australian legal system, but it implied the body's regulations were above the law - which, regardless of circumstances or state of the sport, they certainly never can be.
CAMS, the Australian (motor) sporting authority was quick to react with a release of its own, giving an undertaking that matter would be discussed at the FIA World Motor Sport Council on 30 March 2005, whilst the Australian Grand Prix Corporation gave a similar undertaking whilst drawing attention to the implications of Stoddart's actions on other countries. As an FIA spokesman said, "Stoddart has opened Pandora's Box, and now we have to figure out how to put the lid back on..."
Stoddart, for his part, expressed his "disgust at such threats" (to cancel the Grand Prix) and called the FIA's statement "an ill-judged, ill-timed document". "The Australian judicial system is similar in many ways to those of the world's major democracies, and it cannot give comfort to the relevant motorsport bodies in those countries when the FIA President issues statements such as this," Stoddart said.
In the end, Minardi raced, Albers retired with gearbox maladies whilst Friesacher finished 17th and last, four laps down, two down on Tiago Monteiro's Jordan in 16th. But, if Mosley and the FIA's standing has been tarnished by the shenanigans, then Stoddart's and Minardi's have been sullied ten-fold. Only one party came out of the entire affair with any credibility: the stewards, who had been expected to rubberstamp two blatantly illegal cars to enable a local hero to prove a point. The fact that the stewards ruled against Mosley's suggestion of 17 February, and Stoddart's extraordinary request, despite nine signatures, gives hope for the future governance of Formula One.
Finally, Minardi enjoyed enormous goodwill, but only as long as they battled along within the regulations. But, when they sought to operate outside the regulations, much as the FIA seemed to believe it could operate outside the judiciary in a democratic country, all semblance of goodwill, in both directions, evaporated.
The FIA and Stoddart face enormous rebuilding exercises, the former in a crucial election year; the latter as his team are faced with crucial choices over their future allegiance. As always in times of war, there are no real winners, only losers - and the sport of Formula One was the biggest loser of them all.