From the Pulpit

---
By Matt Bishop, England
F1 Racing Editor in Chief
F1 Racing's Editor in Chief has a look down the grid, at a team that is doing well above expectations, and an outfit that badly needs saving from its own management
Formula One people don't usually spend a lot of time thinking about Minardi - unless they're trying to second-guess the machinations of the team's feisty owner, that is. For, although his cars rarely come anywhere near to troubling the scorers, Paul Stoddart is a big figure in the F1 paddock. Larger-than-life, in fact, as the phrase goes, and therefore very carefully watched by many of the sport's most senior movers and shakers.
In Montreal, as ever, F1 politics was Paul's main theme of conversation. He has long been nicknamed "F1's unofficial shop steward" - and he was every inch the union man in Canada, banging on about "Bernie this" and, more especially and much more angrily, "Max that", the livelong day. And, whatever your personal views about Messrs Ecclestone and Mosley, and however much you despise or esteem them, you have to admire Stoddy's spunk (as I think they say in his native Australia).
This year, though, you have to admire his team, too. Oh yes: despite the fact that European Minardi numbers just 120 people (as a useful yardstick, you might want to reflect that Panasonic Toyota Racing now employs nearly 1,100), Christijan Albers was able to qualify the Faenza boys' latest ultra-low-budget creation a truly sensational 15th at the Circuit Gilles Villeneuve. His best lap, a 1:18.214 flyer, was significantly better than anything produced by either Jordan driver, and a mite quicker even than Red Bull Racing's returning hero Christian Klien could manage. Paul himself described Christijan's (as opposed to the j-less Christian's) lap as mega - which Minardi's endearingly pedantic PR manager Graham Jones enclosed in apologetic inverted commas in the team's post-session press release.
In the race, Albers drove hard and well to 11th - a solid performance that few noticed. And his teammate, Patrick Friesacher, fared respectably well, too, until hydraulic failure ended his run. Last year Minardi scored a World Championship point at Indianapolis. With a bit of attrition, and a dose of luck... well... don't be too surprised to see the team's underrated squad of hard-working Anglo-Italians provide an opportunity for Albers or Friesacher to do exactly the same thing this weekend. And if they do, then they'll have deserved it.
But what of their closest rivals, Jordan? Oh dear. Oh deary-me. Oh my Gawd. Oh what a bloody mess. Bluntly, Jordan is in truly dreadful disarray.
Take, for starters, the recent slanging match between Narain 'Bollyoaks' Karthikeyan and Colin 'Chavski' Kolles - who, despite the fact that dentistry features surprisingly prominently in his CV, is now Jordan's team principal. Their ultra-vituperative Canadian spat made the argy-bargy that has been going on, season long, between Peter Sauber and Jacques Villeneuve, look like a minor tiff at a vicarage tea party in Harrogate.
"We're aware that our drivers are rookies," said Chavski last Friday during the Montreal press conference, "but, even so, I wasn't happy with Narain's performance at Monaco. I wasn't happy with his performance at Nurburgring, either. He knows this. I told him this."
In reply, Bollyoaks, who seems to spend more time wearing his racesuit than any other F1 driver in living memory - get those four-layer fireproof togs off between sessions, mate, you'll feel better for it (especially when the humidity is as high as it was in Montreal) - fired off a broadside or two of his own in the portly ex-dentist's direction: "He thinks that, if he's very direct in his criticism, it helps. But it doesn't. So, right now, I'll just do my job. At the end of the year I'll find a different team. Obviously, I want to be driving for a better team."
Over to you, Doctor Kolles. Open wide, Master Karthikeyan...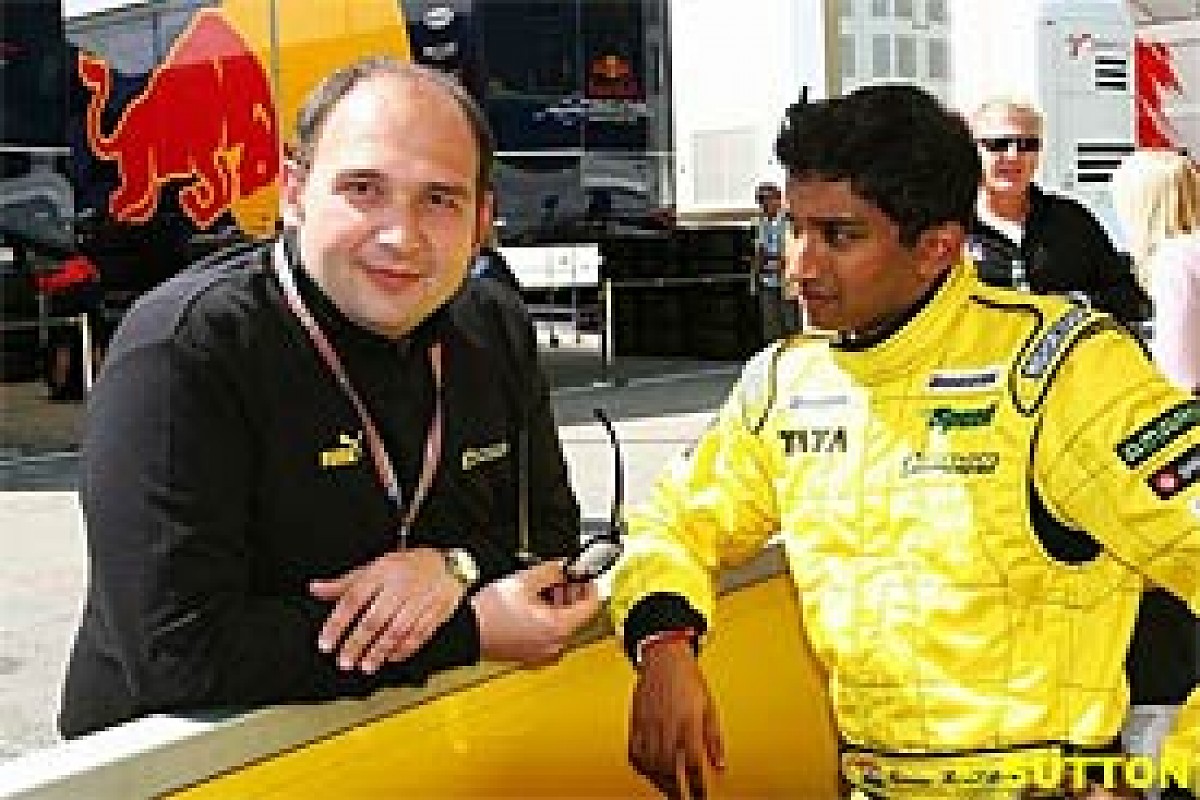 Although it's easy to chuckle at the ludicrous sideshow that Jordan Grand Prix is now in danger of becoming - sporting director Trevor Carlin let his feet do the talking (and the walking) last week, and others are threatening to follow - I firmly believe it's not too late to save the day. Carlin's replacement, Adrian Burgess, is a hugely competent racing man around whom an inner circle of good blokes, led by the excellent Andy Stevenson, can still pull the team around.
Commercial director Christian (yes, yet another Christian, of the j-less variety again this time) Geistdoerfer is intelligent, experienced and resourceful, and will deliver sponsorship as soon as Burgess and Stevenson are allowed to have an effect - and Geistdoerfer's silver tongue will be complemented forcefully by the no-bullshit commonsense of Ian Phillips, Eddie Jordan's right-hand man from the good old days and still a well-connected and knowledgeable F1 lifer. And even the team's PR, the Chavski issue aside, is being efficiently handled by Annouch Heinrichs (ex-FIA) and the exotically named and meticulously groomed Hannelore Gude-Hohensinner, herself an old friend of Ecclestone's.
Only Kolles is currently letting the side down.
So, unless Russian Standard owner Roustam Tariko and ex-Jordan star Eddie Irvine can, as rumoured, buy the team - and buy it fast - then current owner Alex Shnaider is going to have to begin his own slanging match, albeit behind closed doors this time, with the pugnacious Kolles. And if that doesn't work... well... Shnaider built his US$3 billion Midland Group on taking tough decisions and grasping the nettle when required, so... well... he'll simply have to think of another solution, won't he?
The future of that once very successful and still much loved organisation, Jordan Grand Prix, remains an enormously important issue for me, for you, for Max, for Bernie, for Ian, for Andy, for Adrian, for Christian, for Annouch, for Hannelore, for the 250-odd men and women who work their asses off for scant reward at the team's Dadford Road headquarters... and for everyone who loves F1.
Jordan Grand Prix simply cannot be allowed to decay and, finally, rot in the clammy grip of a liverish ex-dentist. And, worse, things are too far gone to be saved by what, in the circumstances, would amount to no more than a spot of judicious flossing. No; sometimes, an extraction is the only sensible course of action, if you get my drift, Alex, old chum.