The Road Not Taken

---
By Mark Glendenning, Australia
Autosport-Atlas Writer
While Jacques Villeneuve began his 140th Grand Prix at the Nurburgring last week, it was at the same circuit, eight seasons ago, that the 1997 World Champion last won a race. It is a rare sight, indeed, for a World Champion to continue racing without a win for such a long time. This could be a reflection of the young age in which the Canadian achieved so much, but also of the career choices he made thereafter. Ahead of his home GP in Montreal, Mark Glendenning took Villeneuve back in time to the crossroads of his F1 career
Hit your internal rewind switch and spiral back through time until you arrive at September 28, 1997. It's round 15 of the Formula One World Championship, being run as the rather incongruously named Luxembourg Grand Prix at the Nurburgring. (The 'European GP' tag was on loan to Jerez that year).
It's an eventful race. Mika Hakkinen earns his first ever pole position and looks like turning it into his first win until the McLaren Mercedes clunks to a halt on lap 42 - not the first time that season that the Finn was denied victory by fragile machinery. And in another kick to the Woking team's nether regions, they had been looking at the prospect of a one-two before David Coulthard's engine ate itself on the previous lap.
This is all good news for Jacques Villeneuve, though, who had been running third before the McLarens made themselves scarce. The Canadian's title battle with Michael Schumacher had been hanging in the balance at the start of the weekend, but that side of things had been taken care of when Ralf Schumacher, driving for Jordan, managed to account for teammate Giancarlo Fisichella and his brother in one go at the first corner.
With his Championship rival already back in the showers and the McLarens dropping the lead into his lap, it was a dream scenario for Villeneuve, who went on to snag the win and what would later prove to be a crucial 10 points. He was disqualified from the following round in Japan for ignoring yellow flags, but third place two weeks later at the final round (after surviving a controversial tackle from Michael Schumacher's Ferrari) was enough to secure the World Championship.
Eight years on, he has not stood on the top step of the podium since. A lot has happened in that time - Villeneuve became a founding member of British American Racing, a team established by his manager Craig Pollock, only to see the outfit's initial brains trust disappear in a puff of unfulfilled self-promotion after a couple of disastrous years. Assisted by Honda, the team was gradually rebuilt around a new core, led by David Richards and Prodrive, but Villeneuve's key support was gone - and by the end of 2003, after increasing friction within the garage walls, so was he.
Where to from there? The answer, for a while, was obscurity. Villeneuve left the team just prior to the final race of the 2003 season in Japan, and spent the next few months enjoying whatever passes for a normal life when you are a multi-millionaire former World Champion in your early 30s. It's probably fair to guess that if you had asked him then what he would be doing in 12 months, driving for Sauber would not have been the answer.
"Ummm ... yeah, that's true," Villeneuve agrees when I put this to him in the team motorhome at Monaco. "But this time of the year, it was a great weekend. I was partying all weekend instead of racing. You know when you go to bed and you can't fall asleep because of the engine noises, that it has been a good night!" he laughs.
"But yeah, I didn't know what I was gong to do this year. I was just in the process of deciding to come back full-time, and I had already started training, so that means that I was planning on coming back. It just wasn't clear yet what was going to happen.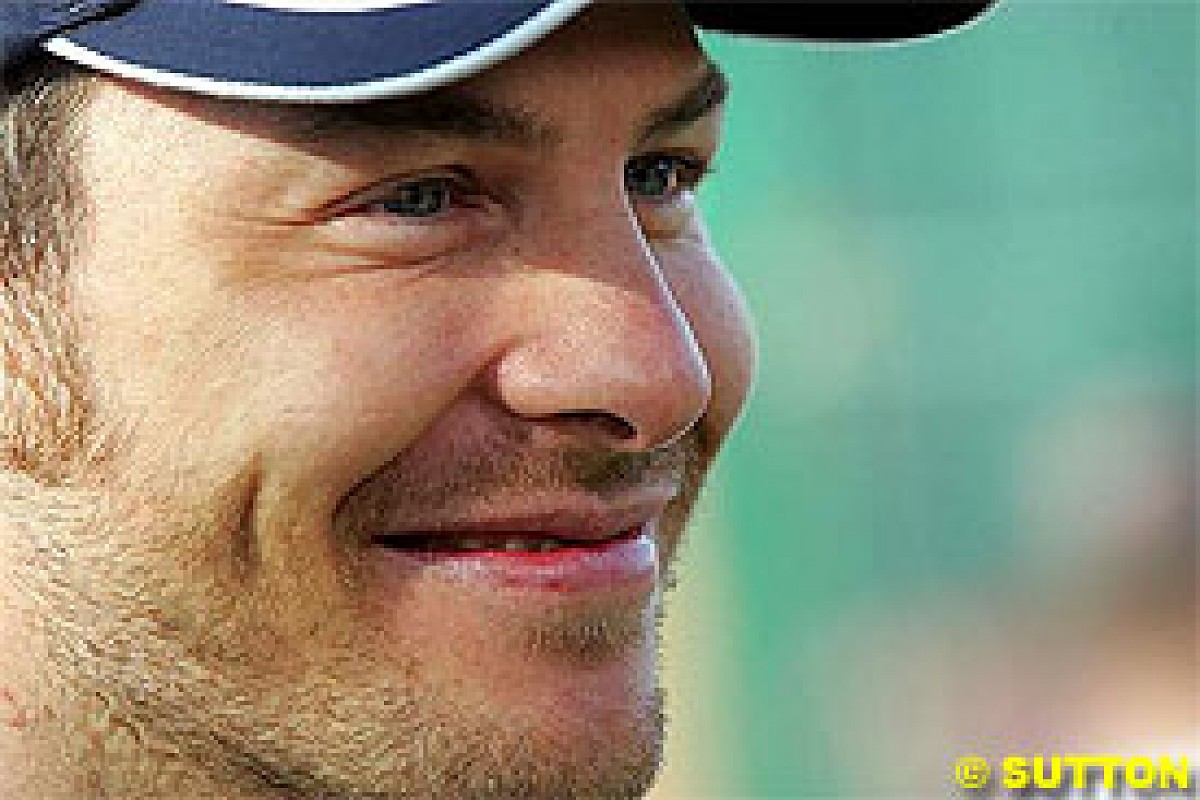 "I was always happy anyway, even without racing, because I had already won the Championship before. That had been accomplished. So my life could be very good with or without racing. But I do love racing, and I love competition, I love the fighting, and Formula Ones are amazing cars to drive. And I still felt young enough to do it!"
He raises an interesting point. Villeneuve arrived at Williams at a time when the team was producing a car that was on a completely different planet to most of the other occupants of the pitlane. Fresh from winning the Indianapolis 500 and CART Championship in 1995, Villeneuve arrived at Williams in 1996 to join Damon Hill and immediately made his intentions clear by plonking the car on pole for his debut Grand Prix. An oil leak prevented him from winning, but over the course of the season he gave eventual Champion Hill far more sleepless nights than he had any right to before finally taking the crown himself the following year.
Having accomplished everything he had dreamed of so early in his career, Villeneuve could be forgiven for any loss of motivation afterwards. When you have an Indy 500 win, a CART title and a F1 title under your belt at the age of 26, it is pretty hard to find new goals worth shooting for. Villeneuve, however, insists that it was not a problem.
"How do you keep the motivation?" he responds. "Well, I think it (winning the Championship early) makes it easier, because at least you know you can do it. You've got it out of the way. And you have to prove that you can do it - it's one thing to know that you can do it, but you have to prove that you can do it. If I had lost it at the last race it would have been much harder afterwards, because then you would always have doubts about how maybe at the last minute stuff will go wrong. Stuff like that. But now, my goal in life has been achieved, so I can do everything with a lot less stress."
I remind him that he almost did lose the Championship at the last race.
"Yeah, I was just praying that the car wouldn't break (after the collision with Michael Schumacher)," he recalls.
"I knew the hit that I had received (was big), and you always know after moments like that, that something could have been weakened, and by driving, if you hit the kerbs or are too aggressive with the way you turn the steering wheel, it might just be enough to break it. So at the end I was just trying to be as smooth as I could, slowing down, slowing down, just to make sure. And it's lucky, because the battery was hanging by only one of the electrical cables. We don't know how it didn't break off."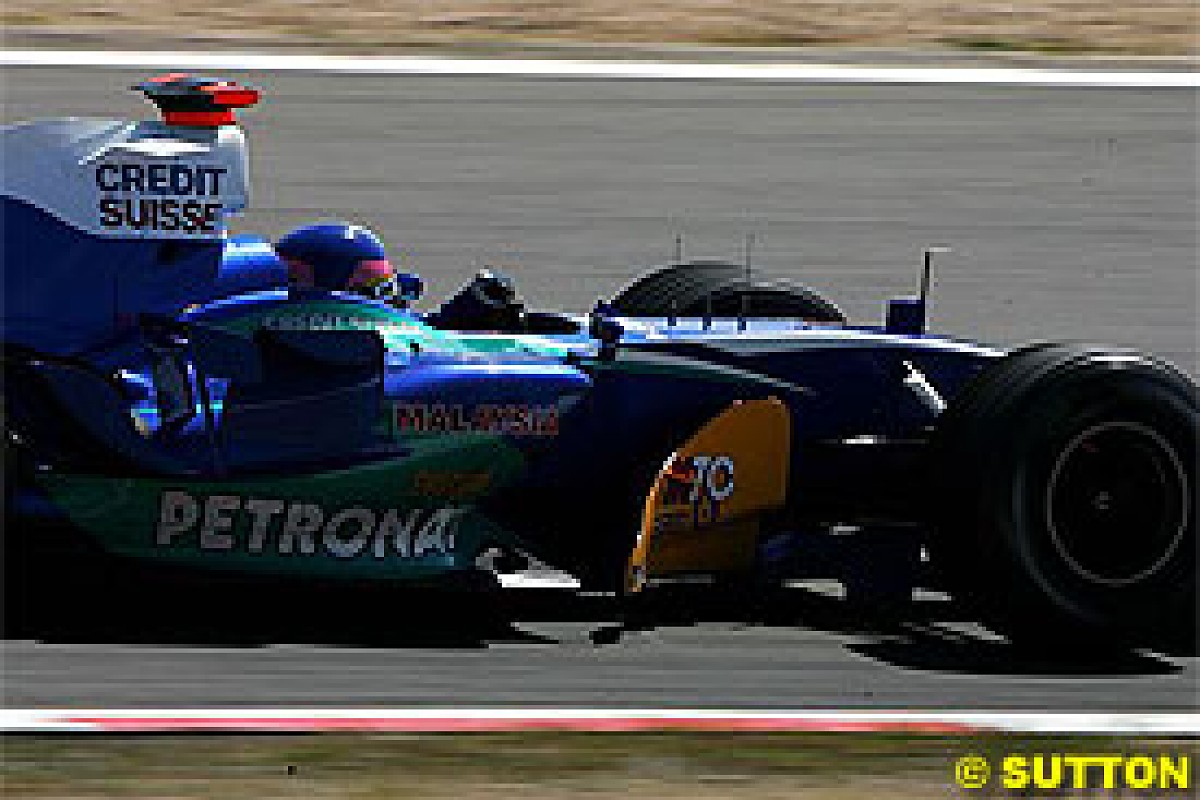 Now, though, the focus has shifted. Having spent his entire career with teams that were aggressively - and expensively - chasing victory (even if there were times when the teams in question would have struggled to win a F3000 race), Villeneuve is now part of a leaner, older, wiser outfit that has limitations on its resources and, thus, limitations on its dreams. Sauber race hard, but they do not turn up to a circuit expecting to be able to contend with the heavy-hitters on outright terms.
It is new territory for Villeneuve, however he insists that his basic mission remains the same.
"It doesn't change the job," he says. "You still have to try to work with the team to try to bring the team forward. There are a lot of very good people, there is a lot of talent inside the team, and the team is very efficient. For the amount of budget that we have, a lot is achieved compared to what other teams achieve with the same budget. That's already good. All we need is some more sponsorship.
"But it is a very quiet team. It is not 'out there' like some of the other teams, so it doesn't attract the same kind of sponsors. But that's OK, there are a few here and as long as the list that we have is still here, we should be alright. But we need more because right now we don't have enough money to spend 24 hours in the wind tunnel. Most teams have three shifts. We have only two in the wind tunnel. And the wind tunnel that we have is very expensive to run. It's the best one, but it is the most expensive. And also it means that we don't test as much, and we don't have new suspensions to try and stuff like that, just to see which directions to go.
"We have a car that is done for the year, and then the car is in the wind tunnel and we get new parts, and we have to live with that. It comes with the low budget. The team does an amazing job with what it has, which is good - but no-one would complain if we got a bigger budget."
Given some of the environments that Villeneuve had occupied in the past, this new, more frugal world took some getting used to.
"At first it was very different, because I was used to situations where if you have an idea then OK, the new suspension will be designed and we will see if it works," he admits. "But now, you don't get new parts to try just for the sake of it. It's a little bit of a different approach. There is a lot more work convincing - when you really want something, you really have to work hard.
"And also, it's a very different mentality in the team. The team is very Swiss-German, and it is slightly more ... I don't know if you could say less open-minded, but it is more stuck in its way of doing things. So to change ... it is the opposite of Italians, for example, if that makes sense. That is great, because it is very efficient, but it is harder to get anything changed."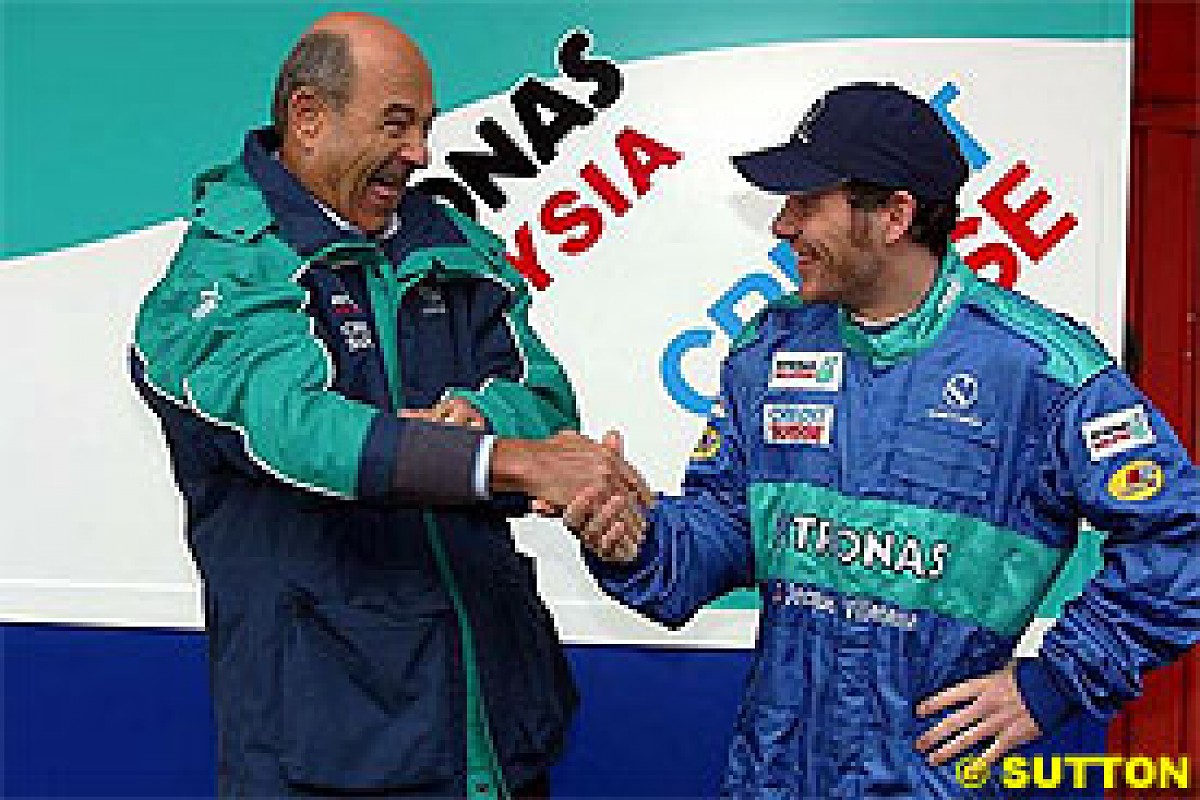 A cultural shift, in other words?
"Yeah," Villeneuve agrees. "But that's OK. I have been living in Switzerland, so I am used to that. Just not in the racing. I am used to it in social life and I have no problem with it, but it took a couple of months to get the trust - me with the team, the team with me. Now, when I ask for something, they take it a lot more seriously. It took a while to get that going, but that's normal. That's also because since I started n F1, I had been working with exactly the same people. Even when I moved to BAR."
MG: You took Jock Clear with you, from Williams to BAR.
Villeneuve: "Yeah. And other people as well; mechanics and other guys. So, you need two or three months to get to know each other. Here, everybody is new. Sometimes they are a little bit surprised and it takes a little bit of time for them to trust what I feel in the car and so on."
MG: How big a part does the team environment play in a driver's performance?
Villeneuve: "Well it's huge, whether you want it or not, because if you get to the situation where the team doesn't trust you then you are always walking on eggs. That means you won't get the car you want, that means you won't be able to push to the limit because it won't feel natural, and it will be easy to make mistakes. You can't push as hard.
"When you work ... as a family in a way, and there is a huge trust, then the engineer understands exactly what you need in the car to go to the limit, and when he tells you, 'OK, you can really be aggressive, that corner will be flat, the car will do it', you can almost 100 percent trust what he says, because he understands exactly what you need and so on, and then you evolve together.
"That is why you are dependent on the team as well, and the attitude."
MG: Presumably you already had a lot of that going on at Williams, though, and you had just won a title there. So in retrospect, was it a mistake to leave?
Villeneuve: "No no no, Williams never keeps drivers that won the Championship. Everybody makes it sound like I was the only one who wanted to leave, but Williams didn't really want to keep me anyway."
MG: They had made that clear during the season?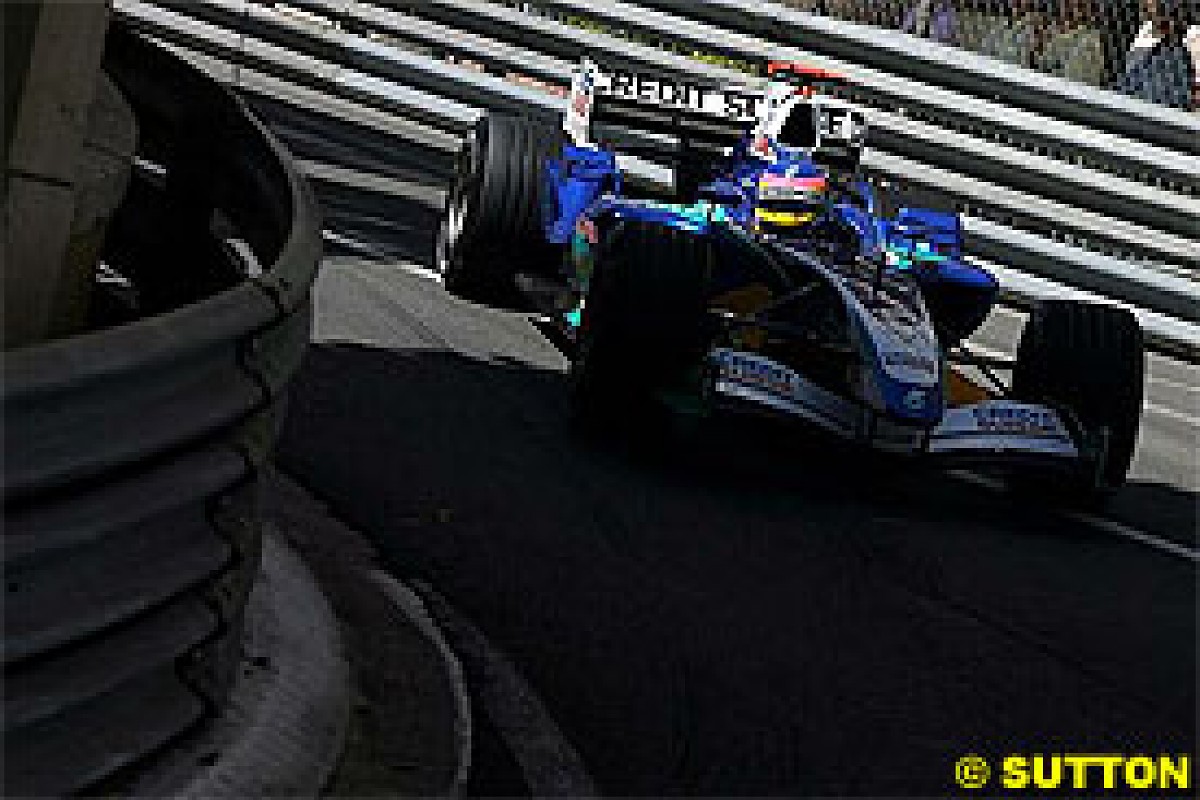 JV: "Yeah, yeah. It's just the way they were. There has never been a World Champion stay with them. It was just a natural evolution."
A natural evolution that took him into the warm but ultimately weak arms of BAR. The move did his bank balance no harm, but the damage to his results sheet was devastating. Watching Villeneuve dejectedly fail to chase down an ambling Tyrrell because the car was either too slow or two fragile (or, frequently, a joyless cocktail of the two), it was easy to forget that he had been crowned World Champion just 12 months earlier. Looking back now, Villeneuve admits that he had expected more from BAR during the team's fledgling years.
"I guess we dreamed a little bit too much," he says lightly. "But also, I always trust the people that I work with. If I get into a relationship then I will trust that person. I never have a problem to delegate - I am very good at delegating in the sense that I will trust someone 100 percent. If that person has to do a job, that's it, I trust them and won't double-check all the time. Sometimes it works, sometimes it doesn't work. And there were too many dreamers at that time at BAR - that was the main thing. There was not enough in concrete.
"The other problem was that the team started to get highly political, so it never flourished ..."
The other side effect of the team 'getting highly political' was, of course, Villeneuve's departure. He spent most of 2004 on the sidelines before returning for the final three races with Renault to replace Jarno Trulli. Things did not go completely to plan. "It was hard," he admits. "It was hard, because in that year, in the nine months that I was off, that was when Formula One evolved the most, ever. The cars were about three seconds a lap faster - that never happened before. That was in the space of a year.
"Physically it was hard, because I had trained to what I knew, but these cars were 10 percent faster and 10 percent more physical. That caught me out. And the races I did were also the most physical of the season, except for China. Suzuka and Brazil are the two most physical tracks in the season. And they were also hot and humid when we did them. Then, at Suzuka, we only had dry running on Sunday, because there were typhoons. So it was a big shock," he laughs.
"And also, the way that the cars are driven now, when I raced in 1996, '97, '98, there wasn't all the electronics. You still had to be very smooth with the car, you had to feel where the braking was ... you couldn't just hammer the brake pedal, throw the car in the corner and step on the throttle because you didn't have any electronic controls. Now, when drivers arrive in Formula One, the way they get used to driving is you just see a corner, you just hit the brakes as hard as you can, normally you won't lock the brakes because the engine is taking over and all that, so you won't lock the rear wheels - the engine accelerates when you are braking. Then you just turn the wheel as fast as you can, use the front wheel to slow you down with the understeer, and then the car will turn. Then you just step on the throttle flat-out, and wait, and hopefully you will get out of the corner. So you don't need to make the perfect line with the better exit.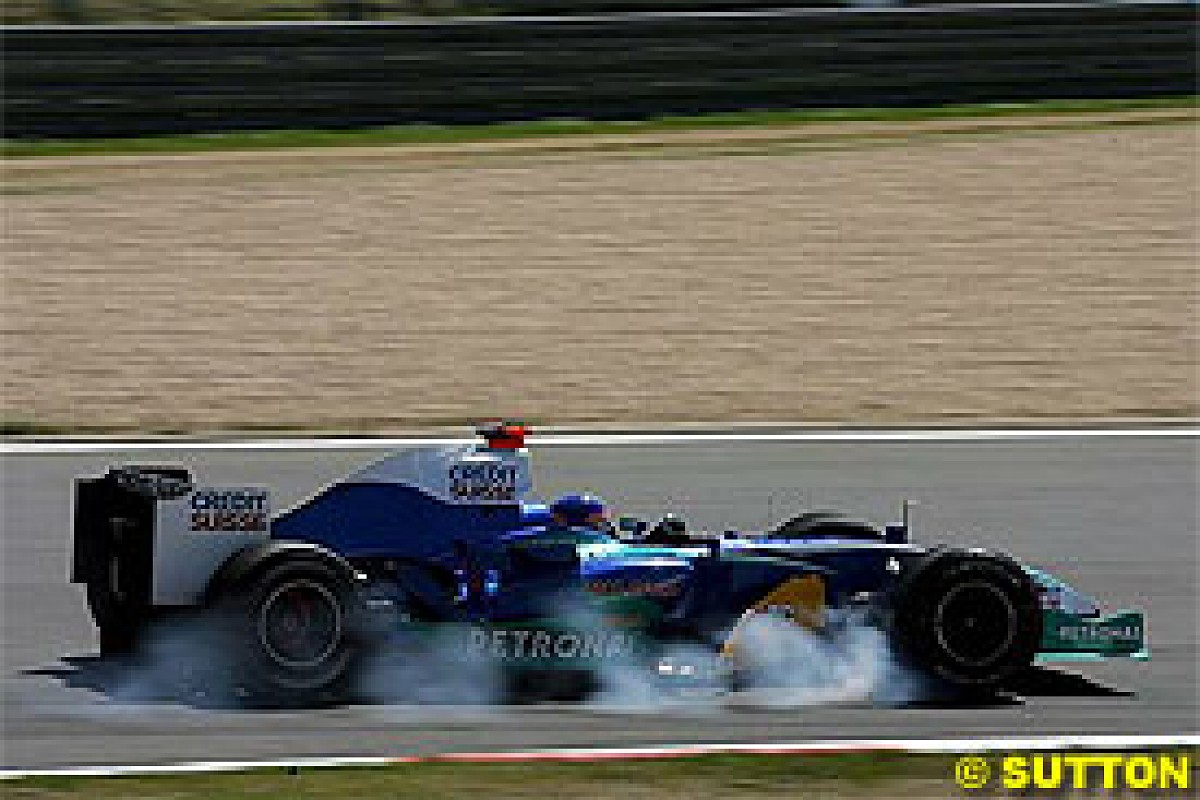 "I'm still ... I have a hard time driving like that. I can't make myself drive like that. The cars are adapted to driving that way, with all the electronics. You can still make them that you can drive the old way, but you can't do that in the space of one week."
I tell him that I have always had the impression that if he ruled the world, the first thing he would do is change the F1 technical regulations back to the 1997-spec cars with wider bodies, fewer electronics and slicks. Jacques is onto it before I have even finished asking the question.
"I would love that," he enthuses. "That would be great. That would be really great. And also, when we had slicks, the tyres didn't dissipate heat as well as the grooved tyres, so it was easier to overheat the tyres and make blisters. Somehow, I have always been easy on my tyres, so that was a big help in 1997. Any time we have tyres that are too soft, we are normally OK."
Now, in 2005, the wins and the title of 1997 seem an awfully long time ago. So long ago that it is easy to forget that he is now the only guy in the series other than Michael Schumacher to have a World Championship to his name. Eight years down the road, I wonder whether 1997 still resonates with him.
"I don't live with the past," he responds. "It will be great when I am retired and I have kids and maybe they will see it in a book or something and go ,'Oh Daddy, that was you, great'," he laughs.
MG: 'So that's what all those silver things on the mantelpiece are ...'
Villeneuve: "No, actually I don't have any trophies at home."
MG: No?
Villeneuve: "No, no. I'm not a trophy or medal kind of guy."
MG: What did you do with them?
Villeneuve shrugs. "I don't know. They are in a cellar somewhere, I guess. I'm not interested," he laughs again.
"What I like is the moment, and the future. The past is great, it's there. The past makes you who you are today. It is experience, so that you don't make the same mistakes, or so you make yourself better and so on. It's something that has already been achieved, it's in your luggage, and you can take it out when you need it. It can always be useful. But it's not something I go to bed thinking about, or telling people every week: 'Oh, in '97 I won, and it was great'. I can't do that."