The 2005 European GP Review

---
By Tom Keeble, USA
Autosport-Atlas Writer
Around one minute and 30 seconds separated Kimi Raikkonen from victory at the European GP. As it was, however, the Finn left Germany with nothing to show for and with a massive gap to Championship leader Fernando Alonso. Tom Keeble reviews the events and results from the seventh race of 2005
The European Grand Prix from the Nurburgring produced a fascinating race - with politics at the outset, accidents, solid racing, and a surprise finish. Ultimately, it will probably only be remembered as an illustration of Kimi Raikkonen's luck, but there's no doubt it will not be forgotten.
In the event, Renault came away with a double bonus: not only does Fernando Alonso's fourth win strengthen their lead, but Raikkonen's failure to finish made it effectively far more difficult for the Finn to close the gap. Alonso also thought he was lucky, especially after he was hit in the opening corner: "I was afraid from the start of the race after Ralf hit me - I thought the car might have been damaged, and that I would have to retire."
He confessed McLaren had him beaten on pace, however: "I was quite happy to settle for second before the last pit-stop, then the team said Raikkonen had a problem and that I should push - that was when I went off because I was just trying 100% and made a mistake."
But the extra pressure certainly helped to cause the Finn's retirement. Giancarlo Fisichella's sixth place finish was a reasonable result considering the engine stopped on the grid, but nothing to write home about.
Nick Heidfeld backed up his first pole position with a second consecutive second place finish, though he had some concerns: "The car was good and I didn't make any big mistakes. Barrichello was getting closer and closer in the closing laps but I pushed hard and could keep him behind me even despite having lost my rear tyres a bit."
Sam Michael didn't beat about the bush though, saying "it was a fantastic drive from Nick which made our three-stop strategy work." It was solid recognition for the German, who when faced with the option of a defensive, two-stop race, or an offensive three stopper, each taking the same time lights to flag in theory, he looked to take the fight to the grid. Mark Webber, meanwhile, again failed to convert a race result from qualifying.
After their disappointing recent form, Ferrari lent some credence to their claims that whilst race pace is excellent, they are struggling to qualify well, as both drivers performed badly on the grid, though they showed better on race day. In this instance, however, team leader and World Champion Michael Schumacher's day paled in comparison with Rubens Barrichello, who said: "I think that starting seventh and finishing third is very good... I was able to push hard and make the most of my three stop strategy. My race set-up was very good. Everyone in the team and back in the factory is doing a fantastic job right now. The car was very reliable, the engine strong and the tyres were great."
Schumacher, on the other hand, was not so happy: "Today, my race pace was not as good as usual. We know what we have to do, which is to keep on working hard, on all areas of the car. When I went off the track, it was because I suddenly got more understeer than usual and once off the clean line there was no way to keep on the track, but even without that incident, I don't think I could have caught Coulthard."
On a weekend where David Coulthard was believed to be setting the grounds for re-signing with Red Bull for 2006, he produced the sort of career performance that illustrates the potential he never quite lived up to at McLaren, and could even have finished on the podium barring a pitlane speeding mishap; but in his newfound team-lead role, he merely conceded he was "happy with the result."
Illustrating the worth of his race, Cosworth's Dave Prigg said "An unexpected, but fantastic result for David, although unfortunate he just missed out on a podium finish. It was an exciting race that saw a Cosworth powered car lead for the first time this season."
Hot favourites to win the race, McLaren gave Raikkonen the equipment to do the job, and right up to the final lap, it looked to be right on the money - few could disagree with Norbert Haug's analysis: "Kimi drove a tremendous race and deserved to win."
However, once the driver flat-spotted his tyre, there was a tremendous vibration and the risk that the tyre would not go the distance. Consultations with the driver and team led to gambling on making the finish and potentially winning the race... but it was never looking easy. As Ron Dennis said, "Kimi flat-spotted his right front tyre ... from that moment on the front suspension was subject to extremely high levels of vibration. Kimi was able to cope with the inevitable blurred vision for over 15 laps ... the resulting suspension failure was understandable in the circumstances."
Juan Pablo Montoya had another race to forget after his excellent start, getting up to third place, was neutralised by being punted off the park by Mark Webber.
Toyota's race was fairly uneventful: once Jarno Trulli had served a drive through penalty due to trouble started the car leading to his mechanics being on the track too long, the team were out of the running and simply lucky to score a point. Their best consolation was that BAR had a far worse day.
BAR's weekend started poorly and continued worse. Returning from their suspension, the team were looking for permission to change their engines on the basis they have never sat for five weeks before and were not designed to handle it. It appears that the FIA allowed the usual paddock condition for exceptional circumstances - namely, you can do what you like if everyone agrees - but it seems Honda couldn't get permission from one team on the grid.
It seemed a new engine would have offered the team little gain anyway, as they were well off the pace from the outset, and only went backwards in the race. Jenson Button was not happy about much: "We thought that we would be reasonably strong here, so today's race has taken us by surprise. We had a lot of oversteer in the car but also in turn-in we had huge amounts of understeer, so I don't understand what was going on really. I struggled a lot."
Worse still, there seem to be few answers to their woes, with Gil de Ferran admitting: "Basically, our car just wasn't fast enough. At this stage we do not fully understand why."
The non-manufacturer backed teams all suffered, one way or another. Felipe Massa could have scored points if a vibration had not developed into a shredded tyre and wrecked front wing. Jacques Villeneuve had another race to forget after struggling to pass the Jordans.
Jordan got away from the rumoured sale of their team, but failed to do anything convincing on track, other than lose their rights to a third car in Canada (for using too many tyres on Friday), hold up Villeneuve, ignore blue flags and get lapped. Minardi got both cars to the finish, which is a result for them, but not a good enough one to be memorable.
Despite the tough showing for those away from the sharp end of the grid, this weekend seemed to embody the spirit of racing. Hard fighting on track for position, strategy playing a part, politics - though never eliminated - pushed away from the limelight, drivers gambling everything for a win, and a surprise result.
Qualifying
The return to a single qualifying session meant that once again, Saturday decided the grid for the race. However, it also brought back the question mark over whose car was quickest without fuel and obfuscated strategies, as relative fuel loads were made difficult to guess.
The weekend brought considerably higher temperatures than normal, which was widely expected to favour Bridgestone come race day, but it did little for Ferrari's times in practice, and was not expected to make a difference to their current qualifying woes.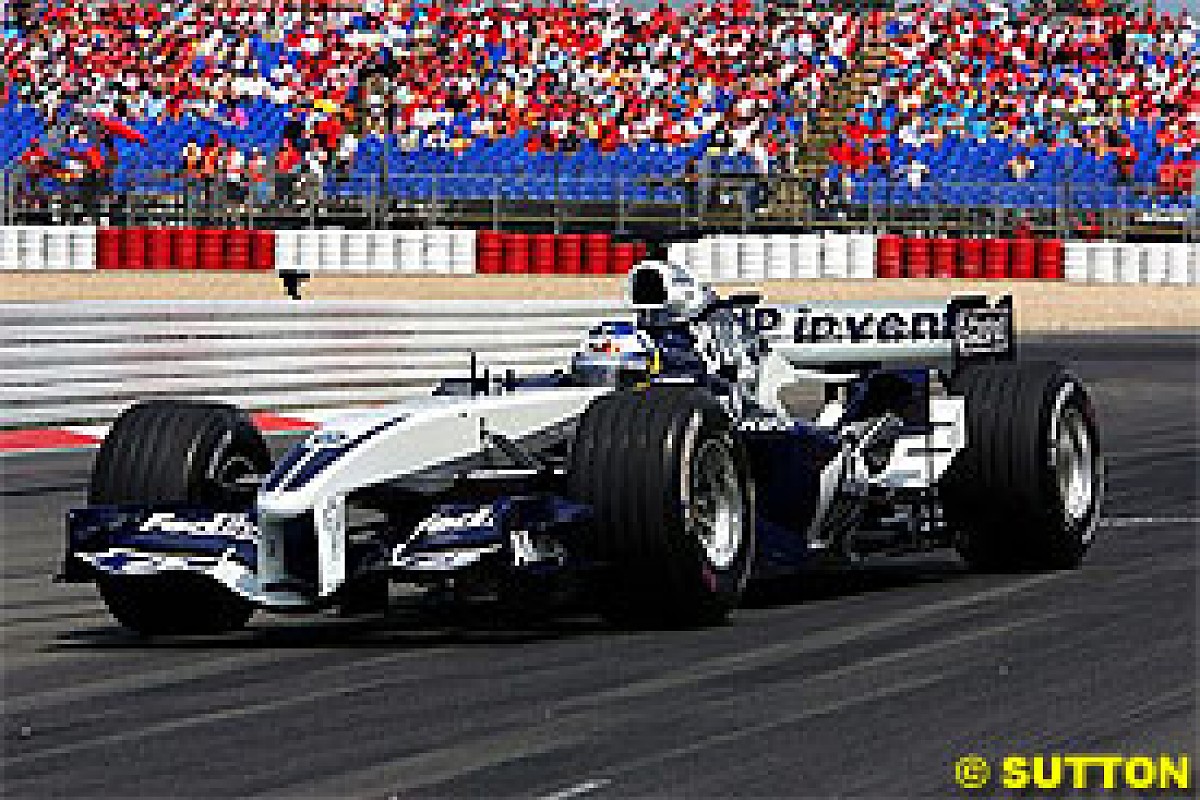 1. Nick Heidfeld (Williams) 1:30.081
Making the most of both a home advantage and running nineteenth, Nick Heidfeld put in the qualifying performance of his life. From the outset, the German pushed hard and the car worked well beneath him - it was clearly balanced well. Despite pushing hard, the lap was tidy and right on the button. Practice had shown Williams to be quick, but limited running left questions over whether they had done enough to.
2. Kimi Raikkonen (McLaren) 1:30.197
Practice was relatively uneventful, though McLaren were very quick, making Raikkonen the clear favourite for pole. In the event, the Finn looked like he was driving on rails, with the car handling beautifully. Pushing hard to match Heidfeld's time, he just missed a couple of apexes, implying a relatively heavy fuel load, with the result he dropped a tenth on the German through each of the opening sectors, but a very tidy finish though the final chicane and corner was enough to split the Williams for second on the grid.
3. Mark Webber (Williams) 1:30.368
The Williams duo had been moderately quick in practice; so when considering Webber has been very quick in qualifying all year, it was little surprise he was immediately looking very quick again in this session. The car was looking good, turning into corners very smartly, though slightly twitchy on the apex; an imperfect chicane blunted the lap but it was still a third of a second faster than Trulli, the provisional pole sitter at the time. Another very solid qualifying lap from the Australian.
4. Jarno Trulli (Toyota) 1:30.700
After a lacklustre showing on Friday, rivals would have been forgiven for writing off Toyota's chances in qualifying; however, a warning to their rivals was posted when they were fifth fastest time in final practice. The qualifying lap was very clean, gaining half a second on Fisichella in the first sector alone. The car looked easy to drive and appeared to be quick, implying relatively low fuel; but running eleventh in the session, Trulli set a solid provisional pole that lasted until the final three runners came out.
5. Juan Pablo Montoya (McLaren) 1:30.890
After appearing to dial the car in well during practice, Montoya looked smooth and quick in qualifying: the car was turning in particularly well. A good start to the lap was not quite on Trulli's pace and he lost time through the first couple of sectors, probably due to a high fuel load. A superb chicane and final corner gave a time just shy of Trulli's Toyota, but it was a good showing.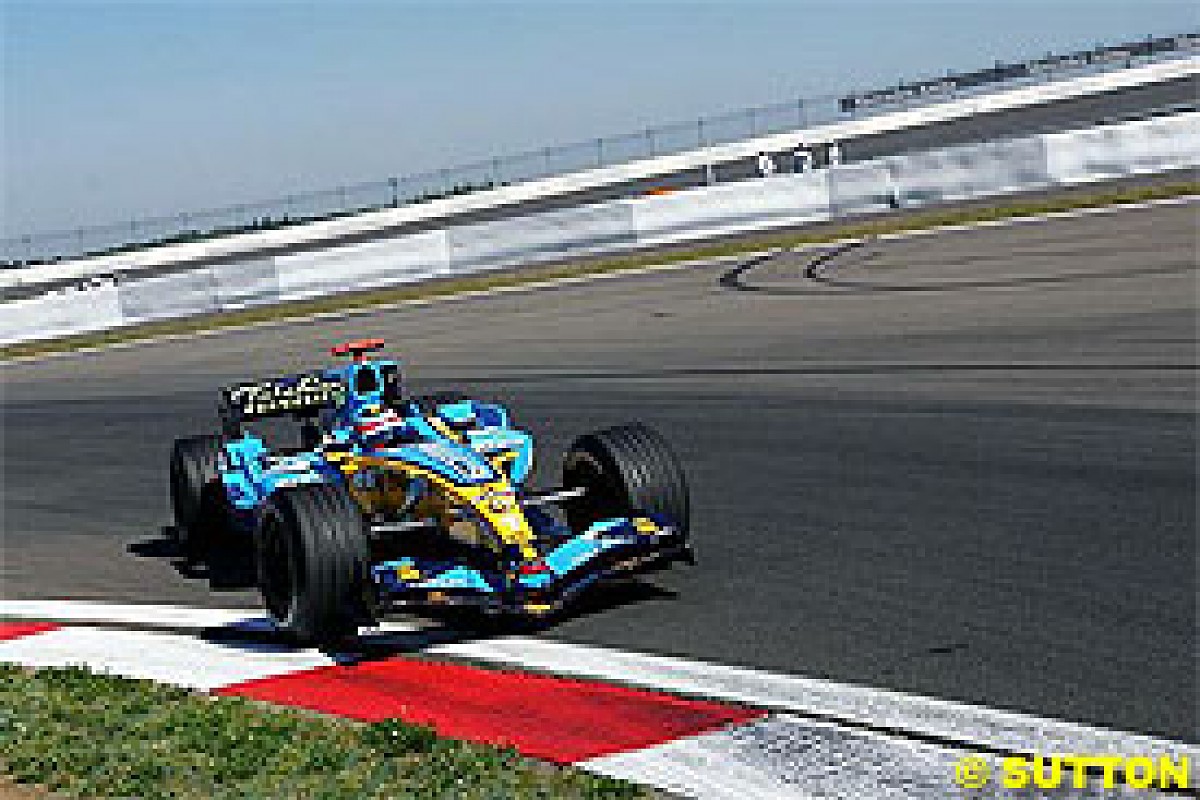 6. Fernando Alonso (Renault) 1:31.056
Despite being quick in the Saturday practices, Alonso and Renault were not favoured in qualifying. Alonso pushed hard, looking very similar to Montoya through the opening sections. The car was clearly well balanced and easy to drive, but simply not quick enough to beat Montoya, let alone challenge for pole, but also was plainly not on the lightest fuel load.
7. Rubens Barrichello (Ferrari) 1:31.249
In Barrichello's hands, the Ferrari looked as good as it has all year, though that is not saying too much. In qualifying, Barrichello was well off the pace, but it was not clear exactly why as the car appeared to be well dialed in and Barrichello was pushing hard, yet keeping it smooth, barring going too deep in turn one. Certainly the speed trap showed the car was quick in a straight line, but it was simply not quick enough to challenge in this session.
8. Ralf Schumacher (Toyota) 1:31.392
When Ralf Schumacher took to the track, immediately after his brother, he knew that Trulli was clearly fast in provisional pole. The way his car was set up seemed more twitchy than Trulli but it was still clearly working well: however, he needed to adjust going through the chicane costing momentum into the final corner, leaving him placed behind Barrichello.
9. Giancarlo Fisichella (Renault) 1:31.566
Looking to show that he had the pace of Alonso, Fisichella was plainly pushing hard in qualifying, with the result he ran a little wide through turn one. Nonetheless, the car was working well and was particularly quick through the high speed corners. Although he set provisional pole with the run, Flavio Briatore looked unhappy on the pit wall with the time, and his pessimism proved well placed, as eight of the ten remaining drivers bettered the time.
10. Michael Schumacher (Ferrari) 1:31.585
Like Barrichello, Schumacher did little to show Ferrari have made much progress in practice, and despite being very quick in the speed traps, simply was not fast enough. The reigning World Champion missed more than one apex, probably due to relatively high fuel loads, and after running wide on a fast corner lost a lot of momentum through the final section to slot in behind Fisichella.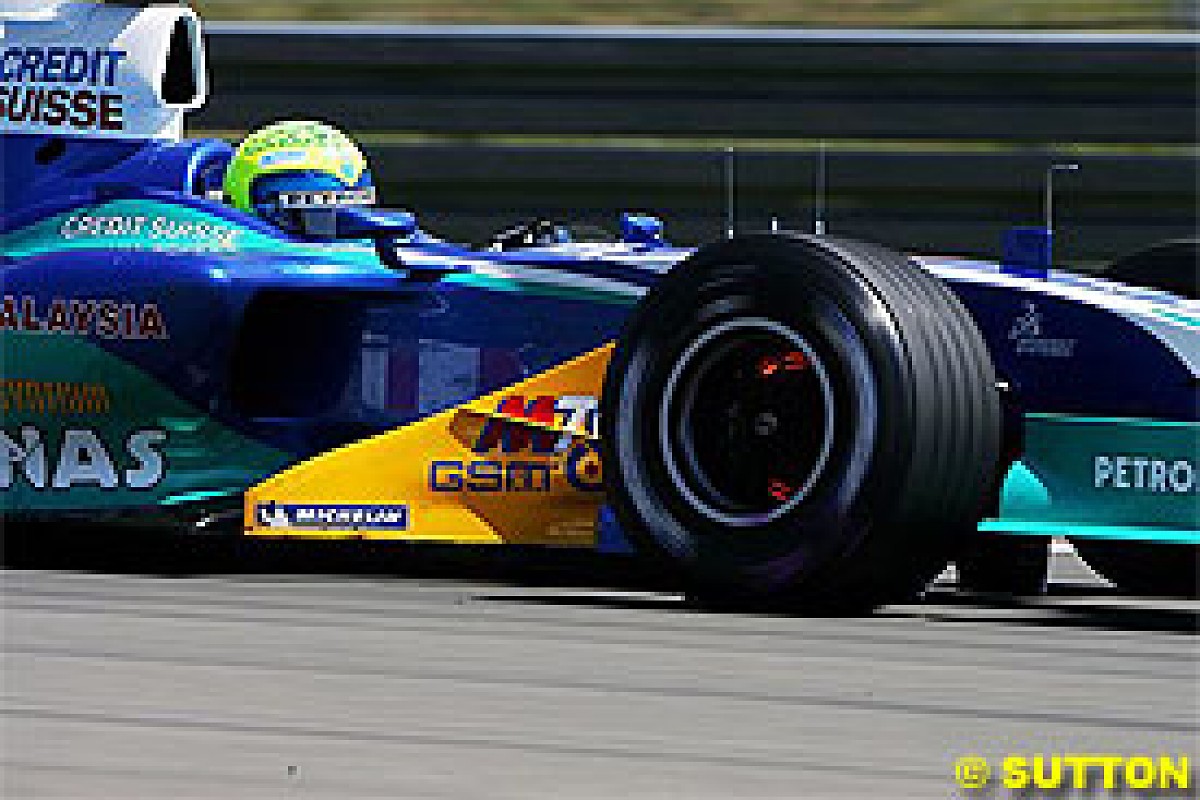 11. Felipe Massa (Sauber) 1:32.205
Sauber had a weekend that never threatened to be memorable, with slow times in practice that never looked like changing. Massa's qualifying run looked smooth, though like Villeneuve he was locking up slightly under braking. The car was holding on the track but simply was not quick enough; a solid time placed Massa ahead of Coulthard.
12. David Coulthard (Red Bull) 1:32.553
Red Bull never looked too quick in practice at the Nurburgring, so little was expected from qualifying or the race - especially as an early exit in Monaco after contact with Schumacher broke the rear structure of the car resulting in Coulthard running fourth in the qualifying session. The lap looked respectable, with the car driving smoothly and apparently well balanced. A solid lap with a particularly tidy final sector gave Coulthard twelfth on the grid.
13. Jenson Button (BAR) 1:32.594
BAR's return to the paddock did little to improve their situation, as neither driver was able to get enough out of their cars to match the competition: indeed, for much of the weekend, it seems that the team struggled to keep up with Red Bull. Early running in qualifying did nothing to help. The car seemed to have crisper turn in in Button's hands than Sato's; a smooth lap resulted in thirteenth on the grid, ultimately disappointing for the team even if they were using an old engine.
14. Vitantonio Liuzzi (Red Bull) 1:32.642
Making the most of another showing for Red Bull, Liuzzi was overdriving in an attempt to get the most out of the car. He was very tidy through the high speed corners - faster than Coulthard over the first couple of sections - but the novice simply couldn't match his teammates excellent work through the chicane and corner, ending up down in fourteenth. It was a solid, if unremarkable lap.
15. Jacques Villeneuve (Sauber) 1:32.891
It was difficult to know where Sauber stood, as their car looked very smooth in the hands of both drivers. Villeneuve's qualifying effort was committed, with light lock ups indicating he was on the limit under braking; man handling the car through the chicane looked impressive but did little for his time. The car appeared heavy on fuel, but still failed to stand out: again, he qualified well behind Massa.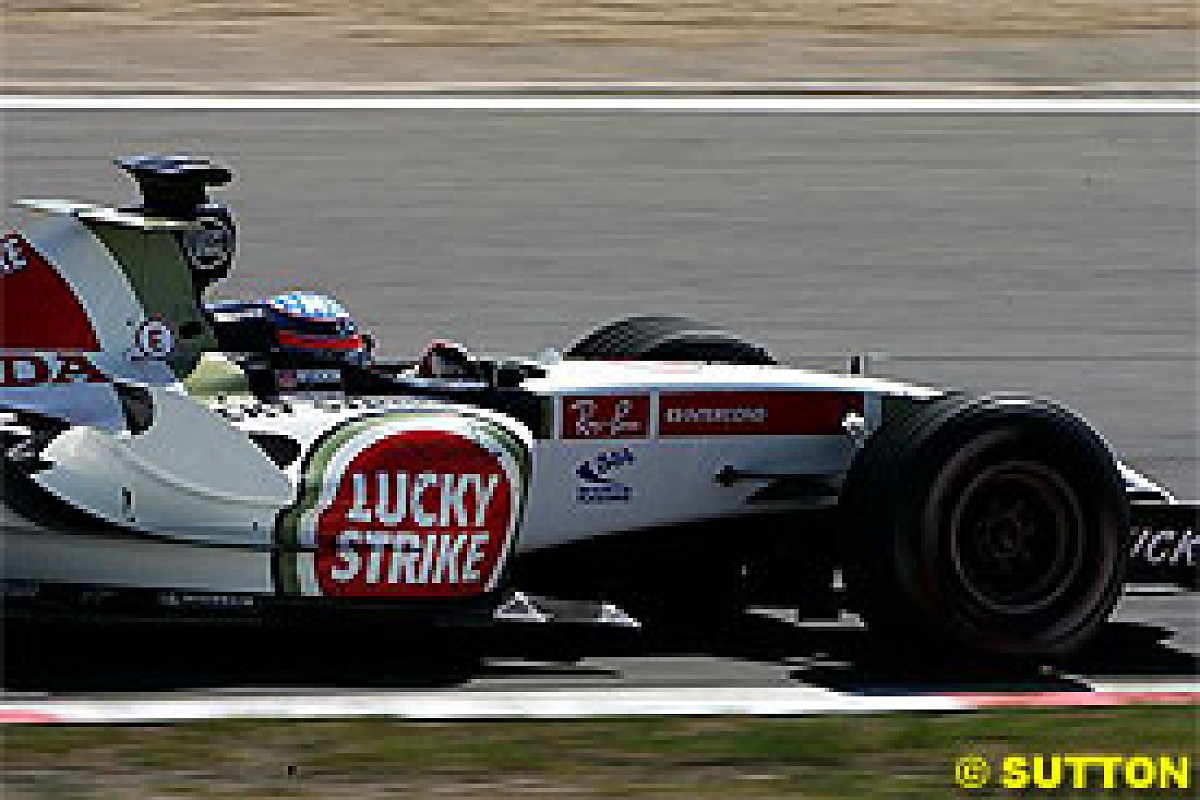 16. Takuma Sato (BAR) 1:32.926
With BAR returning from their race ban, Sato was first out on the track. The car did not appear completely dialled in, showing understeer on entry to corners and twitchy through the apex in the Japanese's hands. Considering he was first out, it was not an unreasonable lap, but clearly not everything BAR were hoping for.
17. Tiago Monteiro (Jordan) 1:35.047
Jordan had a miserable weekend from beginning to end, though bringing Franck Montagny on board as third driver gave them some very valuable input. In qualifying, Monteiro did a solid job of holding the relatively badly handling Jordan to the racing line, putting together a surprisingly clean lap. Like most of the relatively inexperienced drivers, he did not manage the best job of the chicane, but this was still as good a lap as Jordan could hope for, and at least was clearly ahead of the Minardis.
18. Patrick Friesacher (Minardi) 1:35.954
With Minardi looking to capitalise on their Monaco performance and continue to outqualify the Jordans, Friesacher turned loose a solid performance in a twitchy Minardi that was very unstable under braking, but appeared to corner better than their closest rivals. It was a solid performance to outqualify Karthikeyan.
19. Narain Karthikeyan (Jordan) 1:36.192
The Indian looked slower than his teammate all weekend at this circuit, though he has less experience than Monteiro, who had raced here in other formulae. The car was very unstable and clearly not responsive to being overdriven: Karthikeyan found it hard to turn in and then couldn't hold it to the racing line.
20. Christijan Albers (Minardi) 1:36.239
Despite plenty of experience of racing at the Nurburgring in DTM, and being quicker than his teammate in practice, Albers was not able to put together much of a qualifying lap. Whilst the team put it down to running fairly early and carrying a lot of fuel, it did nothing to get him off the back of the grid. Ironically, despite seeming very smooth, particularly through the fastest corners, it is apparent that Albers simply took the corners slower.
The Race
Race day dawned clear and sunny - making for a hot race. Without the additional qualifying session early on, paddock activity was well down, but it did not mean the teams were all prepared for the race: in the event, Toyota had trouble starting Jarno Trulli's car. Because they were still on the track inside the fifteen second warning ahead of the parade lap, the driver was awarded a drive through penalty.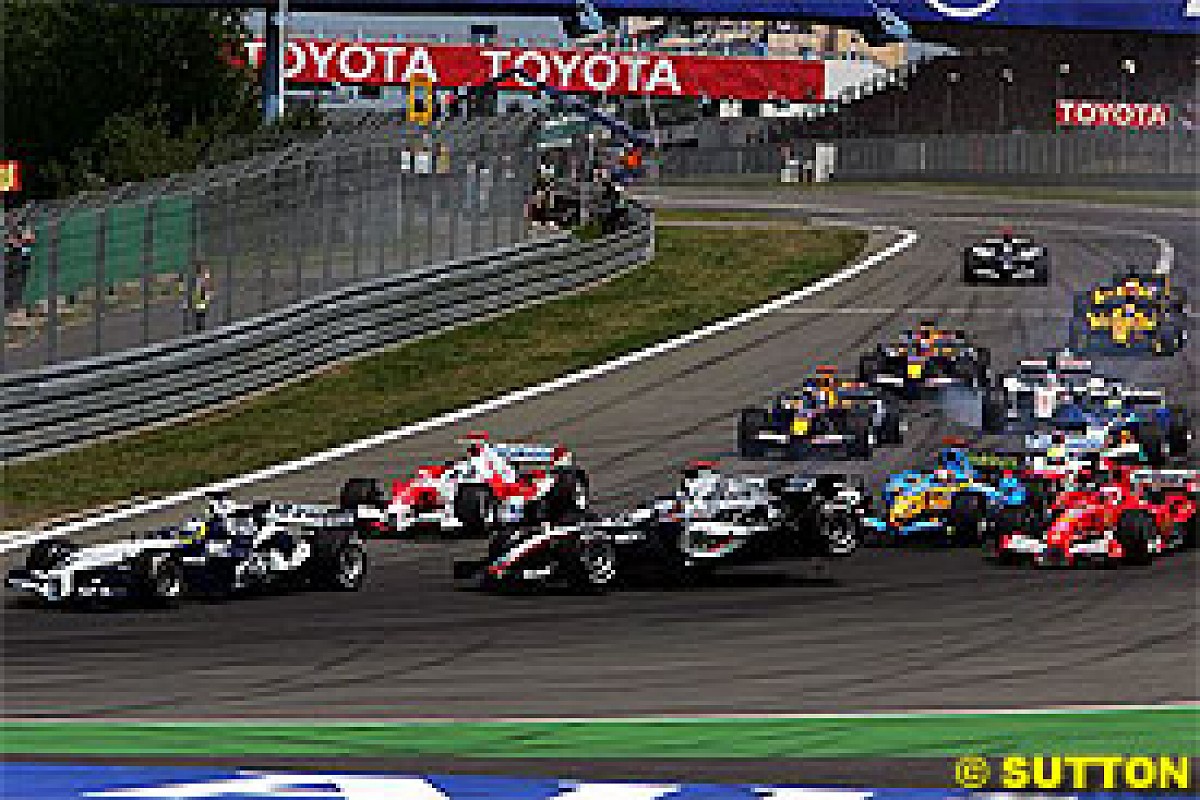 Nick Heidfeld led the grid on a slow formation lap, with drivers working their cars hard to get heat into their tyres and brakes. The grid lined up without issue, but before the lights could go out, there were waved yellow flags, sending the grid off for a second parade lap: Fisichella had stalled in gear, resulting in his demotion to the back of the grid, once the car had been started, though it needed mechanics to pick it the back end on a jack before it could be rolled off the grid.
The extra parade lap raised question marks concerning overheating, as all the engines need good airflow to cool them effectively before sitting on the grid awaiting the start.
The race start followed something of a pattern with both Williams slow to get away. Raikkonen took advantage of Heidfeld's difficulty to slide into the lead, whilst Montoya came around Webber, looking set for a clean move into third for the corner; unfortunately, Webber failed to scrub off sufficient speed to turn in, instead punting Montoya off the track and eliminating himself from the race.
In the mayhem that followed, a number of drivers were forced wide to avoid the unfolding accident, whilst Sato, Barrichello and Ralf Schumacher tagged rivals - though Barrichello avoided the need to pit for a new front wing. The biggest winner from the melee was David Coulthard, whose pre-determined route up the inside of the corner saw him moving up to fourth place.
By the end of the first lap, Raikkonen had opened up a 1.9s lead over Heidfeld and was pushing hard, with Trulli, Coulthard and Alonso following. Massa, Liuzzi and Button were pushing for sixth with Barrichello, Monteiro, Karthikeyan and Villeneuve following. Michael Schumacher was recovering from a poor start in fourteenth place.
Raikkonen kept pushing at the front, but with his lead pegged at 1.9s by lap three; the leading duo clearly easing away from Trulli, who had to keep an eye on the charging Coulthard behind. Alonso, meanwhile, was all over the back of Coulthard's car in search of a way past, though that was not looking likely at that stage. Barrichello was pushing Button, clearly looking faster than the Briton, whilst Michael Schumacher had worked his way up to eleventh, behind Montoya.
At the front, Raikkonen was trading fastest laps with Heidfeld, but slowly easing out tenths. Further back, Alonso continued to push Coulthard for fourth whilst Fisichella was pushing to pass Monteiro for twelfth. Montoya kept looking for a way to pass Barrichello, who in turn was fighting Button for eighth: on lap five, the Brazilian got a run on Button through the final corner, leading to an uncompromising, side by side struggle through the first three corners before the Ferrari driver was able to close the door on the BAR. Montoya promptly made his way past Button, too, with a clean pass.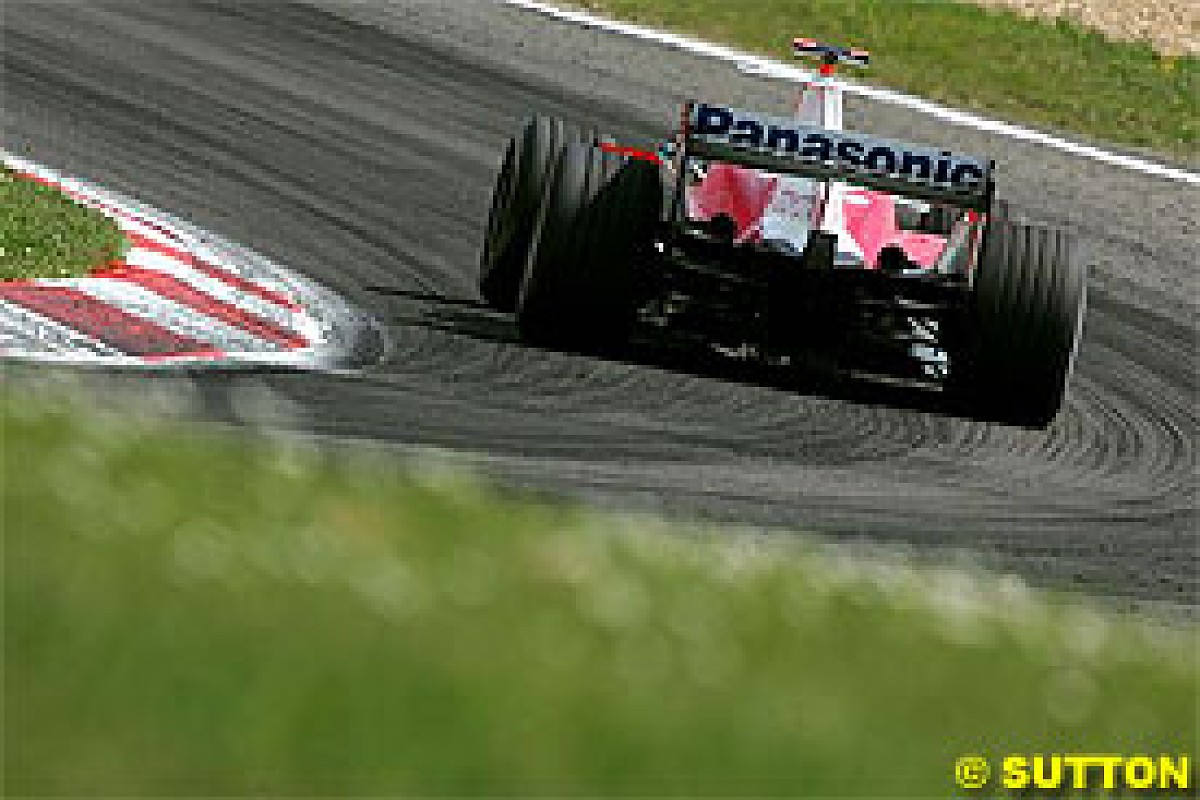 Trulli served his drive-through penalty on lap eight, dropping from third to ninth. Although 14 seconds off the pace, that put Coulthard into a surprise third place that did not seem particularly threatened.
Having sorted out Button, Barrichello pushed Liuzzi. The rookie defended his line effectively into the chicane, but failed to maintain momentum, allowing the Ferrari through on the exit. Montoya soon closed up too, but the rookie appeared to have learned a lesson as he maintained a better defence thereafter. Further back, Villeneuve was working hard to pass the Jordans, and Heidfeld continued to trade fastest laps with Raikkonen at the front.
On lap eleven, Barrichello was the first to make a scheduled stop as he worked on passing Massa, dropping from sixth to twelfth, ahead of the Jordans. Heidfeld stopped a lap later, returning in fourth, as Villeneuve finally passed Karthikeyan. Raikkonen was leading from Coulthard by nearly 20s with Alonso sitting comfortably in third.
Schumacher set about closing up on Trulli and Montoya, who were bottled up by a defensive Liuzzi; Barrichello meanwhile was struggling to adjust to the full tank, locking up under braking into turn one. Massa pushed hard to pass the refuelled Heidfeld, attacking for fourth.
On lap 18, Raikkonen and Trulli stopped, promoting Coulthard to the race lead. The McLaren driver had run five laps further in than Heidfeld and rejoined in third, comfortably ahead of the Williams. Trulli, whose rear left was starting to look troubled, was also struggling on cold tyres, running wide in turn one.
On the next lap, Montoya and Liuzzi pitted together - the Red Bull finally succumbing as McLaren got their driver back on track quicker. Almost unnoticed in the action, Massa pitted from fourth. Coulthard, lapping in the low 1.31s, pitted from the lead to return ahead of Button, promoting Alonso to the front of the field; unfortunately, in his haste to get out ahead of a Minardi, he exceeded the speed limit, earning a drive through penalty.
Michael Schumacher pitted on the same lap, rejoining ahead of Montoya but behind Massa. Alonso led Raikkonen with Heidfeld ahead of Button, Fisichella, Barrichello and Massa. Schumacher was being tracked by Montoya, with Liuzzi and Trulli closing up.
Button attacked Coulthard as the Scot lost momentum through a corner, only to find Fisichella attacking in turn as the Briton lost speed when his attack was rebuffed. The BAR promptly pitted, returning in twelfth behind Trulli.
Coulthard's drive-through penalty dropped him to fifth, promoting Barrichello a place. The Scot promptly started to struggle with the chicane as he worked to make up lost time on the heavy fuel load.
At the tail end of the points, Montoya was pushing Schumacher along, as the Ferrari was bottled up by Massa. Ralf Schumacher finally pitted from fourteenth on the 26th lap, one before Sato came in for the second time. Fisichella started going to work on Button for eleventh place as Barrichello ran fast in fourth, opening up the gap to Coulthard.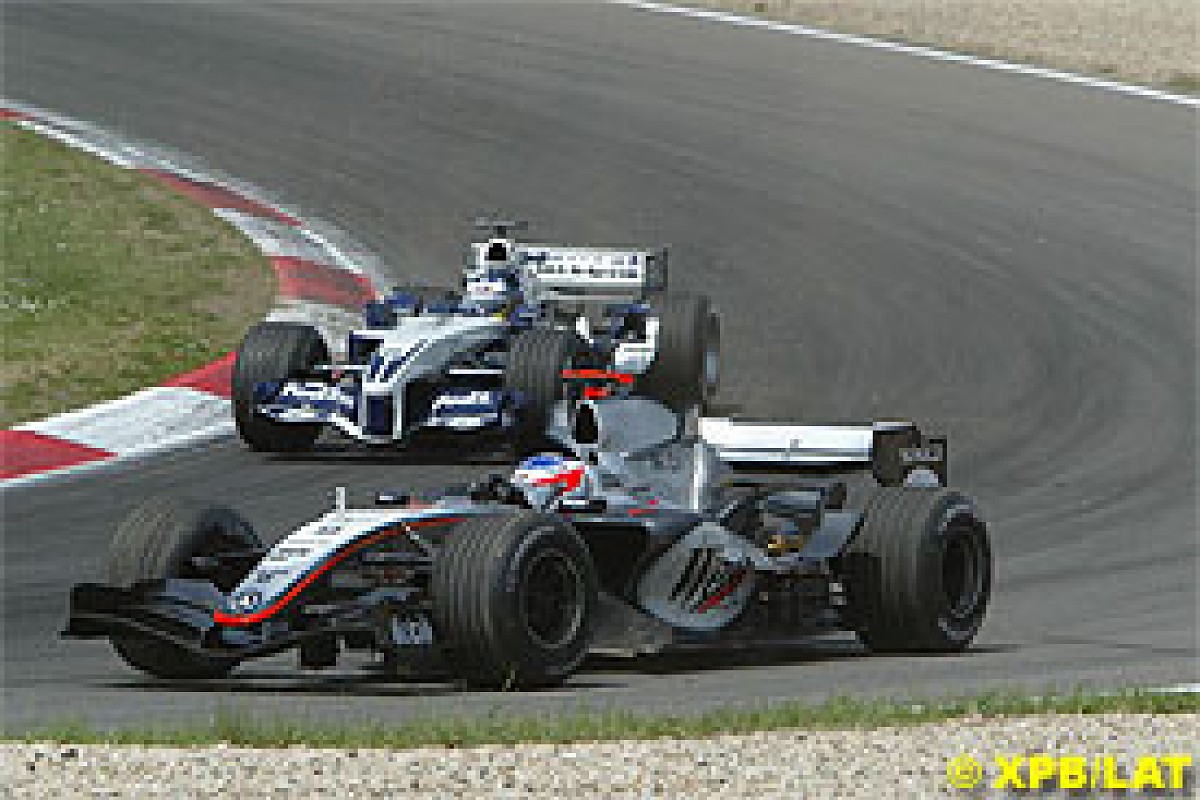 At the front, Raikkonen made a mistake into a turn five, running through the gravel and losing momentum, handing the place to Heidfeld; this appeared to damage the under-tray.
Whilst Albers suffered a drive-through for ignoring blue flags, Heidfeld pitted at the end of lap 31 and from the lead. A short, seven-second stop indicated he had another pending, but he rejoined fourth, between Barrichello and Coulthard. The Ferrari driver was running strongly, but soon pitted, rejoining in fourth behind Heidfeld.
At the front, Raikkonen was 15s clear of Alonso but continued to struggle under braking: he locked up into turn one whilst passing Villeneuve, flat-spotting the front right tyre. With Montoya also struggling to take speed off, it raised question marks over whether McLaren were going to have braking issues before completing the race, though both were still fast.
Shortly after, Ralf Schumacher appeared to lose front downforce into the high speed turn five - running too close to the car in front - resulting in a quick trip over the kerb out of the race on lap 34.
Still working hard, Barrichello started to close down on Heidfeld, eating into the Williams' 10s advantage; the Ferrari driver clearly had eyes on a podium finish. Montoya, meanwhile, started pressing Michael Schumacher hard for seventh, looking for opportunities to pass including a brave but futile attempt around the outside of turn one.
Raikkonen lapped Button's BAR, then pitted on lap 43, returning ten seconds adrift of Alonso: the Spaniard made it easy for Raikkonen however, ruining his run of very quick laps with a trip through the gravel at turn seven. Montoya stopped for fuel, and a lap later Schumacher pitted from sixth, turned around very fast and returned comfortably ahead of the McLaren.
When Alonso pitted, Raikkonen resumed the lead - ahead of a charging Heidfeld. Coulthard also stopped on lap 47, resuming where he left off in fifth. Monteiro meanwhile continued the afternoon exhibition of the price of ignoring blue flags, with a drive-through for his troubles.
Barrichello pitted cleanly on lap 48, dropping back behind Alonso, then Williams went to work on Heidfeld's stop from second, returning him comfortably ahead of Barrichello, so he remained on course for a podium. Fisichella made a quick stop to return ahead of Montoya, who he held at bay through the first complex, as the Columbian fought for eighth. Liuzzi, meanwhile, was struggling to control his car on the limit, nearly losing control on the final corner, by just rescuing the car. Massa ceded eighth place to Montoya after running wide.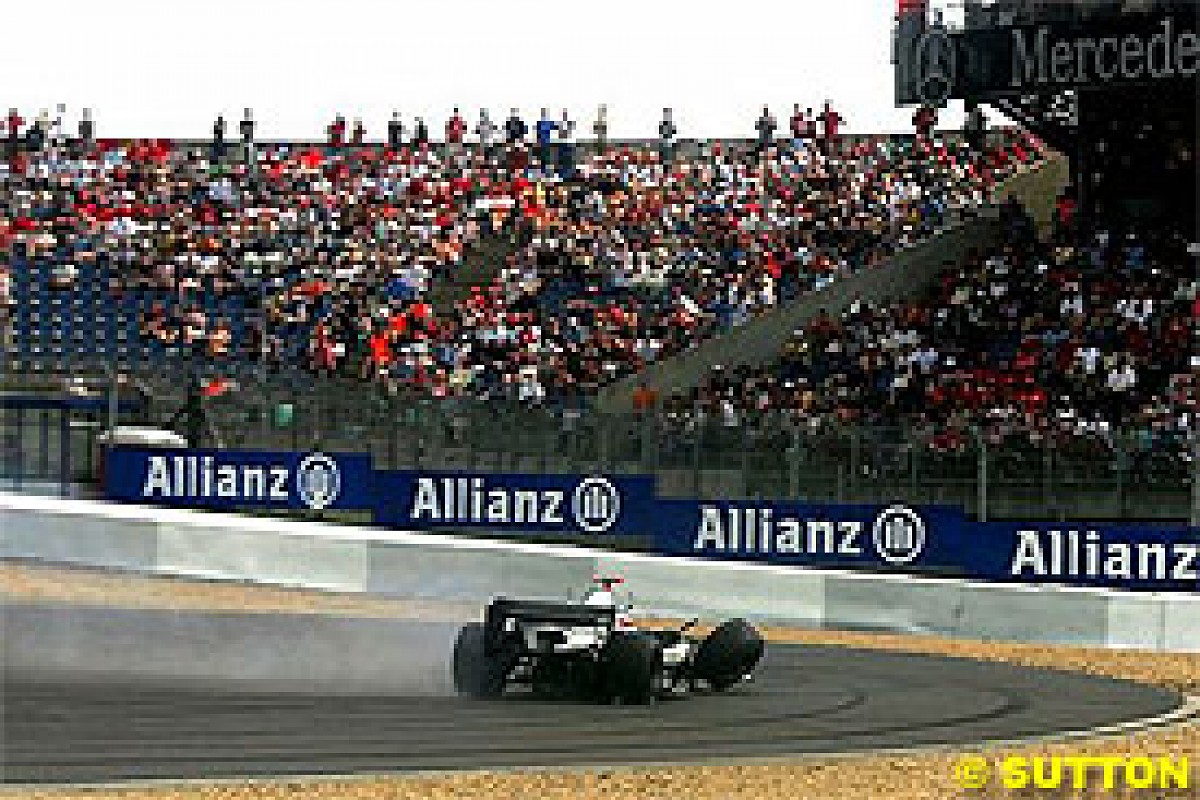 With eight laps remaining, Raikkonen's front right tyre was showing signs of delamination around the flat spot and was producing a huge vibration. He was looking to protect a six-second advantage over Alonso: faced with a choice between a potential puncture and a chance to win, or changing the tyre and probably finishing third, McLaren gamble that the tyre will make the end of the race.
Alonso was lapping around a second per lap faster, but still needed to find a way past after closing. Barrichello, meanwhile, was four seconds behind Heidfeld and also lapping quicker, though the German responded and maintained the gap. Schumacher was also pushing hard to catch Coulthard, but eased after running wide.
Alonso kept closing fast on Raikkonen as Massa also began to struggle with a delaminating tyre: it gave way, forcing him to return to the pits. As the tyre dissolved, it shredded the front wing, so the stop needed to replace the nose, too - he was lucky to finish, but it put him out of the points.
With a couple of laps remaining, the gap was just over two seconds at the front, with Raikkonen clearly having to give it up under braking; Alonso's earlier mistake at Dunlop (turn five) looked like it had come home to roost as those five seconds looked critical.
Then going into the final lap, with Raikkonen facing traffic and a fast closing Alonso, the front right suspension fractured after being subjected to excessive vibration, pitching the McLaren off the circuit at speed in turn one.
Raikkonen's race was over, after pushing too hard on damaged tyres, and the gamble had not paid off. Alonso assumed the lead for an unexpected win, with Heidfeld comfortably second and Barrichello a surprised, but happy, podium finisher.
Race Results
Classified:

Pos  Driver        Team                  Time   
 1.  Alonso        Renault           (M) 1h:31:46.648
 2.  Heidfeld      Williams-BMW      (M)  +    16.567
 3.  Barrichello   Ferrari           (B)  +    18.549
 4.  Coulthard     Red Bull-Cosworth (M)  +    31.588
 5.  M.Schumacher  Ferrari           (B)  +    50.445
 6.  Fisichella    Renault           (M)  +    51.932
 7.  Montoya       McLaren-Mercedes  (M)  +    58.173
 8.  Trulli        Toyota            (M)  +  1:11.091
 9.  Liuzzi        Red Bull-Cosworth (M)  +  1:11.500
10.  Button        BAR-Honda         (M)  +  1:25.700
11.  Raikkonen     McLaren-Mercedes  (M)  +     1 lap
12.  Sato          BAR-Honda         (M)  +     1 lap
13.  Villeneuve    Sauber-Petronas   (M)  +     1 lap
14.  Massa         Sauber-Petronas   (M)  +     1 lap
15.  Monteiro      Jordan-Toyota     (B)  +     1 lap
16.  Karthikeyan   Jordan-Toyota     (B)  +     1 lap
17.  Albers        Minardi-Cosworth  (B)  +    2 laps
18.  Friesacher    Minardi-Cosworth  (B)  +    3 laps

Fastest Lap: Alonso, 1:30.711

Not Classified/Retirements:

Driver        Team                  On Lap
R.Schumacher  Toyota           (M)    36
Webber        Williams-BMW     (M)     2


World Championship Standing, Round 7:

Drivers:                    Constructors:             
 1.  Alonso        59        1.  Renault              76
 2.  Raikkonen     27        2.  McLaren-Mercedes     53
 3.  Trulli        27        3.  Toyota               44
 4.  Heidfeld      25        4.  Williams-BMW         43
 5.  Webber        18        5.  Ferrari              31
 6.  Fisichella    17        6.  Red Bull-Cosworth    19
 7.  R.Schumacher  17        7.  Sauber-Petronas       7
 8.  Montoya       16
 9.  M.Schumacher  16
10.  Barrichello   15
11.  Coulthard     15
12.  Wurz           6
13.  Villeneuve     5
14.  de la Rosa     4
15.  Klien          3
16.  Massa          2
17.  Liuzzi         1


Fastest race laps: Click here
Pitstop times: Click here
Lap by Lap
Start aborted: Ninth-fastest qualifier Giancarlo Fisichella's Renault stalls just before the red lights go out. The field sets off on an extra formation lap. The race distance is reduced from 60 laps to 59. Fisichella's car is pushed into the pit lane.
Lap 1: First-time pole position qualifier Nick Heidfeld is beaten on the drag to the first turn by Kimi Raikkonen. Jarno Trulli grabs third as Mark Webber tips Juan Pablo Montoya into a spin. Ralf Schumacher tries to avoid the melee but swipes off his nose. Ferrari teammates Rubens Barrichello and Michael Schumacher are forced wide. David Coulthard grabs fourth from Fernando Alonso, Felipe Massa, Vitantonio Liuzzi, Jenson Button, Rubens Barrichello, Tiago Monteiro, Narain Karthikeyan, Jacques Villeneuve, Juan Pablo Montoya, Michael Schumacher, Patrick Friesacher, Christijan Albers, Giancarlo Fisichella, Takuma Sato and Ralf Schumacher - the latter two of whom both pit for repairs. Raikkonen is 1.9s clear by the end of the lap.
Lap 2: Michael Schumacher passes Karthikeyan; Fisichella does likewise to Albers.
Lap 3: Raikkonen still leads by 1,9s. Michael S passes Monteiro; Fisichella dispatches Friesacher.
Lap 5: Barrichello scrambles past Button. Fisichella has dealt with both Jordans.
Lap 6: The top two are 12 seconds clear of Coulthard. Montoya passes Button for ninth.
Lap 8: Trulli loses third after serving a drive-through penalty - his crew had not cleared the grid within the 15-second limit before the start. He drops to ninth. Barrichello passes Liuzzi.
Lap 9: Raikkonen sets fastest lap - 1m30.940s.
Lap 11: Barrichello is the first driver to make a scheduled stop: he drops from sixth to 12th.
Lap 12: Heidfeld peels in and rejoins in fourth. Villeneuve passes Karthikeyan.
Lap 13: Raikkonen leads Coulthard by 19.9s.
Lap 18: Raikkonen makes his first scheduled stop, as does Trulli.
Lap 19: Massa, Liuzzi, Montoya and Friesacher pit. Montoya gets out ahead of Liuzzi, whom he had hitherto been shadowing.
Lap 20: Coulthard, Michael Schumacher and Albers come in. Alonso takes the lead.
Lap 21: Monteiro pits.
Lap 22: Alonso laps in 1m30.816s and leads Raikkonen by 7.7s. Fisichella and Karthikeyan pit.
Lap 23: Alonso and Button refuel on schedule. Coulthard serves a drive-through for speeding on his previous pit visit.
Lap 24: Villeneuve pits.
Lap 26: Ralf Schumacher pits.
Lap 27: Sato pits.
Lap 28: With all the stops complete, Raikkonen leads Heidfeld by 2.0s. Alonso is third from Barrichello, Coulthard and a knot comprising Massa, Michael Schumacher and Montoya. Liuzzi, Trulli, Button, Fisichella, Sato, Ralf Schumacher, Villeneuve, Karthikeyan, Monteiro, Albers and Friesacher complete the order.
Lap 30: Raikkonen runs wide at Turn 5 and cedes the lead to Heidfeld. Albers is handed a drive-through penalty for ignoring blue flags.
Lap 31: Heidfeld pits and Raikkonen reclaims a comfortable lead, 15s clear of Alonso. Heidfeld resumes in fourth, behind Barrichello.
Lap 33: Barrichello refuels and slips back behind Heidfeld.
Lap 34: Raikkonen runs wide at Turn 1 while trying to lap Villeneuve, and locks up his front-right tyre in the process. Ralf Schumacher spins off at Turn 6 and becomes only the race's second retirement.
Lap 37: Friesacher makes his second stop.
Lap 40: Montoya tries to pass Michael Schumacher around the outside of Turn 1. It does not work.
Lap 42: Monteiro is served with a drive-through for ignoring blue flags.
Lap 43: Raikkonen refuels and rejoins second, 10s adrift of Alonso.
Lap 44: Alonso laps in 1m 30.711s. Massa and Liuzzi pit.
Lap 45: Montoya and Trulli refuel.
Lap 46: Alonso loses several seconds with a trip through the gravel at Turn 7. Michael Schumacher and Button pit.
Lap 47: Raikkonen resumes the lead - but only just, from Heidfeld - as Alonso pits. Coulthard comes in too.
Lap 48: Barrichello makes his third and final stop.
Lap 49: Sato pits.
Lap 50: Heidfeld and Fisichella pit.
Lap 51: Raikkonen leads from Alonso, Heidfeld, Barrichello, Coulthard, Michael Schumacher, Fisichella, Montoya, Trulli, Massa - fresh from a jaunt through the gravel, Liuzzi, Button, Sato, Villeneuve, Karthikeyan, Monteiro, Albers and Friesacher.
Lap 52: Raikkonen is easing his pace with an apparent vibration from his right-front wheel. Alonso closes.
Lap 54: Michael Schumacher runs wide through the gravel.
Lap 55: Massa slows and pits to replace a damaged front-left tyre. He drops to 14th. Raikkonen still has 4.0s in hand on Alonso.
Lap 57: Two to go and the gap between the leaders is down to 2.7s.
Lap 58: ...and 1.5s.
Lap 59: Raikkonen's front right suspension fails on the way into Turn 1. He's out. Alonso scores his fourth win of the year by 16.5s from Heidfeld, Barrichello, Coulthard, Michael Schumacher, Fisichella, Montoya, Trulli, Liuzzi and Button. Raikkonen is classified 11th from Sato, Villeneuve, Massa, Monteiro, Karthikeyan Albers and Friesacher.