Deconstructing Bridgestone

---
By Tony Dodgins, England
Autosport-Atlas Contributing Writer
The conspiracy theorists are normally quick to point out the hidden agenda behind FIA rule changes, and the one tyre rule was no exception. After dominating F1, Ferrari and Bridgestone appear to be struggling. Coincidence? After changing the qualifying format, the Italians and Japanese stand a chance of returning to form. Is it related? Tony Dodgins analyses the reasons for Ferrari's slump and what they are doing to rectify it
Spend any time around Formula One's political manoeuvrings and it's difficult not to become a conspiracy theorist. Think about the current F1 tyre situation, and it could have been designed specifically to screw Ferrari.
There is this perception that the FIA always sides with Ferrari, but in reality the evidence doesn't stack up. The view became stronger when Ferrari were fighting with McLaren in the late nineties (barge boards, flexi-wings, etc.) and was further fuelled by personal animosity between FIA president Max Mosley and McLaren boss Ron Dennis.
But, more recently, rule changes introduced by the governing body have hurt Ferrari more than helped them, and none more so than this year's tyre regulations. And yet, it was only a few short months ago, amid all the rules aggravation, that some went as far as suggesting that Ferrari's technical director Ross Brawn had actually written the 2005 rules. If true, Ferrari would have fired Brawn by now!
Last year, much time was spent pondering ways to improve the show. And whatever was suggested, whether it offended the purist in its artificiality or earned a grudging nod as worthy of consideration, we always returned to the same issue: the racing was bad because Michael Schumacher was blowing everyone away.
So what? Sport needs superstars and so long as the TV figures more or less held up, then it was up to the others to get their acts together. But when you talked to the TV people, they were nervous. ITV's F1 presenter Jim Rosenthal said early last year that the ITV viewing figures were "okay-ish". He thought there was an element of people tuning in to see if anyone could beat Schumacher. But, long term, he reckoned, domination was pretty much a turn-off.
And this was getting pretty long term. Schumacher and Ferrari first won the Drivers' World Championship in 2000, then again in 2001 and completely annihilated everyone in 2002. At the beginning of 2003, the FIA announced a change to the 'sporting' regulations that required everyone to qualify with race fuel levels and announced a parc ferme rule, so that you could no longer touch your car between qualifying and race. As a sporting rather than a technical change, this was done a couple of weeks before the season started.
But to Ferrari it wasn't so much a sporting issue as a whopping great technical one. Partly because of the Bridgestone tyre characteristics, they had designed a longer wheelbase car to gain more qualifying performance, relying on altering weight distribution via ballast for the race. But suddenly you couldn't touch the car between qualifying and race. As a result, on certain circuits Ferrari found themselves deeply in the mire. The Championship went down to the wire.
For 2004, of course, they had a chance to re-design their car to fit the regulations in force and, guess what, they blew everyone away again.
If your mission had been to hurt Ferrari's performance for 2005, equalise the field and spice up the action, how would you have done it?
Ferrari's personnel are incredibly strong, as is the car. Their lead driver is superb and their engine, already bullet proof, was least likely to be hurt by a regulation putting greater emphasis on longevity. But tyres... Here was an opportunity. Ferrari were out on a limb, the sole front-running team on Bridgestones. Turn that from a plus into a minus, and you're in business.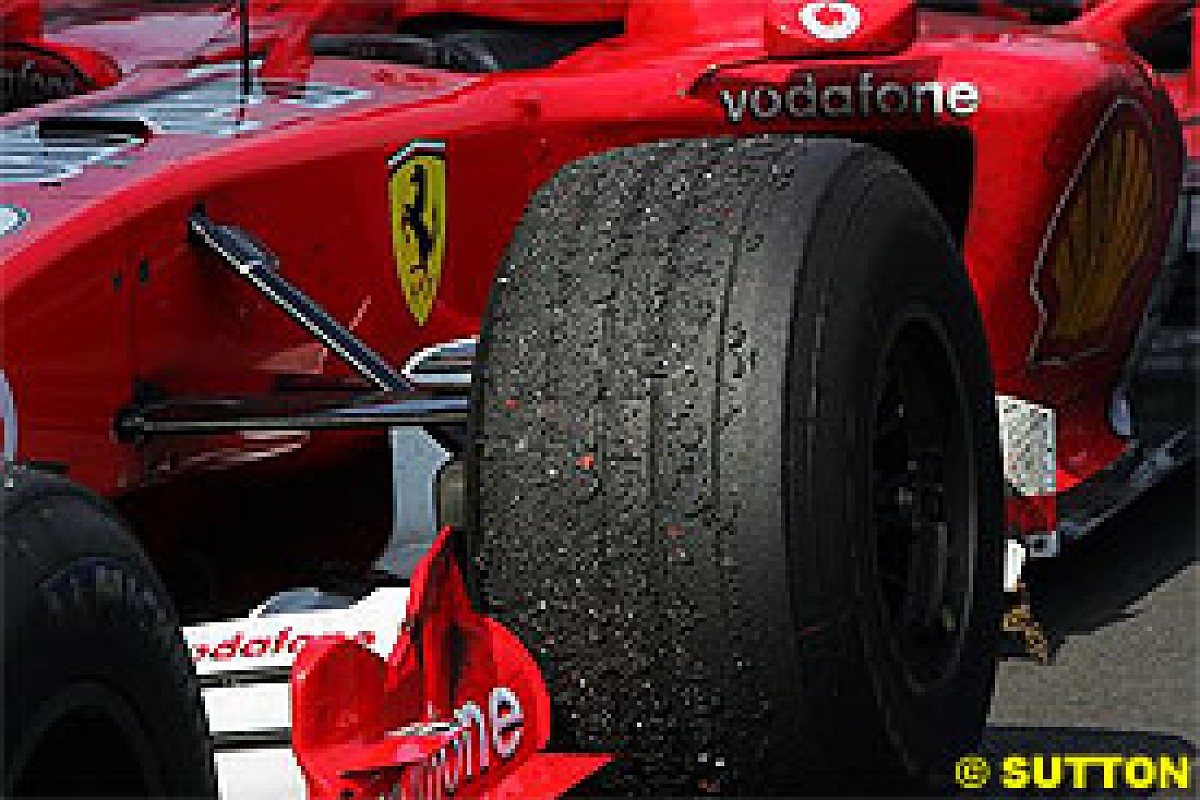 Bridgestone's philosophy has always been to concentrate on race performance rather than one-lap capability. The way a tyre delivers its grip is a function of its construction and its compound, and Bridgestone and Michelin have always taken different approaches to solving the same problem. It is never a simple equation, taking into consideration the varying surfaces and temperatures on and in which racing tyres have to operate but, very generally, Bridgestones tended to take longer to come up to temperature but run hotter than Michelins in race conditions. The latter meant having to take care with compounds at tracks on which wear is an issue.
If you introduce a rule saying that a tyre must last an entire race, you make wear a bigger issue. To compensate, you have to run harder compounds that, for Bridgestone, make it even harder to get heat into the rubber quick enough for single-lap qualifying. To the extent that it has become a big, big problem.
Look at Schumacher's qualifying performances this year and, forgetting Australia, where he was stymied by rain, they read: Malaysia, 13th; Bahrain, 2nd; Imola, 14th; Barcelona, 8th; Monaco, 8th, Nurburging, 10th. The obvious aberration is Bahrain, where the F2005 started on the front row and monstered Alonso for 12 laps before retiring. But there was a reason for that: Bridgestone went too soft on compound. Barrichello's tyres didn't last in the same race and there's no reason to suspect that Schumacher's situation would have been any better.
At Imola, Schumacher was stuck for the entire first stint but then his pace was stunning. But that was exaggerated because weather on race day was cooler than anticipated, which meant that the Michelins didn't work as well as expected (remember that tyre selection for a race is made well in advance, based on the best available weather forecast at the time, but one which cannot be relied upon). But even so, Schumacher still didn't quite make it.
McLaren, initially, had a less severe version of Ferrari's problems with their Michelins. The MP4-20 is very easy on its rubber, and, at first, they couldn't qualify well enough. But that has now been solved. At Monaco, for instance, they raced a softer compound than was viable on the Renault and made it last without problem. But, Ron Dennis says, it was car modification rather than bespoke tyres that played the bigger part.
"Before Imola," Dennis says, "We had some constructive tests and at Imola the car was working around the parameters that we predicted. That gave us an indication that front suspension work we were doing was going in the right direction, and Barcelona confirmed it. Yes, Michelin was very supportive and prepared to develop specific tyres but we thought that would put us at odds in terms of comparing our performance or doing development. Ultimately we didn't go down that path and we developed it out of the car."
Ferrari, to their credit, have never lambasted Bridgestone for their current predicament. Not publicly. But who knows how many assorted German/Italian/British/South African/French boots have been up Japanese bottoms behind closed doors. Ferrari admit that they have to base their development around the tyre, just as McLaren have, even if their problem is so much bigger.
On Thursday at the Nurburgring, Bridgestone played host to some of the British racing press. The evening started with discussion about how Liverpool FC had managed to re-script The Great Escape, until we poisoned the evening by bringing up tyres...
Bridgestone's technical manager, Hisao Suganuma, explained that when you look at overall tyre performance, you effectively have a graph of one-lap performance against durability. Focus on one and you lose part of the other. But it is not that simple. If you have historically approached things from one direction, it is not so easy to change. Experimentation might solve the problem, but then the problem is never the same. It varies with weather conditions, surfaces and car development.
Now, back to the conspiracy society. You might wonder at the decision to change qualifying back to one session, mid-season. Okay, so the broadcasters didn't like it and probably - probably - that is the real reason. But I wonder if anyone thought: Oh my gawd, we haven't just screwed Ferrari a little, we've actually rodgered them out of existence.
Going back to one session, and getting rid of the one that penalises Ferrari most (the empty-tank one in which less fuel weight makes it even more difficult to heat their tyres relative to the opposition) might at least put them somewhere back in the ball-park. To the extent that the seven times Champion might actually be able to contemplate winning a race, leaving alone for the moment the prospect of an eighth title.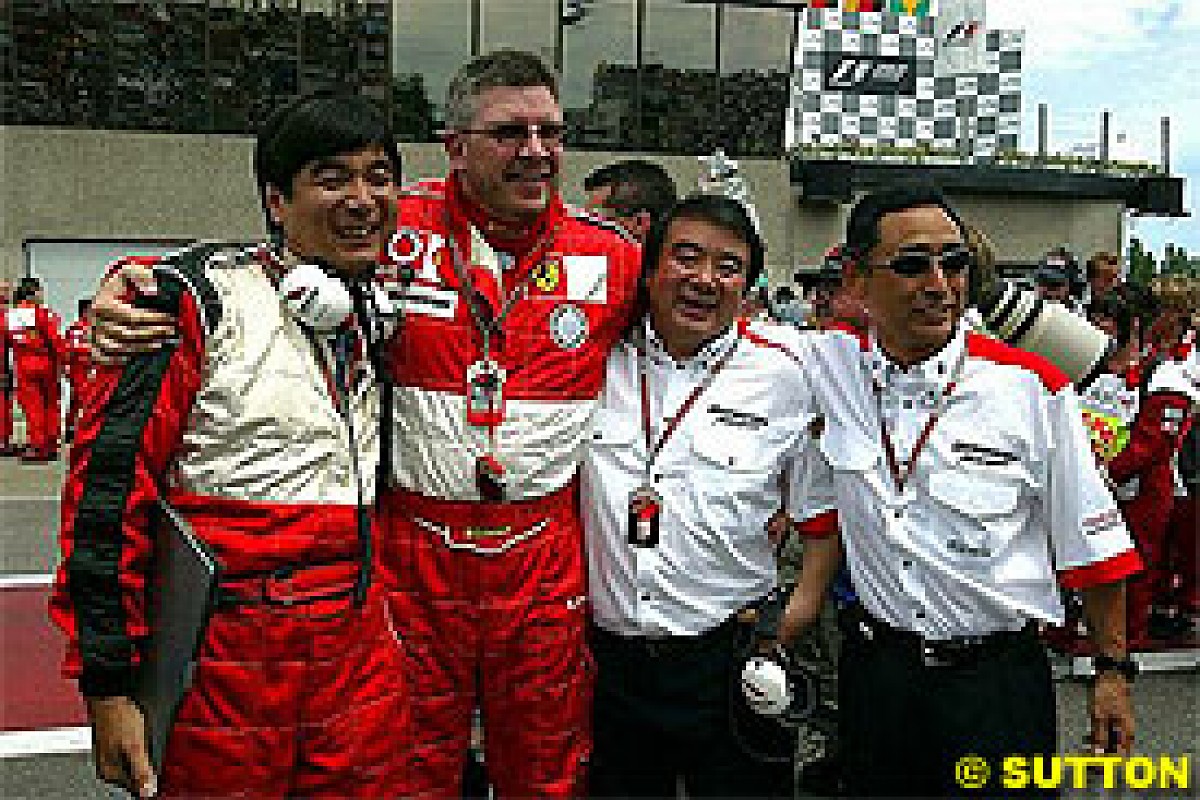 The Bridgestone people are racers. Director Hiroshi Yasukawa (55), motorsport director Hirohide Hamashima (52) and technical manager Hisao Suganuma (whose half century came up on Nurburgring Saturday) have worked together for something like 20 years. Yasukawa points out that in Japanese companies a typical working partnership might last for three.
"Have they realised you've gone?" someone quipped.
To which Yasukawa replied that the Japanese management very much had their fingers on the racing pulse. Racing is close to their hearts and they are very much aware of the current issues. But not in any pressurising, negative way. They are not about to pull the plug or run away. But they would like a bit of support and understanding. And looking at their recent record, that seems fair enough. These things are cyclical.
But you can't help but wonder about a couple of things.
First, what was Bridgestone's reaction to the 2005 tyre rule? Did they, for instance, know immediately that they would be in trouble? The relevance being that if they have been trying unsuccessfully to get out of it for seven months instead of three, then their position looks even worse. And second, if they knew they were going to be in trouble, why wasn't there more opposition to it from both themselves and Ferrari?
The official response was that no, you don't fully see the true position until you make a tyre and run on it. In short, then, it would have been quite realistic for Bridgestone to anticipate that using harder compounds would hit Michelin just as hard. Except that in fact Michelin, because its construction is different, has barely had to go harder at all, and so has not suffered the same qualifying problem. And, Bridgestone says, the company was actually involved in the dialogue with the FIA at quite an early stage, it just didn't talk about it to the press.
That's the official line but, putting the conspiracy cap back on, I wonder. Remember that, as recently as last October in Brazil, there were people strongly advocating a single tyre. And many times in F1 a similar ploy has been used to get people to toe the line. If you want X but think there might be opposition, you hit them with a much more extreme Y, then adopt X as the fall-back position. So, faced with the possibility of tenders going out for a single supply contract or playing by different rules, what would Bridgestone agree to?
Were they hinting at all this in the slightest on Thursday night? Not at all, hand on heart. And I mean that sincerely. It's all my own fully paid-up conspiracy theory. And do they know how they are going to get out of it? No, again, except that as racers they are urgently throwing every resource they have at the problem.
An awful lot of decent heads are together around the same table. Don't bet against a solution. But would it come in time to save Michael Schumacher and Ferrari in 2005? That's another question. It will make for a fascinating summer.