Safe or Sorry

---
By Adam Cooper, England
Autosport-Atlas Contributing Writer
To pit or not to pit, that was the question at McLaren in the latter stages of the European GP, as Kimi Raikkonen's right front tyre threatened to explode like a ticking bomb. Did the Woking outfit make the right call? Would the FIA have allowed them to replace a flat-spotted tyre without being penalised? What do McLaren's rivals think of their decision? And which lap was the real last lap? Adam Cooper analyses the Nurburgring thriller and the ramifications of Raikkonen's dramatic crash
We've been spoiled by some spectacular finishes in recent Grands Prix, but nothing compares with the last-lap drama seen at the Nurburgring last weekend. But while it made for gripping TV, there are aspects of Kimi Raikkonen's unfortunate situation that warrant further investigation.
The McLaren driver's problem began on lap 34 with a particularly violent brake-locking moment when he was trying to lap Sauber's Jacques Villeneuve. Racing drivers have always risked flat-spotting their tyres, but it has become more of an issue this year for two reasons. Firstly, tyres are more vulnerable as they are used up in the course of the race, and have less tread left. Secondly, once you've got the flat spot, you have to attempt to carry it to the end. In Raikkonen's case he had to survive another 25 laps.
Like everyone else, the McLaren crew saw the incident on TV and knew that there might be a problem. It's unclear when radio discussions between the pitwall and Raikkonen began, but the team had a good look at the offending tyre when he pitted on lap 43. Even if they had wanted to change it, the regulations prevent them from doing it at the fuel stop, and he would have had to come in again.
One thing is clear. At no point from the Villeneuve incident onwards could Kimi have come into the pits, changed the flat-spotted tyre, and still resumed his race in the lead. At the end of lap 34 his advantage over Renault's Fernando Alonso was 14.3 seconds, and before he came in for fuel on lap 43, it was still 14.1s. Alonso stayed out for another four laps, and after he resumed, the gap was down to 11.8s, with 11 laps to run to the flag.
How long would a single tyre change, without refuelling, have taken? Well, note that in their respective drive-through penalties Toyota's Jarno Trulli and Red Bull's David Coulthard lost around 16.3s and 16.0s respectively, so it would have been around 20 seconds for Raikkonen.
In other words, Kimi would definitely have come out behind Alonso. Had he pitted early enough, he would have still emerged safely ahead of third man Nick Heidfeld, although as the laps were counted down he became more vulnerable to resuming behind the Williams. But would he have been able to change the tyre without penalty in the first place?
When is a Tyre Dangerous?
There has been much talk this year about when tyres can be changed. As originally written, the rules accounted only for punctures, but that was amended to include tyres in a "dangerous condition" to allow for some leeway. Over the winter there was a lot of discussion as to how that would be defined, and even after the third race in Bahrain there was a further clarification from the FIA.
In essence, it's accepted that normal wear and tear is not a good enough excuse, unless the tyres are down to the proverbial canvas. If the FIA technical delegate is not satisfied that a change was necessary on safety grounds, the stewards can inflict a post-race penalty.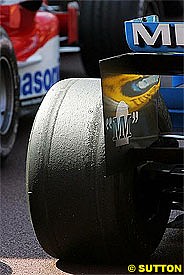 There are three key factors to take into account. Firstly, only the damaged tyre can be changed. Secondly, it has to be replaced by a tyre of equal mileage of the one that is replaced (in reality that's academic, as nobody has spare brand new tyres left lying around the garage on Sunday). And thirdly, the change cannot be combined with refuelling. It's this last criterion that helps to ensure that nobody abuses the system, in that an extra stop is regarded by the FIA as a penalty in itself.
One of the first drivers to change a tyre this year was none other than Raikkonen himself, who pitted with a flat tyre in Malaysia just after a fuel stop. It later emerged that the valve had been damaged when the mechanics tried to adjust the pressures at the stop (the McLaren system was revised by Bahrain). More recently, Michael Schumacher pitted for a change after a rear failure in Barcelona.
What we had not seen prior to Nurburgring was anybody changing tyres that were simply worn out, and even Felipe Massa's late swap last weekend was not a proper case study, as his front tyre had clearly reached the point of structural failure.
We have seen somebody retire - Ferrari's Rubens Barrichello in Malaysia - with tyres that had arguably reached a dangerous condition through 'normal' wear. It was the team's decision to park the car.
Even McLaren were not sure whether it would have been possible to change Kimi's flat-spotted tyre at the Nurburgring, as Ron Dennis admitted after the race: "We discussed it extensively. The problem was that we did not feel that the tyre carried sufficient evidence of being unsafe."
Perhaps he was referring to the initial 10 or even 20 laps after the problem occurred, because the TV pictures over the last three or four laps left little doubt as to whether the tyre had reached a dangerous condition. By then Alonso was closing in fast, and McLaren were completely committed to their decision to stay out.
It's interesting to hear the views of the team's main rival, namely Renault's Pat Symonds.
"I certainly don't think you can change a tyre if you flat-spotted it or something," he noted on Sunday. "If you damaged a tyre you are going to be called in front of the stewards to explain why you changed it. That's a fact. We don't know, because there's no precedent, exactly how it will be interpreted. We've got a precedent today with Massa, and I suspect that there is no problem with that. That's a tyre that had cord showing, although I don't quite know why.
"But I've got a feeling if you've locked the brakes up and flat-spotted a tyre, it's sort of your own fault really. So I don't think they would treat it very sympathetically."
Is he right? After the race I checked with FIA sources, who made it pretty clear that McLaren would indeed have been allowed to change the tyre without penalty. Not only that, the team only had to ask. All teams have a radio link to race control and can ask questions on any matters arising during the event. Apparently, at no time did McLaren enquire as to whether the tyre would be considered dangerous or not.
Keep On Running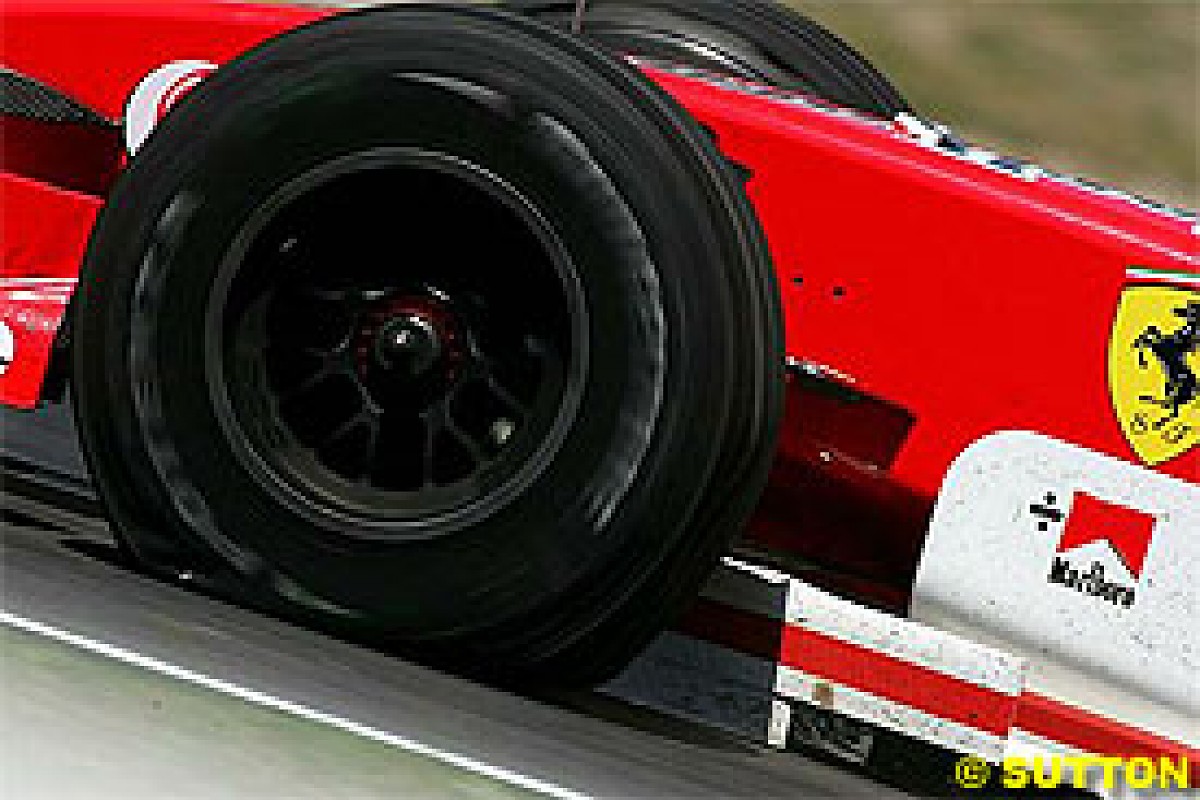 In the end, the FIA's views didn't really matter. Ron Dennis, his engineering team and Raikkonen himself decided come what may to stay out and get to the flag. Stopping meant losing, even if the eight points for second were a pretty valuable consolation prize.
To be fair, the team could not have known how bad the situation would eventually get. Juan Pablo Montoya carried a tyre problem through the whole of the Australian GP after a Turn One moment, and he also had a vibration at the 'Ring that did little harm. In Bahrain, Pedro de la Rosa reported that he could barely see his braking points, so bad were his tyres after his various excursions, but he pushed to the flag. In none of these cases did the problem get as bad as it did for Kimi.
Just to make life harder for the troubled Finn, Renault sussed that there was a problem and urged Alonso to put pressure on the McLaren. Fernando nearly blew it, losing some 6-7 seconds with an off on lap 48, but the gap continued to come down.
"We were pushing him pretty hard from the final stop," says Symonds. "I think it was around then that we were just having a little bit of a question about whether Raikkonen was in good health or not. We were pushing him from that point."
In the end, McLaren nearly got it right. The tyre itself survived, and it was the forces generated by the vibrations that became too much for the front suspension. We will never know whether Kimi could have stayed ahead of the healthy Renault over the last lap, as he led by just 1.5 seconds at the start of it.
"I would have done what they did," said Symonds. "It's a bloody hard call, and there will be lots of Monday morning quarterbacks who knew better. But I'm sure I'd have done what they did.'
Straight after the race, Dennis claimed he had no regrets. "Life is full of risk," the McLaren chief said. "You go through life managing risk. Normally it takes several hours or a couple of days to come to terms with whether it's what you should have done, but especially having had the opportunity to talk to Kimi, I'm actually firm in my mind that we took the right decision. He said the gap is the same as it was before; we just have to start again.
"We're all human as a team. We win and lose together, and obviously we all share the disappointment. It's no less for us than it is for Kimi. He had that emotion supplemented by the fact that he's in the car and driving something which is difficult to drive. Having flat-spotted the tyre getting past Villeneuve, it was a bit of a handful. There were many cars out there that had flat-spotted tyres, but perhaps not as extreme as ours.
"It was the right decision. We're here to win, and coming third or fourth wouldn't have been much points variation to Alonso, and obviously we took a risk and paid the price. But that's what motor racing is about."
Pushing to the Limits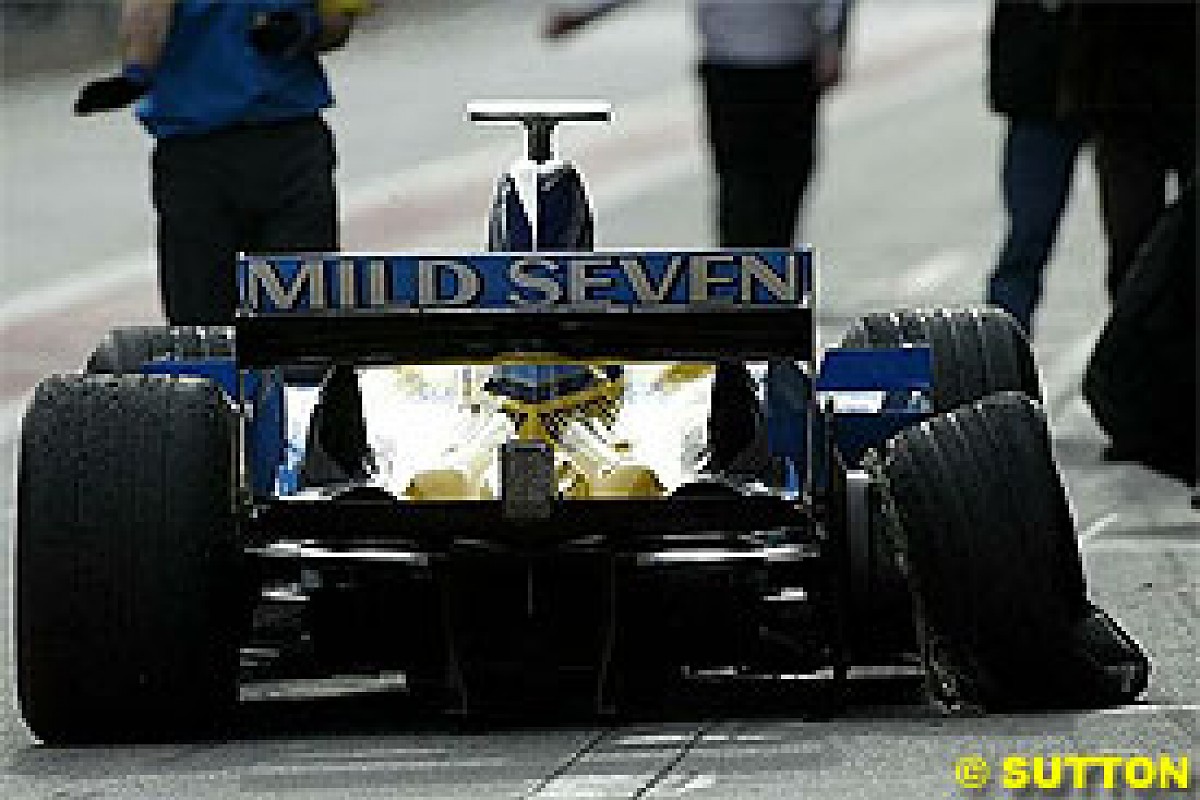 The inevitable question is, should teams be faced with this sort of decision? As noted, flat spotting could have happened at any time in the recent past, but under the current rules, worn tyres are more vulnerable, and drivers have to carry any potential problems for a lot longer.
Had Kimi been in the same situation last year, all four tyres would have been changed at his stop on lap 43, and the story would have been over. Had the flat spot occurred after his last stop, he probably would have had to survive no more than 15 laps on those tyres, rather than the 25 he endured at the weekend. In other words, teams have not faced such extreme problems before.
There seem to have been a lot of tyre related incidents recently, albeit for different and sometimes rather bizarre reasons. Alex Wurz's Paul Ricard crash was blamed on human error and mislabelling. And yet at the start of the year it was no secret that Michelin's 2005 tyres were developed to be bi-directional, as the company had hoped that teams would be allowed to swap from side to side during races. Equally strange was Bridgestone blaming Michael Schumacher's first failure in Spain on a brief safety car interlude that took place more than 40 laps earlier.
This isn't because the one-tyre rule has suddenly created a dangerous situation. Last season alone, there were problems for Ralf Schumacher and Alonso in Indianapolis; Ryan Briscoe, Jenson Button, Montoya and David Coulthard at Spa; and Michael Schumacher and Olivier Panis in Monza testing. Again, there were a variety of causes, but all those incidents were clear reminders of the knife-edge on which drivers operate, especially when there's a war between two manufacturers.
The FIA's position is clear - it's up to Michelin and Bridgestone to build safe tyres. When they complained that their products were susceptible to damage from carbonfibre debris, they were told that they would have to adapt, because current policy is to keep the race running at all costs. Stopping for a sweep up is extremely rare. Equally, because safety car periods are so common, be prepared for a drop in pressure or temperature while running slowly.
That's fair enough, but in a tyre war, the limits will inevitably always be pushed, and the current rules add just a little too much risk to the equation. So is it time to review the safety implications of the one-tyre regulations?
"Motor racing is dangerous - is says that on the ticket,' said Symonds. "I absolutely would not criticise what they [McLaren] did. We're bringing the cars in every few laps and throwing fuel at them. You want to start reviewing safety... It's what you've got to handle, isn't it? If Max says your engines have to last two races, you build your engines to last two races."
True, but engines don't have such a clear connection to accidents.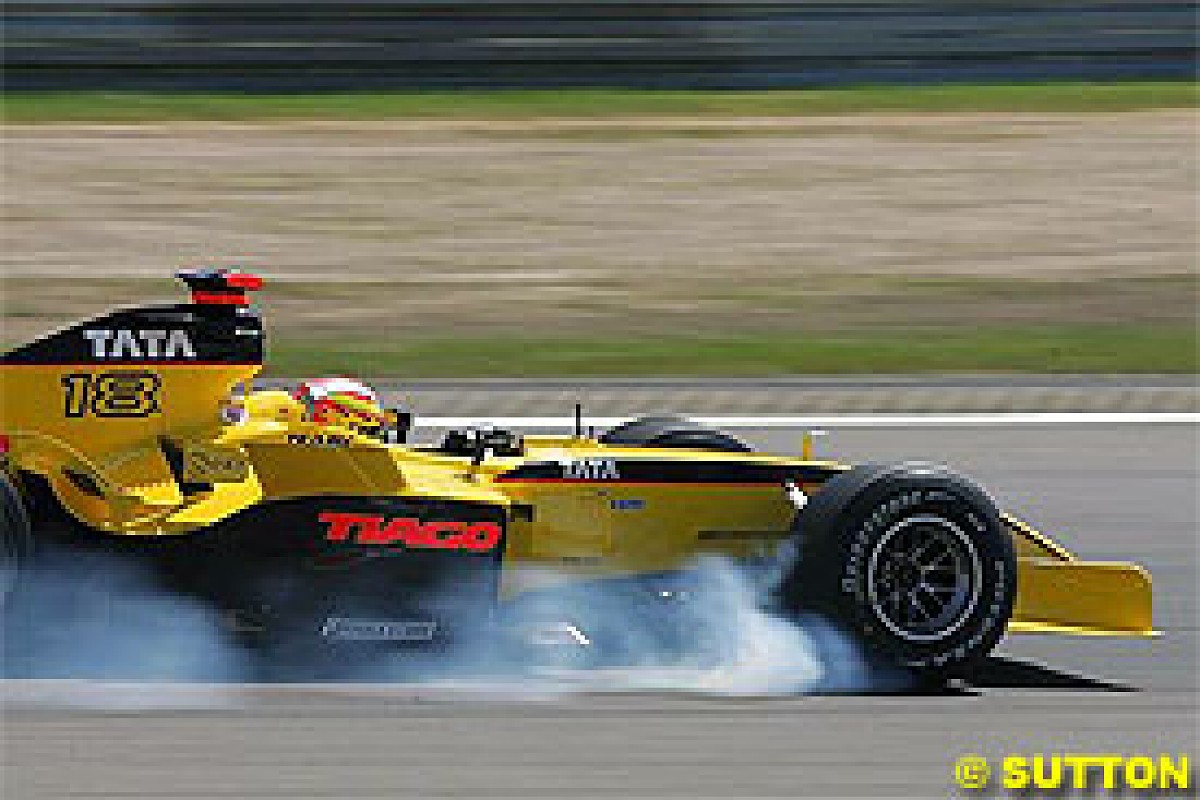 Symonds: "Neither do the tyres if you handle them properly. I'm not arguing against you, but I'm saying that's what the rules are. I think we just have to deal with them, really."
Dennis shared a similar position: 'I think it would be hypocritical to have a review on the one-tyre rule, because it's the same for everybody and we've benefited from other people having tyre problems.
"It's important to remember that while we would have preferred to have been able to change the tyres and eliminate that situation, it's exactly what Alonso would have liked to have done in Monte Carlo. That is motor racing, and the rules are the same for everybody. We're not going to be critical of them at this stage."
Both men present a good argument, but they share the viewpoint of team strategists who reckon that they can do a better job of managing tyre wear, and can perhaps gain a competitive advantage.
I'm not sure that all of the drivers are as confident as Symonds and Dennis are about the current regulations. It goes without saying that had Raikkonen struck the cockpit area of Button's BAR Honda at unabated pace, we might now be having a very different discussion about the 2005 rules. Equally, Felipe Massa was running slowly when his disintegrating tyre took out the front wing of his Sauber. The consequences could have been much more serious.
The next stops on the schedule are Montreal and Indianapolis, two high-speed tracks where there is not a great deal of margin. I do hope we can look forward to a couple of safe weekends.
The Real Last Lap
Just a final thought on the Nurburgring. We've commiserated with Kimi for losing victory on the last lap, but it's easy to overlook the fact that race had actually been shortened by one lap - because Alonso's teammate Giancarlo Fisichella had stalled on the grid.
And as you probably saw, the Renault was stuck in gear, and the marshals didn't know how to get it out. Race Director Charlie Whiting waived the rules and urged the Renault mechanics to return to the grid to help rescue the car.
Without their intervention, the field would have come pretty close to being sent around for an extra formation lap while Fisichella was moved. In which case the race distance would have been trimmed to 58 laps.
Just the right length for Kimi Raikkonen and McLaren, as it turned out...