Nick Heidfeld: Back on Track

---
By Mark Glendenning, Australia
Autosport-Atlas Writer
Nick Heidfeld sailed into F1 as the dominant F3000 champion and the protege of Mercedes. Somehow, it all went wrong and after five years in the bottom field, his career seemed to be over as every leading team passed him by. However, thanks to an error of judgement by Jenson Button, Heidfeld got a golden chance to revive his reputation and career at Williams - and he is making the most of it. Ironically, it may be Button that will also put a stop to it. Mark Glendenning followed the German in Monaco and the Nurburgring, and spoke to his very happy bosses
If you find a high vantage point and stand on your toes, you can just make out occasional glimpses of the top of his cap. Not much, but it's enough to trigger minor hysteria amongst the race day throng at the Nurburgring, because 24 hours earlier Nick Heidfeld put the BMW-Williams on pole for the first time in his career and now, two hours before the race, he is signing autographs near the BMW merchandise stand outside the circuit.
It's quite a scene, particularly when you consider that Heidfeld could very recently have walked through the same crowd wearing a cap and sunglasses and barely attracted a second glance. But much has happened in the past few months, and for the elfish 28-year-old, almost all of it has been good. His results, his reputation and his confidence are at an all-time high - as is his popularity, if this beer, wurst and sun-fuelled wave of Teutonic adoration is anything to go by.
Away from the noise, ensconced in the Willams motorhome with his lunch, he is relaxed and polite but purposeful. Some drivers enjoy being interviewed; Heidfeld gives the impression of falling more into the 'necessary evil' category. It's part of the job, so he does it, and for the duration of our allocated time he directs every bit of his focus towards the task at hand. He answers questions directly, looks you straight in the eye, and just gets on with it. But at the same time, talking to journalists doesn't make the car go faster, and is thus something that you sense he could happily live without.
Given the way that this season has been going, however, Heidfeld will not be getting a break from people wielding dictaphones any time soon. Seven rounds into the season, the German has already scored three podiums and is clearly enjoying life with a top team after a four-year apprenticeship with Prost, Sauber and Jordan.
"I think I fit into the team quite well," he says. "We have done 20,000 kilometres of testing before the year, and we have done a few races now. But right from the beginning I think that we were working well together, from Australia onwards. Of course, time helps to get to know the people and to get you working together a bit better, but there it wasn't really a problem before.
"In terms of performance, we are moving in the right direction but we are still too far away. I find it strange this year, it seems to change a lot from race to race as to who is in front and how big the gap is.
"For sure, there is potential in this team. I mean, this team has been very successful in the last couple of years, winning Championships and winning races. But the problem was that in the beginning of the year the car was not strong enough, and then to make up this time to the others it very difficult because it is not only us being flat-out in the windtunnel and all the other places to try and improve the car. The others do the same. So we have to try to find more improvement than the others, and that is obviously the problem. It seems like we mainly have to improve our aerodynamics, that is the main factor now in Formula One. But it is not only that which we are focusing on."
This is all part of a brave new world for Heidfeld. Neither Williams nor BMW were happy with what they rolled out in Albert Park back in March. Starting the year with an uncompetitive car is nothing new for a guy with both Prost and Jordan on his resume, but this time around, he is with a team that is in a position to do something about it.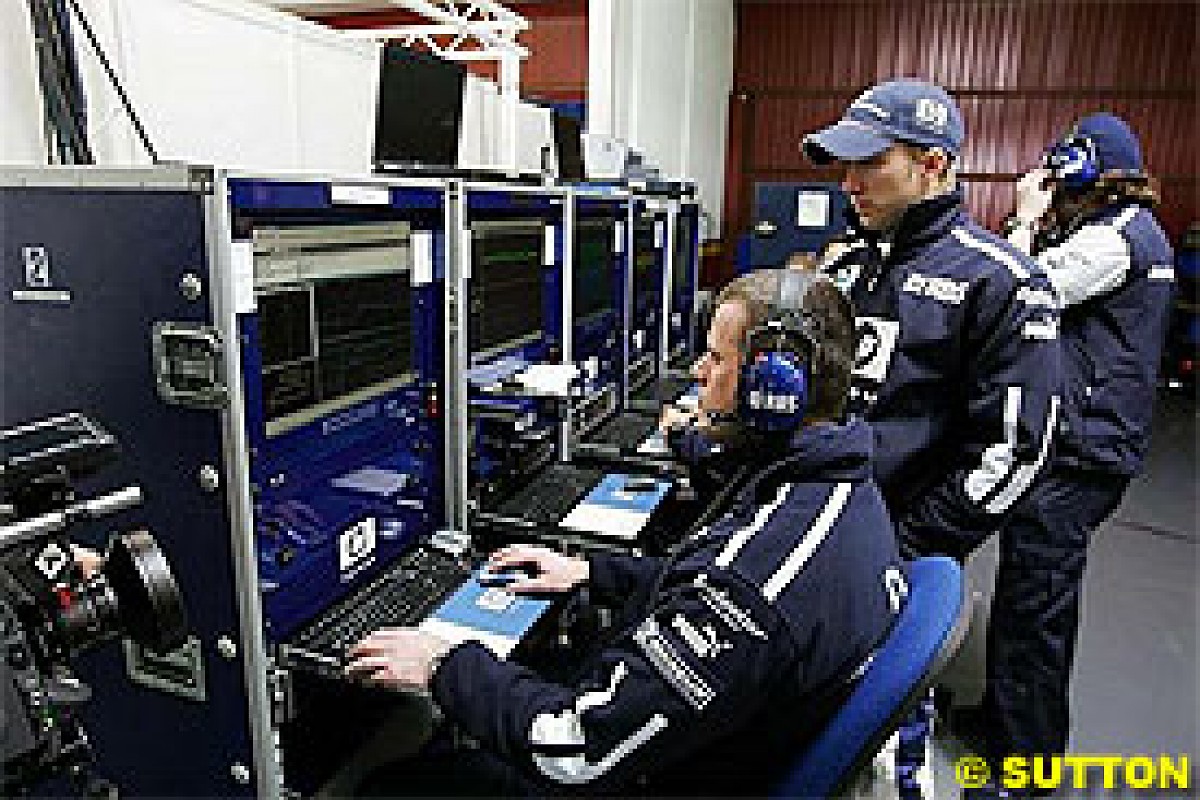 "I have been with a lot of teams over the last couple of years, but I have never seen so many improvements and new parts coming for each race," he says, almost disbelievingly. "In the past, I was happy if there was something for each race, and if it was two or three parts, then fantastic. Now, for some races we probably have up to 10 new parts - it is always at least four or five parts. So it is pretty impressive.
"I think in a smaller team, if you are behind, then you pretty much stay there. But Williams has shown in the last couple of years that it can turn things around and become a winner later in the season."
All the same, he must have been expecting the team to begin the season in better shape than it did.
"After we launched the car, no," he counters. "But before I joined the team, yes. Everybody thought that we would be winning races straight away. Not only me, the whole team."
A double podium for Heidfeld and Mark Webber at Monaco, backed up with another second place for the German at the Nurburgring, suggests that the mechanical side of the equation is starting to make some headway, but one of the more intriguing sub-plots to the 2005 season lies in the similarities and contrasts between Heidfeld and Webber.
The Australian has generally held the upper hand over Heidfeld in qualifying, but it is in watching the different ways that the pair go about their racing that things really get interesting. Webber is hard and aggressive; an instigator. He attempts to create his own opportunities, an approach that can yield huge rewards, but can also carry higher risks.
Heidfeld, on the other hand, tends to wait for things to come to him. Obviously there are exceptions, such as his surgically precise move on Fernando Alonso in Monte Carlo, but generally he sits back, looks for a situation that he may be able to use to his advantage, and then pokes his nose in. Sometimes there might be less to gain, but there is also less chance of having the car taken back to the garage on a truck.
Which is better? Neither. In fact, the respective approaches of the Willams pairing is probably the most complementary of the whole grid, a fact that has not been lost on the team.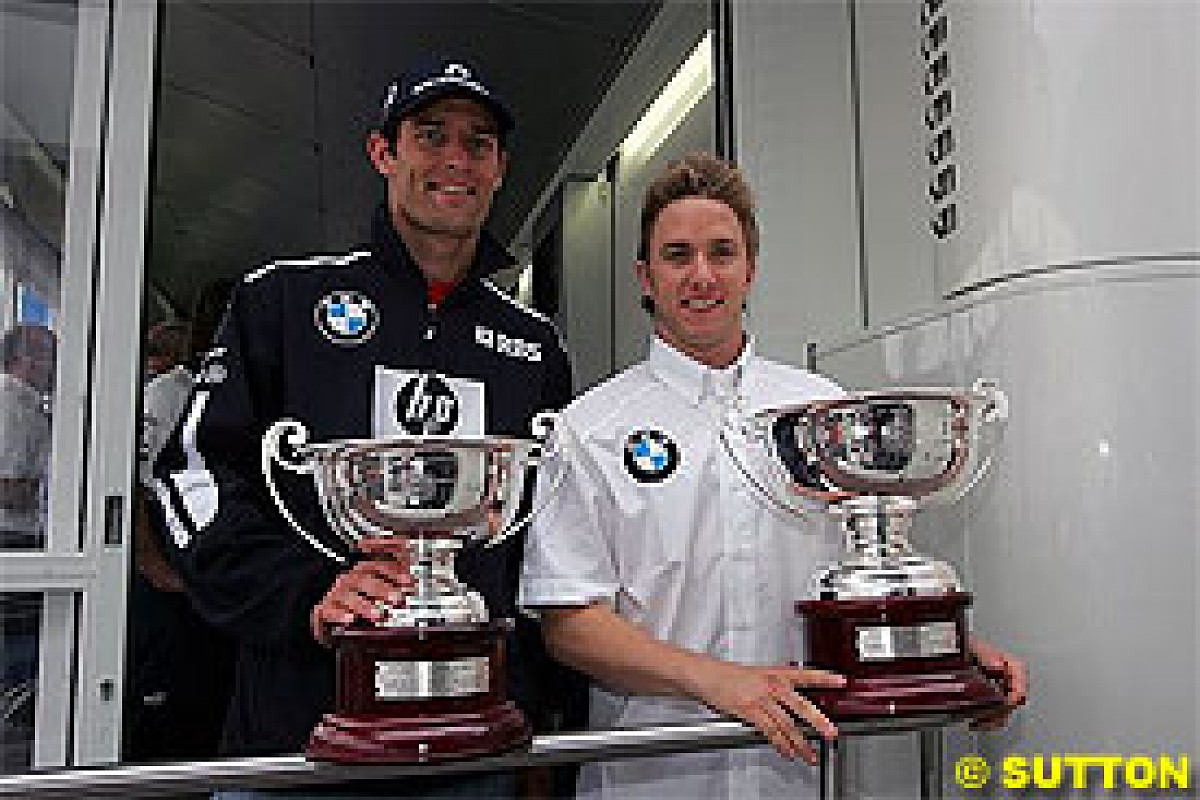 "It (getting a double podium) probably comes down to the driver pairings that are in Formula One at the moment," reflected Technical Director Sam Michael. "We have a particularly strong pairing, Nick and Mark work very well together, they both have their strengths and they seem to play to that, and it is getting better and better as the car gets faster.
"They have different ways they go about doing things but the end result is very similar. They are two very committed guys, they are new to the team after only six races, obviously, they have both done a very good job and impressed us quite a lot.
"Nick's racing ability has probably surprised everyone, particularly in Malaysia and Monaco. If you look at his overtaking manoeuvres they are very smooth, he looks in control even if he is on the limit, and if you looked at the chicane when he took Alonso in Monaco, I was thinking 'there is no way he will make that apex'. But he did make it stick, and he didn't look as though he was out of control at any point, and all the hustling he was doing in Malaysia was very impressive.
"He seems to be someone that, when he turns up behind someone, he is always looking for ways around them straight away. He has done a great job. Mark has an outstanding ability, especially to take a car - if you look at this weekend, for example, he had a mistake on Friday but he had hardly any track time, he didn't do any long running on the tyre he chose, so he went out on that tyre on Saturday morning, there were more problems then, and his best run was straight out in qualifying. He has an unbelievable ability to feel the limit very quickly. They have both done a good job."
BMW Motorsport director Mario Theissen, who lobbied Frank Williams to give Heidfeld a test, is similarly effusive about his compatriot. "Mark has been an excellent qualifier, whereas Nick takes a more conservative approach, probably thinking of what you would lose if you spoiled qualifying completely," Theissen explained.
"On the other hand, I am really excited about Nick's race performance. He is very able to lead a race and to cope with all the circumstances you have to cope with, and if the time is right he overtakes very successfully. In the end, they are quite close to each other.
"Nick's work approach is similar to Michael Schumacher's. They are both similar in that they are both interested in developing the car and working with the team. I think Nick, certainly of all the drivers I have worked with, he is the one who has spent the most time with the engineers and is the most interested in developing the car. Sometimes you would rather send him home at night and say 'take the car as it is', rather than asking him for more contribution to develop it! That is something that Michael has which is quite similar."
Webber and Heidfeld have a history of sorts, with the two having been contracted Mercedes-Benz drivers at the same time during their pre-F1 lives.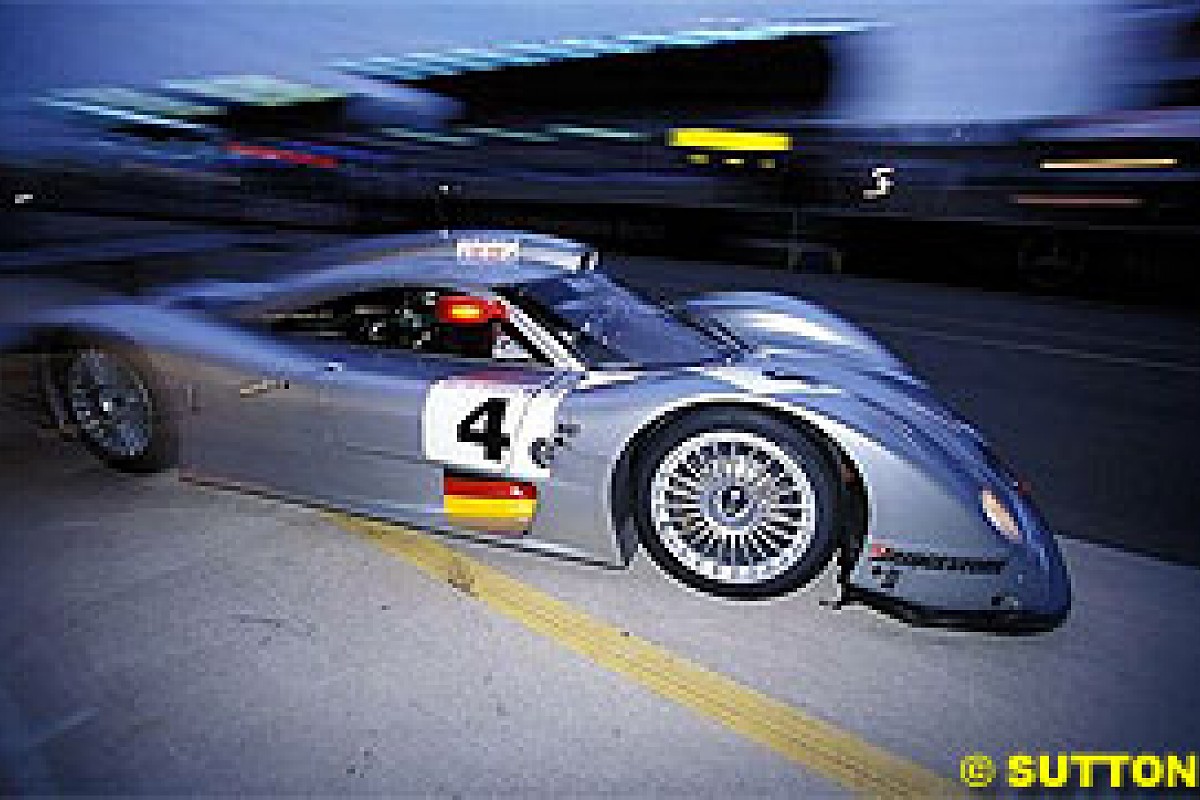 "We both drove for Mercedes at Le Mans," Heidfeld reflects. "But actually we didn't spend a lot of time together there (at Mercedes), because I was doing Formula 3000, and before my actual Le Mans race all I did was test at Magny Cours. We were not in the same car. Yes, we were in the same team, but we did not spend a lot of time together."
When Heidfeld learned that the two were to be reunited at Williams, Webber had been already been confirmed for a number of months. While this gave him an obvious opportunity to get a head start in establishing himself and building relationships within the team, Heidfeld says that he never felt that he was at a disadvantage.
"No, not really," he shrugs. "As I said, I think that I fitted into the team quite quickly. It is a little help if you spend a bit more time here, but I think we are both treated the same.
"You always have big pressure in Formula One. You always have to perform well. Actually, I am happy to have Mark as my teammate, as he is obviously doing a very good job, and we are pushing ourselves and I think we are working well with the team."
The pair have an obvious respect for one another - amid all the chaos on the Nurburgring dummy grid, few noticed Webber ambling over to Heidfeld's car to wish his teammate good luck for the race. But it could well be a short-lived thing. On top of the natural tolls of competition, there is every chance that the pair could be split as a result of another contract further along pitlane.
Reportedly, BAR needs Jenson Button to have at least 70 percent of the Championship leader's pointscore by August 21. With seven rounds having passed and no points in the bag, that is approaching the realms of fantasy.
Button's contract reportedly states that if the clause is not met, he will be released to Williams - as his management rather inelegantly tried to do last year. Webber has the security of a multi-year deal in his back pocket; Heidfeld does not. Yet if Williams have any choice in the matter then they have a hard decision to make, because thus far, Heidfeld has given them absolutely no reason to want to let him go.
"I have heard a lot of rumours," Heidfeld concludes. "I haven't seen the contract, and I don't know exactly what is going to happen. I think there are not many people who know that. Anyway, I cannot do a lot about the situation. I cannot change it. All I can do is drive quick, and then I will be OK."